Not too long ago, in a land far far away there lived two hot beautiful girls destined to have a good night out.
Okay, it was nearly 3 months ago (June) and we do live in Australia (so depending on where you are, it is far far away) and we are two hot beautiful girls *glares at anyone who defies me today*
Az and I had planned to have a girl's night out for a while and we couldn't think of a better night out than a themed dinner.
This is the list if you're interested 🙂 February (Poultrygeist); April (The Claws); June (Whisky Business); August (Back to the Butcher); October (Belicatessen) and December (Planet of the Canapés).
So it wasn't hard to see why the Dastardly Duo would be keen to lock in June as it was a 5 course dinner matched with whisky!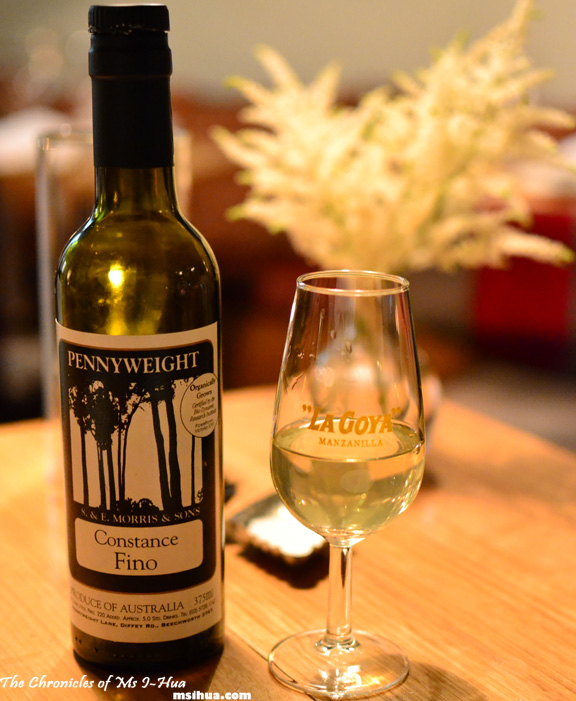 Our first drink, when we were seated, wasn't a whisky at all. Rather, we were introduced to a dry sherry from Australia. The Pennyweight Constance Fino has a light and delicate finish and strongly reminded me of apples! It made a lovely palate cleanser.
To match with this, was an amazingly rich and rather tiny portion of Scampi Broth. I WANTED MORE!!!
It was served with a crumbed anchovy and a dollop of garlic aioli. I WANTED MORE!!!
The depth of flavour in the tiny espresso glass was so vibrant and I WANTED MORE!!!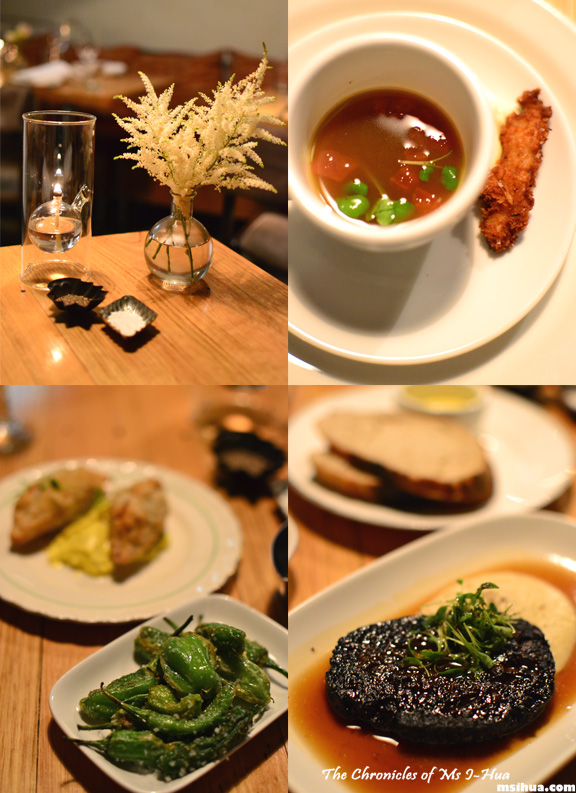 Next dish to be served turned out to be a little mix-up which has since become a running joke for our group.
When Az booked our table, she mentioned to them that I couldn't eat any beef or veal. When we checked in for dinner, the waiter came to double check my dietary requirements repeating for me that there would be no beef or veal.
Voila! Out came Oxtail and Potato Pastie Puffs. It seems that I must now state that my dietary requirements include ox or anything related to the bovine family *face palm*.
Oh well, not wanting to cause a scene, I generously gave my puff to Az who proceeded to wolf it down happily.
In return, I had more Surprise Peppers!
However all was not lost, as the next dish to be served was the winning dish of the night.
A mouth-watering, heart palpitating, food-gasm inducing dish of Black Pudding was served. And it was pure gold.
I WANTED MORE!!!
With so much drama in between our second and third courses, Az and I completely forgot to take notes of the whisky served #fail bloggers.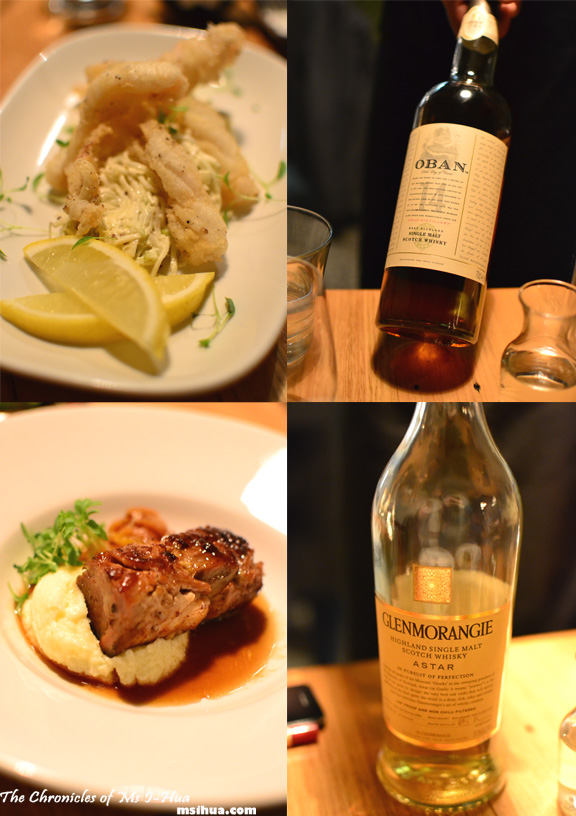 Next, we had some Salt & Pepper Squid with Celeriac Remoulade. Matched with the squid was a single malt whisky from Oban, said to be the meeting place between land and sea. The resulting taste is a smoky, dry finish which is malty in taste.
For our main course, we had the Rolled Pork Shoulder served with dates and polenta. I loved the tenderness of the pork in this dish and that it was matched with the Glenmorangie Astar. It was rich and smooth with a slight honey and trace of aniseed.
It was certainly fiery and hit the spot and warmed me all the way through!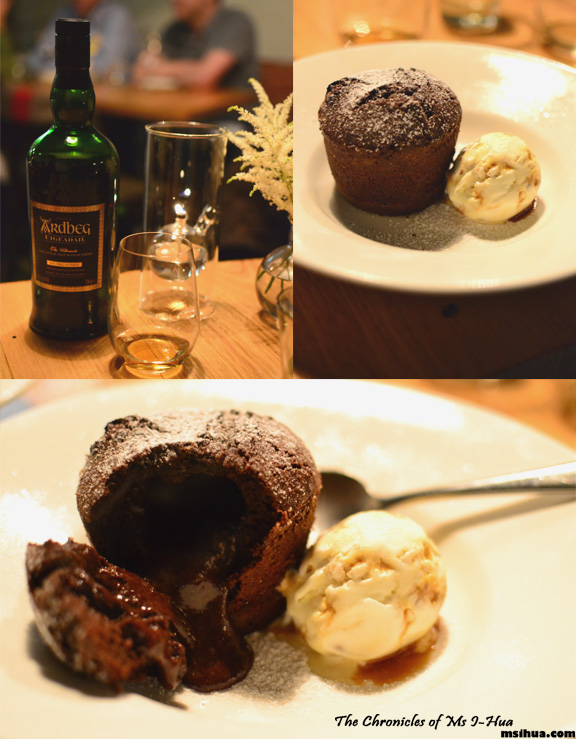 Dessert was a mind-blowing Chocolate Fondant with Peanut Ice-Cream served with Ardbeg Uigeadail single malt whisky of which was quite peaty!
Apart from the hiccup with the bovine requirement, the meal was satisfying and fun. I would have loved to go back for the August menu, but it was full to the brim with bovine options 🙁 The year is running out on me and there are only 2 more movie theme months left!
I would go back purely for the black pudding and scampi broth *HEAVEN* I WANT MORE! 😛
For other Whisky Business recaps:
Off the Spork
The Very Very Hungry Caterpillar
*Disclaimer: All food ratings & review are purely based on my own experiences and how I feel about the service, food and quality at the time of visit
Food/ Cuisine: Modern British
Dining Style: Restaurant
Opening Hours:
Wednesday & Thursday, 6:00pm – late
Friday to Sunday, Lunch: 12:00pm – 3:00pm; Dinner: 6:00pm – late
Address:
122 Johnston Street
Fitzroy VIC 3065
Tel: (03) 9415 6876
Twitter: @Commonerfitzroy
Website: http://www.thecommoner.com.au/
How to get there: