I never get overly homesick for Malaysian food these days. Every other week it seems that there are new Malaysian restaurants popping up all around town.
Which is pretty awesome given that I really do tend to crave for food from my local Mamak or hawker stall food when I am here. It gets worst during the colder months as well.
However, now that PappaRich and Mamak have open its doors in Melbourne, I need fear no more!
Vanish! With NapiSan Oxi Action… err.. oops, I got slightly distracted there. Those ads are so catchy!
Sorry, where was I? Oh, yeah!
Yup! PappaRich, the Malaysian chain has finally reached our giant island and is greeted with open arms and long queues at almost all of their outlets.
Mamak? That's the one! The famed Mamak restaurant in Sydney has now opened up in Melbourne, cashing in on the success stories of the others.
_______________________________________________________________________
Mamak – Lonsdale St, Melbourne CBD
We've been eyeing off the shoplot destined to be Mamak for the longest time. First the shop got leased. Then the boards went up around it to signal construction and renovations were taking place. THEN! The furniture was put in.
One night, when the Boy and I were walking past, we noticed that the lights were on, the kitchen was in full swing and there were a group of people in there eating! We hurried on to our car, deposited our bags ("Who's been shopping???!") and hurried back down to Mamak's front entrance.
We did it! We struck gold! No one was there!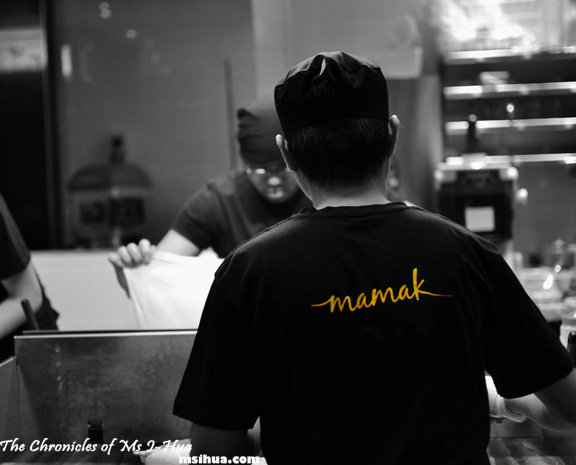 Alas! There was a sign on the door to say that there was a private function going on that night before they would officially open their doors to poor Melburnian souls that weekend.
WE WERE DUPED 🙁 Who knew bright lights and signs of life were not an indication that an eagerly awaited restaurant was not finally open. *SIGH*
Not to be put off with that, we returned a couple of week nights later, when they had officially opened and we noted that many food alert individuals had posted pictures on various social media platforms. We weren't going to be tricked again!
Arriving slightly past 5.30pm (yes, another place where you will have to get in quick to get a table), we were seated and greeted pretty quickly. So efficient! ("Hooray!")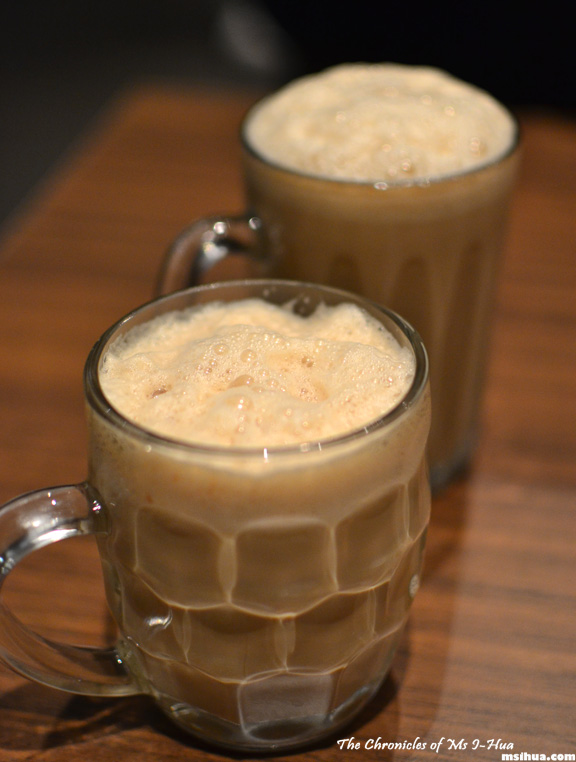 Of course, we couldn't go pass the Teh Tarik ($3.50) & Teh Halia ($3.50) that day as it was rather cold and windy. I found that my ginger tea was a bit too thick and too sweet than I would usually like, but the Boy's hot tea seemed to be alright.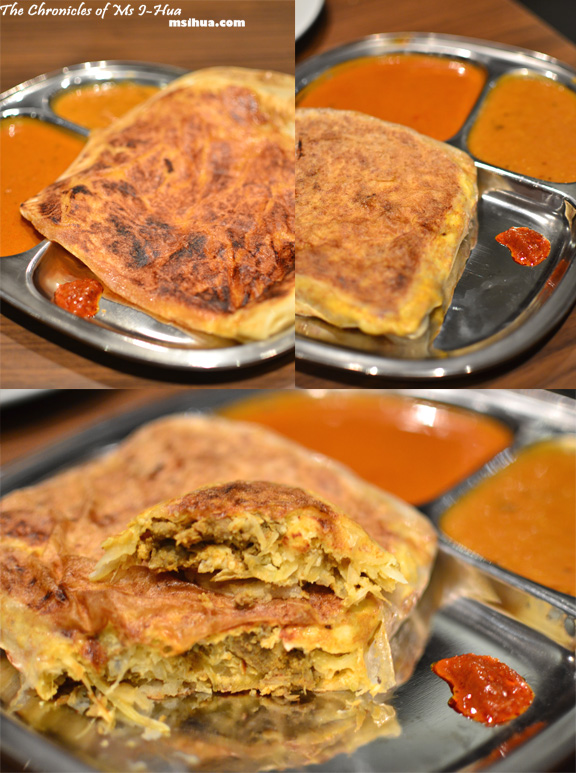 Because I was feeling particularly greedy that night and because I had been having roti dreams ("Don't all people have these dreams?"), I ordered two types of roti and insisted that the Boy would like to share some too 🙂
Roti Kaya ($7.50) – roti filled with kaya (coconut jam) and Lamb Murtabak ($11.50) – filled with spicy lamb meat, cabbage, eggs and onions.
Now, OMG. I have to give credit where credit is due ("A popular saying in my head") that the roti kaya was f**cking amazing! It hit all the right spots and was even better than the one in Sydney! Heck, I'd even go as far to say that it's better than most authentic roadside mamak stalls in Malaysia.
The murtabak was delicious as well, with a beautiful thin layer of roti encasing the murtabak. It was a pretty decent size murtabak as well and I was seriously full when we got out that night.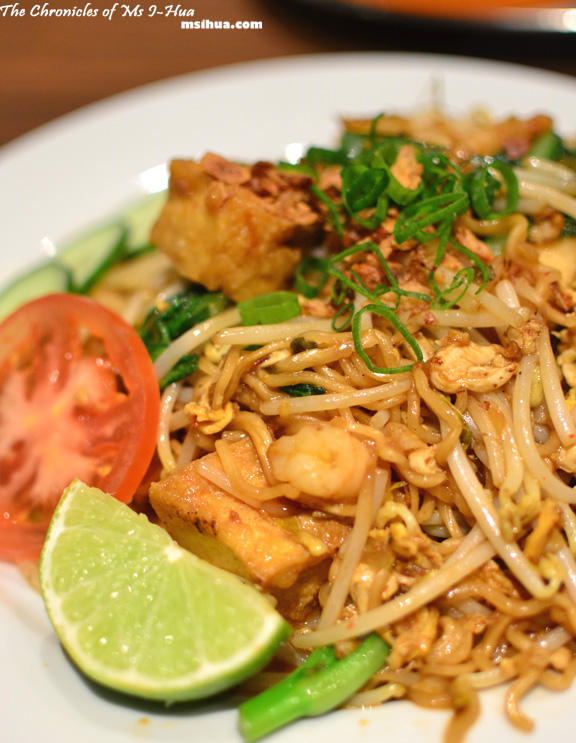 Sadly, the Boy's humble Maggi Goreng ($11.50) – Maggi instant noodles fried with eggs, prawns, bean sprouts, was not memorable.
It wasn't as tasty as it should be and somehow lacked in flavours when it should have been a pretty easy dish to cook up.
So my verdict? Mamak Melbourne has certainly opened with big fanfares (already appearing in the Epicure) but I'm not sure how long they can sustain the excitement and enthusiasm to lovers of Malaysian food. I've heard pretty mixed reviews so far and even our visit was pretty mix.
I would certainly line up for that roti kaya though!
It was also quite cool to note that the dude tossing the rotis out at the front was the same dude tossing rotis in the Sydney (CBD) stall ("Why do I note these things?").
*Disclaimer: All food ratings & review are purely based on my own experiences and how I feel about the service, food and quality at the time of visit
Food/ Cuisine: Malaysian
Dining Style: Casual Dining
Opening Hours:
Lunch, 11:30am – 2:30pm
Dinner, 5:30pm – 10:00pm
Address:
366 Lonsdale Street
Melbourne VIC 3000
Tel: (03) 9670 3137
How to get there: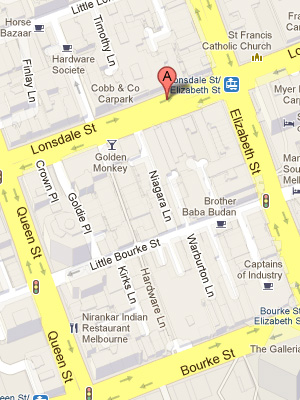 _______________________________________________________________________
PappaRich – QV, Melbourne CBD & Chadstone Shopping Centre
PappaRich (in Malaysia), the place where Malaysians go to avoid the heat, pay a little bit more for consistent hawker fare and utilise the free WiFi.
Yes. That is the honest truth.
The first time we visited PappaRich, was when the Boy and I stumbled upon them in QV, with both of us noting, "What happened to Old Town Kopitiam?"
Both excited to see that PappaRich is finally here and yet sad, knowing that Old Town Kopitiam (incidentally the place I met my Dastardly twin and Cake Master Thanh for the first time) was no more.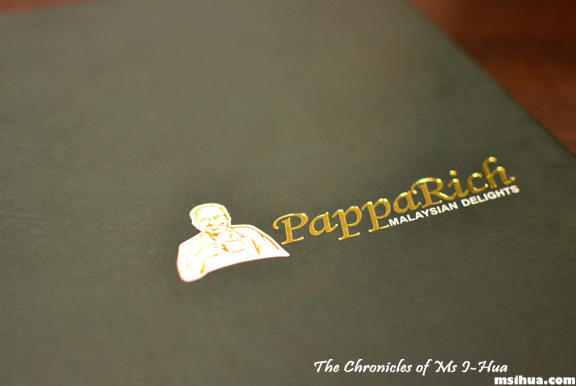 Since that day we tasted the food in QV, the Boy and I have pretty much made the PappaRich outlet in Chadstone our second home. The food isn't the most authentic or the best, but it sure is convenient and hits the spot when we're feeling too lazy to cook dinner at home.
It is pretty much semi-self service dining at PappaRich. These are the usual steps which one needs to follow when dining in:
Step 1: Line up, get a ticket (If you're unlucky. They usually give out tickets when it's crowded), wait for your number to be called, be seated and be handed the menu to study (to date, we have only had to line up maybe 3 times and we have been there nearly every fortnight 🙂 )
Step 2: Write the item code from the menu onto the ordering sheet with the pencil provided
Step 3: Press the bell at your table for service and to pass your order on to the wait staff
Step 4: Eat and enjoy your food
Step 5: Pay at the counter and get out!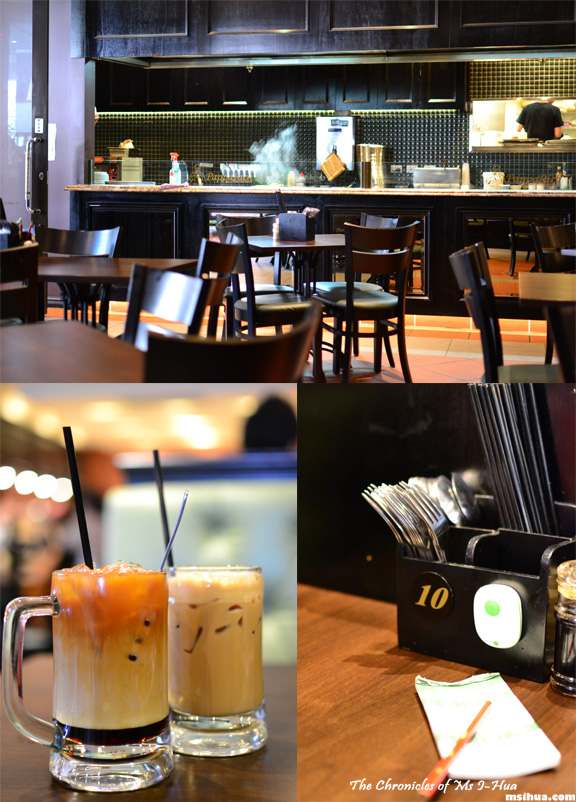 We laughed as we looked through the pictures for this post. Why? Because it shows that the Boy and I are major creatures of habits.
9 times out of 10 we have ordered the same drinks and dishes with very slight variations to our order. Fail foodies.
For our drinks, we never fail to order the Teh C Special (Milk Tea with Creamer Special) $4.20 and Pappa Cham (Coffee & Milk Tea) $3.90.
It's a habit, I order the same drinks even when I'm in Malaysia and I think it provides me with that familiarity and comfort 🙂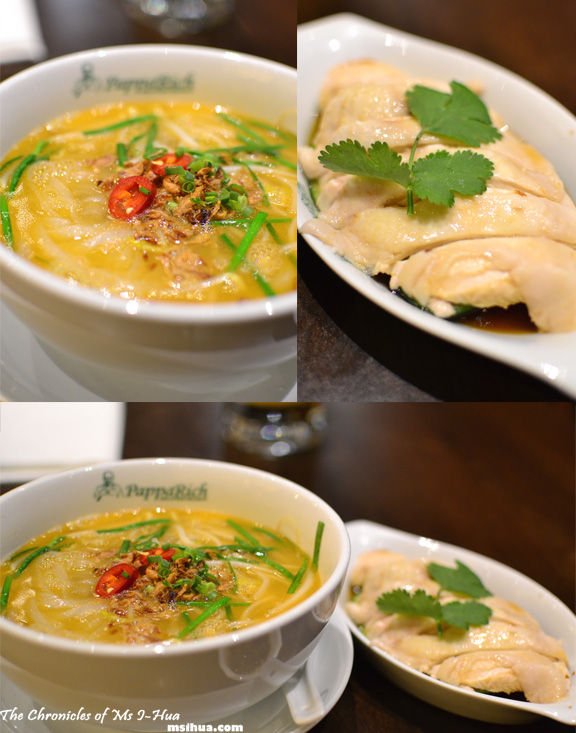 My favourite dish to order at PappaRich is the Ipoh Kuey Teow Soup with Steamed Chicken ($11.50) – flat rice noodles in a chicken & prawn head broth topped with spring onions, fried shallots and bean sprouts served with steamed chicken.
Occasionally I order the Ipoh Kuey Teow Soup with Shredded Chicken and Prawns ($11.50) just to spice things up 😛
I like this dish because the soup base is quite authentic and similar to what I remember having as I was growing up in Malaysia.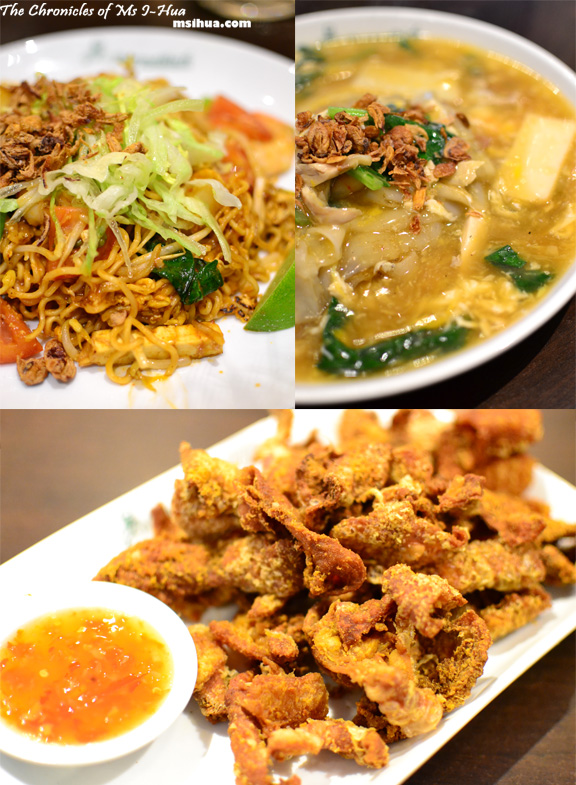 [top left and top right: Pappa Fried Maggi Mee – wok fried Maggi instant noodles with prawn, tomatoes, potatoes, egg and bean sprouts topped with shredded lettuce and fried shallots and Pappa Wat Tan Hor ($11.50) – wok fried combination flat rice noodles with egg gravy].
Both the noodle dishes have been what the Boy has ordered on previous occasions. Neither of them have particularly struck any excitement from him. He still notes that the best Wat Tan Hor is from Chilipadi Mamak Kopitiam in Kensington.
With the last dish in the picture above, you will either shudder with disgust or clap your hands in glee. If you do the latter, we can be the best of friends and I'll even share the dish with you 🙂 Pappa Deep Fried Chicken Skin ($5.90) – served with sweet chilli sauce has fast become my greatest guilty pleasure. I would quite happily order and munch through a whole plate of the chicken skin before realising too late that I was meant to share it with the Boy.
I've often said to my friends, that if I ever struck the jackpot, that I would indulge in a whole bucket of KFC and just devour the fried crispy skin! ("And you thought I was a snobby foodie b**ch").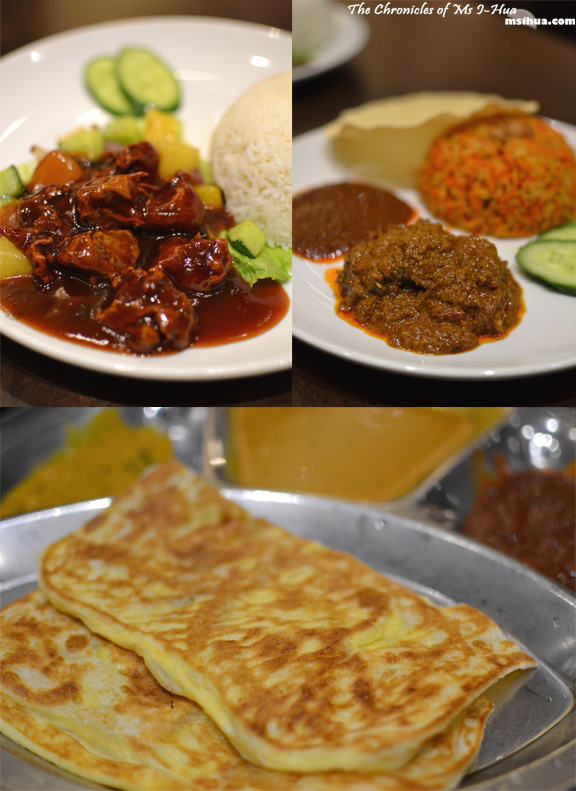 [Clockwise from top left to bottom: Vegetarian Sweet & Sour Chicken with Rice ($12.90) – vegetarian ku lu chicken; Briyani Rice with Vegetarian Curry Mutton ($12.90) and Roti Telur ($6.90) – roti canai with egg]
On one occasion, we found ourselves to be vegetarians for the day and I was being a brat with the Boy. He calmly drove me to PappaRich to feed me as he noticed that they had a vegetarian section on their menu.
Complete with mock meat ("Something which proper vegetarians in the western world will never understand"), I happily ordered my briyani rice and vegetarian curry mutton whilst the Boy had the sweet and sour chicken and roti telur! This Boy can eat I tell ya!
Take note that PappaRich does not have pork on the menu, which probably explains why they are often so busy, as they cater to quite a lot of Melbourne's multicultural population.
My verdict? We obviously like this joint enough to make it our second home. There's just something about this place which works like a well oiled machine where so many others have failed or are struggling to succeed in.
Despite visiting quite regularly, I am objective enough to say that the food quality is not very consistent. There are days when the roti are amazing, and days when it is not. There are days when the wok fried noodles are bursting with wok hei and other days when they are limp and pathetic.
You gotta try your luck but I know we'll be back for more 🙂
*Disclaimer: All food ratings & review are purely based on my own experiences and how I feel about the service, food and quality at the time of visit
Food/ Cuisine: Malaysian
Dining Style: Casual Dining
How to get there:
QV, Melbourne CBD
Opening Hours:
Sunday to Thursday, 10:30am – 11:00pm
Friday & Saturday, 10:30am – 12:30am
Address:
Shop 11, Level 2, QV Square
QV Building
210 Lonsdale Street
Melbourne VIC 3000
Tel: (03) 9654 2682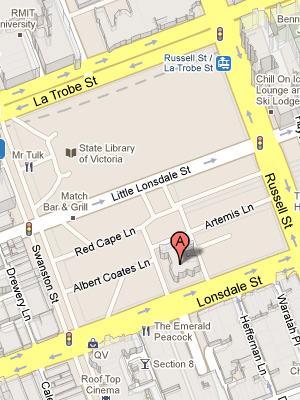 _________________________________
Chadstone Shopping  Centre:
Opening Hours:
Sunday & Monday, 10:30am – 8:30pm
Tuesday & Wednesday, 10:30am – 9:00pm
Thursday to Saturday, 10:30am – 10:00pm
Address:
Shop F029, Chadstone Shopping Centre
1341 Dandenong Road
Chadstone VIC 3148
Tel: (03) 9568 3323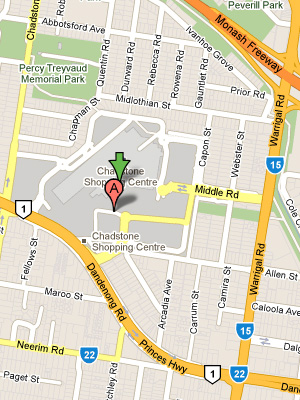 **If you've scrolled down this low and managed to catch a glimpse of this sentence, kudos to you! There are no prizes!
However, if you have made it this far in this post, I'd like to point out to you that the statements in brackets and quotation marks are the instantaneous thoughts I usually have when I form a sentence. It is sort of my internal dialogue between me, myself and I. If you thought that they were parts of the story where the Boy was butting in, I'm sorry to disappoint you 😛
That is all. You may now return to your other mundane tasks.