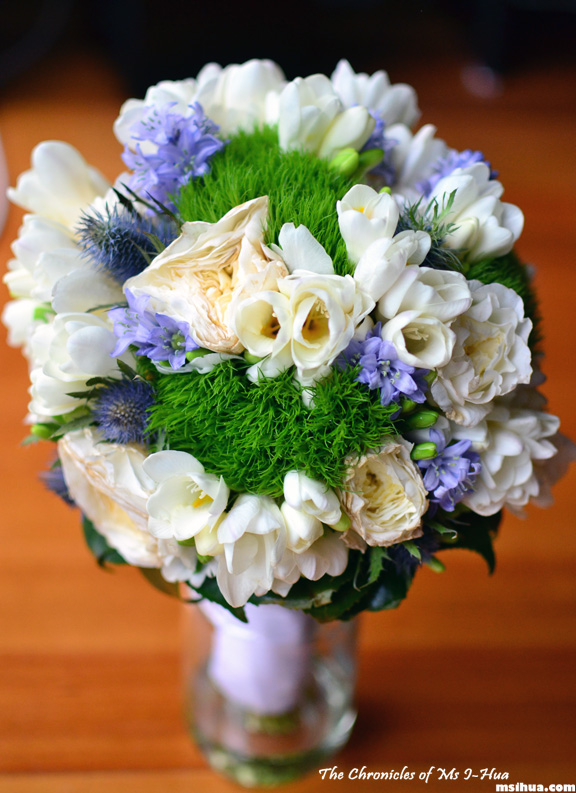 It seems like such a long time ago when I initially proposed to the Boy on our 10th anniversary at Provenance Restaurant and Hotel in Beechworth. I still can't believe I pulled it off!
But as all stories must come to a climax, I think it's definitely right for me to say that the climax in the story of our lives peaked on our beautiful wedding day.
We can't begin to thank everyone enough who assisted, worked, and attended our big day, so we would just like to shout it one more time, "THANK YOU!!!! You know who you are and we love you!".
Thank you to everyone who travelled the distance (over seas and mountains), braved Melbourne's erratic weather and watched us grow throughout the years with love and support.
We hope that in the pictures below, we manage to recap the start of our beautiful journey together as a married couple and share with you the many details that went on, on our wedding day.
To all the soon-to-be brides out there, trawling the internet for ideas, this one is for you too! I know just how hard it is to plan everything from scratch and any little detail goes a long way! Watch out for the next post on more ideas or just scroll to the end of the post of information 🙂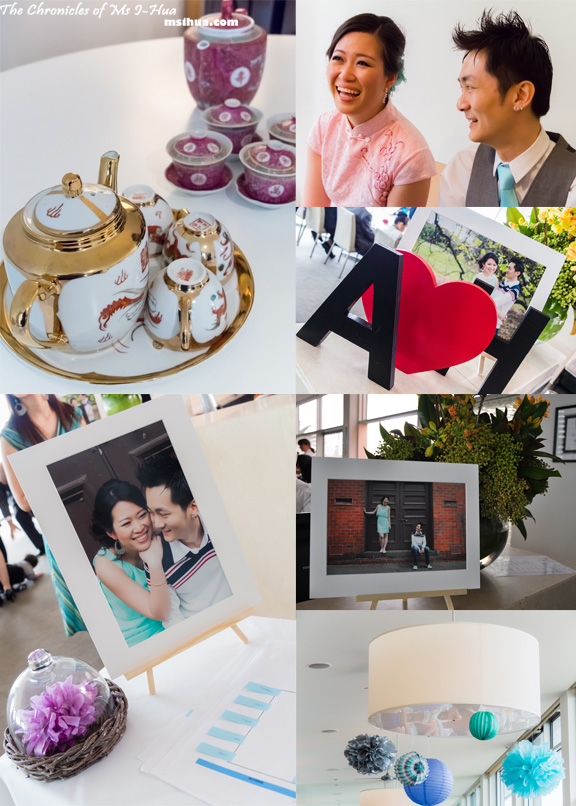 The Boy and I hardly slept the night before our wedding as we were tidying up a few bits and pieces that seem so trivial now as we look back. Both of us stayed the night at The Quest Service Apartments in Middle Brighton (located right across the wedding venue).
My Madam Mummy stayed with me in the Executive Studio Apartment (which turned into the Tea Ceremony location in the morning) whilst the Boy and his younger brother (Best Man) stayed in the Standard Studio Apartment.
Being the first day of Daylight Savings meant that everyone lost an hour's sleep as we moved forward an hour. I think I only managed about 3 hours of sleep before having to wake at 5.30am to prepare for my Hair and Make-Up Artist (MUA) to arrive. Wita Kusuma who is part of the S.A.S.S.Y. Hair & Make-up did an amazing job on me. I especially loved the hairstyle which she did for me after I showed her a picture of a side curly bun used on Taylor Swift 🙂 If you are interested, she also does freelancing work outside of S.A.S.S.Y.
After about 2 hours of hair and make-up, our relatives started to arrive for our Tea Ceremony event in my boudair ;P After about an hour of this, we sent everyone packing as I needed to get changed out of my traditional Cheong Sam and into my wedding gown for the biggest walk of my life 🙂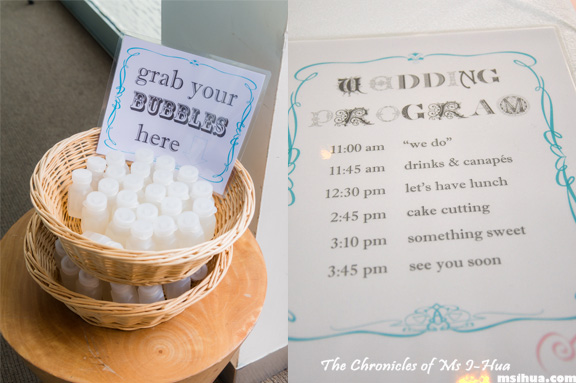 Whilst I was getting ready in the morning and whilst the Boy and I were busy with the tea ceremony and spending time with our relatives, my beautiful Chi Muis' (bride's entourage)  and their respective husbands and partners busied themselves setting up the decoration at the venue (more of that on the next post) according to our instructions.
Unbeknownst to me, my BFF and Matron of Honour (hah!) had gone all Commando on them and was instructing them strictly on how to decorate and telling them off when they looked to be slacking off! Hahahaha.. my poor girls! I owe you so much and thanks for looking after me so well my beautiful BFF 🙂 I couldn't have done it better!
All too soon, Madam Mummy, BFF (who had ran back to the hotel room) and I got the call that our pick-up was coming (thanks cousin A!) and the crowd was awaiting. Eep! Too late to back out now!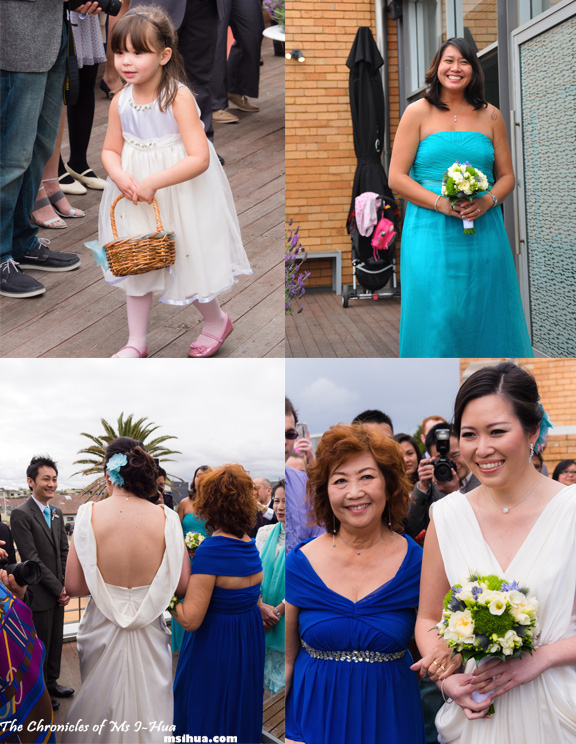 Walking down the aisle to the song which was chosen by the Boy and I almost two years ago, everything felt all too surreal.
My beautiful Flower Girl, Isabel walked down and whilst spooked out by the many cameras in her way, managed to walk a few steps before going all shy and cute on the crowd! Thanks again, Steph for 'lending' us your beautiful girl for our big day!
The song we chose was Jon Schmidt and Steven Sharp Nelson's version of Taylor Swift's Love Story and Coldplay's Viva La Vida 🙂
Stepping out the doors, it felt like I was a movie star and a dozen paparazzis had taken over my friends and family! Flashing lights and DSLRs were all that I could see! It's no wonder, Izzy got spooked!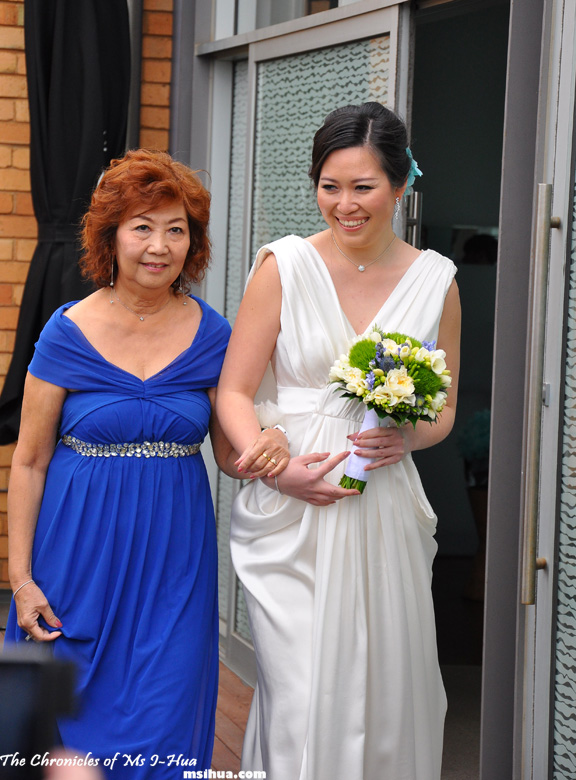 I reckon Madam Mummy was more nervous than I. I just wanted to run down and be with my man, but I couldn't see him amidst the crowd! Madam Mummy did a brilliant job of walking me down the aisle and handing me over to the Boy 🙂 It was like a fairytale.
Our Celebrant, the lovely and motherly Jill Hosken kept us in check and calmed our nerves throughout the entire ceremony and her reassurance help set aside any worries or doubts we both may have had.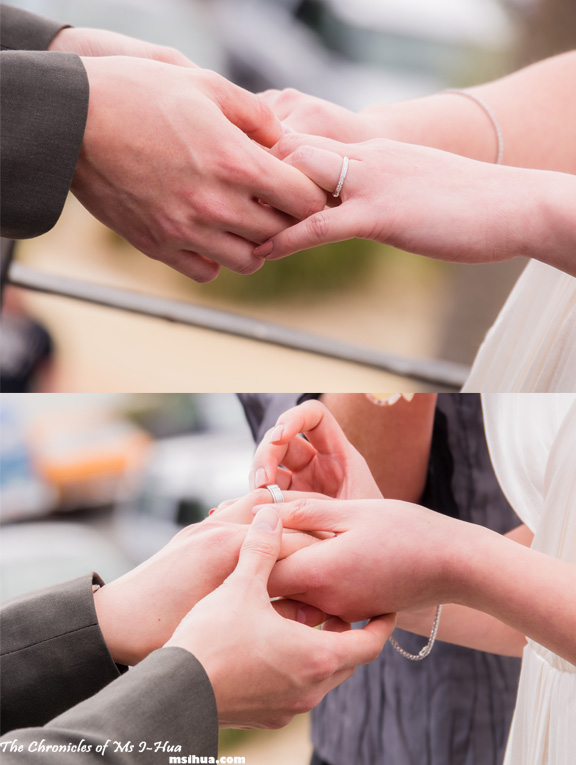 A funny moment in the ceremony was when the Boy's brother had to hand him the rings and in his nervousness handed the Boy the actual box instead, making them both fumble to open the box to get the ring out 🙂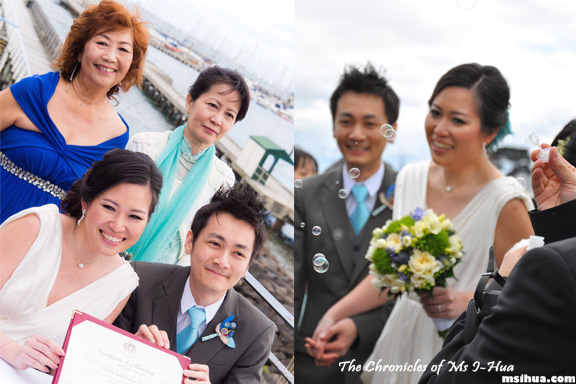 With promises made and vows sworn, the Boy and our mothers who acting as witnesses, signed our wedding certificate! Thanks mums!
It was certainly a sign of many good things to come as when Jill mentioned the Boy's Father and my Grandmother that the sun cast its rays over us, as if we were being blessed from above 🙂 Listening to Jill recount our journey and paying our due respects to those who are no longer with us made the ceremony ever more poignant and memorable.
As we were announced as Husband and Wife, the crowd broke out to applause, and bubbles were blown our way in congratulations.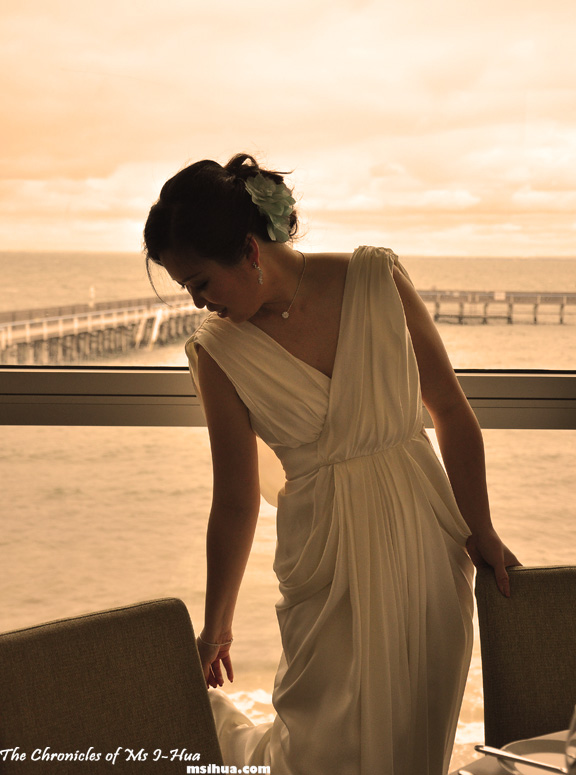 All I was thinking about (and I think the Boy as well, if he was thinking at all) was that I was the luckiest person in the world to be surrounded by so much love and joy with the people that mattered the most in our lives 🙂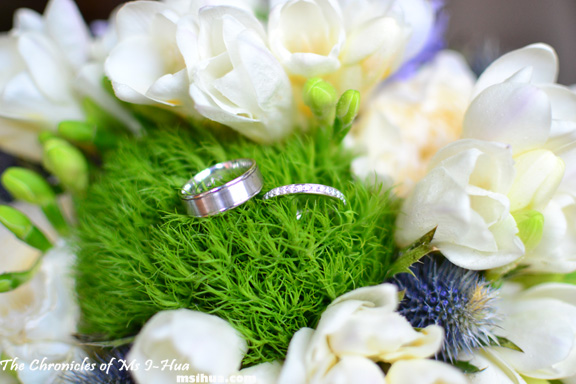 I do hope that I have managed to capture the essence of our wedding ceremony with you and to share with you our joy on that day!
Be sure to stay tuned to Part II where we shall share with you in more details of the wedding reception.
Much love,
The Boy and Ms I-Hua
xoxo
p/s We would like to thank Lilian and Damien for the beautiful pictures for this post 🙂 We couldn't wait for our professional photos to arrive as we wanted to share this with you as soon as possible 🙂
Wedding Details:
Wedding Venue: The Baths, Restaurant & Cafe, Middle Brighton
Wedding Hotel: Quest Service Apartments, Middle Brighton
Hair & Make-Up Artist: Wita Kusuma (S.A.S.S.Y Hair & Make-up)
Photographer: Alan Woo, Finessence Photography
Wedding Celebrant: Jill Hosken, Celebrate Life
Wedding Cheong Sam: Cherrielee Boutique in 1 Utama, Malaysia
Wedding Dress: Thurley
Tailor: Think Sew, Carnegie
Wedding Shoes: Heels from Zara, Flats from Nude
Groom's Suit: On-Site Tailor at Novotel Siam Square, Bangkok
Groom & Groomsmen Boutonniere: Hand made with materials bought from Lincraft & Spotlight (tutorial to come)
Accessories
Hair Flowers: Alannah Hill (I bought this in 2006 and it's an oldie but a goodie)
Earrings: Swarovski, Fidelity Pierced Earrings
Necklace: Paris Rendezvous, High Street, Armadale
Ceremony Songs
Aisle: Jon Schmidt and Steven Sharp Nelson's version of Taylor Swift's Love Story and Coldplay's Viva La Vida
Marriage Certificate Signing: Frank Sinatra's Love & Marriage
Walk-out: Nat King Cole's L.O.V.E.
Flowers
Bridal Bouquets: Growers Flower Factory, Carlton (Ask for May)
Table Flowers: Prahran Market & Helen Dillon Florist, Chadstone
Props and Other Decoration Items
Bon Bonnieres: Hand Made Milk Cartons (template from Eat Drink Chic), Chosptick Rests from Material (Malaysia) and Chopsticks (from Malaysia) with Origami paper (tutorial to come)
Pom Poms: Hand Made by Ms Tinymouse and I (template and instructions from Martha Stewart)
Lanterns: Martha Stewart Lanterns and Typo Lanterns
Bubbles: Woolworths
Canvas Prints and Wooden Letters: Typo
Vintage Soda Bottles: Boylan Vintage Soda Pop (donated by the awesome team at Patricia Coffee Brewers)
Other Bottles: Voss, Antipodes and Coca-Cola
Blue Stones and Sea Shells: Bunnings (courtesy of Aileen)
Wedding Cakes, Cake Accessories & Melting Moments: Iron Chef Shellie and I Eat Therefore I Am
Topiary Place Card Holders: Pink Frosting
Bride & Groom Clothespin Dolls: Hand Made by Bags of Fashionista
Birdcages: Chatuchak Market, Bangkok, Thailand
Photo Booth Props: Party Goodies on Etsy, Material (for chalkboard) and Sunglasses from Chatuchak Market
Paper Straws and Vintage Straw Holder: Let's Cook, Melbourne CBD
Glass Tea Light/Flower Bauble: Helen Dillon Florist, Chadstone
Miscellaneous Glassware and Vintage Props: Bed, Bath N' Table (Melbourne CBD, Southwharf DFO and Chadstone stores)
Twine, Wooden Pegs and Chalk: Riot Art & Craft