"What's the buzz? Tell me what's happening? What's the buzz? Tell me what's happening!" – Apostles to Jesus (Jesus Christ Superstar, 1971)
Every time I hear that a new cafe has opened up somewhere, this chorus plays in the background of my mind. It's quite fitting, no?
St. Ali North opened up late last year. Sharing the corner of Nicholson Street's Velo Cycles, St Ali North has quickly garnered attention from all in that area.
Fondly called "North" by locals alike, the Boy and I arrived last weekend to see just what the buzz was about.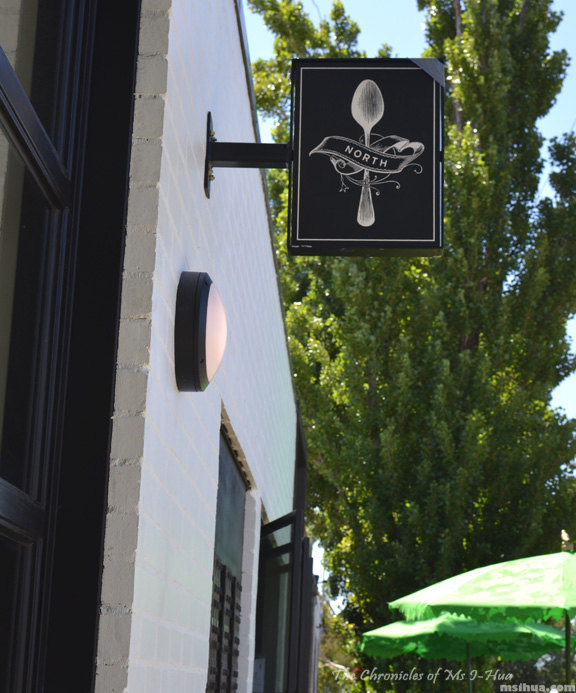 When we got there (around 11.00am) there was a crowd gathering on the lawn outside. Bicycles were parked neatly on the stands provided and people were seated all around on the benches provided and under the green lace umbrellas outside.
It was a lovely day to wait in the outdoors in these surroundings. I couldn't imagine standing here in the middle of winter with no shelter though 0_0 I would freeze!
With a superstar line-up of talented chefs and baristas in the back room with hand-picked coffee padawans (from coffee master Matt Perger) and experienced chefs Shaun Quade (Duchess of Spotswood, The Brix, Royal Mail Hotel) and head chef Chris Hamburger (Anada and The Aylesbury).
This isn't so surprising when you note that Jesse Gerner is Salvatore Malatesta's co-owner and partner in crime for North. With big names like these, we couldn't help but expect big things from North.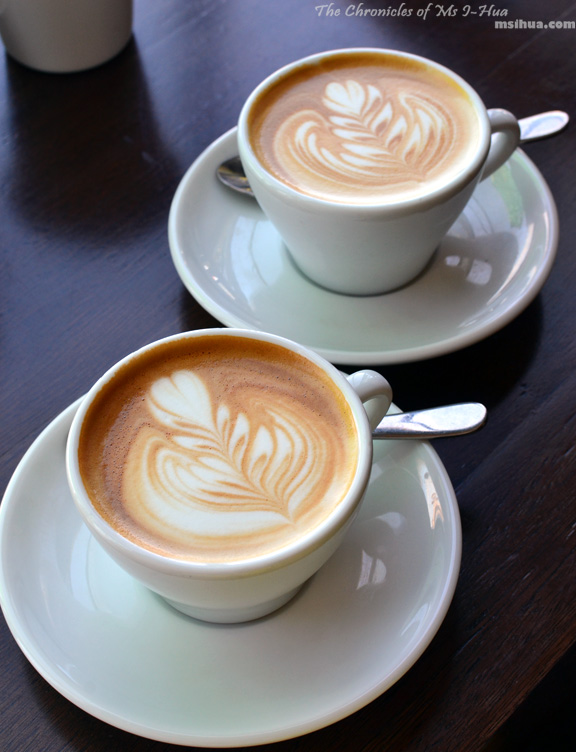 Completely different in its fit-out, look and feel from South Melbourne's original St. Ali, North has escaped the warehouse feel so popular these days.
Instead you get large open windows (including a "drive-thru" window for cyclists and passers-by to get their cup of take-away coffee), white washed walls and large open spaces.
I absolutely loved it.
We ordered the usual suspect drink of lattes (the Boy wasn't too keen as he's not a fan of St. Ali coffees) but we were both pleasantly surprised with the smoothness of the coffees served.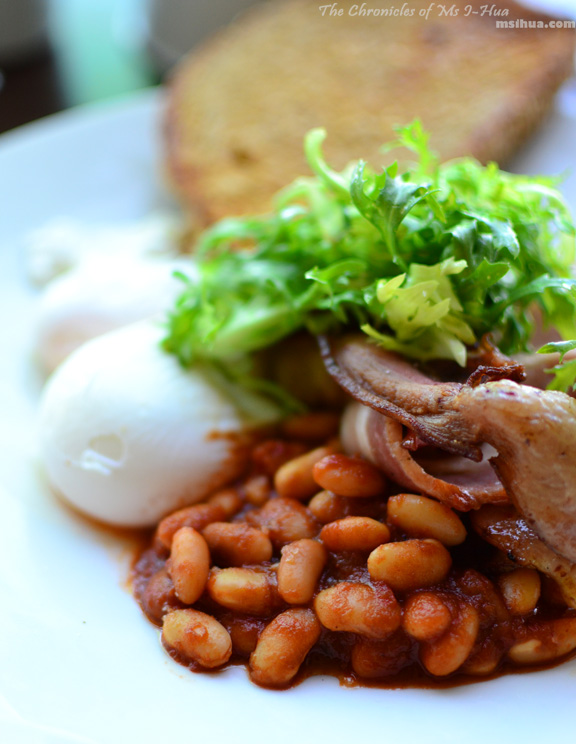 The Boy didn't know what he wanted to eat, so as the good wife I am, I pointed him towards the House Bacon, Bean Ragout, Pork and Veal Breakfast Sausage, Poached Eggs ($19.50).
For obvious reasons you will see 🙂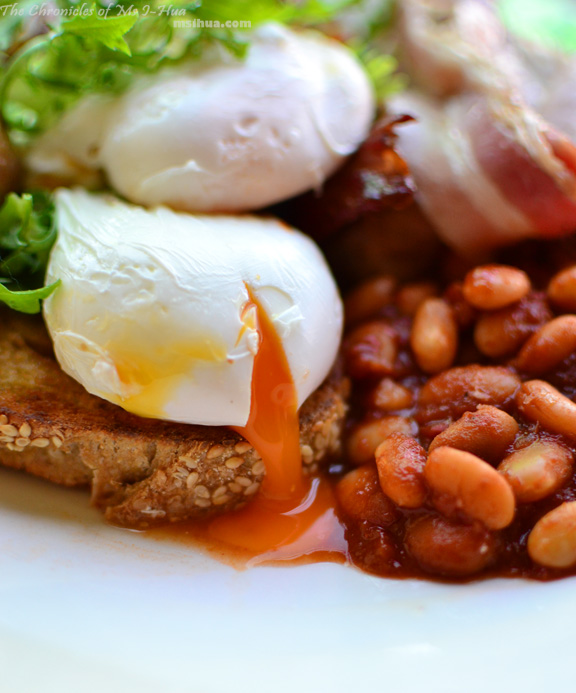 YOLKPORN!! Oh yeah! Bring on the #yolkporn #eggporn delight! See how much I love you guys!
The dish itself was "alright" on the side of things. Nothing really stood out and only one of the eggs were poached perfectly. The other, unfortunately, was overcooked.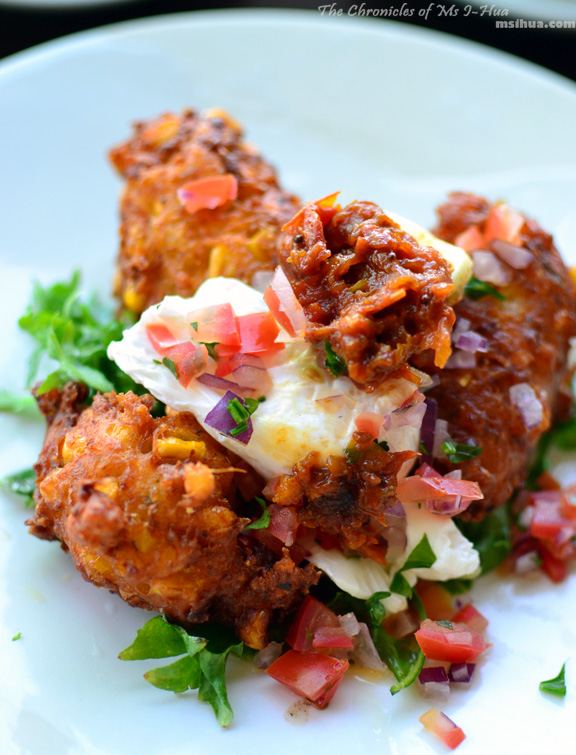 I, on the other hand, tossed between the corn fritters and bone marrow dish. In the end, my internal argument won and I had the My Mexican Cousin ($21.50) – Fried Sweet Corn Fritters with Kasundi, Halloumi, Greens, Tomato & Poached Eggs.
OMFG! Ladies and gents, I have an announcement to make.
Throughout all my research of compiling the list of best corn fritters around Melbourne Cafes, I have finally found it.
I may have found The Corn Fritters of all time!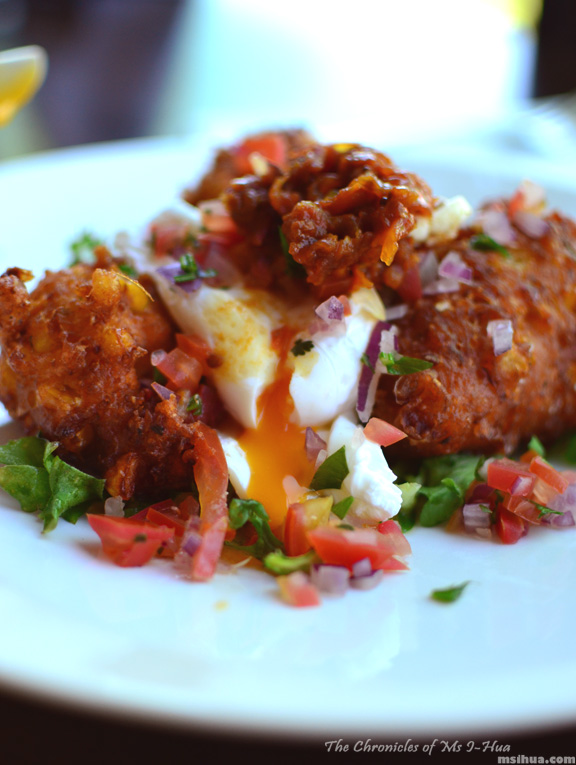 It was light, it was fluffy and it was crispy on the outside. My heart stopped, and started again. It wasn't until I was on my last fritter that I realised my dish was a vegetarian dish (what?) and I hadn't had any bacon!
If you need corn fritters in your life, I would suggest you pay North a visit.
Beware of the wait time. It could be because it was the first weekend after the long holiday and they were understaffed, but it took about 30 minutes before we were shown to our seats and another 20 minutes for our coffees (and a further 20 minutes for our food) to arrive.
So either go on a weekday (if you can) or come really early to grab a seat. Whilst the sun is out and the good weather remains, the crowd will be buzzing about.
*Disclaimer: All food ratings & review are purely based on my own experiences and how I feel about the service, food and quality at the time of visit
Food/ Cuisine: Breakfast, Lunch & Coffee
Dining Style: Cafe
Overall Food Rating (Based on the Dining style): 6.75/10 (8.5/10 for the corn fritters)
Restaurant ambiance: 8/10
Service/ Attitude: 6.75/10
Value for money: 7/10
Opening Hours:
Monday to Sunday, 6:00am to 6:00pm
(Menu starts 7:00am till 5:00pm)
Address:
815 Nicholson Street (Corner of Park St & Nicholson St)
Carlton North VIC 3054
Tel: (03) 9686 2990
Website: http://www.stali.com.au

Twitter: @ST_ALi
How to get there: