It's that time of the year again! A time for us to bust open our savings, loosen our belts and feast with our senses.
The Melbourne Food & Wine Festival is once again here for our eating pleasure, for our tongues to taste and for us to stock up our pantries. The MFWF 2013 event will go on for the next two weeks (started on Friday 1st March and concludes Sunday 17th March 2013).
The first event that the Boy and I attended this year (courtesy of Prahran Market) was the Napoleone & Co. Cider & Tasting Plate Event situated at my favourite market in Melbourne.
Located at the walkway between Swords Select Wines, Zee Teas and Damian Pike's stalls was a beautifully set up cordoned off and aptly titled Market of Eden.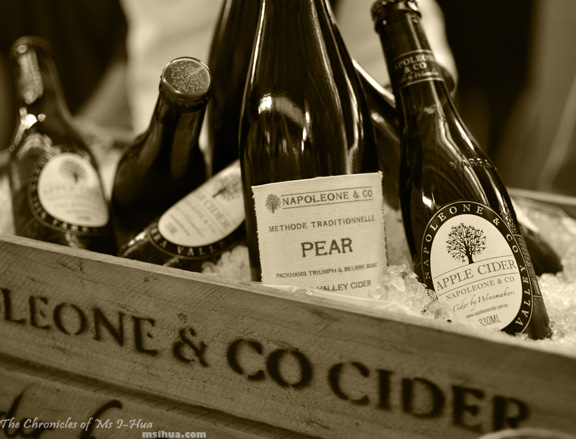 Napoleone & Co Cider together with the organisers of MFWF had been working closely together with Prahran Market for the event that took place on the 2nd and 3rd of March 2013. We were lucky enough to have been included in the matched cider tasting with food created by Walter Trupp using Victoria's freshest produce obtained from the market (no less).
I can still remember the first time we tasted Napoleone ciders, it was at Slow Down Harley Court in St Kilda and we had fallen in love upon the first sip.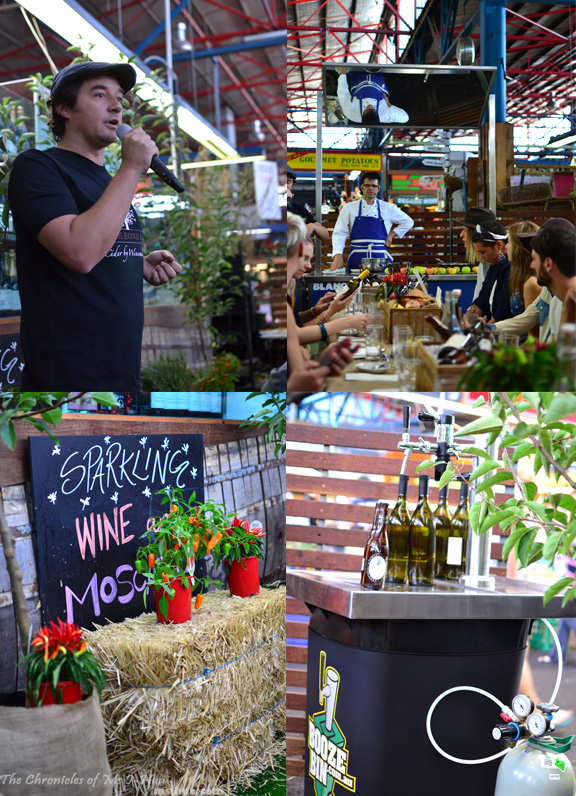 We were warmly welcomed by the representatives from Napoleone & Co Cider, who not only managed to keep our attention rapt throughout the tasting event, but was insightful, hilarious and knowledgeable.
Walter took the spotlight next as he took us through each of the dishes he had matched with the ciders on tasting.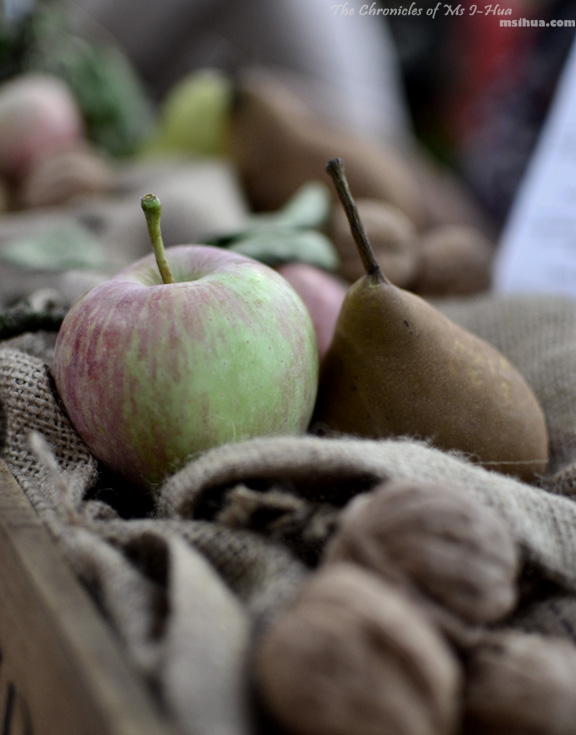 The decoration at the event should not be missed as we fell in love with the rustic setting they provided. Yes, we had to sit on hard hay stacks, and yes our tablecloth were made out of hessian sacks, but heck it was a fun dining environment 😛 It's not everyday you get to dine at a 4 course lunch (matched with the perfect ciders) in the middle of an active bustling market on a weekend!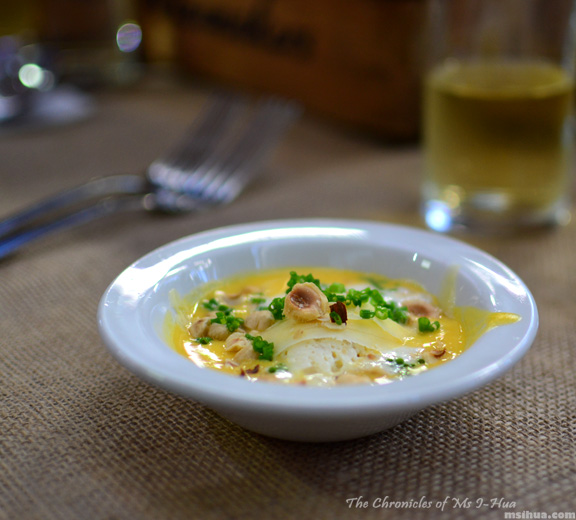 First Course: Warm Squash Vichyssoise with Cheddar Cream, Cheddar and Fresh Hazelnut Shavings & Hazelnut Oil.
The soup itself was delicious hearty and creamy. I loved the addition of the toasted hazelnuts as it provided a texture usually made up with croutons.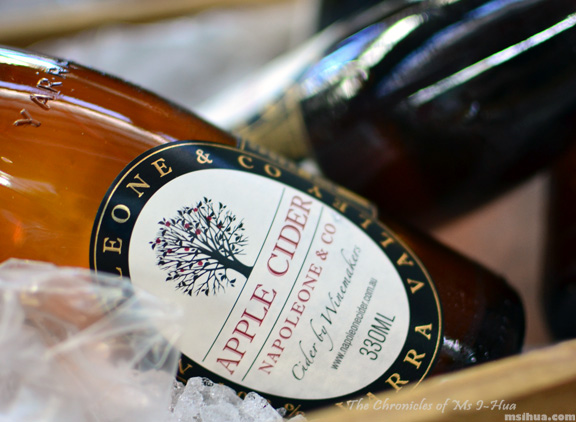 Paired with a Napoleone & Co. Regular Apple Cider. The Apple cider which we tried was a blend of Granny Smith, Pink Lady, Fuji and Sundowner apples, fermented using a Rhone Valley white wine yeast with a hint of American oak.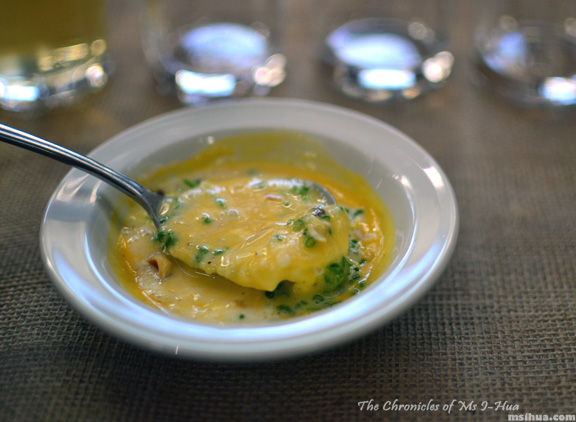 Interestingly enough, the taste of the cider did indeed change once we had sipped on the lovely soup. It became sweeter and more refined on the palate.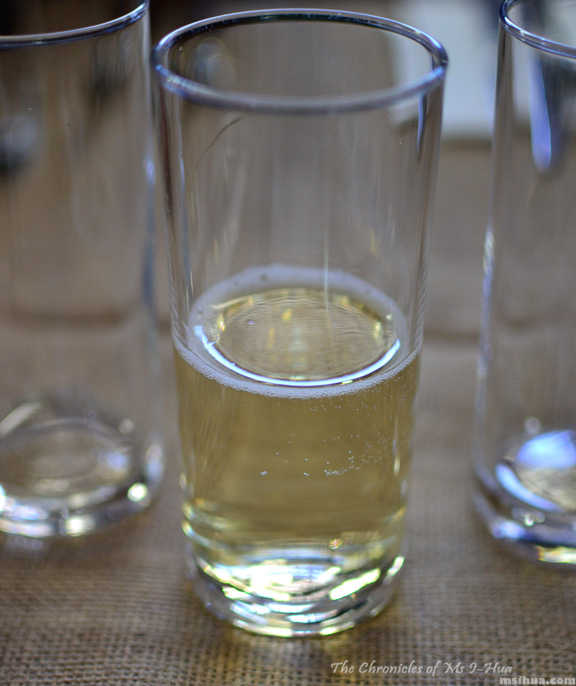 The second course was paired with a Napoleone & Co. Regular Pear Cider which is a combination of Packham's Triump and Beurre Bosc pears. This was my favourite cider from the range we tasted that day. It had a refreshing and distintive taste, very much like honeyed pears.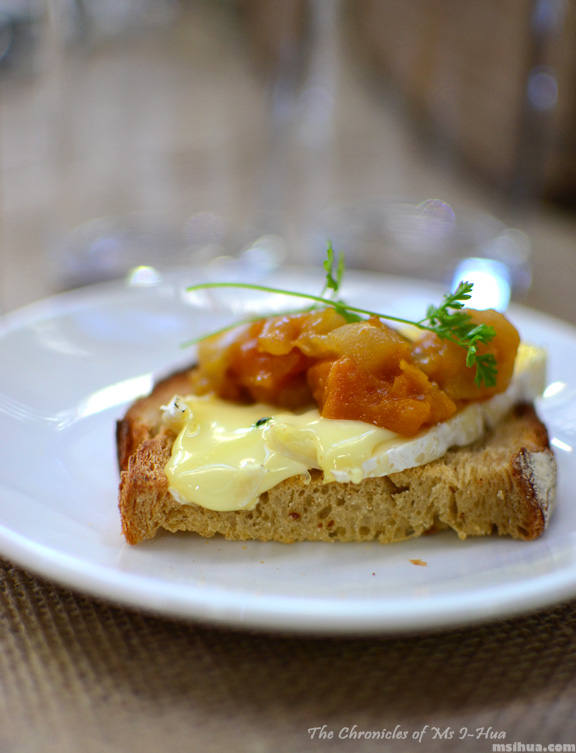 Second Course: White Mould Raclette on Nutty Sourdough with Pear Chutney. The cheese was beautifully runny and the dish was briefly torched prior to being presented.
Again another course that was matched perfectly to the cider. The acidity from the chutney balanced out the sweetness from the pear cider very well.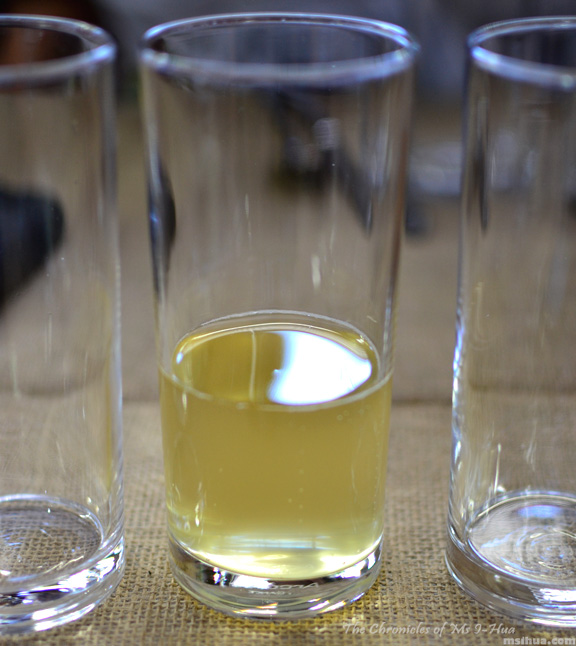 The third course was paired with a Napoleone & Co. Oak Cloudy Apple Cider. As you can tell, the cider was certainly cloudy.
As part of the brewing process, this cider is oak matured, unfiltered but finishes clean with a crisp acidity. Unfortunately, it is only available in kegs or growlers as the process of making them are unsafe for bottling (it will explode).
Upon sipping the cider, my palate (as unrefined as it is) was introduced to an almost buttery taste of the fruits.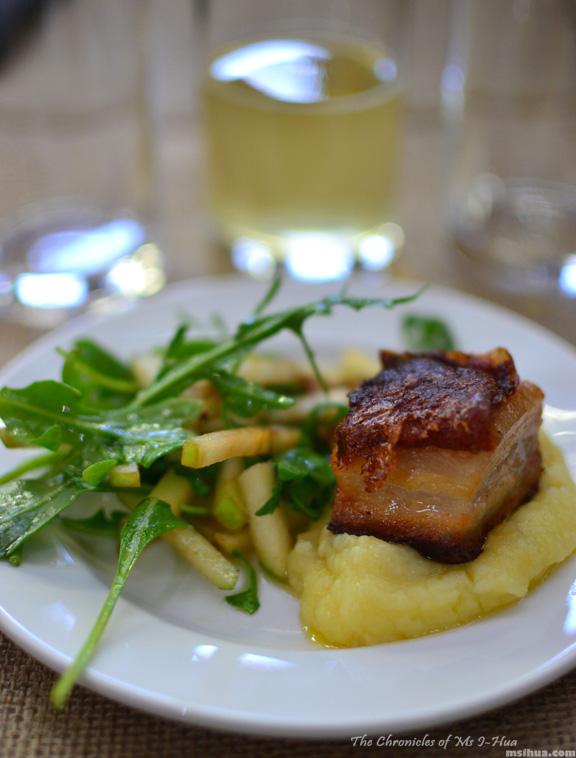 Trupp paired the cider to his Third Course of Crispy Skin Berkshire Pork Belly with Apple Mash, Apple-Rocket and Cider Vinegar.
18 hours long it took to prepare the pork belly. You know what happens when a piece of beautiful pork belly is left alone for that long cooking on low temperature. Yup! It just falls apart and melts in your mouth.
Another element of this dish which should not go unmentioned is the amazing apple mash. It was everything a mash should be and more. I can't wait to try replicating this dish at home!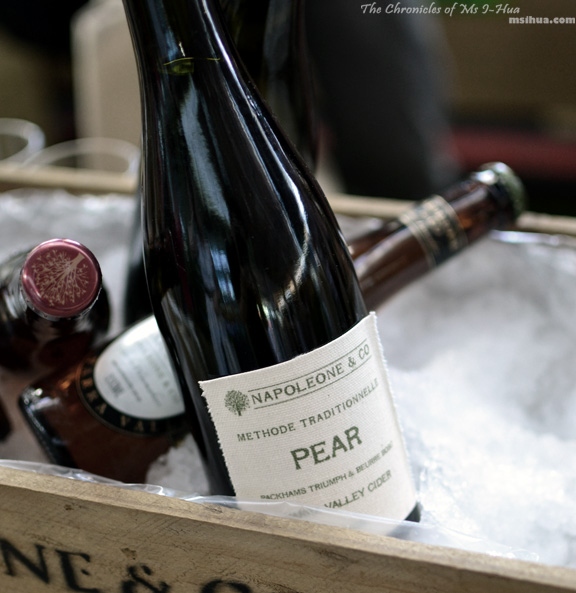 Fourth and final course was paired with a Napoleone & Co. Methode Traditionnelle Pear Cider.
This sparkling pear cider is made using the 'Traditional Method' technique, which comprises of bottle fermentation and ageing on yeast lees for up to 4 months.
If you are interested in a strong intense pear flavour in a cider, then this drink is for you.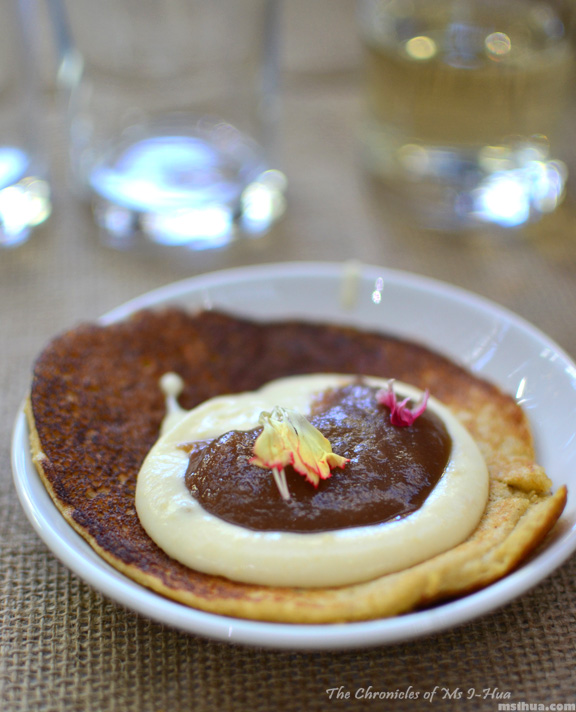 Fourth Course (Dessert): Brittany Buckwheat Pancakes with Raw Pear and Chestnut Jam & Cider Honey.
Who would have known? Cider honey! Chestnut Jam! Oh how my heart flutters. I'm not a big fan of desserts or pancakes in general, but if this was put in front of me once again, I would swoon. Everything on this dish was just light, fluffy and creamy making you want more with every mouthful.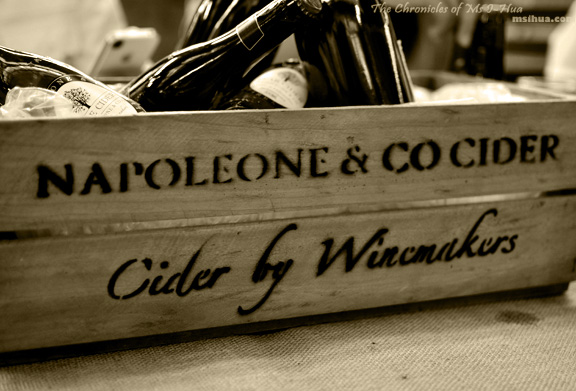 We walked away from the Market of Eden feeling as though we had sampled some of the forbidden fruits of old and harbouring a wonderful secret, a secret that is Napoleone & Co Ciders.
Don't worry if you have missed out on trying Walter Trupp's amazing cooking as he does cooking demonstrations at the Prahran Market every 3rd Friday of the month.
Better yet, book yourself in to any one of his amazing classes, and you'll never look at cooking the same way again!
[Ms I-Hua and the Boy attended the event courtesy of Prahran Market]
_______________________________________________________________________
Napoleone & Co Details:
Address:
10 St Huberts Road
Coldstream VIC 3770
Website: http://www.napoleonecider.com.au/
Cider Ranges: http://www.napoleonecider.com.au/ciders
Where Do I Get Them?: http://www.napoleonecider.com.au/find
_______________________________________________________________________
Prahran Market Opening Hours:
Tuesday, Thursday & Saturday, 7:00am – 5:00pm
Friday, 7:00am – 6:00pm
Sunday, 10:00am – 3:00pm
Closed on Mondays, Wednesdays & Public Holidays
Address:
163 Commercial Road
South Yarra VIC 3141
Tel: (03) 8290 8220
Website: http://www.prahranmarket.com.au/
Twitter: @prahranmarket
How to get there: