Hola Amigos!
Buen día! I hope you are all having a lovely Good Friday so far. If not, get cracking!
The Boy and I would like to continue our honeycation journey with you today, with our second stop at Valencia. If you've missed Part I, don't worry, the link is here (Barcelona).
Having had to wake up at 7am for a 4 hour ride to our next destination was a pain in the nether regions. The only thing that got me out of bed and excited was the prospect of visiting another city in Spain.
We could tell we were arriving at Valencia for a long while as the scenery changed around us. On both sides of the road, lined prettily with orange trees fruiting in abundance.
We wondered out loud how no one had harvested these oranges and silently thought that these Spaniards from Valencia were very well behaved!
It wasn't until later when our tour guide, Fernando explained that the fruits from these orange trees growing in public areas are very sour 0_0.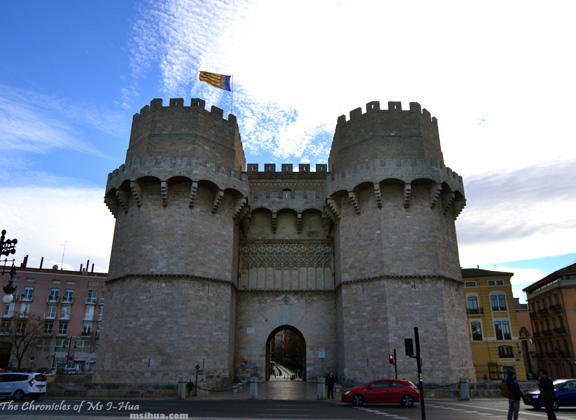 The first scenic item we had of the city of Valencia were the Towers of Serranos (Torres de Serranos) which was the north entrance and only one of two left (out of 30) around the city. The towers acted as gates and are the only remaining things left of the old medieval wall surrounding the city that was built in the 14th century.
Our guide also made mention that due to the great architecture surrounding the city, this makes Valencia the most important Gothic city in Europe.
One of the key landmarks of the city would have to be the old dried up River Turia bed, which has been completely redesigned as a park that winds its way through the city.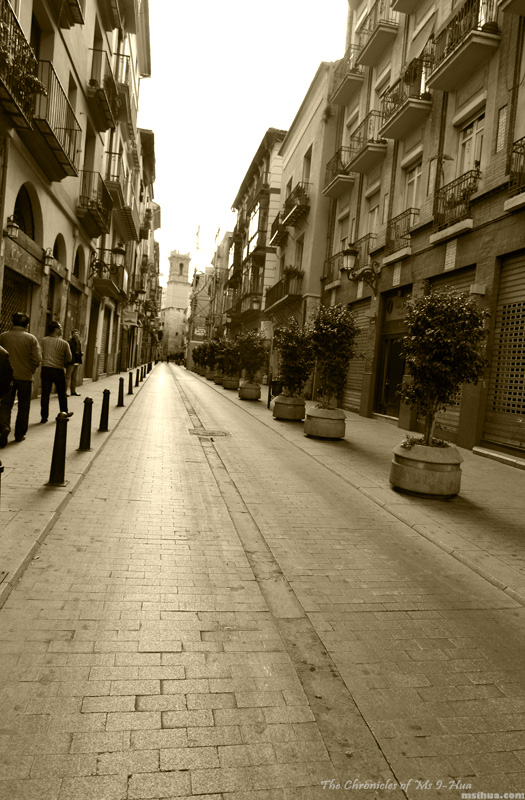 Pass the Towers of Serranos into the smaller roads. I loved the scenic lane ways that ran through all around the city. It made me wonder at the history and stories held behind every cobblestone and wall in this ancient multicultural city.
Not surprising, Valencia is the most Mediterranean city of Spain with 2200 years worth of history backing it up. From when the Roman's first arrived in 138BC  to the Berbers and Arabs who came from the north who came and ruled for 650 years and finally to the Christian reconquest in 1238.
Steep in history, there is a well preserved Roman city that is completely preserved in downtown Valencia (right underneath the modern Valencia), which we couldn't visit as it would take a good few hours (which we didn't have) or even days to cover it.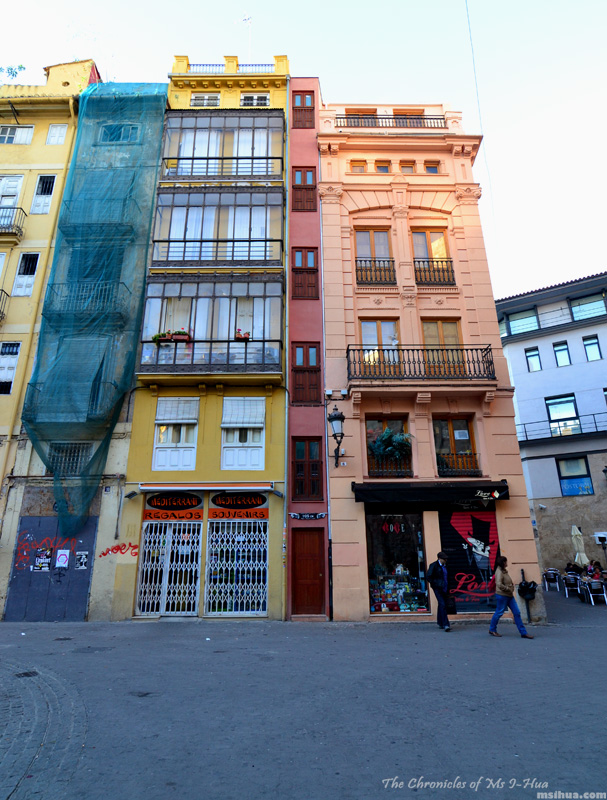 As we continued on our walking tour, Fernando pointed out to us Europe's smallest building facade at 105cm wide (the maroon building in between the yellow and orange buildings)!!!
As our city tour finished a little early (due to it being a Sunday and even the churches weren't open the whole time due to Siesta), we were awarded with a side trip to experience sunset at Valencia's City of Arts & Sciences. A truly amazing complex of buildings dedicated to arts and science (duh!).
L'Hemisfèric – IMAX cinema, Planetarium & Laserium.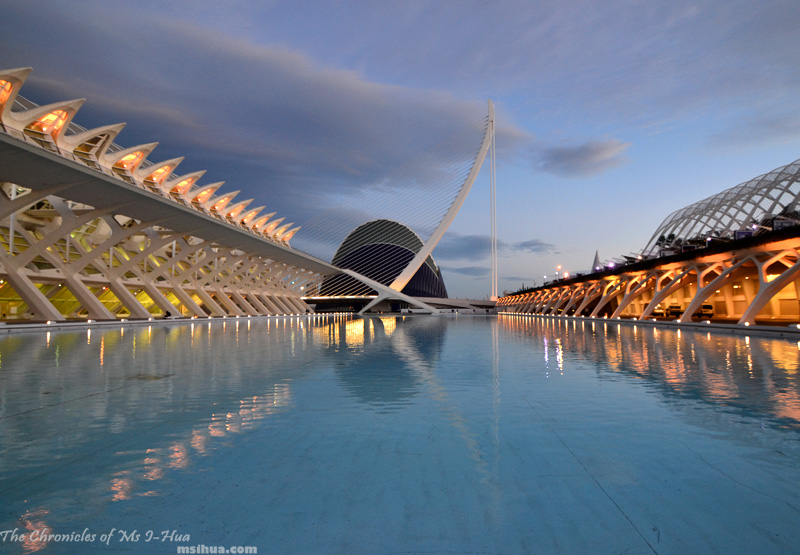 L'Àgora (centre building) – covered plaza for concerts and sporting events.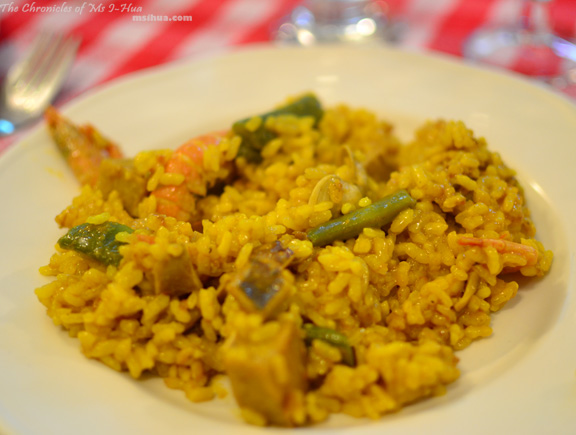 Backtracking a bit, for lunch, we journeyed to Quart de Poblet to dine at Casa Gïjan for their famed Seafood paella. Paella is a Valencian rice dish that originated in its modern form in the mid-19th century near lake Albufera, a lagoon in Valencia.
So of course, being at the heart of Valencia where paella was created, we couldn't but feel a little excited at the prospect of eating it.
It certainly was very different to the paella's I have grown used to, it's wetter and richer in saffron with no hint of sofrito in sight! Curious 🙂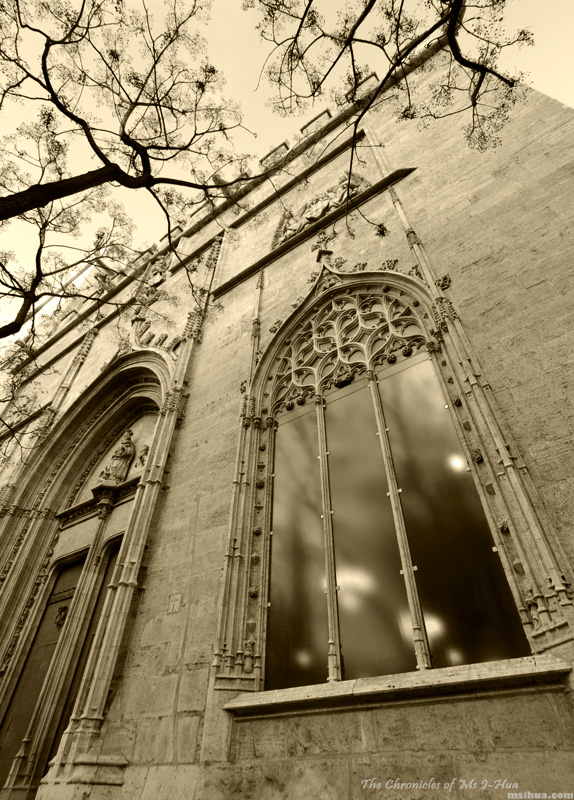 This is the outside of the iconic Silk Exchange (across from The Mercat Central de Valencia) which was an extremely important building during Valencia's golden age. Alas, as it was a Sunday, we couldn't enter.
As we took many pictures, feel free to click on the gallery below to knock yourselves out. We won't be explaining each shot, as that would drive everyone crazy!
I would have to say, out of all the cities we visited in Spain this time round, that Valencia was our favourite city by far.
It was quaint, it had a good mix of modern and ancient architecture, it was rich in history, and the people seemed much more relaxed (as compared to Madrid & Barcelona) and friendlier.
I can't wait to come back to Valencia one day, as I really want to visit the preserved Roman city hidden below the current city!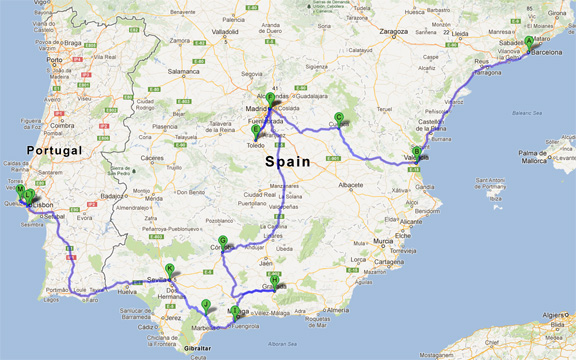 Above is the map to show you the distance we travelled across Spain ending in Portugal, with each stop marked.
We hope you enjoyed the second part of our tour (pushpin "B"), albeit not as much as we did *grin*.
With the pushpin markers above, you can be assured many more to come!
Previously: