Next to lamb and pork (mostly bacon), duck is my third favourite type of meat.
I'd die a pretty happy lady if my last meal on earth consisted of either one of those three meats mentioned above.
Luckily for me, nothing that drastic is happening any time soon (knock on wood). Just putting it out there, that if I had to tidy up any loose ends and plan my last few hours on earth, you now know what my ideal meal would consists of.
Speaking of tidying up loose ends (applause for the segue), Taxi Dining Room is presenting as part of Melbourne's Food and Wine Festival (MFWF2013) their 'Ducks In a Row' degustation lunch.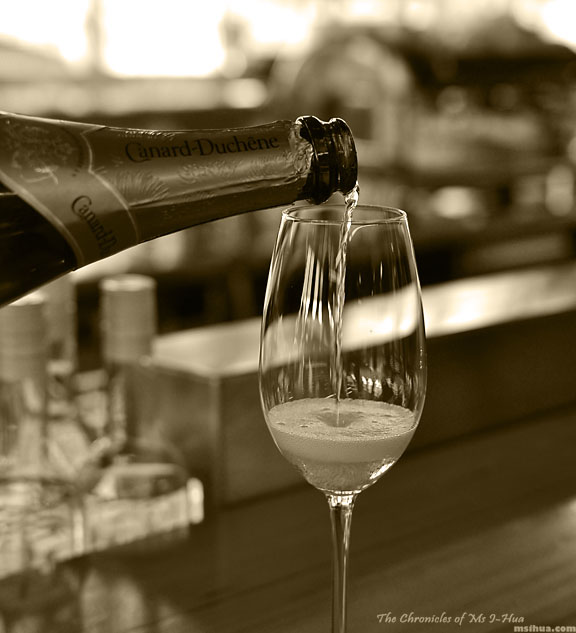 For the entire month of June (every Sunday lunch), Taxi Dining Room will entice their guests with a five course degustation featuring ducks. In particular, ducks sourced from Great Ocean Ducks (owned by Greg and Jodi Clarke), a free-range 16-hectare property overlooking Port Campbell near the iconic Twelve Apostles on Victoria's famed Great Ocean Road.
What is so special about these ducks? Their diet consists of strawberries over the summer and apples over the winter (along with grains). So you're technically getting a fruity duck, more bang for your buck! (sorry, I couldn't help it).
There will be wine matching options, should you wish to partake (full glass and half glass options available). On offer to match, Canard-Duchêne Champagne Brut (France); Principia Chardonnay (Mornington Peninsula, Vic) and The Story, Pinot Noir (Port Campbell, Vic).
We were told that the Canard was chosen because of its name, 'Canard' is French for duck.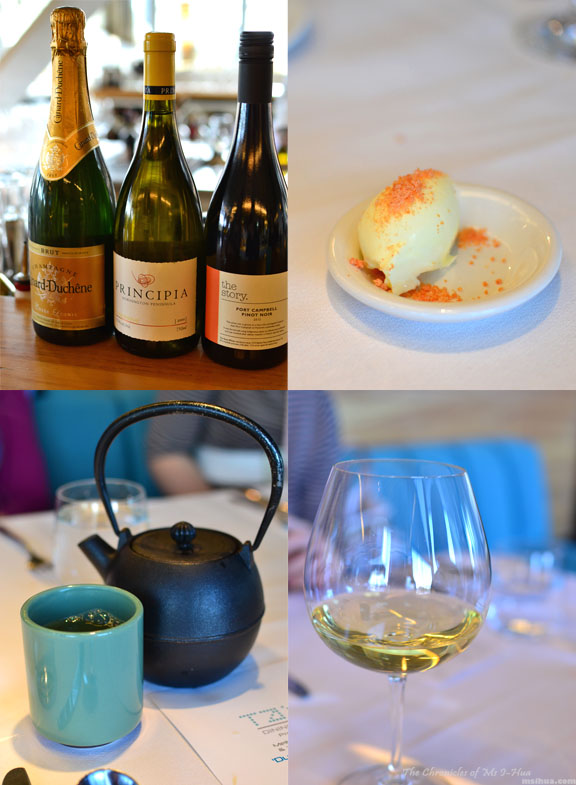 As we got down to the eating business, Kieran (Taxi's manager) introduced us to each dish and regaled us with many hilarious stories.
I would like to point out that I really liked the soft buns that were served at the start. Not only were they fresh and warm out of the oven, there was a beautiful smoky taste to it. Not to mention, partnered with housemade sriracha salt and butter, it was delicious!
The first dish was a nigiri styled Coffee Smoked Duck Sushi with Teriyaki Glaze and some mighty fresh (and punchy) wasabi. Fresh wasabi makes all the difference, and this one had a real kicker.
The duck sushi was my second favourite dish that day. So good!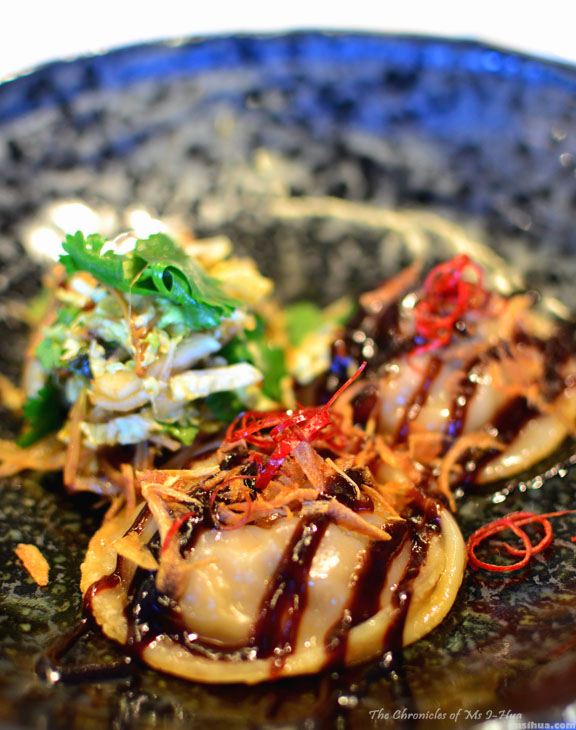 As our entreè, we had Spicy Duck Dumplings with hoi sin sauce. The dumpling skin was light and thin and the filling was just perfect.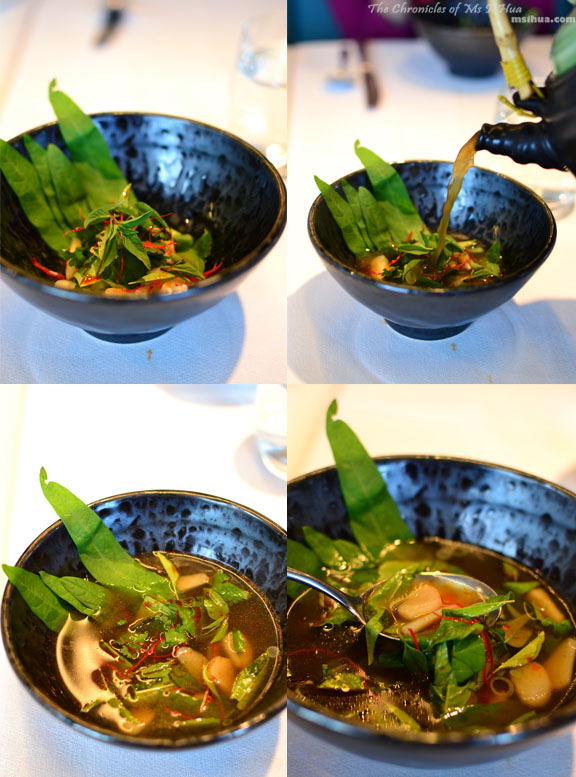 The third course of the meal was soup. Sichuan Duck Soup (broth made with the bones from the first two dishes) and topped with Thai Basil, Water Spinach, Chilli, Coriander, Chestnuts and aromatic spices.
The Boy thought the soup tasted very much like a sweet "tom yum".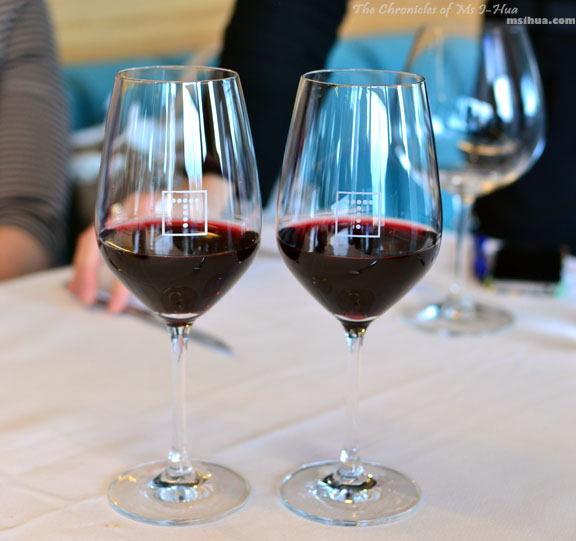 As we awaited for our main dish, we sipped on the Pinot Noir and talked about how much we all loved Ricky Martin on The Voice (you know who you are!).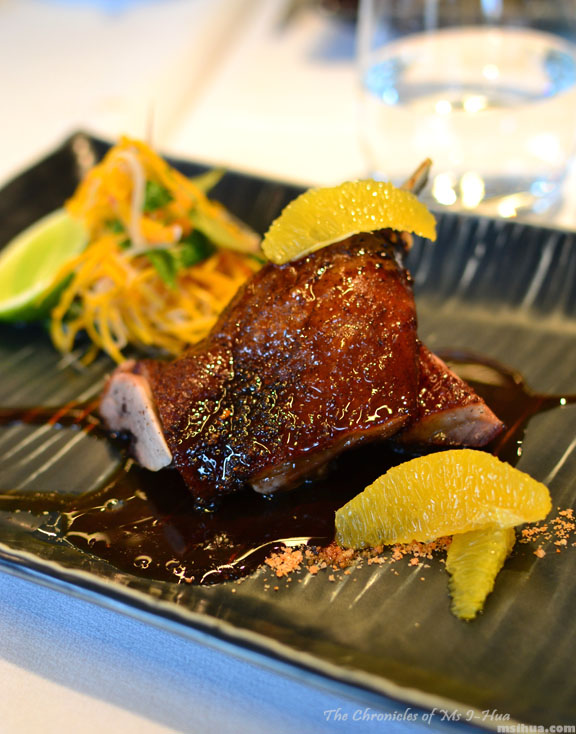 When the main was finally served, my mouth instantly watered. We had hit jackpot my friends!
Taxi's famous (and classic) Roasted Sichuan Duck (steamed and flash fried) served with fresh lime, a sprinkling of sriracha salt (made in-house) and Vietnamese salad, I was ready to lick the plate.
Luckily for me, there was enough to go around and I witheld what remained of my dignity.
It was a quacking good dish (:P) and it certainly set off the firequackers (double :P) in the taste department for me.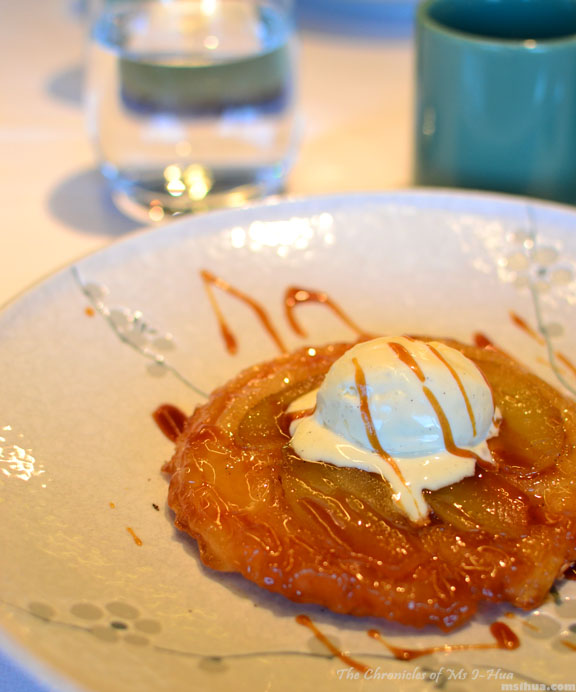 For dessert, we were all a tad worried that it would be something ducky.
Chef Tony Twitchett (I love that man!) came by and waylaid our fears. He mentioned that he and his team did toy with the idea of making a dessert using 'duck-fat' but thought they'd stay clear of that plan.
What we did have instead was a Green Apple Tarte Tartin.
"The ducks on the farm have been eating apples the whole day, so you can eat apples too", (Chef Twitchett, 2013).
As you know, we are both big fans of the food served at Taxi, so much so that The Boy has spent time perfecting Taxi's Sticky Pork Belly in Nam Jim recipe. I think I'll get him to replicate the classic duck dish next!
If you are like me, a great lover of ducks, then this degustation will definitely be up your alley!
Taxi Dining Room's 'Ducks in a Row' event is also part of the Melbourne Food and Wine Festival's state-wide campaign of "Put Victoria on Your Table" which is supported by the Victorian Government to encourage Victorians to buy from local producers and farmers in the Victorian region.
[Ms I-Hua & The Boy dined as guests of Little Big Marketing & PR and Taxi Dining Room]
Event Details:
$85.00 for a 5 course degustation. Available lunch only, every Sunday in June (2nd to 30th June 2013).
For bookings, phone (03) 9654 8808.
*Disclaimer: All food ratings are purely based on my own experiences and how I feel about the service, food and quality at the time of visit.
Food/ Cuisine: Modern Australian (Asian Inspired)
Dining Style: Restaurant
Address:
Level 1
Transport Hotel
Federation Square
Cnr of Flinders Street & St Kilda Road
Melbourne VIC 3000
Opening Hours:
LUNCH: Monday to Sunday, 12:00pm to 3:00pm
DINNER: Monday to Sunday, 6:00pm to late
Tel: (03) 9654 8808
Website: http://www.transporthotel.com.au/
Twitter: @TaxiDiningRoom

How to get there: