Welcome to the first Playground post for 2014! After last year's epic final post, Smoke, I'm not sure how The Boy will be able to top it.
The Boy wasn't 100% happy with it, but I was truly in love with it. There was just something magical when the glass dome was lifted up and pillowy smoke billowed out to reveal beautifully plated food within.
As the first post of the year, we thought we would start it off with something bright, cheery and colourful.
2013 was a really enjoyable and fantastic year for us and we could not be more grateful. We thank you for encouraging us and showing your support in our efforts in our humble kitchen. We hope to do you proud.
We bring you a summer special by showcasing the beauty of tomatoes. It's richness and vibrant colours will surely make you want to try this piece of edible art.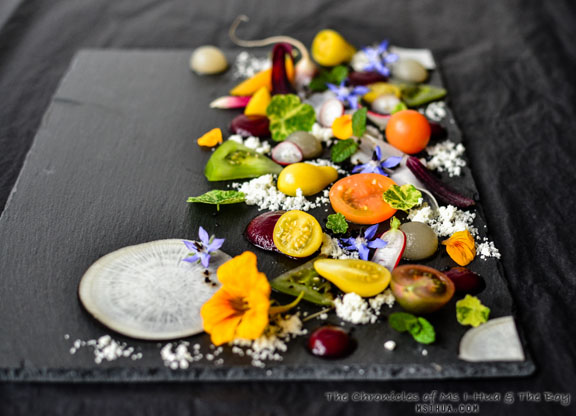 We are truly lucky to live in Victoria which has some of the best produce in Australia. As per usual, we love shopping at Prahran Market. It is a little on the pricier end (when compared to the other markets around), but we love the produce that is available there. We love the interactions we have with the sellers and we love coming home with an assortment of random produce which we pick up whenever we visit.
This Heirloom Salad came about as we paid such a visit one weekend and discovered that heirloom tomatoes were on sale at Damian Pike's stall. We also discovered black radishes at another stall and were completely excited!
Some beetroot, baby purple carrots and a few beautiful coloured baby radishes collected along the way, The Boy came home to start plating up.
With some beautiful borage flowers, mint, nasturtium leaves and flowers from our garden, he was ready to rock and roll!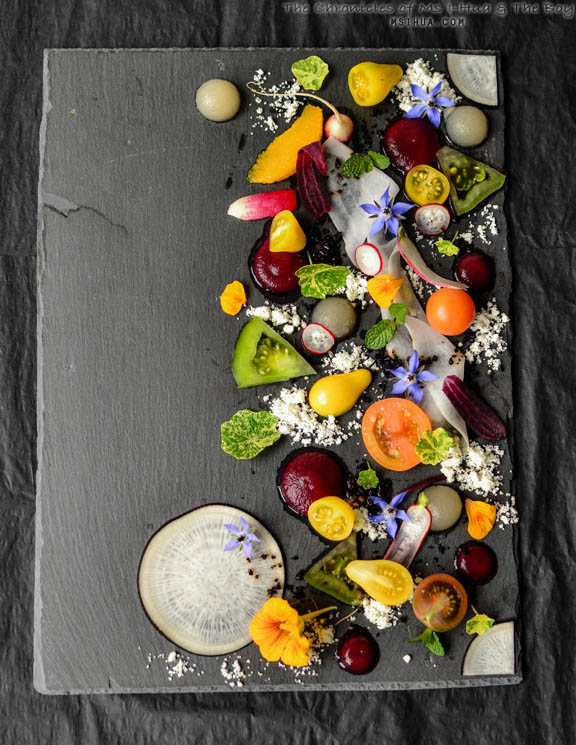 The elements on the slate are:
Heirloom Tomatoes
Pickled Black Radish
Pickled Daikon
French Breakfast Radishes
Baby Purple Carrots
Beetroot Gel
Pickled Onion Gelee
Nasturtium Leaves and Flowers
Borage Flowers
Mint Leaves
Orange Segment
Black Olive "Soil"
Olive Oil Powder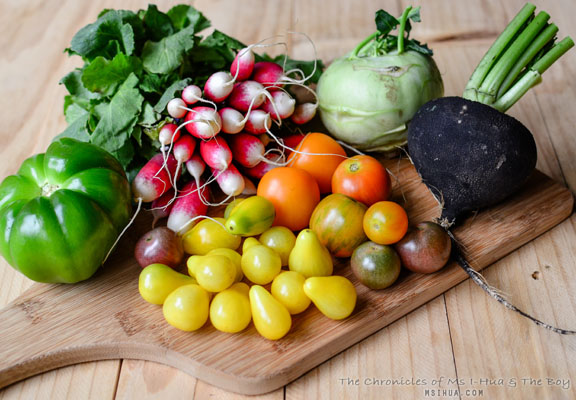 _______________________________________________________________________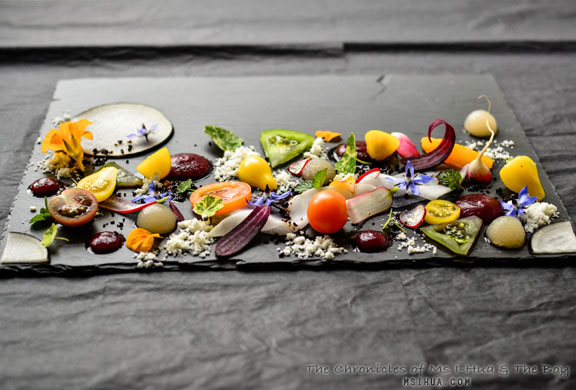 _______________________________________________________________________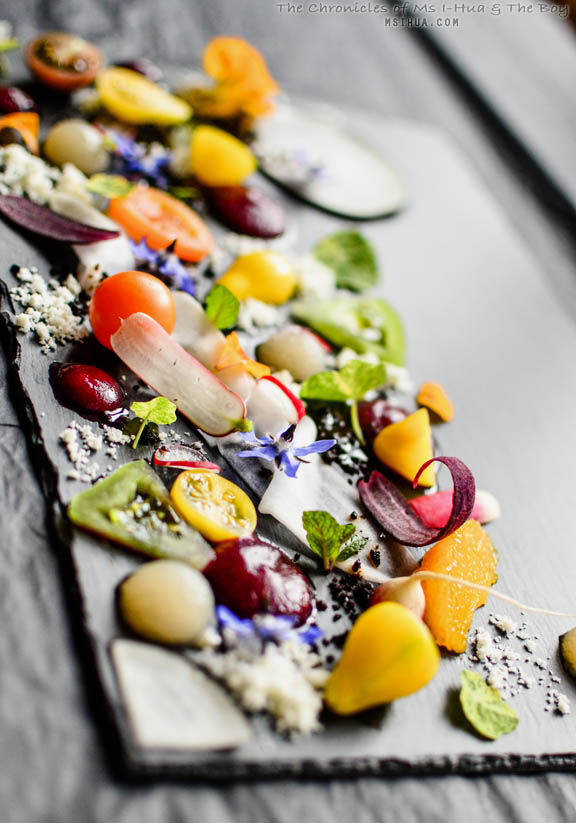 Great produce doesn't need much. Just let the ingredients do the talking!
So, how's your summer (or winter) going so far?