Can you believe it? It's August already! Before you know it, we'll be planning Halloween and not long after that Christmas! Eeps!
Where has the time gone? I feel like we've achieved and done so much this year though, that time has not been wasted.
I do wish we had more time (and money) to go on non-stop holidays to exotic and fun locations.
I also wish we did not have to travel so far to get a taste of delicious and authentic Hawker Fare from the South East. Don't get me wrong, I'm very grateful for all the delicious and handy Malaysian, Thai, Singaporean, Vietnamese and other types of local S.E. fare available here in Melbourne, but it's true what the old adage says, "Nothing like home".
Even though Singapore is practically a different country to where we are from, nevertheless, we consider them family (despite the sibling rivalry we share).
As part of our whirlwind trip to Malaysia and Singapore in March, The Boy and I wanted to share with Madam Mummy the authentic Singaporean Hawker Fare that is uniquely Singaporean.
Luckily for you, this translates into a wonderful "where-to-go" and "what-to-order" post for when you visit Singapore.
_____________________________________________________________________________________________________________
Tian Tian Hainanese Chicken Rice
Address:
Stall 10, Maxwell Food Centre
1 Kadayanallur Street
Singapore 069184
Opening Hours: 11:00am to 8:00pm (Closed Mondays)
Website: http://www.tiantianchickenrice.com/
First up is a dish and stall that is so popular it probably doesn't require any introduction. Made famous by Anthony Bourdain and then again by Gordon Ramsay is Singapore's version of Hainanese Chicken Rice in Maxwell Food Centre in Chinatown.
I say Singapore's version because there is a variant of this dish in parts of South East Asia and they all taste delicious!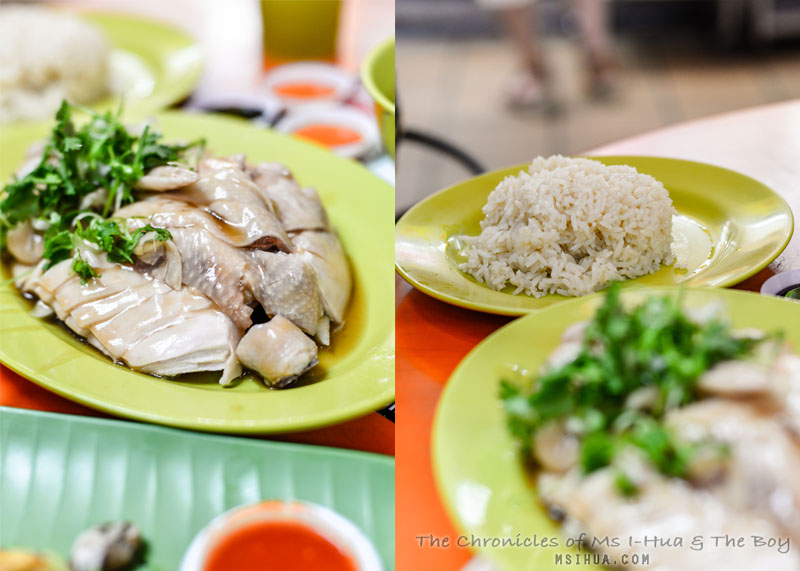 Be prepared to join the very long queue all around the food court if you are heading there during lunch time.
We were there slightly past 2pm and there was still a line! We managed to snag a table and shared it with a lovely Brazilian couple whom after chatting, we discovered was a chef in New Zealand who was doing some travelling with his partner in South East Asia for 3 months! They too had heard so much about Maxwell's chicken rice and was loving every morsel and mouthful they experienced.
What did we Hainanese Chicken Rice connoisseurs think about it? I gave it a good 10/10. The meat from the chicken was succulent and tender. The rice was fragrant and the chilli sauce was spot on. Even the critical Hainanese Madam Mummy approved it 0_0 (that's saying a lot from an Asian parent).
Whilst we waited for The Boy to line up and bring us our chicken, Madam Mummy and I could not help but place an order of Orr Chien (Oyster Omelette) from a nearby store. It was passable and definitely not as delicious as the recent Orr Chien we sampled in Penang.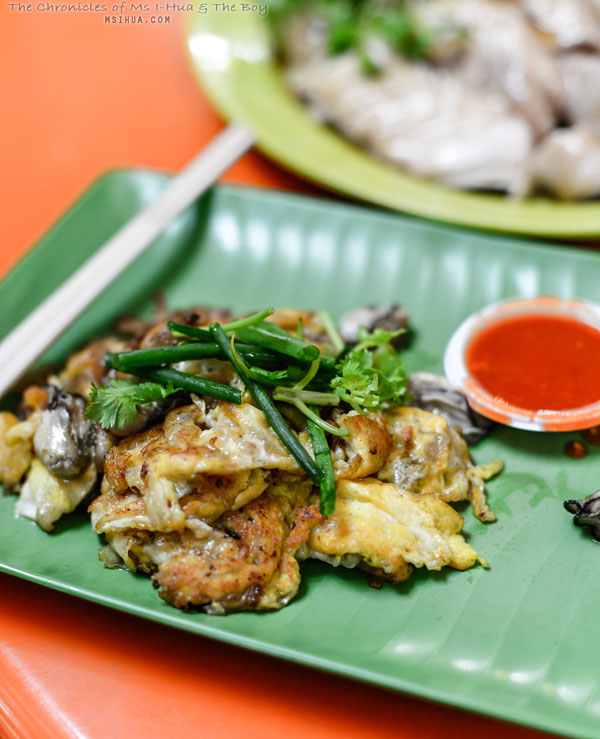 _____________________________________________________________________________________________________________
If you remember, The Boy recreated one of his favourite Singaporean Hawker dishes once which we loved. It was the Singapore Fried Hokkien Prawn Noodles which we had tried on one occasion during another brief visit.
We could not help but revisit the store where we tried this dish. There were no longer queues of people awaiting the dish, but it was still amazing nonetheless.
Because we were greedy and we didn't want to regret a small order, we decided to order a medium sized dish. What came out of the wok was enough to feed a small hungry family of 3!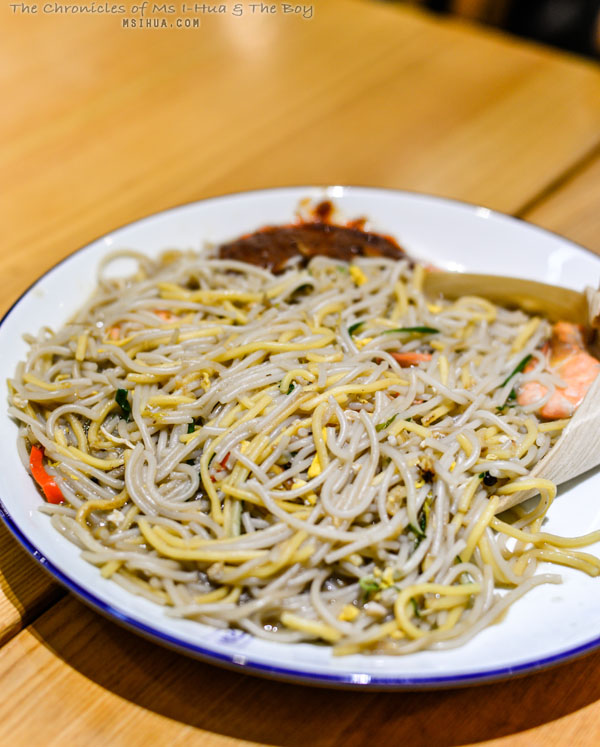 Which suited us just fine as that was what we were! HUNGRY for delicious prawn noodles. There were other food stalls available at this Food Republic but only Thye Hong was on our agenda. There are better ones around Singapore such as Geylang Lor 29 Hokkien Mee and Tian Tian Lai Hokkien Mee but we were shopping around Orchard Road and Food Republic was in a convenient spot.
Thye Hong at Food Republic @ Wisma Atria
Address:
Level 4, Wisma Atria
435 Orchard Road
Singapore 238877
Opening Hours:
10:00am to 10:00pm (Sun – Thurs & Public Holidays)
10:00am to 11:00pm (Fri – Sat & Eve of Public Holidays)
Website: http://foodrepublic.com.sg/food/thye-hong-2
_____________________________________________________________________________________________________________
 Before we decided on our whirlwind Layover trip of Singapore, The Boy had spent weeks researching all the places he wanted to visit. One of the items on our list which I requested was Kaya Toast.
Through research from blogs, we finally settled on Tong Ah Eating House.
It took us a while to find the location of this kopitiam as it had moved and not updated its website. Standing around on the haze filled day on the streets of Singapore wasn't quite how I envisioned myself as I struggled with the internet connection on our phone and looking for the new address.
After a while, we decided it was best to ask one of the locals about Tong Ah, who kindly pointed the way out to us.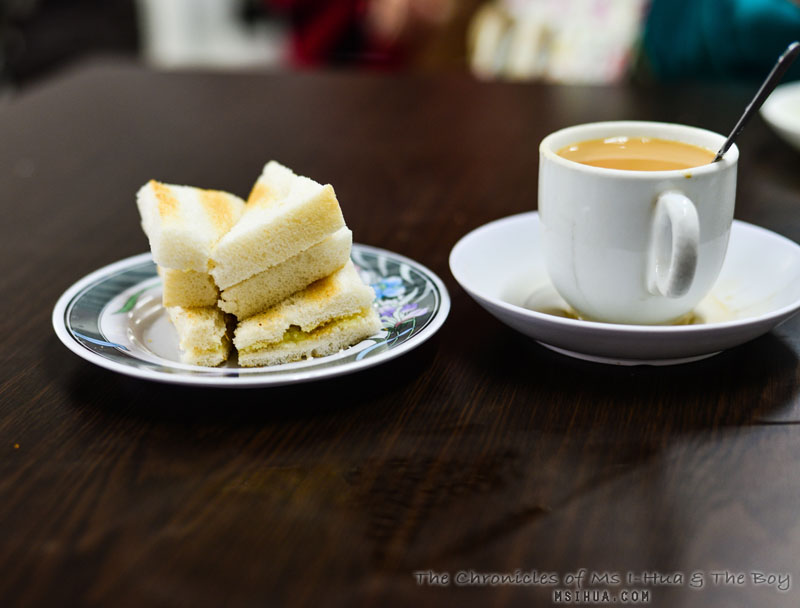 After all that kerfuffle, I was really hoping to be blown out of my mind and eat delicious Kaya Toast.
We were very disappointed with the texture of the bread, the service of the staff and the quality of the kaya overall. It wasn't worth the visit at all! Things must have changed after they moved as every review of the old venue raved about their kaya toast.
What was good though was the hot teh (tea) we ordered. Disappointed, we moved on to our next hawker dish on our itinerary.
Tong Ah Eating House
Address:
35, Keong Saik Road
Singapore 089142
_____________________________________________________________________________________________________________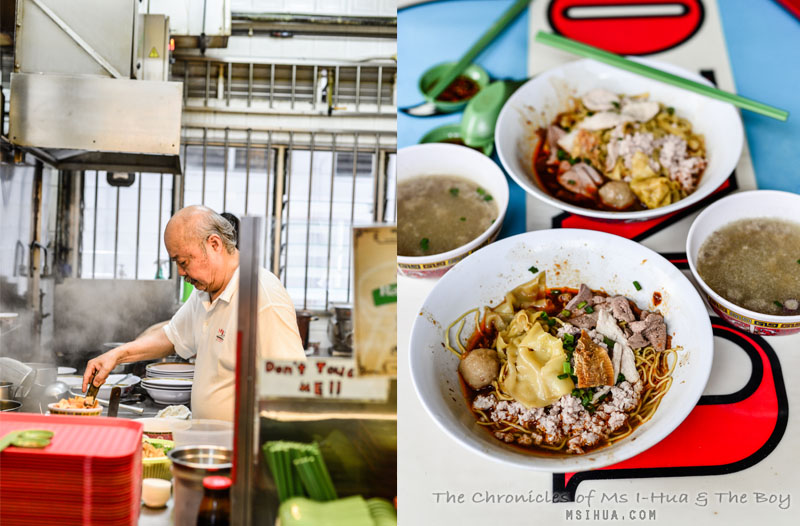 As we hailed a cab to take us on our journey, we got into a lively conversation with the cabbie when he realised we were headed to the famous Hill Street Tai Hwa Pork Noodles.
"Lou ai kee chiak Bak Chor Mee, see em see?", he queried to us in Hokkien (You are wanting to eat Pork Noodles?)
From that point, he happily regaled us in typical Singlish of the story of the famous pork noodle stall, the original owner who has since retired and handed over reins to his brother. He told us we were probably safe as we were nice and early. He also tipped us that we had to quickly grab a number from the front of the stall so to not miss out on the pecking order of the queue.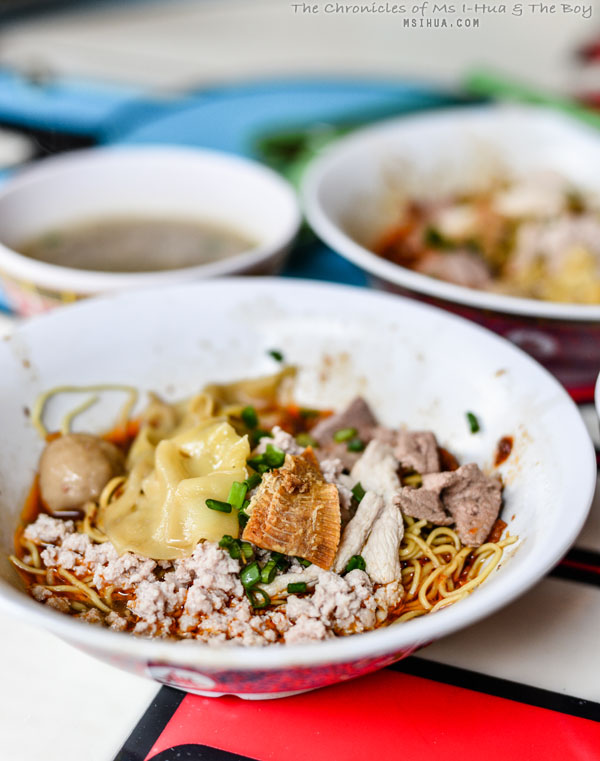 Forgetting his tip as soon as we got out of the cab, we three sat down at an empty table watching other folks sitting around. Clearly they were waiting for the stall to open as well.
As we placed our drinks order, the drinks seller couldn't help but tell us to quickly grab a number from the stall. Hastily remembering the cab driver's advice, we found ourselves with a number '5', which meant we were fifth in line to be served once the stall opened.
When we finally received our meal, it was everything we had thought it would be and more! Definitely unique to Singapore, this noodle dish is highly recommended.
Slightly vinegary, slightly spicy, slightly salty. The combination of all three flavours on the palate combined with perfectly cooked pork slices, pork liver and minced pork topped with crispy fried tee poh (dried sole fish) was pure bliss.
One word. GO!
Hill Street Tai Hwa Pork Noodles
Address:
Block 466 Crawford Lane #01-12
Singapore 190465
Website: http://www.taihwa.com.sg/
_____________________________________________________________________________________________________________
It goes without saying, dining in a food court within a shopping mall in Singapore (or any parts of South East Asia) is relatively safe and easy.
Our preference would always be to dine in an authentic Hawker Food Centre environment, but we know if we ever found ourselves out of time and in a shopping mall, the food court is the most viable option.
After visiting Marina Bay Sands and the wonderful Gardens by the Bay, we decided that we should have dinner at the food court before heading off to our next itinerary.
As The Boy and I wandered around studying what other people were eating, we finally settled on Ng Ah Sio Bak Kut Teh (Singapore's version of Bak Kut Teh is very different to the Malaysian versions) and Mei Xi Yong Tau Foo.
Ng Ah Sio, which like Thye Hong at Food Republic are chains from original stores made so famous that they appear in a few different food courts.
We loved the fiery pepper pork herbal soup that was served, as well as the delicious offal (intestines).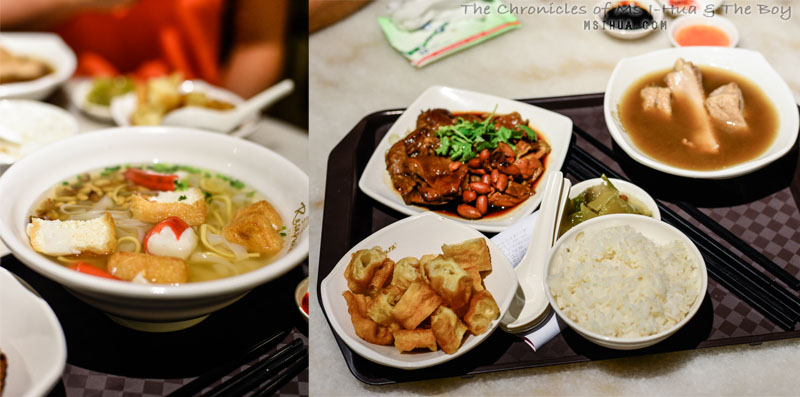 The yong tau foo was also pretty decent. Loved how 'clean' the broth tasted as well.
Rasapura Masters Foodcourt @ Marina Bay Sands
Address:
Marina Bay Sands, 2 Bayfront Avenue, #B2-50 (The Shoppes)
Singapore 018972
Website: http://www.marinabaysands.com/dining.html
_____________________________________________________________________________________________________________
Wah Kee Big Prawn Noodles
Address:
#01-15, Pek Kio Market and Food Centre
41A Cambridge Road
Singapore 211041
Opening Hours: Tue – Sun, 7:30am – 2:00pm
Another item on our list of must-eats was Singapore's version of dry Hokkien Prawn Noodles which is quite different to the version normally found in Malaysia's Penang Prawn Noodles.
Story had it that the owner of the Wah Kee Big Prawn Noodles was extremely arrogant and bad tempered, but punters put up with her bad behaviour because of how good the noodles and broth were.
Warned of this, I still manage to catch the ire of the owner (didn't seem hard to do) by standing in front of her stall to place an order. The first thing she found annoying about me was that I stood on her right instead of her left. The second thing was that I couldn't speak to her in Mandarin and responded in Cantonese (both which she was fluent at!).
The guy next to me couldn't help but comment to me as he waited after being verbally abused as well that her food wasn't that great anyway. When I queried why he was waiting for her food then, his response was that he lived in the HDB flat above and it was just convenient!
Scared and scarred, I took our order when it arrived and hurried back to Madam Mummy and The Boy before regaling them in my story. Horrified, but curious, all three of us took a spoonful of the prawn broth and gasp in delight!
It was absolutely delicious! Rich in umami and prawn flavour, the sweet broth partnered really well with the dry tossed chilli noodles. The prawns were as promised, big and succulent and well cooked. It was a dish that we just couldn't fault.
If you are into prawn noodles, I strongly recommend paying the crazy lady a visit if you happen to be in Singapore. Just be prepared for the diatribe and treat it as part and parcel of the 'show' and service. Your pride may be slightly wounded, but your soul will thank you for it.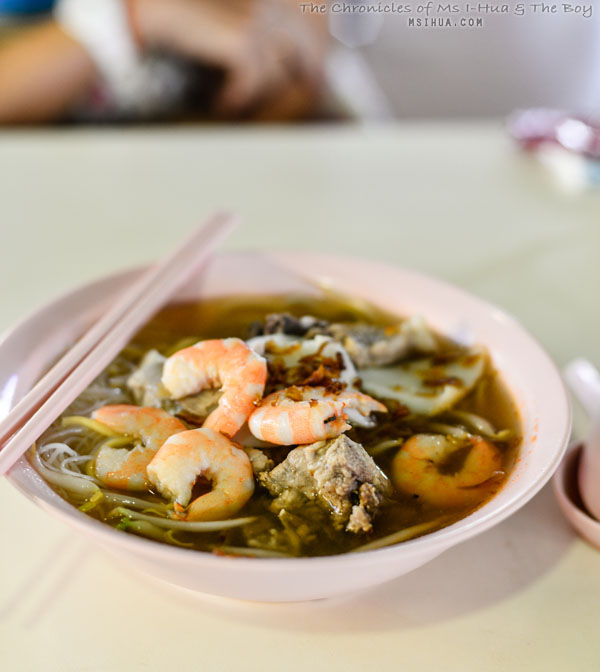 Lai Hiang Pork Rib Prawn Noodle
Address:
#01-15, Pek Kio Market and Food Centre
41A Cambridge Road
Singapore 211041
As luck would have it, in the same food centre as the Prawn Noodles, Madam Mummy discovered a Pork Rib Prawn Noodle stall which was also teeming with people.
Service was much friendlier and the dish was also very good. We loved how tender the pork ribs were. The broth was also very delicious. Try this if you happen to be here. It was delicious!
_____________________________________________________________________________________________________________
After our lacklustre Kaya Toast experience at Tong Ah, I couldn't help but vent on my social media channels about the bad quality toasts and service. I was inundated with suggestions from helpful Singaporeans and friends about where they would have gone for Kaya Toast (we should have done that in the first place!). Nothing beats a recommendation.
After tossing out a few options, due to time and locations, we decided to hunt down Good Morning Nanyang Cafe in the middle of a field, of all places.
Turns out the hunt was well worth it. It's a bit of a walk from the MRT station (but it was near our hotel, Furama City Centre).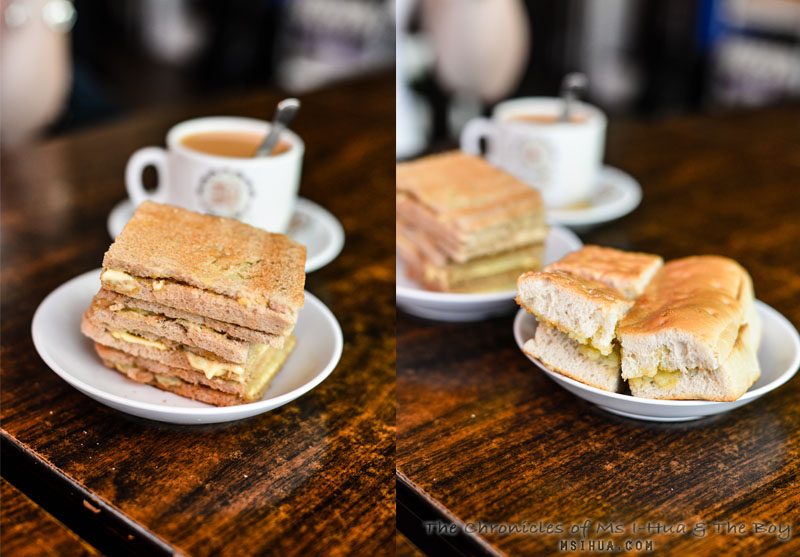 We tried both traditional and modern versions of the Kaya Toast and all three of us agreed that though the modern interpretation using ciabatta was good, nothing beat the traditional toasted version.
This was what I had in my mind when I listed Kaya Toast down on my list of must-eats in Singapore. Sweet coconut and pandan caramel brought to the brink of burning, buttery melty butter sandwiched between two toasty soft white bread. Even CNN thought this was a good place to visit (but then, they also listed Tong Ah, so your guess is as good as mine!).
If we had any tummy space left in our bellies, I would have also ordered a soft half-boiled egg to go along with our kopi and teh (coffee and tea).
Good Morning Nanyang Cafe
Address:
Telok Ayer Hong Lim Green Community Centre
20 Upper Pickering Street, #01-01
Singapore 058284
Opening Hours: Monday – Friday, 7:30am – 4:00pm
Website: Facebook
_____________________________________________________________________________________________________________
Last but not least, is something different. It doesn't belong in the realm of Hawker style food, but it will provide a pleasant sweet ending for your gustatory perception.
Slightly off the trail of the famous Holland Village's Hawker Food Centre and Pub Scene, lies a stairwell behind a nondescript looking door.
As you emerge from the stairs, you are greeted with a long bar bench which hides a range of blenders, syrups and Tupperwares' filled with the unknown.
To your left, pristine white long lounges with tiny tables. In the centre, high communal tables with bar stools.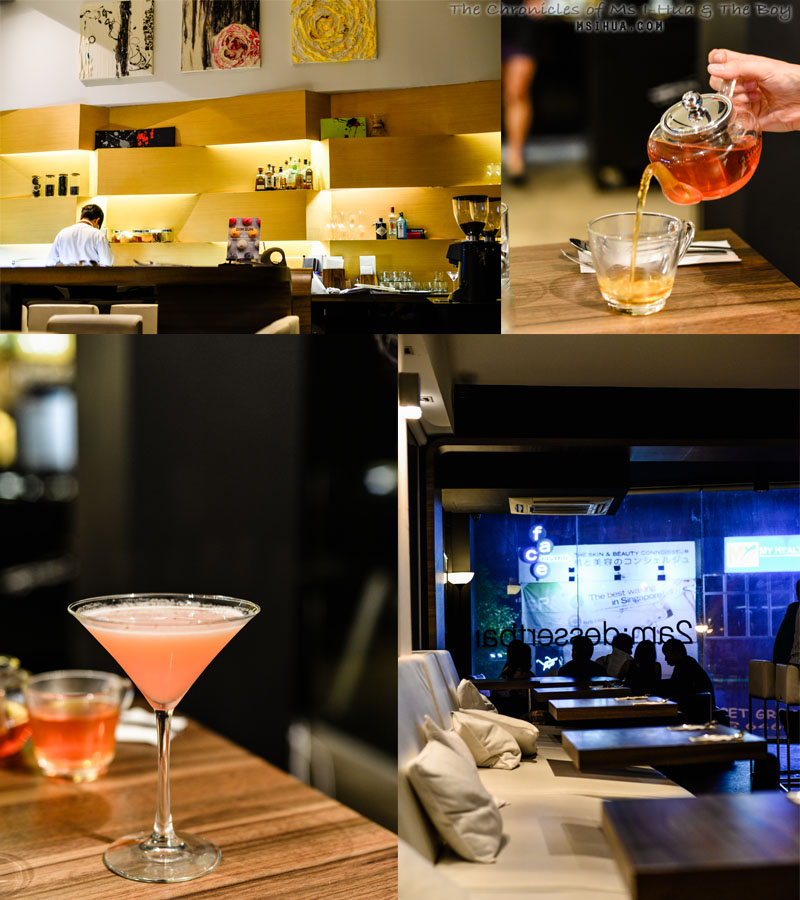 Such was the scene that greeted us as we went up the stairs to 2am. Opening to rave reviews, this dessert bar and lounge is famed for its modern twist to traditional desserts as well as desserts with amazing presentation.
Since it's launch in 2011, it's chef behind it, Janice Wong has had a meteoric rise.
In 2013, she won Asia's Best Pastry Chef at the prestigious San Pellegrino Asia Top 50.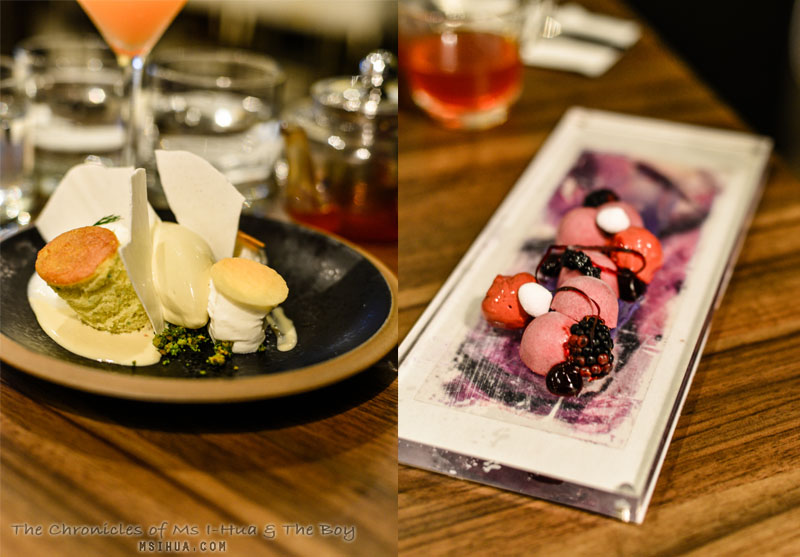 As we had spent the day eating (shock and horror), we could only order two cocktails and two desserts to share between the three of us. To be honest, this was our fourth if not, fifth meal of the day.
We ordered the Shades of Green (pistachio sponge, coco mousse, pandan gula Melaka custard) and the Purple (purple potato puree, blackberry parfait, leather, lavender marshmallows, fruits of the forest sorbet).
Our definite highlight was the Shades of Green. Absolutely loved the playful twist and modern interpretation to traditional flavours.
2am:dessertbar
Address:
21a Lorong Liput Holland Village
Singapore 277733
Opening Hours: Monday – Saturday, 6:00pm – 2:00am (Closed on Sundays)
Website: http://www.2amdessertbar.com/
_____________________________________________________________________________________________________________
This journey was definitely a culinary and eye opening experience for us as we sampled our way through the tiny island of Singapore. From one island to the next on our Layover Trip, we can say for sure, we tried packing in as much eating as we possible could.
We managed to eat all of this in 2 and a half days as well as two visits to separate fine dining restaurants (check out our post on Jaan). When there is a will, there is a way!
Stay tuned for our last Singapore Layover post.
*Disclaimer: All food ratings & review are purely based on my own experiences and how I feel about the service, food and quality at the time of visit