And so it was bound to happen. The successful mothership has decided to spread her offspring on to the unsuspecting people of Melbourne CBD.
What on earth are we talking about?
You may have well heard that recently, Meatmother from Richmond has expanded its wings to occupy a much bigger space in the underground caverns of Melbourne CBD.
Okay, so it's nothing quite that dramatic, but I still like to think of it as a secret underground meeting point where people of like-minded bellies gather round to debate, "Shall we have the Smoky Lamb Ribs or the 20 hour Wagyu Brisket?".
Meatmaiden as mentioned, has a much larger capacity than Meatmother and also a much bigger menu. Expanding into the realms of salads, seafood and desserts, it's definitely a much welcomed addition to the ever-growing number of restaurants in the city.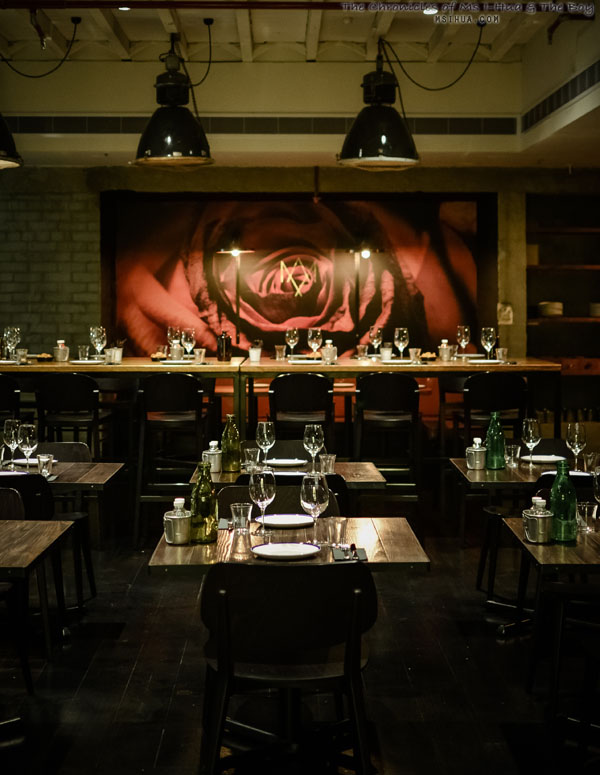 Taking over the infamous spot of the short-lived Little Hunter, Meatmaiden has a new fit-out that makes it look darker, grungier and more secretive.
To get there, you'll have to look for the double M symbol, find the art deco (self portrait of said maiden's) double doors and walk down metal stairs as if you are going to a rave in an abandoned industrial warehouse.
The music will guide your steps. As you enter, you'll find a thing of beauty. A giant glass refrigerator/display of meats hanging for the guests who choose to order it.
A long bar, secluded booths and share tables invite you to step in.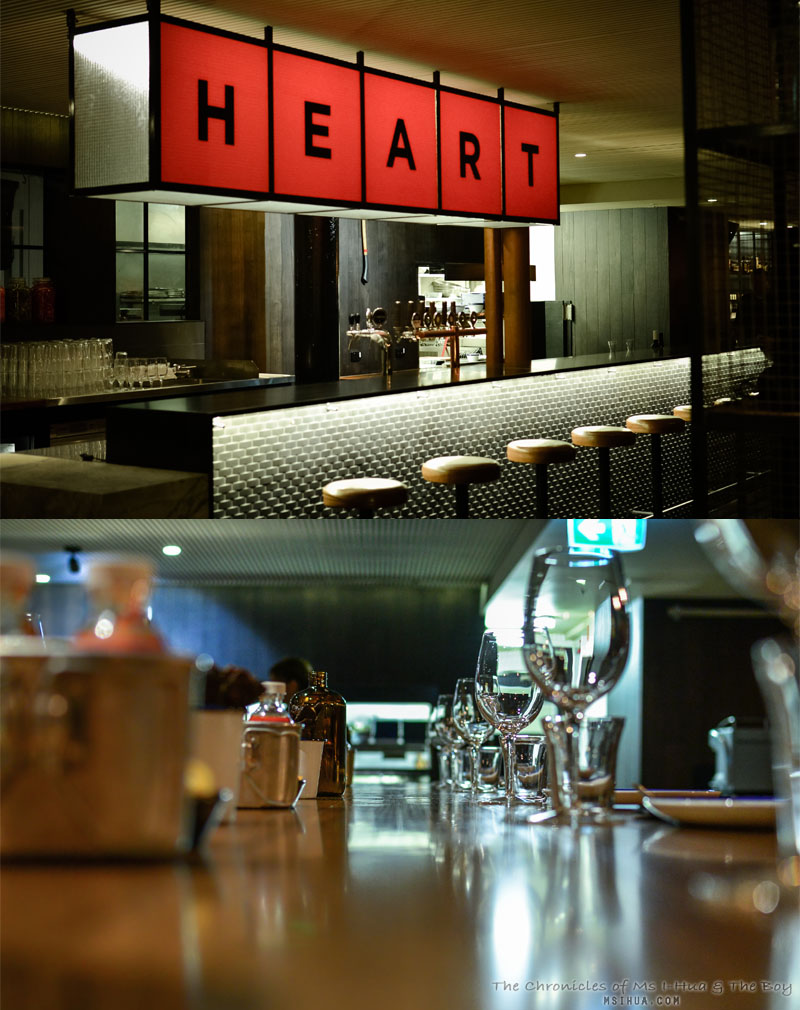 _____________________________________________________________________________________________________________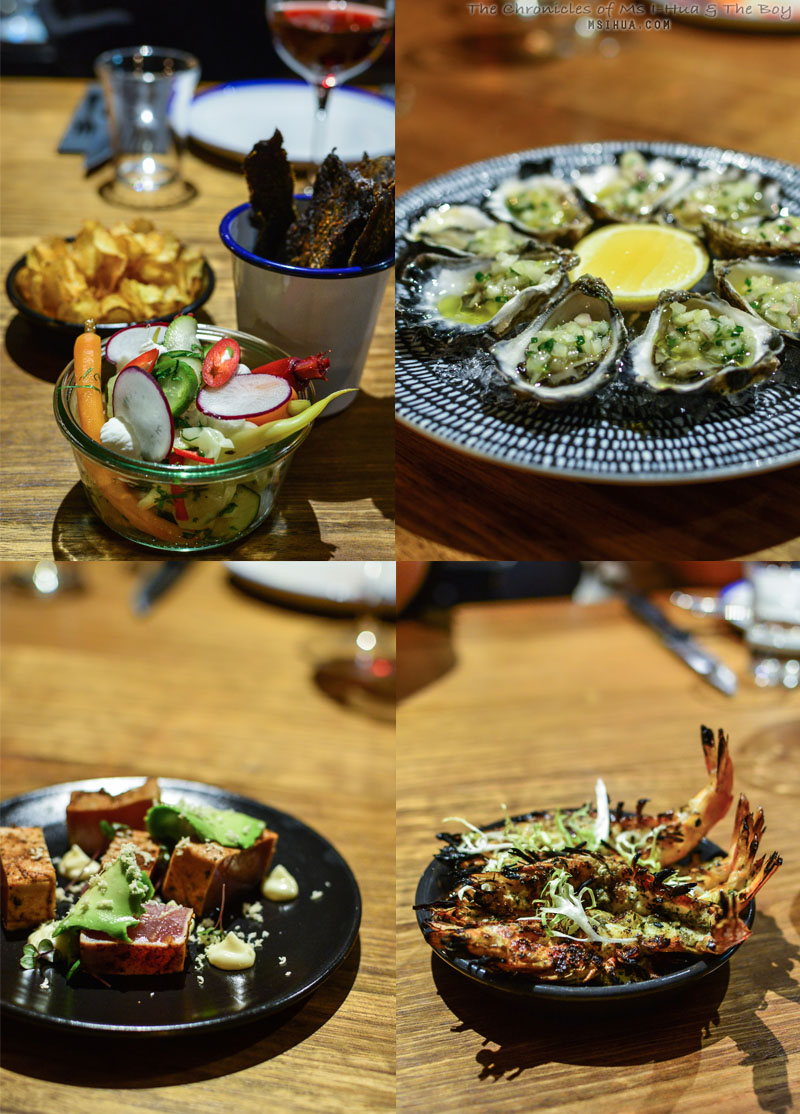 [Clockwise from Top-left to Bottom-left: Kipfler Chips, Beef Jerky, Pickled Heirloom Vegetable with Chilli & Goat Curd; Oysters of the Day with Smoked Fennel Dressing; Grilled Mooloolaba Prawns; Cajun Seared Tuna with Horseradish & Avocado]
We were fortunate enough to have been invited twice to Meatmaiden before she officially threw her doors open to the public. We sampled a wide array of items from her menu.
Everything we sampled from their appetiser section was delicious. Particularly loved the smoky prawns (of which I may have had 3 pieces 0_0) and pickles!!!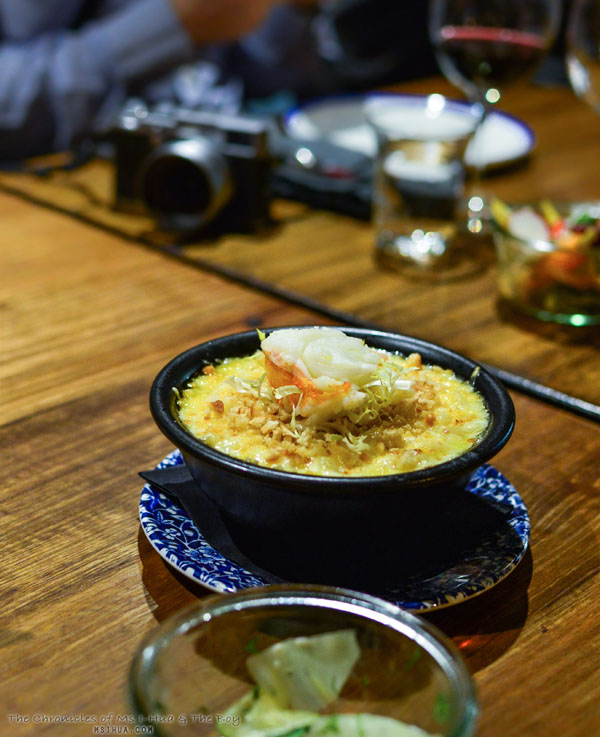 I swear the Angels were singing as we reminisced with others on our table our recent visit to New York. We were lamenting how hard it was to have lobster on the menu here in Australia, when this amazing bowl of Lobster Mac & Cheese was put right in front of us.
It was cheesy, creamy, crunchy and so damn fine.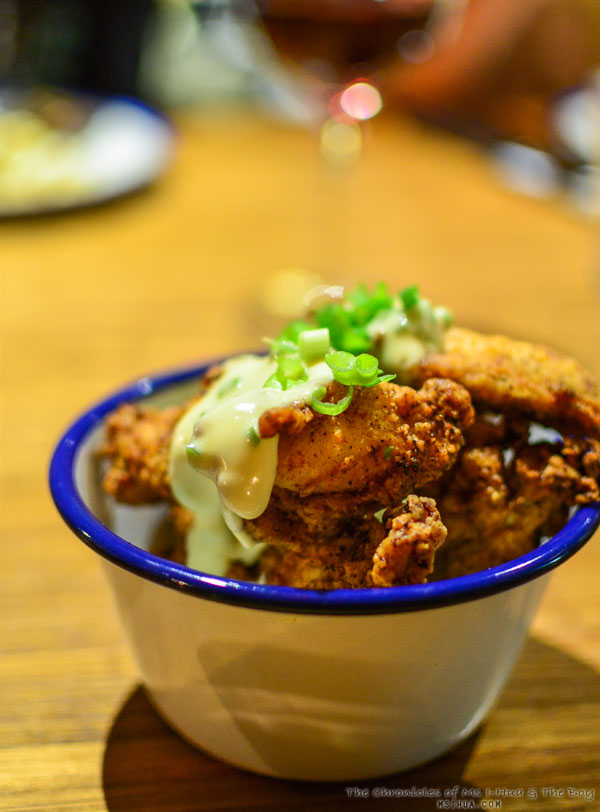 One of my favourite things from Meatmaiden was the Southern Fried Chicken Ribs with Tequila Mayo. Tequila what? Yup, tequila mayo. To be honest, the tequila isn't very strong at all.
I highly recommend getting down and dirty with this one and using your fingers.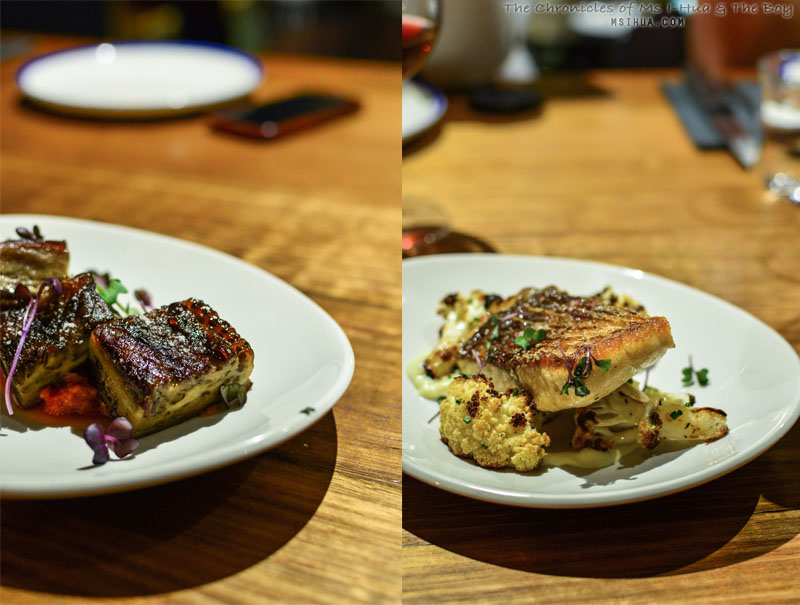 [Left to Right: BBQ Eggplant, Capsicum and Roasted Tomato; Smoked Barramundi with Charred Cauliflower]
For vegetarians, fear not! Meatmaiden despite her conspicuous name and nature, also caters to the vegetarians who insist on showing up in her territory. If you aren't fond of red meat either, or have intolerances to certain meats, they also serve seafood here.
I couldn't get enough of the charred cauliflower and cauliflower cream the fish came with. I'm definitely naming this a Paleo dish even if it isn't. I was the only one of the group that got to try the delicious Barramundi as the chef knew I couldn't taste any of his magnificent beef dishes <3.
During our second visit to Meatmaiden, I was fortunate enough to try the smokiest crumbed Lamb Ribs. That was the winning dish for me at Meatmaiden. The last time I had meat smoked so well and cooked so beautifully that I had to control the urge to rip the meat off the bone Hagar The Horrible style, was at San Telmo.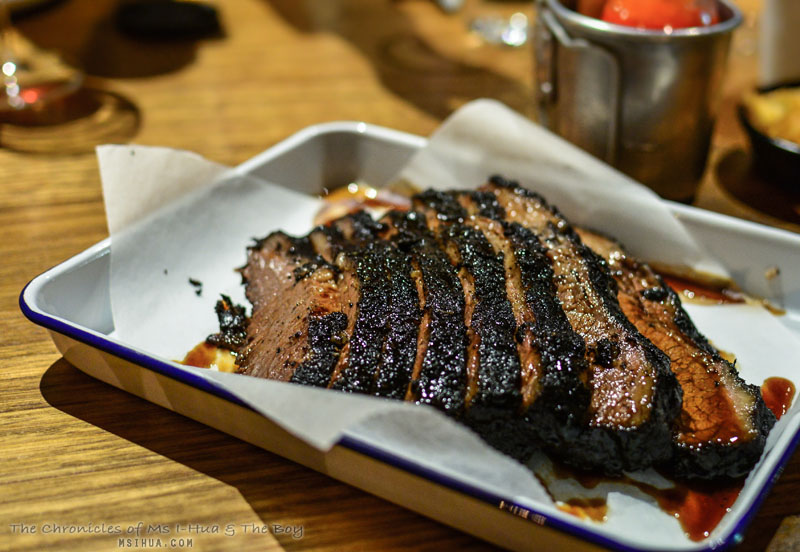 The piece de resistance! Justin Wise's clever (pun fully intended) 20-hour Rangers Valley Wagyu Brisket with Native Tassie Pepper Berry Rub made everyone around the table go Ga-Ga at his genius with this dish.
Just by looking at the meat all splayed out that way made my mouth water despite being unable to taste it.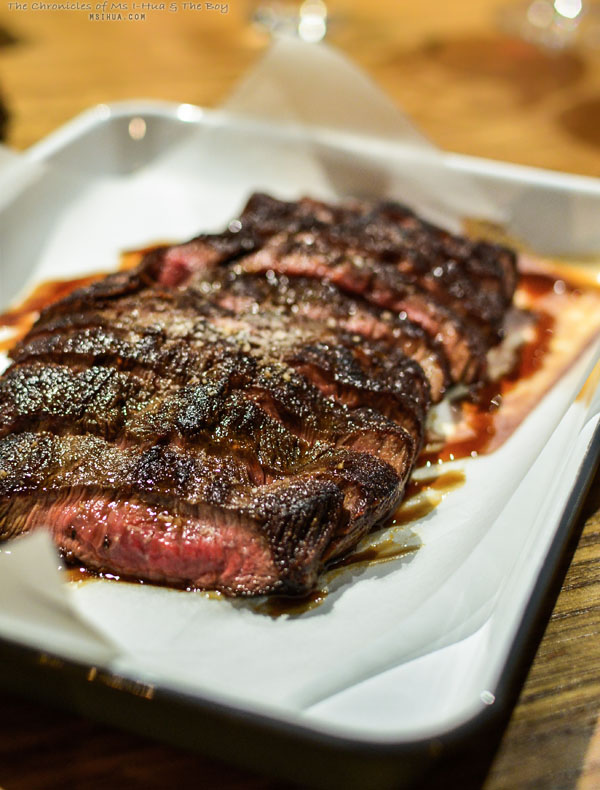 His other must-have beef dish is the O'Connor Pasture-fed Flat Iron Steak.
From listening to talk around the table, it was hard for the guest to choose between the brisket and the flat iron steak, however I think the brisket may have just won.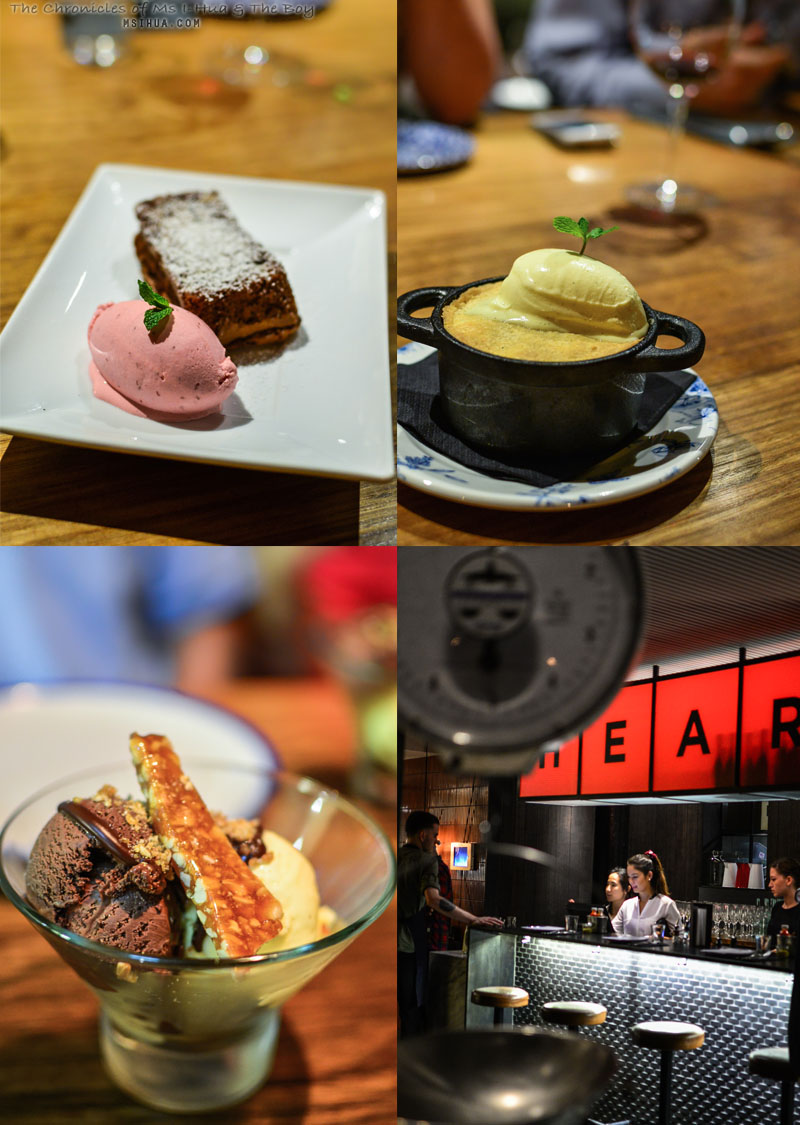 [Clockwise from Top-left to Bottom-left: Chocolate Bar with Raspberry Sorbet; Crack Mom's Apple Pie with Vanilla Ice Cream; Sundae Diner with Peanut Brittle]
If you are that way inclined and have not filled up on enough portions of meat and carbs (why haven't you?), and feel that you need a little sweetness to cap your meal at the Meatmaiden, fear not, they cater to that too!
My favourite of the three which we tried was the apple pie. Nothing more heart warming and beautiful than well made apple pie. Heaven!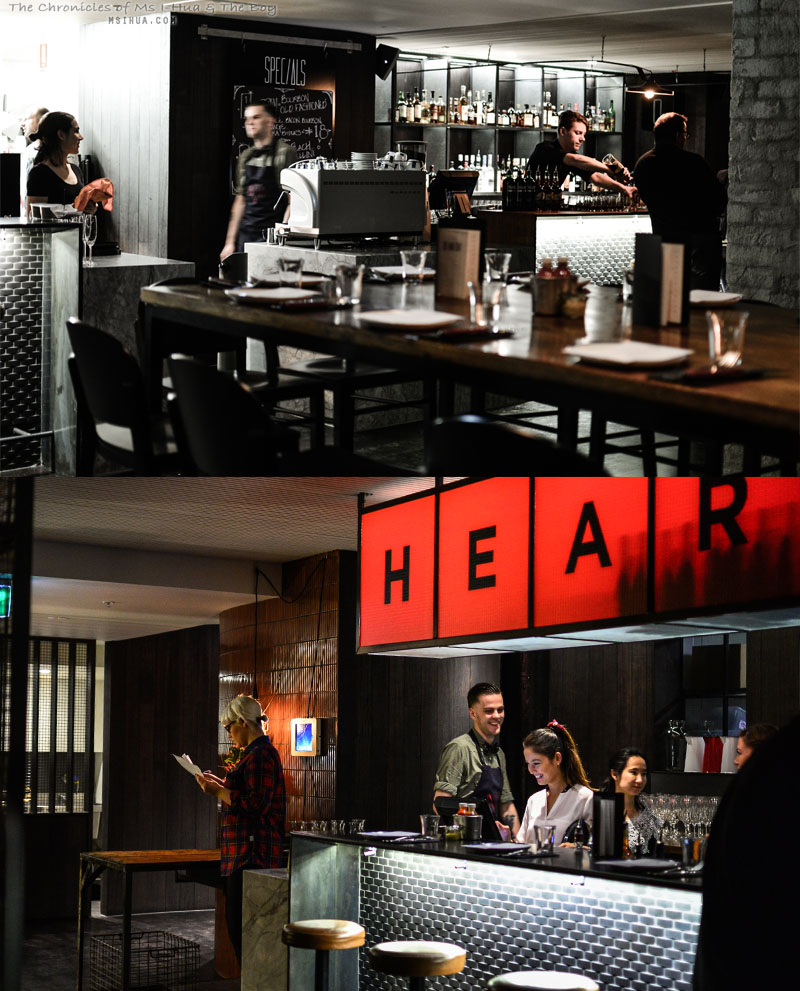 I seriously can't wait to bring a whole group of friends over and just concentrate on chicken ribs, lamb ribs and pickles! The Boy would definitely drop everything just for another taste of that flat iron steak.
Already I've recommended these to a few work colleagues for a farewell and they all came back highly satisfied (and slightly rotund around the waist).
If you are interested in dropping in for lunch, note that they have a quick lunch fix of one course for $20, or two courses for $25. If you are on the run they also have daily sandwiches to take away!
If you are in groups of 5 or smaller, please note that you can only get a table via the ol' walk-in way. They only take bookings for groups of 6 or over.
[Ms I-Hua and The Boy dined as guests of TinkPR & Meatmaiden]
*Disclaimer: All food ratings & review are purely based on my own experiences and how I feel about the service, food and quality at the time of visit
Food/ Cuisine: American
Dining Style: Restaurant
Opening Hours:
Tuesday to Saturday, 12:00pm – late
Address:
Basement, 195 Little Collins Street
Melbourne VIC 3000
Tel: (03) 9078 7747
Website: http://www.meatmaiden.com.au/
Twitter: @meatmaiden
How to get there: