Hola Chicas and Chicos! 😛
It seems that Melbourne has been overtaken by some Latin American invasion and every other day there's a new Mexican inspired joint popping up in every corner imaginable in our little humble city.
Bored? Over it? Wished there were other places to go?
Well I'm not reinventing the wheel too much, and my suggestions are still going to be quite South American-esque focussed, but I can assure you that these are awesome recommendations (because I made them :P).
If you are like me, and are a lover of meat, and can't get enough of meat (grilled, smoked, fried, tossed, sous vide, etc) and wouldn't usually have vegetables or fruits associated with your vocabulary, then these two restaurant recommendations are my gift to you.
Newmarket Hotel, St. Kilda
This isn't technically a new kid on the block, nor is it quite marketed as South American even if the items on the menu seem to suggest otherwise.
To be specific, I think they market themselves as a Californian-inspired Hispanic grill restaurant with hints from the south. It really doesn't matter what they market themselves, as at the end of the day, all it boils down to is that the food is good. Am I right?
I'm quite tired with the constant harangue about authenticity and origins. I get it, I really do. But how authentic can you expect any cuisine to be when it is outside of its original country?
Call me naivé but to me, if the food is good, I'm a happy customer. There are bigger problems in the world.
Back to the food at Newmarket Hotel, I can safely vouch that for the dishes in which we did order and consume, we truly enjoyed every last delectable spoonful and last lick of our dainty fingers.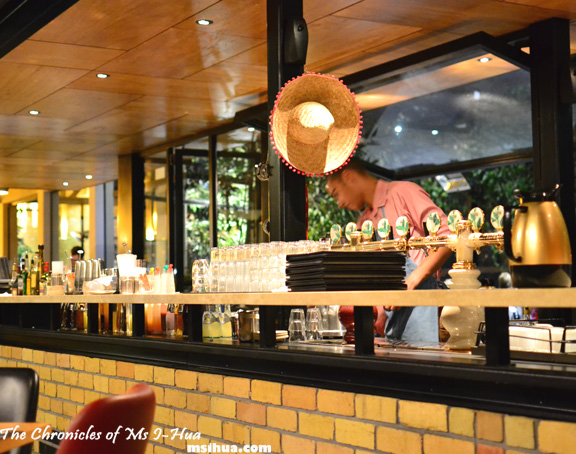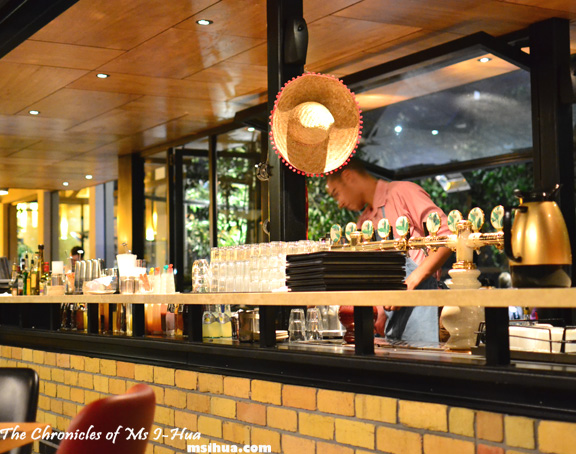 Ms Tinymouse and the Librarian were treating us to dinner and after much to-ing and fro-ing, we decided to visit Newmarket Hotel as neither of us had been there before, and made the executive decision to dine there, knowing that the boys would just follow 😛
On the day of the intended dinner, Ms Tinymouse and I were e-mailing back and forth about what we would order and what we would love to eat. So much so that when the time came, we were both peaked with excitement and ready to eat every item on the menu (and it felt like we nearly did).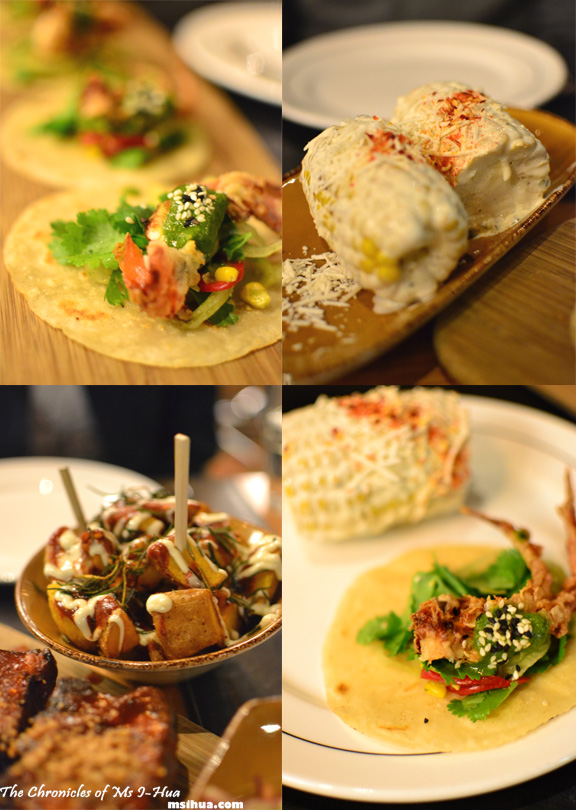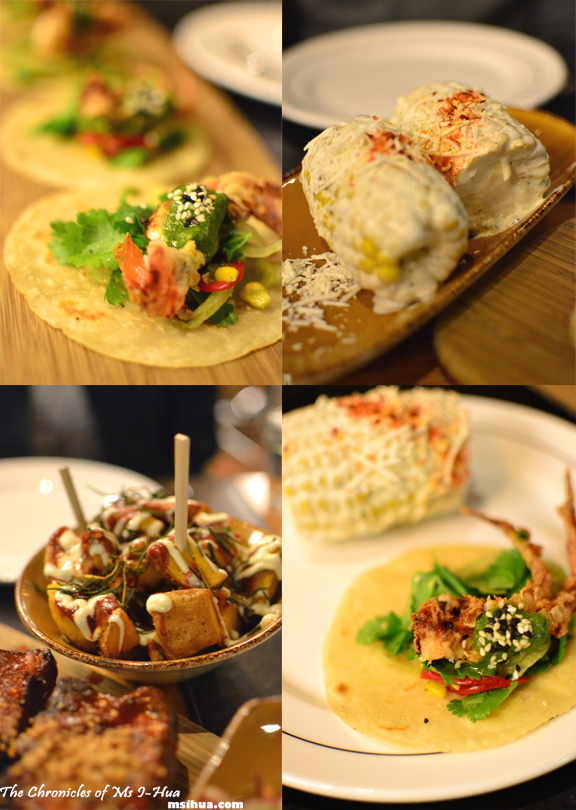 To start, we decided to go a little freestyle and have a few entrees from the Latin Street Food section of the menu.
[clockwise from top left: Soft Shell Crab Tacos, Guacamole, Shaved Fennel, Spicy Corn & Tomatillo Salsa ($17.00 for two); BBQ Corn on the Cob with Chilli & Queso Fresco ($6.00 each); and (from the seasonal veg section)  Triple Cooked Bravas Potatoes with 2 Sauces ($9.00)]
Seriously. All the entrees we ordered were amazing. The tortilla wrap was lovely, light and thin, and the soft shell crab had a nice crispy batter that didn't overpower the freshness of the seafood and better than the one I recently had.
The grilled corn certainly pawned the one I had at Mamasita's (no she didn't!), with the cheese being creamy and completely oozy and rich in flavour.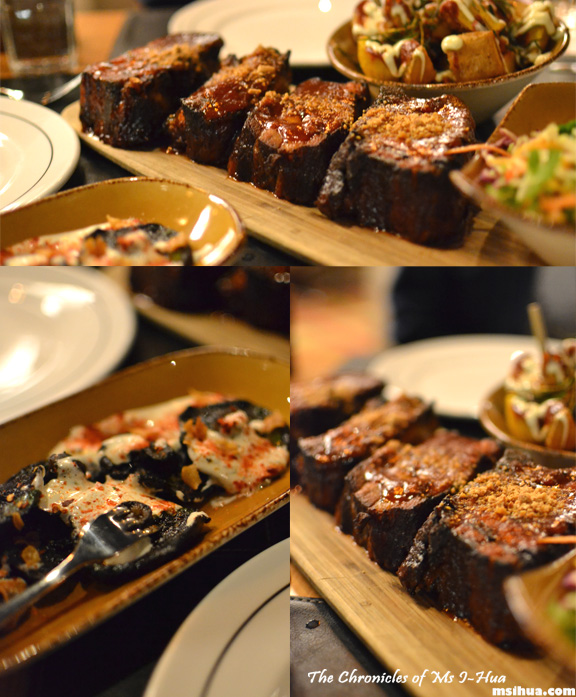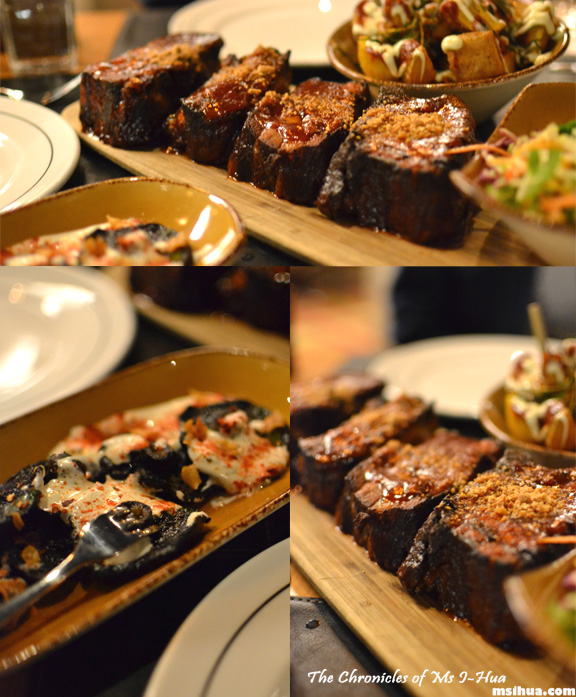 Then, it was time for the carnivores to take over!
Little did we know, that the XL St Louis Style Pork Ribs, served with Mr Wilson's BBQ Sauce & Apple Slaw ($12.00 each) was going to be quite that big.
When we placed our initial order for the ribs, our waiter indicated that we may want to order more than one serve between the four of us. We asked him if the serve would be big and he didn't seem to think so. As a group, we decided to have one portion each.
When the ribs arrived, we nearly fell out of our chairs. You probably can't tell from the pictures above, but trust me, each portion probably spanned the width of my hand and was about 2 inches in thickness.
It was so big, thick, fatty, tender and so bloody good. We were just too happy to have our own giant sized rib to attack without fighting with one another. But be warned, it is a huge piece of meat and if you were to order anything else with this, make sure you keep it to two ribs per groups of 3-4.
We also, for some reason, thought it was a good idea to pile on the sides with an added serve of Field Mushrooms with Garlic Chips and Japapeño Crema ($9.00), delicious, but I think we over-ordered.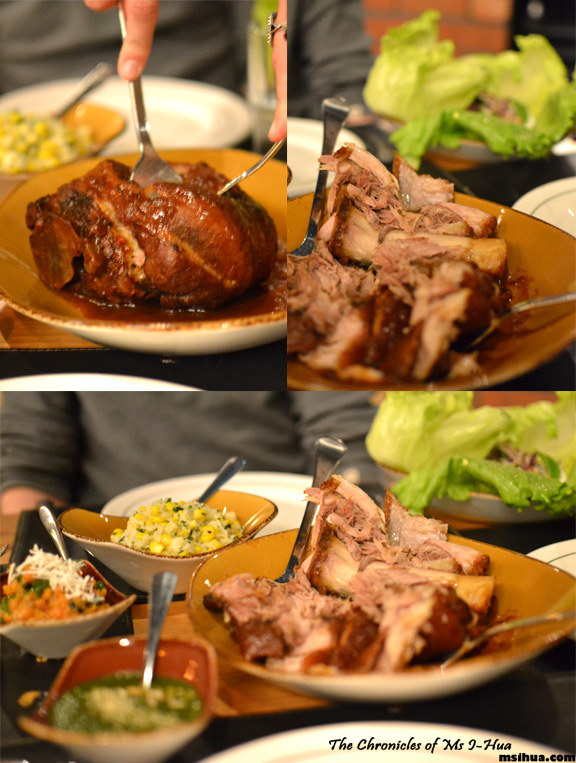 Why do I keep going on about too much food? You see, we also ordered the rather large (recommended on the menu for a minimum of 2 people or more) Tamarind Glazed Berkshire Pork Hock with Fragrant Green Mole ($28.00 per person) and missed the note that all items from the Wood BBQ meats section would come with "Huitlacoche", Mexican Corn Truffle Mustard and Salsa Negra.
OMG!!!
We were literally rolling out the door and I think at one point, I did ask our very very tall waiter if we could roll out with the swivel chairs used.
I really enjoyed the food there, and my favourite dish would have had to be the pork ribs. It was sweet, it was sticky, and it was everything a big piece of pork rib with fat should be. Delicious.
I think I speak for the other three, when I say, it was a very fun visit and I will certainly be back for more sticky gooey fun times, once the wallet replenishes itself given that the food, although good, was a tad pricey.
*Disclaimer: All food ratings & review are purely based on my own experiences and how I feel about the service, food and quality at the time of visit
Food/ Cuisine: Latin American
Dining Style: Restaurant
Overall Food Rating (Based on the Dining style): 8/10
Restaurant ambiance: 7.25/10 (the table we had was a tad too tiny for a group of 4 with large orders)
Service/ Attitude: 7.5/10
Value for money: 7/10
Opening Hours:
Monday to Sunday, 12:00pm to 1:00am
Address:
34 Inkerman Street
St Kilda VIC 3182
Tel: (03) 9537 1777
Website: http://newmarketstkilda.com.au/
Twitter: @nmhstkilda
How to get there: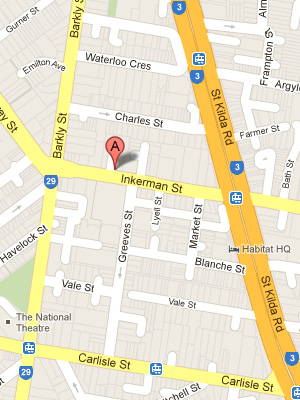 San Telmo, Melbourne CBD
The second restaurant I would like to recommend would be San Telmo, an Argentinian inspired bar and restaurant located down a dark and dank alleyway next to Loop Bar and Señoritas. I had heard about it by chance upon a conversation with a chef who was visiting Melbourne for the MFWF event. He couldn't get enough of San Telmo and kept telling me to go visit as he was visiting them on a nearly nightly basis. After his pop up restaurant would close, he would plonk himself down on the bar stool, right in front of the kitchen to have his supper.
If it's good enough for a good chef, it's good enough for me, I reckon.
So I gathered up the Boy and my dastardly twin Azzie and she in turn bundled up A-Bomb and off we went on a double date.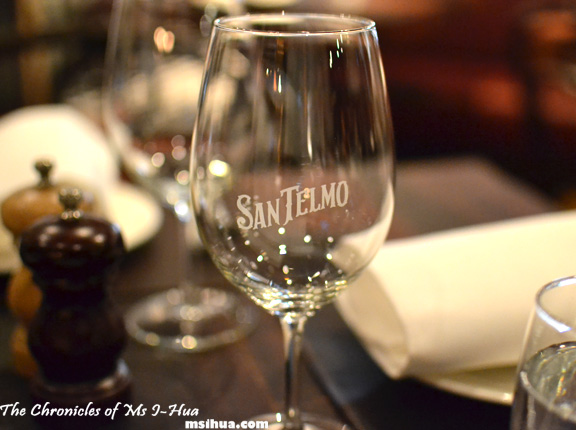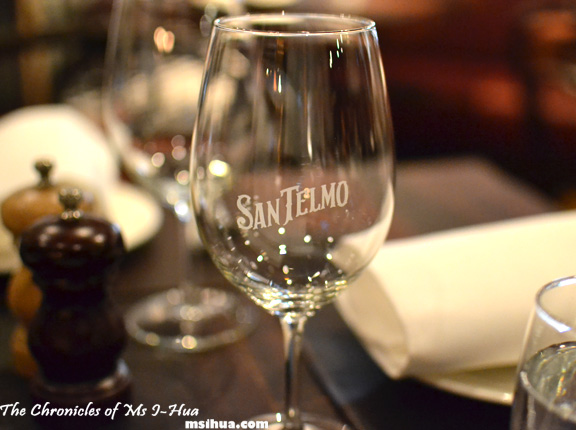 Named after the oldest neighbourhood in Buenos Aires, San Telmo has an old-style vintage flair design splashed all around its interior. The dinner menu is tapas style (no, there is no end in sight to the craze of sharing plates) and is split simply into entrees (entradas), from the grill and desserts (postres).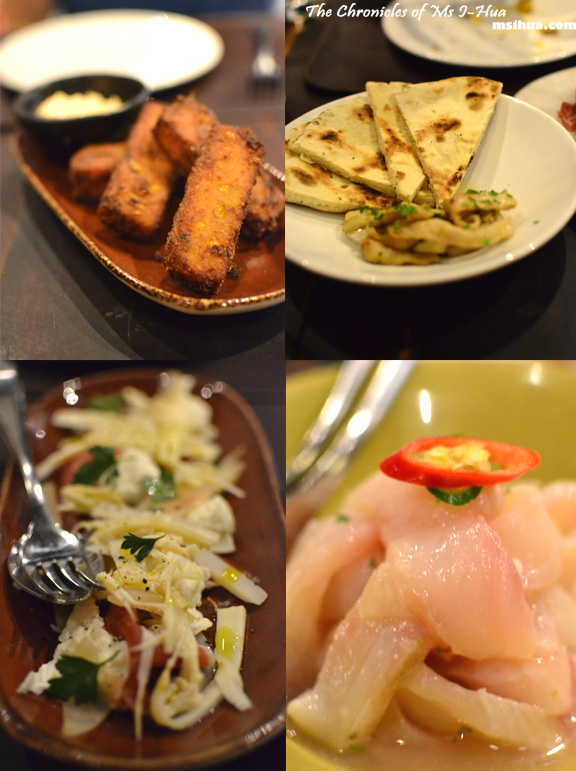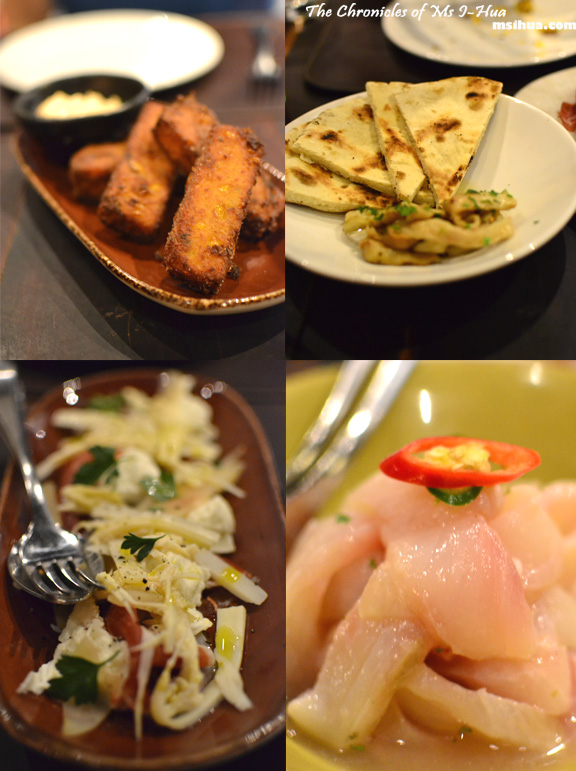 Entradas [clockwise from top left: Humita – Fried Corn, Polenta & Chipotle Mayonnaise ($12.00); Chapa – Pita Bread with Olive Oil and Pickled Zucchini ($4.00); Ceviche – White fish, Chilli, Sweet Potato, Ginger ($16.00); Ensalada de Palmitos – Palmheart, Preserved Pear, Jamon & Buffalo Mozzarella ($16.00)]
We also ordered the Plato de Picada – Jamon, Bresaola, Fuet Anis, Chapa, Pickled Vegetables ($18.00) which is not pictured above.
I don't exactly remember ordering the chapa, but since it arrived and we were hungry, we accepted the order anyway and enjoyed it. I love pickles!
I liked the ceviche, but thought that it didn't quite beat the one I have had before at Mamasita.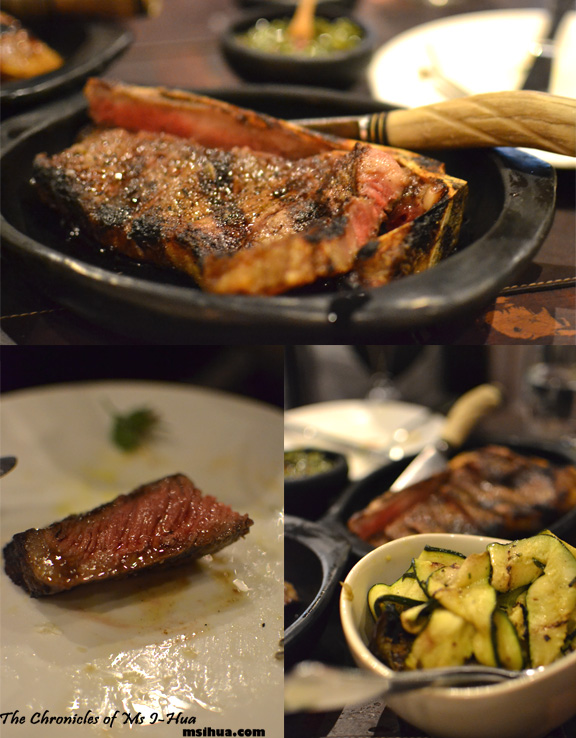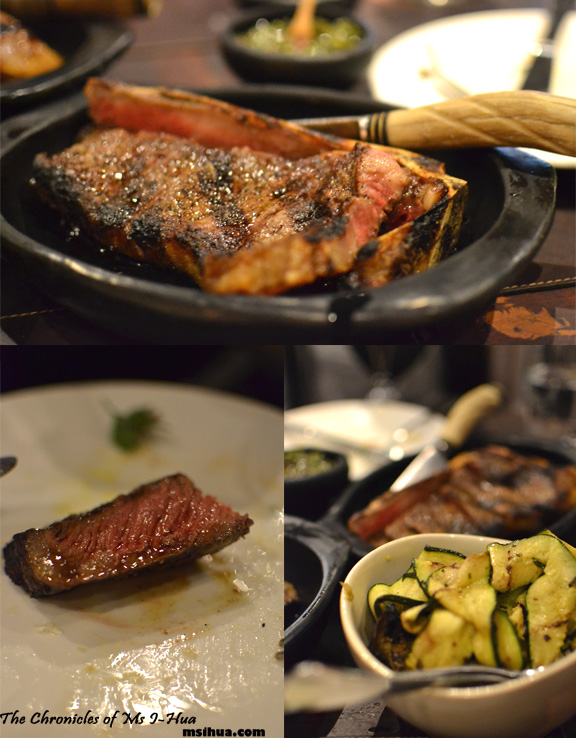 Now, the whole point of dining at an Argentinian restaurant is to enjoy the grilled meats.
San Telmo imported and installed "a bespoke 2.5 metre parrilla charcoal grill" made by hand by the famous Pirincho and you see the massive grill upon walking in. When you walk out, the awesome smell of smoked meats stick with you all the way home 😛
We definitely couldn't miss out on this experience.
First up, my three dining companions ooh-ed and aah-ed and drooled upon the Bife de Chorizo en la Costilla – 400g Striploin, Dry Aged on the Bone ($47.00) and mumbled between slices and chews upon how good the meat was.
From what I could see, it did look incredible. The crispy crust encased beautiful pinkish medium rare tender flesh which they kept telling me was delicious *sigh*.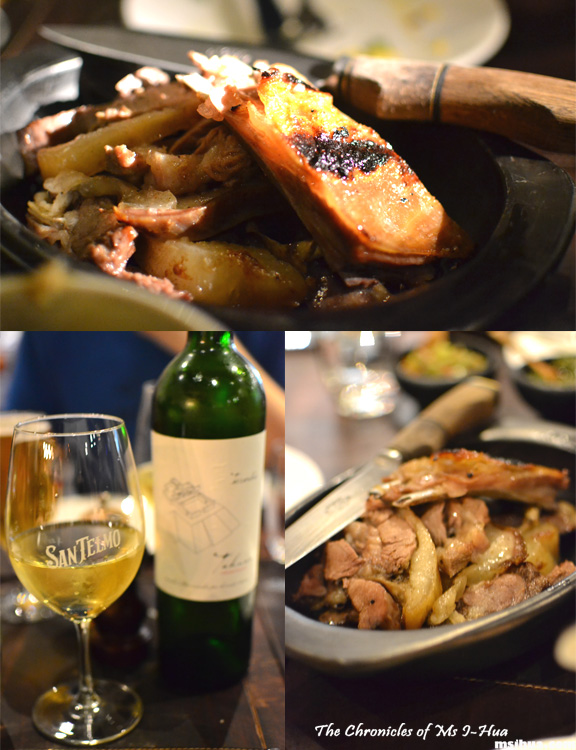 But don't despair for me, I was enjoying the special Asado Especial del dia – 8 hour Slow Cooked Lamb ($39.00). It was so tender and so fatty.
I was so happy that no one was really fighting with me and my fat lamb. Mmmmmm *finger lickin' good*
With the grilled meats, came two sauces to go with them, chimichurri and a tomato and capsicum salsa, which I lathered over my meat.
From the current menu, I've noted that both the striploin and lamb have been taken off the menu (so it must be seasonal), too bad for you future punters!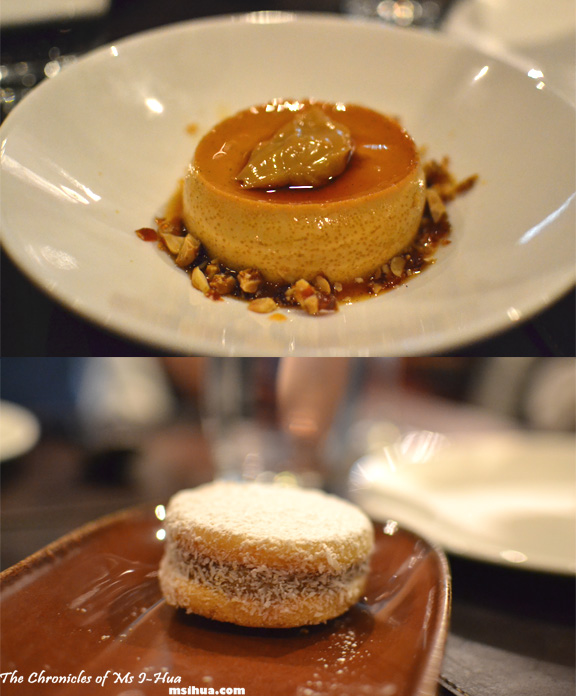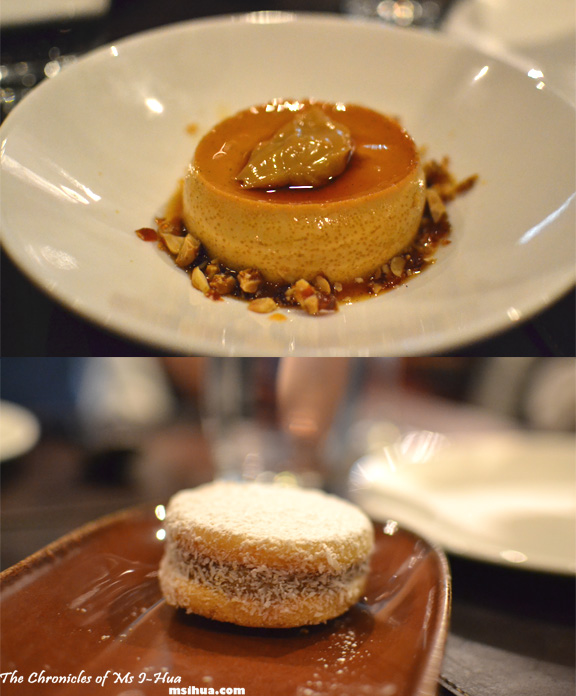 All too soon it was time for desserts. Upon placing our order, I made the slight mistake of ordering only one serve of each item instead of multiplying it by four.
Turns out to have been a blessing, as we were quite full and wouldn't have managed the sweets to ourselves.
First we shared the Flan de Dulce de Leche with Caramel Salted Peanuts ($14.00) which I didn't think we were too impressed with. The flan was nice itself, but the caramel looked a little sad, dumped right in the centre and didn't make for an appetising look.
The cookie, Alfajor – Argentine Cookie Filled with Dulce de Leche ($5.00 each) looked a lot prettier but wasn't too exciting.
If you are planning on stopping by (make sure you make a booking), my recommendations are to keep the entrees simple with the pickles and jamon and then dive straight into the grilled meats (that's the whole point).
They also do a tasting menu which ranges from $60 per person to $100 (for the Asado Feast – which requires minimum 2 weeks noticed) if you are interested.
*Disclaimer: All food ratings & review are purely based on my own experiences and how I feel about the service, food and quality at the time of visit
Food/ Cuisine: Argentinian
Dining Style: Restaurant
Overall Food Rating (Based on the Dining style): 8/10 (but the table gave the beef a resounding 9/10)
Restaurant ambiance: 7.25/10 (same as Newmarket, the tables were a tad too small for a group of 4 with large orders)
Service/ Attitude: 7.25/10
Value for money: 7/10 (I personally think that the meats from the grill are priced adequately but the entrees seemed a tad on the higher side, considering the portions)
Opening Hours:
Monday to Friday, 8:00am to late
Saturday and Sunday, 9:00am to late
Address:
14 Meyers Place
Melbourne VIC 3000
Tel: (03) 9650 5525
Website: http://santelmo.com.au/
Twitter: @San_Telmo_
How to get there: