What would you do if you received a mysterious invitation which only asked for your attendance to join Grand Hyatt for an exclusive evening celebrating the holidays at Grand Hyatt Melbourne?
You would most definitely be fascinated, wouldn't you?
When the invitation came through, I was a bit hesitant at first as it was the day before The Boy's birthday and I hadn't quite decided what I would be planning for him this year.
However, I didn't want to give up on such an intriguing invite either. So I replied with a query for more information to the event. The response if anything, was even more surreptitious than the original invite.
Curiousity piqued, I RSVP that we would be there.
And what a surprise the event was!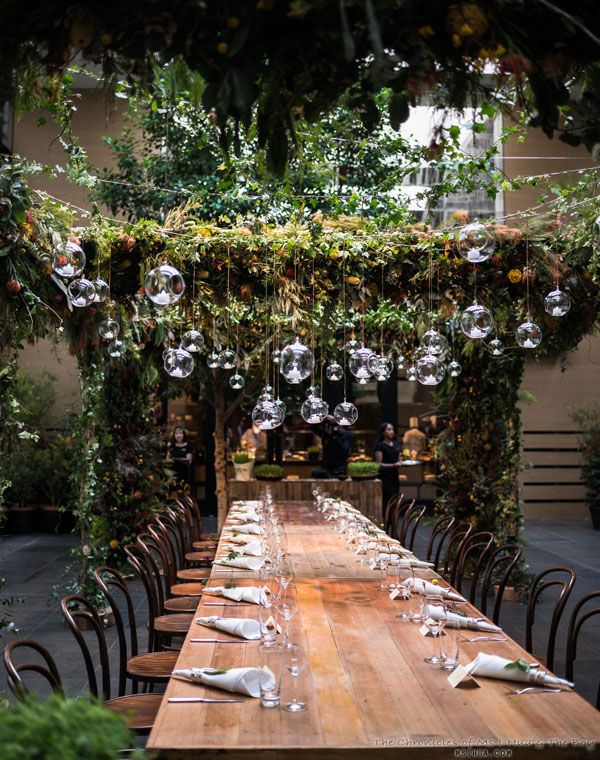 As one of the only three Grand Hyatt hotels chosen for the launch of the Living Grand concept for the holidays, Melbourne was the first to kick-off one of the three spectacular Living Grand for the Holidays event closely followed by Berlin and then New York City.
The purpose of the event was to unveil a global program highlighting seasonal traditions around the world and the many ways that Grand Hyatt hotels celebrate them. Inspired by the local, seasonal celebrations and traditions in each of the chosen cities, the Grand Hyatt brand challenged each of the local marketing teams to throw their version of a spectacular Christmas celebration.
Melbourne, being unique in its reversed weather in the Southern Hemisphere (IMHO) took the gong out of having the best 'outside-the-box' look at Christmas and Christmas Celebrations as a whole.
In addition to the events, the Grand Hyatt brand takes an in-depth look at how travelers worldwide will experience world-class services, amenities, and a vast array of culinary offerings at Grand Hyatt hotels around the world. With thousands of events hosted during the holiday season and unique traditions brought to life, Grand Hyatt hotels take pride in providing an abundance of possibilities for Living Grand in ways both big and small.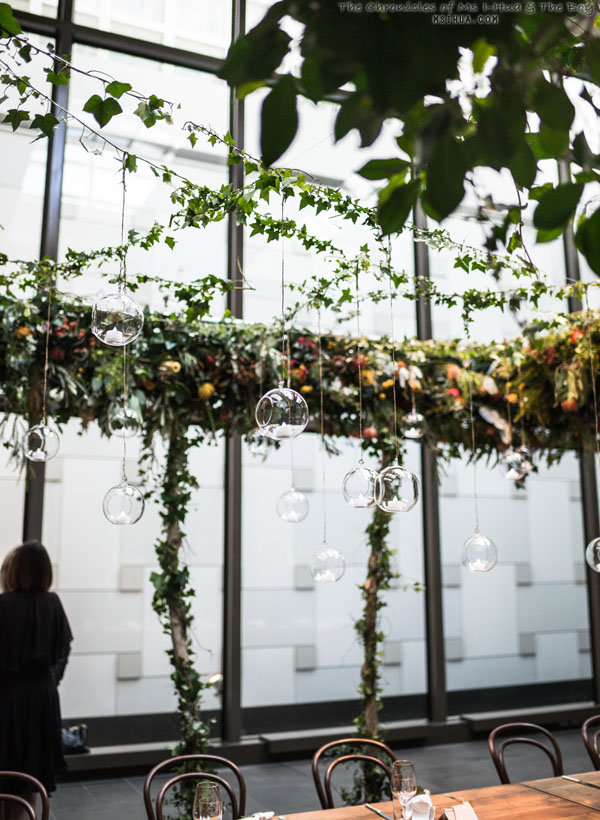 _______________________________________________________________________________________________________________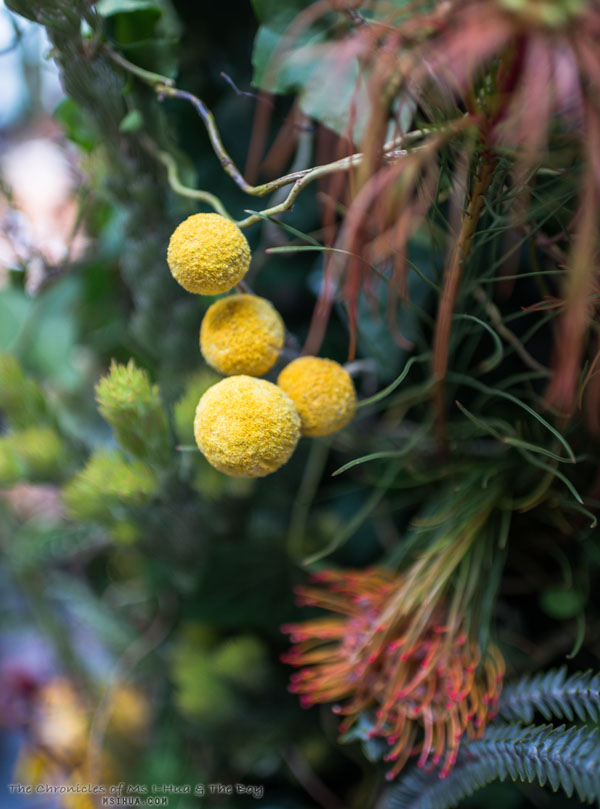 It was a huge event for an intimate and select group of food, travel, fashion and lifestyle bloggers and instagrammers from around Melbourne and Sydney. To show us how serious they were about the Living Grand catchphrase, they took off all stops to surprise us all!
Starting with welcome drinks at The Library, we were then ushered into the Verandah. An amazing event space that can be transformed to anything your heart desires. Let your imagination free!
As we trundled up to the Verandah, literally the sound of a multitude of gasps of awe and surprise were heard all around.
The local Australian Bush Flora were  so welcoming! The beauty was magnified with the numerous glass baubles with candles hanging all above our heads. So beautiful!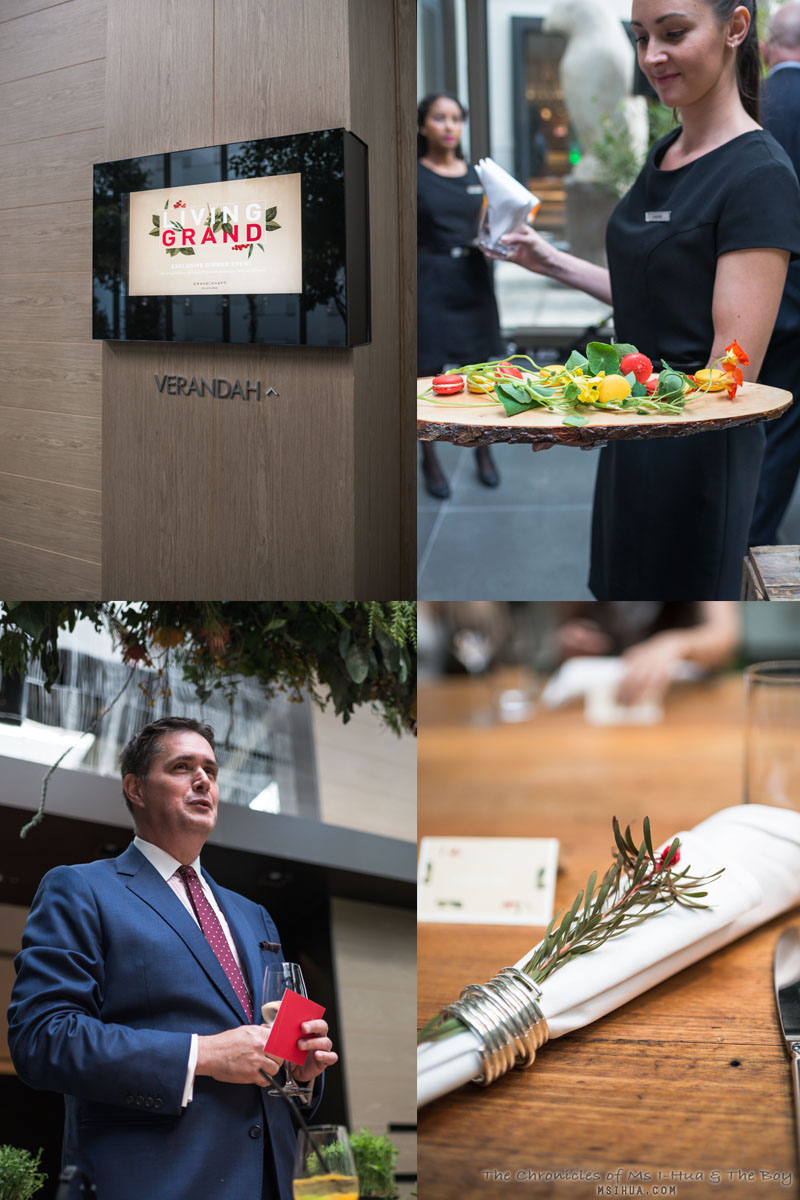 We had entered a summer fairy tale setting. What more, we were greeted with faerie food such as Nasturtium Macarons and Oyster Shooters with ginger jelly, caviar and beer froth! Oh my!
The General Manager for Grand Hyatt Melbourne, Ilan Weill, gave a short introductory speech about the event and said "This holiday season, Grand Hyatt Melbourne will be the destination for spectacular experiences that make every moment memorable."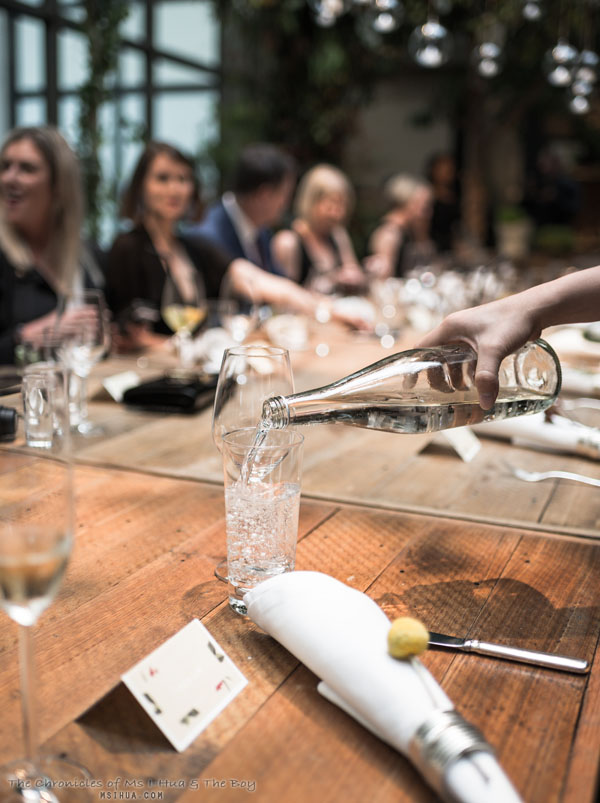 Weill continued on to explain that their aim was to surprise, delight and astound their guests with the unexpected and the extraordinary. From bespoke menus to inventive presentation and to the transformation of our event space.
Unbeknown to us in attendance, that was a hint of big surprises to come!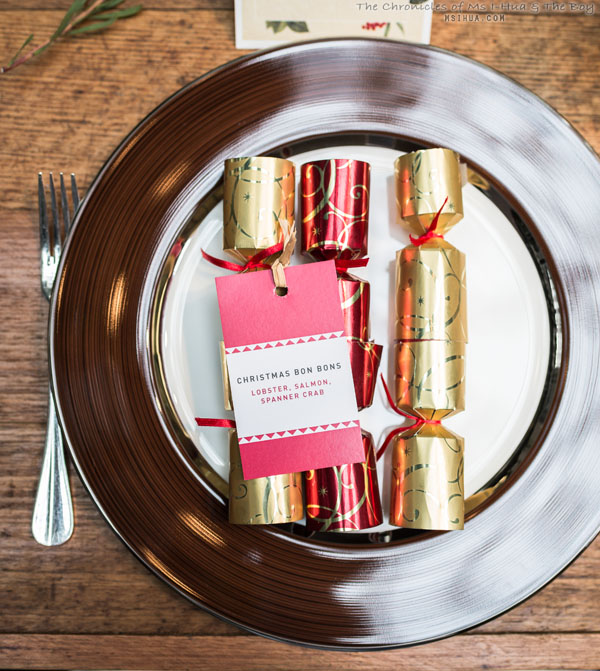 _______________________________________________________________________________________________________________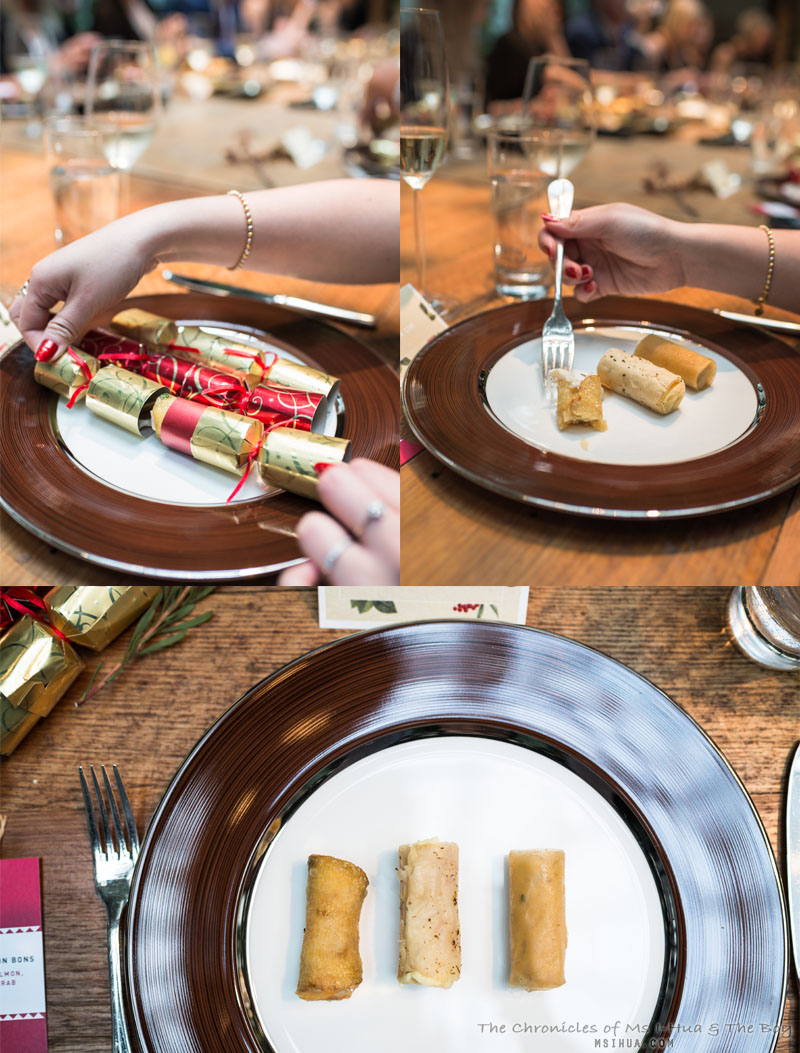 When Weill mentioned bespoke menus, little did we think about how Heston-like our dinner that night would be.
It started off with a plate of Christmas Bon Bons (Crackers) which arrived innocently on our table.
Upon further inspection (and instructions) we were told to pull them apart.
Revealing three distinct finger rolls of:
Lobster, watercress and mayonnaise wrapped up in a potato crisp
Tasmanian salmon tartare, lemon crème fraiche, Yarra Valley salmon roe, sorrel in a rice paper wrap
Sous vide spanner crab, celeriac, apple leather in a spring roll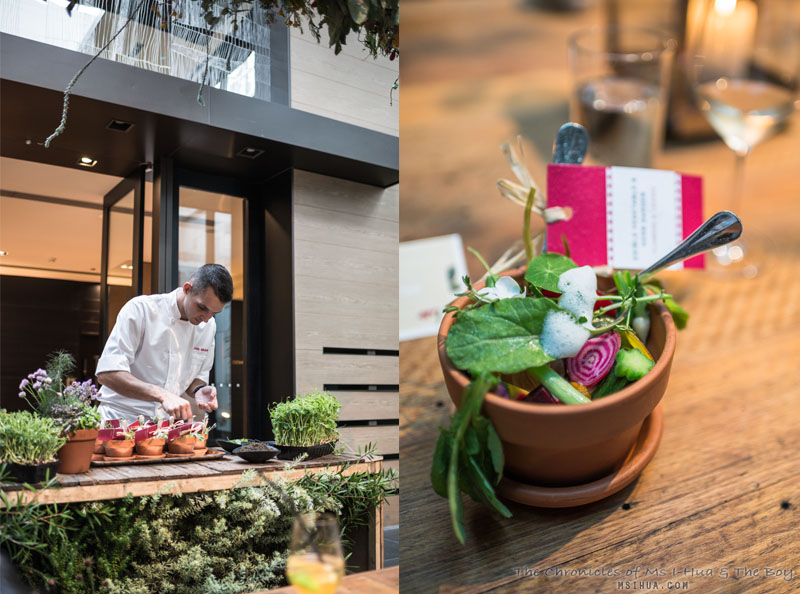 Next, Head Chef Jason Oven put his final touches on what would be our salad course for the night.
An Edible Vegetable & Herb Garden complete with soil and dirt (made out of dehydrated potatoes).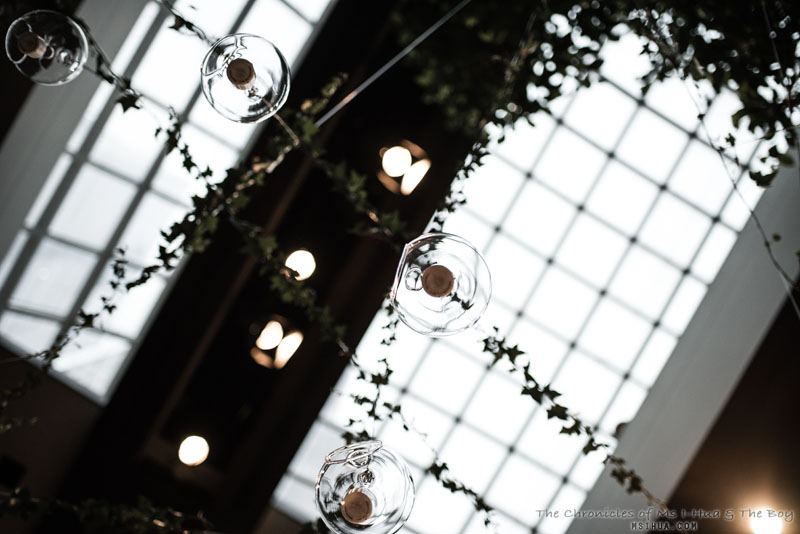 It wasn't too long after our salad, that Chef Oven came back out for the next presentation, complete with a kettle and a Bush hat. He cryptically introduced the next course as a twist of an Australian Billy Tea.
For those unfamiliar with Billy Tea, it is a metal tin used to heat up tea over the fire when you're out in the bush.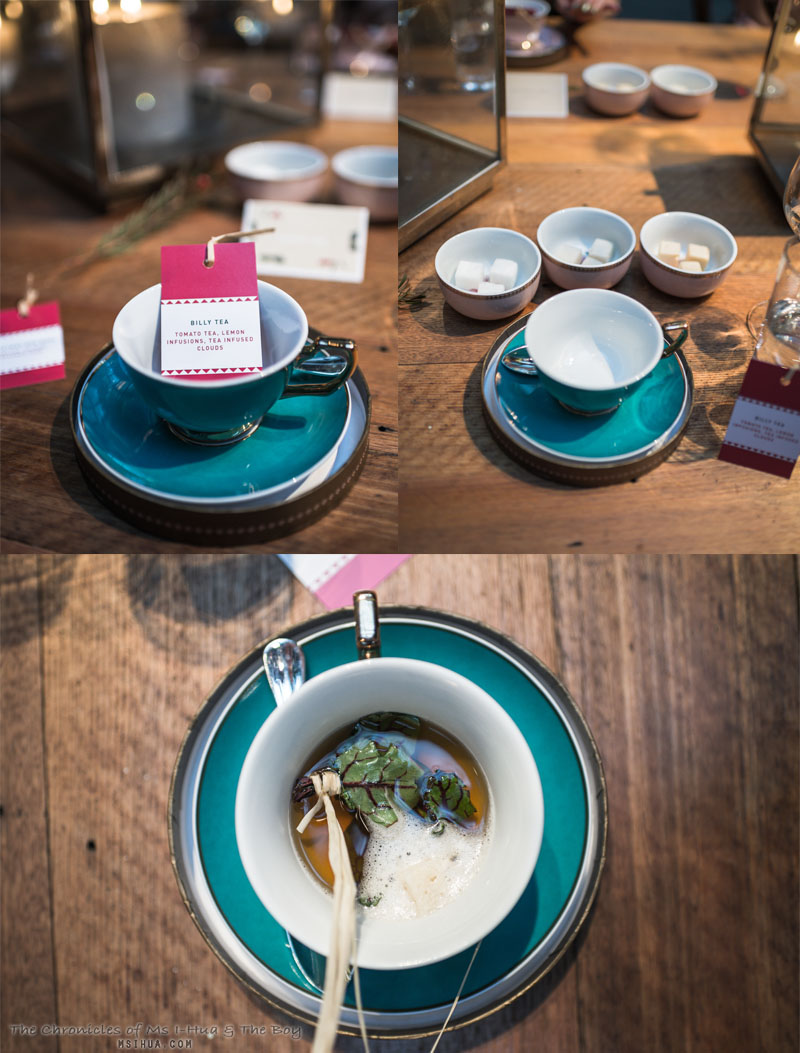 Of course, this being a Living Grand event, the Billy Tea wasn't what you would expect at all.
Instead, what was at first mistaken for sugar cubes, were in fact a choice of three different kinds of tomato clouds infused with heirloom tomato tea. A choice of Citrus, Darjeeling and Black tea accompanied by your own personal choice of Bouquet Garni (which came in a box). Selecting my bouquet garni was akin to sniffing and finding the best cigar from the box.
Of course, this was the perfect time for the Grand Hyatt to whip out their collection of Cristina Re teacups and saucer sets traditionally used for their High Teas.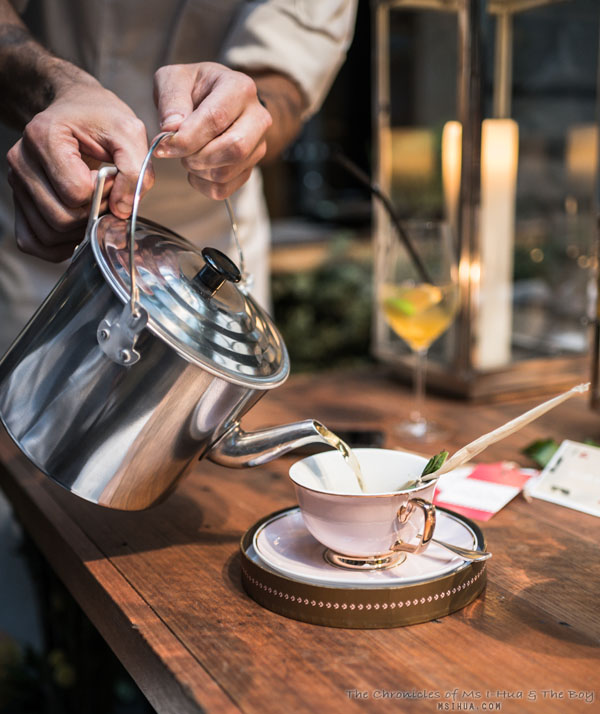 _______________________________________________________________________________________________________________
The main meal was delivered with as much drama and flare that could be mustered out of smoking domes.
Underneath the Smokey Underglass, lay an Australian aged lamb saddle, complete with a mosaic of sauces compromising of eggplant, smoked yoghurt, pomegranate, mint, lemon and pine nuts.
Each person was also given a chocolate box, of when revealed, was anything but!
Contained in each chocolate box lay garnishes comprising of pomegranate seeds, ginger slices, chilli, mint, butter, salt and so on. Each person had their chance to food style their own dish to their heart's desire.
So whilst all the guests tucked into their mains heartily, The Boy and I found ourselves slightly distracted from trying to 'out-foodstyle' each other 😛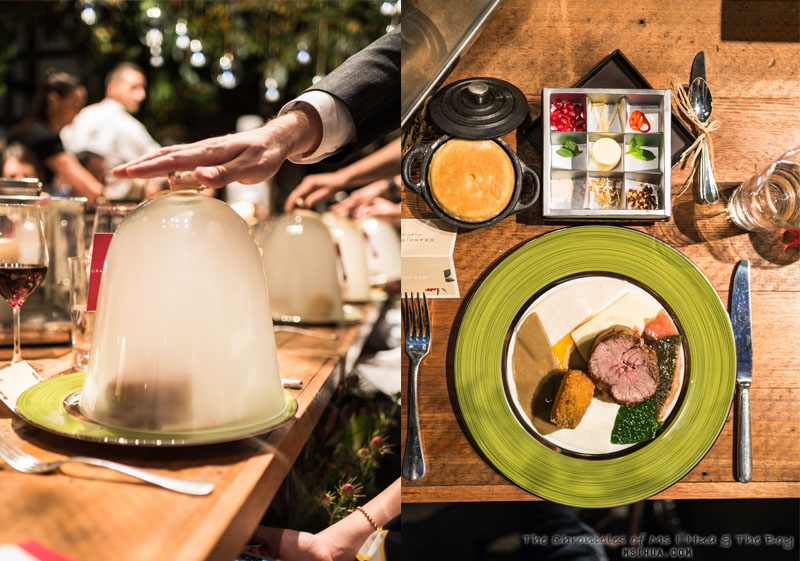 There wasn't a winner! Hahah!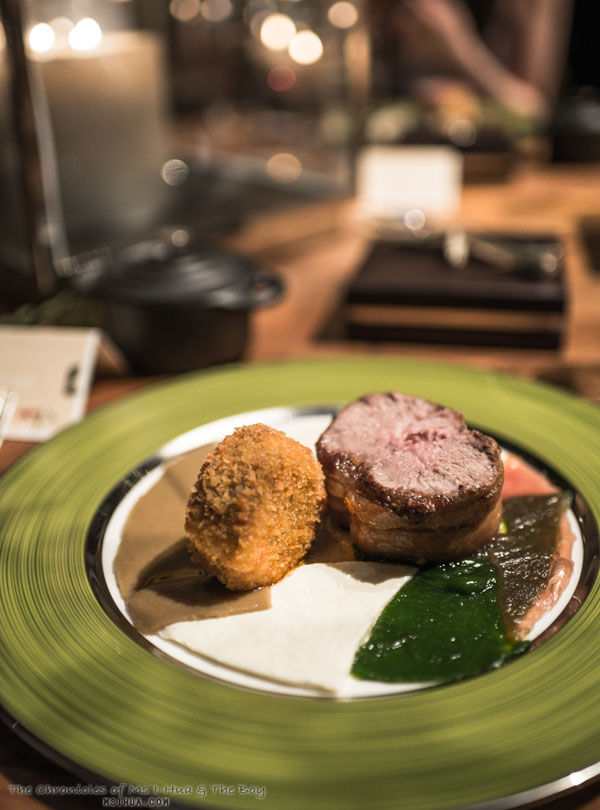 _______________________________________________________________________________________________________________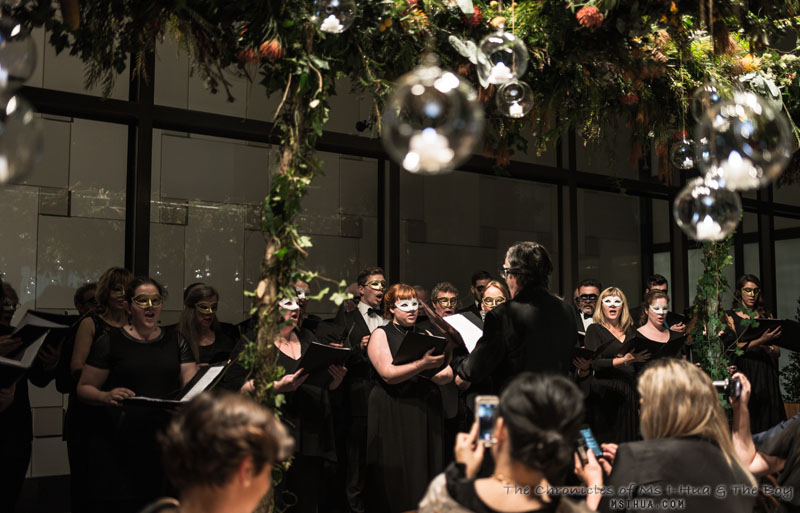 Then out of nowhere, the lights were dimmed and a plethora of people in black with masks on entered the Verandah!
What was going on? Excited whispers entailed when we realised the people in black were going to perform for us.
A surprise appearance from the Melbourne Opera left many of us with our jaws on the floor and smiles wide enough to break our faces!
Performing a rousing and dramatic O Fortuna (Carmina Burana, composer Orff), it was a definite show stopping performance!
But the surprise did not end there!
As the last echoes of their performance died away, we turned around to see a very muscular man posing in front of an entrance whilst smoke and confetti exploded all around the room.
How did we miss that room before?!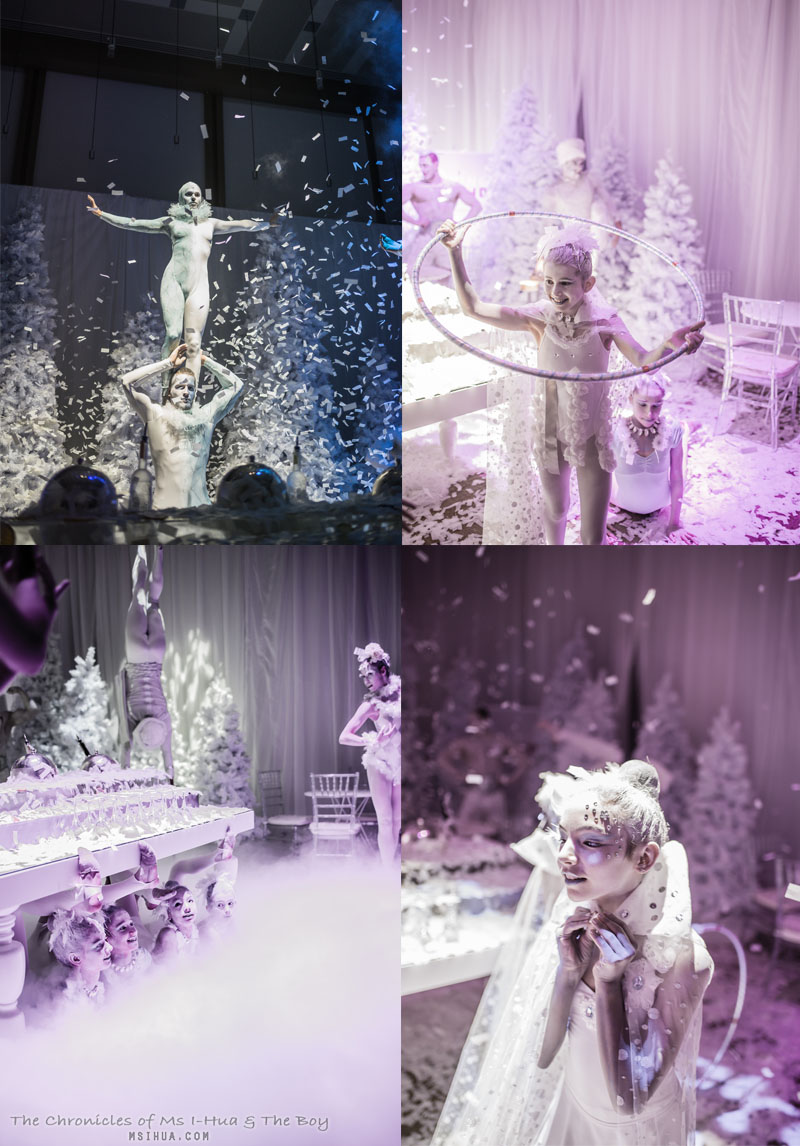 _______________________________________________________________________________________________________________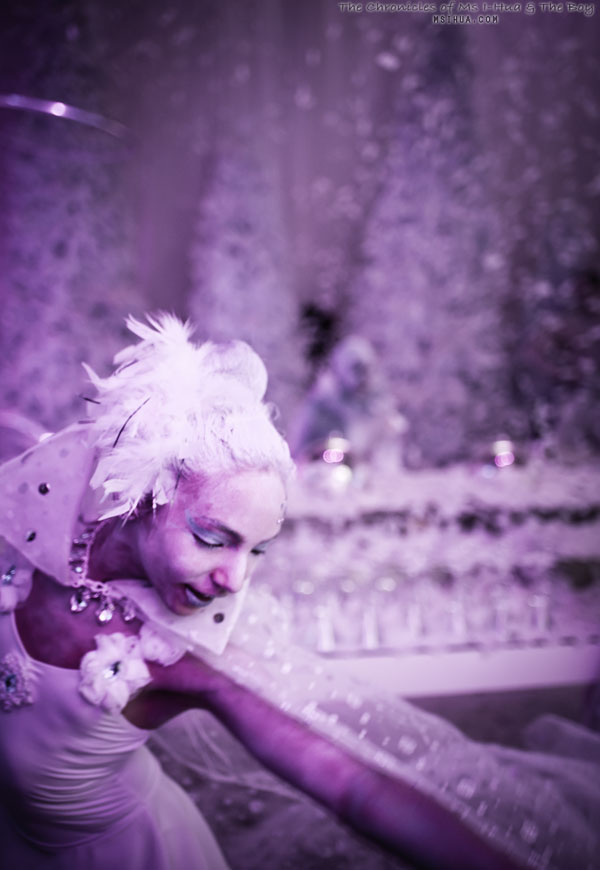 The whole production by Southern Beat Productions made us feel as if we were treated to a private performance of the Cirque du Soleil!
It was spectacular, completely OTT, outrageous and we lapped up every second of it!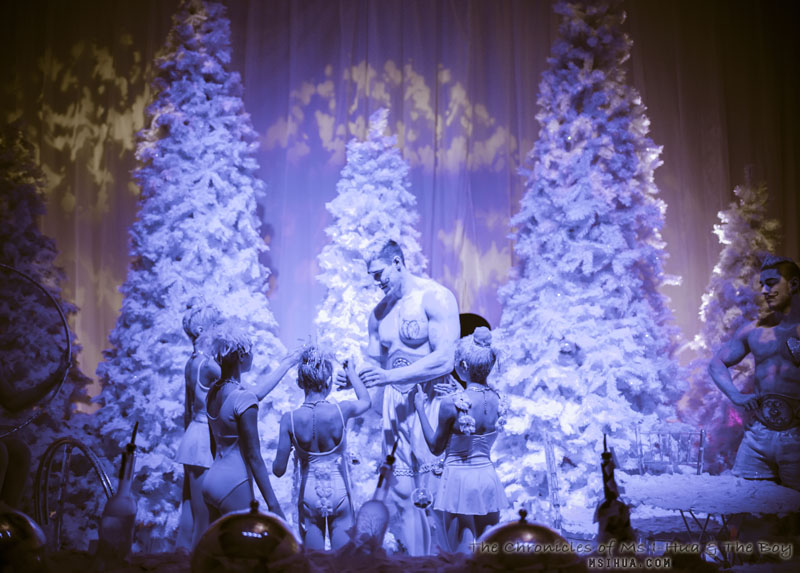 And then, I'm sure someone said, "Ladies and gentlemen, we present to you, your desserts!"
Talk about making an impression!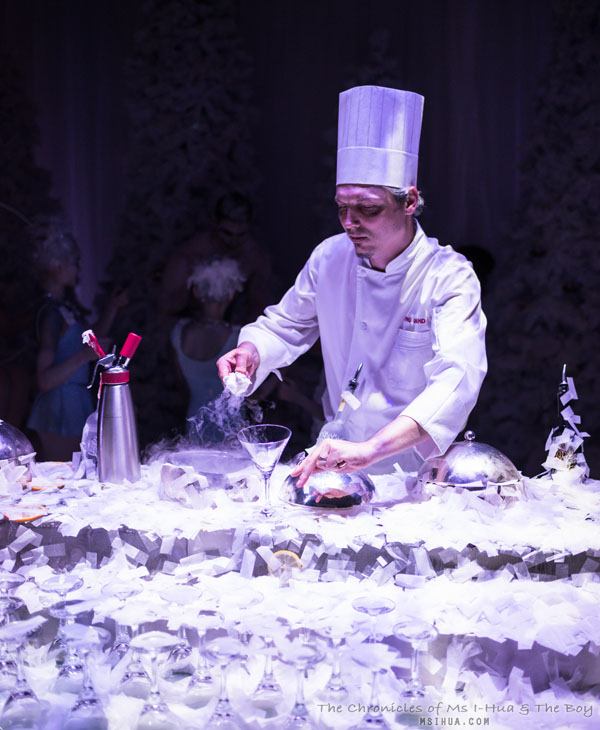 Right in the middle of the Winter Wonderland room, was a Nitrogen Ice-Cream Station matched with Belvedere Vodkas.
At one point, I looked over to Lorraine of NQN when she queried the flavours and I said, "Black Orange". This was in fact, immediately debunked as a lie (that I was not paying attention) as the flavour of the ice-cream and vodka in question was Liquorice 😛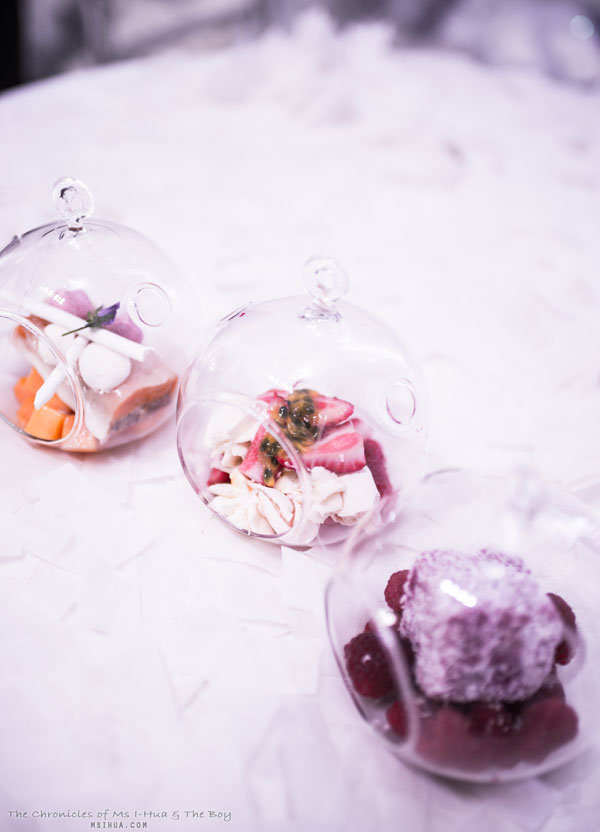 Each guests was then provided with a little paper bag with a beautiful pair of gold scissors shaped in a form of bird.
We would have to forage for our desserts! On each of the Christmas trees in the room, hung baubles of our desserts.
Miniature pavlova
Miniature raspberry lamington
and Bouche blanc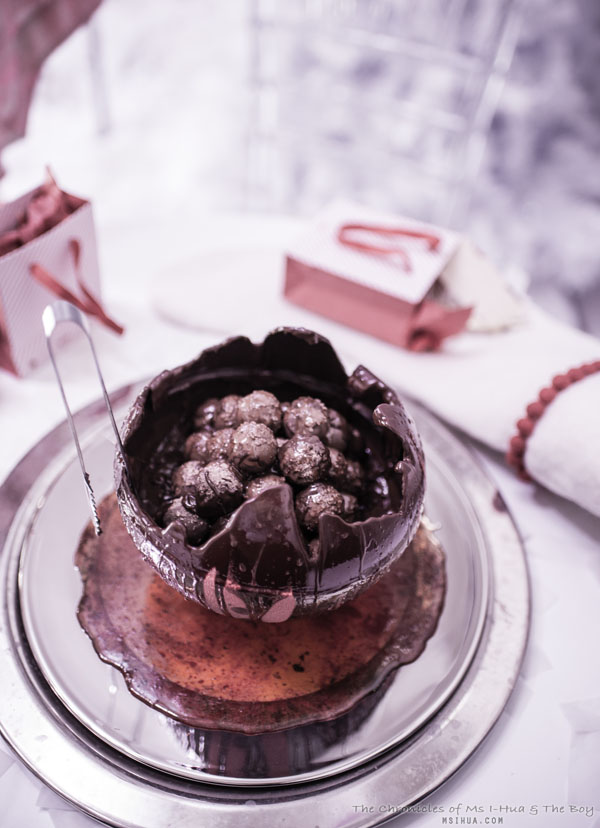 Then there was another surprise of Truffle Surprise, where the chefs poured boiling hot caramel over giant chocolate spheres to reveal a selection of white, milk and dark chocolates all around the room.
As a goodbye gift (as if our little heads could take in any more), we were each provided with a Christmas Stocking to fill with candy from Santa's candy bar!
The entire event was amazing. I don't think that there could have been any other words more apt to describe it. Check out the hashtag #LivingGrand on instagram to see if you thought Melbourne did the best!
We were floored. Literally. The service, the quality of the food and the spectacular performances were on a whole other level of amazing.
It was a great event to cap of our year, and indeed a wonderful kick-off to The Boy's birthday weekend surprise which I had plan for him. He wasn't convinced thought that I had planned the entire thing just for his birthday. Dang-it!
A big shout out to the impressive Behind-The-Scenes people who managed this amazing event and 'surprise'. If you ever require something that blows your mind away (wedding or a 'Just Because' party, why not see what they can do for you?).
Also, don't forget to join Melbourne's Grand Hyatt Facebook Competition for their 12 Days of Christmas Giveaway!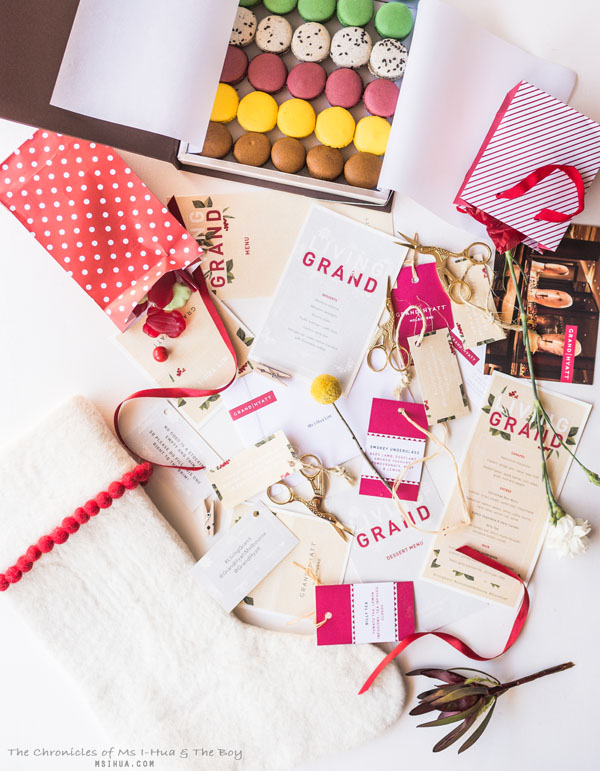 Grand Hyatt Melbourne Living Grand for the Holidays Event Partners
Event Management Genius – Trumpet Events – www.trumpetevents.com
Floral Artistry – Style By Nature – www.stylebynature.com.au
Audio Visual – Staging Connections – www.stagingconnections.com.au
Furniture – Dann Event Hire – www.danneventhire.com.au
Special Effects Snow – Hyper Group – www.hypergroup.com.au
Performance – Melbourne Opera – www.melbourneopera.com
Performance – Southern Beat Productions – www.southernbeat.com.au
Performance – Annabelle Eve – www.annabelleeve.com
[Ms I-Hua and The Boy attended as guests of Grand Hyatt Melbourne]
For more information about Grand Hyatt, visit their various websites and social media links below:
For other related Grand Hyatt and Park Hyatt Posts: