Being your breakfast purveyors and confidante, we occasionally bring you something a little different in the brunching front.
In our most recent escapade, we accidentally wandered into a mindful eating environment.
Accidentally? Yes. You see, I had earlier received a media release that announced a new cafe, Walk Don't Run would be opening up soon in Armadale. I skimmed-read the media release (why not?) and took in the key points, and thought, okay, next brunch date:
New cafe in Armadale
100% organic fresh produce
Previous escapades involved Prana Chai and Merchants Guild
Japanese Head Chef (Ryo Doyama)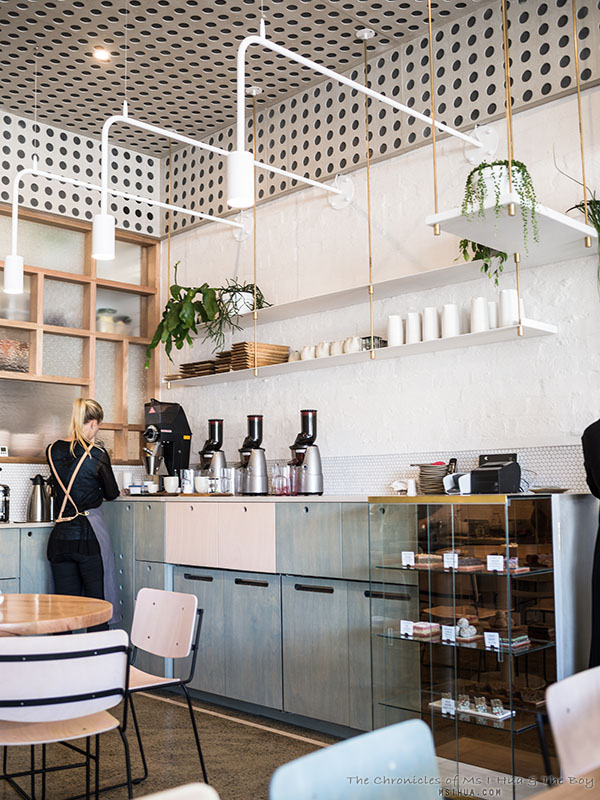 In my mind, all I kept thinking of was the tasty fried Mississippi chicken at Merchants Guild and Prana Chai lattes.
As we walked into the cafe, we were greeted by simplicity and friendly smiles. There weren't any coffee machines in sight. Instead, we spotted three juicers on the bar. A completely clean and uncluttered space and interior. The Media Release tells us that the interior has been designed by Wendy Bergman (Kong, Green Park, Taxi Kitchen, etc etc.).
Interesting. Looking at the menu, I looked at The Boy and thought "oh, oh!".
Vincent Conti (one of the brainiacs behind Prana Chai and Merchants Guild, the other being Mario Minichili), who was there that day, informed us that there would be no lattes on offer. No espressos. No milk or sugar. "How about some cold-pressed juice or herbal teas? French press, single origin coffee?", he proffered instead.
If I had read the media release properly, I would have already known this, but heck, nothing but a good surprise.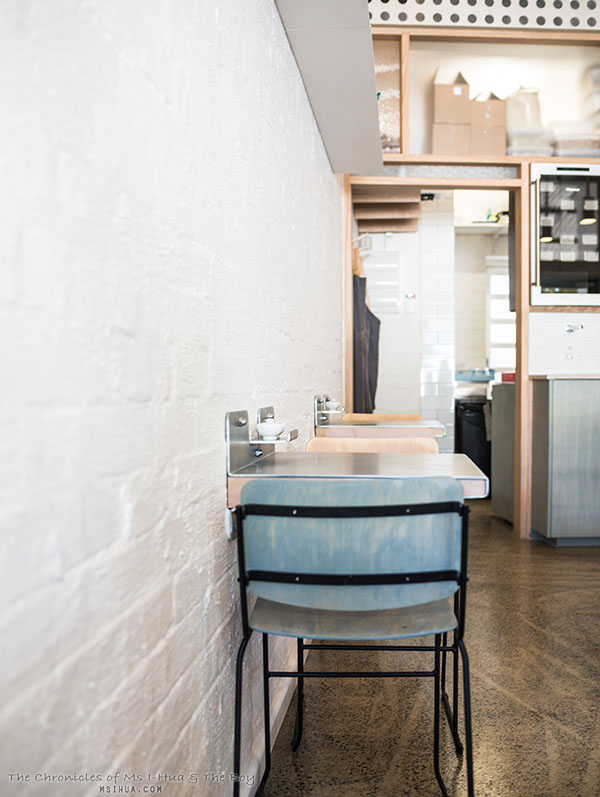 The Boy decided to go with a Good Morning breakfast tea $4 that came complete with a timer. Loved that little touch.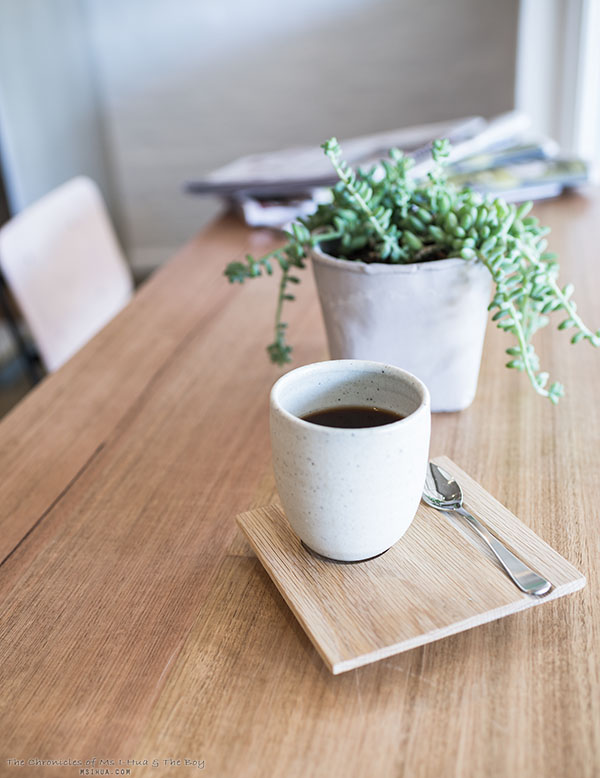 I went with the Filtered coffee option at $4.50.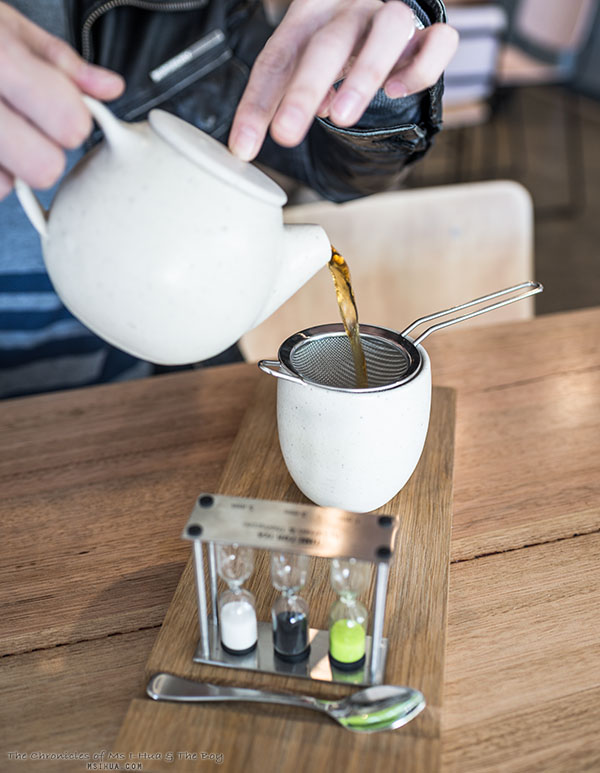 _____________________________________________________________________________________________________________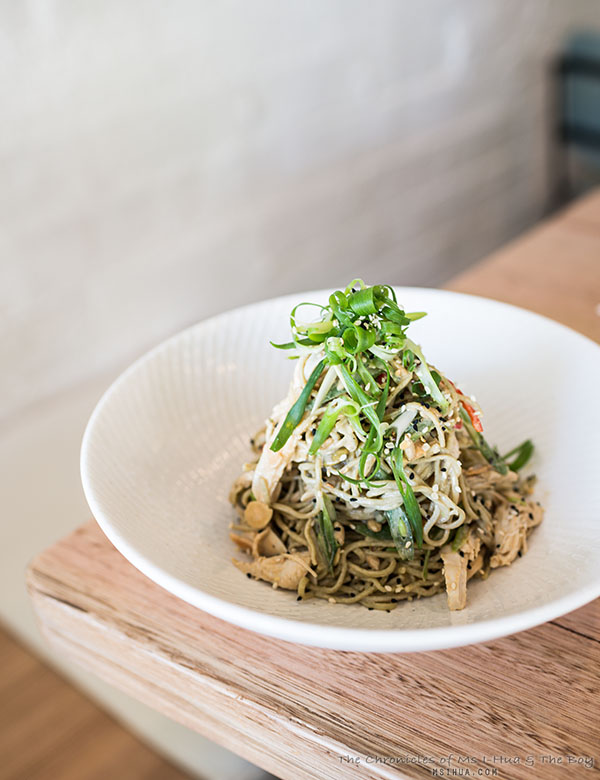 Looking past all the bircher, chia and vegetable options and straight onto the meat side of things, I noted and was desperate to try the Chilled organic green tea soba noodles served with poached chicken, green beans, nuts, seeds and tahini ponzu dressing $26. For those of you more mindful eaters, a vegan option is also available.
Did I love this dish? Yes! It shouted of flavours that were so intrinsic to Japanese food, but it also shouted of healthy fresh organic produce. I especially loved how the tahini ponzu tied everything together.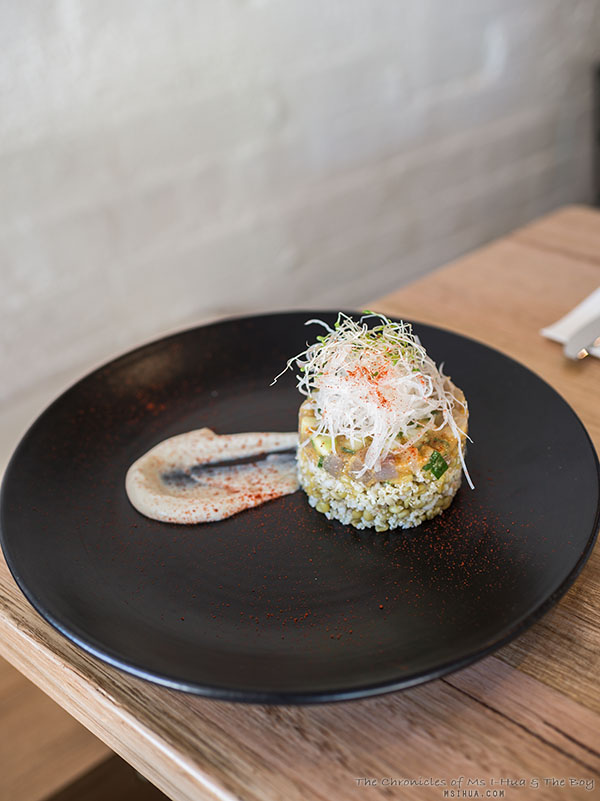 The Boy ordered the King Fish Miso Tartare $26 which came with barley, millet, freekeh and amaranth with a tofu and tahini puree. Another delicious dish, this time teeming with many different textures which added a layer of complexity to an otherwise simple fish tartare dish. However, it is quite a small serve and you may want to bolster on another dish on the side.
So why the dread as we walked in and read the menu? As you know, we're definitely more of the more meat and less raw food kind of people. So it was with trepidation as we waited for our food to arrive and to have our prejudices of organic food thrown straight out the window.
Who said 100% organic food can't be tasty? Who said it had to be all raw and vegan? No one really. I for one am now a fan and can't wait to come back to try out more options on the menu. The prices on the menu are a bit steeper than normal cafe brunch options, but if you want good organic produce, you will have to fork out the dollars for it. Good things don't come cheap!
*Disclaimer: All food ratings & review are purely based on my own experiences and how I feel about the service, food and quality at the time of visit
Food/ Cuisine: Breakfast, Lunch
Dining Style: Cafe
Opening Hours:
Wednesday to Sunday, 7:00am – 3:00pm
Address:
17 Morey Street
Armadale VIC 3143
Tel: (03) 9500 0823
Website: http://walkdontrun.com.au/
Instagram: @walkdontruncafe
How to get there: