Hello good folks of the internet world. First up, apologies for the lack of posts once again. This time, it wasn't our fault! There was an issue with a plugin on the blog, which caused the whole blog to be uneditable.
I like to think that the Blog was giving us a restive Easter Weekend 🙂
A couple of weeks ago, The Boy and I were invited to try out the new and revamped Taxi Kitchen (Taxi Dining Room of old).
As we arrived, we couldn't help but notice that the restaurant had a slight revamped in its decoration.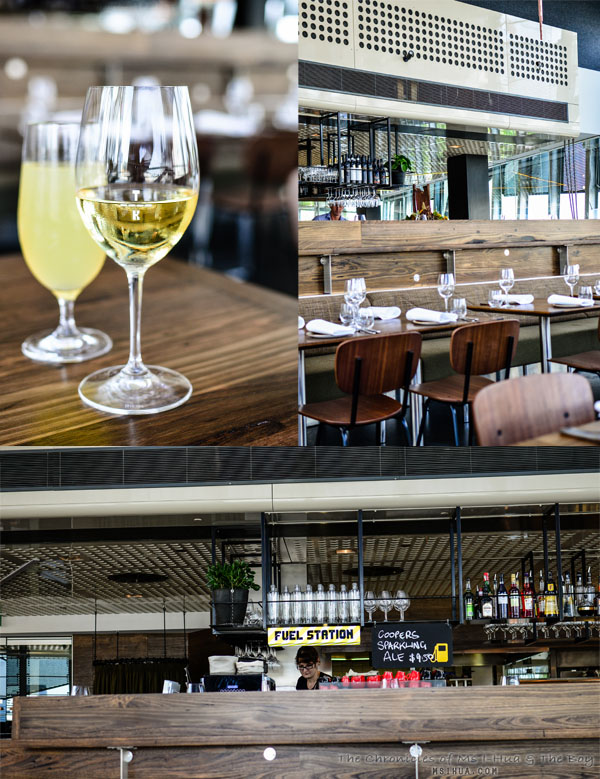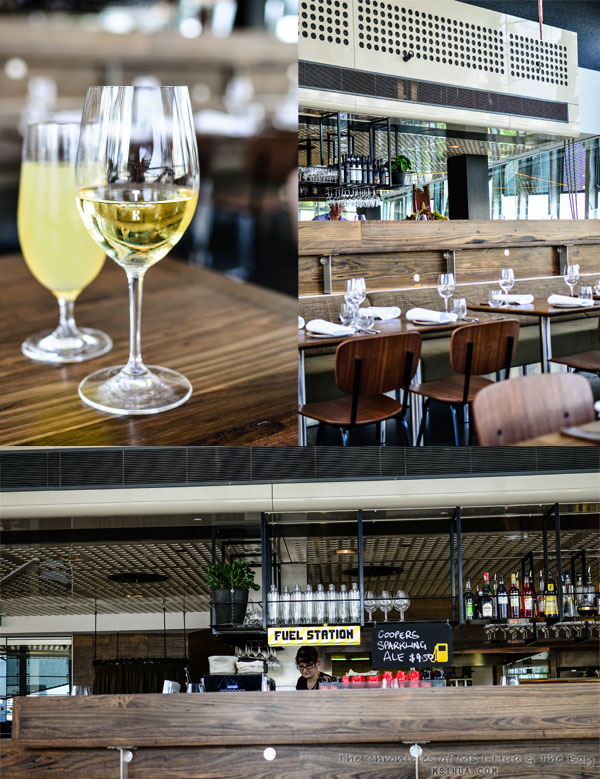 Gone were the teal coloured chairs and beached styled wooden seats. Gone were the stiff and formal table cloths. A more casual and relaxed design and fit-out introducing the new casual dining format.
As our eyes devoured the menu hungrily, we were introduced to our alcoholic friends. The Boy enjoyed a cool glass of James Squire Orchid Crush Cider ($9.50 per glass), whilst I sipped on a glass of 2011 Cantina di Monteforte Pinot Grigio (Veneto, Italy) ($12.50 per glass).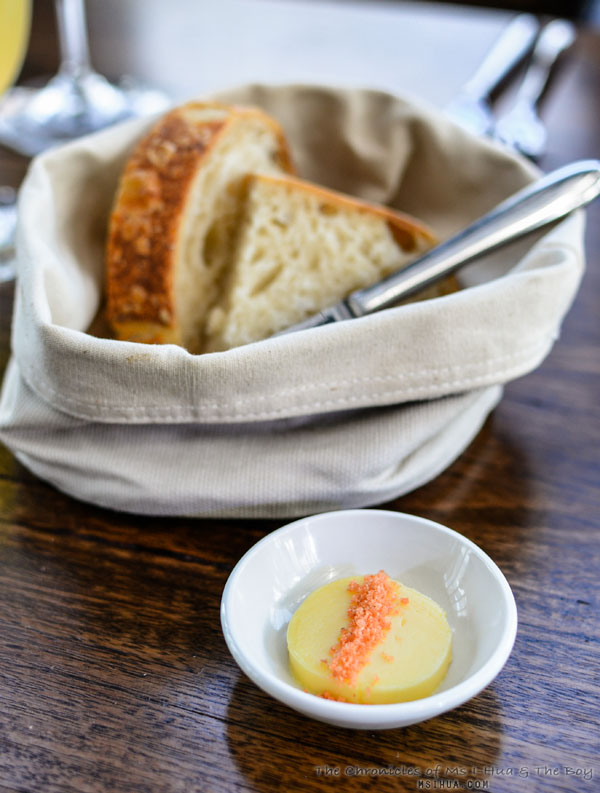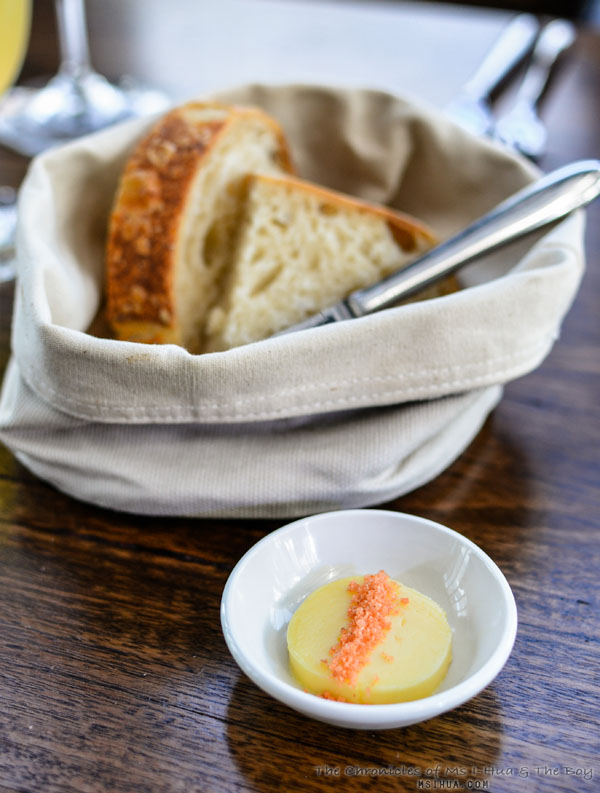 We were pleasantly surprised to see that some of the favourite (and vastly popular) dishes of the old Taxi remained on the menu with a few little new twists. But first, we enjoyed the Sourdough with Sriracha Salt.
I always love it when bread arrives at the table in a keep-warm bread bag!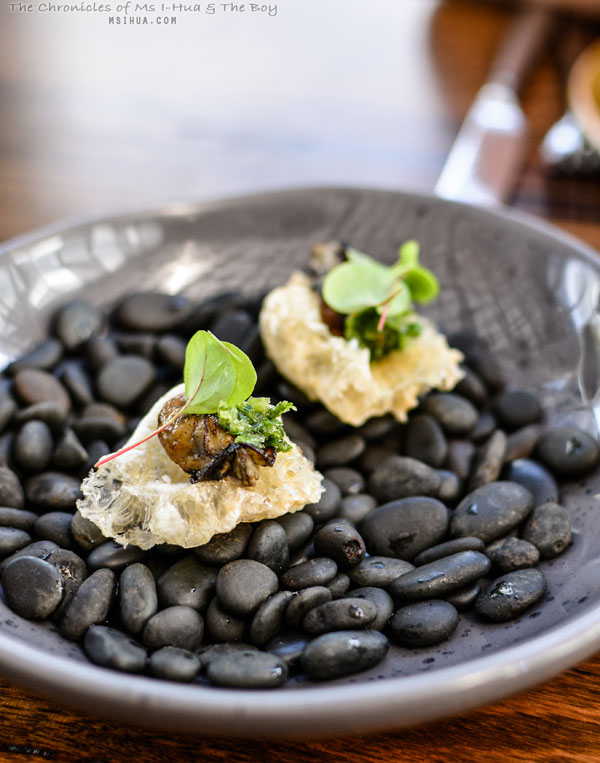 As The Boy and I couldn't make our minds up on what we wanted, we decided to let the wait and kitchen staff surprise us.
This turned out to be a blessing as we could give our complete attention solely to the food arriving at our table.
They started us off with the Scorched Oysters, Salt & Vinegar Pork Crackle ($3.50 per piece). These were delicious mouthful pieces. Even The Boy who is not usually a fan of oysters thought the scorched oysters were delicious with its slight smokiness.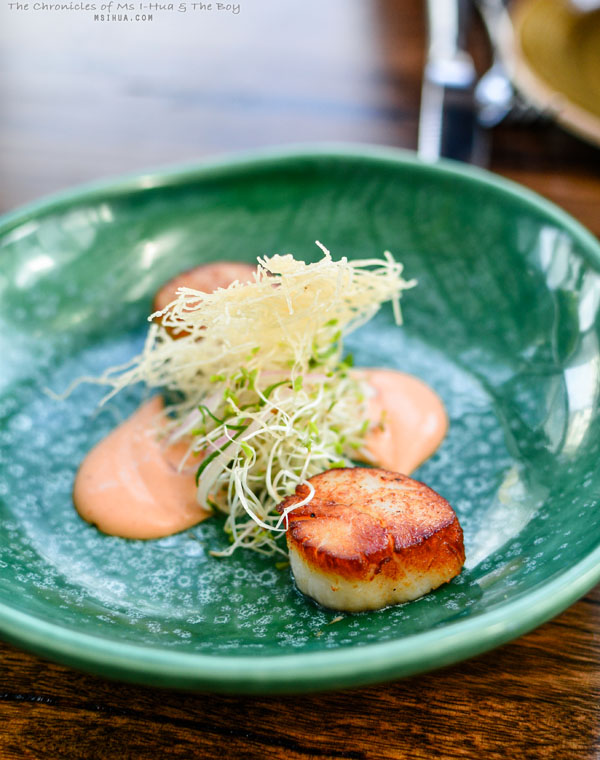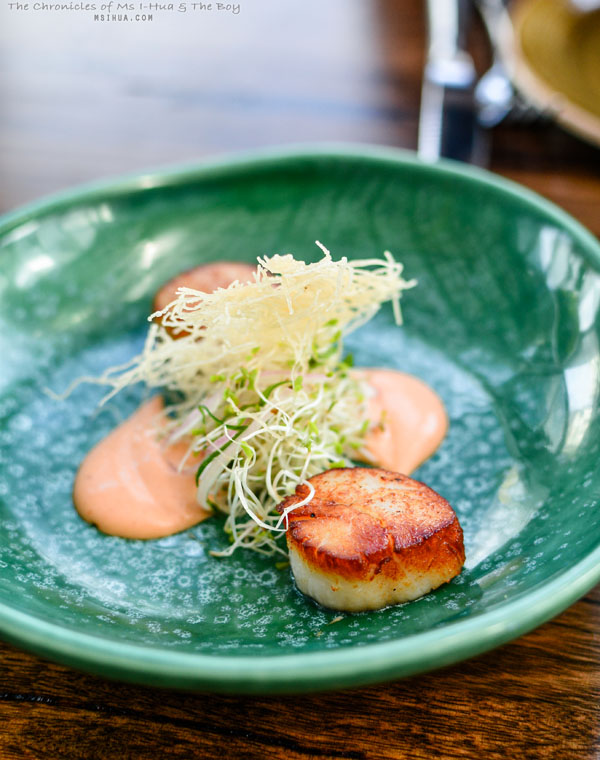 Next came the Seared Scallops with Red Radish, Smoked Chilli Mayo & Kataifi ($4.50 per piece). I couldn't get enough of the chilli mayo!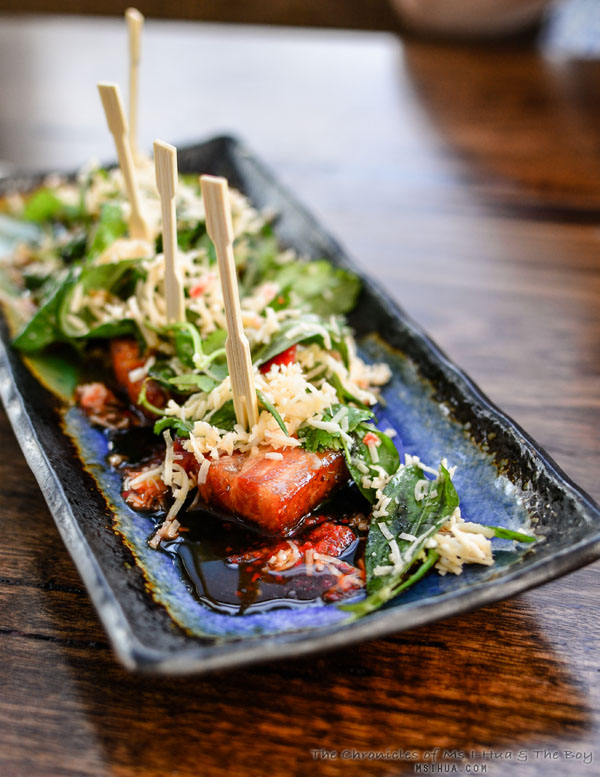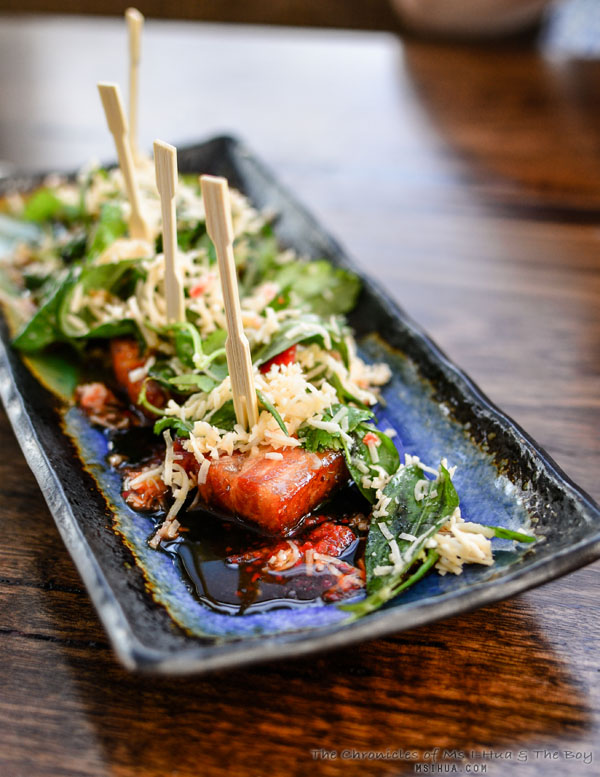 When we left the choice of dishes up to the staff, we only had one request. We needed to have the sticky pork belly.
Complying with our wish, out came the Candied Pork with Coconut, Red Chilli Dressing ($15.00 for 4 pieces). Now I'm sure you all know our obsession with this dish and it has remained as delicious as our memories have preserved it.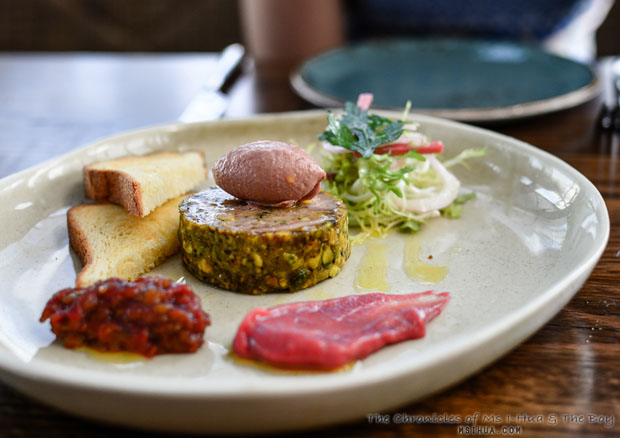 Moving on to the medium plates, we were served the Country Style Terrine with Foie Gras Parfait & Rhubarb Compote ($21.00). I could wax lyrical about the perfection of the foie gras parfait, but I may bore you with my confession.
Know that it is delicious and worth the order.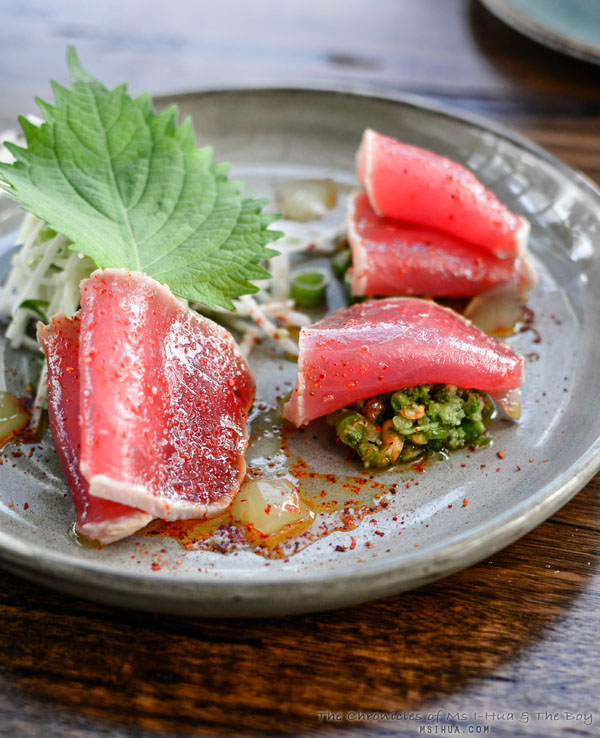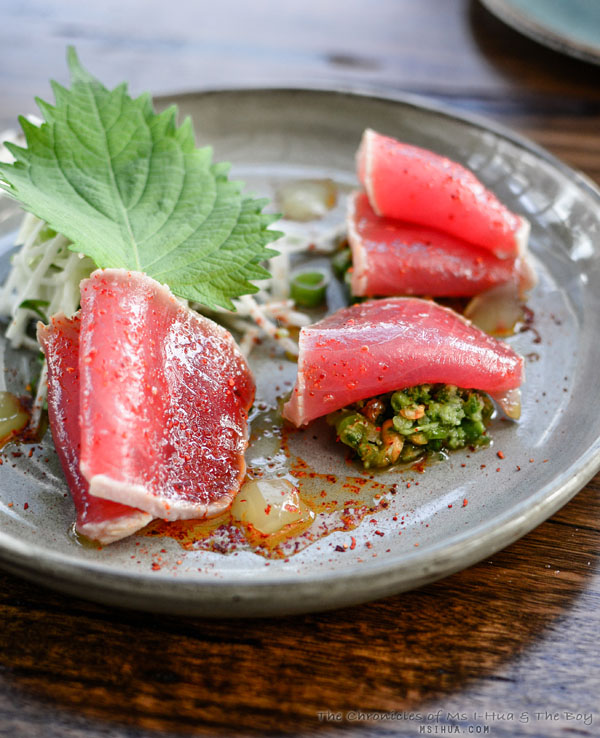 Also from the medium plates section, we had the Sake Washed Tuna with a Soy Bean Pesto & Kohlrabi Remoulade ($22.00). This was excellent! I especially loved the addition of yuzu jelly and the inventiveness of using edamame this way.
Sadly, not all diners were as appreciative as this, as I noted two out-of-towners eating the tuna dish with hot fries. Clearly they weren't happy about how "uncooked" the tuna was. I, on the other hand, nearly died from observing their blasphemous actions.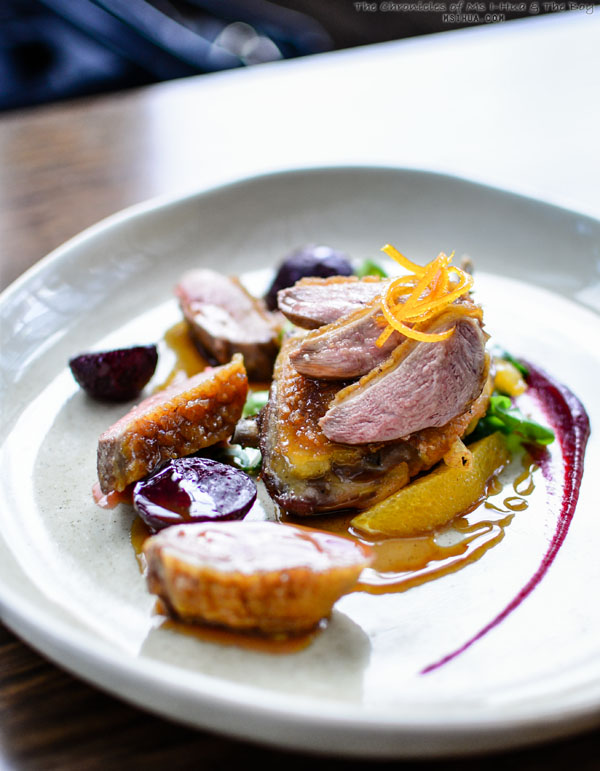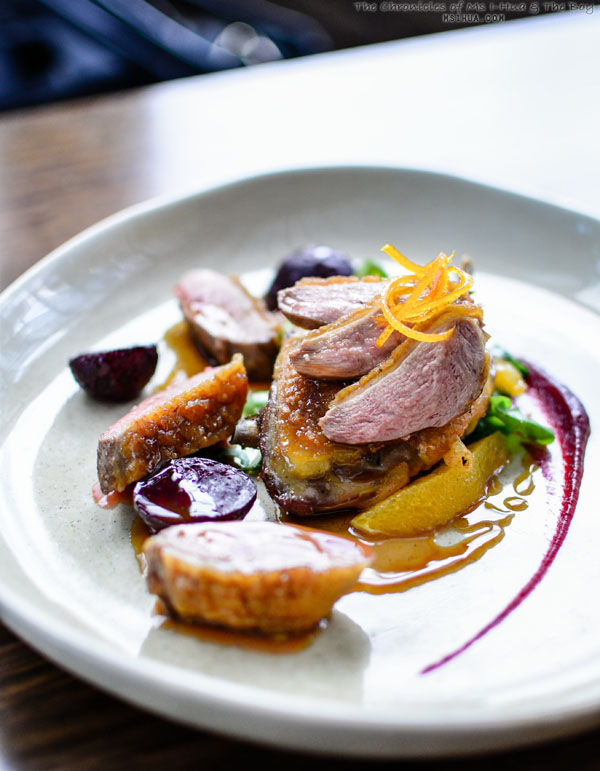 Nearly conceding defeat, we asked to share one main between the both of us.
We went with the Crispy Confit Duck with Beetroot Puree, Watercress & Orange Salad ($36.00) as we had good memories of this dish.
It was as good as we remembered. Succulent tender duck flesh lightly drizzled with a dark, almost burnt sweet orange caramel.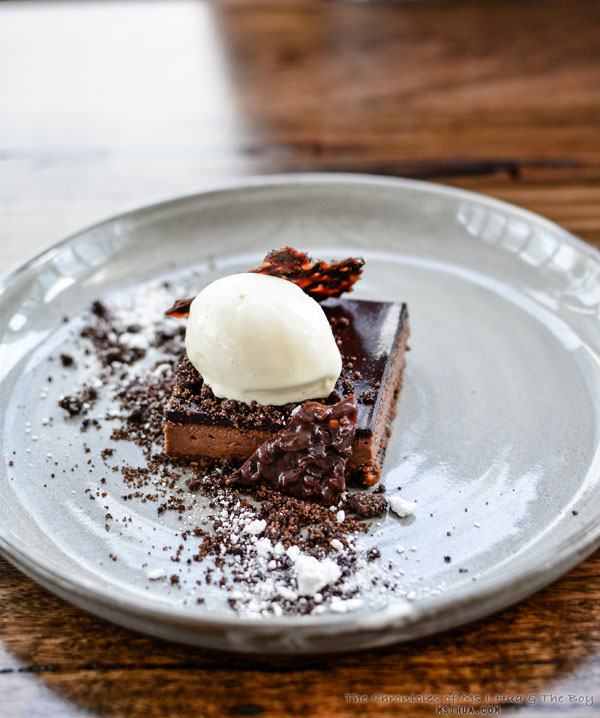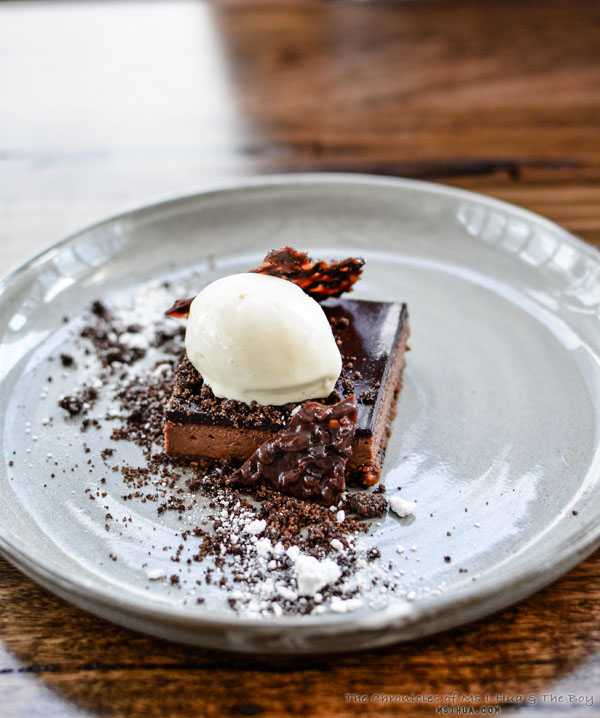 Despite our bellies on the verge of explosion, we had room for two desserts 🙂 (There's always room for dessert, as I have learnt from my dear friend Daisy!)
We started out with the delectable (lick-the-plate-clean) Bitter Chocolate Marquise, Coffee Crumble & Tonka Bean Ice Cream ($16.00)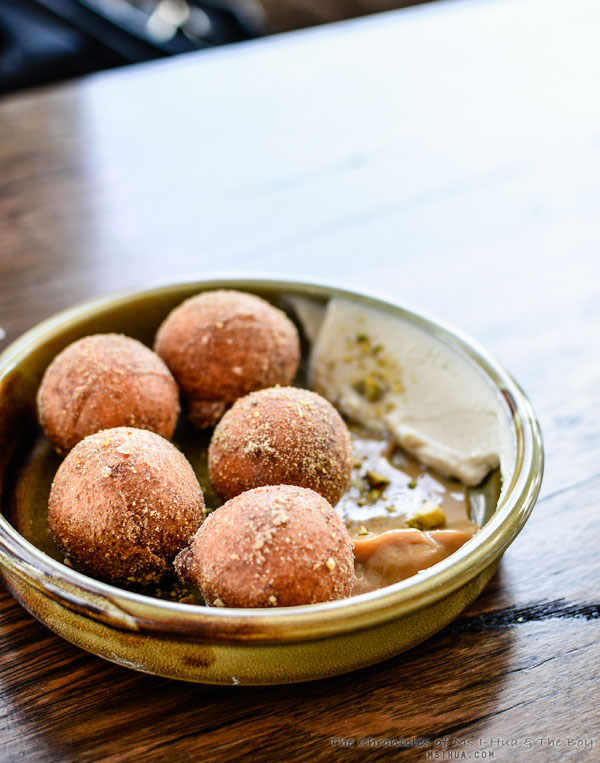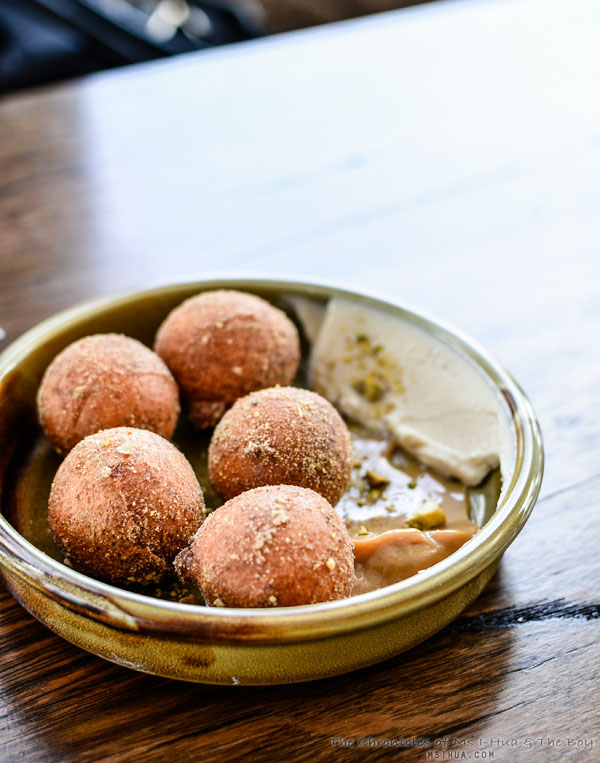 We finished off a magnificent lazy weekend lunch with Mini Doughnuts with Caramelised Milk Jam ($12.00).
My preference was definitely with the chocolate marquise as it was the sweet ending that was needed. The doughnuts, though good had a slight savoury aspect to it with the goats cream on the side.
Overall, a spectacular re-introduction to the menu at Taxi Kitchen and we can't wait to bring visitors by to dine here.
What's really cool as well is that they now do a Taxi Fare Deal Lunch Menu. For $39.00 per person, you can sit and dine on two courses with a glass of wine (for groups of 10 or less) everyday that they are open!
[Ms I-Hua & The Boy dined as guests of Sovereign Hotel Group]
*Disclaimer: All food ratings are purely based on my own experiences and how I feel about the service, food and quality at the time of visit.
Food/ Cuisine: Modern Australian (Asian Inspired)
Dining Style: Restaurant
Address:
Level 1
Transport Hotel
Federation Square
Cnr of Flinders Street & St Kilda Road
Melbourne VIC 3000
Opening Hours:
Tuesday – Saturday, from 12:00pm
Tel: (03) 9654 8808
Website: http://www.taxikitchen.com.au
Twitter: @Taxikitch
How to get there: