Often thought about as a hotel destination for those venturing out to the nearby Osaka Universal Studios around Osaka Bay, Japan, the Hyatt Regency Osaka is something more than that. It's a destination away from the hustle and bustle of busy Dotonbori.
It's located in an area that apart from the 'Kauiyukan' aquarium and Universal Studios, there is not much to do but to sit back and enjoy the facilities. Which is possibly why more often than not, it is chosen as a key destination for business conferences.
A few hundred meters away, lies the Asia Pacific Trade Centre (where I incidentally bought an awesome pair of Adidas runners from ABC Mart), the closest you are able to get to in the way of shopping and food. You can choose to walk to the nearest train station to head back into the CBD as well if you so wish, or if you want, catch the free shuttle from Hyatt Regency Osaka to the JR Osaka Station (so convenient and is the most popular mode of transport chosen by hotel guests into the shopping district of Osaka).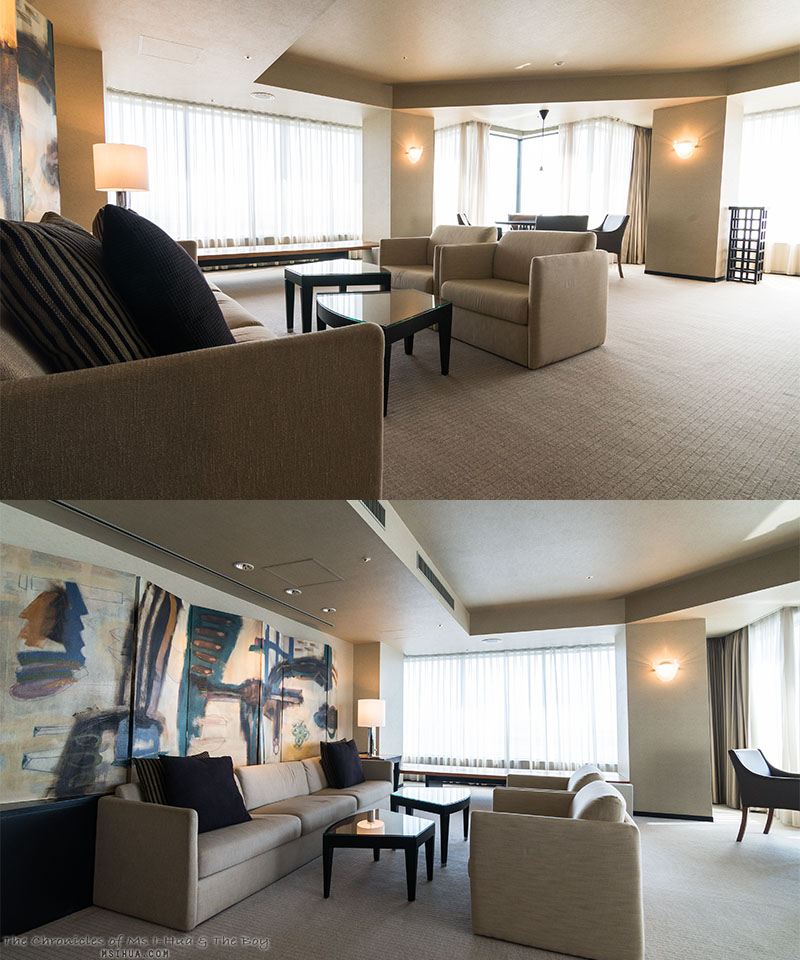 On our recent trip to Japan, we had designated two and a half days to spend in Osaka. As it was close to the last leg of our journey, we really wanted to have a day to just stay in and relax in a hotel and enjoy its amenities.
Luckily for us, we had already spent a good day and a half exploring the sights and food that Osaka had to offer when we stayed the first night right in the city area, and were ready to check-in for a night of pampering and relaxation in our room.
As the three of us arrived for our check-in, we were directed to the Hyatt Gold Concierge instead. Thinking that we were just going to be provided with a welcome drink, imagine our delight when the Hyatt staff told us that we would be upgraded to the Diplomat Suite!
The General Manager, Miriam Varoli, an Aussie girl doing the big gig up in Japan, surprised us with the news, as she knew we were coming up from Kyoto and invited us to dine at Irodori Teppanyaki, Hyatt Regency's in-house restaurant for a Teppanyaki dinner. But first, we were invited to join her for drinks up at The Bay Lounge, located on the 28th floor. It certainly reminded us of the Grand Club Lounge in Grand Hyatt Melbourne!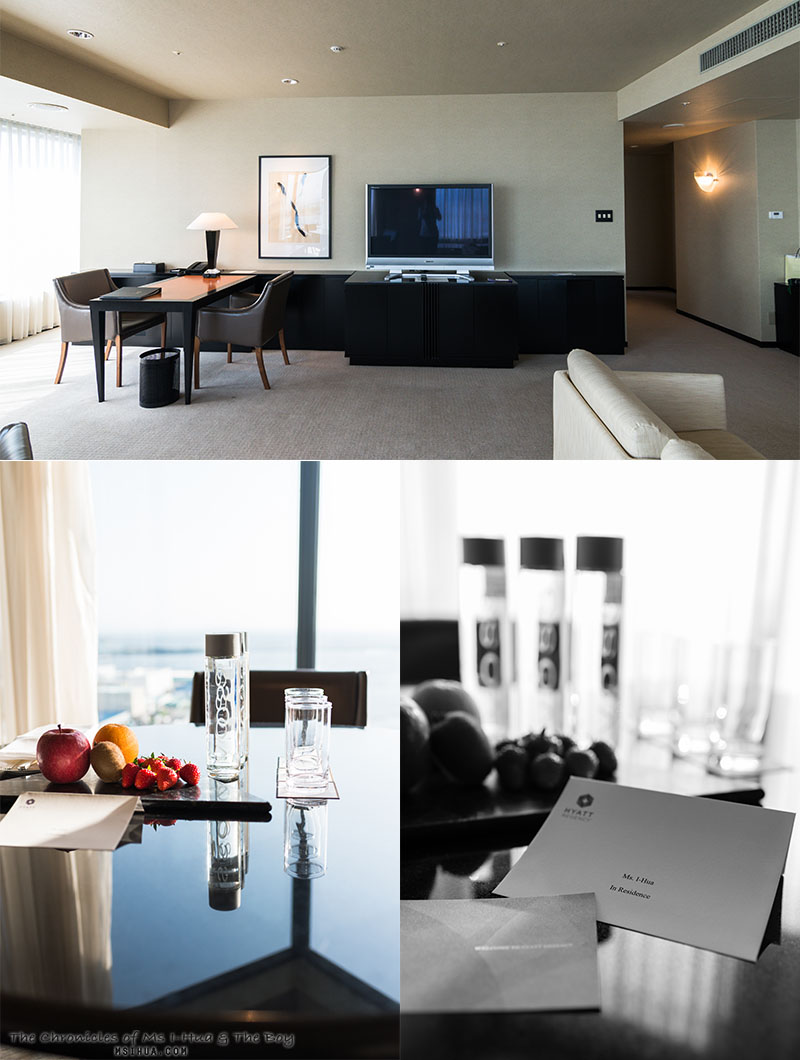 Once we had settled into our Diplomat Suite, the three of us took a walk in the nearby surroundings before deciding to return to the hotel to enjoy the luxurious room provided for our stay.
As with every Hyatt hotel we have stayed in, the rooms are decorated with warm neutral toned furniture and decor.
If you were thinking of splashing out and enjoying one magnificent night with spectacular city and harbour views overlooking Osaka Bay, then here are some of the perks you can expect to receive:
Separate sitting area and separate work area
Room service from 7:00 a.m. to 11:00 p.m.
Bathroom with soaking tub, walk-in shower, TV and window
2 flat screen TVs (50/32-inch)
In-room safe, robes, hairdryer
Cable/satellite TV channels and DVD player
High-speed wireless Internet access
Individual air conditioning control and remote controlled black-out blinds/curtains
Complimentary coffee, tea, soft drinks and evening cocktails at the Lobby Lounge
Full breakfast service at the cafe for the next morning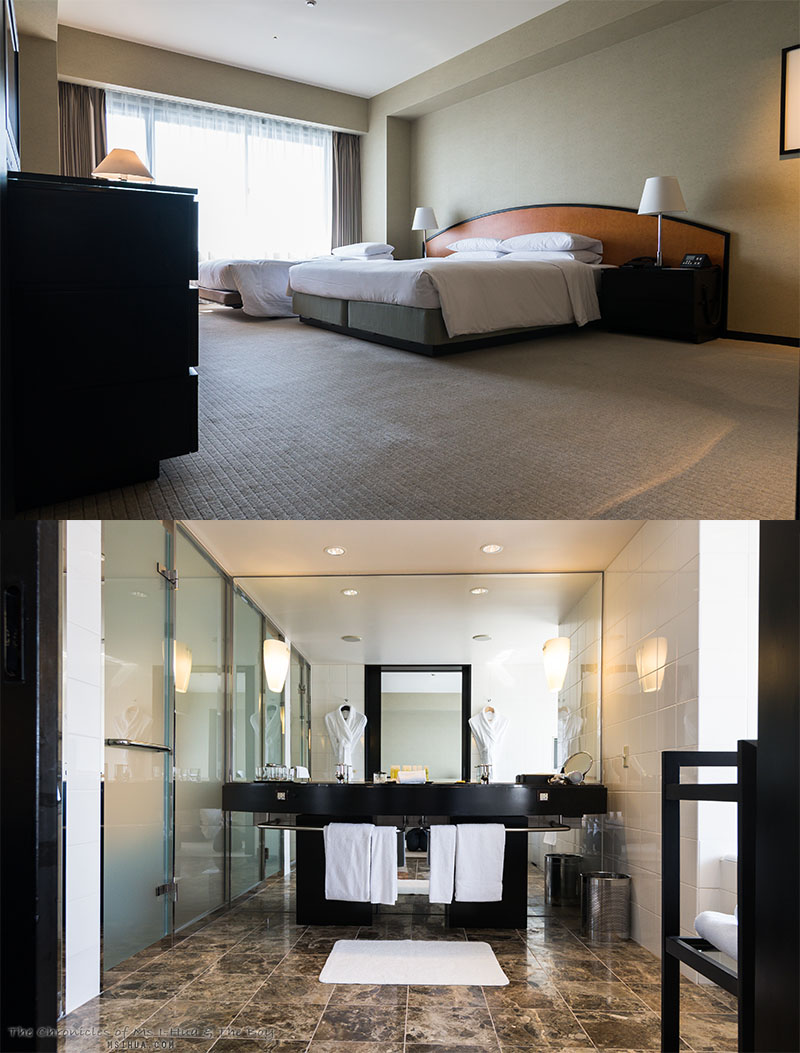 As there were three of us, they provided us with a roll-away bed in addition to the plush king-size bed already in the room. As with all Hyatt beds we have slept on, the mattress and pillows were extremely comfortable.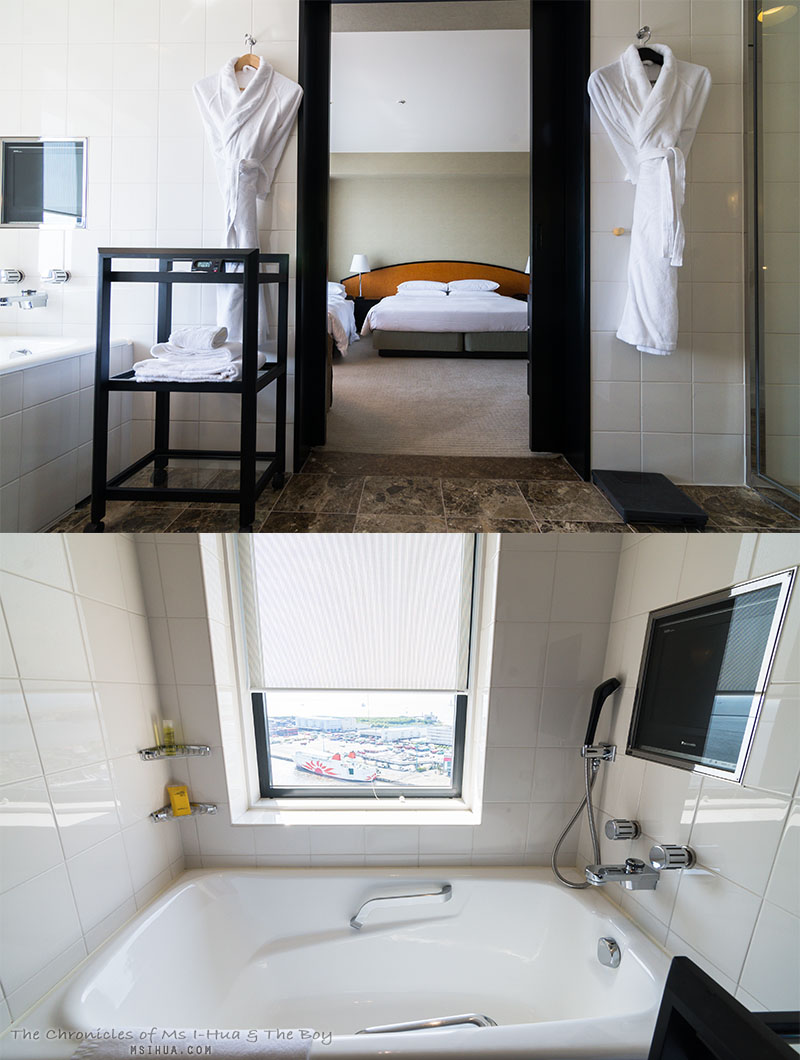 As there were three of us, we took turns relaxing in the beautiful soaking tub whilst enjoying the view outside or watching television. Though not as luxurious as Hyatt Regency Kyoto's Hinoki Bath Tub, we still welcomed the tub and managed to let our tired bones and weary muscles relax.
Once we sufficiently felt like jelly from our separate baths, we found ourselves lounging in different parts of the suite each in our own quiet zone either reflecting on the journey so far or catching up on the outside world. We had spent a good week and a half in close proximity with each other and it was a luxury to just be in our own space without feeling awkward about it.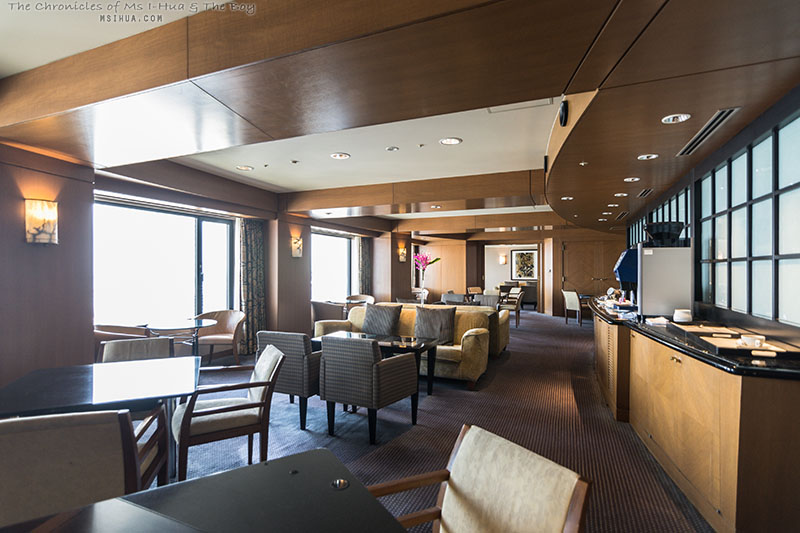 Before we popped up to The Bay Lounge, we decided to make a quick sneak peek into the Lobby Lounge. As our room was so spacious and luxurious, we didn't feel the need to utilise this facility, but we could imagine why some people might.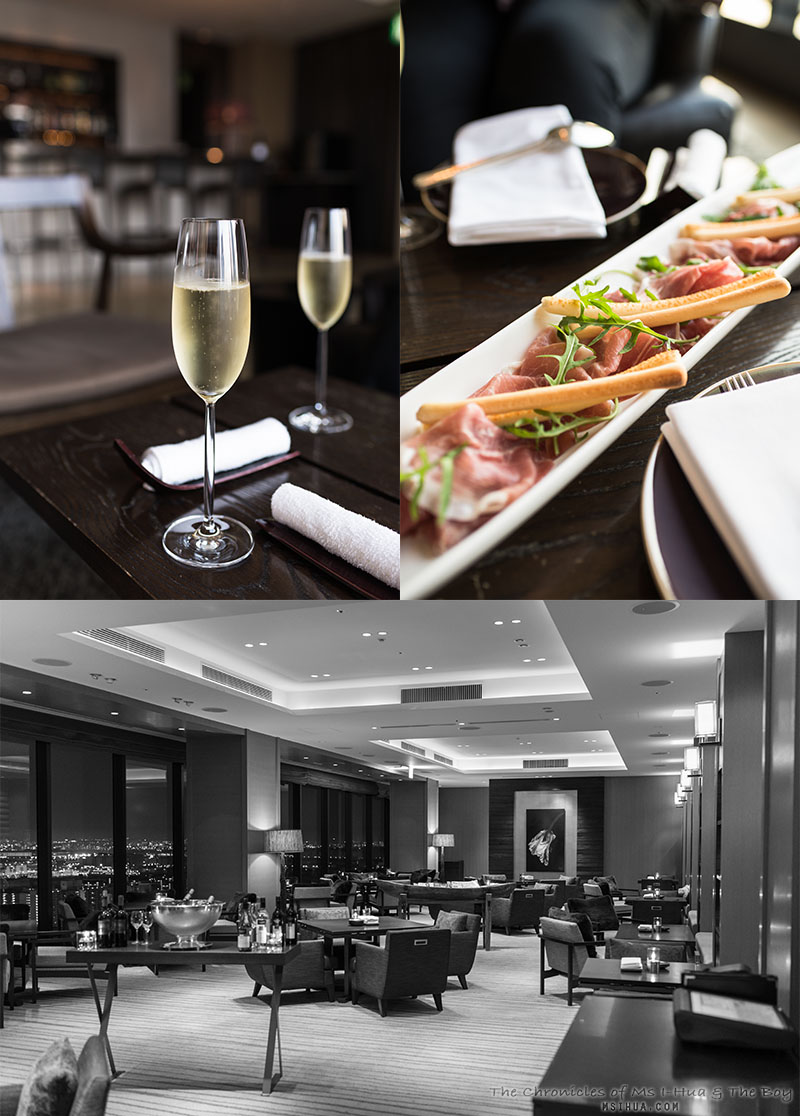 As we arrived at The Bay Lounge, the lovely Miriam was waiting for us with a glass of bubbles for each of us and some pre-dinner snacks.
It was refreshing to have found another Australian to socialise with, as we'd only encountered local Japanese and American tourists on our visit so far. I think Miriam was glad that she had fellow Aussies visiting and keen to hear what local Australian goss we had for her.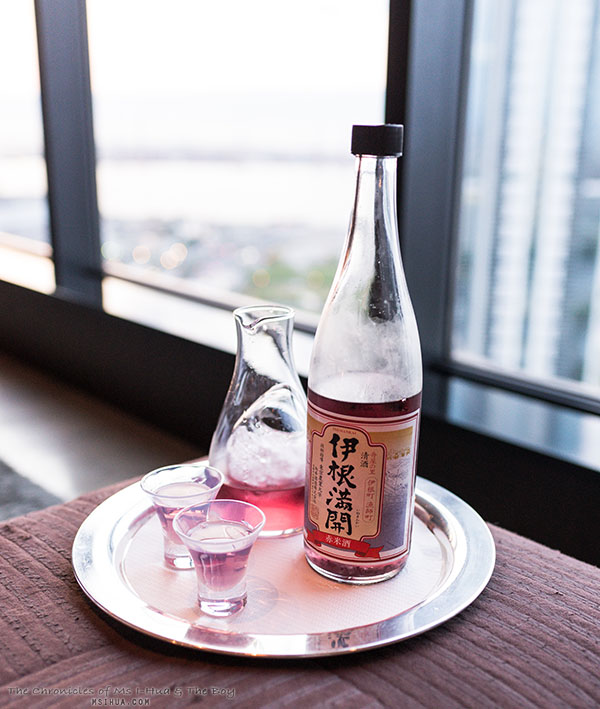 One of the most amazing drinking nights we had on our overall trip to Japan was experienced in this hotel.
It was a first time for the three of us to sample red sake and Miriam had kindly ordered for us to try, the Mukai Shuzo Ine Mankai Red Sake.
The reason behind the colour is due to the utilisation of an ancient red rice in the fermentation process, resulting in the beautiful blush rose colour. With a high level of sweetness, it is well balanced with acidity as well. Expert sake connoisseurs will say that it's a fruity blend of sweet cherry tart and pomegranate and an umami rich mouth feel.
We thought it was extremely delicious. So delicious that we had a second bottle during dinner in Irodori!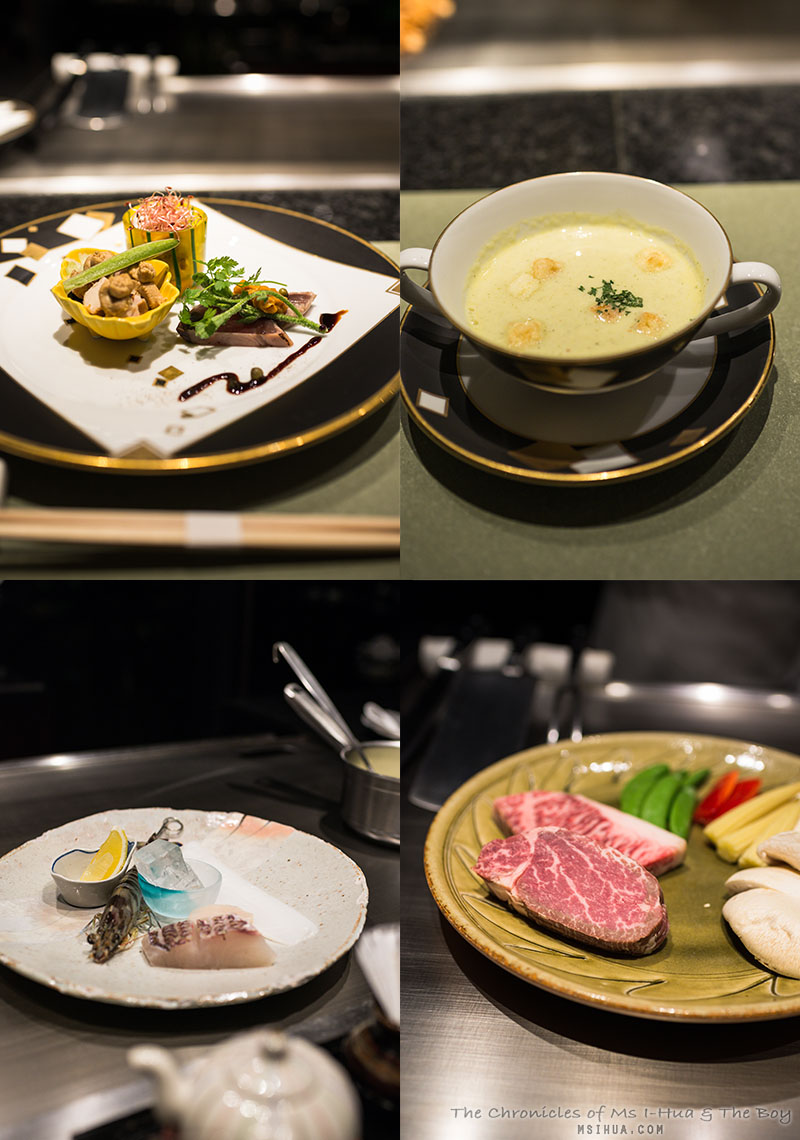 For dinner, we dined at Irodori Teppanyaki. As we entered the fold of the restaurant, we couldn't help but noticed that it was a little bit on the quiet side and guests perhaps opting to dine in the comforts on their own bedroom or venturing out to downtown Dotonbori instead.
The upside of that was that we had a near private dining experience with the chef. Now, if you have experienced this style of Japanese dining before in most western countries, you will be shocked to find out that in Japan, Teppanyaki cuisine does not involve the chef flinging food at you, and that you are not required to perform acrobatic feats in trying to catch food! No Sir-ree. There is no food wastage here. Thank goodness!
At JPY 5800 to JPY 11,500, the price of the teppanyaki dinner at Hyatt Regency Osaka may be a little steeper than usual, but it sure was absolutely top notch quality, and delicious.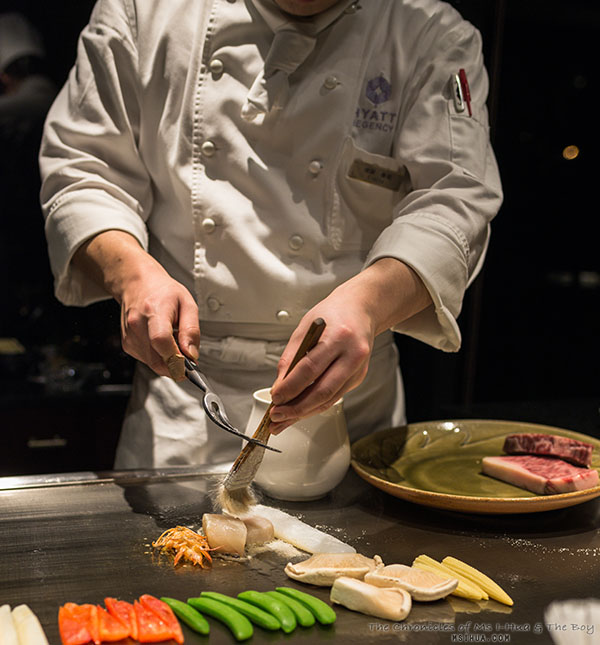 Whilst The Boy and Mazzie enjoyed grilled Japanese beef (sirloin and tenderloin), I enjoyed the ultimate freshest seafood grilled to perfection in front of our eyes.
It was strangely calming and mesmerising watching the chef cook our dinner for us as we chatted and sipped our red sake.
We were so impressed with his skill and technique, especially with making super crispy garlic and turning the prawn head into a delicious crispy treat for me. The other two were in beef heaven with the delicious outer crust from their respective steaks, up to the delicious pieces of fat which the chef managed to add an extra crusty outer layer and a melty inside.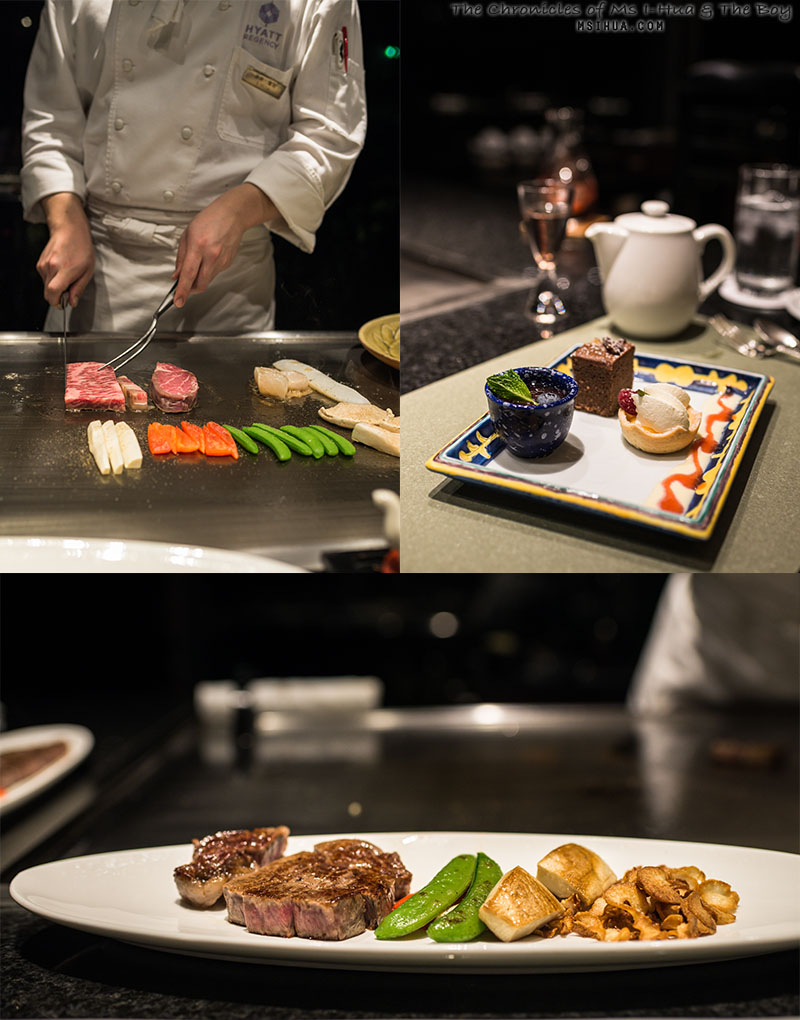 Not ready to return to our suite as the night was still young, we returned to the welcome arms of the bartender at The Bay Lounge back on the 28th floor.
We decided that we would take flight with the Japanese Whisky Experience.
At JPY 3800, we sampled from 3 different choices (Yamazaki 17 years; Yoichi 12 years and the Hibiki 21 years). OMG. All three were just too amazing, with the Yoichi very smokey and addictive. The Hibiki 21 years was easily the smoothest and easiest to drink!
Because we were such a delight, the bartender let us sample a bonus fourth whisky. A special Chivas Regal, Mizunara, which is a tribute from Colin Scott in honour of the Japanese art of whisky making. To be honest, it was nowhere as good as the three Japanese whiskies we sampled.
It goes without saying that the three of us were quite merry at this point and were more than thankful that we had not ventured out that night and instead had an extremely fun and relaxing time in the hotel enjoying its amenities.
We were also very grateful that we did not have to travel far to go back to our suite and to have another round in the tub before heading into bed!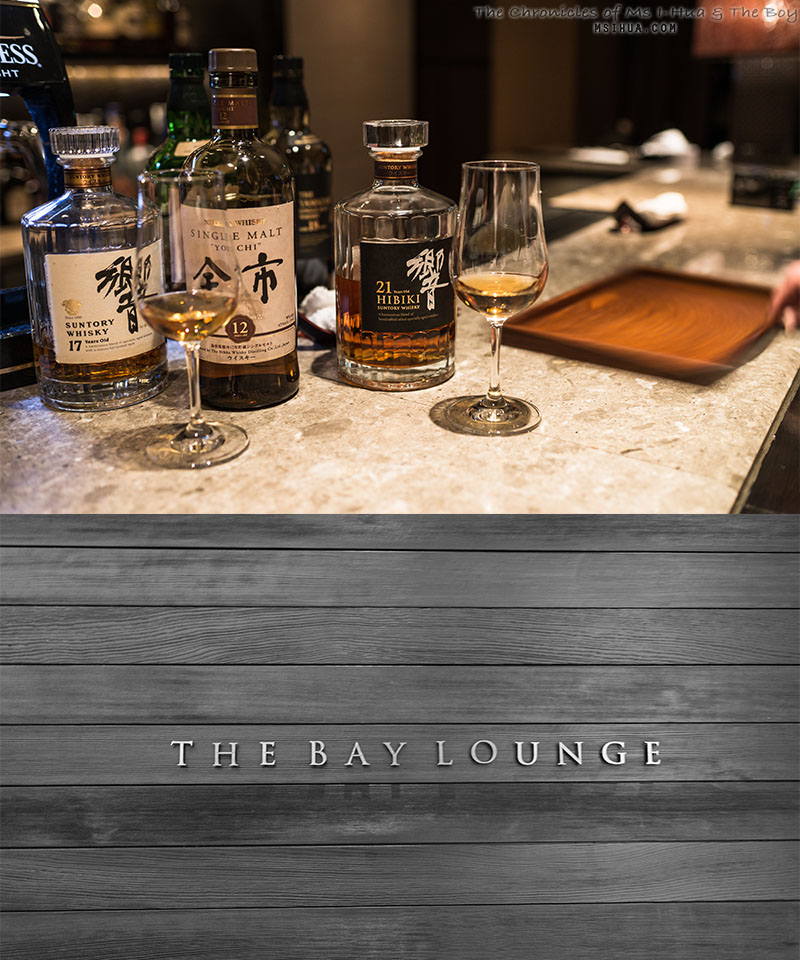 As the next morning dawned on us, with heavy hearts we realised that we would have a few hours to go before we had to leave our luxurious suite behind.
Brushing away the spiderwebs of our morning sleep, made heavier with sake and whisky, we pumped ourselves up and rushed down with enthusiasm to the cafe where breakfast awaited us.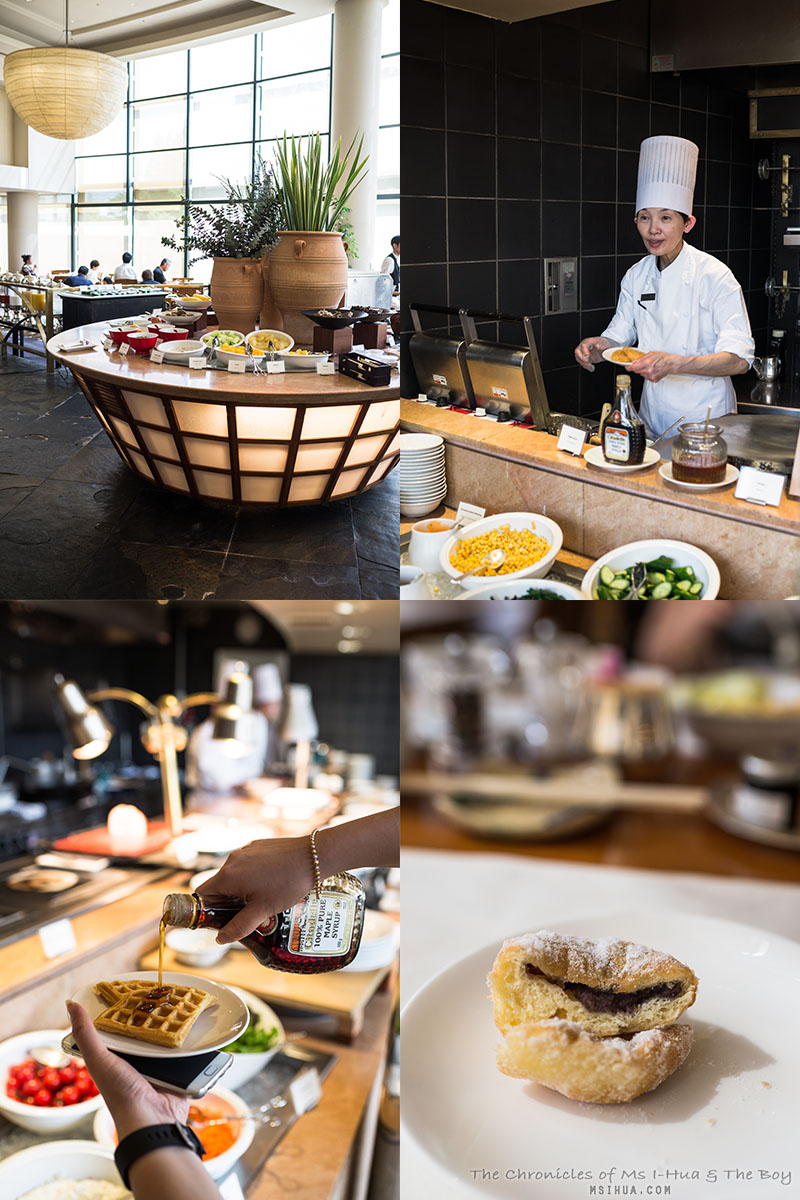 I am guilty and prone to carb-loading whenever I get close to a hotel breakfast buffet. There is something about needing to store enough energy for the long day of travel ahead.
So it wasn't to anyones' surprise when I noticed a waffle and a pancake stand as part of the breakfast offering, that Mazzie and I would make our way over for some waffles and an extra dose of maple syrup.
We were also told the night before, by a secret informer, to not go past the fluffy Red Azuki Bean donut, which is apparently very popular with hotel guests. It was indeed fluffy and delicious!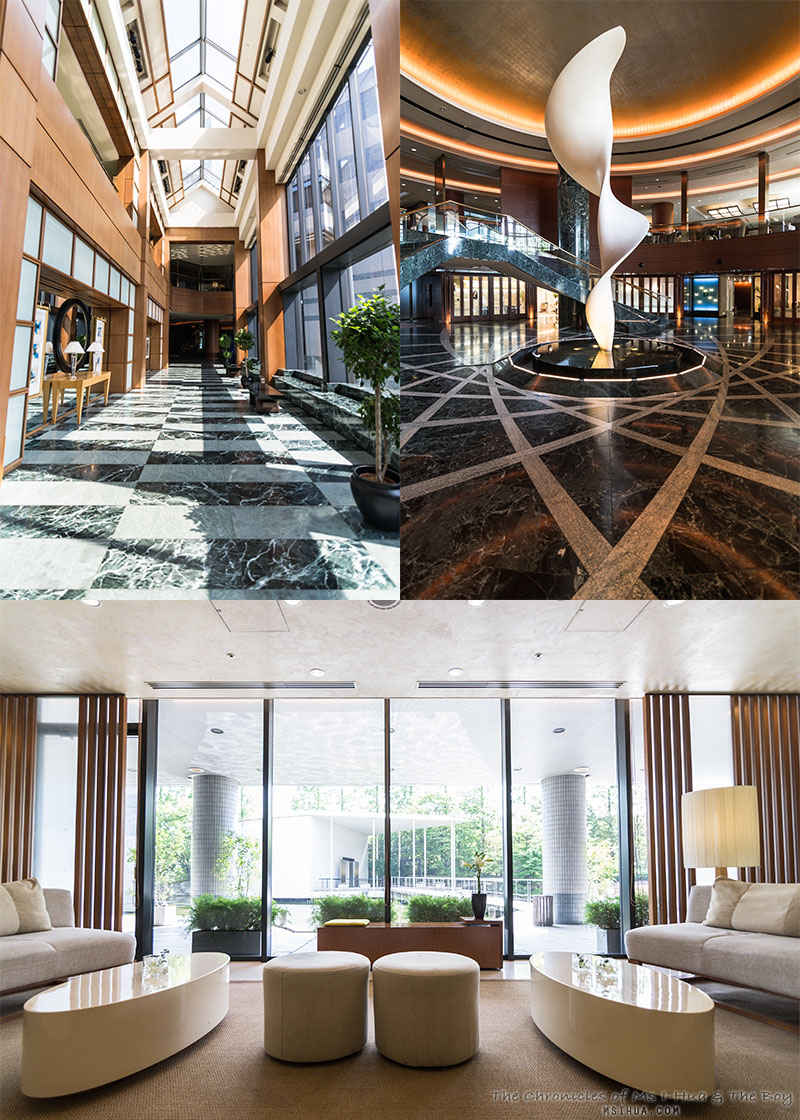 After breakfast, Mazzie decided to return to the room for a last long lounge (I think she just didn't want to leave the luxury!), whilst The Boy and I took a walk around the surrounds.
We even discovered a separate wing of the hotel we hadn't noticed before, entirely dedicated to weddings. There was even a little chapel located on the outside of the hotel across a pond!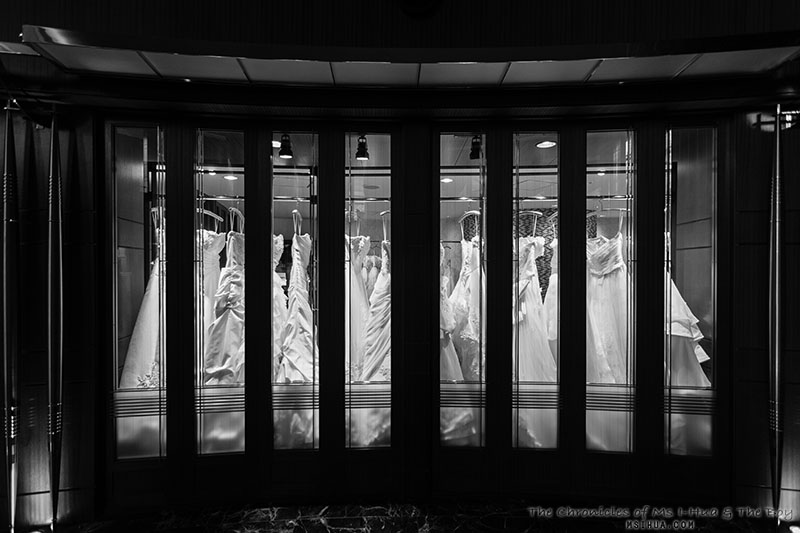 _____________________________________________________________________________________________________________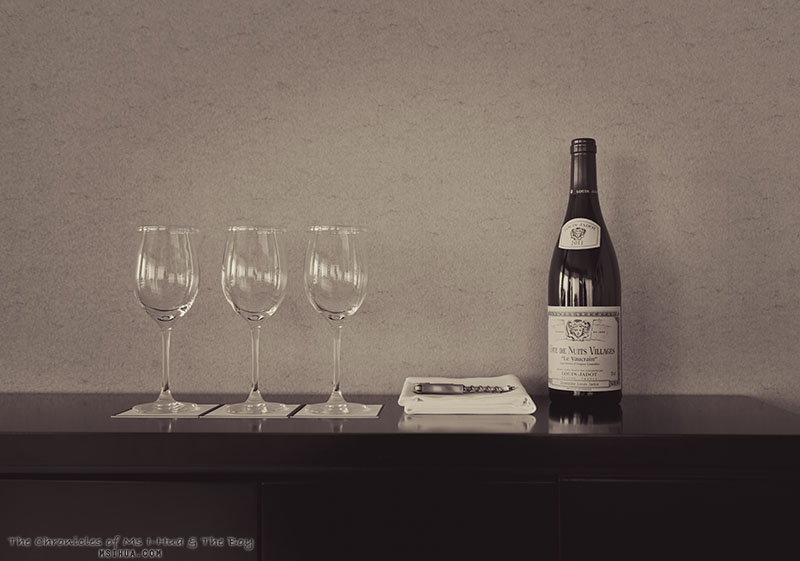 As we checked out of the hotel, the lovely concierge staff informed us that our transportation had been pre-arranged and we would be getting a direct drive back to our Shinkansen* train station. Unbeknownst to us, the Shinkansen station we were meant to board our bullet train back to Tokyo was a completely different station to the JR station we had arrived from Kyoto. Luckily for us, the attention minded staff saved us from an otherwise flustered and disastrous outcome! Hooray!
We can't thank the generosity and attentiveness from the Hyatt Regency Osaka staff to us during our short stay there. Thanks again to the wonderful Miriam for the pampering she provided us with.
If you are interested on finding out more about how to get to Hyatt Regency Osaka for a stay, they have a wonderfully detailed directions and maps page on their website.
*Bullet Train
[Ms I-Hua, The Boy and Iron Chef Shellie were invited as guests of Hyatt Regency Osaka]
Hotel Information
Address:
1-13-11 Nanko-Kita, Suminoe-Ku
Osaka, Japan, 559-0034
Tel: +81 6 6612 1234
Fax: +81 6 6614 7800
Email: [email protected]
Website: Hyatt Regency Osaka