Welcome to Part II of our recent visit to Wangaratta and the King Valley region as part of the start of Victoria's High Country Harvest!
Quality Hotel Wangaratta Gateway
If you were thinking of visiting the region and replicating some of our visits and adventures, don't forget to check out some of the accommodation available in the region. As we were a group of 6, we were put up in a beautiful 3 bedroom townhouse that was part of the Quality Hotel Wangaratta Gateway accommodation.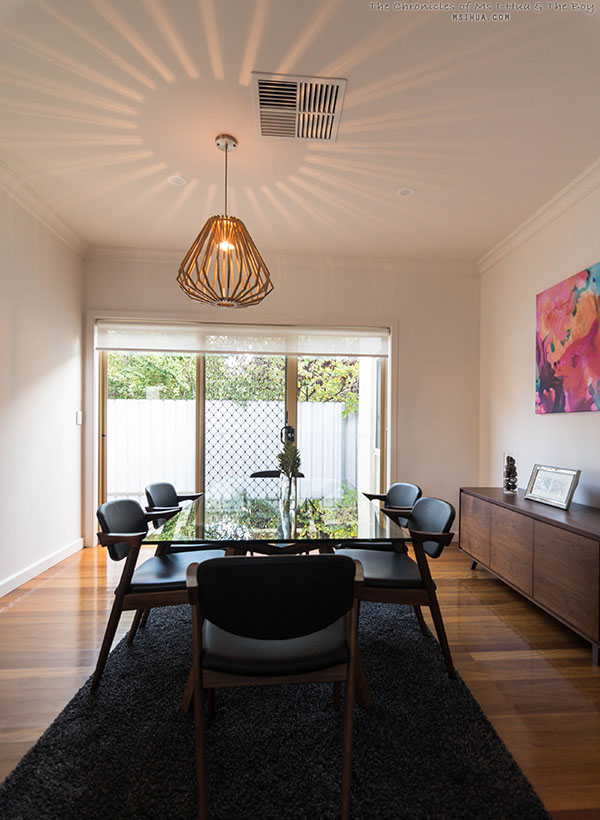 Located opposite the hotel in a quiet leafy street, the fully self-contained 3-bedroom townhouse offers a full kitchen, full laundry, Foxtel, iPod docking station, living and dining facilities, private car park, landscaped courtyard, outdoor entertaining area, as well as full hotel facilities. Out of the three rooms, there was two bathrooms (the master bedroom included a king bed and an ensuite), with the two smaller rooms encompassing single twin beds.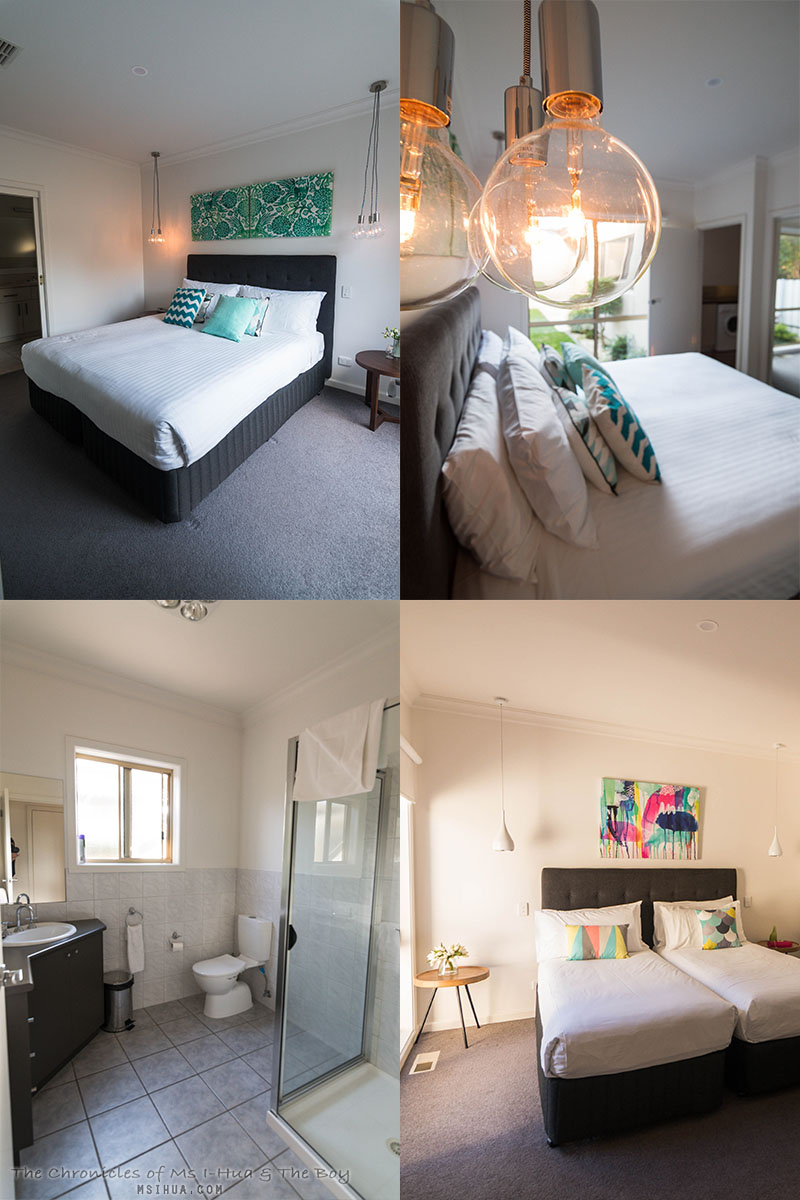 The townhouse was spacious and beautifully furnished with modern decor and furniture.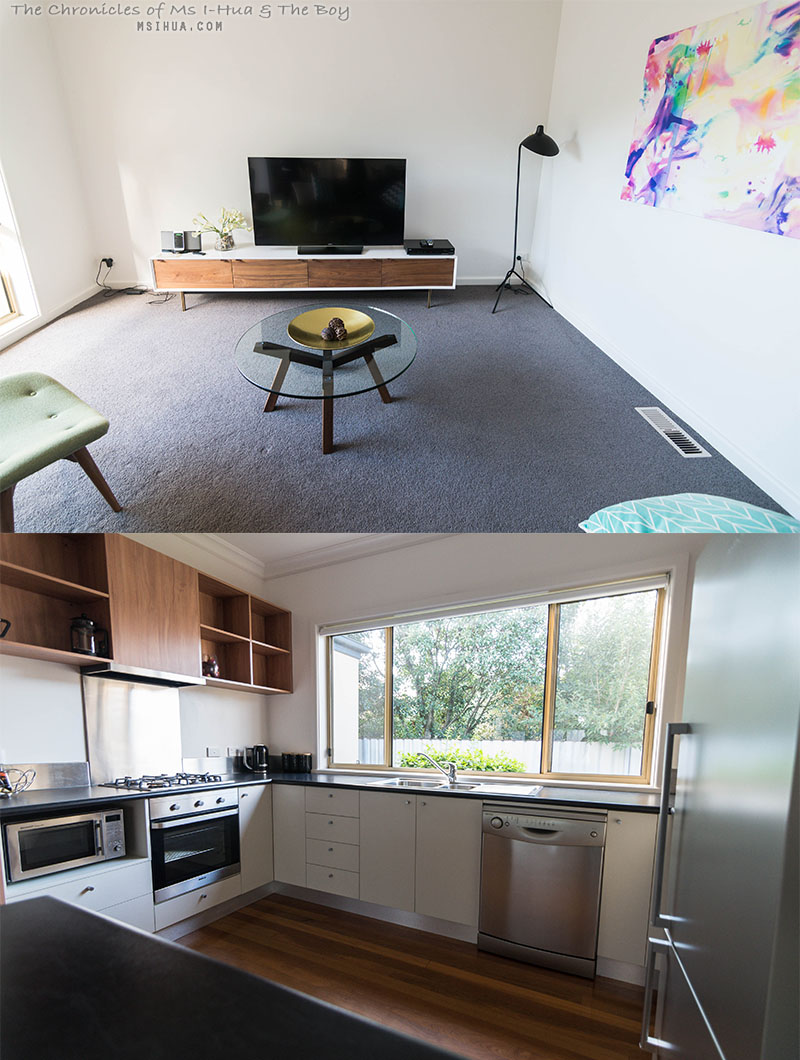 It certainly is the perfect house for a group of travelling friends or a large family party. You get all the privacy of living in a house away and full access to the hotel facilities across the road (yes there is a spa and a pool!).
Address
29-37 Ryley Street
Wangaratta VIC 3677
Phone: 1800 033 439 / +61 3 5721 8399
Enquiries: http://www.wangarattagateway.com.au/Pages/Contact_Us.aspx
Website: http://www.wangarattagateway.com.au/
_____________________________________________________________________________________________________________
Cafe the PreVue
After the busy day and glorious night from before, we woke up bright and early to tackle the remaining activities left on our schedule, beginning with a visit to the Cafe the PreVue. The last time we were here, was a good 2 years ago and it was lovely to revisit and reconnect with the staff and team at the cafe.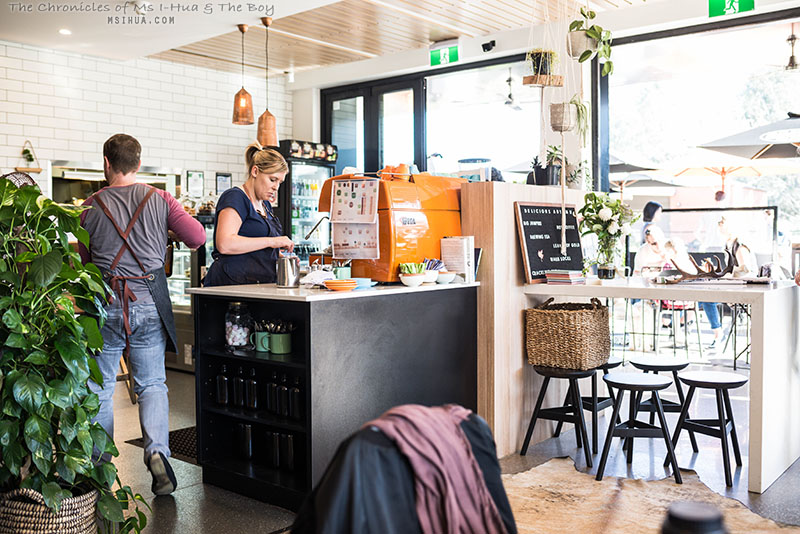 As we giggled and laughed reminiscing the adventures from the day before, we were easily the happiest people having our breakfast there that morning. Between us we managed to order nearly everything on the menu to the delight of the owner.
[Clockwise from Top Left: Banana and Chocolate Freak Shake; Scrambled Red Chilli Eggs with bacon, capsicum, spring onions, on a slice of toast and garnished with parsley, parmesan and chilli hair; Veggie Stack of field mushroom, crumbed brie, zucchini, pumpkin, potato rosti, topped with haloumi, a poached egg and pesto; and the Rustic Rosti Stack with salmon, dill, spinach and free range poached eggs, on top of house made potato rosti]
If you're looking for a delicious way to start your day, and you are in Wangaratta, look no further than to Cafe the Prevue.
Address
66-68 Faithfull St
Wangaratta VIC 3677
Phone: +61 3 5721 2092
Instagram: @cafetheprevue
Website: http://www.cafetheprevue.com.au/
Opening Hours:
Daily, 8:00am – 4:00pm
_____________________________________________________________________________________________________________
Walkabout Apiaries
After our breakfast, the group headed back out to Milawa for a stretch, and some sweet sweet honey tasting at Walkabout Apiaries. For nearly 40 years, these family of honey makers have been bringing delicious honey to this region.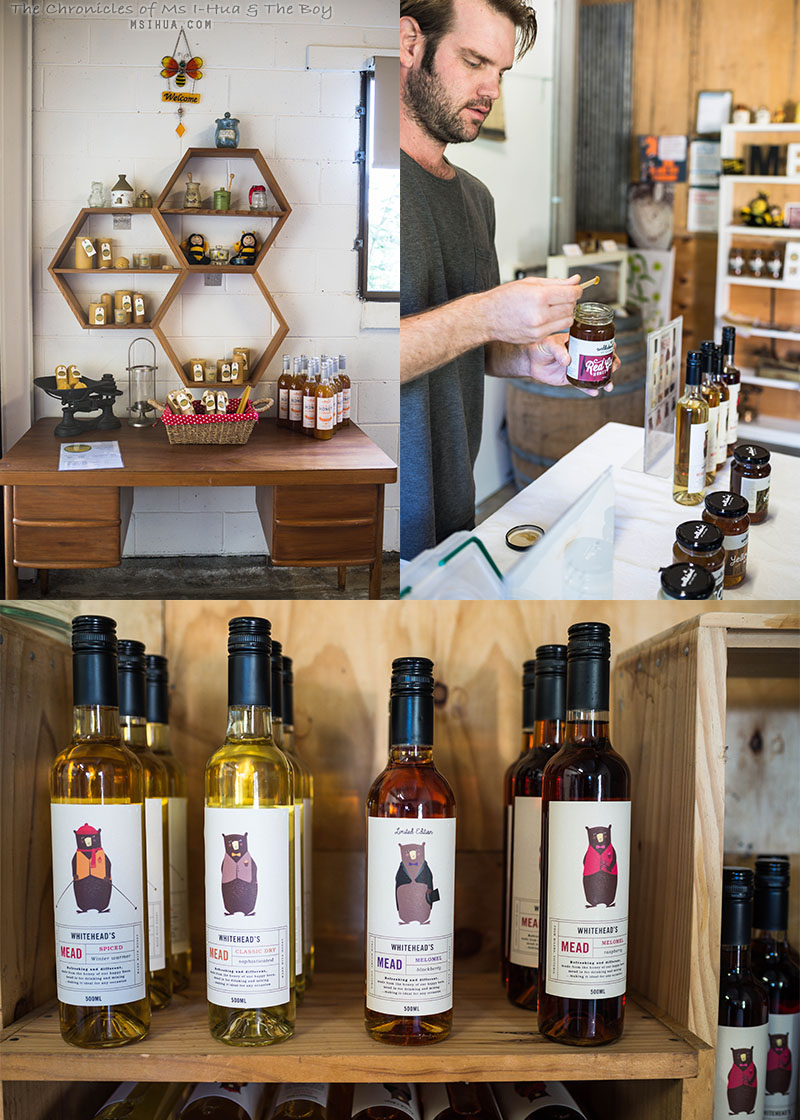 Walkabout Apiaries' bees produce honey from the tall flowering eucalyptus of the High Country down to the mighty Red Gums of the Ovens, King & Murray Rivers. This means the honey produce in this region is unique and highly dependent on the flora and temperature in the year that they are harvested in.
Aside from honey, Walkabout Apiaries also produces a range of mead (made of honey) as well as candles. Just look at those labels! So beary cute!
Address
1531 Snow Road
Milawa VIC 3678
Phone: +61 3 5727 3468
Email: [email protected]
Website: http://www.walkaboutapiaries.com.au/
Opening Hours:
Walkabout Apiaries Honey Shed is open for tastings 9:00am – 5:00pm most days
_____________________________________________________________________________________________________________
Sam Miranda Winery
Our last pit stop before making our way back home to Melbourne was to Sam Miranda Winery. Only a 5 minute drive down from Walkabout Apiaries, the view that this winery is located on is simply breathtaking. I know I sound like a broken record, but seriously, the whole region of King Valley is so beautiful I wonder why I don't go visit there enough!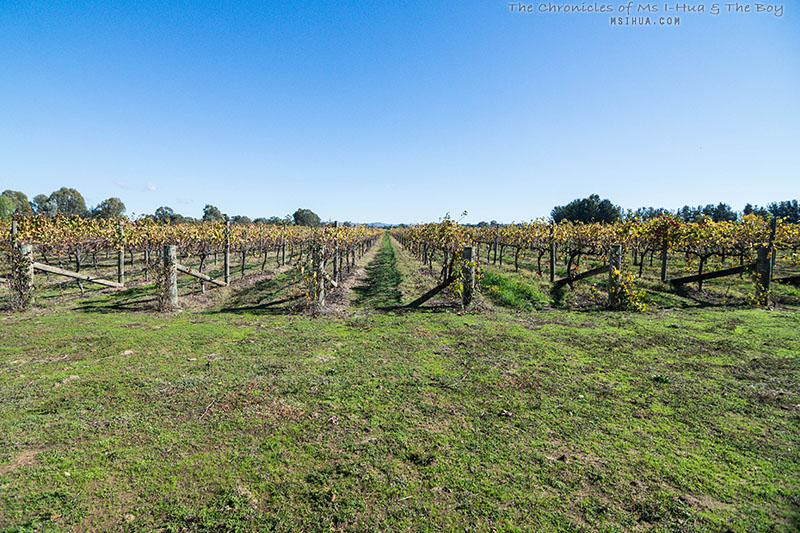 It was a beautiful day and as a group, we decided to take advantage on the sunny weather to sit outside and basked in the sunshine.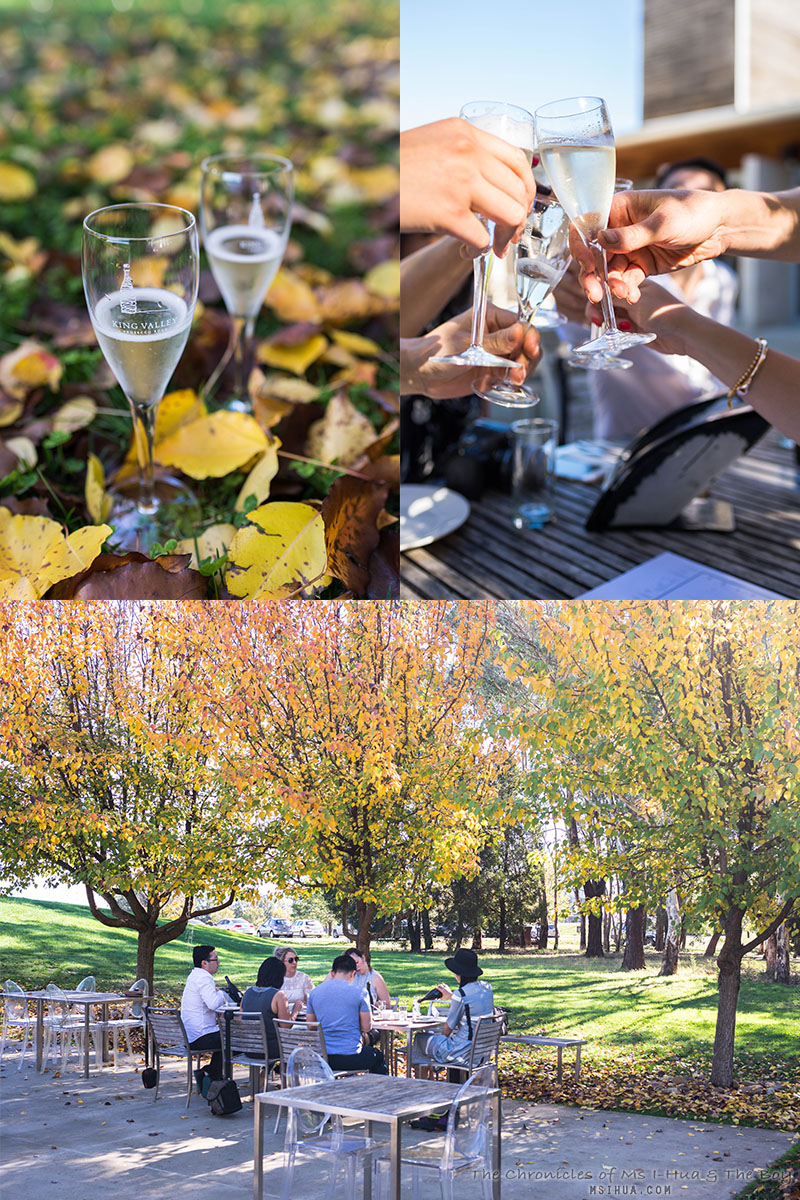 Walking outside to the back portion of the restaurant, I immediately fell in love with the setting. I could imagine myself getting up to no good running around and rolling in the sun and climbing the tree as if I was a little girl. Alas, I was to behave myself and act my age (Boo!).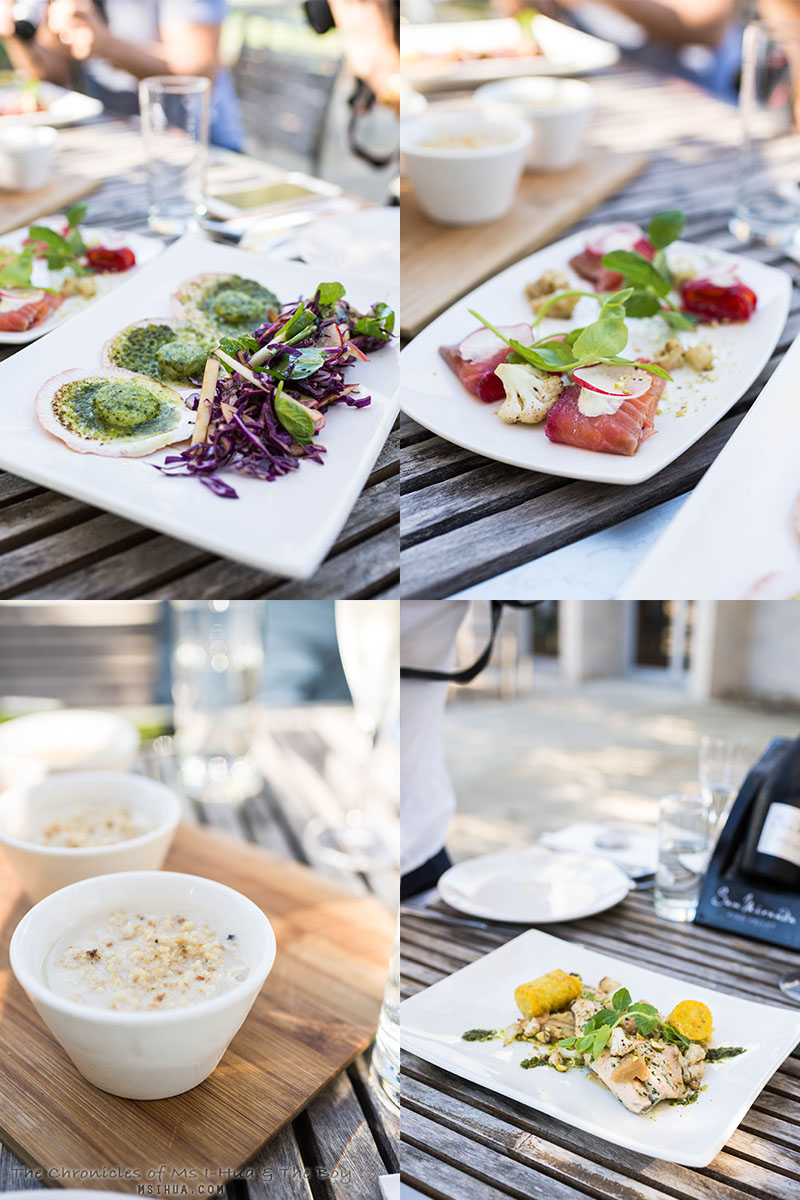 [Clockwise from Top Left: Hervey Bay Scallops baked with a herb & almond butter crust; Tasmanian Salmon, cured in Beetroot, Citrus & Fennel; Local Rainbow Trout, Pan Fried with Honey Fennel, Cauliflower & Pistachio; and Toasted Cauliflower & Smoked Trout Soup]
Head Chef, Michael White eagerly showed us what he has been cooking up in the kitchen since he started at Sam Miranda earlier this year. Plate after plate of delicious food piled up on our table outside (ideal for the perfect flatlay!).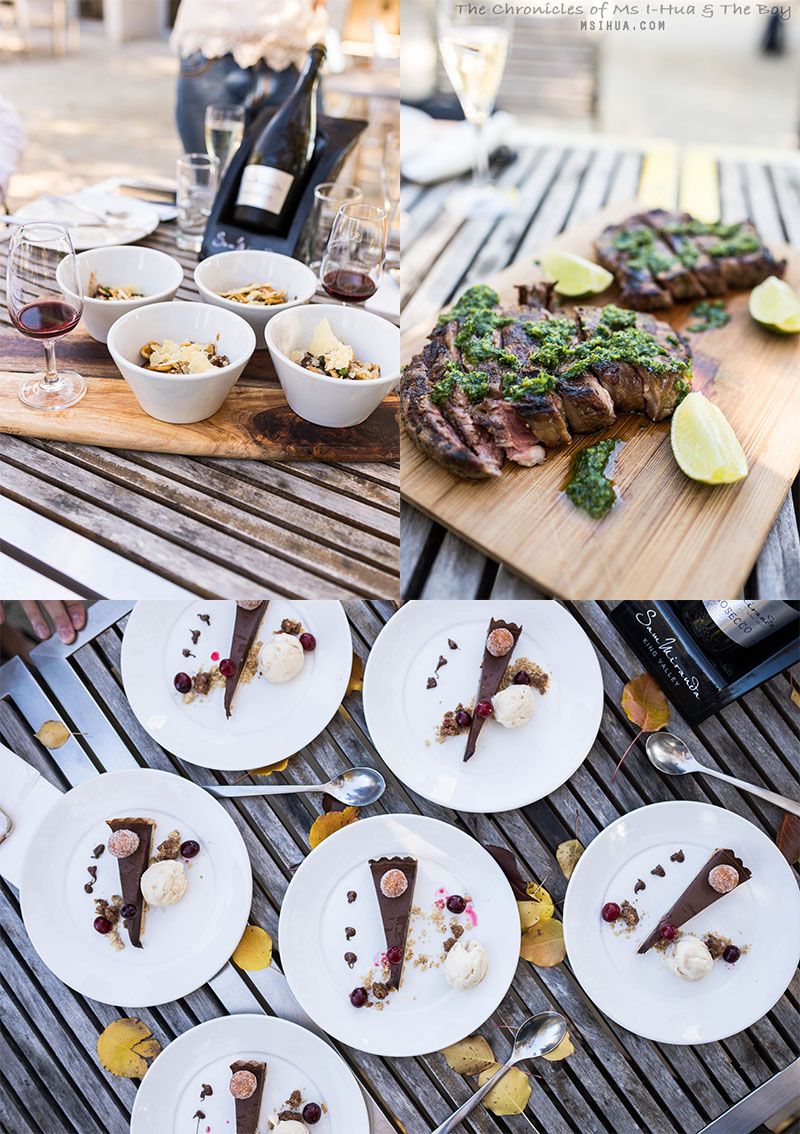 [Clockwise from Top Left: Orecchiette of Duck & Porcini Ragu; Londrigan Scotch Fillet (250g) with hand cut fat chips; and Chocolate Tart served with salted caramel ice cream]
My ultimate favourite dish from this lunch was the Orecchiette. It was so bang-on with flavours and really delicious.
Everyone else also raved about the scotch fillet. Looking at the way the meat was cooked, even I was salivating and full of jealousy that they were enjoying such a juicy piece of meat.
Dessert was also really delicious and summed up our perfect getaway weekend in the High Country! Rich and full of happiness!
Address
1019 Snow Road
Oxley VIC 3678
Phone: +61 3 5727 3888
Email:
General Inquiries: [email protected]
Restaurant Bookings: [email protected]
Website: http://www.sammiranda.com.au/
Opening Hours:
Cellar Door: Daily, 10:00am – 5:00pm (except Christmas & Boxing Day)
Lunch available 12:00pm – 3:00pm
New friendships forged and old ones rekindled, we cannot wait to go back up to Wangaratta and the King Valley region. It's a home away from home!
[Ms I-Hua and The Boy travelled up to Wangaratta and King Valley as guests of the Rural City of Wangaratta]
For our other adventures in Wangaratta and King Valley, see:
Visit Wangaratta – See High Country
Packing Prosecco with the Forges Family
Victoria's High Country Harvest 2016 [Part 1]