I feel somewhat proud when people speak of LuxBite. Not that I can take any credit for their hard work.
What I mean is, I am proud to know them and that both Yen and Bernard have come from similar places (Malaysia) and studied on the same campus as I, and have achieved their dreams. To know that there are such high achievers who have attained their dreams 🙂
Since I first blogged about them way back in December and declaring their Kaya Toast macaron as my favourite macaron of the year, LuxBite has come a long way and have attained somewhat of a celebrity tag.
Heck, they even made meringue tower desserts for Oprah's surprise baby shower when she dropped by down under!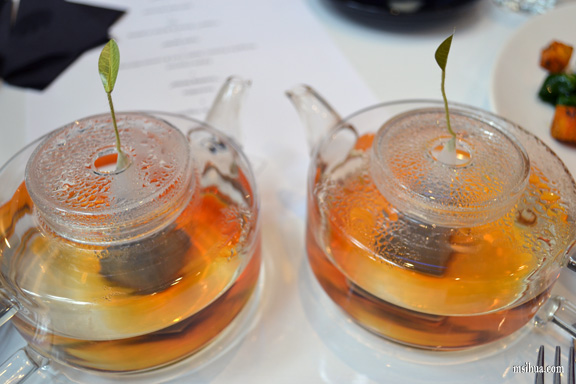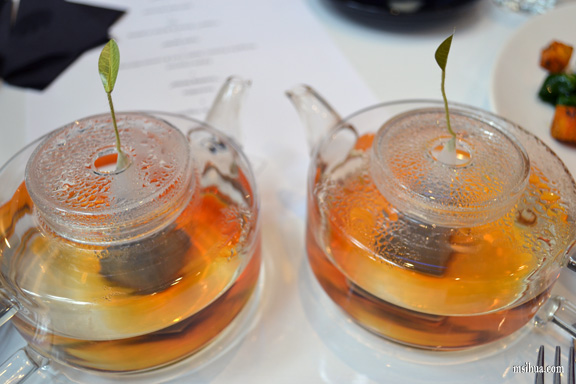 I haven't been back there as much as I'd like to. But when I visit, I do pay it much tribute and respect, by ordering everything I think I can eat, and usually waddle out the door vowing to do better the next time!
I've taken many visitors there to try out their desserts – BFF and her Bubbly Hubbly, Hannah a.k.a. Ms Poppycock and bought some for my 88 year old grandma when she came to visit during summer.
So it was without a doubt, that when Thanh asked if I wanted to join him and a few other food bloggers on a Cake Date at LuxBite, I was more than excited and said, "YES!"
It was a great opportunity to try out their offerings and menu in its entirety.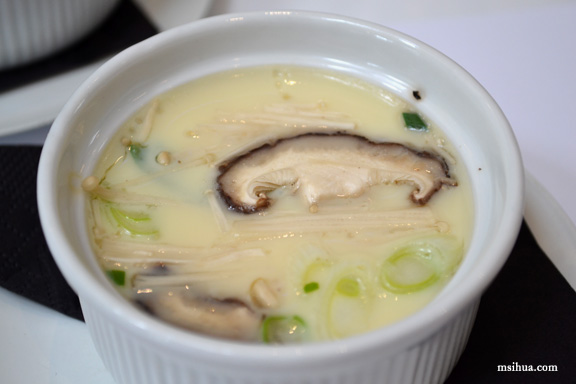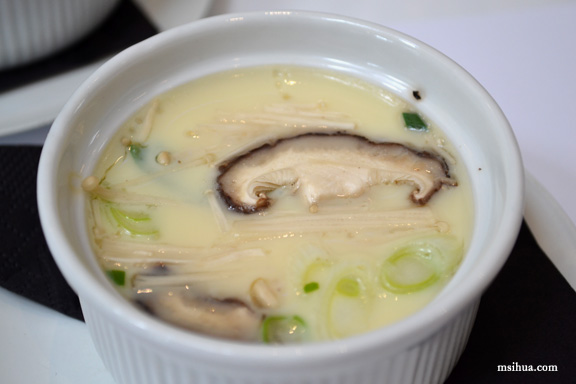 To start us all off, we were served an Amuse Bouche of Chawanmushi – egg custard with mushrooms, spring onions. I'm usually not a fan of chawanmushi as I find that most places make it too eggy and thick. However, this was quite pleasant and the texture was just about right for me.
[Left: MeatBite – pork belly, bacon, Italian pork sausage, baked beans and poached egg, served with toast.
Right: VegoBite – garlic roasted field mushrooms, baby spinach, poppy seed roasted pumpkin, roasted vine tomatoes, goat's cheese and poached egg, served with toast.]
Before we could get started on our desserts, we were served a simple breakfast to whet our appetite. I thought of it as a warming up meal for our dessert marathon ahead. Between the 10 of us, we devoured two serves of the breakfasts. I particularly enjoyed the VegoBite (I know, it must be that good for me to choose it over pork belly!)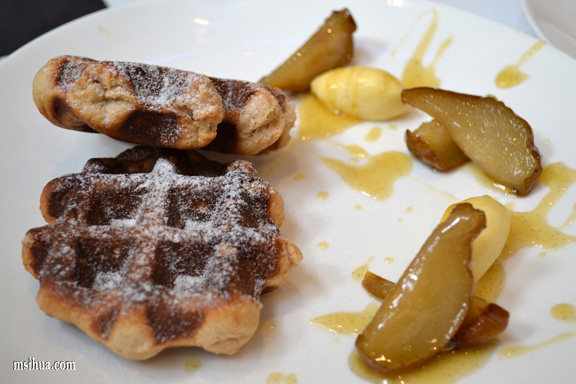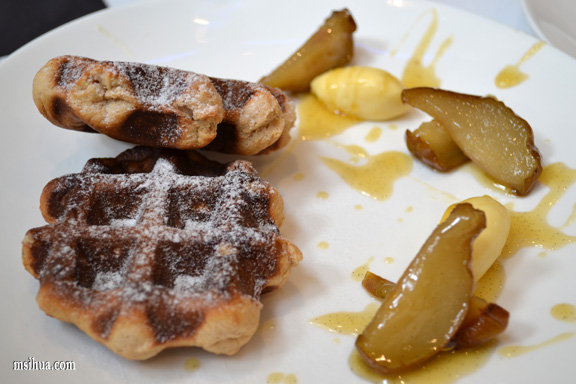 Once the remnants of our breakfast was cleared away, we clapped our hands in glee and didn't have long to wait before the first of the desserts started coming out. We started nice and slow with 3 servings of the SweetBite – waffles served with poached pears (or it could've been plums) and honey butter, to share among ourselves.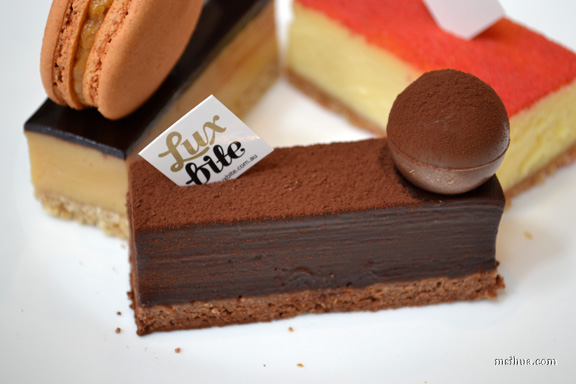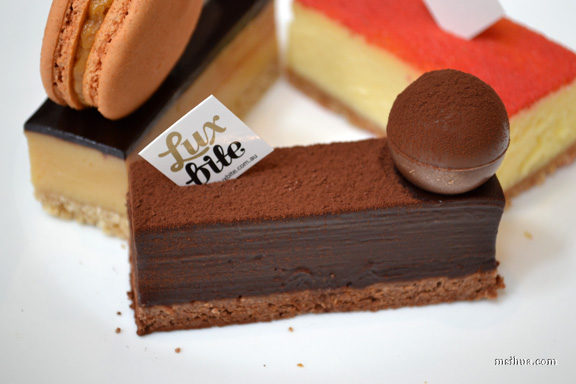 [Craving Series (1): Epic Chocolate Cravings – rich chocolate with hazelnut crust and salted caramel sphere]
Just as we thought, "Hey, I could get the hang of this much food", another serve of desserts arrived. They were little miniature versions of the original sized products that LuxBite had in store.
Oh so cute! They should make them in those little cute bite sizes all the time! I say this, so that I can have more variety 🙂
[Left: Craving Series (2): Cheesecake Cravings – baked lemon scented cheesecake dusted with strawberry
Right: Craving Series (3): Caramel Cravings – caramel placed between chocolate and coconut base, topped with a salted caramel macaron]
I think at this stage, I was ready to fall over from the quantity. Just as the thought slipped my mind, we had a little surprise of more miniatures and a palate cleanser!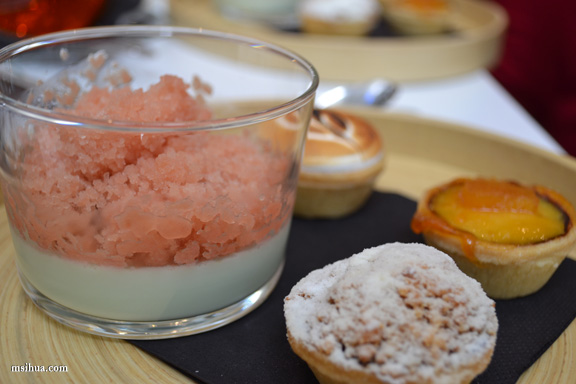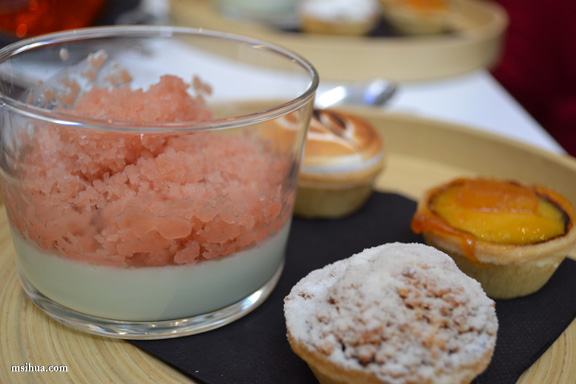 Palate Cleanser (pic above: left) – guava granita, tamarind, pandan pannacotta
Lemon Meringue Pie (pic above: top) – lemon curd tart topped with meringue
Pining for Passion Tart (pic above: right) –  passionfruit curd tart topped with caramelised pineapple
Apple iTart (pic above: bottom) –  tart of sweet apples topped with crumble
My favourite from this lot is still the Apple iTart. Having eaten it only the week before with Hannah, I was happy that the miniature version captured the taste and texture of the original sized tart.
Love Series: Oriental Love (in yellow) – coconut macaron filled with passionfruit curd, pandan cream, caramelised banana and peanut brittle & Supersized Love (in chocolate) – Luxbite's take on "Ferrero Rocher", hazelnut and chocolate makes the best combination.
At this stage, I'd given up on eating, and had to embarrassingly ask Yen for a couple of take-away boxes to pack my desserts in to take home.
When I did eventually eat this, my heart leapt and soared for the ORIENTAL. It was such a delight to eat. I wasn't too impressed with the giant macaron casing it came in, but I was blown away with the combination of flavours of passionfruit, pandan, banana and peanut.
It could have been because I haven't eaten bananas for such a long time (so so so expensive), but man, I was really impressed with it.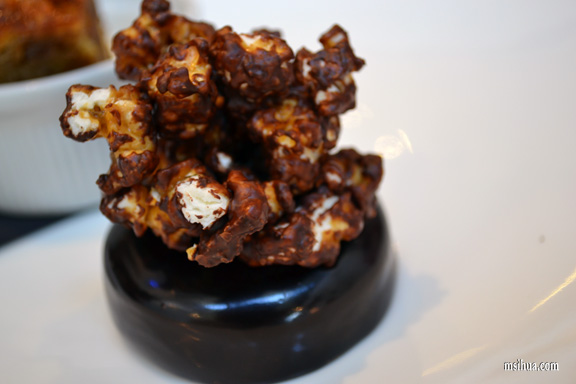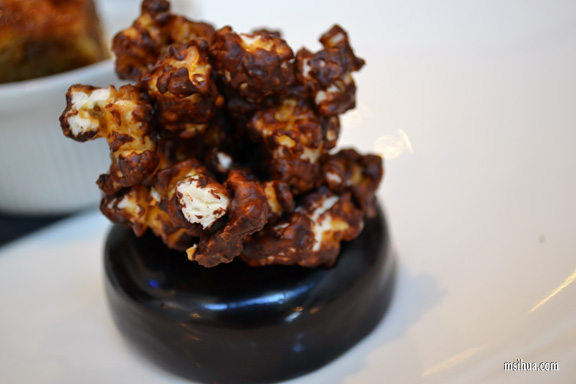 When "The E.T." (dark chocolate mousse filled with salted caramel and topped with chocolate covered caramel popcorn. It is also egg free, gluten free and nut free) was served, I was ecstatically telling everyone to eat the caramel popcorn. This my friends, is why Hannah and I have resorted to shouting POPPYCOCK at odd intervals to share our love of food and all things poppycock.
If you're confused, it is fine. Just know that it tastes similar to a brand of caramel popcorn known as Poppycock (which is sold in Costco), and it is ultra delicious and addictive.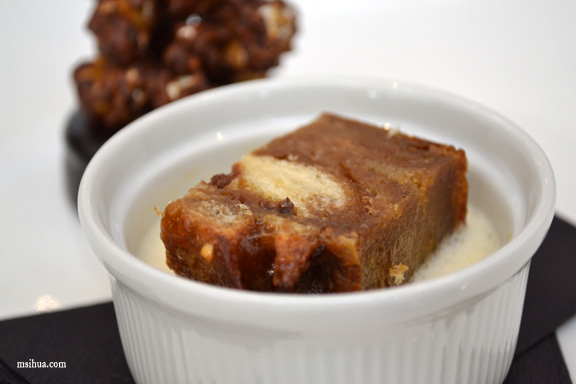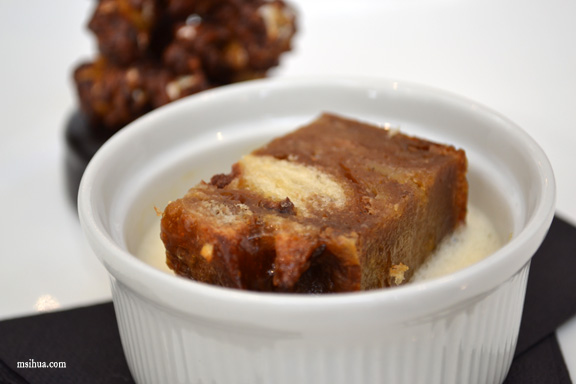 The Bread & Butter Pudding – served with a peppermint crème anglaise was served next. I have to admit, I'm not a fan of bread and butter pudding, but the fact that it came with peppermint helped. I like minty tastes.
To be honest, when the Meringue Monster – white chocolate sponge with strawberry and watermelon mousse was served, I nearly had a heart attack, as it was of gigantic proportions. Luckily for us, Bernard decided to change (as all of us were close to bursting) and got us to share this instead.
The last dessert to be served was a surprise. When Bernard came out to introduce this item, he said it was simply titled the PMS. To which we laughed in delight.
It was a combination of Polenta, Mandarin and Saffron topped with chocolate coated dehydrated mandarin slices. This was an experimental dessert, and I'm not even sure if it ended up on their menu, but I wasn't that keen on it. However, we were pretty much just test subjects for that dessert, but we were happy guinea pigs nonetheless.
So is anyone out there a fan of LuxBite? How many desserts have you tried?
How many desserts have you been able to eat at one go?
Other Luxbite Cake Date reviews:
Off The Spork
Almost Always Ravenous
Thanks again to Thanh for hosting a sugar-inducing coma and to Yen and Bernard from LuxBite for taking a vested interest to see us all happy and high on sugar!!
*Disclaimer: All food ratings are purely based on my own experiences and how I feel about the service, food and quality at the time of visit
Food/ Cuisine: Breakfast and Desserts
Dining Style: Cafe
Overall Food Rating (Based on the Dining style): I am giving them a 6.75 for breakfast and an 8 for desserts 🙂 (out of 10)
Restaurant ambiance: 7.5/10 (It did get quite crowded at one point and everyone was knocking on my chair)
Service/ Attitude: 8/10
Value for money: N/A (special event, we paid $15 each and shared most dishes/desserts)
Address:
38 Toorak Road
South Yarra VIC 3141
Tel: (03) 9867 5888
Website: http://www.luxbite.com.au/
Luxbite is open
Wednesday to Monday, 8am to 8pm

How to get there: