Japanese-French fusion. Used to be the talk of the town. Used to be the must-do for Japanese restaurants trying to hit the market. I only know of one who does it really successfully, which is Tetsuya's up in Sydney.
That was Heirloom's original plan. To be Melbourne's next Japanese-French fusion restaurant, which would have been great, except that the punters didn't understand the concept.
One year into it, the team behind Heirloom decided to clap their hands and put their heads together and to rethink their strategy.
"What do we do best?", was asked. "Japanese food", was the answer. "Our sister restaurant, Shoya, does it really well, so let's do a more casual version of good quality Japanese food!"
Thus, the reborn modern styled izakaya Heirloom emerged from the ashes and spread its wings.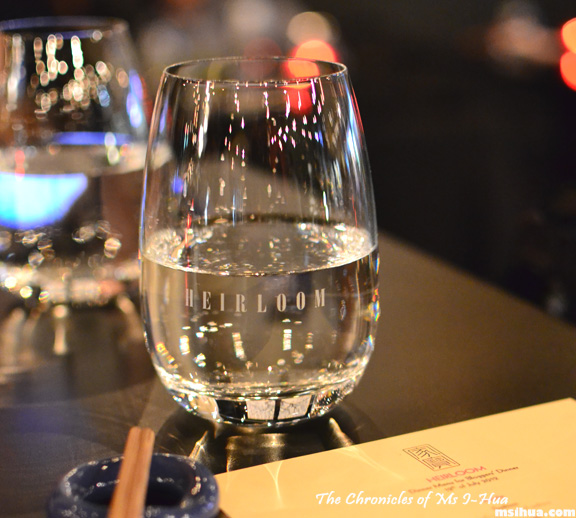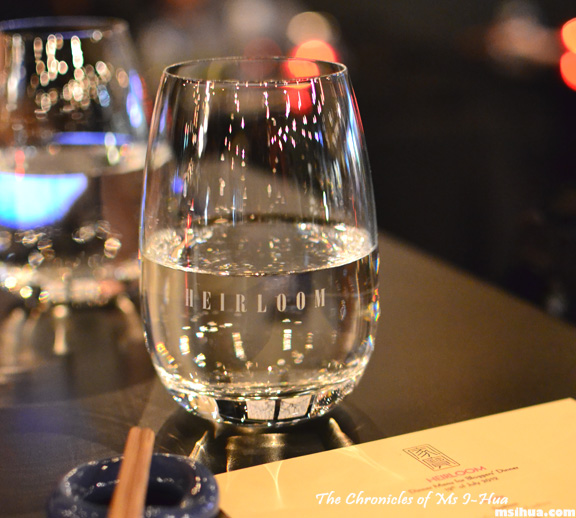 We arrived fairly early and had a nice time taking pictures of Heirloom and taking the time to speak to Heirloom's manager, Kelvin Low.
He proceeded to give us a quick tour around the large restaurant and to view the private dining area towards the back which boasts its own sushi bar.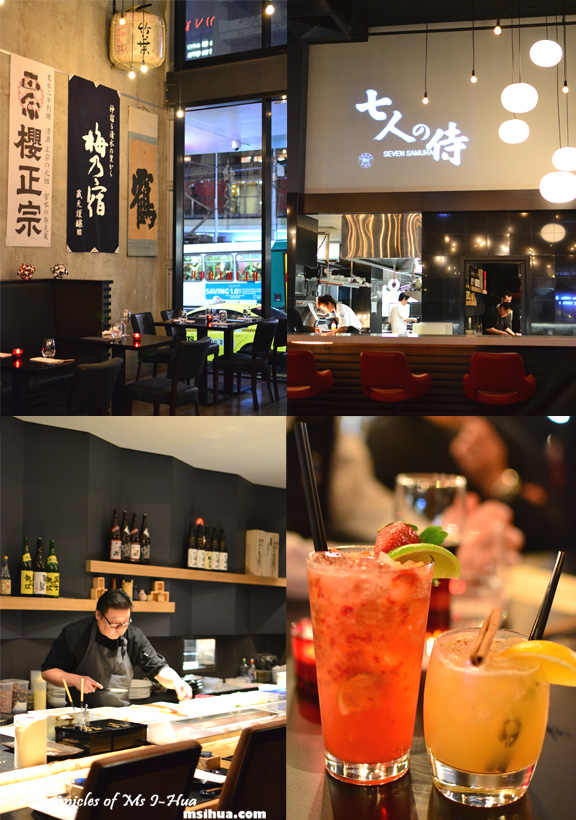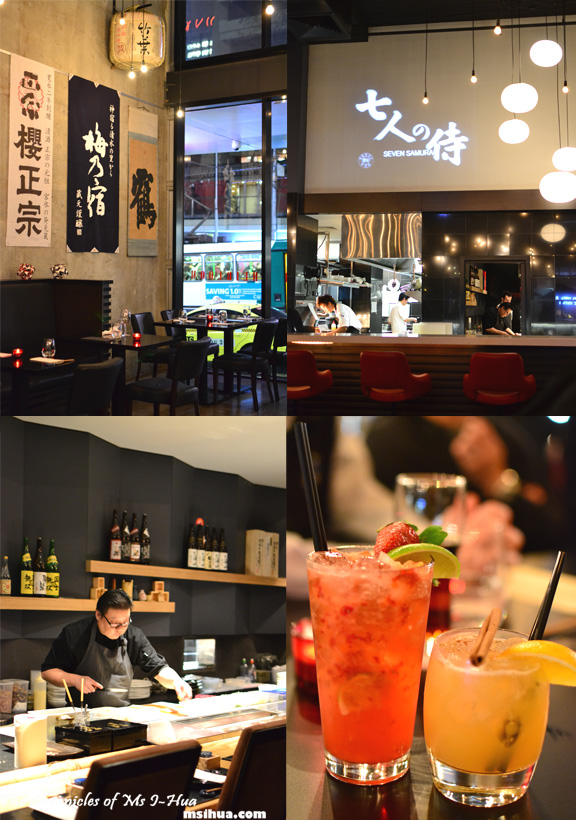 Azzie and I decided to start the night off with some Japanese inspired cocktails.
I had the Hanikimono, a concoction of sake, absinthe, strawberry liquor, lime juice and muddled strawberries. Azzie had the Hasta Manana, which was tequila, montenegro, licor 42, orange juice and bitters.
Needless to say, mine was deliciously fruity and sweet, just the way I liked it!
Whilst we sipped on our ladylike drinks, the gents in the group opted for the Japanese craft beers from Coedo which included brews such as sweet potato, grape and spicy citrus.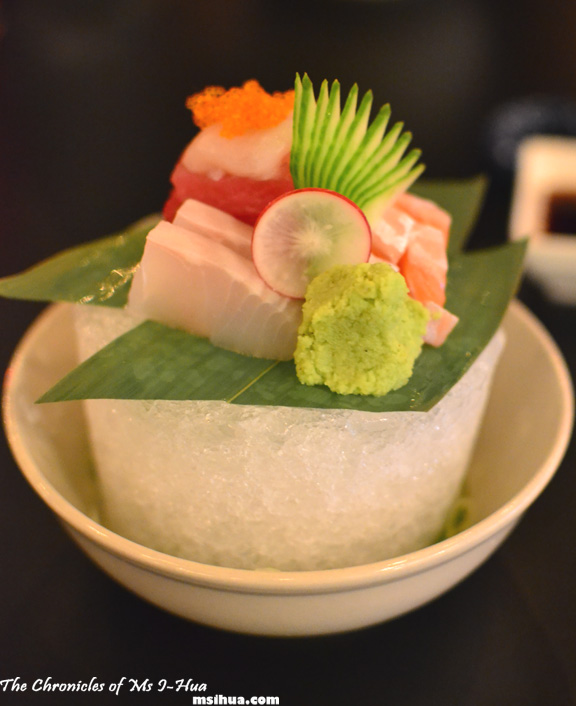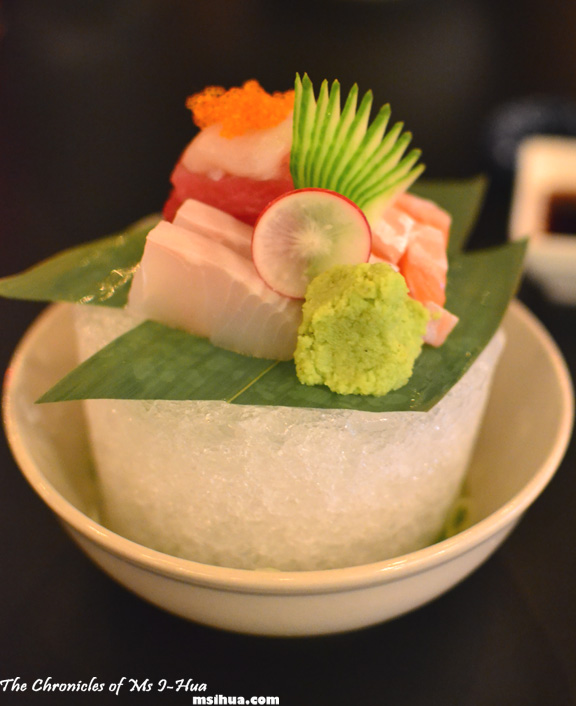 Sashimi – Salmon, Tuna, Swordfish, Scallops, Flyingfish Roe, Wasabi
Entrees started soon after and we were brought a very pretty sashimi presentation. The sashimi was very fresh and we were quickly taken with the freshly grated wasabi that adorned the presentation.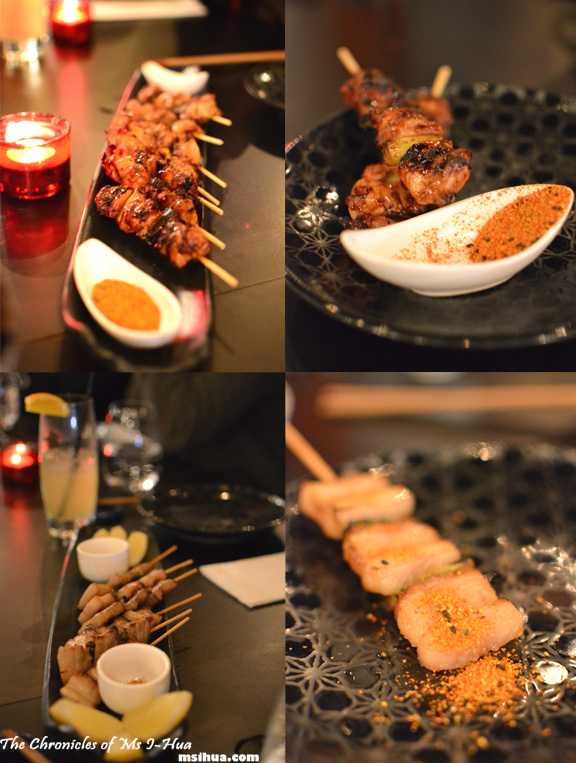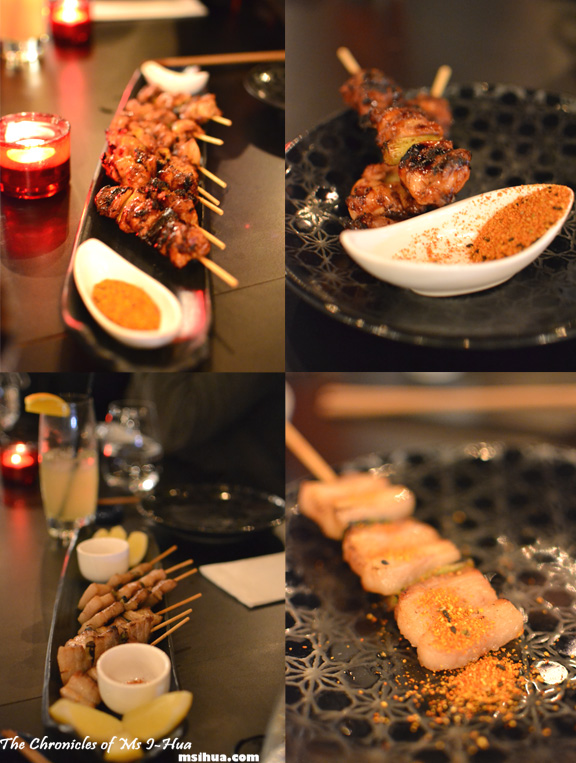 Kushiyaki – Chicken (top picture) & Pork Belly (bottom picture)
I absolutely loved the pork belly skewers. Think burnt crusty pork belly that when bitten, rewards you with a burst of smoky flavour and melty fat. Soooooo good.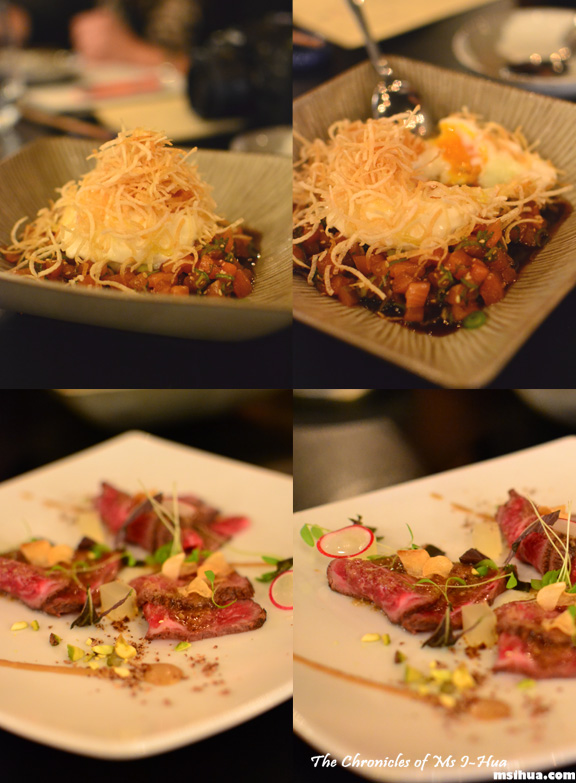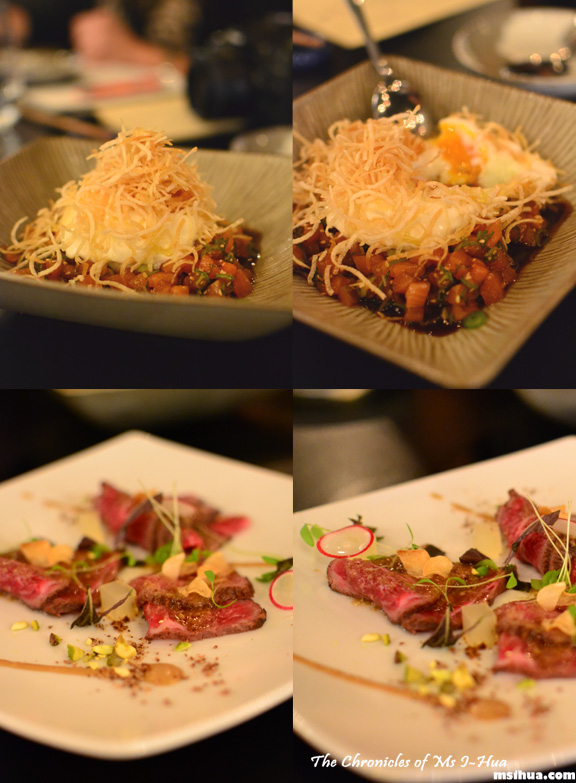 Salmon Yukke with onsen egg, crispy potato, truffled cauliflower cream. I was very very happy with the Salmon yukke, as it is almost always is beef yukke at other places and I can never eat it. This was so good. It was quite sweet but had a lovely interplay of textures with the crispy potato interwoven around it.
Heirloom Wagyu Tataki with sesame puree, yuzu jelly, wasabi dressing. I was told that the wagyu tataki had a slightly chewy texture but the overall flavour was nice.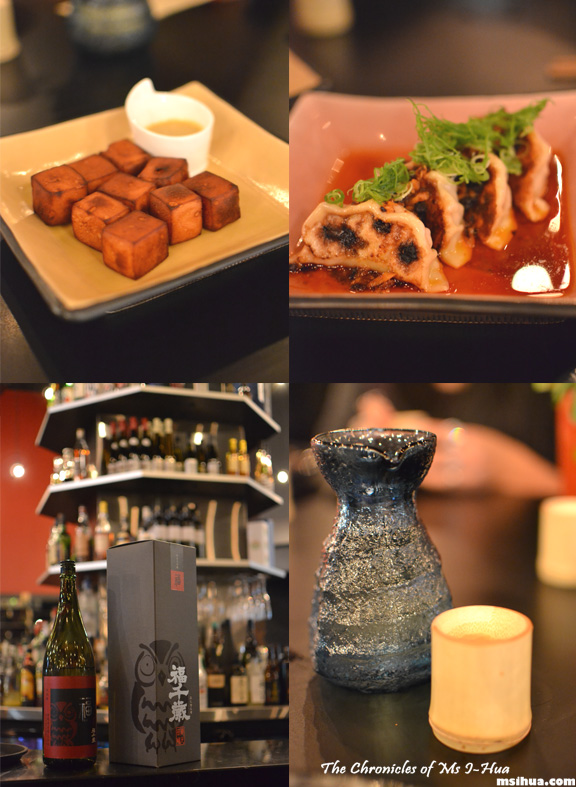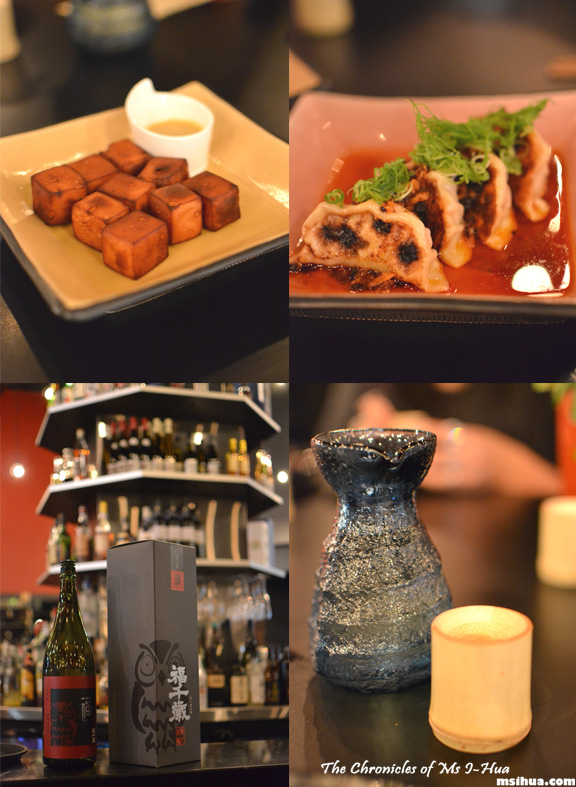 Potato Dango (Japanese gnocchi) with Roquefort cheese and saikyo miso cream. I just loved saying dango.
Dango Dango Dango 😛
The blue cheese running through the sauce provided a savoury finish to the sweet potato gnocchi. The potato gnocchi, we were told, was steamed, cubed and then fried, which probably accounted for the golden crisp on the outside and the velvety texture inside.
Pitoro Gyoza with handmade chilli oil and ponzu, is essentially a gyoza made with pig jowl and prawn topped with miso, crisp garlic, shallots and dried prawns. So many different depth of flavours!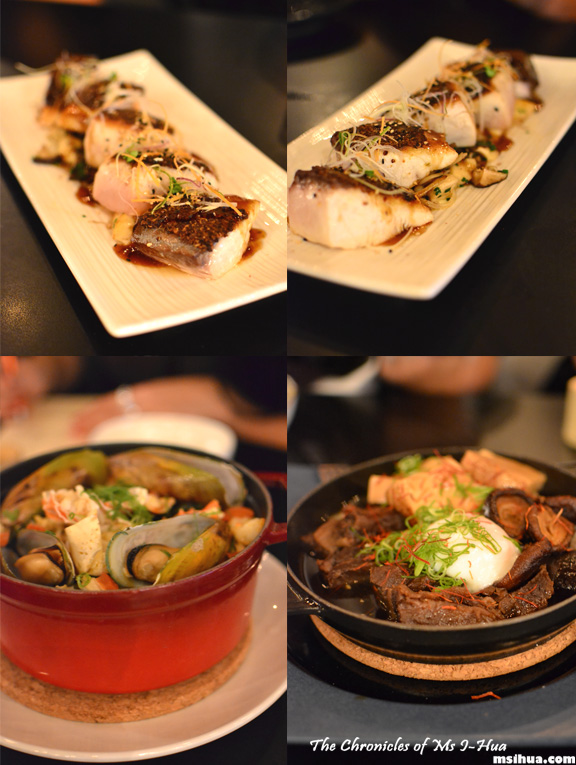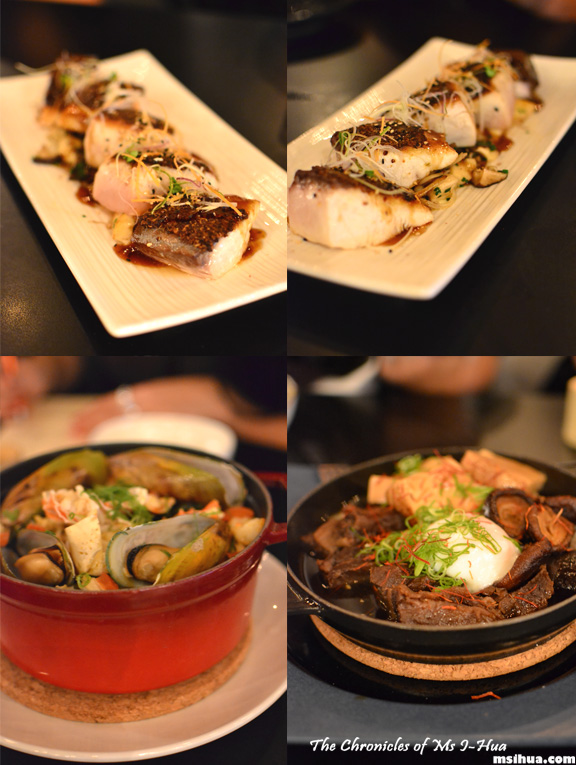 Quinoa Kingfish Teriyaki with seasonal sauteed Japanese mushrooms, parsnip puree. I really liked the crispy quinoa layer. I think I might just steal this idea!
Heirloom Kaisen Takikomi Rice (Seafood casserole) with Hokkaido king crab, prawns, calamari and mussels. This was probably the dish we liked the least. The rice was hard and dehydrated, and the seafood was a tad overcooked.
Wagyu Ribs Sukiyaki (Wagyu casserole) with tofu, chinese cabbage, mushrooms, onsen egg which saved the night for the others.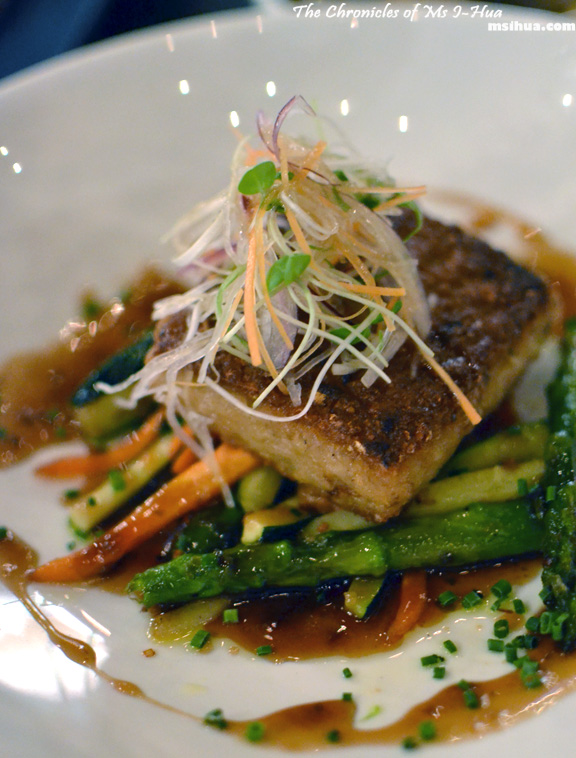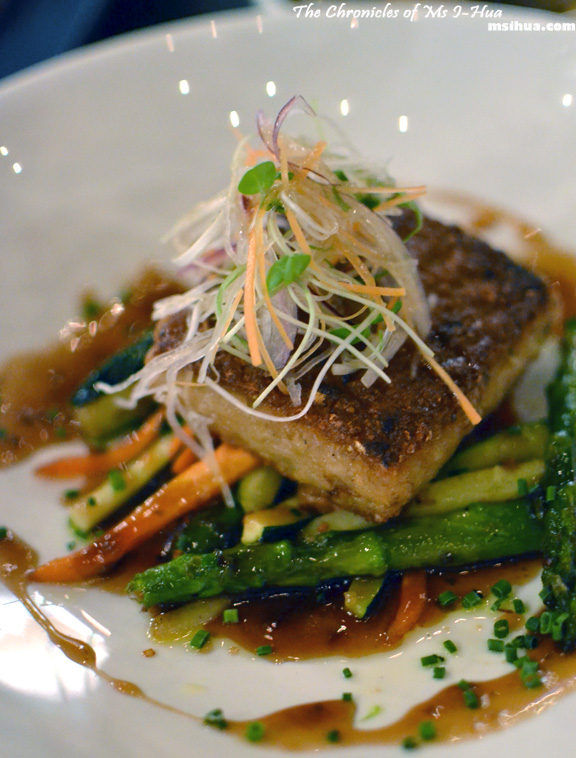 The lovely people at Heirloom, when they heard I couldn't eat any of the beef sukiyaki, served me an amazing Crispy Porcini Mushroom Risotto with sweet soy sauce & yuzu pepper.
I know I say amazing a lot, but seriously when have you ever been served a fried mushroom risotto dish? It sounds like it shouldn't work. It sounds like the risotto flavours would be compromised.
But it isn't. I am not a big vegetarian fan as can be noted by my many exploits in the meat department, but if I were to eat a vegetarian meal everyday for a week, I'd happily attack this dish (not sure what my hips would say about it).
The cooking method for the risotto is pretty basic. The risotto is cooked the normal way, which is then cut into blocks and then deep fried. So sinful and so good.
If I had to come back again, which won't be too long as my mouth is watering in remembering the risotto dish, I would certainly concentrate on the entrees as I found they were the tastiest dishes of the night.
Chef Ryo Kitahara (one of Iron Chef Hiroyuki Sakai's protegés) certainly has shown us a different side to Japanese food. Heading the kitchen and working together with chef & owner Shigeo Nonaka (of Shoya), he has created an interesting Modern Izakaya menu, which includes some new take on traditional Izakaya dishes.
[Ms I-Hua and the Boy dined courtesy of Heirloom]
For other recaps on that night:
I Eat Therefore I Am
Off The Spork
Melbourne Gastronome
*Disclaimer: All food ratings & review are purely based on my own experiences and how I feel about the service, food and quality at the time of visit
Food/ Cuisine: Japanese (Modern Izakaya & Sake Bar)
Dining Style: Restaurant

Opening Hours:
Breakfast:
Monday to Friday, 6:30am – 11:00am
Saturday & Sunday, 7:00am – 11:30am
Lunch:
Monday to Friday, 12:00pm – 3:00pm
Bar Menu:
Monday to Friday, 3:00pm – 6:00pm
Dinner:
Monday to Saturday, 6:00pm – 10:30pm
Sunday, 6:00pm – 10:00pm
Address:
131 Bourke St
Melbourne VIC 3000
Tel: (03) 9639 1296
Website: http://www.heirloom.com.au/
Twitter: @heirloom_melb
How to get there: