So we continue the story of our beautiful wedding day.
We last left off at the point where our celebrant announced that we were husband and wife. As we sealed that note with a kiss, and were whisked away to sign the documents that would legalise our marriage, I couldn't help but feel proud that both our mothers were chosen as our witnesses 🙂 I hope they were proud of us too 🙂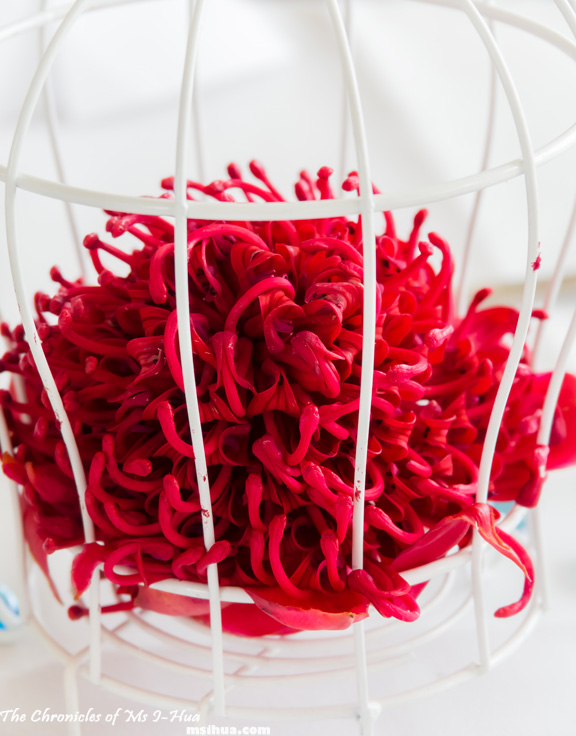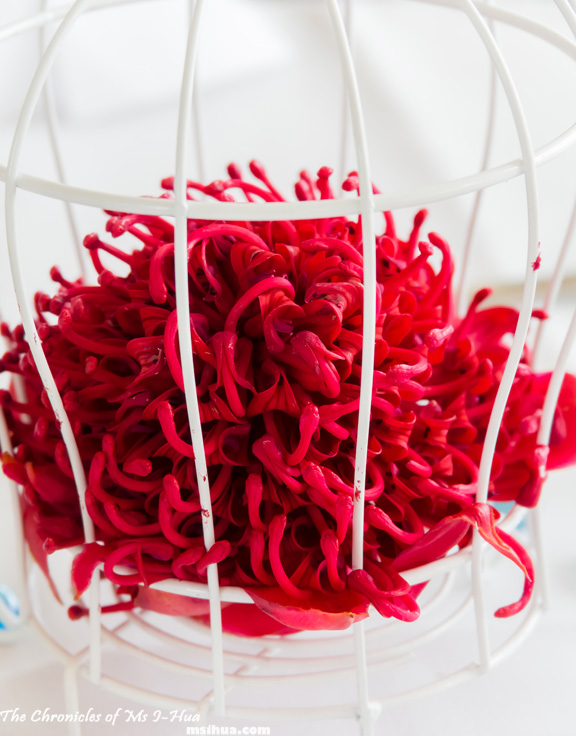 Now on to the details of the decorations and how the whole set up was put together!
As I mentioned previously, my beautiful girls and their partners were commandeered to get the decorations sorted for the reception venue. And what a fine job they did!
The Boy and I had previously gone through a trial run and sent the Decorating Committee (as they are now calling themselves) of how we wanted the tables to look like, as well as sketches on how the props would fit, etc etc…
With all the last minute running around that we did, the poor Decorating Committee (let's call them DC) were a bit flustered and confused. Having appointed my BFF as the sole Creative Design Commander, I entrusted her and the girls with knowing what I would like the place to look like.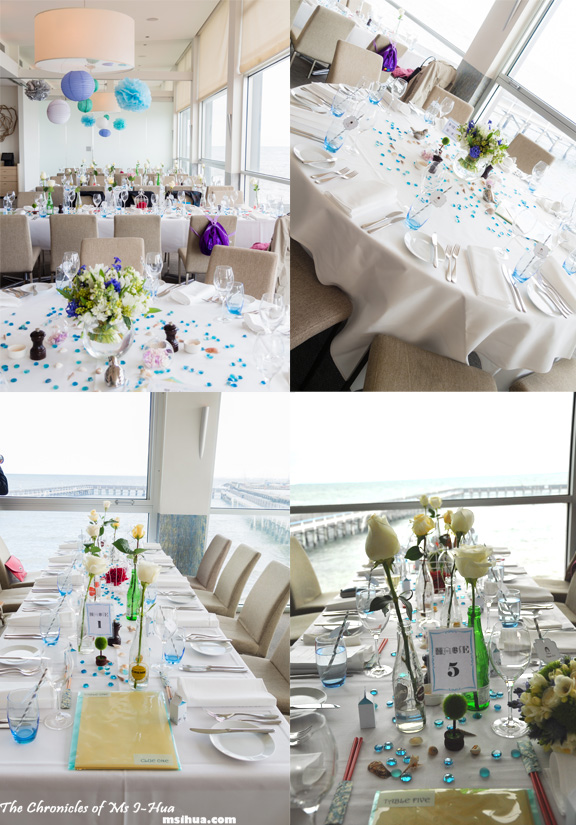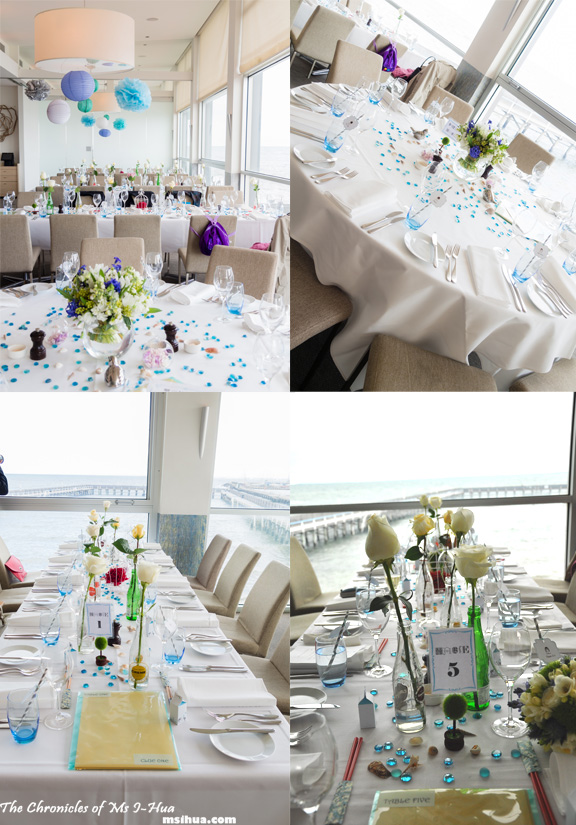 Thanks has to be given to the Boy's mother and youngest brother for assisting both of us with primping the roses on Saturday and allocating them into their cute Vintage Soda Bottles (which I had gotten the wonderful crew at Patricia Coffee Brewers to start collecting for me some time in winter).
The theme was simple. Splashes of Tiffany Blue (and other shades) complimented with flowers, pebbles, sea shells and our quirky touch.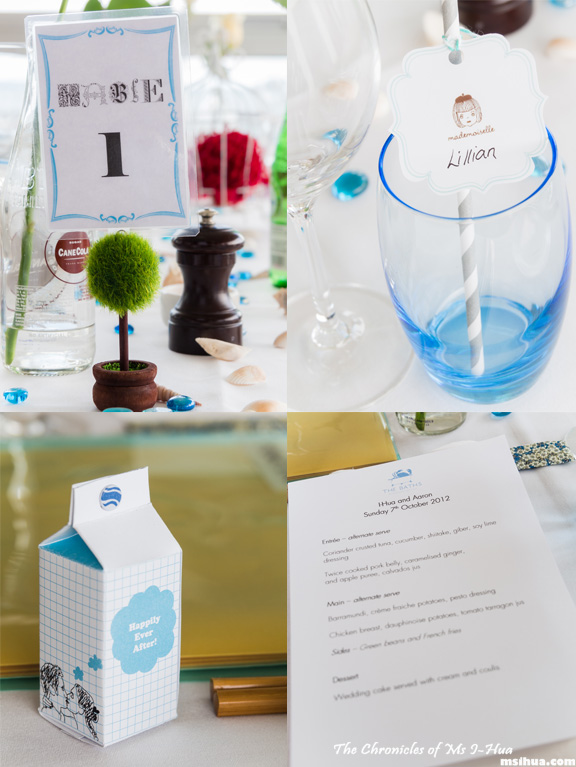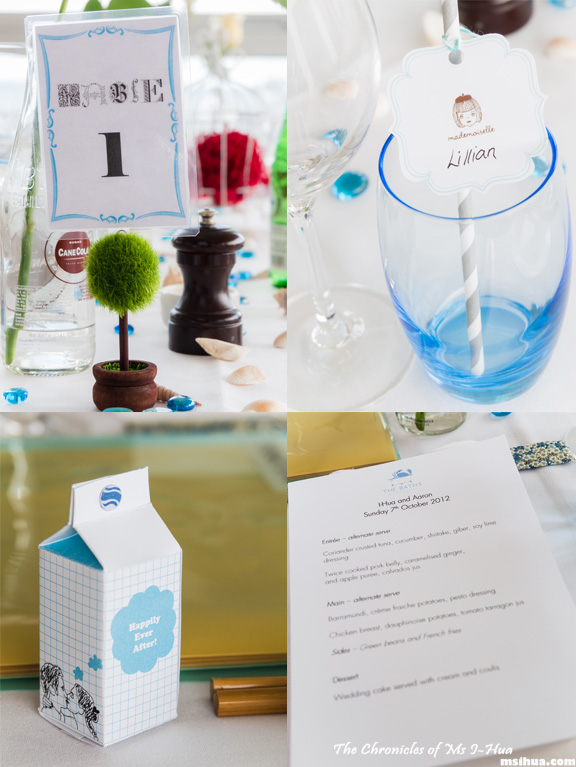 I wanted to keep the same theme going on in terms of decoration, props and bon bonnieres as we did for the wedding invites. So the same fonts and colours were used throughout the process.
I loved loved loved the template supplied by Eat Drink Chic for the milk cartons and decided that I would print them and get Ms Tinymouse, the Boy and I to sit down and cut, fold and make them for our guests to take home at the end of the day.
Instead of the normal sweets or sugared almonds that would normally fill the milk cartons, I obtained beautiful sparrow chopstick rests to be handed out together with a set of chopsticks (with origami covering) for the guests.
I couldn't have been happier with the resulting East meets West theme.
I also kept the swing tag theme (again from Eat Drink Chic) from the wedding invites to be used as 'place cards' on the day to be tied to paper straws 🙂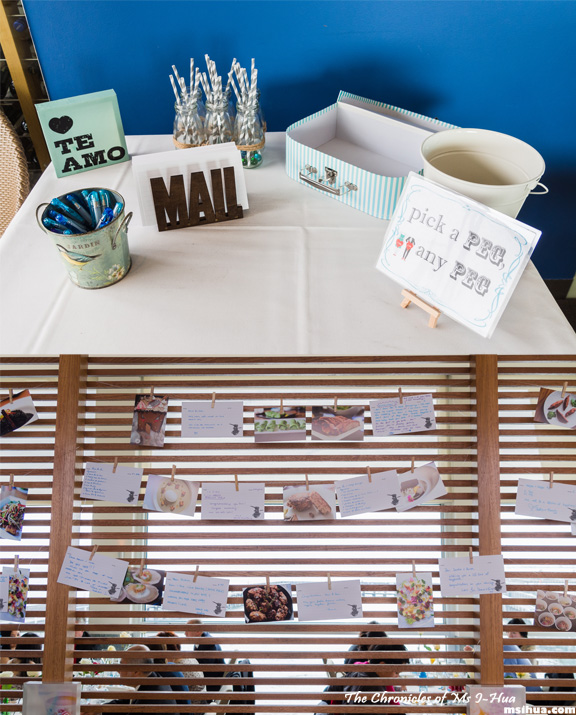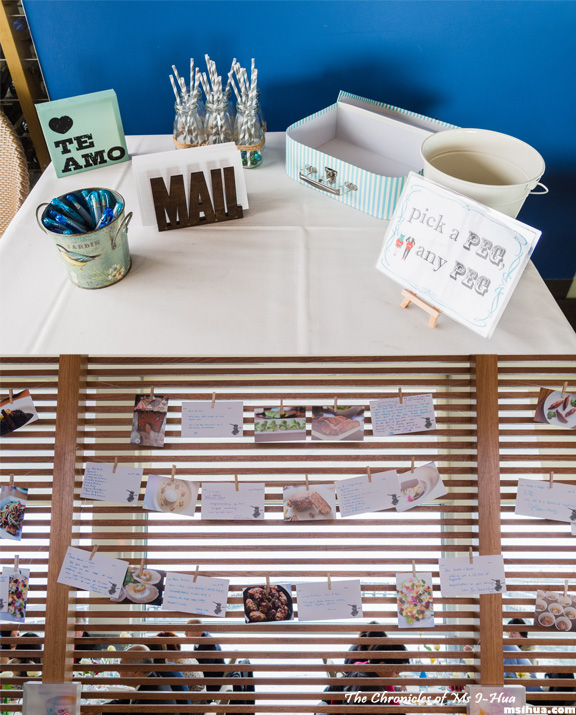 In lieu of a formal and tired guestbook, the Boy and I opted to do something a little quirky and got our guests to write us a 'Recipe for Love' on recipe cards (obtained from Kikki K) and to peg it onto twines with pictures of food the Boy and I have previously cooked and put up on the blog.
It certainly was something fun and a little different and we very much enjoyed reading what our guests had written down!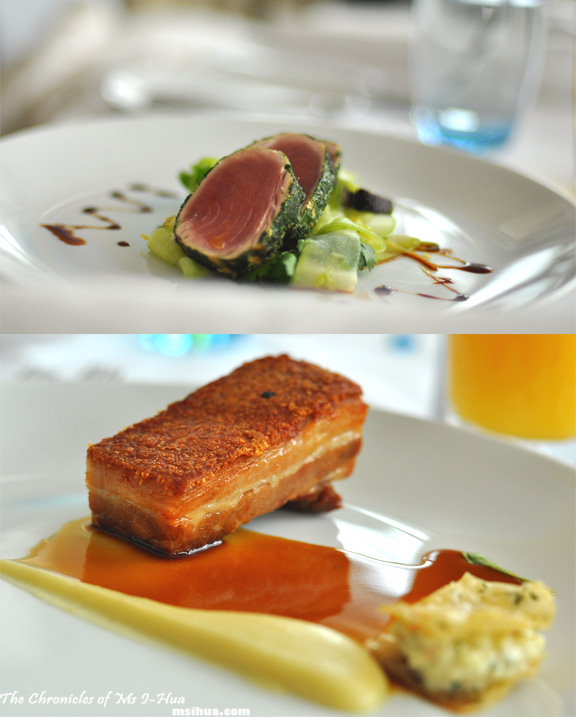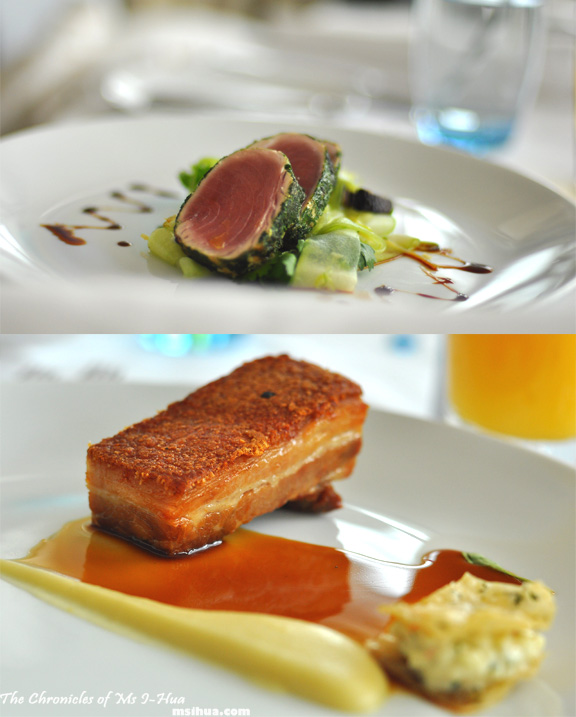 Now to the important bit!
In terms of food, all our guests seemed mighty pleased with the wonderful array of dishes that came out from the amazing kitchen of The Baths Restaurant.
For canapes, we had Smoked Salmon with Crème Fraiche, Marinated Chicken Strips with Panko, Tempura Battered Prawn Cutlets and Frittata of Zucchini, Onion Jam which sadly no one managed to get a good picture of as they were too busy enjoying the food and mingling with us and each other 🙂
The Boy and I only managed tiny bites of the canapes in between the excitement, photographs and chatter 🙁
For our entrees, we had alternate serves of Coriander Crusted Tuna, Cucumber, Shiitake, Ginger, Soy Lime Dressing and a Twice Cooked Pork Belly, Caramelised Ginger and Apple Puree, Calvados Jus.
Both the dishes certainly hit the spot with the pork belly being a favourite for most of the guests!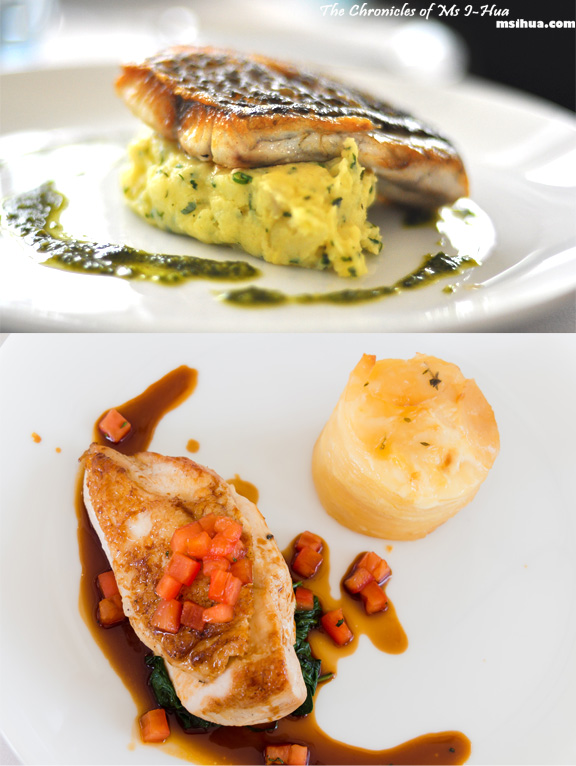 For the mains, we had alternate serves of Barramundi, Crème Fraiche Potatoes, Pesto Dressing and Chicken Breast, Dauphinoise Potatoes, Tomato Tarragon Jus. We also had sides of green beans and french fries, both which complimented the mains really well! Everyone was telling us how good the Barramundi and Chicken dishes were! Mmmm…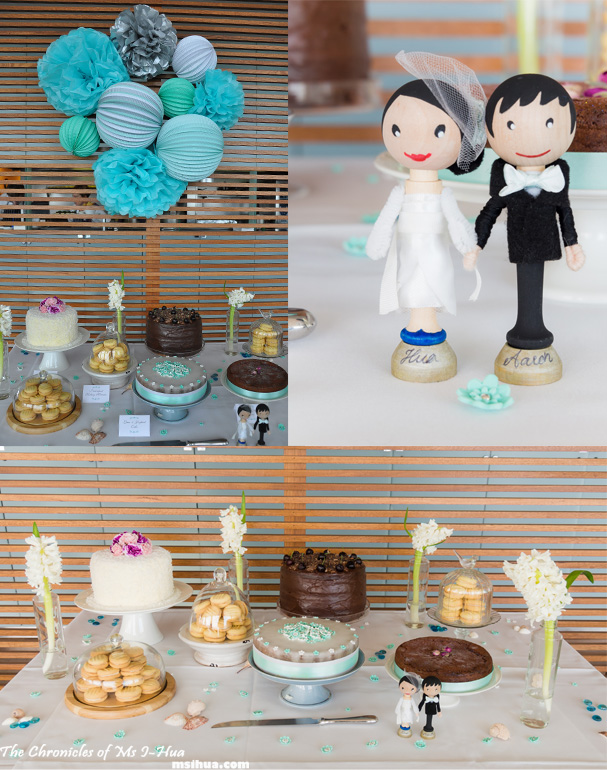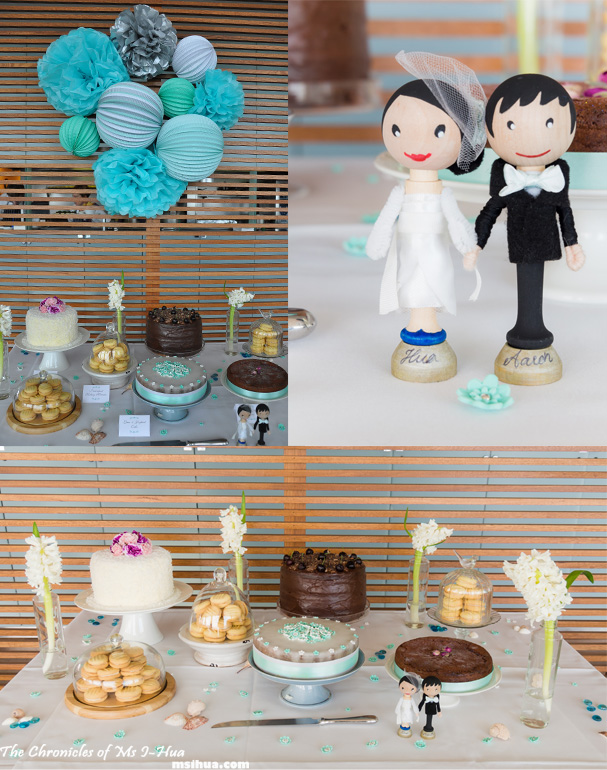 For dessert, we decided to trust our instincts and asked our friends Thanh and Michele to bake us our wedding cakes.
I can't imagine the amount of work and energy they must have put in to deliver such an amazing array of fantabulous cakes for our wedding day. We were both mighty humbled!
With the cakes, our only requests to the two Cake Masters were that one of them had to be a Black Forest Cake (which the Boy loves) and that I wanted several options rather than just one tiered cake.
Our Cake Masters and their Cake Fairies told us that they'd be more than glad to comply and off they went. I was so stressed out for them that I had put an unimaginable amount of pressure on them, but they kept reassuring me that it was fine and they like to bake!
We *bow* to the both of you 🙂 (MUCH LOVE!)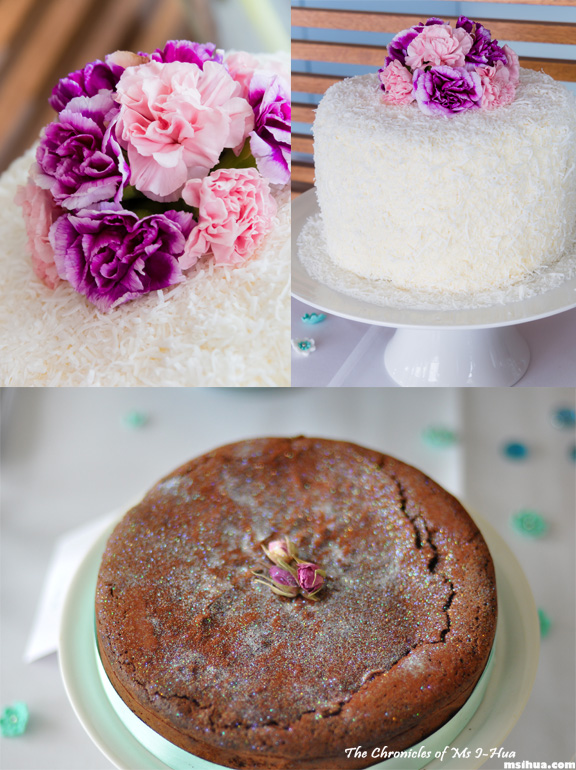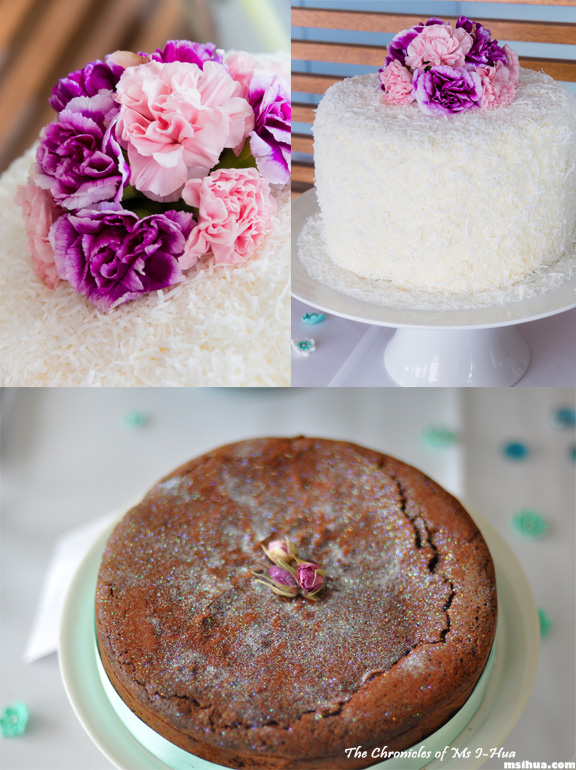 The cake at the top is Thanh's beautiful Red Velvet Cake (which we eventually used for our cake cutting ceremony). It was so moist and delectable. Thanh also made the Passionfruit Melting Moments, which we are still getting compliments from our relatives about how good they were!
Michele's Disco Flourless Chocolate Cake was also a hit with the crowd. I loved how dense and rich it was! So delicious!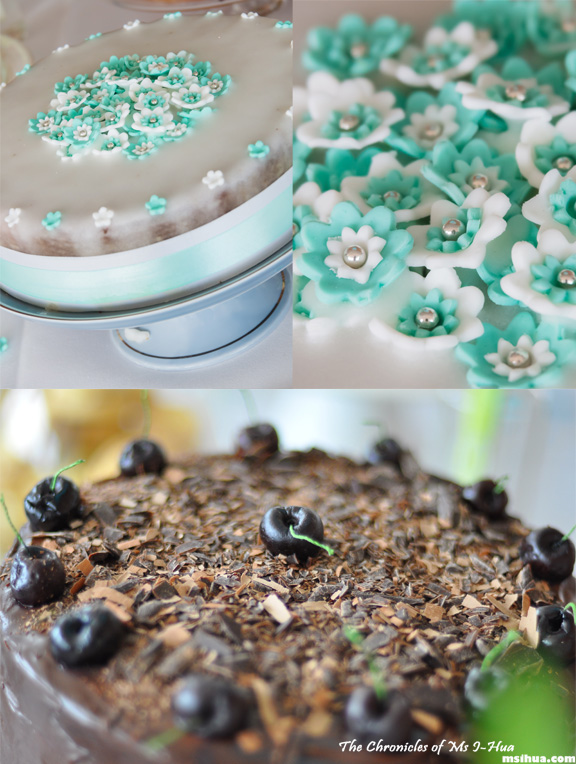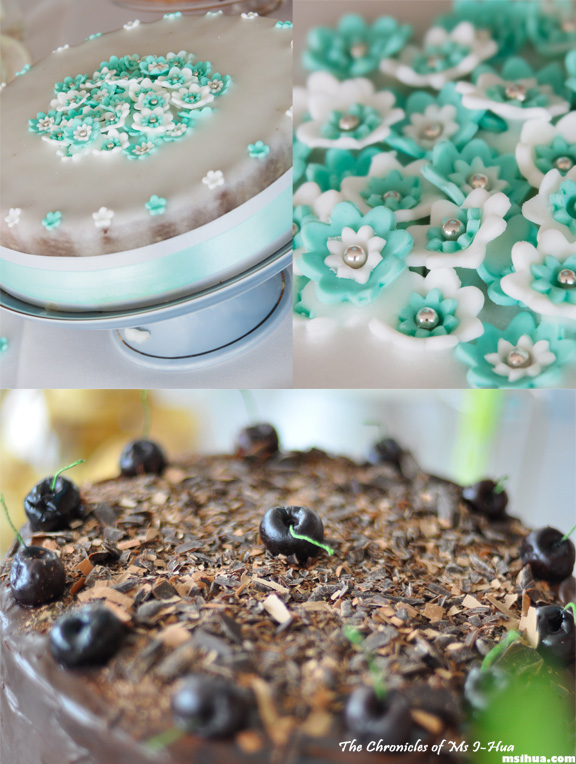 Michele also made Lime and Yoghurt Cake and the crazy amazing Black Forest Cake which we requested. They were favourites amongst the guests as well.
I can't begin to imagine how much effort it would have taken the Boy or I (failures at baking cakes) to make even one of these!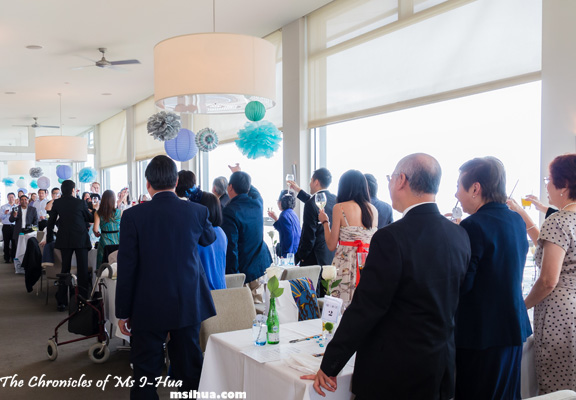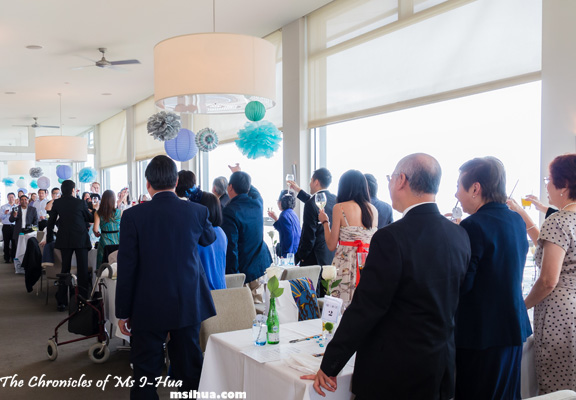 From speeches to thank yous, we couldn't seem to escape the traditional Malaysian Chinese of toasting the happy couple on their wedding day.
With a very loud and enthusiastic (and long) toast of "Yum Seng" resounding within the glass panels, everyone toasted us a happy and fulfilling marriage.
The looks of shock of the wait staff were much too hilarious for the Boy and I and despite placing a ban on Yum Seng activities, we couldn't help but laugh and cheer along with the good natured crowd!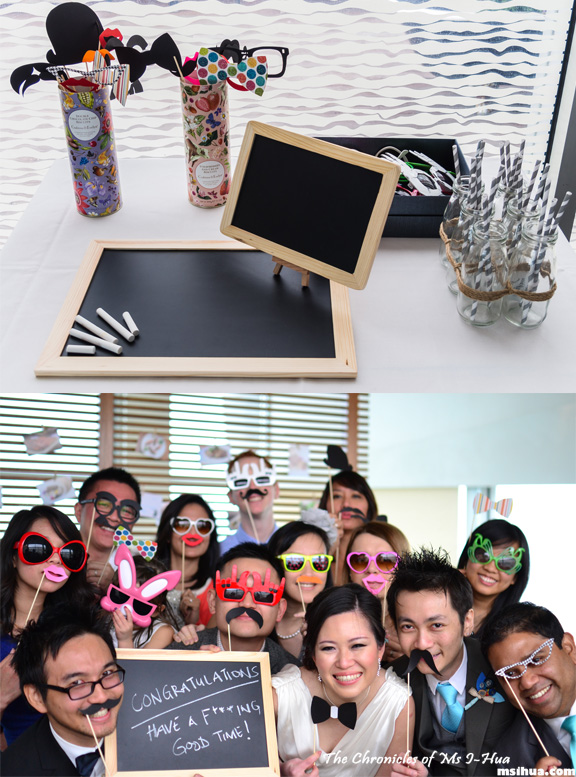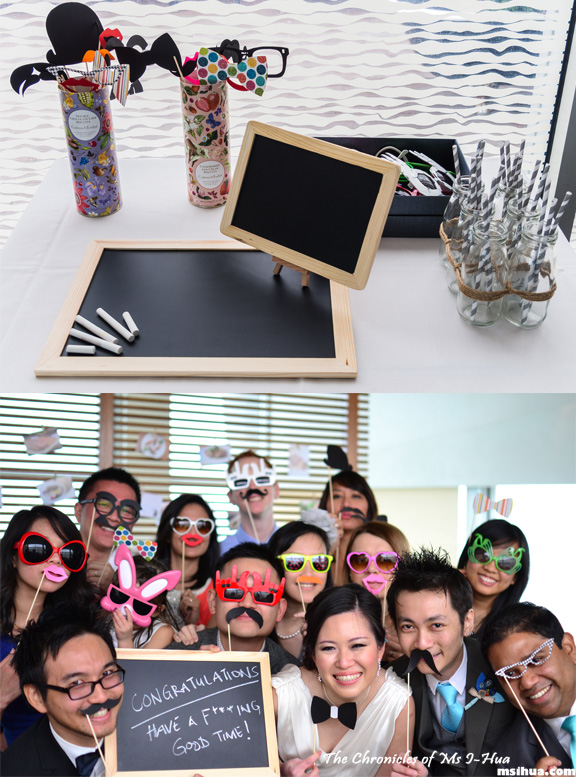 As we bid adieu to our guests, I couldn't help but feel a tiny bit sad that we have closed another chapter in our lives.
However, when I turned to look at the Boy, my heart burst with joy and love knowing that we will be together for a long time to come 🙂
Much love,
The Boy and Ms I-Hua
xoxo
p/s We would like to thank Lilian and Damien for the beautiful pictures for this post 

 We couldn't wait for our professional photos to arrive as we wanted to share this with you as soon as possible 

Wedding Details:
Wedding Venue: The Baths, Restaurant & Cafe, Middle Brighton
Wedding Hotel: Quest Service Apartments, Middle Brighton
Hair & Make-Up Artist: Wita Kusuma (S.A.S.S.Y Hair & Make-up)
Photographer: Alan Woo, Finessence Photography
Wedding Celebrant: Jill Hosken, Celebrate Life
Wedding Cheong Sam: Cherrielee Boutique in 1 Utama, Malaysia
Wedding Dress: Thurley
Tailor: Think Sew, Carnegie
Wedding Shoes: Heels from Zara, Flats from Nude
Groom's Suit: On-Site Tailor at Novotel Siam Square, Bangkok
Groom & Groomsmen Boutonniere: Hand made with materials bought from Lincraft &Spotlight (tutorial to come)
Accessories
Hair Flowers: Alannah Hill (I bought this in 2006 and it's an oldie but a goodie)
Earrings: Swarovski, Fidelity Pierced Earrings
Necklace: Paris Rendezvous, High Street, Armadale
Ceremony Songs
Aisle: Jon Schmidt and Steven Sharp Nelson's version of Taylor Swift's Love Story and Coldplay's Viva La Vida
Marriage Certificate Signing: Frank Sinatra's Love & Marriage
Walk-out: Nat King Cole's L.O.V.E.
Flowers
Bridal Bouquets: Growers Flower Factory, Carlton (Ask for May) – Fresia, Sea Holly, David Austin White Roses, Green Dianthus, Bluebells.
Table Flowers: Prahran Market (King Protea, Waratahs, Roses and Hyacinths) & Helen Dillon Florist, Chadstone
Props and Other Decoration Items
Bon Bonnieres: Hand Made Milk Cartons (template from Eat Drink Chic), Chosptick Rests fromMaterial (Malaysia) and Chopsticks (from Malaysia) with Origami paper (tutorial to come)
Pom Poms: Hand Made by Ms Tinymouse and I (template and instructions from Martha Stewart)
Lanterns: Martha Stewart Lanterns and Typo Lanterns
Bubbles: Woolworths
Canvas Prints and Wooden Letters: Typo
Vintage Soda Bottles: Boylan Vintage Soda Pop (donated by the awesome team at Patricia Coffee Brewers)
Other Bottles: Voss, Antipodes and Coca-Cola
Blue Stones and Sea Shells: Bunnings (courtesy of Aileen)
Wedding Cakes, Cake Accessories & Melting Moments: Iron Chef Shellie and I Eat Therefore I Am
Topiary Place Card Holders: Pink Frosting
Bride & Groom Clothespin Dolls: Hand Made by Bags of Fashionista
Birdcages: Chatuchak Market, Bangkok, Thailand
Photo Booth Props: Party Goodies on Etsy, Material (for chalkboard) and Sunglasses from Chatuchak Market
Paper Straws and Vintage Straw Holder: Let's Cook, Melbourne CBD
Glass Tea Light/Flower Bauble: Helen Dillon Florist, Chadstone
Miscellaneous Glassware and Vintage Props: Bed, Bath N' Table (Melbourne CBD, Southwharf DFO and Chadstone stores)
Twine, Wooden Pegs and Chalk: Riot Art & Craft
Recipe  Cards: Kikki K
Suitcases: Card & Caboodle and Bed, Bath N'Table