Sarap? SARAP!
That's a word I've picked up since I've been instagramming my Dahon Filo food lately. Swamped with likes and comments from Filipinos asking me where have I found this gem, I knew I just had to do another post on this.
So what does Sarap mean in English? Well, it's Tagalog for "Tasty" or "Delicious".
Since Dahon Gourmet Tea Lounge launched a year ago, they have suffered a mild case of identity crisis. People who have ventured in have asked, "Is this a tea lounge or is this a Filipino restaurant?"
The simple answer to this is, it is both.
Is it the most authentic Filo restaurant around? Well, the answer from a Filo would be a simple no.
Being the fussiest people around on planet earth (nothing is better than their own mother's version), nothing will ever be as authentic as they would make it at home (I have heard this being said by quite a lot of Filo friends).
This characteristic would then explain why there are hardly any Filipino restaurants around at all.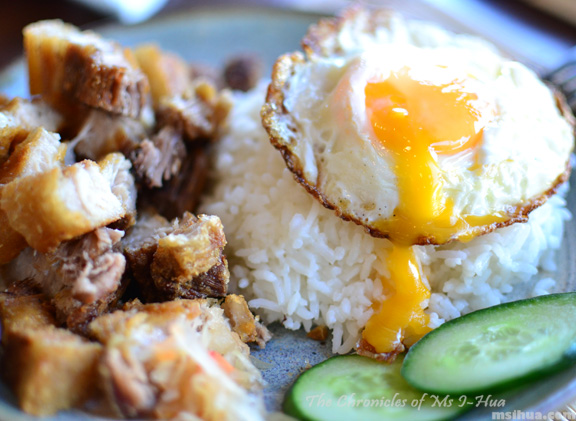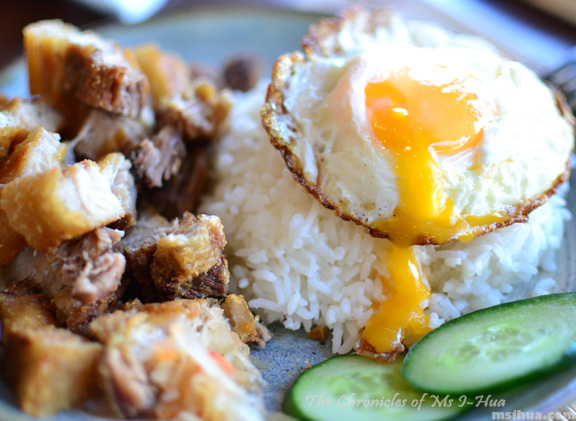 It is however, the closest thing to authentic Filipino food that I have seen around. The food served here are all home based recipes from the owner's parents (Dahon is co-owned by three Filipino siblings) and their parents help out in the kitchen with new recipe ideas or act as the dishwashers as often as they can. Truly family operated 🙂
I can't say that I am an expert in Filipino food, but I do pride myself that I can recognise good tasting food when I have it, IMHO.
So what do I think of the cuisine served at Dahon?
It's delicious, it's addictive and I can't wait to head back for more!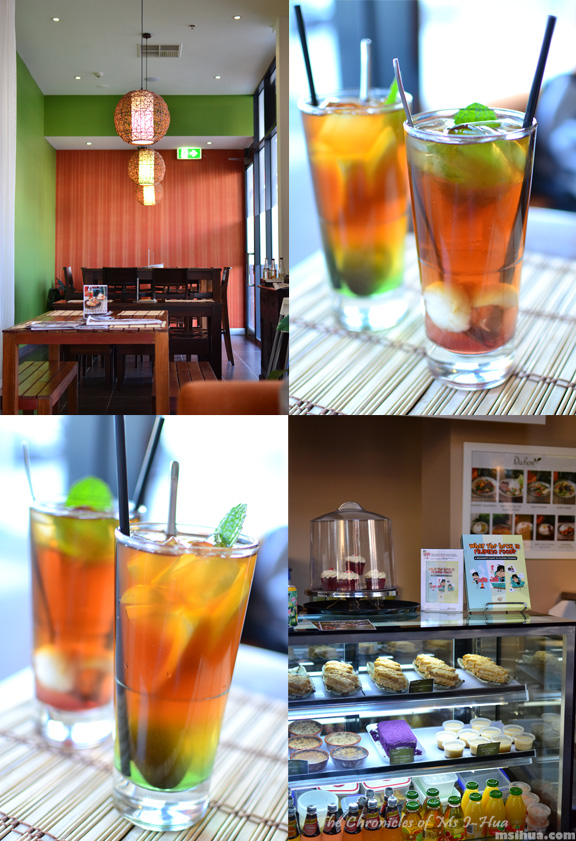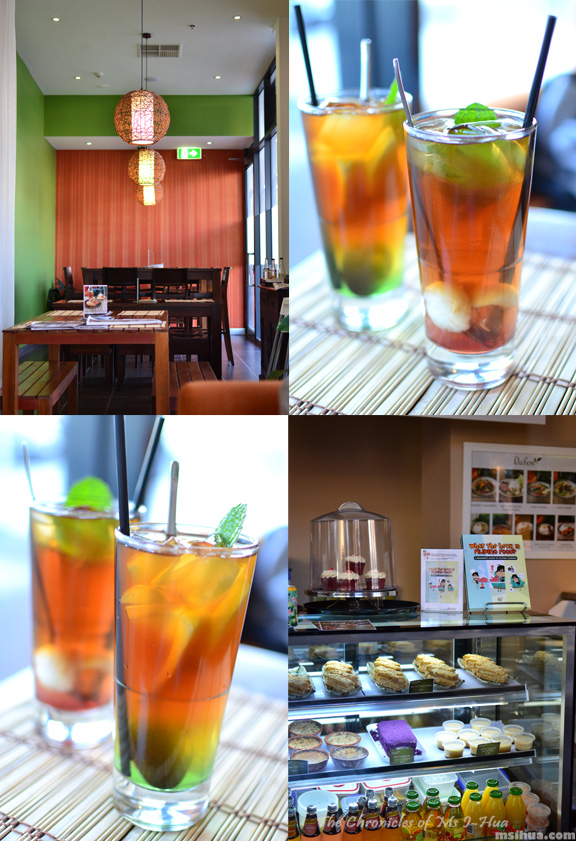 [Berry Tea with Lychee Syrup & Fruit ($5.20) and Apple Ice Tea ($5.20)]
Whenever the Boy and I visit, we always have some delicious Iced Fruit teas to quench our thirst. What I like about the teas here is that they are served with real fruit in them 🙂
If it's in the colder winter months, we enjoy a pot of hot tea (a wide selection ranging from simple chamomile to more complex teas such as the Relaxing Tea, of lime blossom, peppermint, rose petals and calendula petals).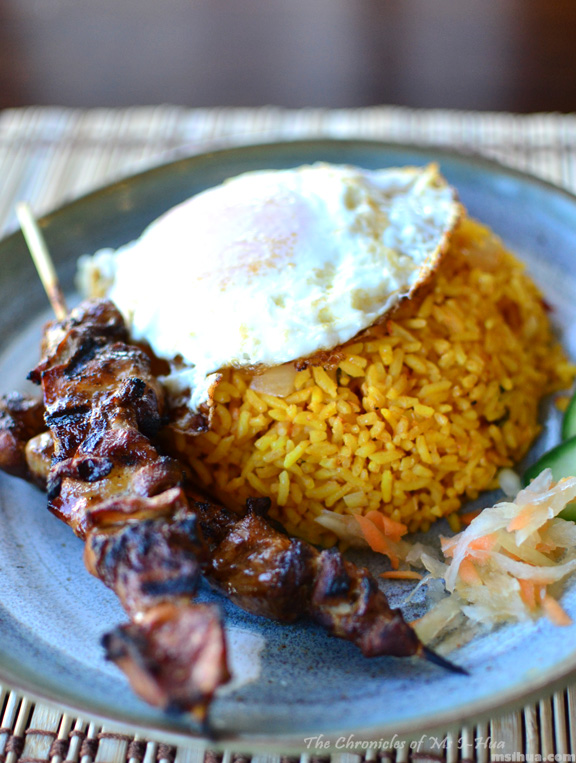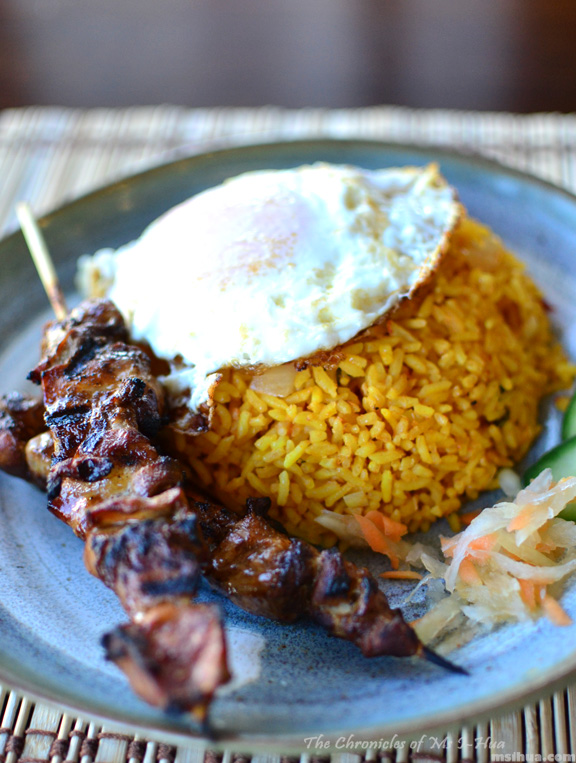 The last couple of times we have been, the Boy has been hooked onto the meat skewer dishes at Dahon.
He's loved the Java Tomato Rice with Chicken Adobo & Fried Egg ($7.90 + $1.00 for Fried Egg), with its lovely charred exterior partnered with juicy and tender meat on the inside.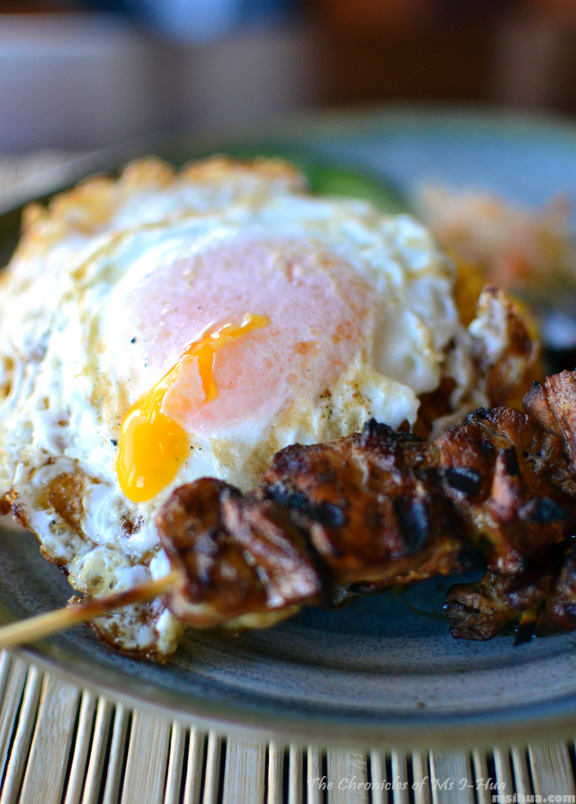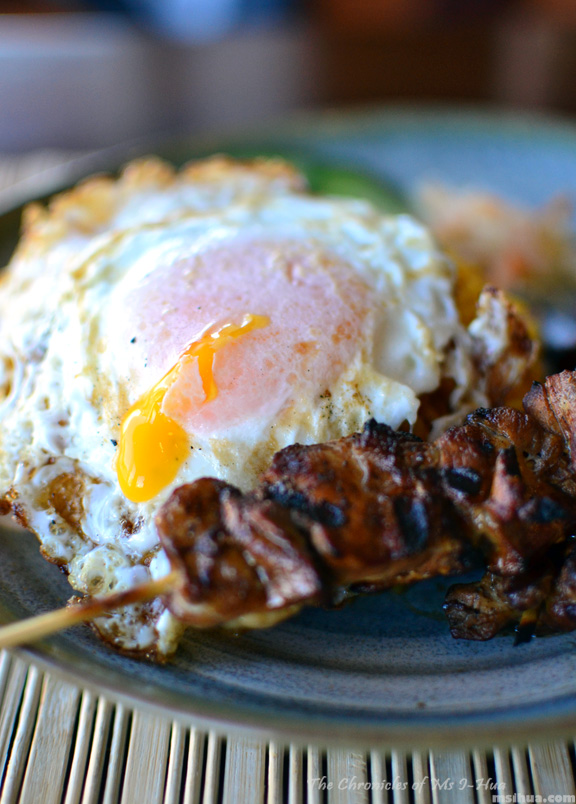 For an additional $1 (One DOLLAH!) you can have your very own #yolkporn action to evoke massive jealousy from all asunder (real life and virtual 🙂 )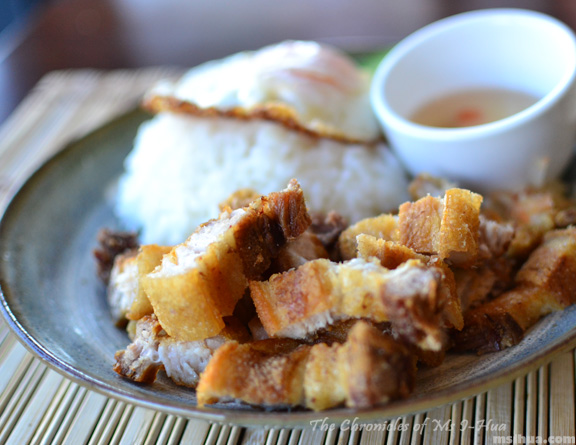 However, my hero dish is the Lechón Kawali served here with either rice or chips. I just can't get enough of the crispy sticky delicious and addictive pieces of meat.
Pork Belly Deep Fried in a Kawali (Filipino for a wok) with Steamed Rice & Fried Egg ($10.20 + $1.00). I loved that the word kawali is so similar to the Malay word for Kuali. I have since discovered many similarities between the languages of the varied Asian cultures.
I loved the chilli vinegar sauce that came with this dish as well (which I drizzled generously, okay I drenched) over my crispy pork belly 🙂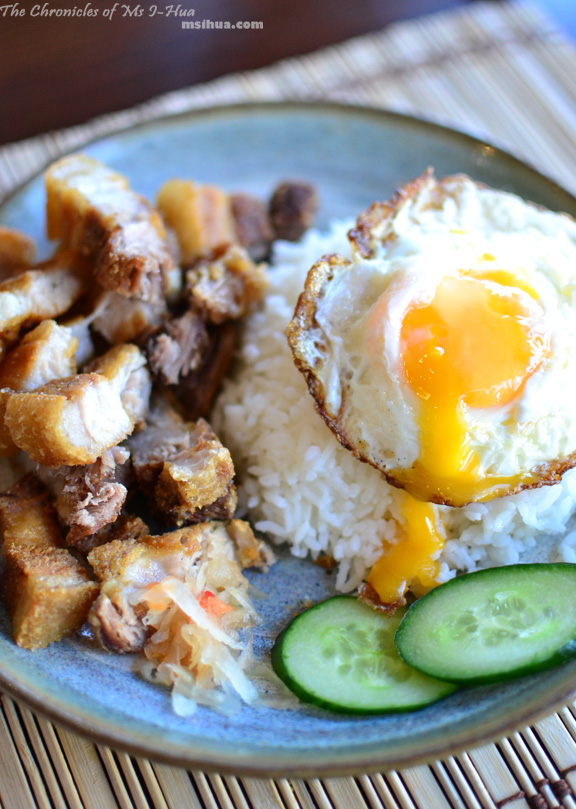 See, I did the clever thing by adding an egg to my dish.
Two reason to why this was a clever idea. One was that I got the #yolkporn shot I wanted, and secondly, the runny yolk added a new dimension to the dish by creating a layer of gravy otherwise missing in this dish.
I've told myself each time I've had this that I should try it with the fries instead, but I keep coming back to the rice and egg option (for obvious reasons).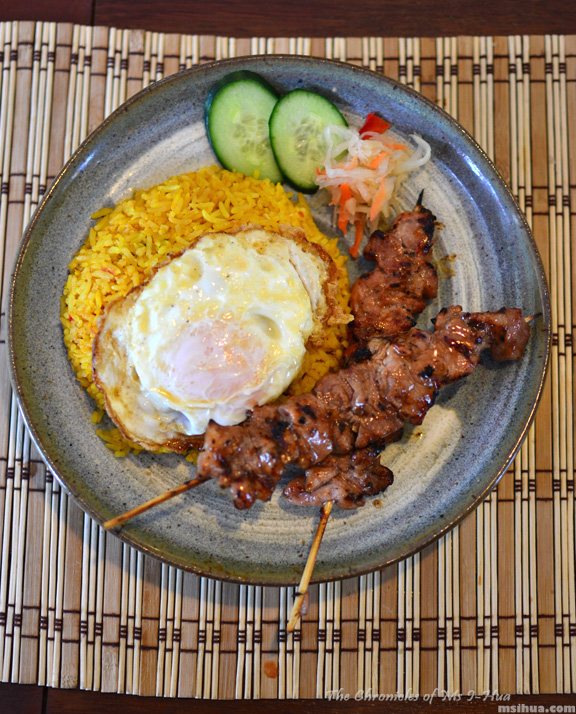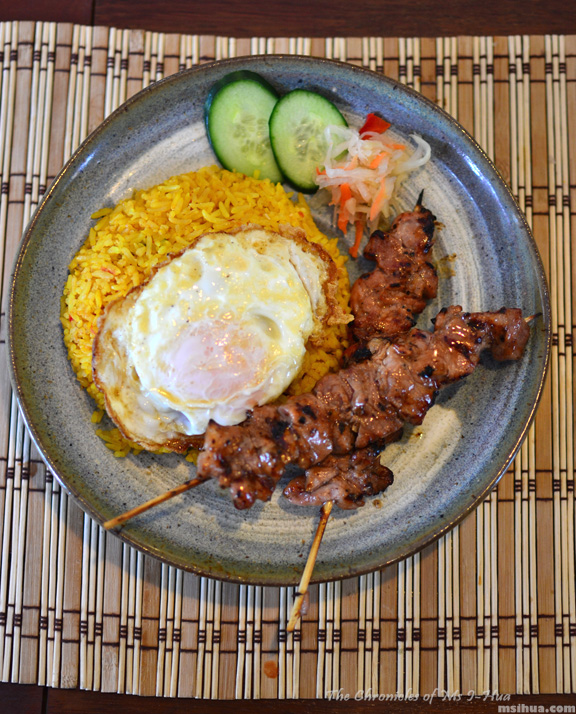 The Boy seems to keep to his staple of tomato rice and fried egg whilst mixing it up with different types of meat to go with. One other time, he tried the Java Tomato Rice with BBQ Pork & Fried Egg ($7.90 + $1.00 for Fried Egg) which he quite liked as well.
He did say he preferred the charred chicken adobo more.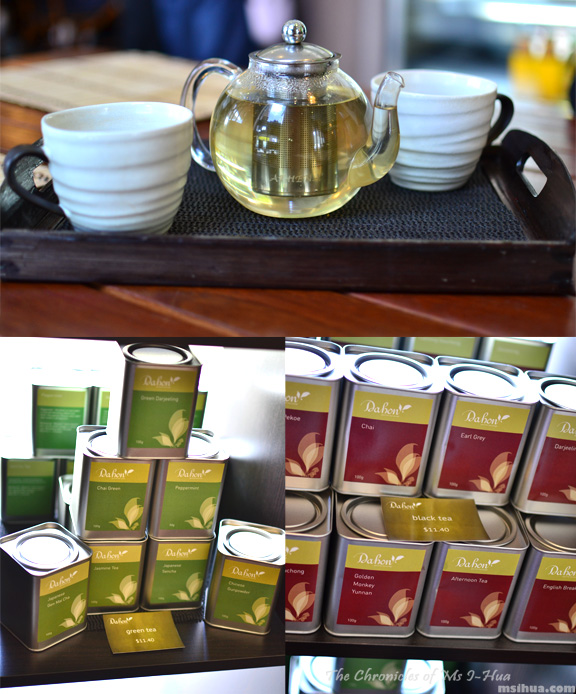 Whether you are coming in for the Filo food or if you're coming in to rest your tired legs after a long morning shopping at the South Melbourne Market, you should drop into Dahon for a visit.
It may not be as authentic as you are used to (if you are Filipino) but it's tasty and delicious! As we were there, there was a large Filipino family in attendance. I could hear the mother of the group asking for more "calamansi lime" so that she could sprinkle it onto her Pancit Palabok and how "they never ever give out enough lime in restaurants" 😛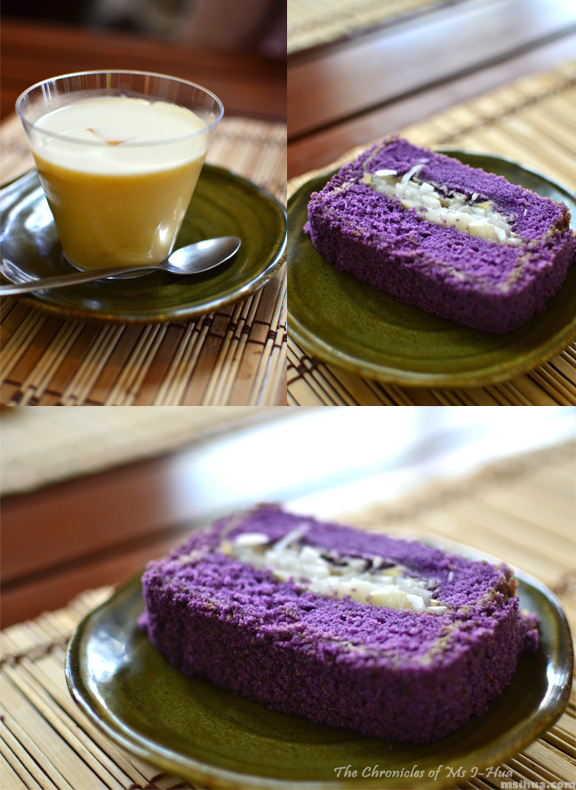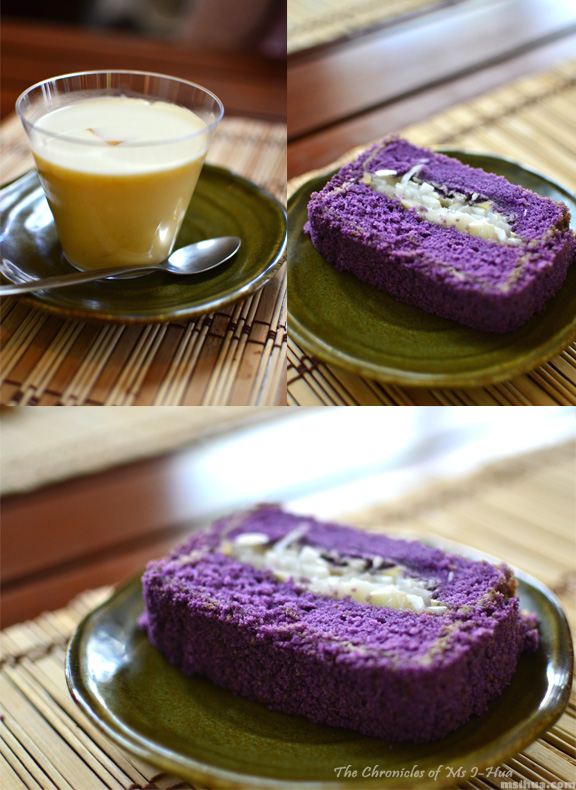 If you're not looking for something too heavy, Dahon also serves up some rather delicious desserts in the forms of puddings, cakes, cupcakes, flan, etc.
We have tried the Mango Pudding and the Ube Macapuno Cake ($3.20 per slice). The Boy would like to add that the Ube Macapuno is AMAZING! He couldn't get over how buttery and soft the yam cake was and the lovely texture of fresh coconut flesh in the centre.
I couldn't agree more! I loved both the desserts we had and I can't wait to visit again to fulfil my cravings 🙂
For those who just can't brave the Asian side of things to this tea lounge, never fear! Being true Filipino food, they have more than enough baguettes and rolls to bring you over to the dark side 🙂
*Disclaimer: All food ratings & review are purely based on my own experiences and how I feel about the service, food and quality at the time of visit

Food/ Cuisine: Gourmet Tea & Filipino Cuisine
Dining Style: Cafe
Opening Hours:
Monday to Thursday, 10:00am – 4:00pm
Friday to Saturday, 11:00am – 9:00pm
Sunday, 11:00am – 5:00pm
Address:
Shop 5
111 Cecil Street
South Melbourne VIC 3205
Tel: (03) 9696 5704
Website: http://www.facebook.com/DahonTeaLounge
Twitter: @DahonTea
How to get there: