There are so many Malaysian restaurants opening up in and around Melbourne (and some say Batam, I mean *Sydney* –> laugh if you know where I got this from) that I feel a bit overwhelmed.
I should be grateful that food from my homeland is so popular here. I really am grateful. It's just that, I would like something new and funky. Something that does not just serve the boring tasteless wannabe laksa, satays or char kway teow dishes.
What every Malaysian restaurant has in common here is their love to serve Malaysia's iconic Nasi Lemak dish. Some do it well, and some do it okay. It's a pretty hard dish to get wrong.
The Boy and I however like to plate up our versions of Nasi Lemak slightly differently (as seen by our Pandan Rice version). Hopefully the next few Malaysian restaurants opening up will be daring and different. Embrace the beautiful flavours of traditional dishes and give it a good twist!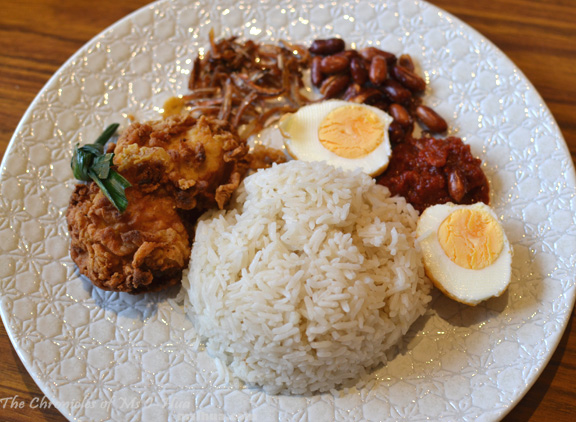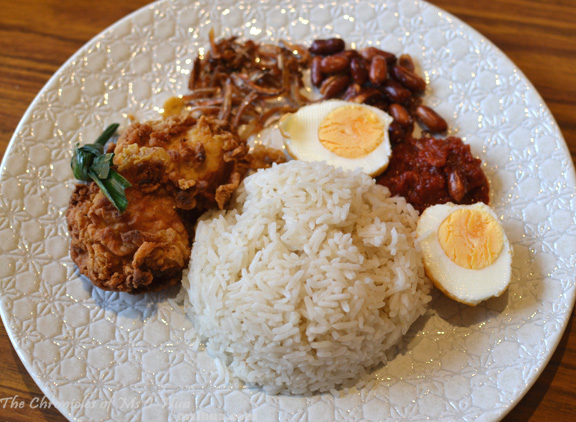 Here's our take on Malaysia's traditional Nasi Lemak Recipe served with Ayam Goreng Hebat!
Jom! Mari kita masak dan makan! (C'mon, let's cook and eat!)
_______________________________________________________________________
Nasi Lemak Recipe
Ingredients:
*2 cups of Jasmine Rice (washed & drained)
*60ml of Coconut Milk
*Water
2 Pandan Leaves (knotted)
1 French Shallot (sliced)
Pinch of Salt
*If cooking for more, adjust amount of rice, coconut milk and water accordingly
Condiments:
Sambal (use store bought or fry my rempah/spice mix with tamarind juice, sugar, salt and more fresh chillies (if you prefer it spicier))
Fried Ikan Bilis/Anchovies (wash and pat dry ikan bilis. Fry with a generous amount of oil until crispy but careful not to burn them)
Fried Peanuts (fry peanuts with skin on until cooked. Sprinkle with some salt)
Fried Hard/Full Boiled Eggs (fry full-boiled eggs using a non-stick pan for a few seconds on each side till they turn golden brown)
Cucumber (sliced)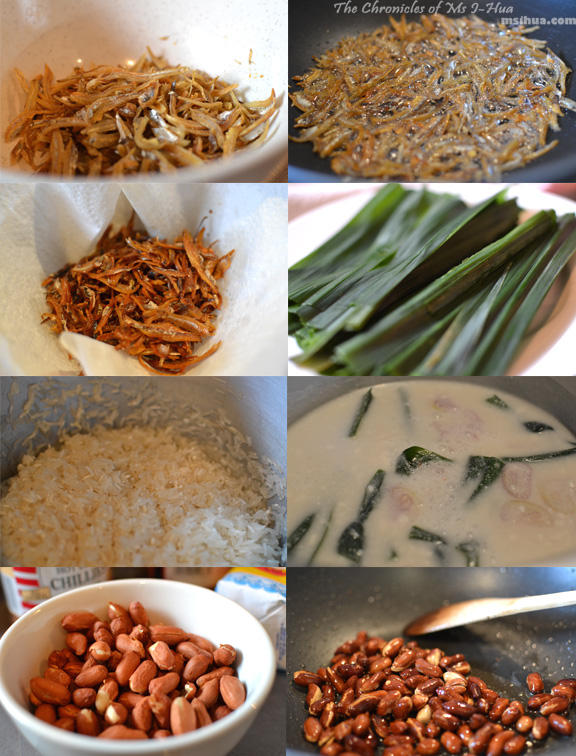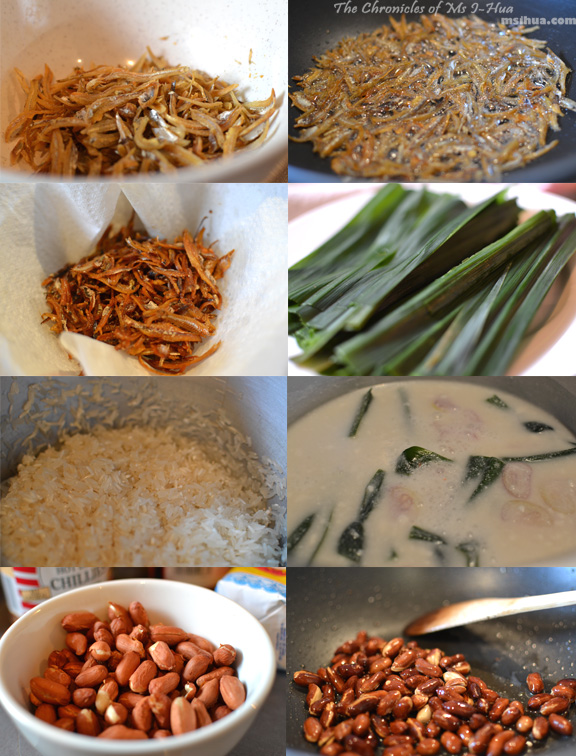 Procedure:
Place the rice and coconut milk in a rice cooker. Now, top it with enough water. A general rule is to cover the rice with water until the water reaches the first line of your index finger (from the top layer of the rice, not the bottom of the pot).
Add in the rest of the ingredients (pandan leaf knots, french shallot and salt) and give it a bit of a mix. Turn rice cooker on.
_______________________________________________________________________
Ayam Goreng Hebat Recipe
Ingredients:
1 x whole Chicken cut into 10 pieces – 2 legs, 2 thighs, 2 wings & 4 breast quarters
600ml of Buttermilk
Canola Oil/Peanut Oil/Grapeseed Oil (enough for deep frying)
Chicken Marinade Ingredients:
400ml Coconut Milk
1 Tbsp Turmeric Powder
1 tsp Chilli Flakes
1 tsp Salt
Flour Coating Ingredients:
2 1/2 cups of All-purpose Flour
2 Tbsp Onion Powder
2 Tbsp Garlic Powder
1 Tbsp Turmeric Powder
2 tsp Ginger Powder
2 tsp Kosher Salt
2 tsp Smoked Sweet Paprika
2 tsp Cayenne Powder
1/2 teaspoon Cinnamon Powder
1/2 teaspoon Ground Black Pepper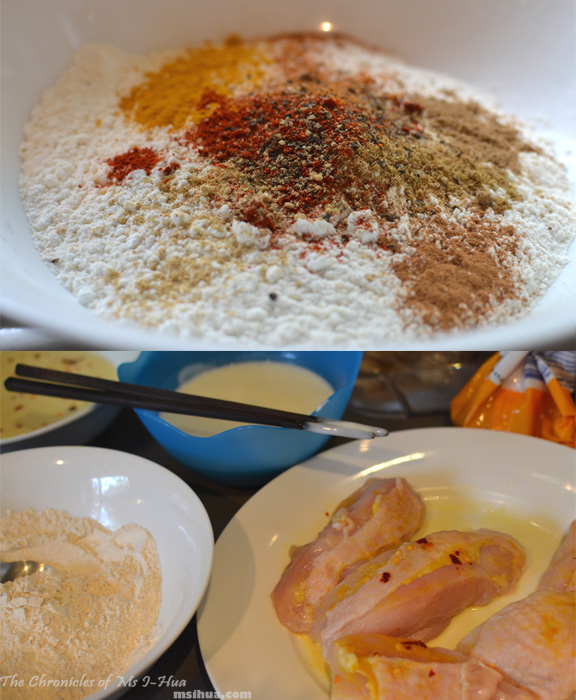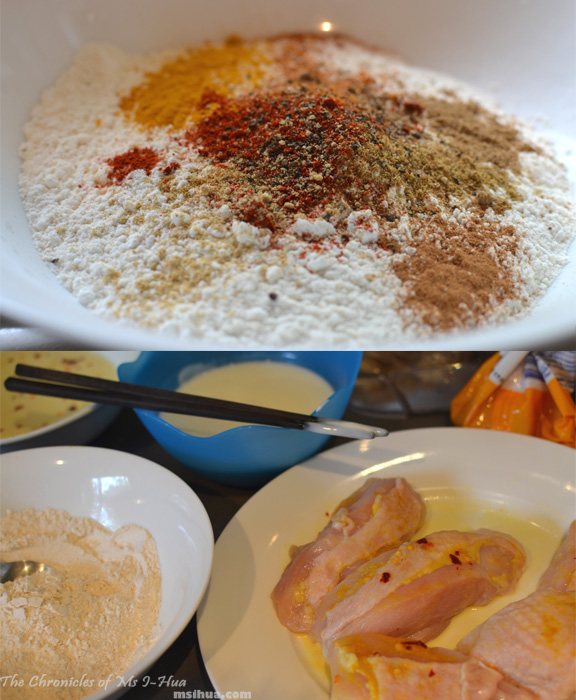 Procedure:
Combine marinade with chicken pieces and leave overnight in refrigerator.
Remove chicken pieces from the refrigerator and wash away excess marinade. Leave aside until they reach room temperature.
Prepare three large bowls.
Add all Flour Coating ingredients into the first bowl and mix thoroughly. Transfer half of the flour mixture into the second bowl.
Pour in the buttermilk into the third bowl.
At this stage, you should have a bowl with the chicken pieces, 1st bowl of flour coating, bowl of buttermilk, 2nd bowl of flour coating and a wire rack to rest & drain the oil from the chicken after frying.
Pour oil into your deep fryer or pot to deep fry your chicken. If you have a deep fryer, follow the manufacturer's instructions on deep frying. If using a pot, do not fill more than 1/3 of your pot with oil.
The oil temperature should be between 160-170 degrees Celsius.
Start off with the chicken thighs, drumsticks or drumettes first. The wings and breast fillets will go in last.
To start the process, dip chicken pieces into the 1st bowl of flour coating and coat all sides. Pat off any excess flour.
Then, dip into the buttermilk bowl and allow any excess buttermilk to drip back into the bowl.
Next, dip it into the 2nd bowl of flour coating and coat all sides.
Gently lower the chicken pieces into the hot oil. Adjust heat to return oil to its proper temperature if using a pot.
Monitor the temperature and let it fry until it reaches a deep golden brown colour and feels crispy.
Depending on different sizes and cuts, they may take from 5 to 10 minutes to cook.
The chicken thighs and drumsticks usually takes longer to cook than the chicken breast and wings.
Once cooked, transfer chicken pieces to the wire rack to drain any excess oil.
_______________________________________________________________________
Plating Up:
Place rice in the centre of the plate surrounded by some fried chicken, eggs, fried peanuts, fried ikan bilis, cucumber and a dollop of sambal.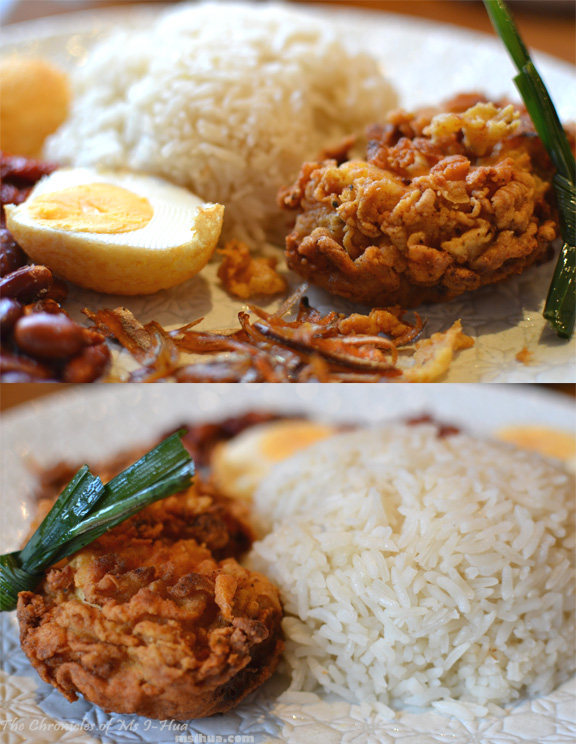 Plate it up anyway you like with as little or as much ingredients you feel like.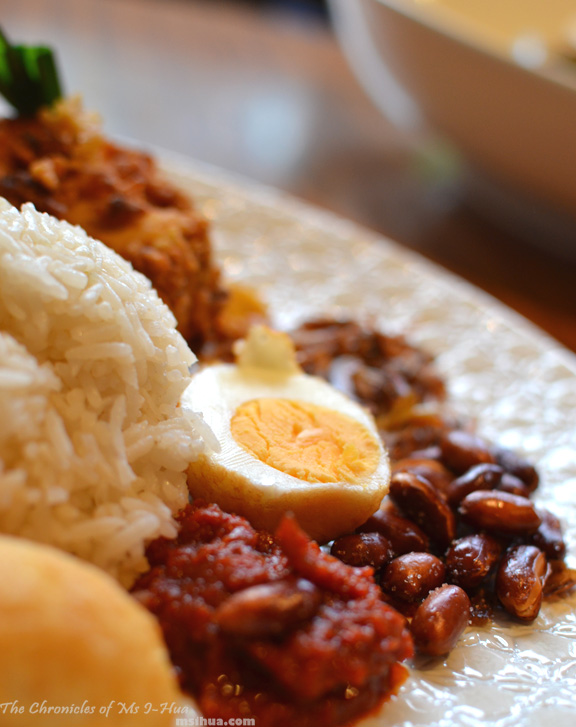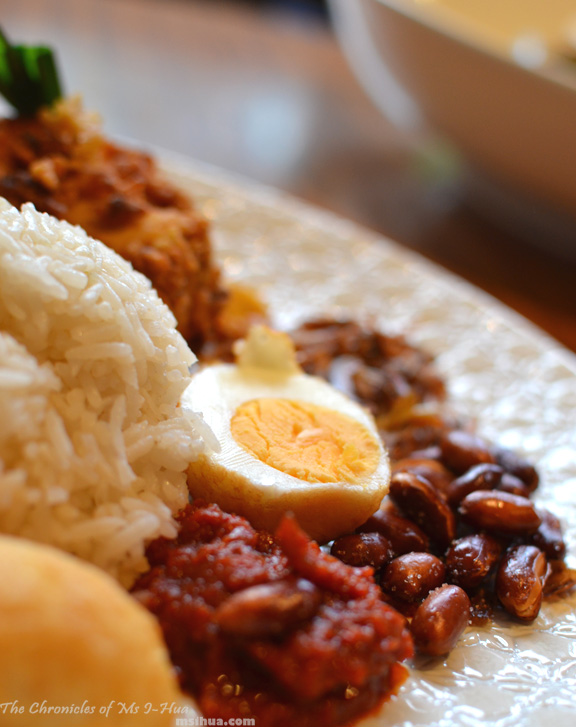 When you serve, simply sit back, enjoy and dig in.
For a more authentic experience try using your right hand (never use the left as that's for sanitary purposes) to eat. You'll be surprised how different food can taste with that little bit of difference!