Apa khabar kawan-kawanku? (How are you, my friends?)
Madam Mummy being the avid gardener she was, planted beautiful flowers and plants in the various gardens we had when I was growing up (we moved homes a few times). There would be beautiful hydrangeas (big blue bunches), alamandas, adeniums, ixoras, periwinkles and many other tropical fauna that grow beautifully in the Malaysian climate.
When I was younger, Madam Mummy would leave me be in a corner of the garden whilst she happily pottered around, weeding and pruning her other 'babies'. She would hand me off cuts from the pruning work she would have done so that I could play 'masak-masak' (cooking) with the buds, pebbles, grass, leaves and stones around me.
It was a different sort of tea party you could say! It's no wonder that I love flowers and cooking so much!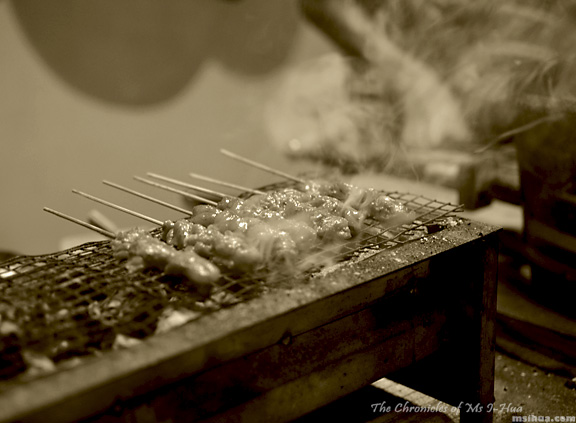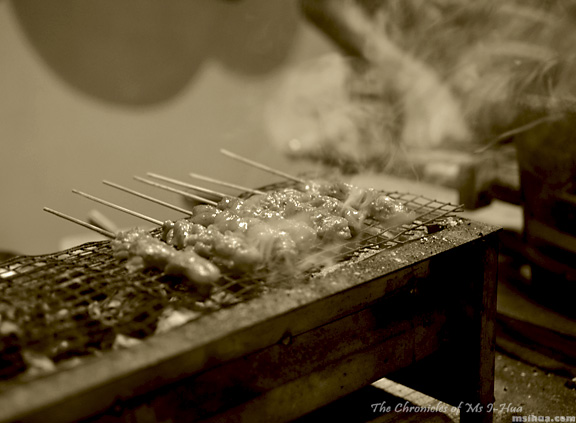 When I heard that a friend (of a friend) had recently joined forces with a chef from Luxbite and one other partner to open up a Malaysian restaurant named Masak-Masak, I knew it was fate calling me.
Memories from my childhood bobbed to the surface and the fact that I wanted to show support (and eat) towards Malaysian restaurants meant that I had to be there!
I called a couple of back-up bellies to help me in my little adventure so that we could get the best out of the menu, so that my dear readers could have a better picture. The things I do for you 🙂
So in came Azzie, Mazzie, Daisy (and Ricky) and us to the party 🙂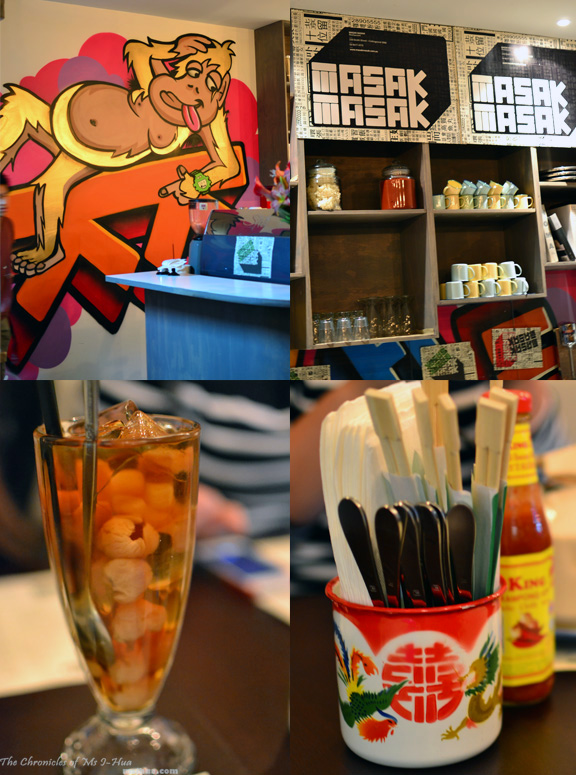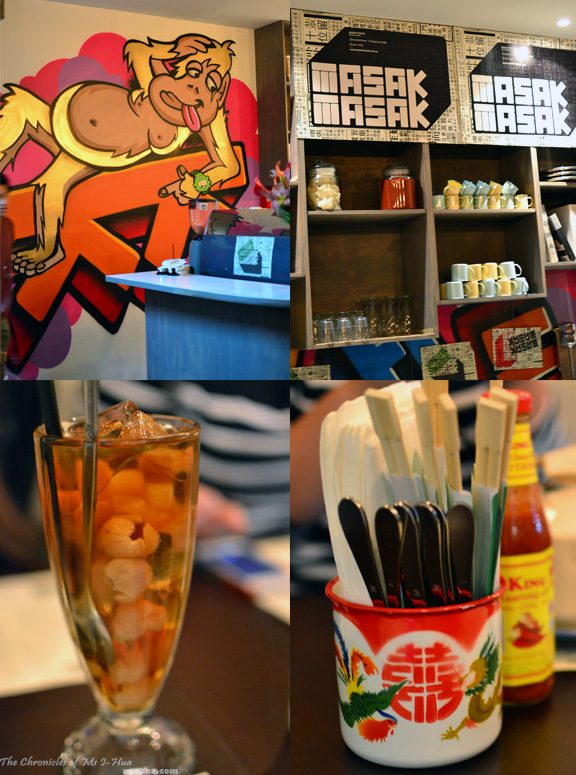 Whilst some of us opted for the normal Malaysian drinks of Teh Ais (Iced Milk Tea) and Coconuts, The Boy ordered the Chilled Tea with dried longans and candied wintermelon ($4.50) which looked like a good rendition of the popular street food drink known as air mata kucing directly translated means "Tears of the Cat's Eyes", but it actually is a longan based drink.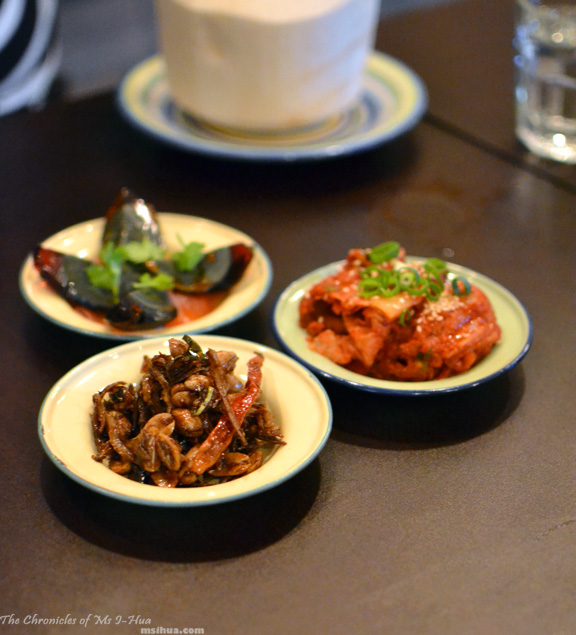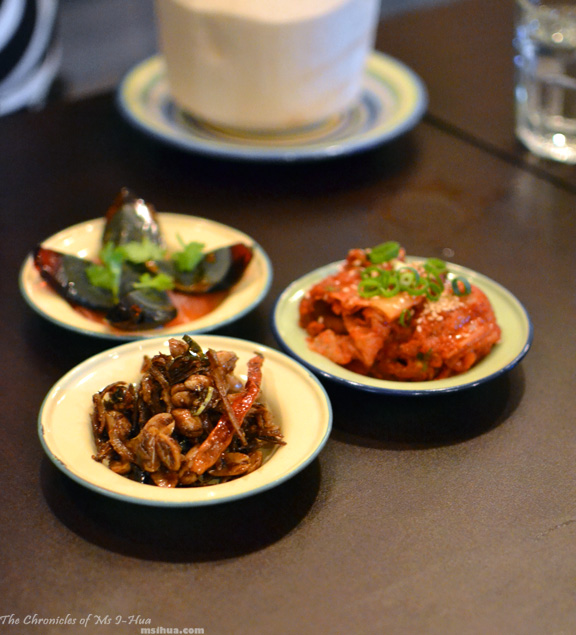 From the starter menu, we ordered to share Century Egg, Pickled Ginger, Chilli Oil ($5.00), Kimchi ($5.00) & Anchovies, Peanut, Chillies, Kicap Manis ($5.00).
When I say we, I meant I did all the ordering as the group as a whole went, "You're Malaysian, you order!" Talk about no pressure 😛
I loved the anchovies and the century egg (although Maz wouldn't go near it :P), but felt that the quantities were a tad small? But I guess they were meant to be snacks.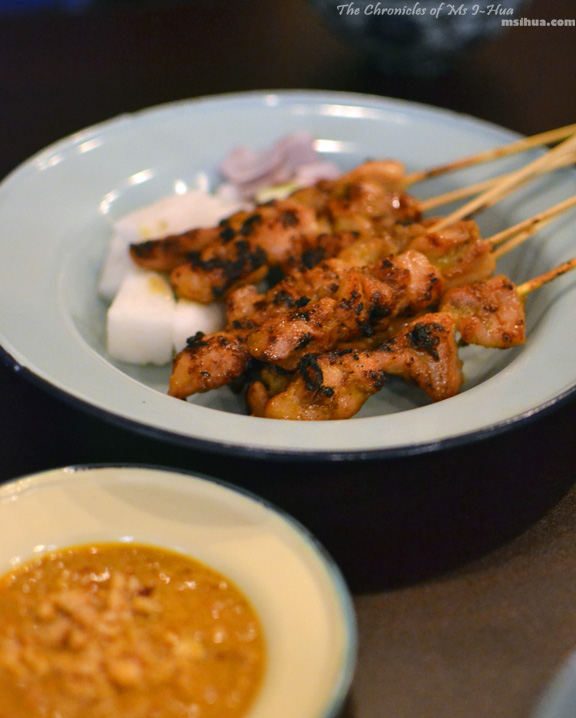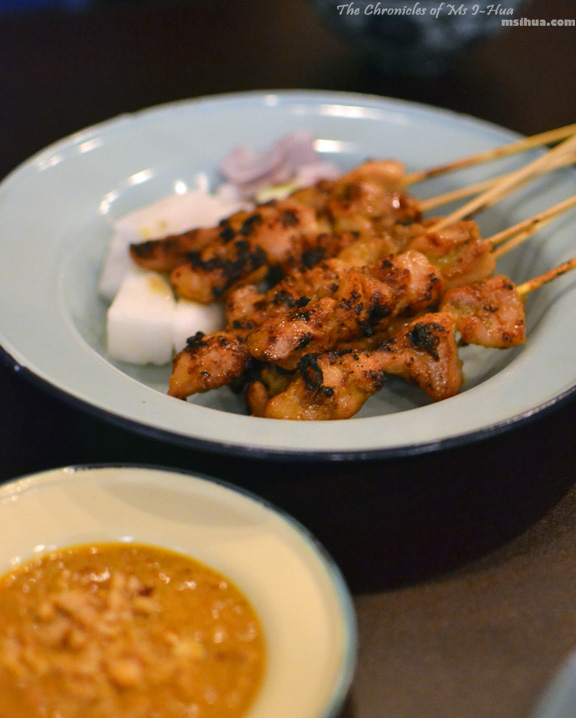 One of the favourite dishes for the whole group was definitely the Chicken Satay (6 pieces for $14.00) with ketupat, cucumber, onion & peanut sauce. The satay was just perfection. Moist, tender, juicy and perfectly smoky char-grilled, it was so good we ordered another serve of it. The peanut sauce on the other hand needed a little more work to match the perfection of the satay.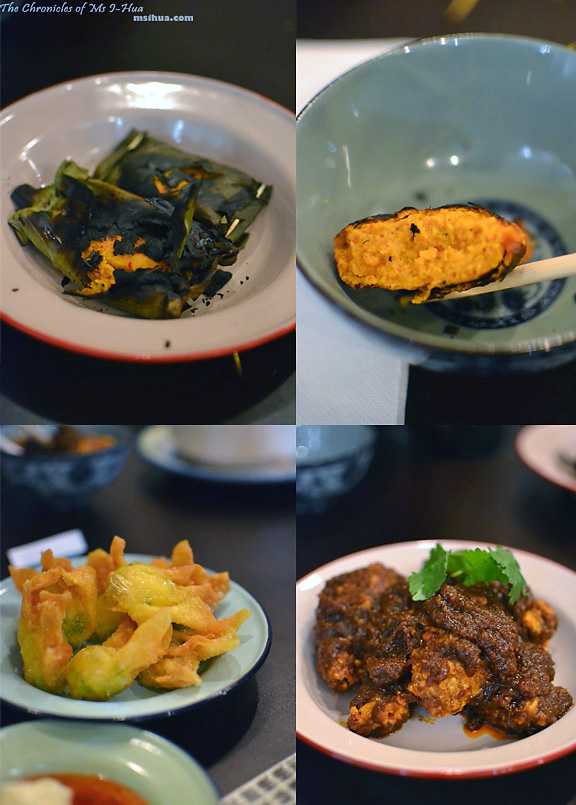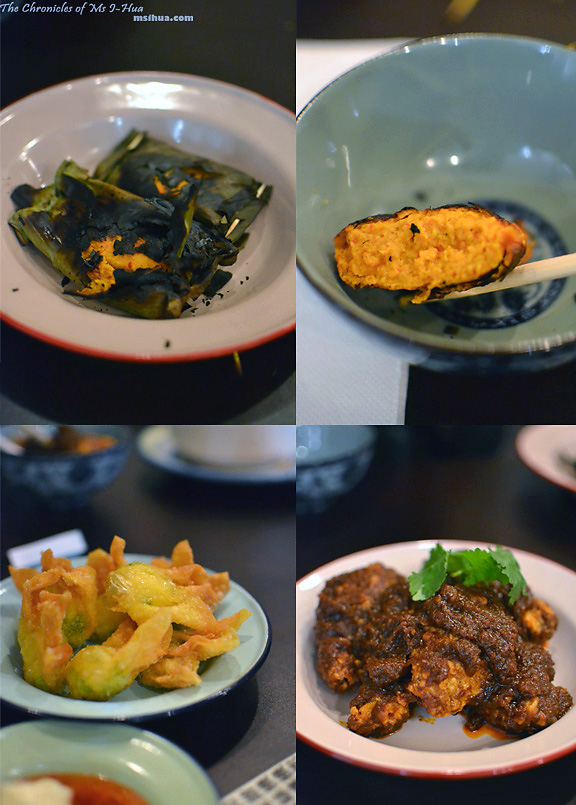 We also had the Otak-Otak ($9.00) – Fish mousse wrapped in banana leaf, which we liked. We had the "awesome" (fried) Prawn Wonton ($9.00 for 6 pcs). You can also order these in the "amazing" version, which is boiled 😛
I really enjoyed the Buffalo Wings ($9.00) with Onion Sambal. The sauce had the right amount of kick and I found myself dipping my wonton in the leftover sauce.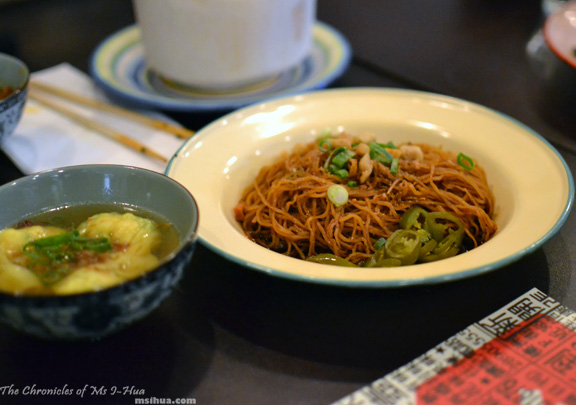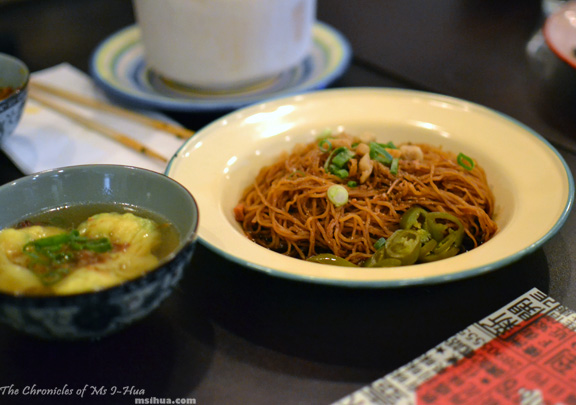 We shared several mains, starting with the Kon Low Mee ($8.00) with Prawn Wonton. It was good, but nothing too special, as I make this dish on a fortnightly basis.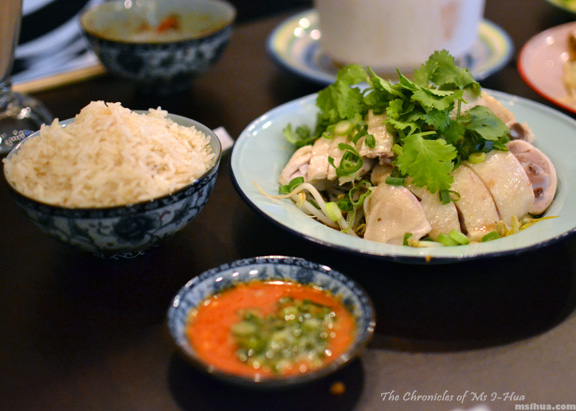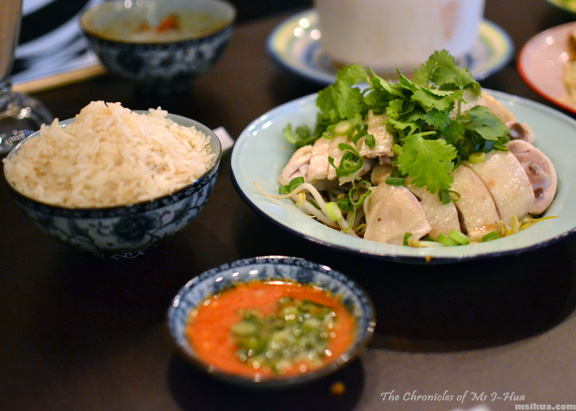 The Hainanese Chicken Rice ($19.00) with condiments was tasty. Chicken was tender (half serve) and flavours balanced nicely. Though, between you and me, The Boy's version is so good, that we never order this dish outside anymore *proud wife*.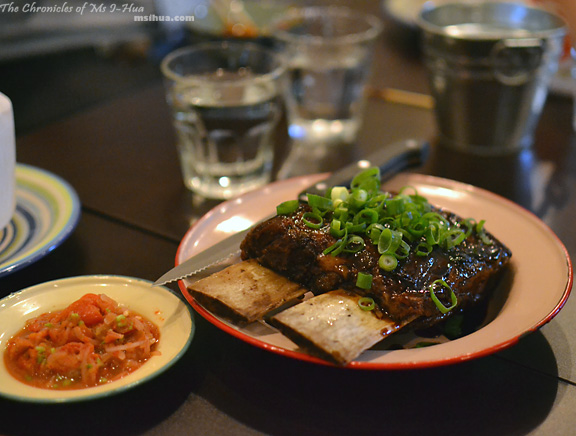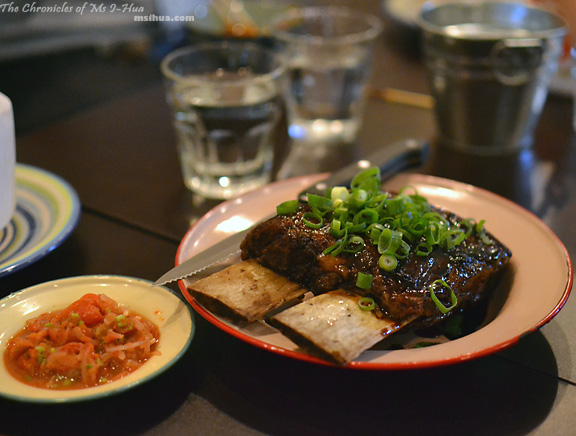 The main reason why we were all here! Ashley had mentioned to me at another eating fest that she had the Charcoal Grilled Beef Ribs ($19.00) with Sambal Oelek here and it was the best thing ever.
So we got a serve of this for the group to nom on. I sadly couldn't participate and watched on as everyone attacked the ribs. There were a few moments of silence where only the sound of chewing and happy "mmmm-ing" could be heard.
I'm guessing that's a good thing 🙂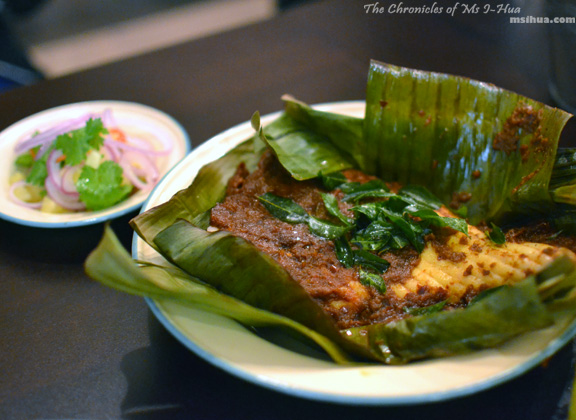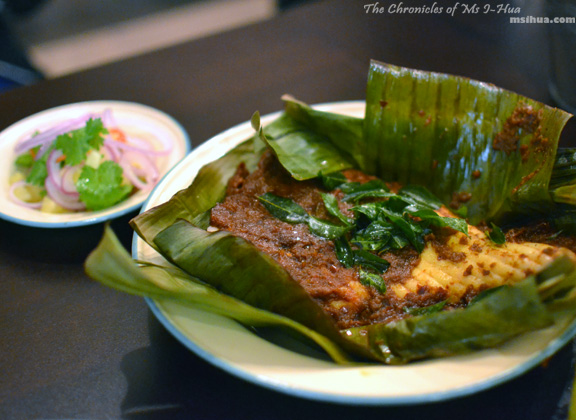 What I really enjoyed and was most excited to see on the menu was the Grilled Stingray ($19.00) with Pineapple Salad! The only other time I've had stingray in Melbourne was at Claypots years ago!
I love stingray and would eat it very often in Malaysia. I make it a point to visit the nearest stingray stall in the coffeeshops (restaurants) in Malaysia as I simply love them.
Masak-Masak's version did not disappoint!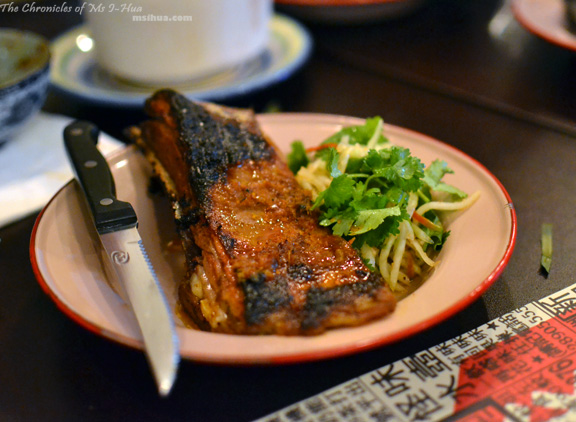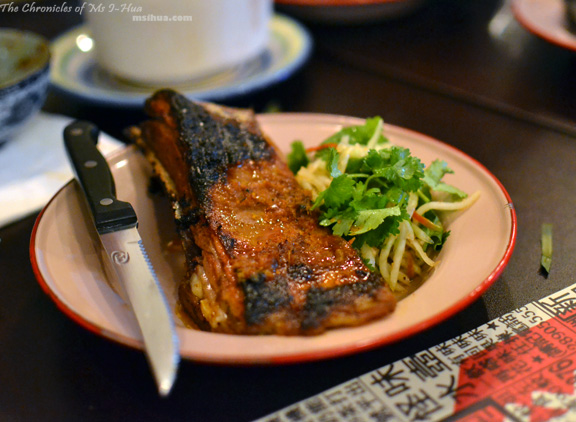 As luck would have it, the kitchen heard about my sad indisposition to beef, and decided to send out a complimentary Grilled Lamb Ribs which they were trialling in the kitchen that night. I was so happy as I love lamb and given that the rest were so enthusiastic about their beef ribs, I happily tucked into the lamb rib dish. I can attest that it made me very happy that night! It was tender, falling off the bone, yet juicy and succulent all at once. I think they cooked it with magic!
I do think some of the dishes needs a little bit more work (heck, they are only new) but what they do well, they do really well!
Come here for amazing chicken satay and beef ribs.
Step out of your comfort zone, order some century eggs 🙂
*Disclaimer: All food ratings & review are purely based on my own experiences and how I feel about the service, food and quality at the time of visit
For other recaps to this food adventure:
Food/ Cuisine: Malaysian
Dining Style: Restaurant
Opening Hours:
Monday to Saturday, 11:30am – 10:00pm
Sunday, 9:00am – 3:00pm
Address:
230 Smith Street
Collingwood VIC 3066
Tel: (03) 9417 4510
Website: http://masakmasak.com.au/
How to get there: