Happy Australia Day everybody! I hope you're all taking the time to kick-back, relax and enjoy this wonderful long weekend 🙂
If you're thinking of a place to go for the long weekend for something a little different, do head down to Luxbite 🙂
The team behind Luxbite, Bernard and Yen are at it again this year with a variety of new breakfast/brunch menu items (very east meets west) and even have special #strayaday items such as the Yuzu Lamington, Kaya Lamington and their Australia Day "green and gold" special. I heard on the grapevine that they might have pavlova macarons as well!
I think it's great and most definitely very Australian to intertwine the various backgrounds, cultures and diversity of food to showcase on Australia day. Can't get any more Australian than that!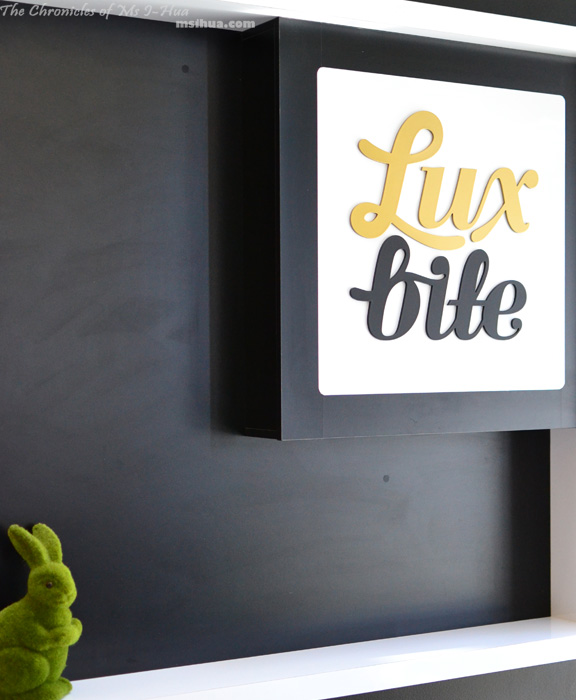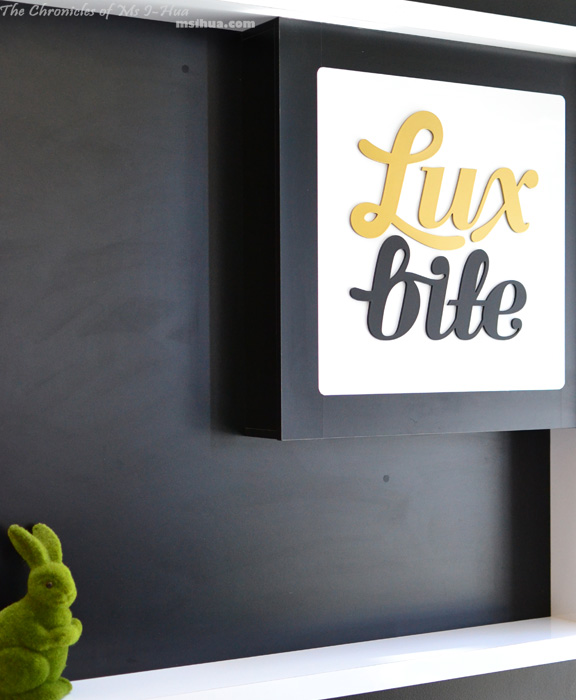 The Boy and I dropped in last weekend to pay them a quick pit stop. That ended up being a 2 hour pit stop as we trawled through their new "Asian-inspired" breakfast menu and new desserts.
However, with us being so backlogged that often, we have included some desserts which we tried when we last visited in September as well 🙂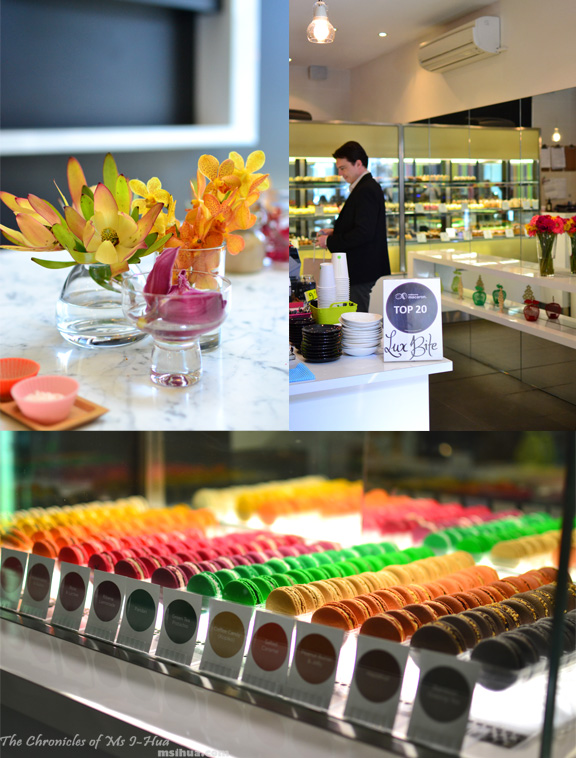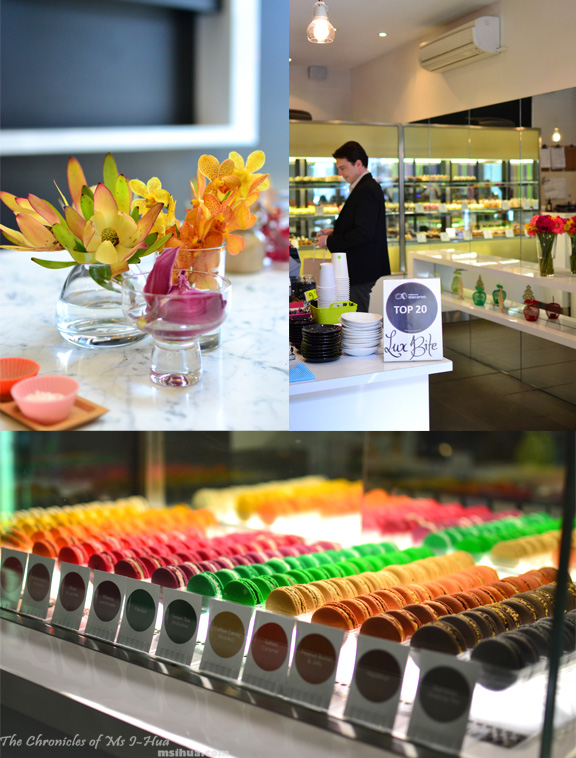 The jewellery case of macarons gets us every time. No matter how many times I have seen it, I can't help but give out a little "ooh" of appreciation. It's just so pretty!
They have recently revamped their breakfast/brunch menu and taken away their MeatBite & VegoBite options (screams of outrage can be heard all the way up and down Toorak Road). Don't fear as they have replaced it with their MiniBites option (bacon aficionados, don't be scared, you're still looked after with a maple infused bacon).
They have decided to create a braver eastern influenced western menu for all, and frankly, I'm saying, "BRING IT ON!"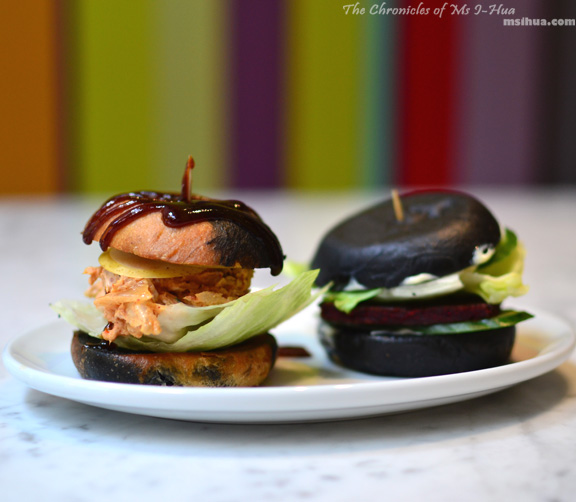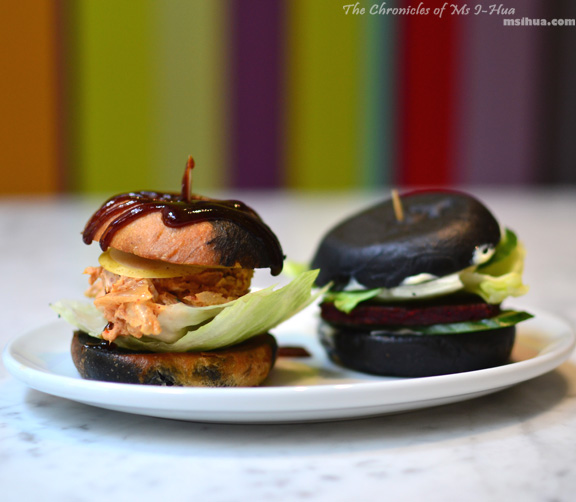 As I looked at the brunch menu, I knew I had to order the 'LuxBite Pork Bun' 2 Ways ($15.00) a Bamboo charcoal brioche bun, pulled pork, kimchi, housemade pork jerky & kewpie every since I saw Winnie from Eat Play Shop post it on her instagram.
When it arrived, they were both not quite what I expected in the taste department. In my head it would taste like the braised pork belly pork buns made so famous by Momofuku.
What instead Luxbite had created were two mini pork sliders. The kimchi pulled pork was delicious and had a really balanced flavour of pickles and umami.
The housemade pork jerky had a really interesting texture that I can only compare to a type of Chinese preserved sweet pork (similar to jerky) known as Bakkwa. Saying that, it was only the texture of the jerky that reminded me of bakkwa and not the taste.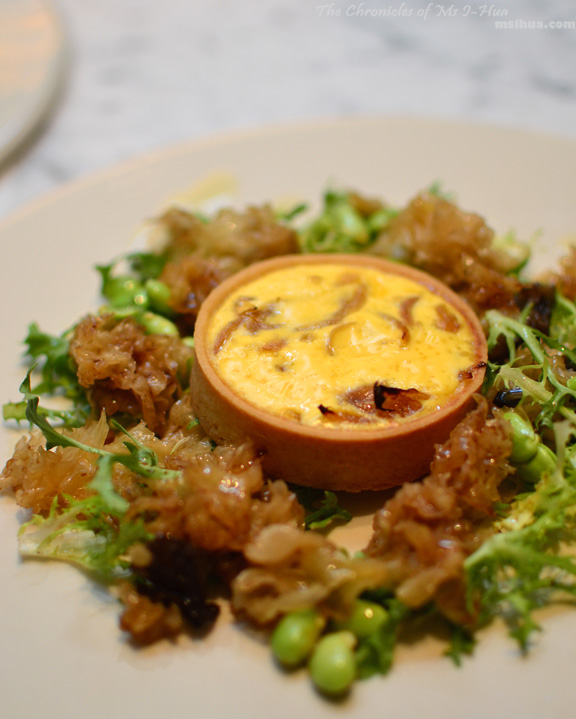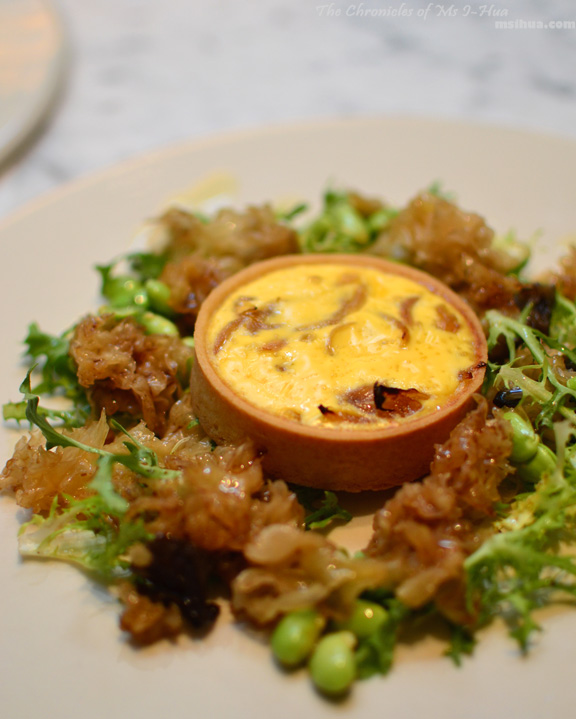 The second item I knew we had to try was the Caramelised Eshallot Tart ($15.00) with Truffled white fungus, edamame & frisee salad as Luxbite only does 6 serves a day.
The Asian in me, cried out, "You must not lose out!" "ORDER IT!"
So we did 🙂
Again, my concept of what I expected was blown to smithereens! "Oh poor Smithers" 😛
The tart was as lovely as any onion tart I've ever hard, but it was the lightly truffled white fungus (use of white truffle oil) balanced with a tangy sourness that was perfect on my taste buds. You see, I'm not a big fan of loud truffle flavours, so this was delicious.
Never had white fungus before? It's a bit like eating crunchy cartilage, but vegetarian style. Widely used in Asian dishes in savoury and desserts.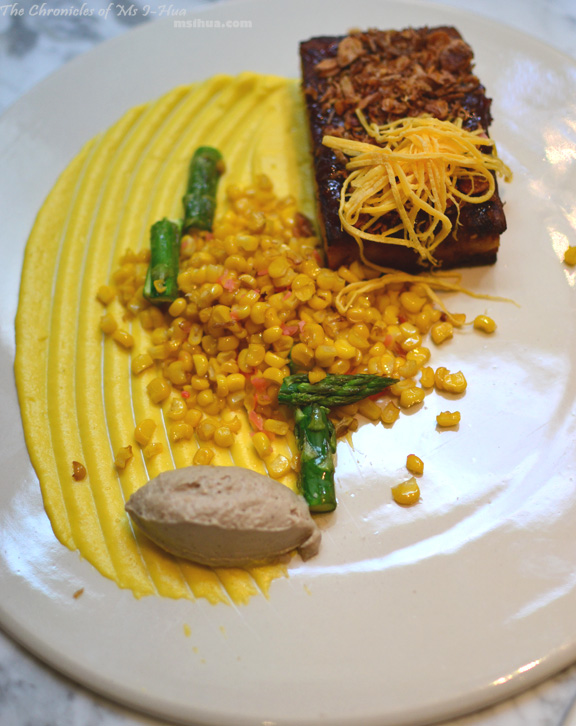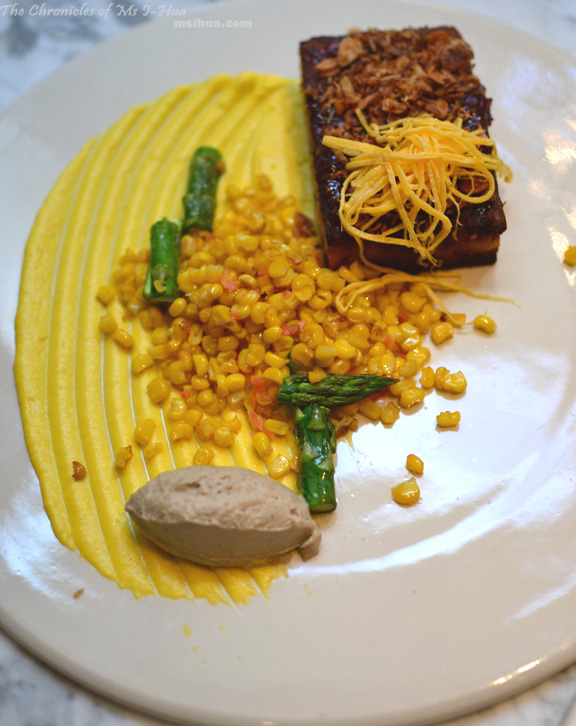 My friends, the creme de la creme from their menu (okay, so we only ordered 3 out of a potential 6 but Yen said we had too much food as it was) was the amazing Pan Seared Taro Cake ($15.00) served with a salad of sweet corn, asparagus & egg crepe, Shiitake mushroom mousseline.
As a loud and proud carnivore, I would say that if I ate this as my last meal on earth, I would die happy! Why is this such a big deal? THIS magnifique dish is 100% vegetarian and gluten free.
To think! I didn't want to order this in the first place as I said to the Boy, how modern can they make Taro Cake? He insisted and I lost the argument, and I never was happier with his decision to prove me wrong.
The taro (yam) cake in itself was crispy on the outside and soft on the inside, the sweet corn puree matched perfectly with it too. Who would have thought? I could have licked the plate.
Move over corn fritters and goats cheese! I'm hooked on this dish!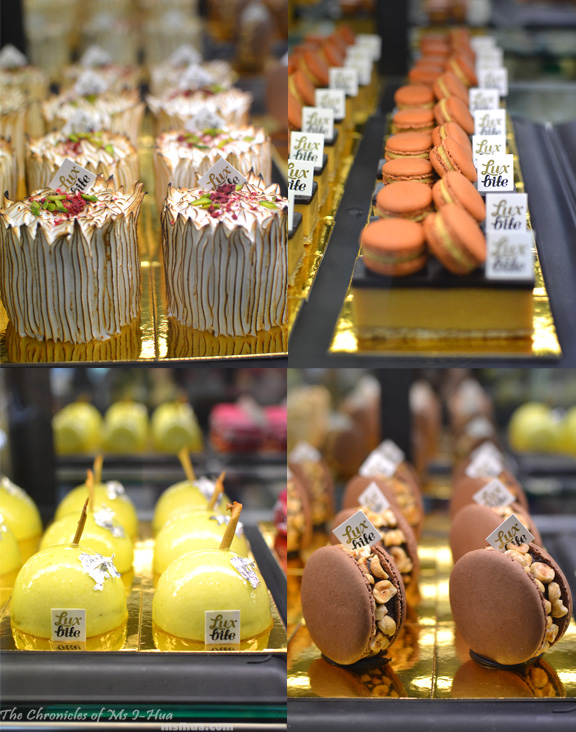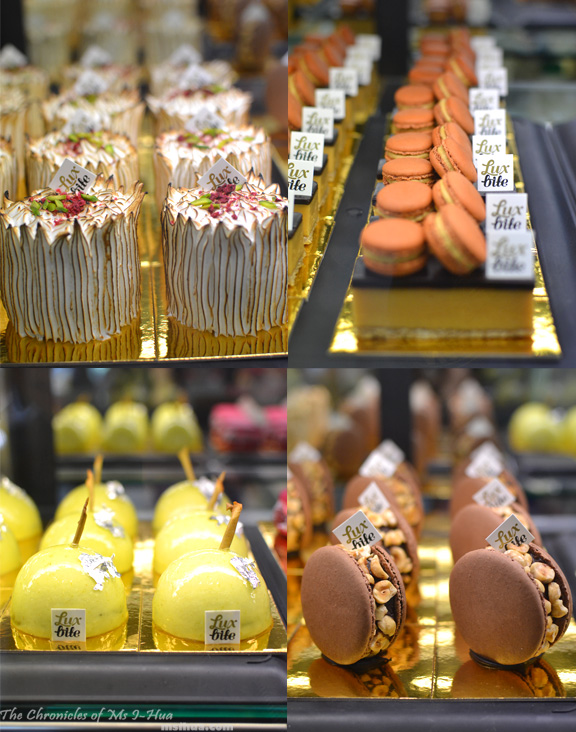 On the weekend we were there, the usual dessert traffic were still on holiday, and thus the selection of cakes weren't too big ("Lets not waste", Luxbite says).
So this window display of cakes you see above was actually taken by us during our September visit.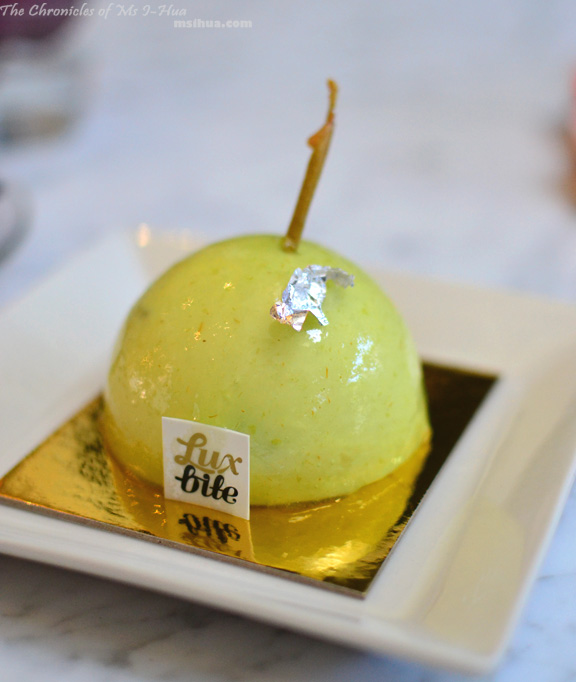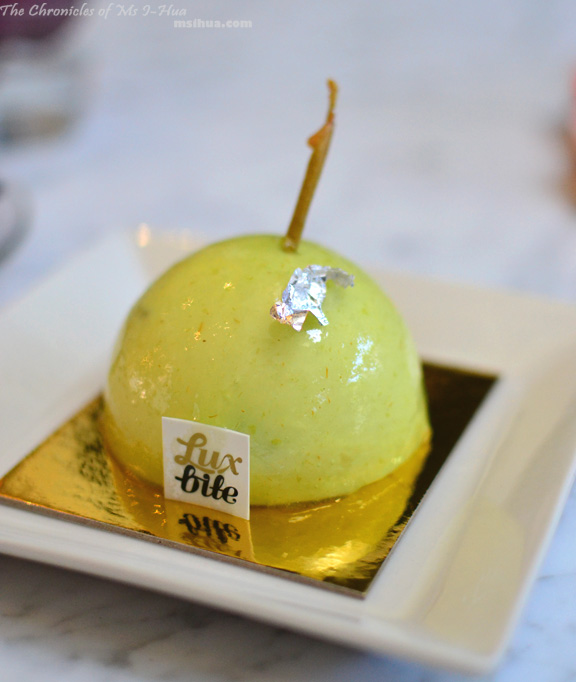 I love apples so I ordered the Apple of My Eye ($8.50). It was a chamomile cream cheese mousse, kiwi jelly, spiced apple compote, green apple glaze. The stalk is made from caramelised apple skin.
The flavours were very similar to one another though you could taste the chamomile quite distinctly through the sweetness of the apple components.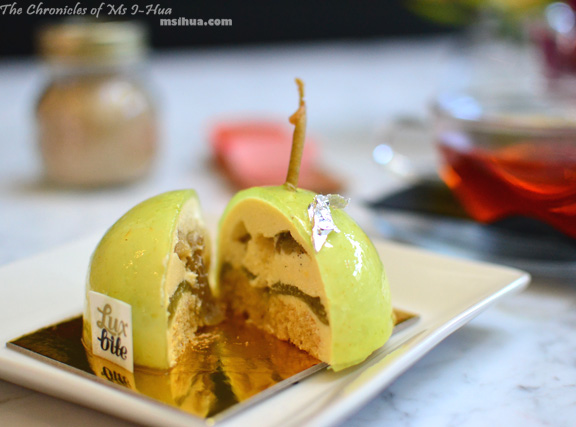 The inside of the dessert was mousse-like and layered to provide the different textural feeling as your fork goes through it.
My favourite aspect of the dessert would have to be the apple stalk. Love the creativity.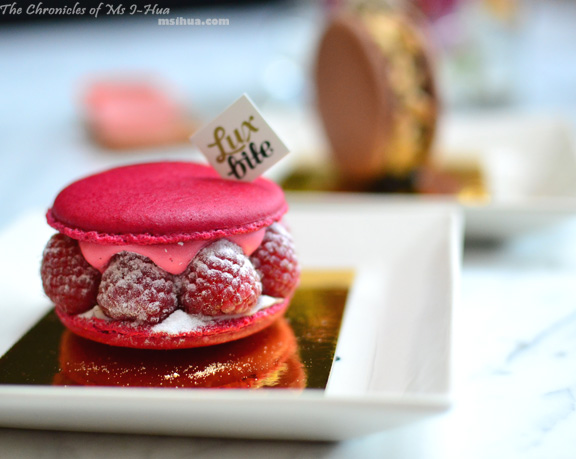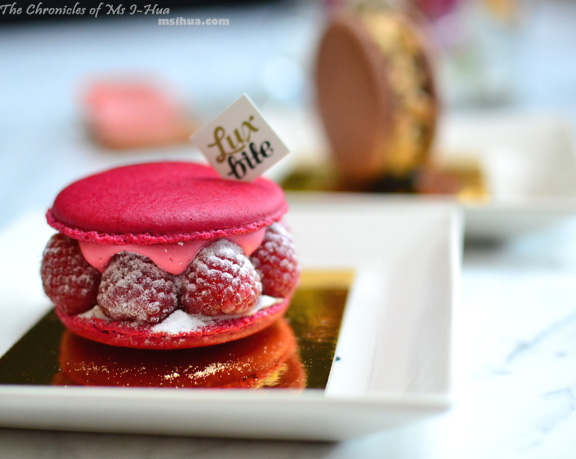 We also ordered the Endless Love ($9.00) in September. Filled with lychee ganache, rose cream, lychee and fresh raspberries. The dessert is inspired by Pierre Hermé's Ispahan.
I will have to admit, that I only ordered it because I knew it would stand out in photos and that it was so beautiful. I'm not big on raspberries, but I love lychees! Tasting it, I wasn't disappointed. Though a tad too sweet for me (I hardly take sugar these days) the texture of the crunchy macaron shells, softness of the ganache and squishiness (for lack of a better word) of the raspberries paired really well together.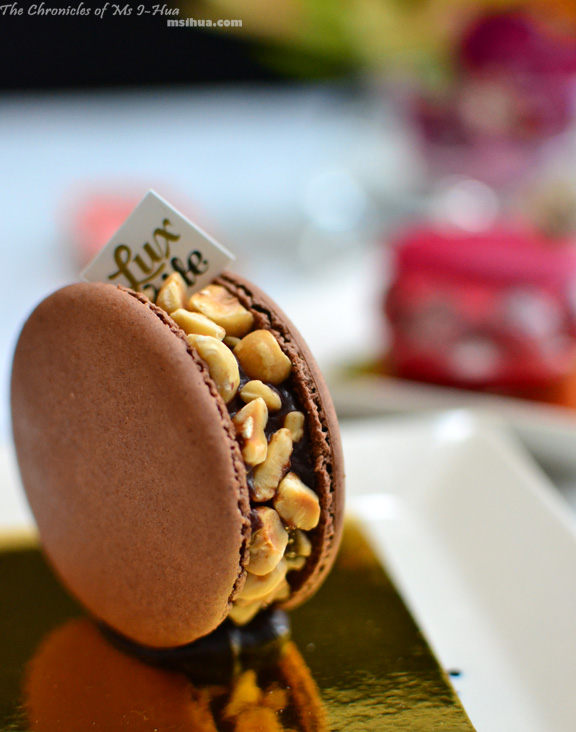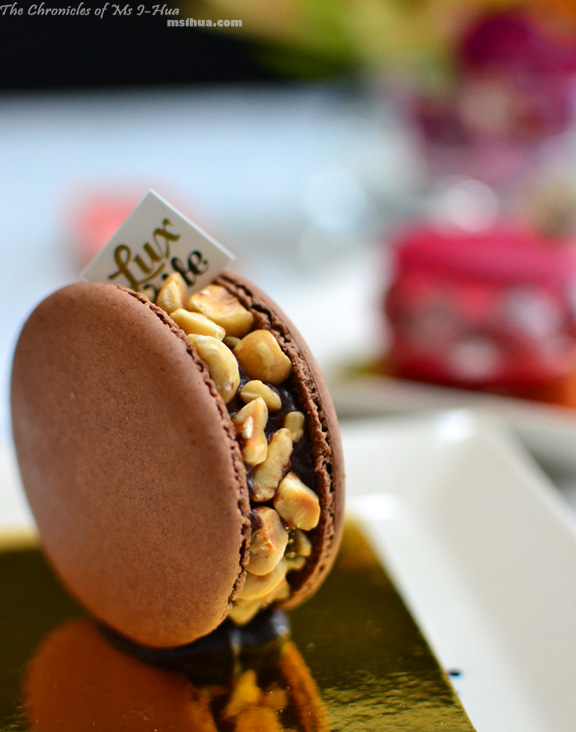 My favourite dessert from Luxbite would have to be the Supersized Love ($8.50). I can't help it! It's Luxbite's version of Ferrero Rocher with housemade Nutella, praline cream, Piedmontese hazelnut. I love Ferreros! And to have such a giant version sitting in front of my face, it's rude not to eat the whole thing up in one sitting!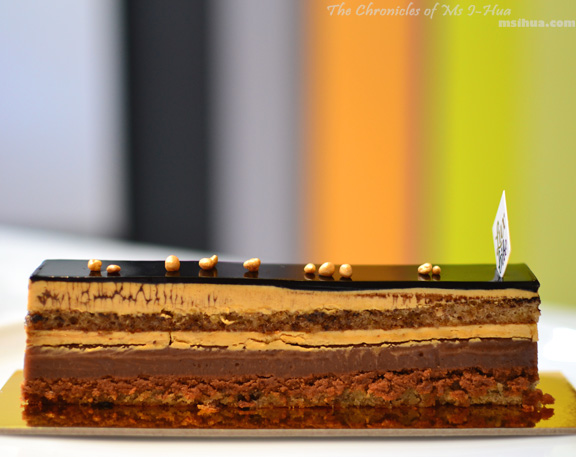 The Boy has fallen in love. He is truly lovesick over Luxbite's new dessert. The Opera of Banoffee ($8.50), a hazelnut sponge, banana ganache, Sichuan pepper chocolate crunch, salted toffee buttercream.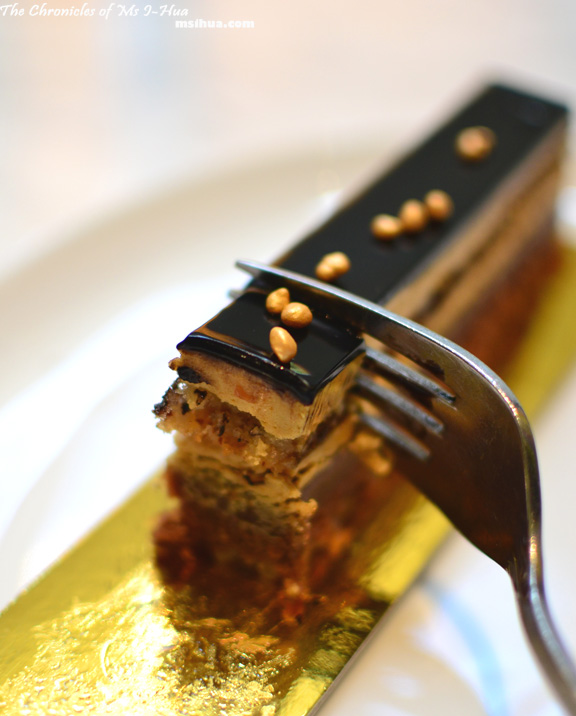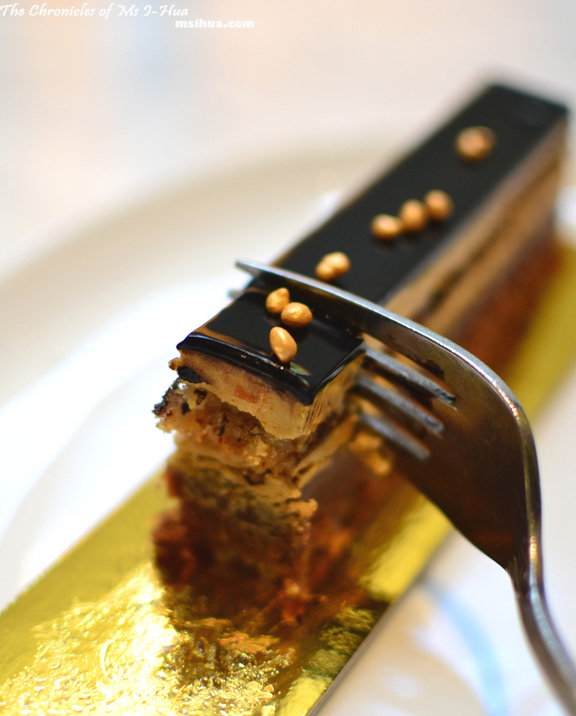 It has flavours that are sweet and salty. It has a mousse, crunch and cake texture which ticks all his boxes. It also looks and tastes spectacular, which ticks my boxes.
I'm loving Luxbite's new menu (if you can't tell by now). I will say that the gushiness for their food is because I am slightly homesick for Malaysian food, and I'm impressed with their fusion South East Asian breakfast items on their new menu.
There are times when I sit astounded thinking of Bernard's creativity in trying to meld his Malaysian background to his Australian background in coming up with his crazy ideas of desserts (and now savoury). I applaud his efforts and I can't wait to see what Luxbite has next in store for us.
If you haven't been, best make your way there this long weekend 🙂
Happy Strayaday!!
*Disclaimer: All food ratings are purely based on my own experiences and how I feel about the service, food and quality at the time of visit
Food/ Cuisine: Brunch and Desserts
Dining Style: Cafe

Opening Hours:
Monday to Sunday, 10:30am – 7:00pm
Address:
38 Toorak Road
South Yarra VIC 3141
Tel: (03) 9867 5888
Website: http://www.luxbite.com.au/
Twitter: @LuxBite
How to get there: