Every now and then, we like to walk down memory lane to revisit a certain stand-out dish in a restaurant. More often than not, the visit doesn't warrant another blog post as we've already posted about it before.
However, some revisits are too good not to share. Such is the case with Red Spice Road (RSR) and this time, we would like to share with you our experience at dining in the QV outlet. I think many of us Melburnians have experienced (and enjoyed) our first experience with RSR at their MacKillop Street branch for years. With the introduction at the much larger QV outlet, it seemed wise to dine there with a big group of food loving friends knowing that there would be no need for booking ahead (though we did).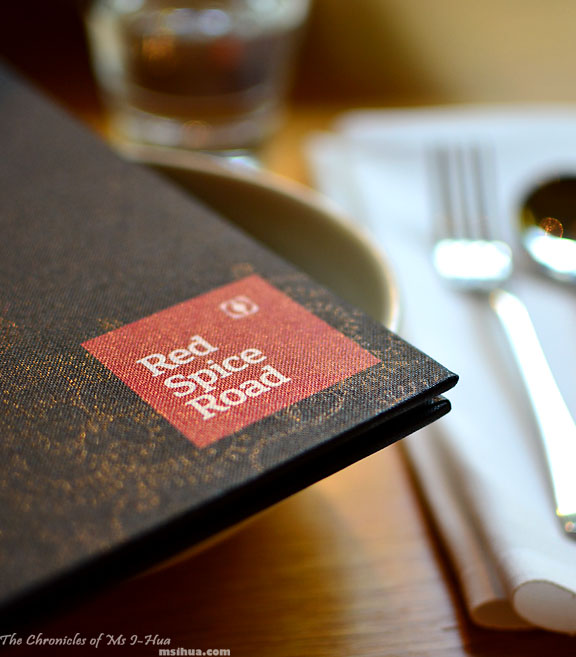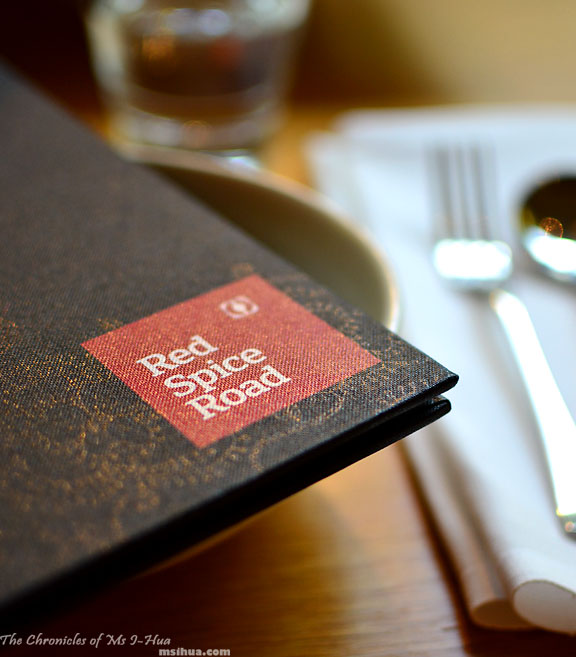 Walking into the now defunct Duck Duck Goose, you get a sense of sparse expense that is otherwise missing in the tight shared space of MacKillop St. Here you can actually get your own personal space and don't feel like you are encroaching on other people's conversations throughout your meal.
The Boy and I previously visited the QV outlet one Sunday after a long day of shopping. Just the two of us we decided to share the 3 course banquet and happily rolled out the door.
We thought we would revisit the place again, this time armed with a food entourage. The date was set (3 months in advance, not because of the restaurant's booking policy, but that was the only available weekend when all of us were able to make it) and of the ever expanding FPS (Fake Photography Society) team went with expendable clothing.
Off we trotted together with Adrian, Jo, Bryan, Ash & Brad and Wince.
This post is a combination of both these visits.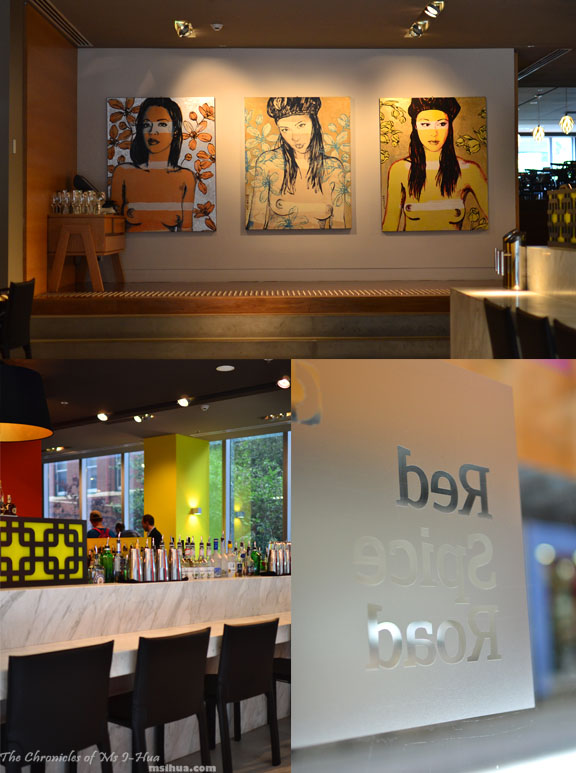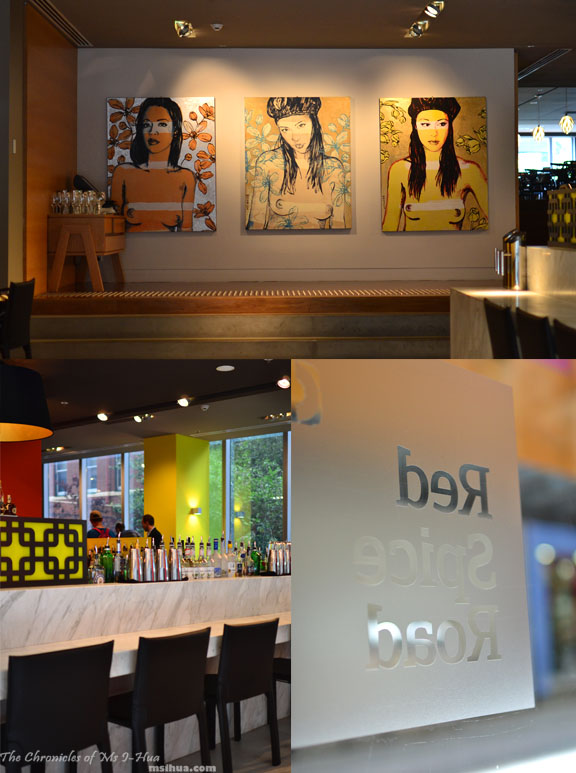 With such a big group, we automatically qualified for the 5 course banquet menu the second time. Obviously we didn't stop there and ordered an extra course as well after hearing a few recommendations for lamb ribs.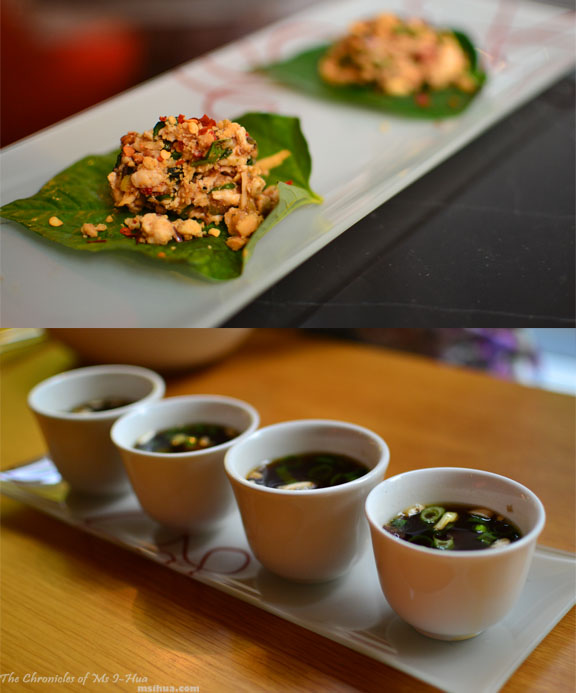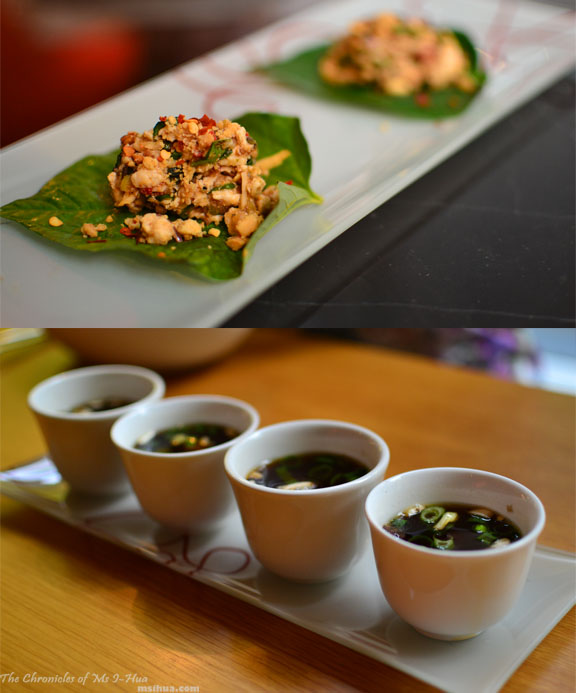 Depending on the seasons when you visit RSR, you are either presented with a complimentary entree of Betel Leaf with Chicken, Kaffir Lime & Chilli or Duck Broth, Minced Duck, Shiitake, Tofu and Spring Onion.
Both are good but I do prefer the Betel Leaf option. To me, it's just that little bit more exotic 😛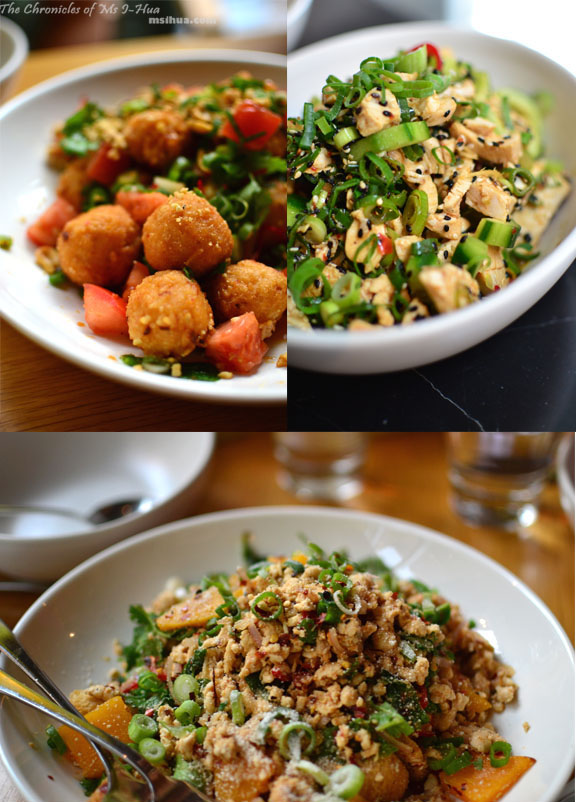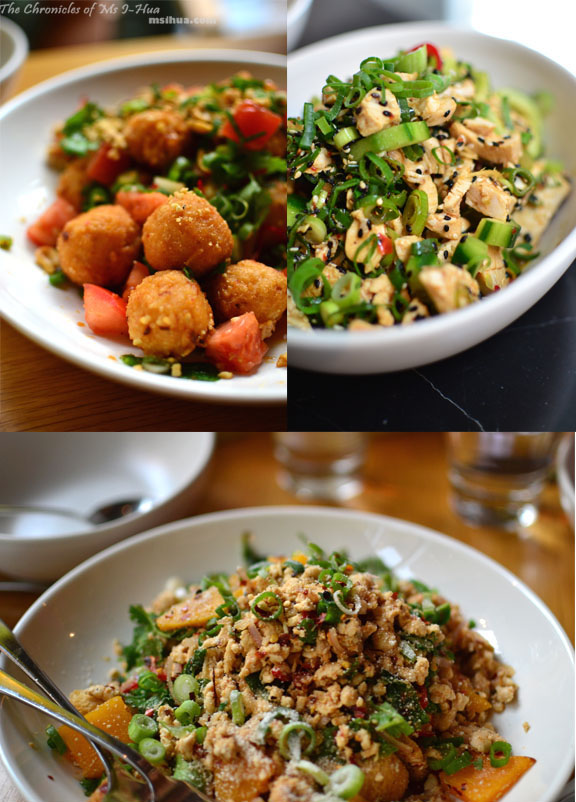 [Clockwise L-R: Spicy Rice Fritters with Smashed Peanuts, Tomato, Spring Onion and Coriander; Shredded Chicken, Cucumber, Ginger, Sesame and Green Onion Salad; and Chicken and Pumpkin Larb – Minced Chicken, Pumpkin, Herb, Roasted Rice Powder, Shallot and Crouton Salad]
With the Banquet menu, choosing dishes are actually quite easy. There's usually 5 options to choose from in the Mains and that's how you decide if you want one of everything or 3 out of the 5.
There are usually 2 types of salads available. My favourite pick out of these lot was the Shredded Chicken salad. Those of us that did try the spicy rice fritters salad found it a little too heavy and a bit of a mixed bag. A bit like a risotto ball salad, not quite 100% in this sense.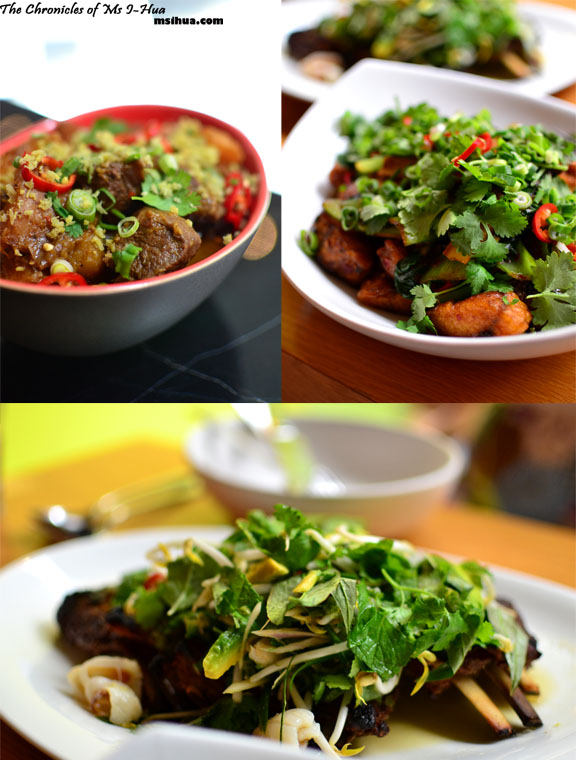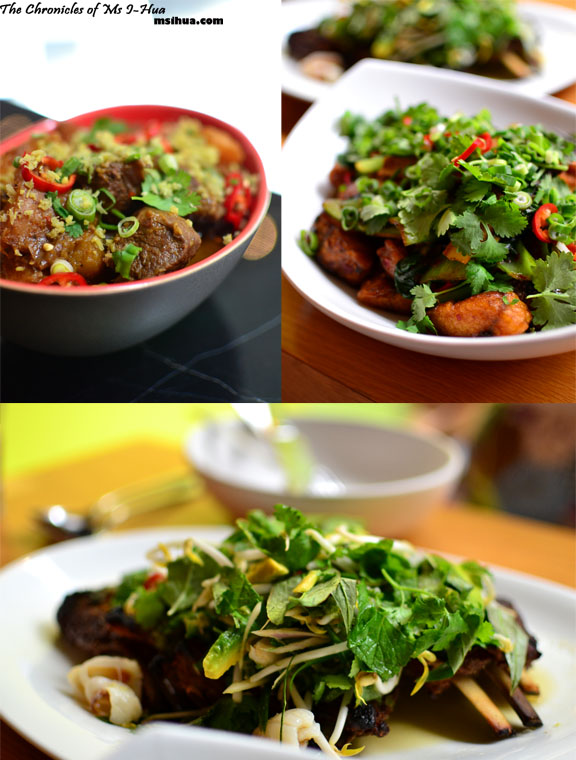 [Clockwise L-R: Lamb Rendang – Malaysian Style Lamb, Coconut and Potato Curry; Fried Barramundi Wok Tossed with Bamboo Shoots and Roasted Chilli Paste; and Twice Cooked Lamb Ribs with Mint, Lychee and Avocado Salad]
The lamb curry was really good. RSR do good curries. The barramundi had really good taste and texture. Crunchy crunchy me likey 0_0
The lamb ribs dish (which is not on the banquet menu and was an extra from the ala carte menu) was highly recommended by Adrian and Wince. So we just had to order it. They were so good! If we didn't have the banquet menu, I'd happily order two more servings of it!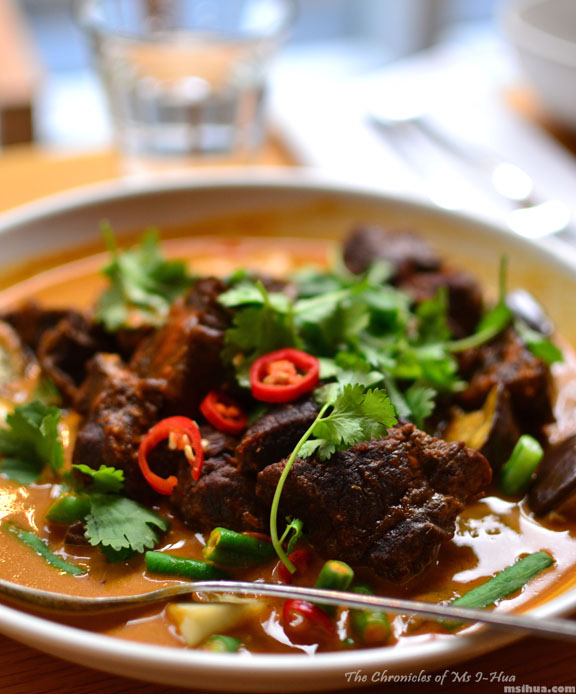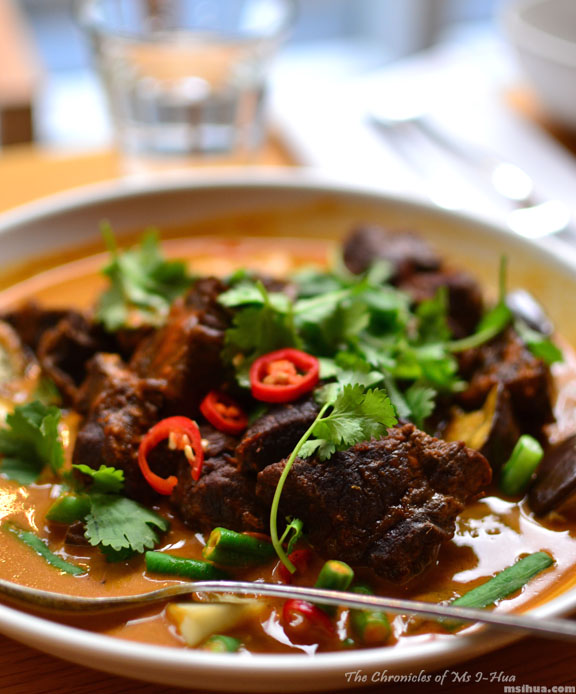 RSR also do a good version of Vientiane Style Beef Curry with Eggplant and Snake Beans which the group as a whole told me tasted delicious.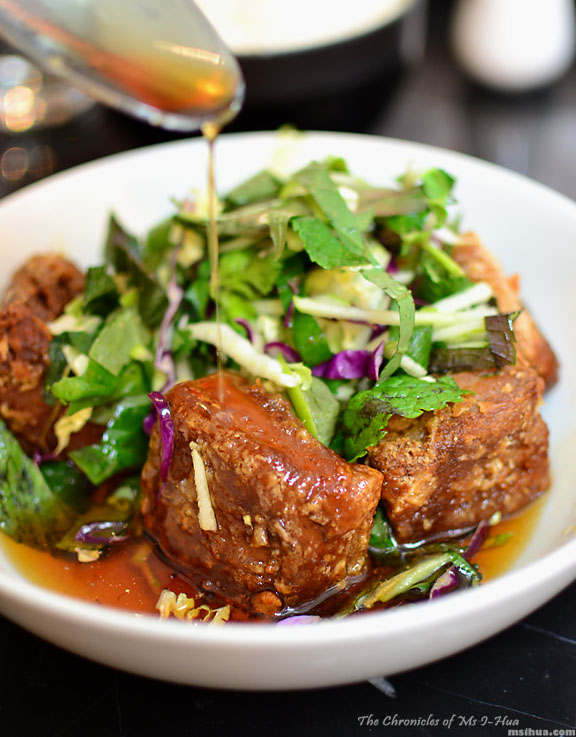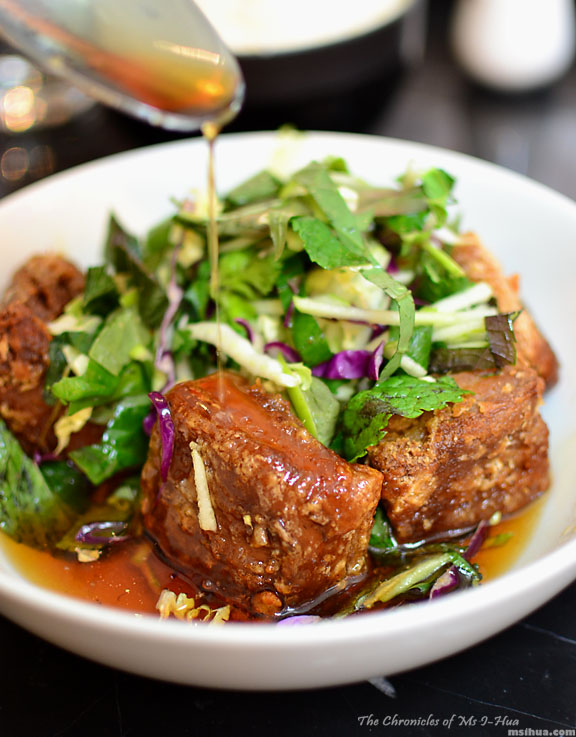 A visit to RSR is never complete if I don't have a serve of the Pork Belly with Apple Slaw, Chilli Caramel and Black Vinegar. It seriously is the best thing since sliced bread (okay, I know I say this about nearly every pork belly dish, but this is amazing alright?!). My top three favourite pork belly dishes of all times include this RSR dish as well as the one from Chin Chin and Taxi Dining Room (which we have replicated successfully).
Seriously, this is one of the best value banquets available that we've been lucky enough to try a few times. I definitely recommend coming here with friends, family, work colleagues, clients, your neighbour, etc. Just visit 🙂
As we share this, we aren't too sure if the Lunch Banquet is still available as it isn't available on the website and has never been. Our advice is to ring the restaurant (either outlet) to check prior to turning up. However, it seems to still be there from Bryan's recent visit to RSR (MacKillop Street).
Lunch Banquet details is as follows:
Choose 3 mains (complimentary appetiser) for $27pp or have all 5 mains (complimentary appetiser) for $35 per person (min 6 people). Desserts are an additional $5 with the Banquet Menu.
** (please ring to check) Available every day for lunch or Early Bird Dinner. Banquets are for the entire group with no mixing of ala carte and banquet or different types of banquets. If your group is 12 adults or more, you must participate in a banquet.
*Disclaimer: All food ratings & review are purely based on my own experiences and how I feel about the service, food and quality at the time of visit
Food/ Cuisine: Modern Asian (Thai/Vietnamese)
Dining Style: Restaurant
Opening Hours:
Monday to Friday, Lunch: 12:00pm – 3:00pm; Dinner: 5:00pm – late
Saturday & Sunday, Lunch: 12:00pm – 3:00pm; Dinner: 6:00pm – late
Address:
31-37 Artemis Lane
QV Building
Melbourne VIC 3000
Tel: (03) 8660 6300
Website: http://qv.redspiceroad.com
Twitter: @redspiceroad
How to get there: