When The Boy and I heard that there was a new player in Hipsterville and that it belonged to Scott Pickett, we both knew we would have to find time to pay a visit.
Having had experienced Scott's creations at Estelle, we entered St Crispin with high hopes.
Indeed what we found in terms of atmosphere, food, creativity were in fact replicas of what we had encountered in Estelle. The only difference for us was that Hipsterville was a much nearer drive for us than Northcote, making St Crispin a much worthy choice of dining if we were in the area.
Let us rewind back to the start.
The both of us arrived early (before the 12pm opening time) and waited patiently outside to be let in. Once in, we were given the free choice to sit anywhere we so desired. So The Boy and I took the table by the front with the big giant windows which coincidentally was very brightly lit with natural sunlight ><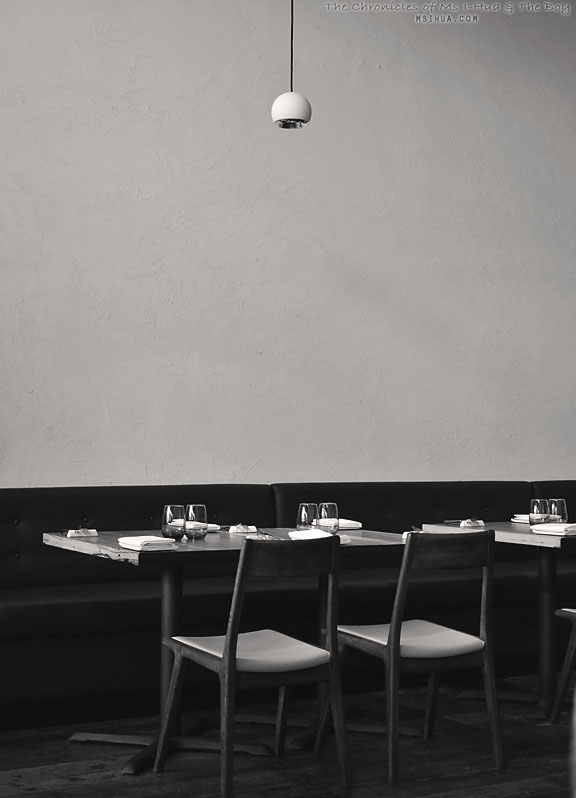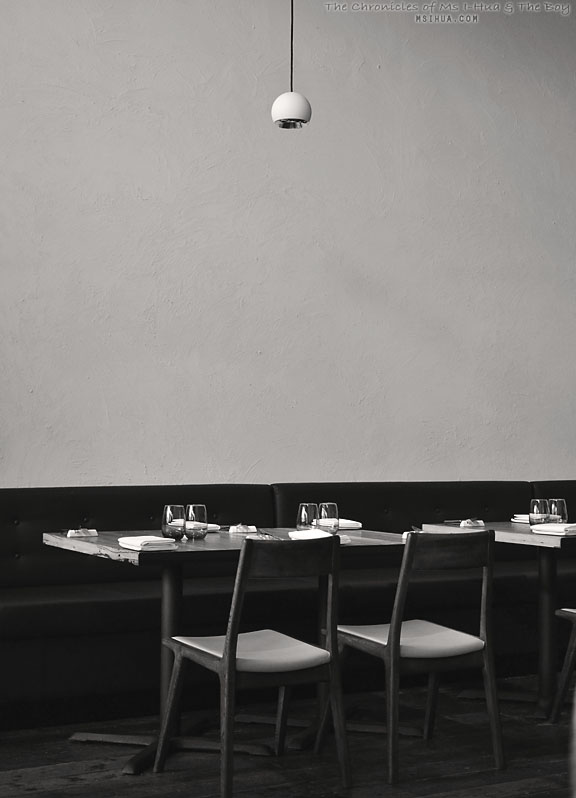 Apart from us, there was another table of three seated next to us. Throughout the 2 and a bit hours we were there, customers strolled in for lunch or to have drinks by the bar. So you would expect prompt and quick service with no confusion regarding us on our order.
Indeed, we kept our order simple. Three courses each ($60 pp) and an extra 'Little Bites' dish to share. With our 3 courses, it was fairly clear to The Boy and I that we would both have different entrees, mains and desserts to better capture the range served here.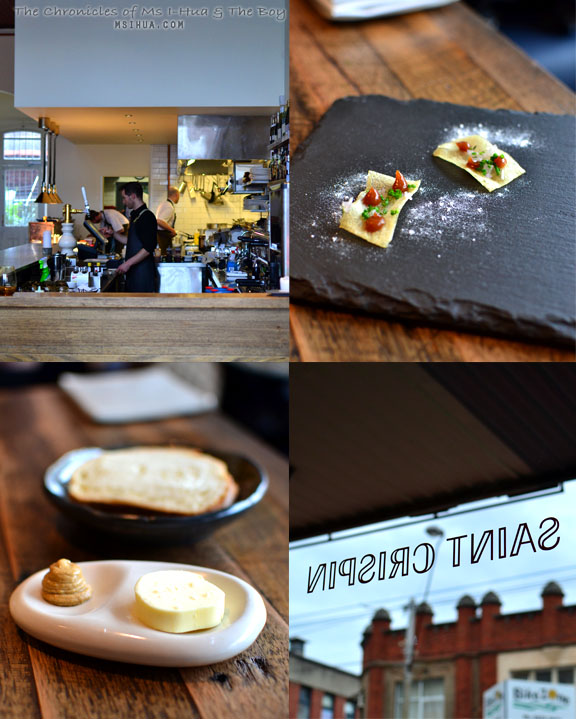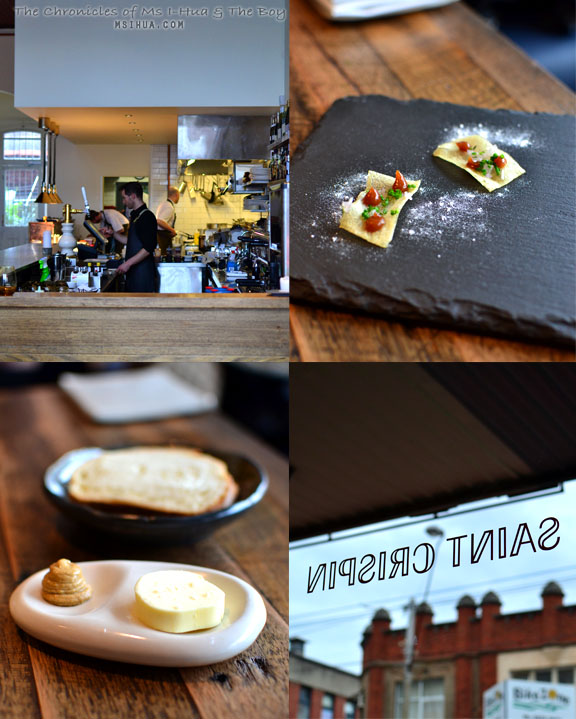 We were given an amuse bouche to start us off, complimentary for the table of Potato Crisps with shallots, daubs of tomato and vinegar salt.
I must make a special mention of the bread and butter served. Usually served with some salt on the side at most restaurants, St Crispin serves their bread and butter (sprinkled with salt) with a side of caramelised onion butter. It was the amazeballs. On par with what we had previously at the now defunct Maze (now Mr Hive Kitchen & Bar) which used to serve coffee butter and seaweed butter.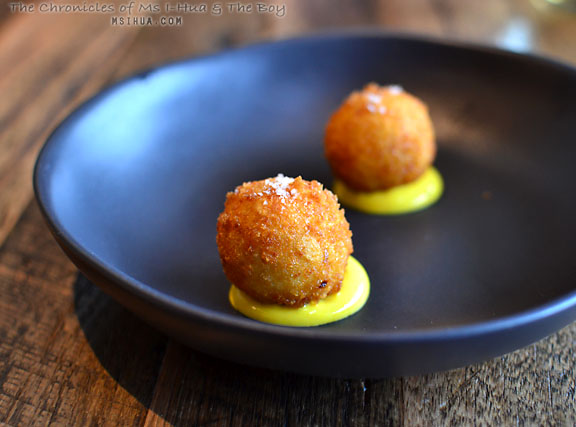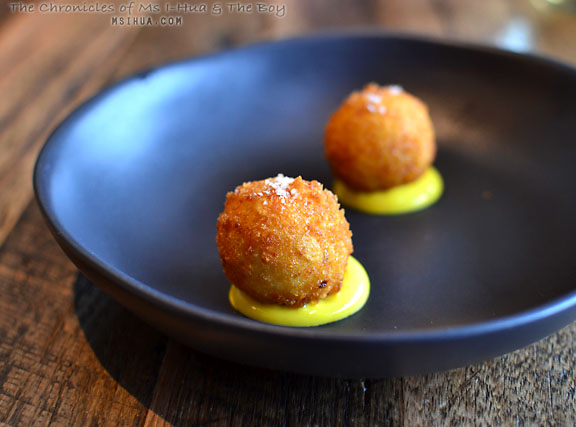 As we waited for our extra entree of the Eel Croquette ($8.00) to arrive, our first course arrived. Thinking it was a bit odd that our meal started without our croquette, we went ahead with what was planned for us. Though we did notice the table of 3 next to us received a serve of Eel Croquette (which they ate and didn't say anything!).
Yup, you guessed it. Our waiter had messed up the order and as he was chatting to the table next to us, gave them our croquette dish instead.
Shrugging our shoulders that we had been forgotten, we decided to wait before saying anything. It wasn't until he came to clear our dishes of the first course did he realise the mistake.
He owned up to what he did (points to him as we saw everything that happened) and apologised (extra points). He promptly went to get our croquettes from the kitchen and we got to sample the little bursts of pleasure. Slightly salty, slightly creamy, but oh so full of umami flavour.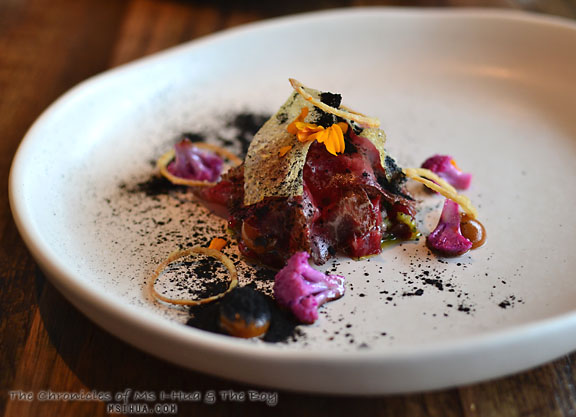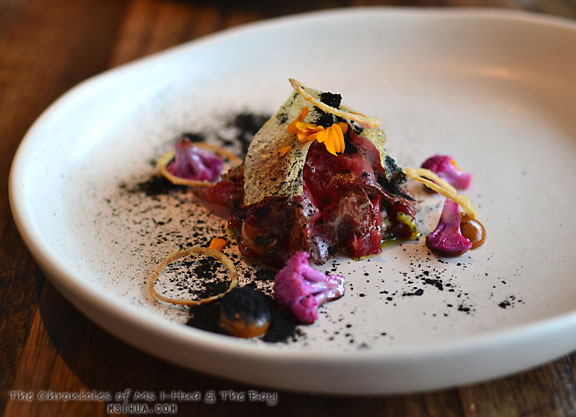 Despite that little setback, we didn't let that hamper our meal. Really, it wasn't such a big deal. I only note it down here to show you what went wrong and how the issue was rectified, without any fuss made and all good things come to those who wait (you'll see why later).
For his first course, The Boy had the Wagyu Bresaola, Quail Egg, Purple Cauliflower and Hay Ash.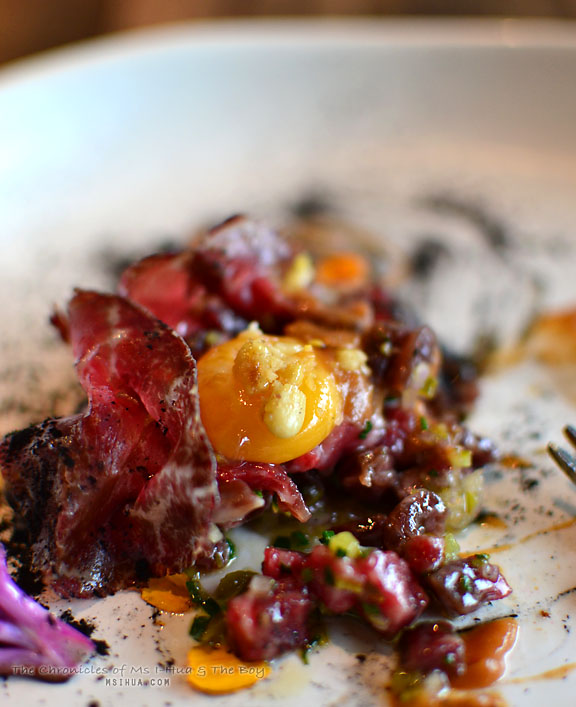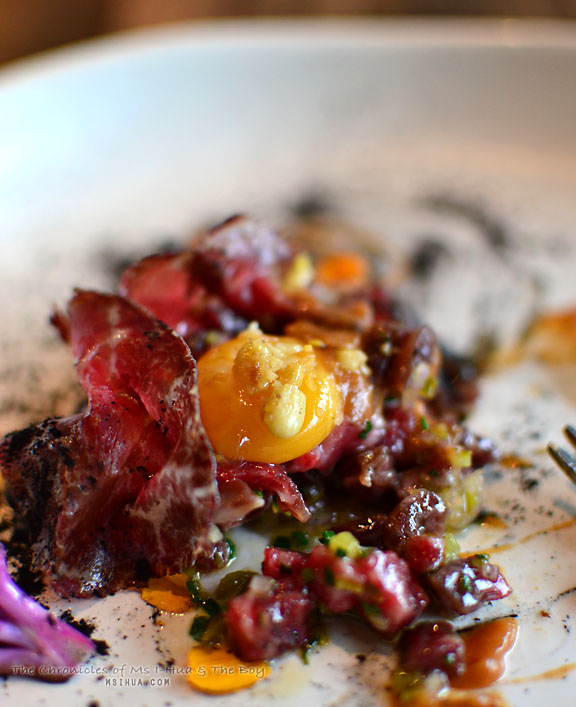 The Boy notes that the flavours went really well together. The quail egg provided an extra creaminess to the dish which melded all other elements together.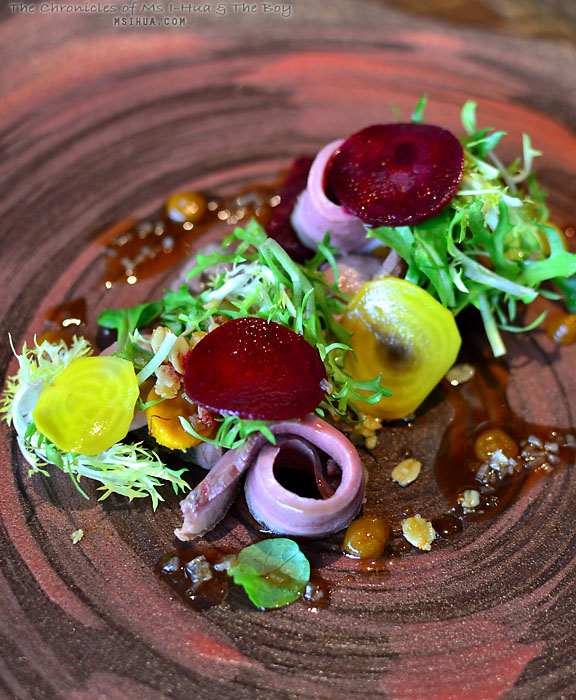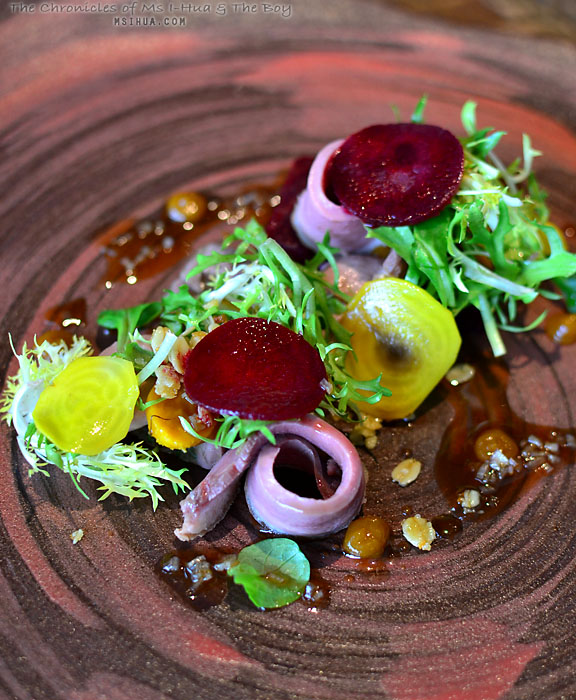 I, on the other hand, had to try the Grimaud Duck, Heirloom Beets, Foie Gras Parfait and Cumquat. The thick slices of duck were cooked to perfection and with every bite, I was humming in delight. The paired foie gras just added that extra class to the dish. The cumquat gel helped cut through the richness of the dish as did the slivers of beetroot on the plate.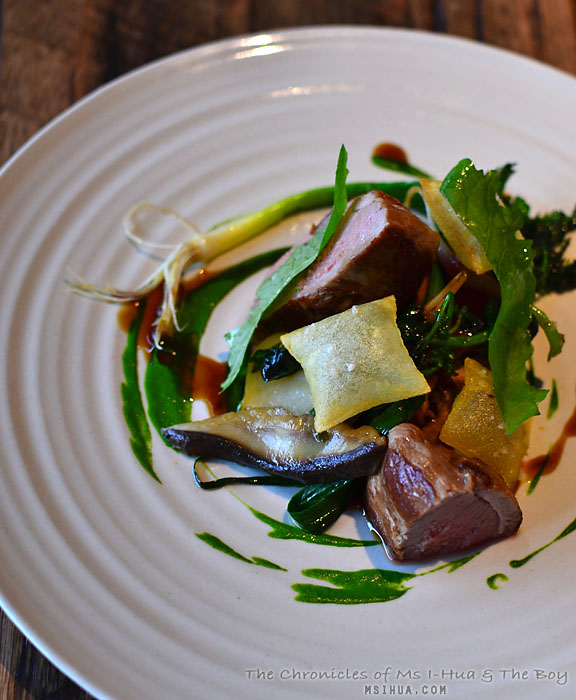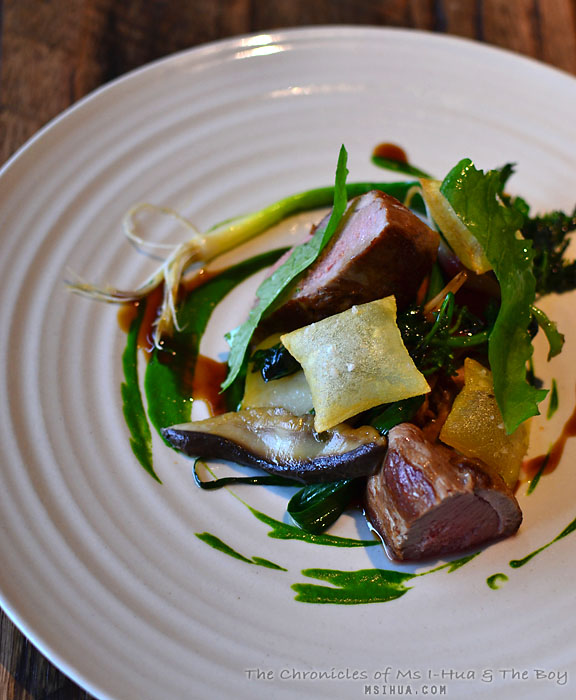 For my main, I had the Flinders Island Lamb, Nettle, Radish and Baby Leek. Though good, it wasn't anything spectacular. Having started with such a bang with the duck, I was expecting a lot from the main dish.
What I did like about this dish was the nettle sauce, as it was different and not found paired very often with lamb.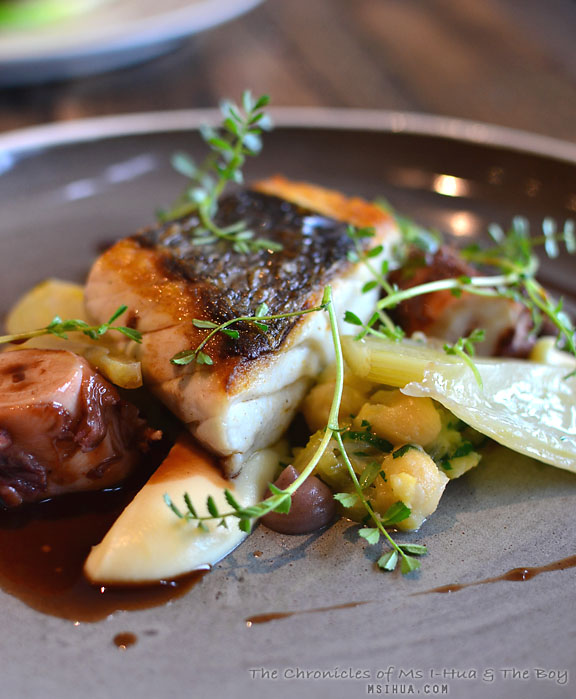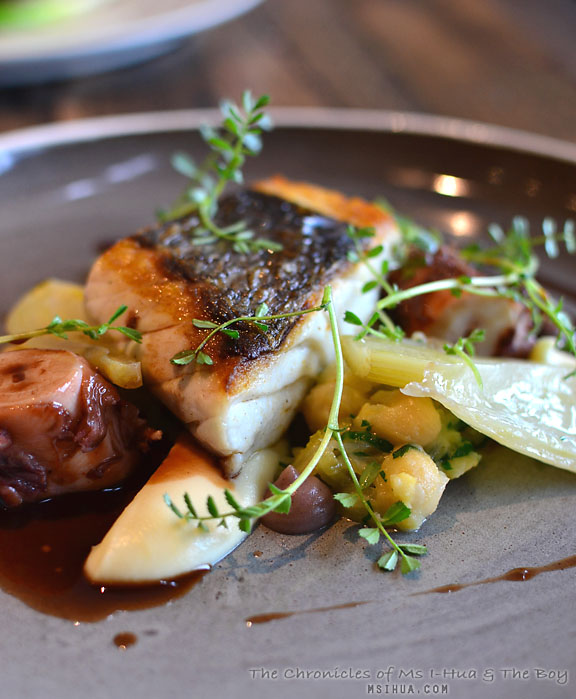 The Boy opted for the John Dory, Octopus, Red Wine and Chickpeas as his main dish. The fish was cooked to perfection and was an enjoyable dish.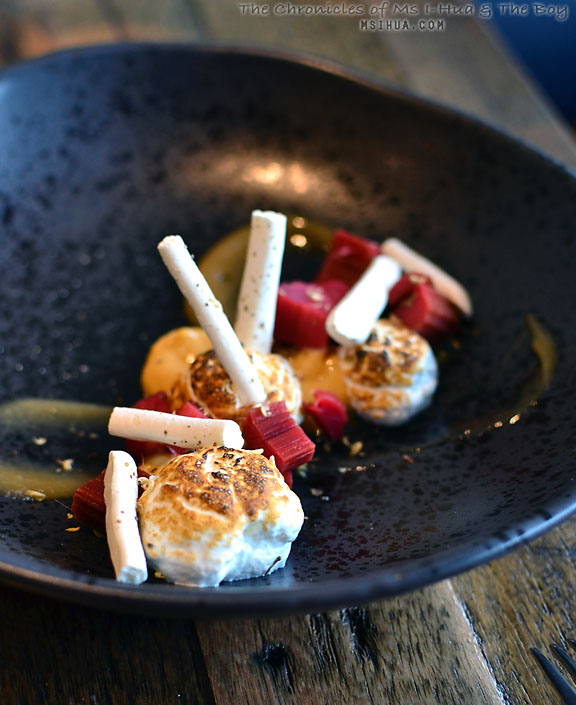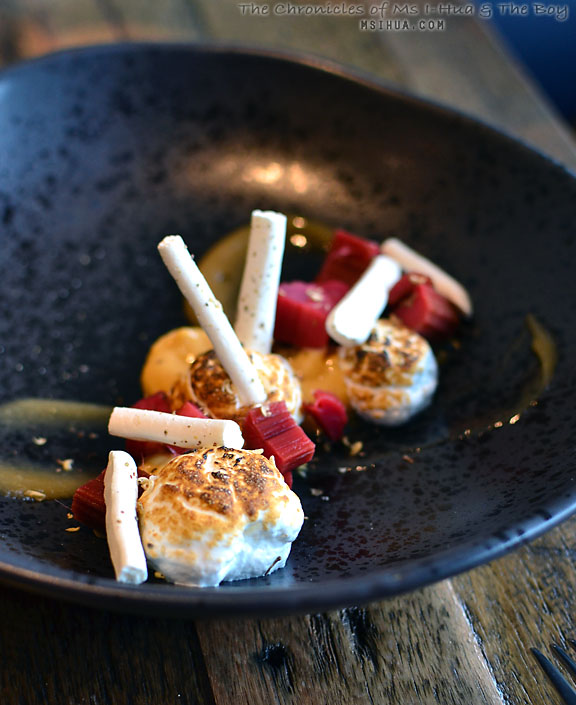 For dessert, we discounted the carrot dish and the cheese option rather quickly. Instead, we opted for the interesting sounding Poached Rhubarb, Burnt Custard and Blood Orange. Though not a great fan of rhubarb, this dessert wasn't too bad and it played a good part in cleansing our palate from the mains.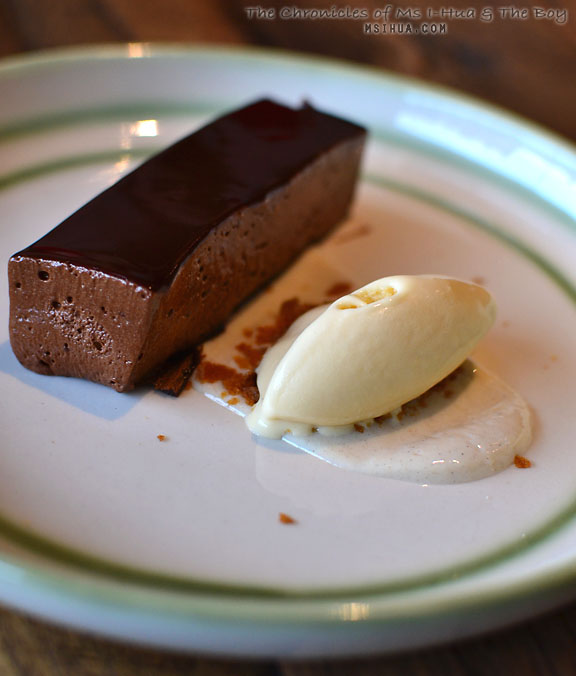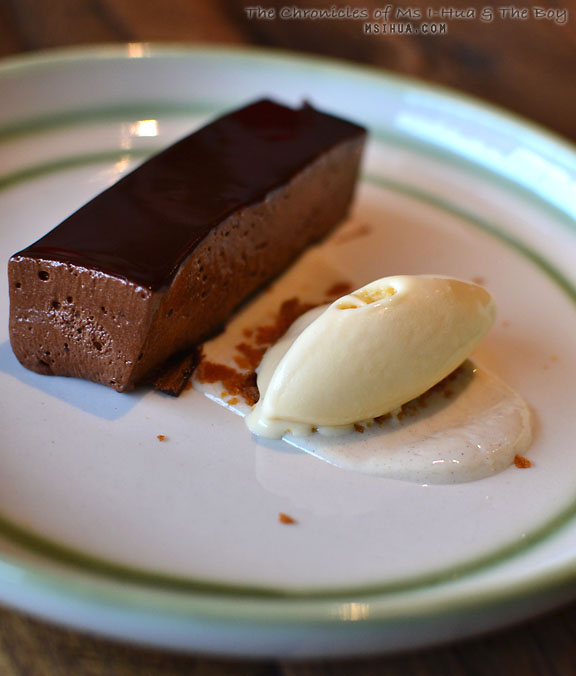 The second dessert we decided to share was the Chocolate, Earl Grey, Milk and Ginger which both Bryan and Jo raved on about when they paid St Crispin a visit. The Boy not being a fan of Earl Grey happily allowed me to swipe the entire dish away from him. Just as well as he was enjoying the rhubarb dessert very much to himself 😛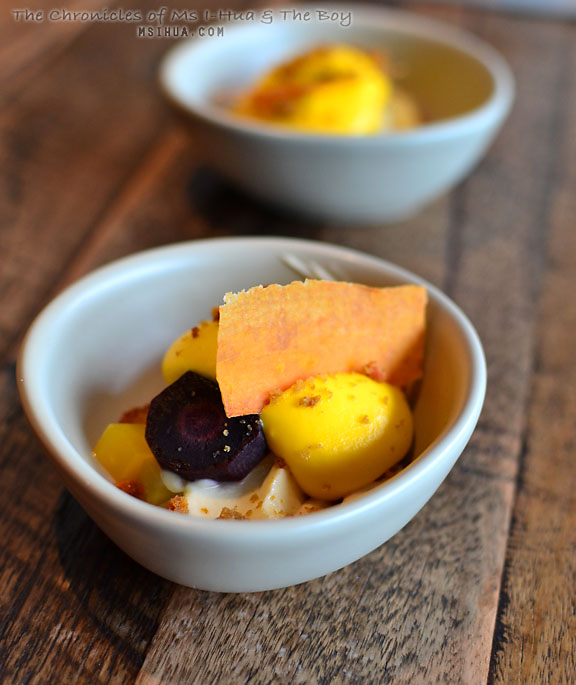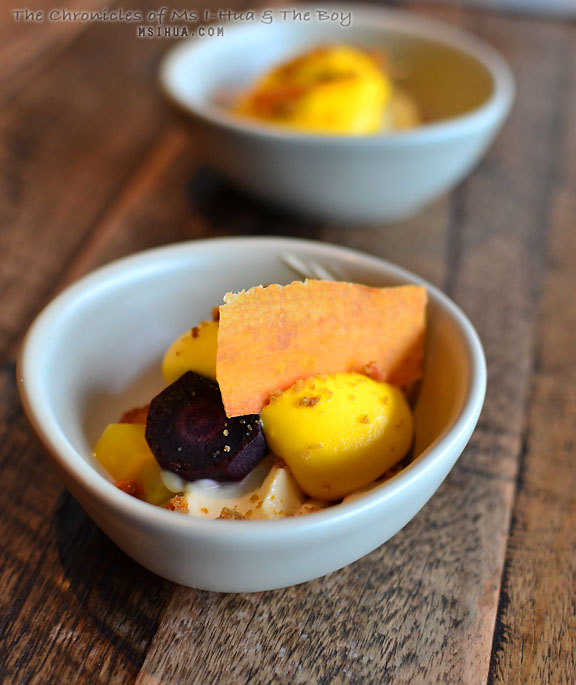 Carrot, Star Anise, Almond and Honey
With the little hiccup right at the start of our meal, our waiter who was still very apologetic was not going to let his little slip go. He offered us complimentary coffees or teas to finish our meal to which we politely declined. We were happy and contented at this point.
Undeterred, he went away to the kitchen and came back with complimentary desserts. Yup! The dessert that neither of us would have ordered as it sounded odd on the menu. Plus, I am not a big fan of carrots in desserts.
What a surprise to us then, that this dessert which we received was even better than the ones we ordered! Perhaps it was because I had such low expectations of it, but the balance of flavours in the carrot dessert was really spectacular. Goes to show, don't knock anything off if you haven't tried it before. I would definitely order this dessert again the next time I visit St Crispin 🙂
Despite how the meal began, it really could have gone two ways as to how it ended. We could have made a big fuss and demanded an apology, but we didn't as we didn't feel there was a need to. What ensued was that we really enjoyed our experience here.
On a plus side (due to the crowd I'm hanging with lately), I did notice that the place is a kid friendly restaurant and the venue was large enough to encompass a pram or two should you wish to bring your bub with you to dine (perhaps during lunch service).
*Disclaimer: All food ratings & review are purely based on my own experiences and how I feel about the service, food and quality at the time of visit
Food/ Cuisine: Modern Australian
Dining Style: Restaurant
Opening Hours:
Wednesday & Thursday, 6:00pm – late
Friday to Sunday, Lunch: 12:00pm – 3:00pm; Dinner: 6:00pm – late
Address:
300 Smith Street
Collingwood VIC 3066
Tel: (03) 9419 2202
Website: http://www.saintcrispin.com.au/

Twitter: @StCrispinSmith
How to get there: