There are some cafes that seem to call out to you. Like a foghorn as you drift by, a good cafe is somewhere where you want to keep going back for more.
One such cafe for The Boy and I is Pope Joan. It has been a while since we've paid a visit and boy were we amazed by how big this place has grown! Across the road there was a reserved lot for Pope Joan visitors to park their cars. Next door is their restaurant Bishop of Ostia and new Garden Room which also acts as a private function area. Further down the path, yellow footsteps lead us to Pope Joan's very own produce store, Ham & Bacon.
Firstly, wowza! Secondly, how cute is the name of the produce store?! SQUEEEEE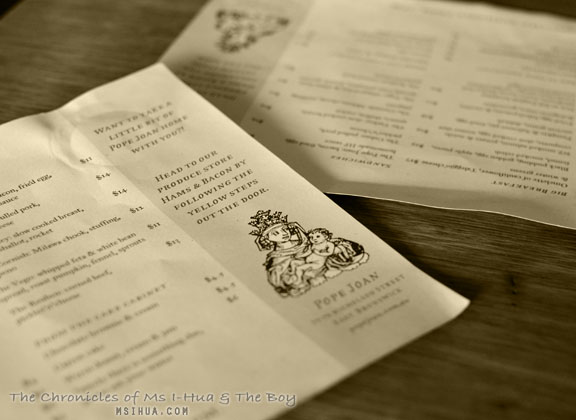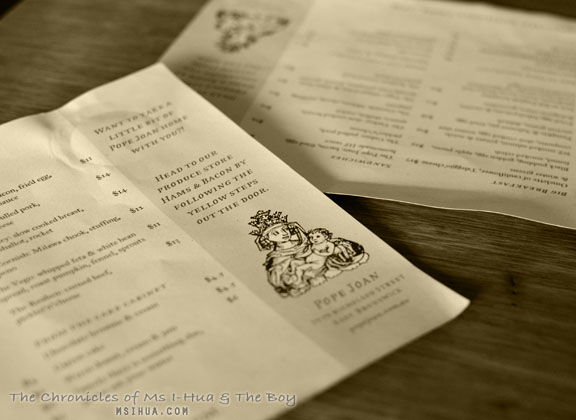 We were prepared to wait a while when we arrived and were quite surprised when we were told we would have a seat ready in 15 minutes. Hooray! So we patiently watched the movement and flow of the diners coming and going via our church pew.
I love how although the place has changed pleasantly (aesthetically), all else remains cool, calm and collected.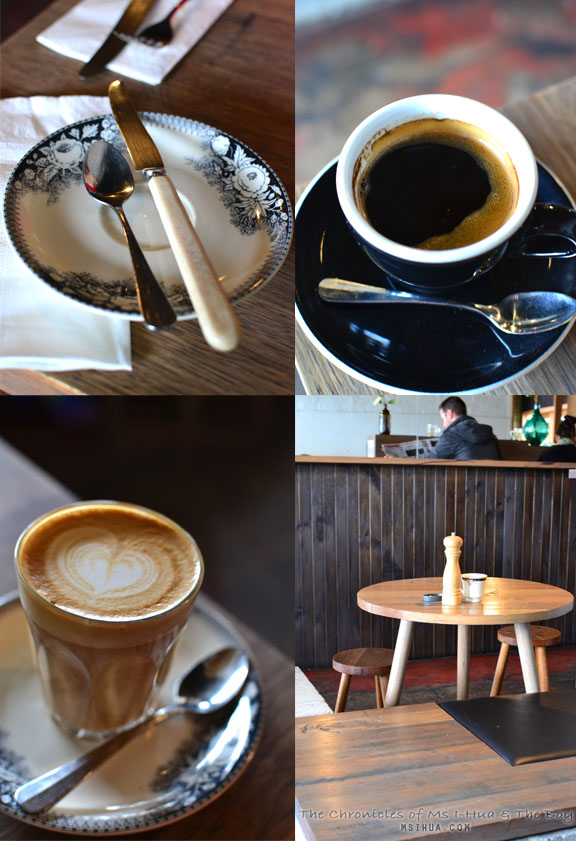 What we weren't too impressed by were the coffees. The Boy and I had a Long Black & Latte each. I'm not a very big fan of Allpress Coffees. It never seems to hit the mark with my palate.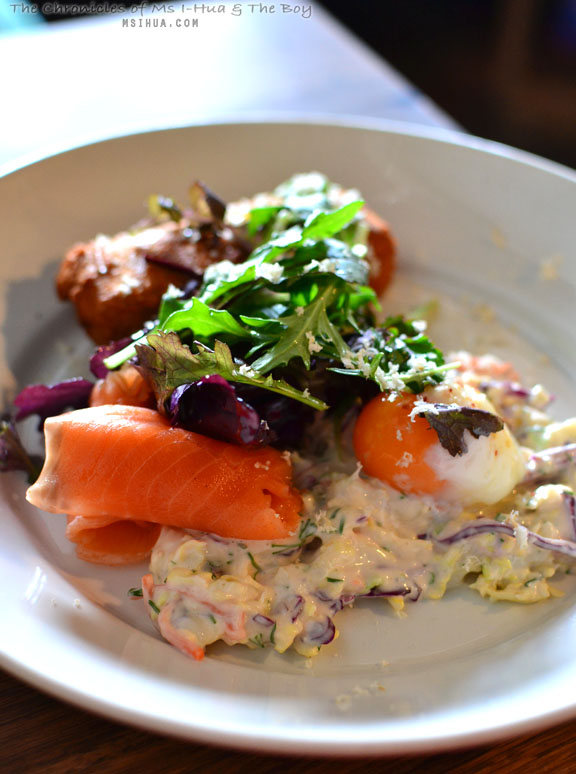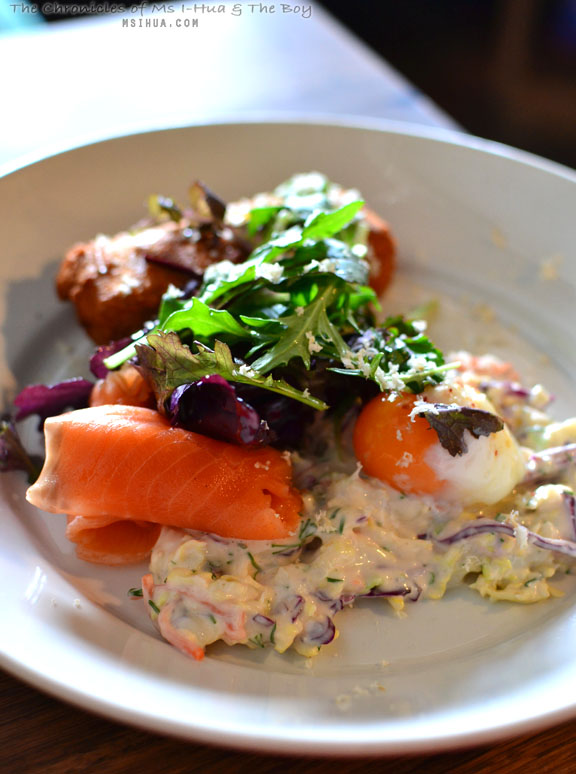 I don't know where he keeps it, but we had just come from the re-launch of Prahran Market's Harvest Hall where we had a mini breakfast. But the Boy managed to chomp down his N.Z. Smoked Salmon, Potato & Nettle Croquette, Slow Cooked Egg, Winter Slaw ($19.00) relatively easy. He kept raving about how good the winter slaw was. "Creamy and texturally awesome" was his words.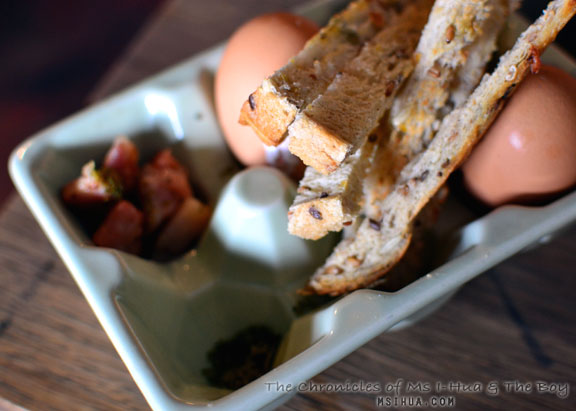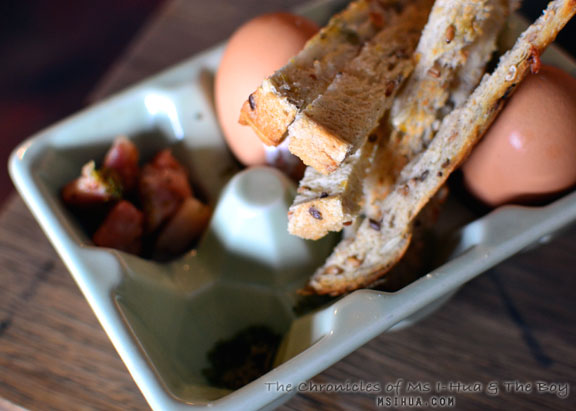 I on the other hand, watching my figure went with the small order of Boiled Eggs, Soldiers, Bacon Bits, Herb Salt ($9.00). I ordered this partly because I had breakfast (of 3 quiches, 1 bagel, 2 juices, 1 champagne and 1 Noisette Chocolate Torsade) but also because it was cute and I wanted to feel a little childish. It was wonderful!
Side note – the reason why we dropped in to Pope Joan for a quick bite (and to kill time) was because The Boy was on the way to collect some random blah blah collectible Lego.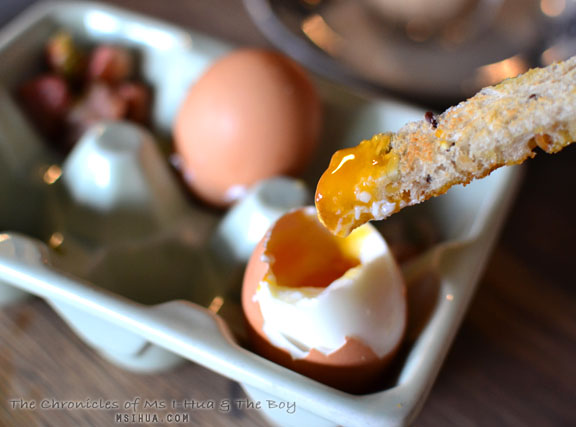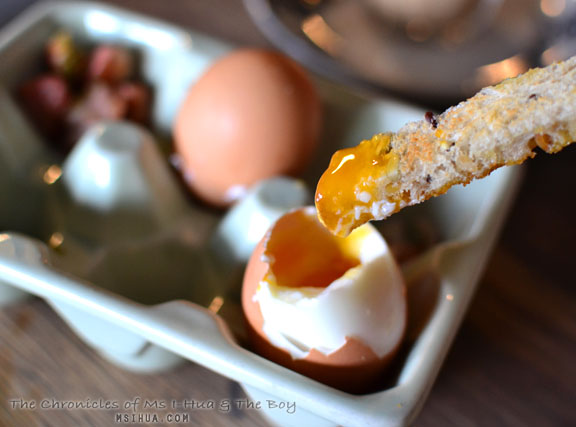 I certainly was very excited to crack open my egg to discover that it was perfectly cooked to the way I liked it (three quarters) with the yolk still oozy in the centre.
I happily dipped each soldier into the egg, sprinkled on the herb salt and tossed a few bacon bits into my open gob to complete the joyous occasion.
As I said at the start, this place doesn't disappoint on the food front. Maybe next time I'll order tea 😛
*Disclaimer: All food ratings & review are purely based on my own experiences and how I feel about the service, food and quality at the time of visit
Food/ Cuisine: Modern Australian, Breakfast, Lunch & Coffee
Dining Style: Cafe

Opening Hours:
Monday to Friday, 7:30am – 4:00pm (Dinner: 5:00pm – 11:30pm)
Saturday & Sunday, 7:30am – 5:00pm
Address:
77-79 Nicholson Street
Brunswick East VIC 3057
Tel:(03) 9388 8858
Website: http://popejoan.com.au/
Twitter: @Wilkinson_Matt
How to get there: