Here we go! Here we go! The best part of our Taste of Melbourne 2012 (#ToM2012) posts!
THE FOOD!
So here's the post you've been awaiting for. All the scrumptious delight that the Boy and I gorge ourselves with as we soldiered on (courageously) on your behalf *wink* over the 4 day long food extravaganza (we did skip Sunday 🙂 )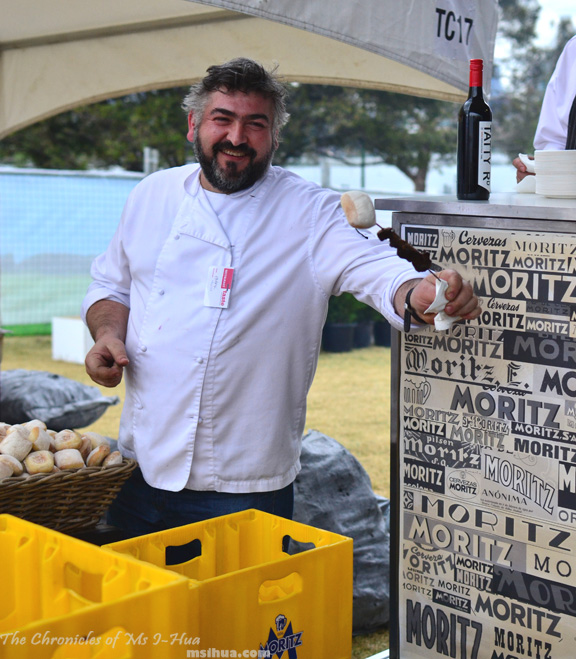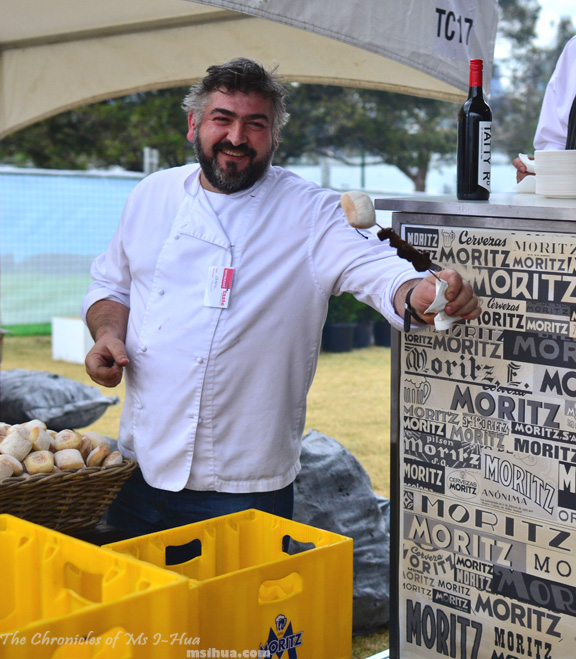 On Thursday and Friday night when we visited, the lines around MoVida and Mamasita were just too ridiculously long for us to bother. Although the line for MoVida was much better placed (less congested and at the corner) it was still much too long.
So when I arrived early on Saturday, I ran all the way to MoVida for our first pit stop, and was NUMERO UNO!
Except that, the kitchen wasn't ready for us *sadface* *#Planfail*
So we were told to return 15 minutes later where we would be able to skip the queue (if there was any) and get what we wanted 🙂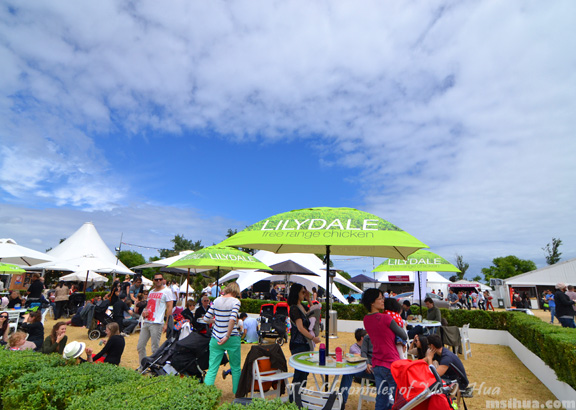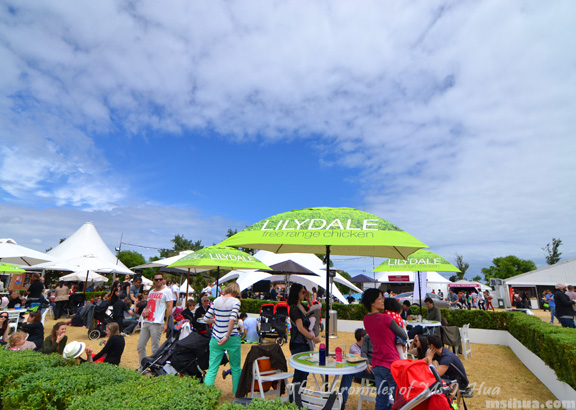 What I really liked about the #ToM2012 event this year at Albert Park was that it had wide open spaces for parents with prams, families and friends to just camp around and plonk themselves down for a picnic!
In the old ToM venue (Royal Exhibition Building), guests would often find themselves scrambling with each other to get a free seat around the stuffy building. NO MORE! Hooray!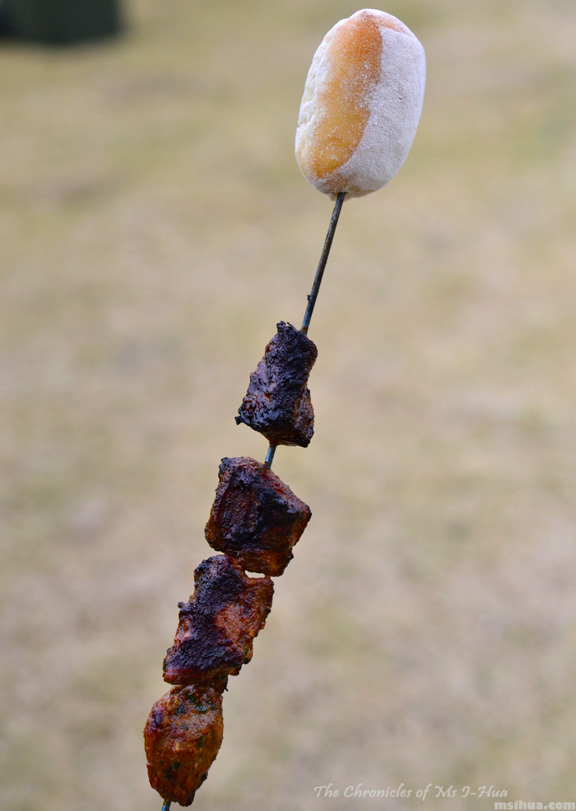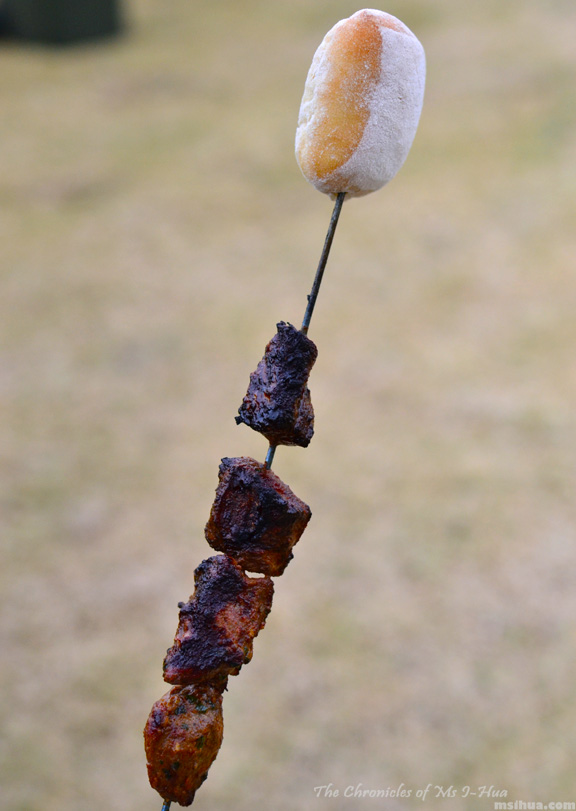 Meanwhile, back at MoVida, after we walked around eating at other venues, we sauntered back to MoVida where a mini queue had formed. So we jump into the line and within 30 seconds had our hot little hands on the Pinchitos Morunos, Chargrilled Moorish Lamb Skewers (8 crowns).
It was my second time enjoying these lovely tenderlicious loins of sheep. So so so drool-worthy. The first time was on Thursday night during our Gala tour session 🙂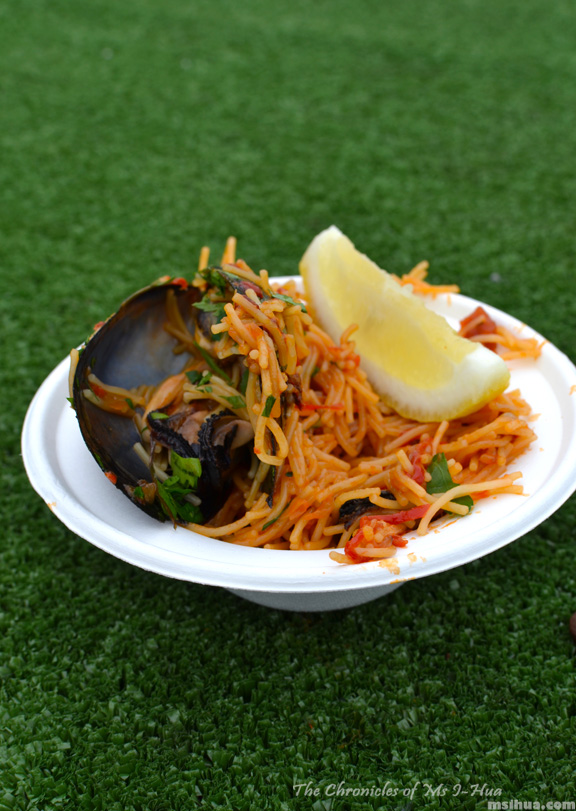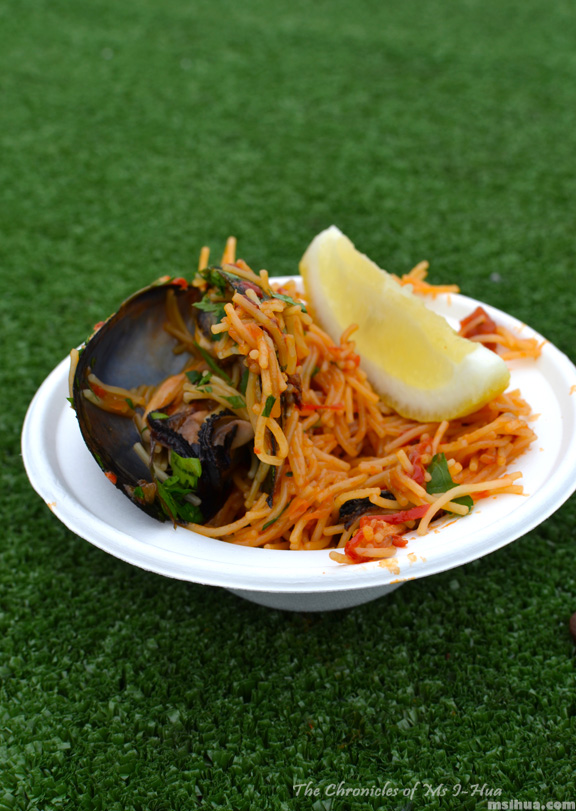 After hearing me rave on and on about the delicious Fideua pasta at the Preview Night of the ToM Launch, the Boy had to try the Fideua Mejillones, Braised Pasta with Spring Bay Mussels and Calamari (12 crowns).
Not usually a fan of anything with mussels in it, he declared it a winner!!!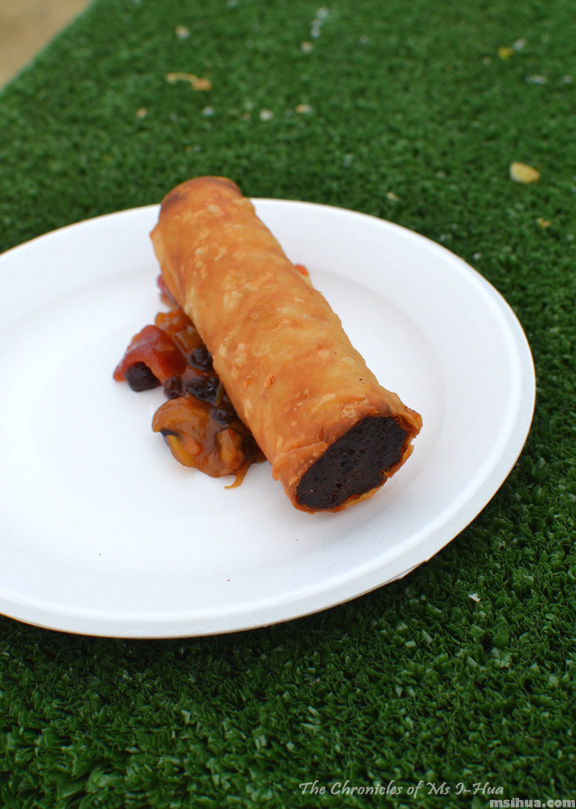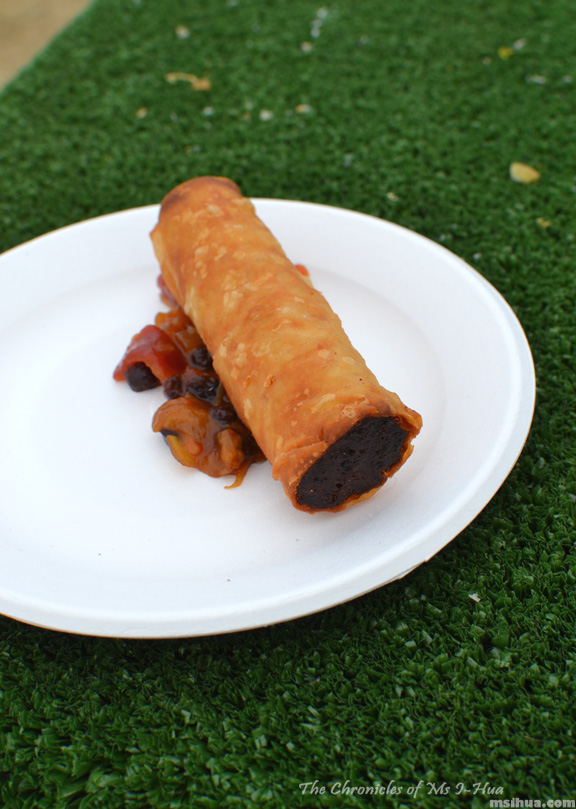 We also had the opportunity to (SEE PHILIPPA SIBLEY) and try some of her creations at the Albert St Food & Wine stand. We tried the Duck Brik, Peach & Ginger Chutney (12 crowns) which reminded me somewhat of duck springrolls 😛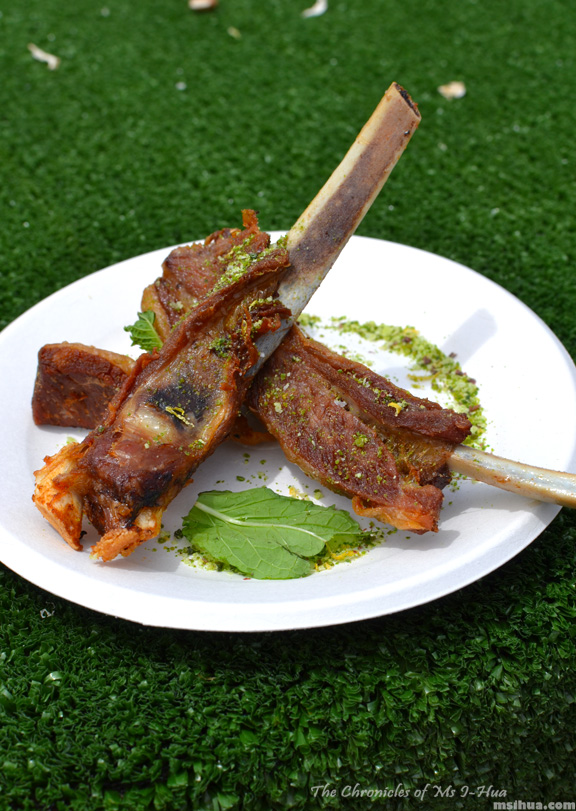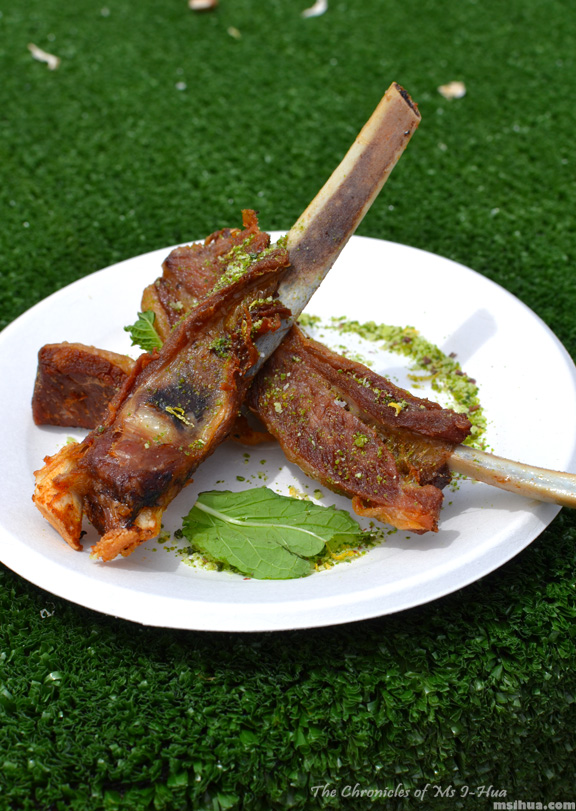 One of the winning dishes for me was definitely from The Aylesbury. Their amazing fresh and hot out of the oven Dorper Lamb Ribs, Pea & Mint (6 crowns) was simply a foodgasmic explosion in the mouth.
I was so in love with it.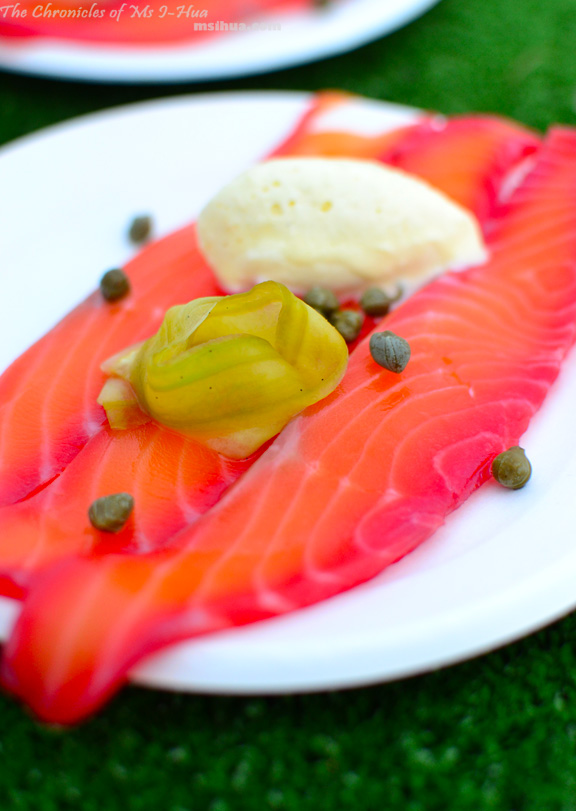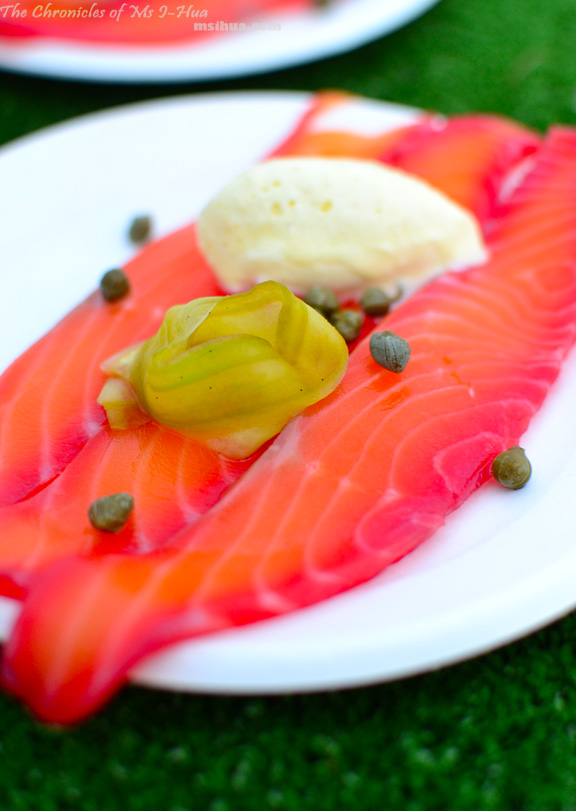 I also enjoyed the Livingroom's Beetroot cured Salmon, Vanilla & Lime Pickled Cucumber, Horseradish Cream (10 crowns).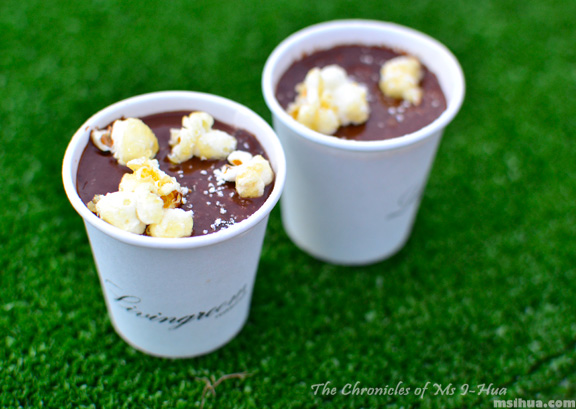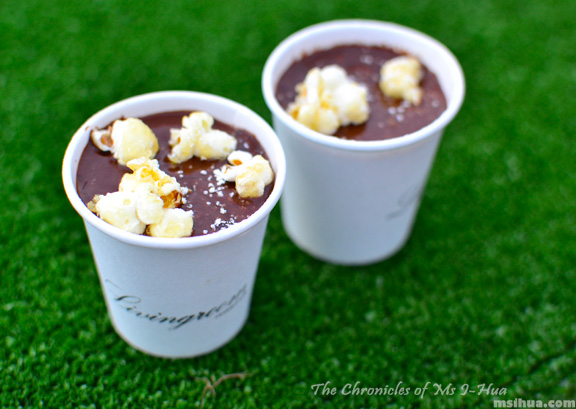 One of the better desserts I enjoyed at the #ToM2012 event had to be Livingroom's Warm Chocolate Mousse, Toasted Marshmallows, Caramel Popcorn (8 crowns).
Just imagine.
One spoonful of rich yet light chocolate mousse with bits of caramel popcorn at the top to compliment the slight bitterness of the chocolate. As you dip your spoon further down the espresso cup, you are rewarded with a sticky gooey mess which reveals itself as sweet sweet marshmallow.
So you return for a second dip, this time covering all three layers.
Just imagine…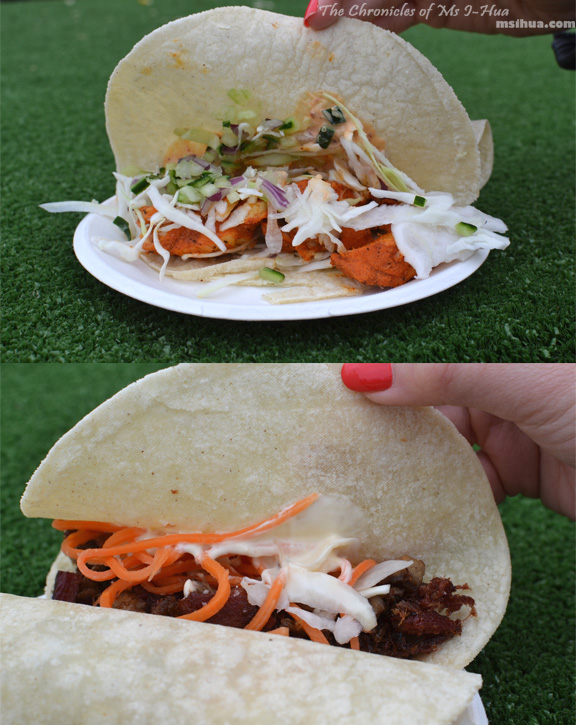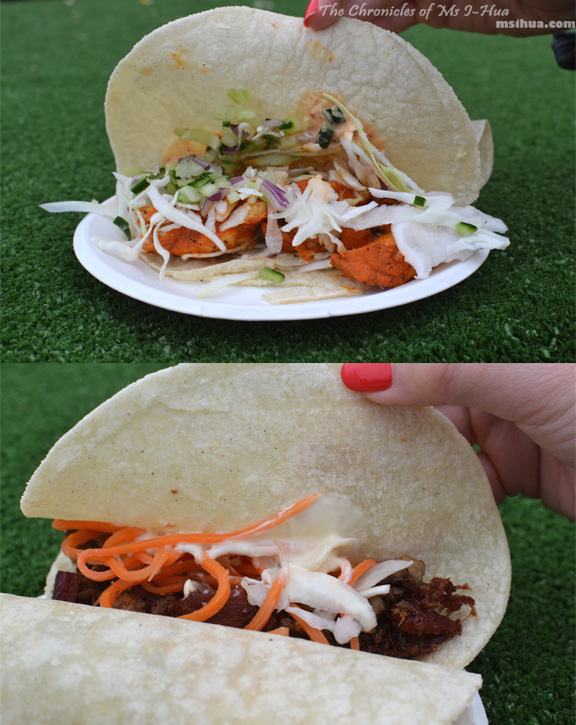 After being turned away from MoVida on account of them not being ready, the Boy and I didn't waste anytime and hot footed down to the Mamasita stand which on the previous two days had been swamped with eager patrons attempting to get their hot little hands on their corn and tacos. The Boy being so eager to have another taste from Mamasita, ordered both the Taco de Pescado (Market Fish Taco) & the Taco de Lengua (Braised Ox Taco) (6 crowns each).
He loved both the tacos very much, so much so that I felt oblige to part with half of my fish tacos so that he could enjoy (I in turn got to eat all my lamb dishes by myself! W00t!)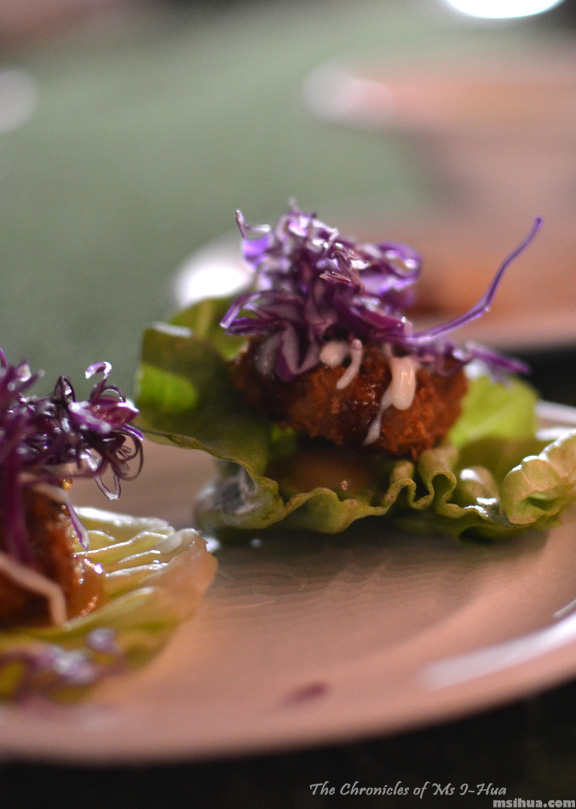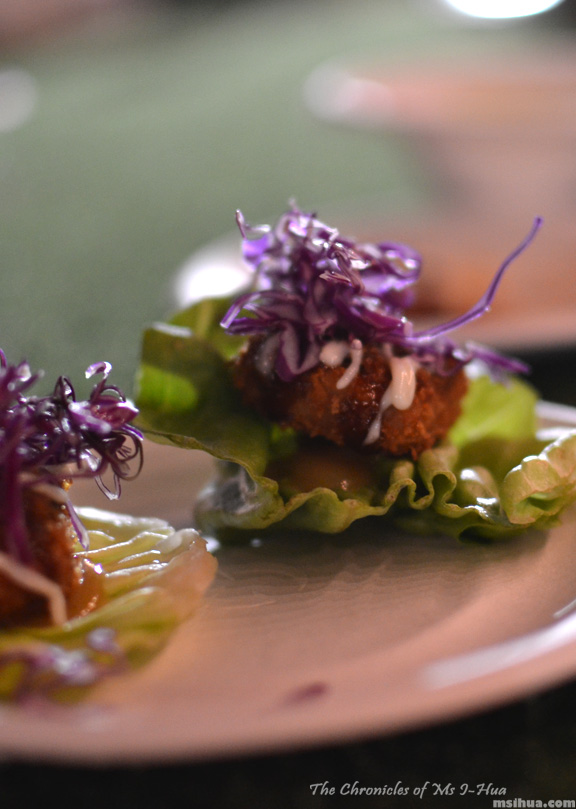 The next food trail that we had, was definitely to eat as many pork belly dishes as we could. Sadly for us, that only amounted to two stands and their amazing pork bellies.
The first was at newcomer Sake, whose Tonkatsu Cups (x2) of Panko Fried Pork Belly, Mustard Miso and Barbecue Sauce served in a Lettuce Cup (8 crowns) were though tasty, I found to be a bit on the dry side. It just needed more sauce!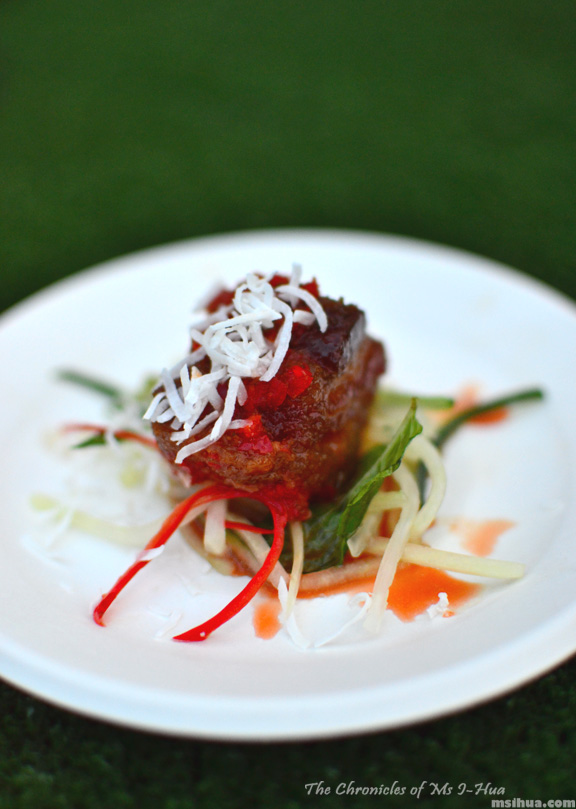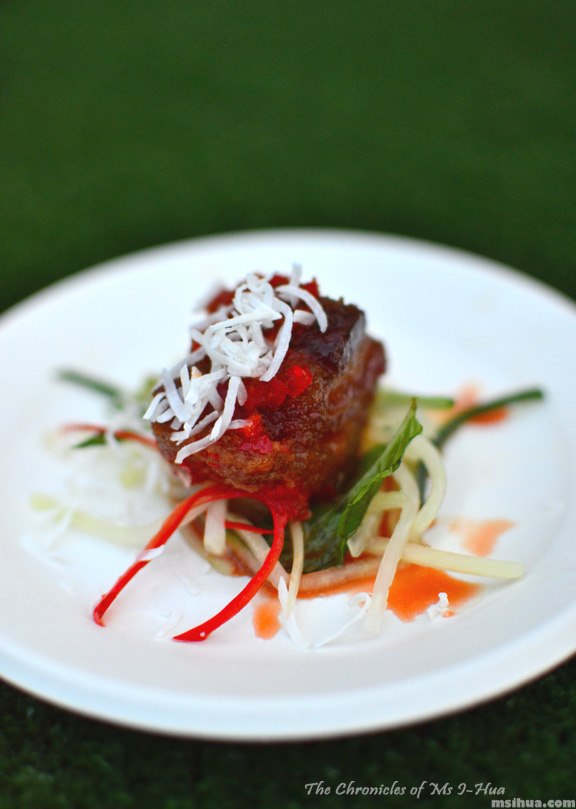 What I couldn't get enough of, was once again Chef Tony Twitchett's (Taxi Dining Room) beautiful Taxi's Sticky Pork with Red Chilli Dressing (8 crowns), which were just as nommilicious as I remembered.
I had this twice.
On two separate days.
I want more!
#justsaying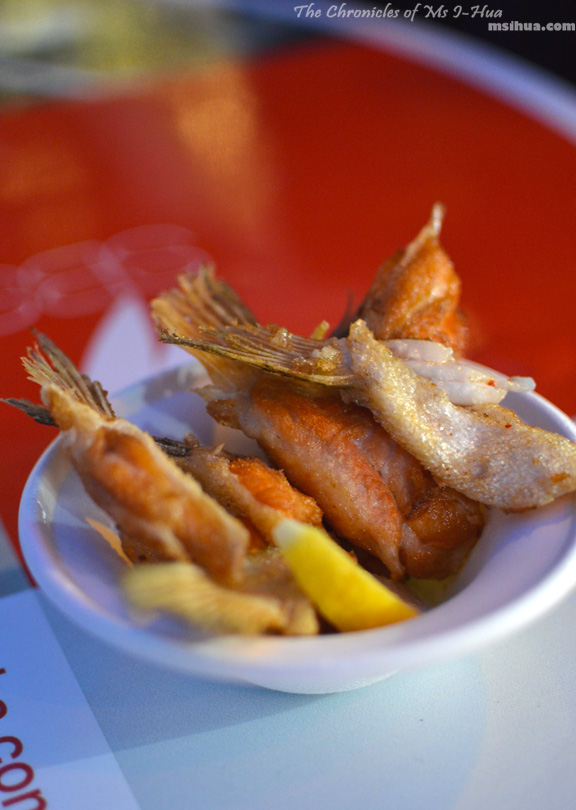 One dish which I wasn't interested in until my friend April said was delicious were Bishop of Ostia & Pope Joan's (Sustainable Pop-Up) Crispy NZ Regal King Salmon Wings, Chilli Salt (8 crowns).
Why wasn't I interested the first time? Well, frankly I just didn't pay enough attention to it.
So when April said it was good, I knew I had to run back down to eat some of these lovely wings.
OMG. I couldn't help but moan and gasp in delight. I encouraged the Boy to try some, which he did, but I also couldn't help but feel slightly happy when he stopped at two and said that the rest were mine. ALL MINE! MUAHAHAHAHA!
I now know, thanks to my instagram and twitter followers that I can source these delicious 'off-cuts' from various Asian markets (Box Hill, Footscray and Springvale)! Yay!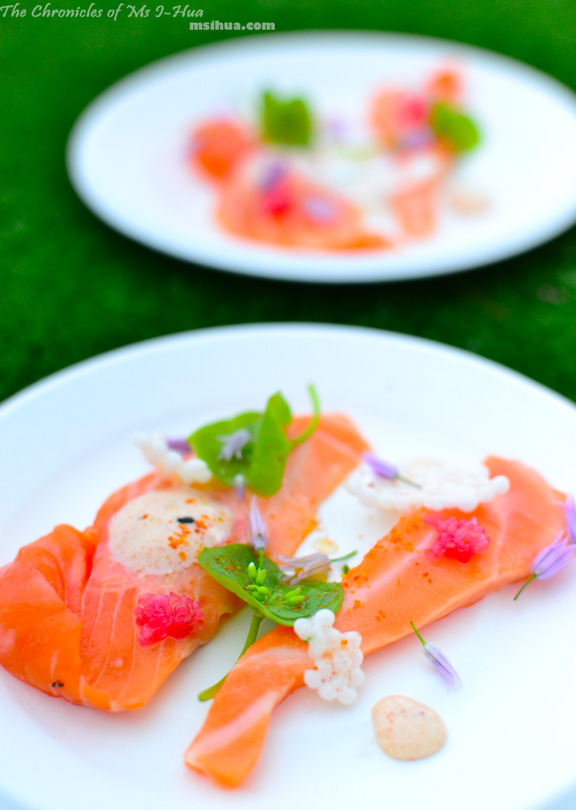 The stand with the best value dishes IMHO had to be the folks at Mr Hive Kitchen & Bar. C'mon, for a plate of the Regal King Salmon Ceviche, Smoked Paprika Yoghurt and Finger Limes (6 crowns) the price tag on it was about half of everyone else's and was such a steal!
Such good and fresh fish too! MmMmm.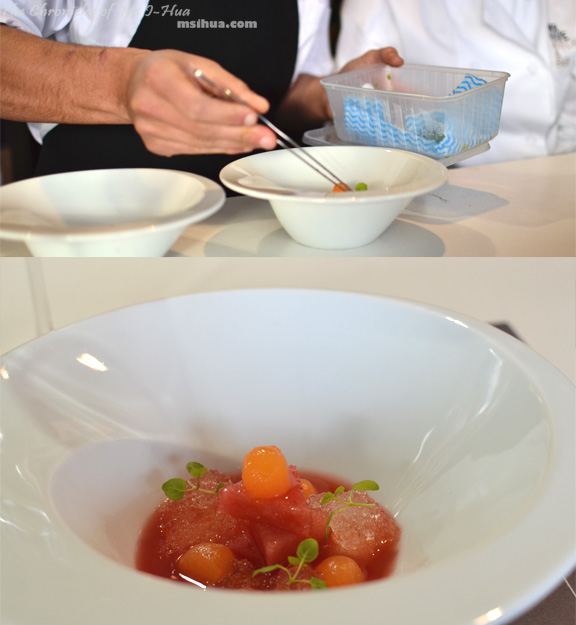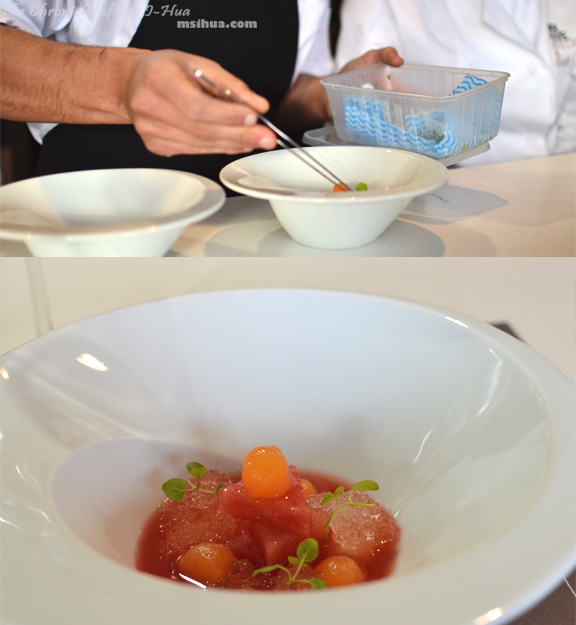 When we saw Daisy instagram-ed her Thursday night at the dessert bar of the stand, the Boy and I knew we just had to return and do the exact thing the next night on Friday. Mr Hive Kitchen & Bar [Icon Dish] were only charging 30 crowns for the Mr Hive Dessert Bar Flavours! I can't believe it! Such a bargain 🙂
So for the first course, we were introduced to their new Pastry (dessert) Chef, Dalmaine Blignaut (replacing Daniel Fletcher). If you wanted a personal feel as you're dining where the chef serves you your desserts personally and getting them ready for you, this is definitely the deal for you.
The first course was a Chilled Watermelon Soup, Elderflower Liquor Jelly, which I found to be really light and summery. I love melons! The sweetness of the melons definitely offset the bitterness from the elderflower liquor jelly!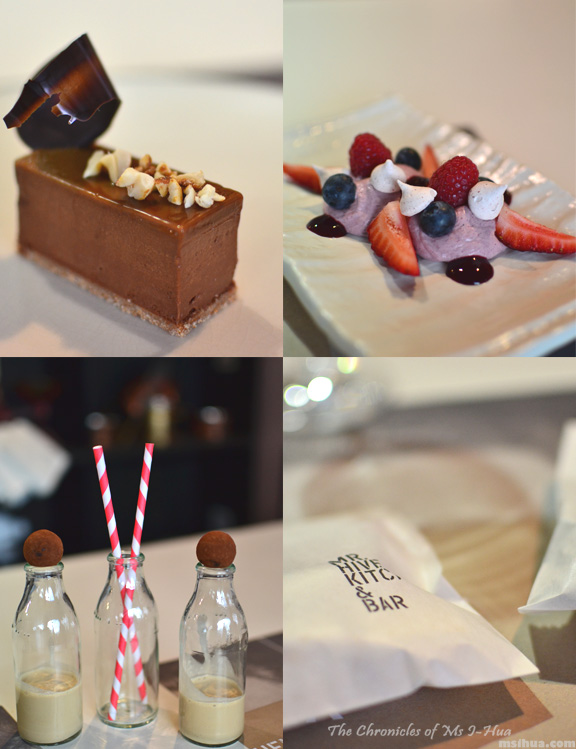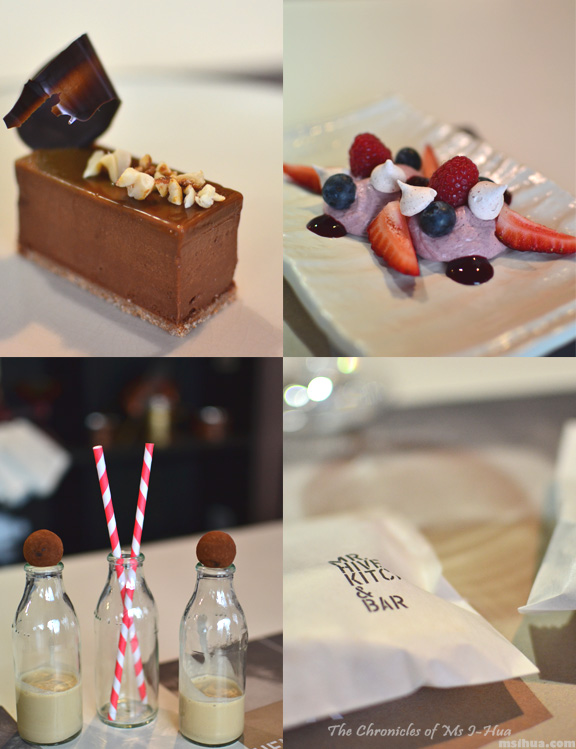 [clockwise from top left to bottom left] Mrs Hive Chocolate Bar, Summer Berry Eton Mess, Lolly Bags and Almond Milkshakes.
Of course, we would have to be served the famous Mrs Hive Chocolate Bar at this bar. Even though it was a smaller version of the original, the taste was definitely not halved at all!
I really love the Summer Berry Eton Mess, which came accompanied with blueberry meringues and mixed berry coulis! So good. I could eat that forever!
The Almond Milkshakes were also a lovely change from the chocolate milkshake one gets. This just brought an exotic twist to the mix.
And a visit to the dessert bar just wouldn't be the same without a good ol' lolly bag to take home with you!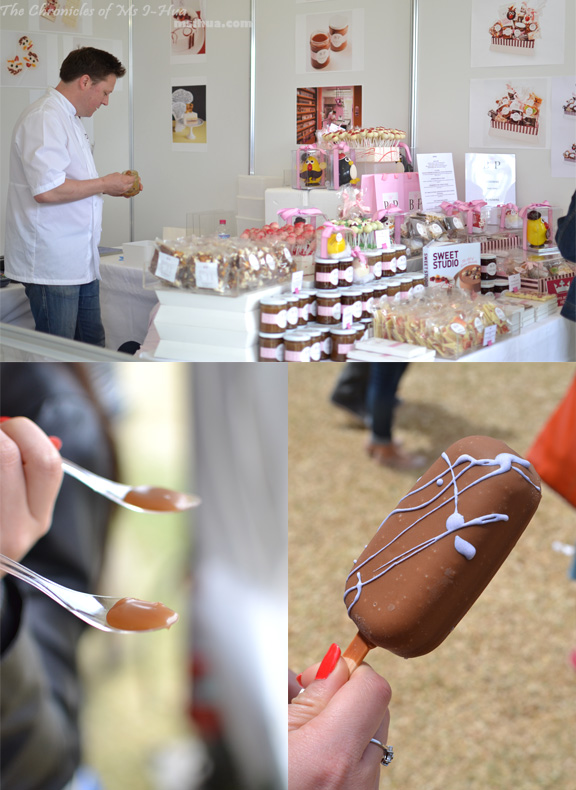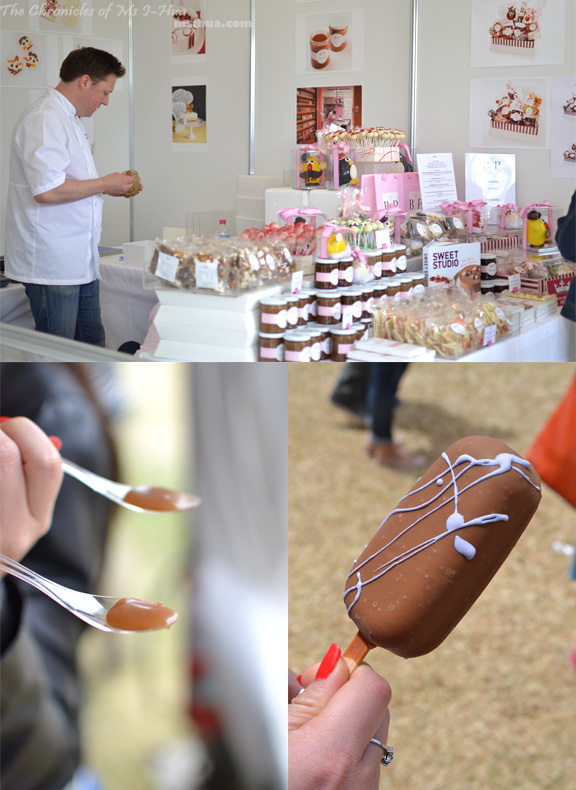 We also managed to sneak in a couple of spoonfuls of Salted Caramel from Darren Purchese who was manning his Burch & Purchese Sweet Studio stand. Being a rather hot Saturday afternoon, I just had to buy an ice-cream to enjoy. We chose the divine Violet & Honeycomb Crumble Ice Cream (8 crowns) with its surprising honeycomb melty middle 🙂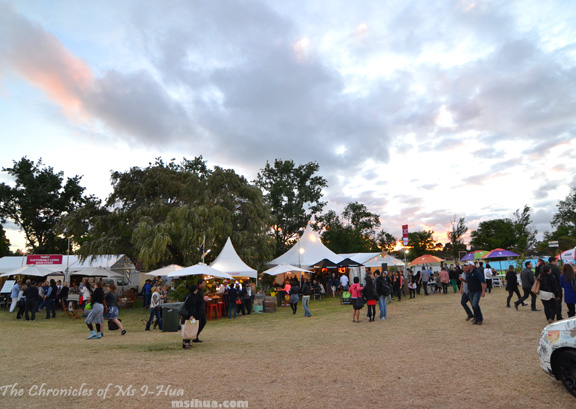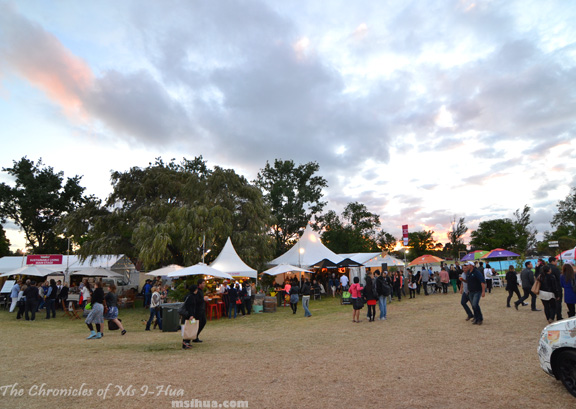 So what do you think folks? The Boy reckons that we didn't eat enough and I reckon we focussed on all the right spots and ate all the things we needed to, in order to be fulfilled and happy.
What do you think were your faves at this event if you attended?