Such is the ever changing world of the hospitality industry. The ownerships of restaurants keep changing as do the chefs that travel around to make a name for themselves, arming their skills and cookery knowledge.
One such example is No.8 at Crown Casino. I've been fortunate to dine there a few times with corporate folks, but the most memorable moment we had there was during one Melbourne Food and Wine Festival event where Sang Hoon Degeimbre cooked for us (technically).
Then there is John Lawson, whom we first discovered at Gordon Ramsay's Maze in Crown Metropol and who later headed up the team at Mr Hive Kitchen and Bar.
Now he's got a restaurant with his name on it. Congrats Chef! You've made it 🙂
Here is our recap from the relaunch of No.8 by John Lawson.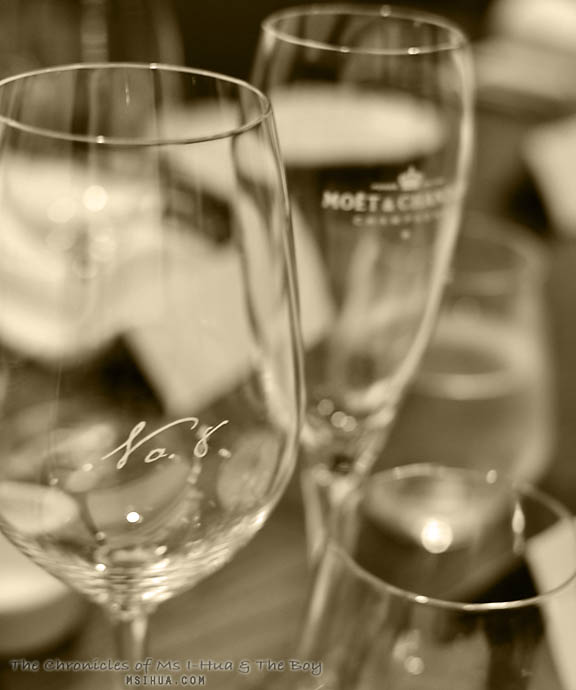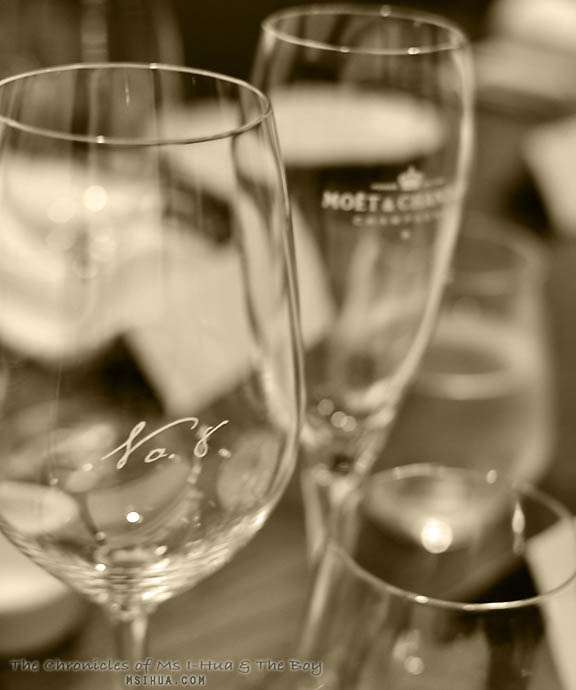 Walking into the restaurant, it was nice to see that the layout with its wide open spaces and high ceilings had not been changed. The biggest draw in the looks department to me has always been the staircase leading up to the private function area and I'm glad they kept it.
The kitchen on the other hand has had a bit of work done. Gone are the great big barriers that segregated the wait staff from the kitchen staff. Executive Chef, John Lawson explained that the removal of the "wall" helped the two sides of the restaurant to better work together and to be able to communicate better as well.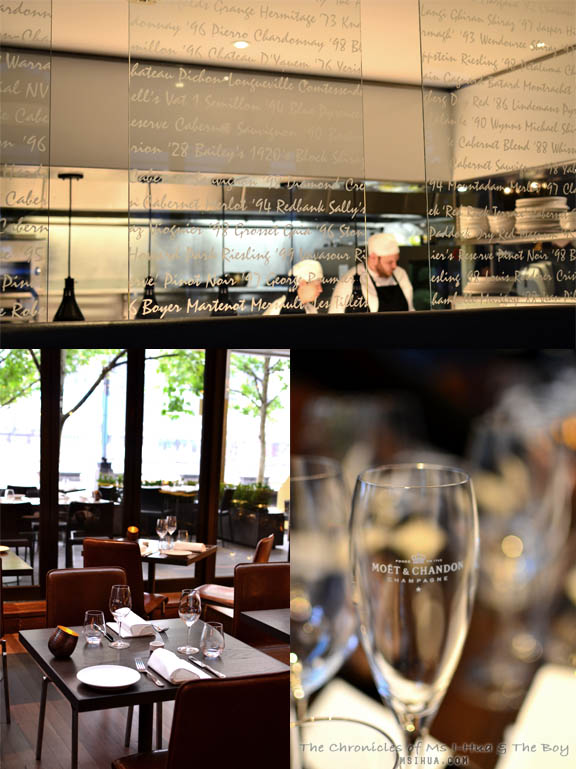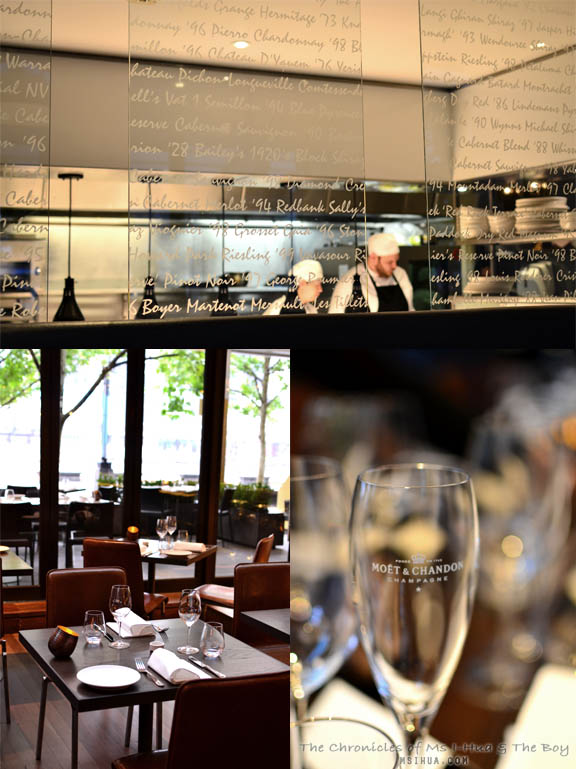 Before dinner got underway, John spoke about his concept for No.8 and what he would like the food to be portrayed. Reflecting big on local produce (he with the secret butchers and local farm contacts), he wanted the new menu to pray tribute to the great quality produce that is readily available in Victoria and Australia as a whole.
Notable mention as well to the amazing bread served at the restaurant. Potato bread with rosemary and honey served with John Lawson's signature seaweed butter (glad he took that along with him). This bread is so amazing it needs an entire paragraph devoted to it (heck, a whole other post!). News on the grapevine is that the baker is a corporate banker named Ed (waves at Ed!).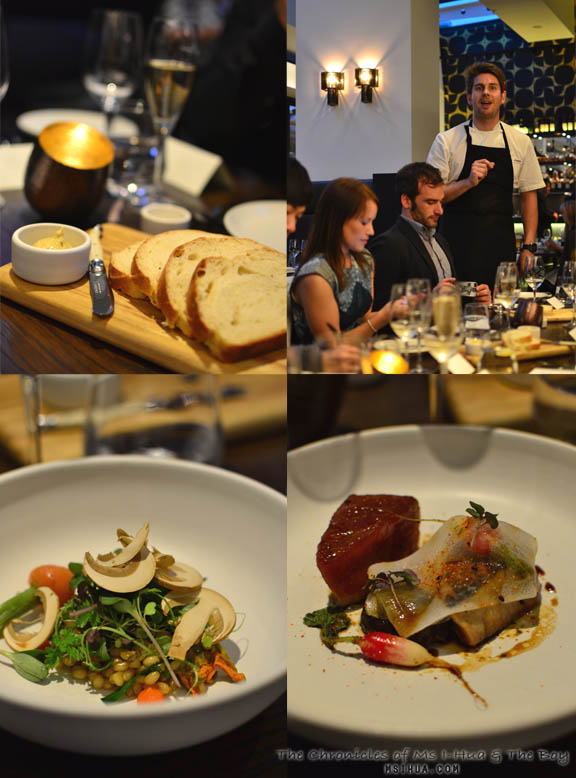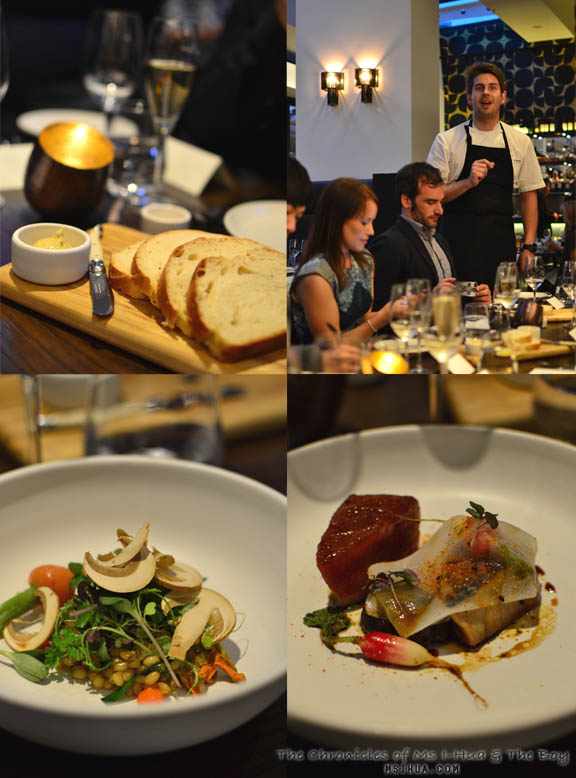 [Bottom Left: Flowerdale Farm Spring Salad, Wheat Berries, Baby Carrots, Sunflower Shoots, Almond Mushrooms. Paired with Seppelt Drumborg Vineyard Riesling 2013 (Henty, Victoria);
Bottom Right: Portland Black & Blue Tuna, Black Garlic, Yuzu Jam, Daikon & Aged Soy. Paired with Ocean 8 Pinot Gris 2012 (Mornington Peninsula, Victoria)]
Once we were all done fawning over the bread, the entrees were brought to the table. I love that when The Boy and I dine out, it usually means we get to tag team the items on the menu and order at least 4-6 different items (2 entrees, 2 mains and 2 desserts). This usually works perfectly with our routine. On this night, apart from the entrees (which was the same for everyone), we managed to sample all that was available for our tasting purposes.
I really liked the introduction of wheat berries. "What are wheat berries?", I hear you ask. They are grain like, almost barley like with a chewy texture. The most fascinating ingredient we had that night was the Almond Mushrooms. It was really really interesting. It looked and felt like mushrooms, but had a really strong almond after taste. Curious.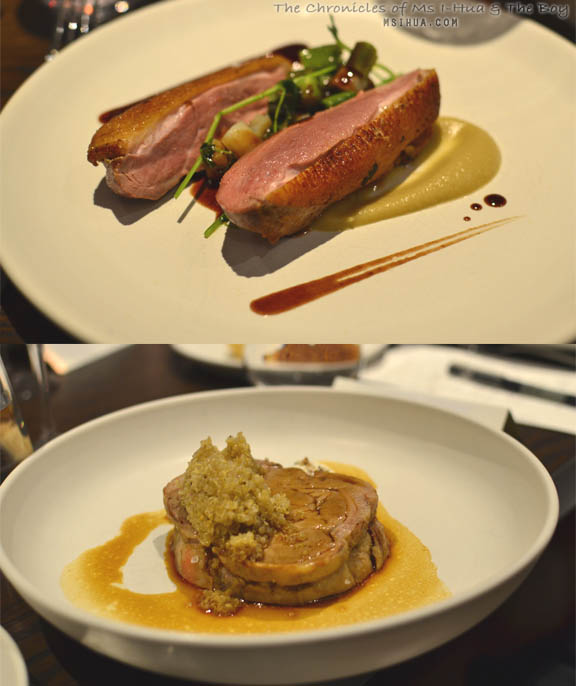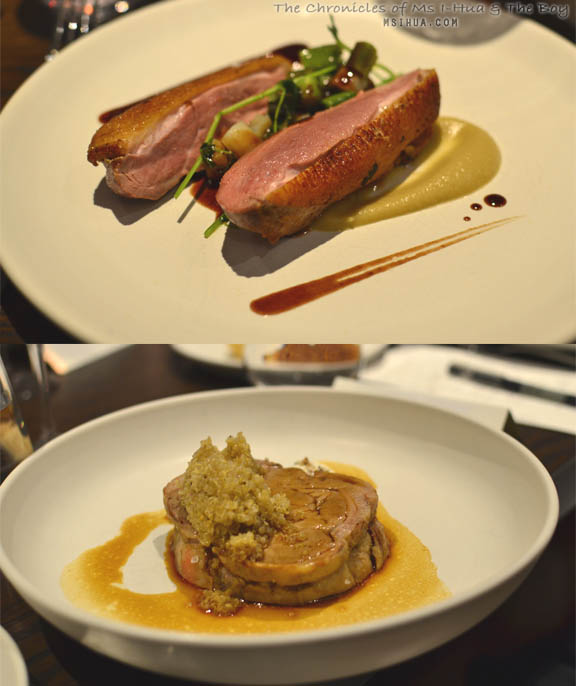 [Top: Milawa Duck Breast, Shallot Puree, Asparagus & Peas. Paired with Bannockburn 1314 A.D. Pinot Noir 2011 (Bannockburn, Victoria);
Bottom: Barwon River Lamb Shoulder, Bush Spice Quinoa & Sheep's Yoghurt. Paired with By Farr Shiraz 2009 (Bannockburn, Victoria)]
Both the mains were excellent and we both chose well as The Boy really favoured his duck dish as did I with the lamb, however the duck was the winning dish of the night.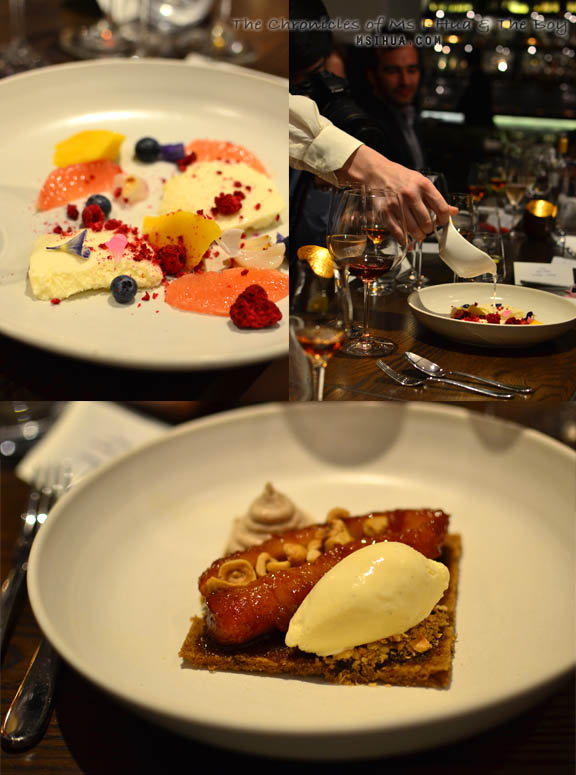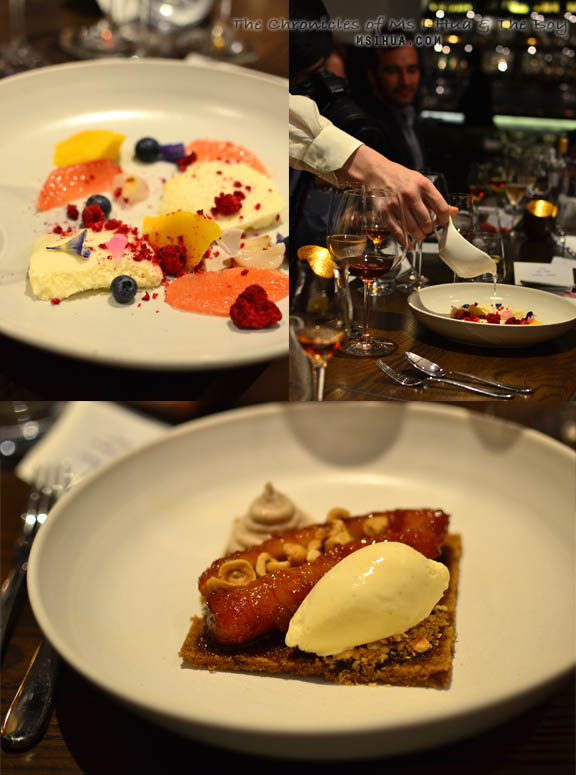 All too soon it was dessert and John was back out on deck explaining that these desserts are a playful reminder of what he loved to eat whilst he grew up, albeit less sophisticated. His favourite? Banana Split!
I had the Yoghurt & Honey Mousse, Lychee, Blueberries & Mango and The Boy had the Banana Split, Rum Caramel & Toasted Hazelnuts.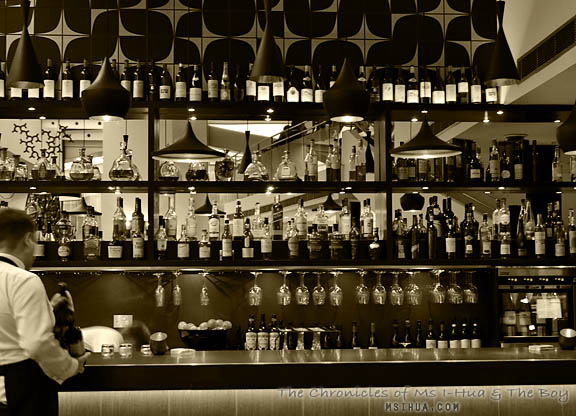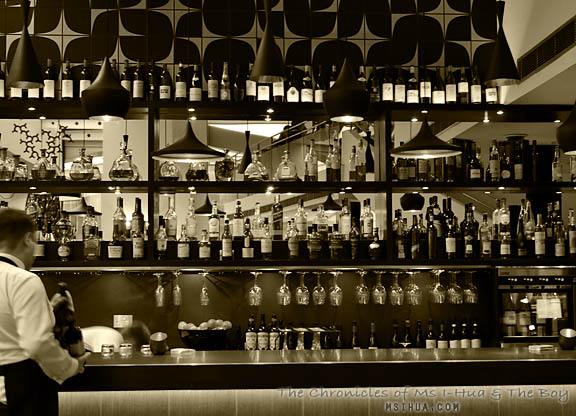 As part of this year's inaugural Good Food Month, No.8 by John Lawson is hosting a few special events during the month of November, such as:
Coldstream Hills Wine Dinner with special guest James Halliday – Thursday 14 November 2013
This exclusive food and wine dinner will be held at Crown's newest riverside restaurant No.8 by John Lawson. Enjoy a five course, Victorian produce inspired menu paired with wines from the Yarra Valley's Coldstream Hills. Featuring a special appearance from Australian Wine industry icon James Halliday.
For more information click here, or to book please call (03) 9292 5777.
Lunch Indulgence Offer – Available until 24 November 2013
Enjoy an indulgent lunch at No. 8 by John Lawson for only $45 for two courses or $55 for three courses (prices stated are per person).
Available seven days a week.
For reservations please call (03) 9292 5777 or book online.
For other memorable recaps from the launch night, visit:
Food Made With Love
Iron Chef Shellie
Milk Bar Mag
Peach Water
Second Helping
[Ms I-Hua & The Boy attended as guests of Media Moguls and No.8 by John Lawson]
*Disclaimer: All food ratings & review are purely based on my own experiences and how I feel about the service, food and quality at the time of visit
Food/ Cuisine: Modern Australian
Dining Style: Restaurant

Opening Hours:
Lunch: Monday to Sunday, 12:00pm to 3:00pm
Dinner: Sunday to Thursday, 6:00pm to 10:00pm
Dinner: Friday & Saturday, 5:30pm to 10:30pm
Address:
Riverside at Crown
Crown Casino
8 Whiteman Street
Southbank VIC 3006
Tel:(03) 9292 5777
Website: http://www.crownmelbourne.com.au/no-8

Twitter: @No8byJL
How to get there: