Every year, The Boy and I celebrate two big events. Our birthdays!
Why are our birthdays so important? Well, we usually take the opportunity to celebrate in style as it's so close to Christmas and Valentine's Day.
The Boy gets his birthday and Christmas present in one and I get my birthday with Valentine's bundled up. It works well for us 🙂
This year, as it was both our milestone birthdays, we got to choose where we would each like to dine.
Mine fell at the beginning of the year and I chose to go to Vue de Monde.
The Boy's was earlier this month and he chose to go to Town Mouse 🙂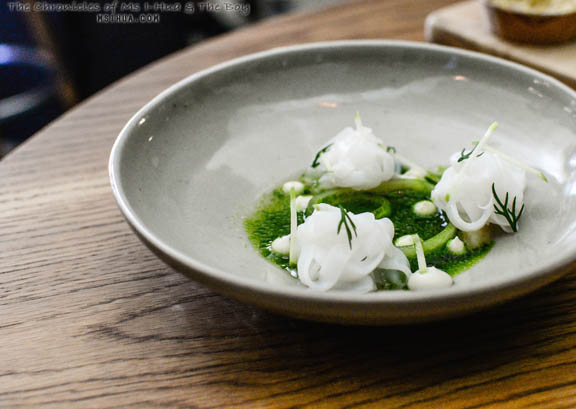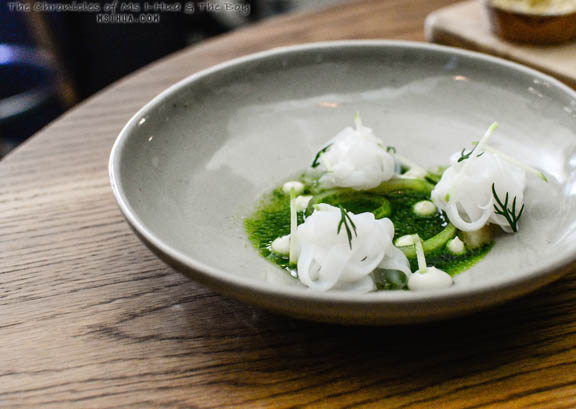 Now you might think that's a drop of expectations from my VdM trip, but we had heard such great things about The Town Mouse and The Boy couldn't be any more excited.
We don't always have to go to the ultimate high end fine dining experience to enjoy our meals 🙂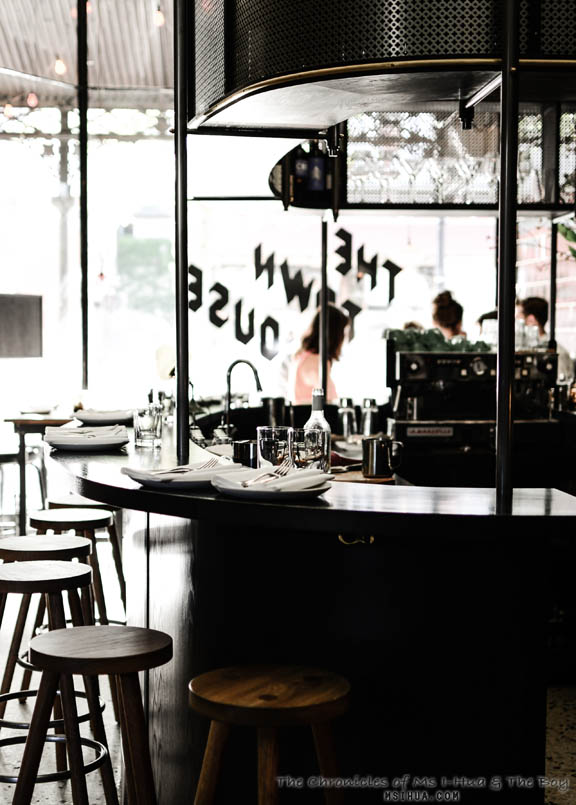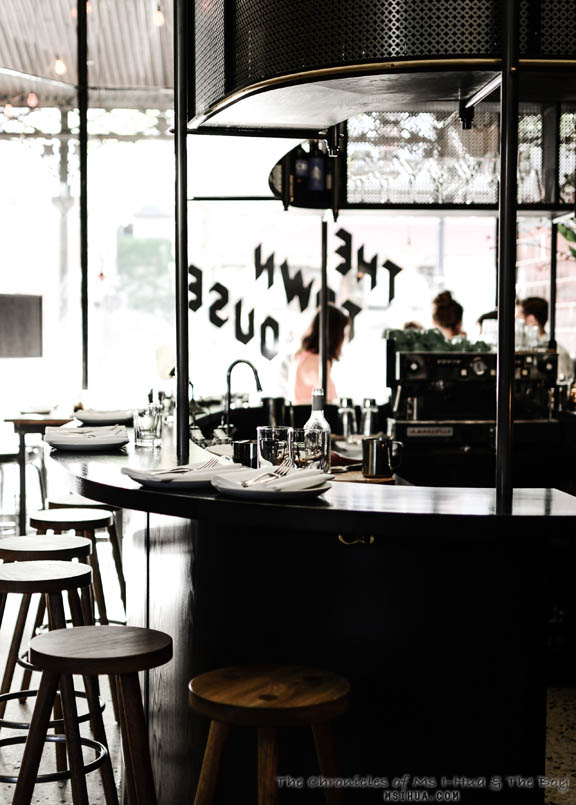 I made the booking at 6:00pm and was told that we would have to make way for the second seating at 8:30pm (which was plenty of time for us).
The Town Mouse is located at our old favourite Embrasse (previously VdM and Three One Two) on Drummond Street in Carlton. Walking in, I couldn't help but gasp as the significant changes the place had gone through. Gone were the old french draperies and formal settings. Instead, the clean white stark walls were replaced with glossy black tiles which simply shouted "FUNKY TOWN!".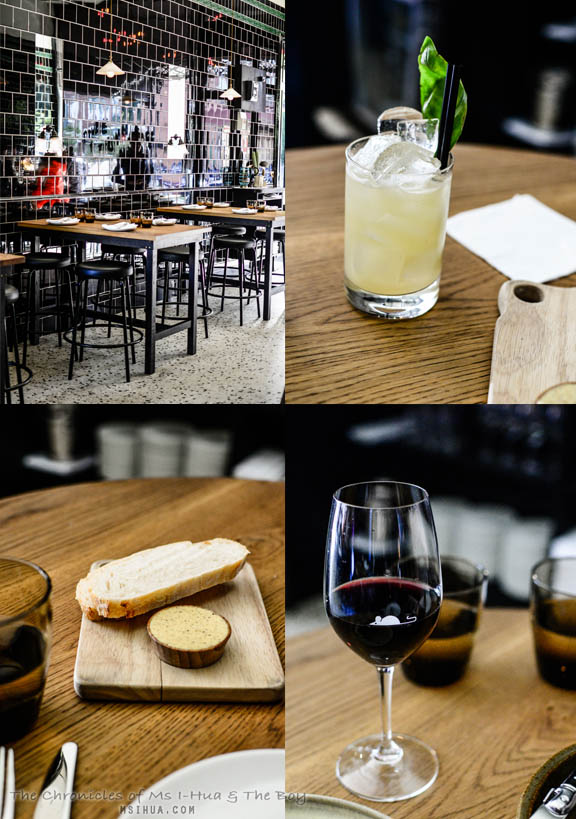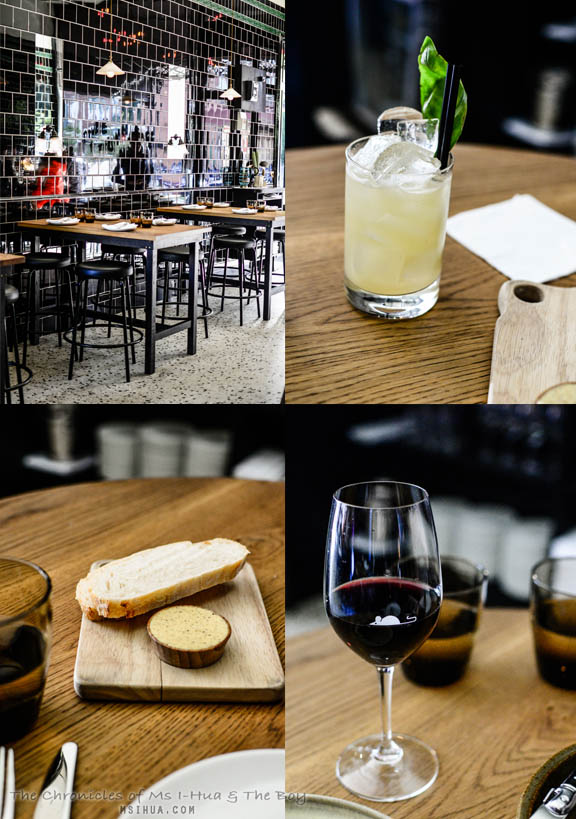 The day we went was a superbly hot day and our waitress recommended that I try the Rum Smash with Roasted Pineapple, Basil, Citrus ($15.00) when I queried about a thirst quenching drink. Once I was done with that, I had a delightfully rich Pinot Noir to go with our mains (which we shared). The Le Clos de la Bruyère Elément-Terre 2010 (Loire, France) ($13.50) was exceptionally well matched to the red meat we had.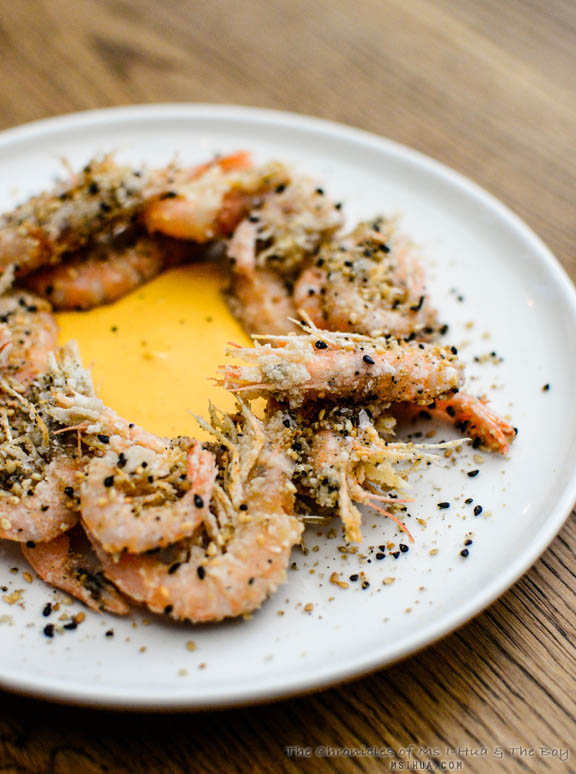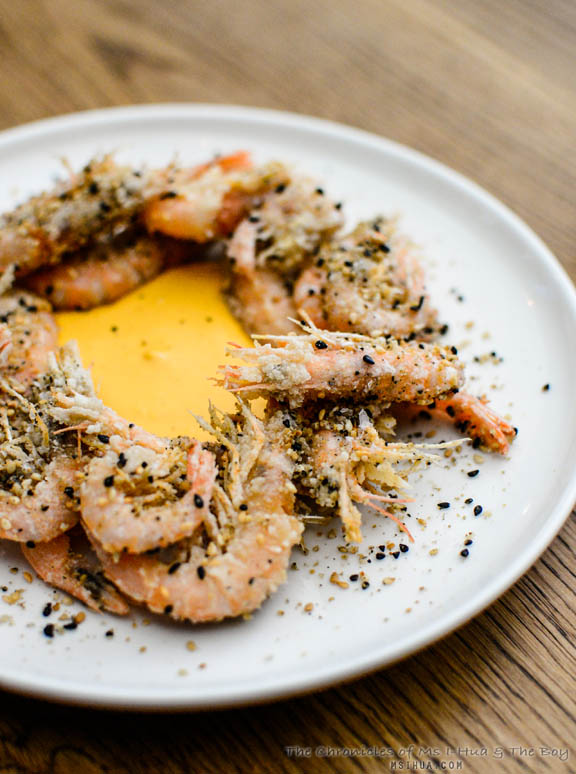 We wanted to #eatallthethings when we looked at the menu, but managed to hold ourselves in check and restrain our orders. From the entrée section of the menu, we chose the very crispy Fried School Prawns, Rouille & Sesame ($10.00).
So crunchy and delectable to eat.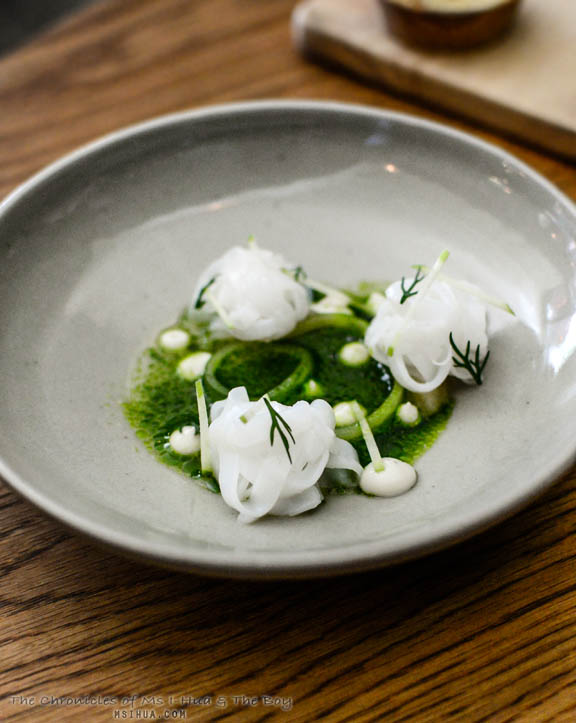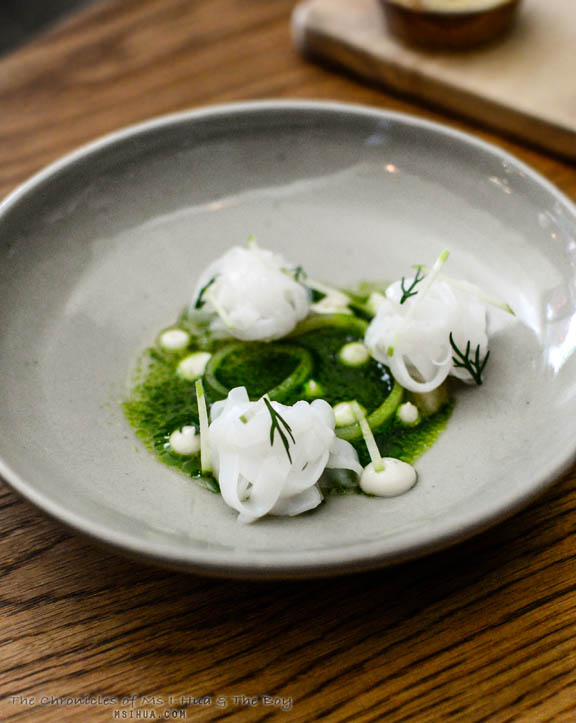 From the Raw section of the menu, we ordered the Shaved Calamari, Oyster Cream, Dill & Fermented Apple Juice ($15.00) and reminisce the similarities with Rene Redzepi's raw squid dish. This dish though excellent, couldn't compare with that Noma dish.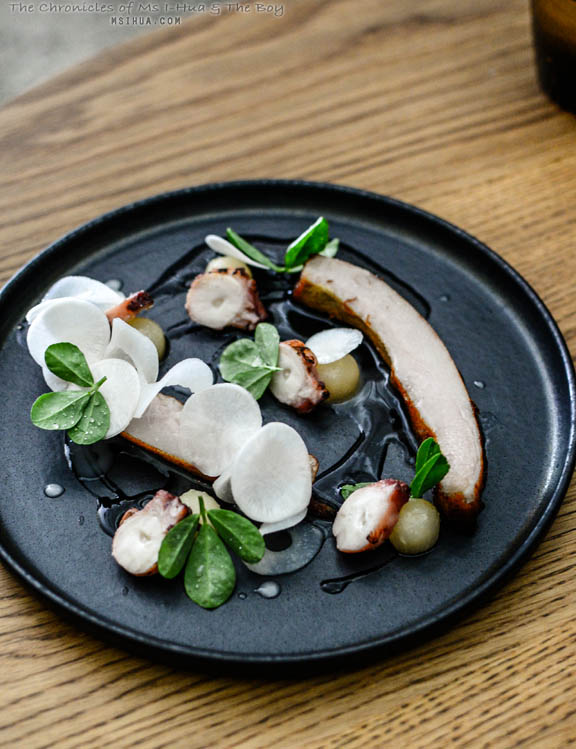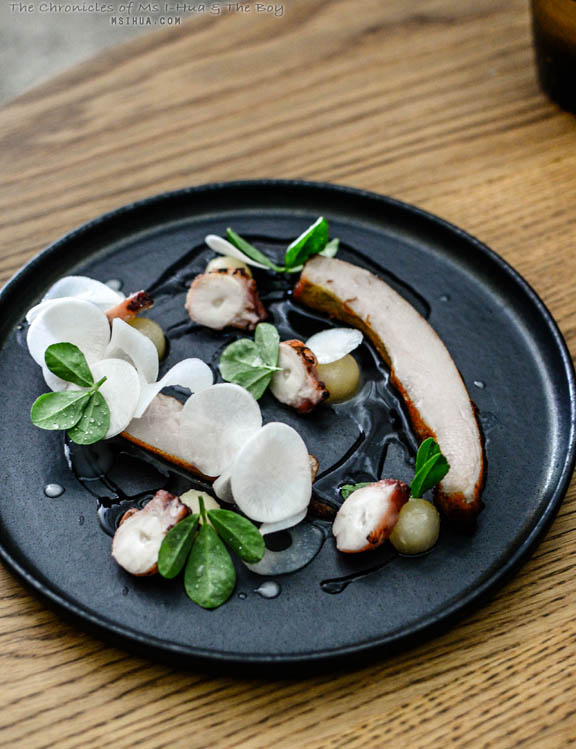 The Birthday Boy's favourite dish of the night was most definitely the Pork Jowl, Charred Octopus, Ink, Turnip, Kohlrabi & Chickweed ($25.00). He very nearly salivated all over this dish before I could get my hands on it.
Wonderfully tender, the pork was melt-in-the-mouth goodness. Simply a stunning dish.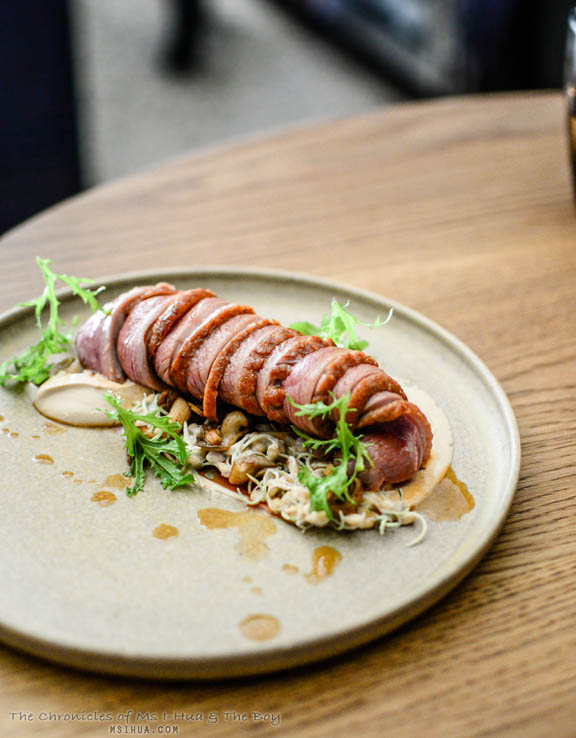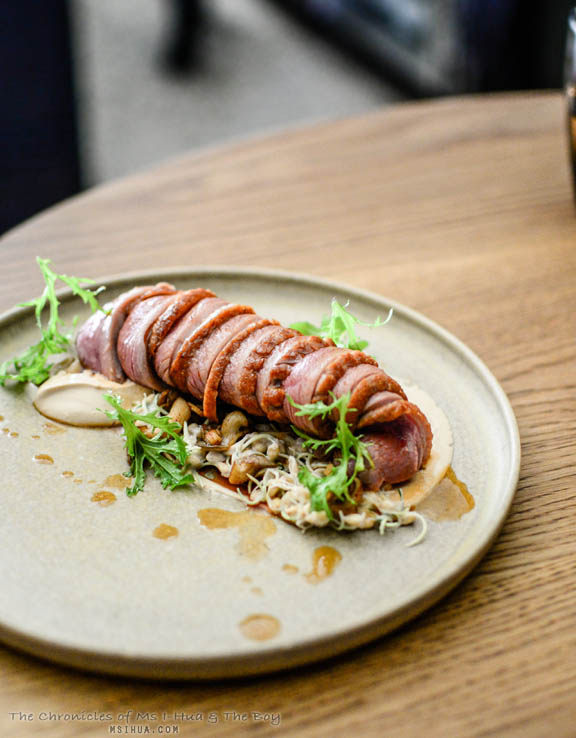 I really enjoyed my choice of the main which was the Duck Breast, Caramelised Yoghurt, Sprouted Wheat, Elk Leaves & Wild Mushrooms ($33.00). The duck breast was very well paired with the caramelised yoghurt sauce which gave it an almost umami hit.
For a side, we ordered what everyone asked us to (despite it sounding a tad strange). My Boss Lady said that the Slow Roast Red Cabbage, Prune, Parmesan & Red Apple ($14.00) was the most memorable dish for her and her man when they visited.
I have to agree that this was a spectacular rustic dish. So much so, that we tried to replicate it the very next weekend and failed.
I want to go back to Town Mouse just for this dish! So simple and rustic yet so tasty and rich.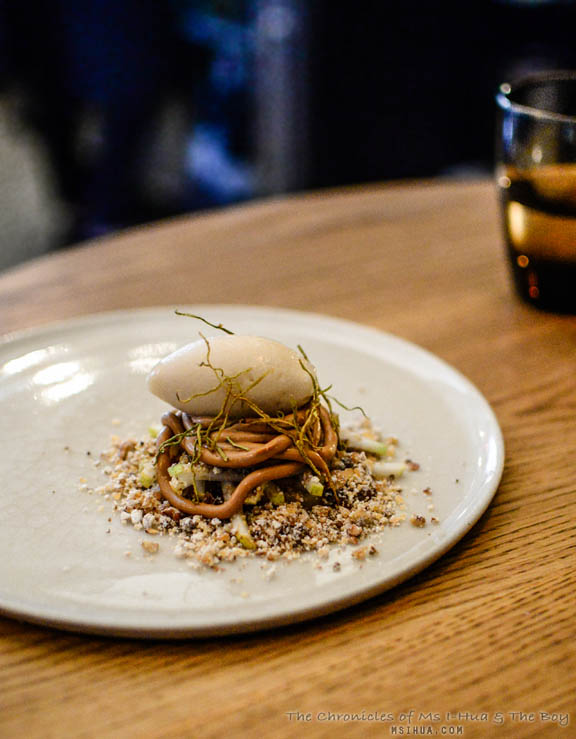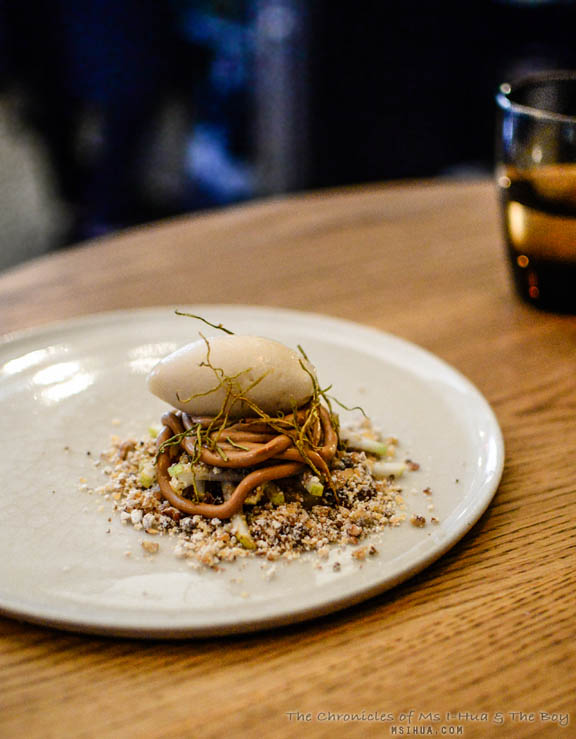 When it came time for desserts, The Boy and I were rubbing our bellies as it was so stretched from the savouries. After a very serious discussion of what we would have and the quantity of desserts we would have, we came to an agreement and ordered two desserts! All this for you of course, our dear readers 😛
The first dessert was truly an amazing dish. I do not say this lightheartedly as I am not a big sweet person at all. If I had it my way, it would be another savoury item from the menu.
So when the Buttermilk Poached Pear, Walnut, Caramel, Roast Chocolate & Pear Sorbet ($15.00) arrived at our table looking a little alien versus predator like, I couldn't help but be a bit sceptical. That was, until the first taste. Then came the second and the third. I just couldn't stop and if it hadn't been The Boy's birthday, I wouldn't have let him have most of this dish 😛 #winningwife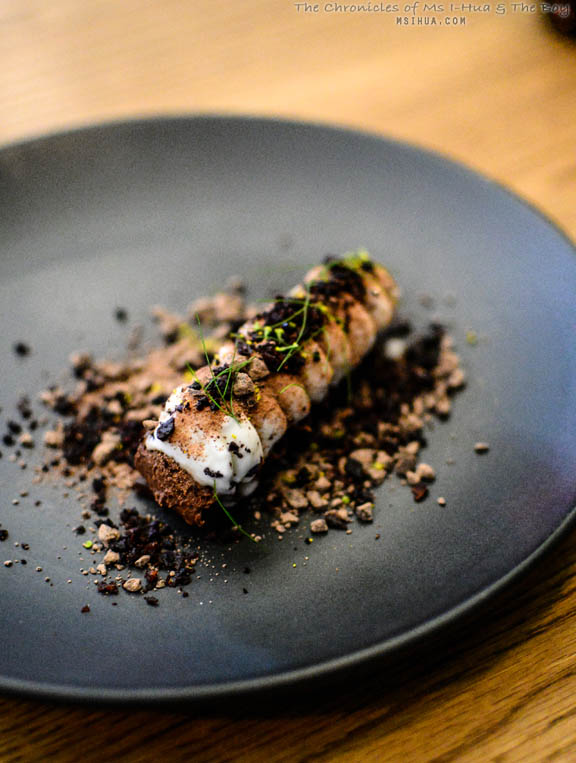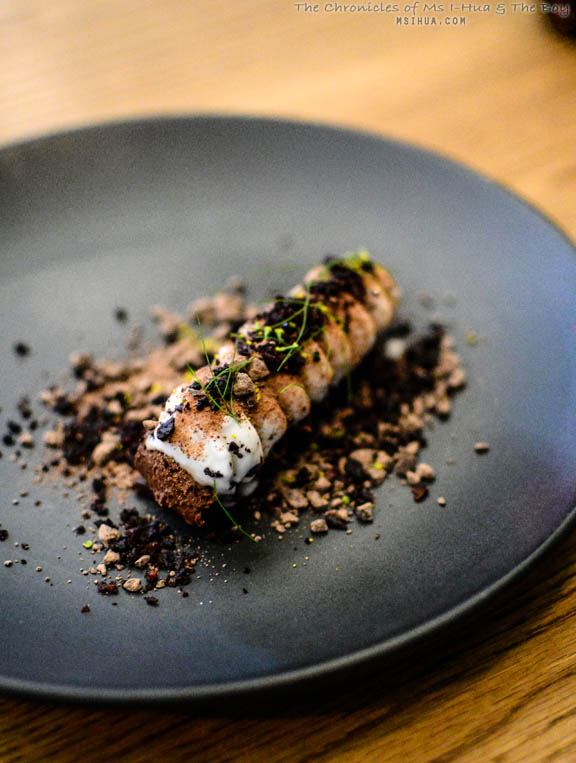 The second dessert we chose was a classic revisited. When I was growing up, the Vienetta was launched and for many years, that was my Popo's (grandmother) favourite dessert to serve at dinners at her house.
So when I saw that there was a version of this served here, I couldn't say no to a trip down memory lane. However, the similarities stop at the name, this isn't your everyday Streets (or Walls) brand ice-cream. This had style and it had class. I loved every mouthful of the Fennel, Chocolate, Goat's Milk & Candied Olive Vienetta ($15.00) and the fact that it wasn't too sweet was an extra stamp of approval from me.
All in all, we really enjoyed our dining experience at The Town Mouse and rate it as one of our highlights of 2013. The Boy and I reckon that it's along the same veins as Estelle and St Crispin, if not better.
Now we just need to find an excuse to return there soon. We won't even need to wait for a birthday as an excuse as the dishes are reasonably priced.
*Disclaimer: All food ratings & review are purely based on my own experiences and how I feel about the service, food and quality at the time of visit
Food/ Cuisine: Modern Australian
Dining Style: Restaurant
Opening Hours:
Lunch: Friday to Sunday, from 12:00pm
Dinner: Monday to Sunday, from 5:00pm
Address:
312 Drummond Street
Carlton VIC 3053
Phone: (03) 9347 3312
Website: http://www.thetownmouse.com.au/

Twitter: @thetownmouse01

How to get there: