Howdy! How did you like that first Penang Layover post we did? Did we get your taste buds tingling and your brain planning your next holiday?
In this post, we would love to share with you a phenomenon that is taking Malaysia and Singapore by storm. Street Art!
Yup, we who have lived in the Western world for a long time are sitting around saying, "What? Grafitti?"
No. This is art. Clever art. Incorporating actual buildings and discarded items and making it as part of the scenery.
I hear your scepticism and the "I've seen it all before!"
Well, let us introduce you to the world of Ernest Zacharevic, a Lithuanian street artist who has temporarily set up residences in Malaysia and has seemingly one-handedly pushed Penang into the limelight as a destination for emerging local artists. His art usually big and jaw-dropping captures human facial expressions very accurately.
Sadly, due to the Asian tropical climate, street art just doesn't last and the quality of his works have deteriorated over the months and years. Do a quick Google search and you'll be able to see the original versions to these faded copies of ours.
Along with Penang's Food Trail, we also engaged in Penang's Street Art Trail and encouraged Madam Mummy to walk all 5kms with us on foot in the hot tropical sun to experience this with us. She loved it and so did we!
I've captioned what each of these pictures are famously known as. If you are following the Zacharevic street art trail, please note that items A (Boat) and F (Broken Heart) on the trail are no longer available.
"The Trishaw Man"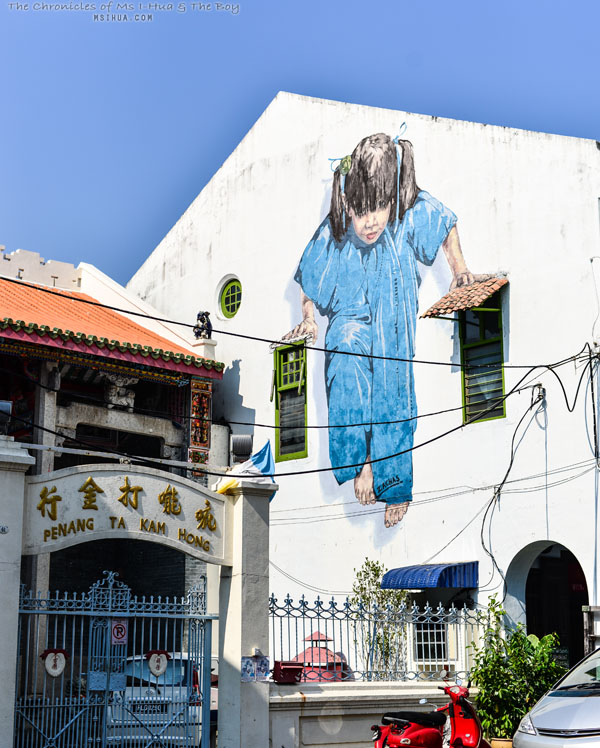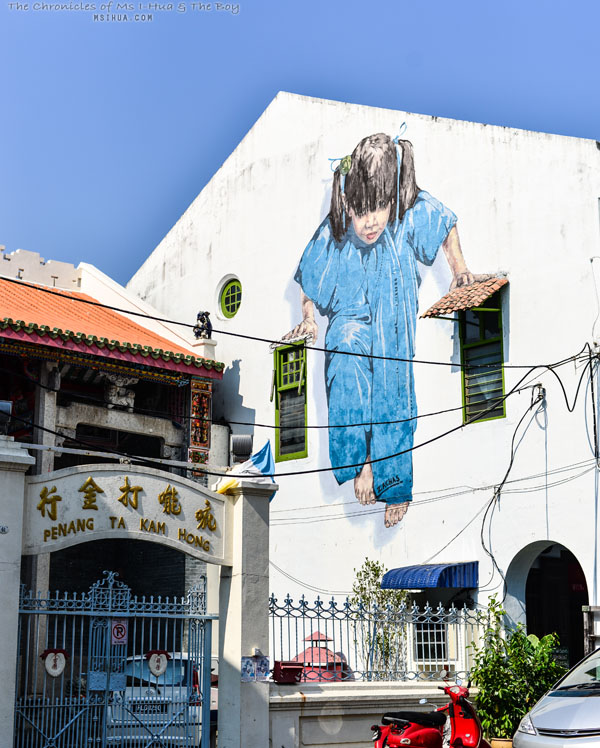 "Kung Fu Girl"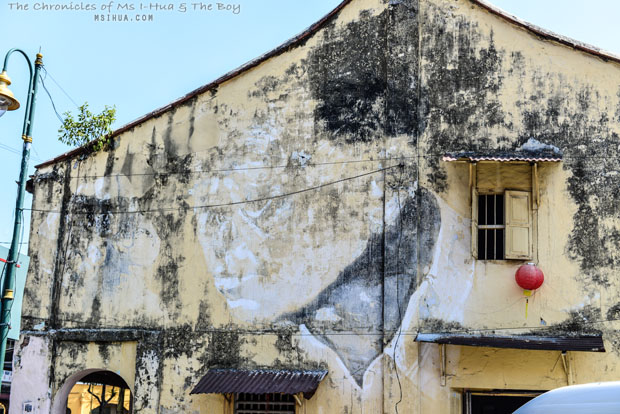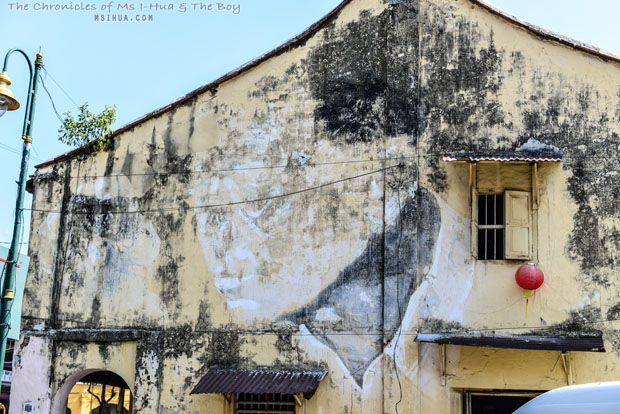 "Old Man"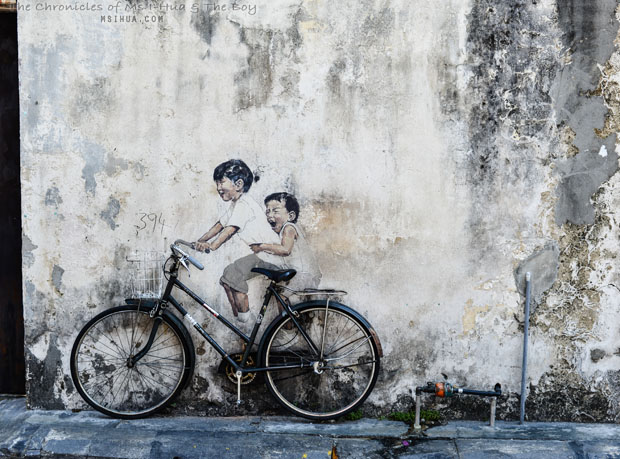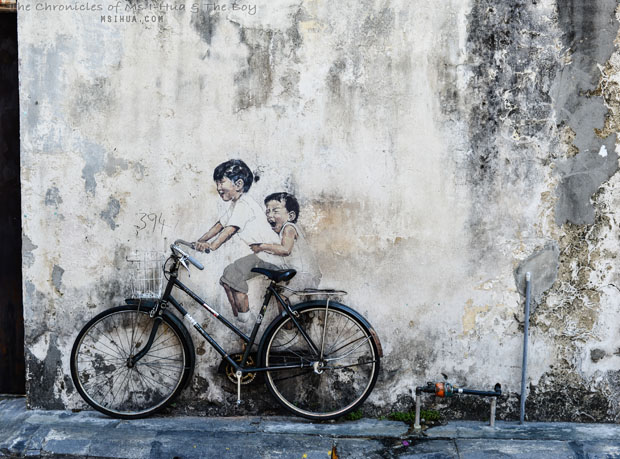 "Kids on a Bicycle"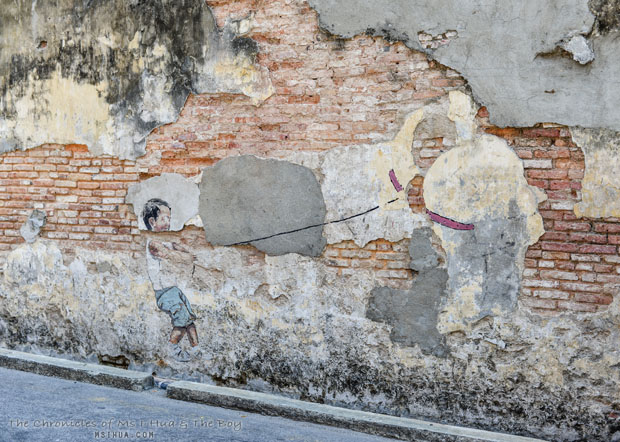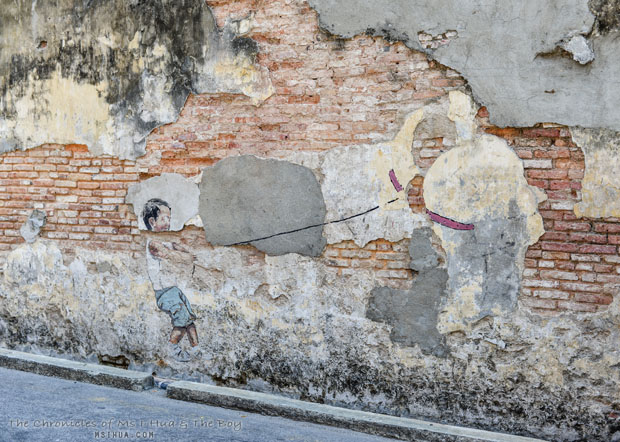 "Little Boy with Pet Dinosaur"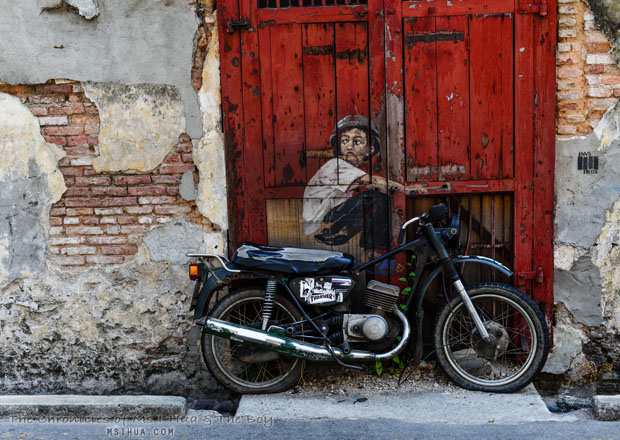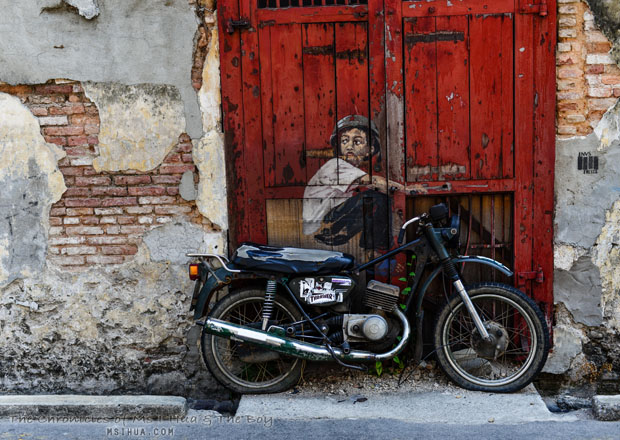 "Boy on Motorcycle"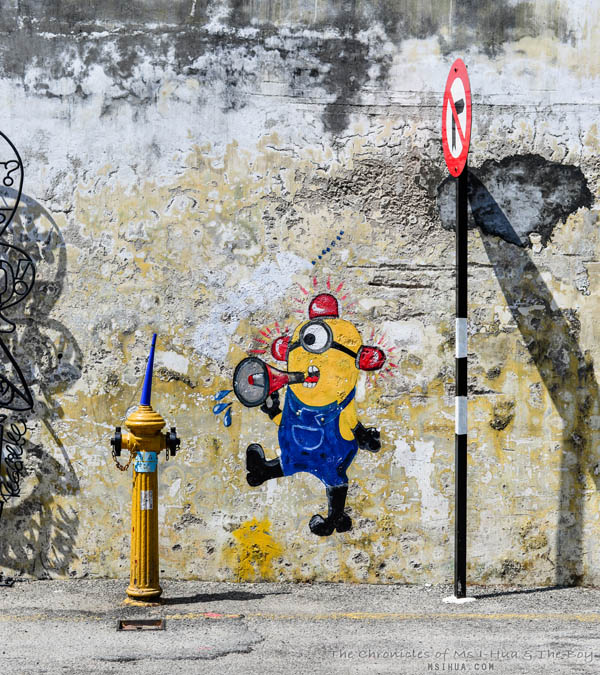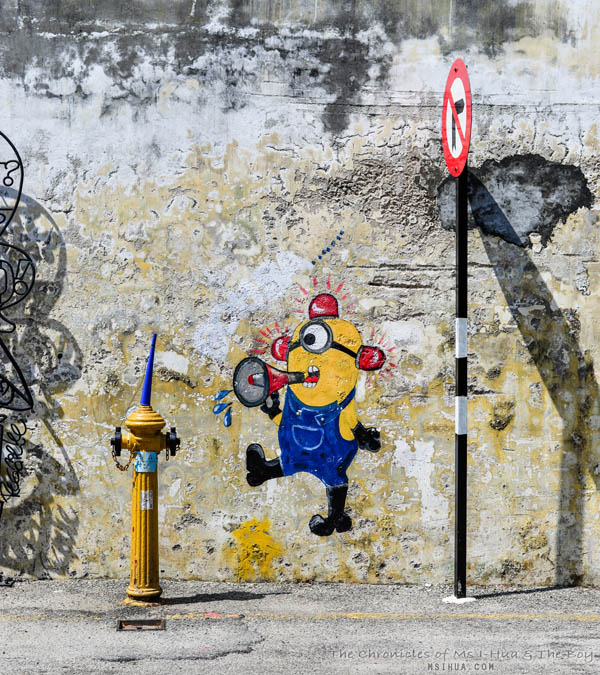 This wasn't part of the Zacharevic trail but it was by one of the local artists and I just couldn't resist sharing it here! Bee-do, bee-do, bee-do!!!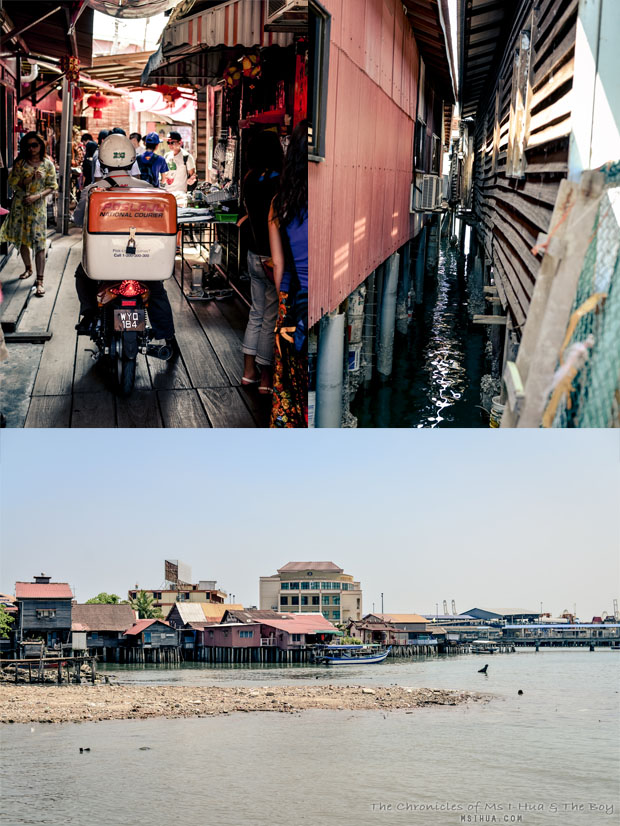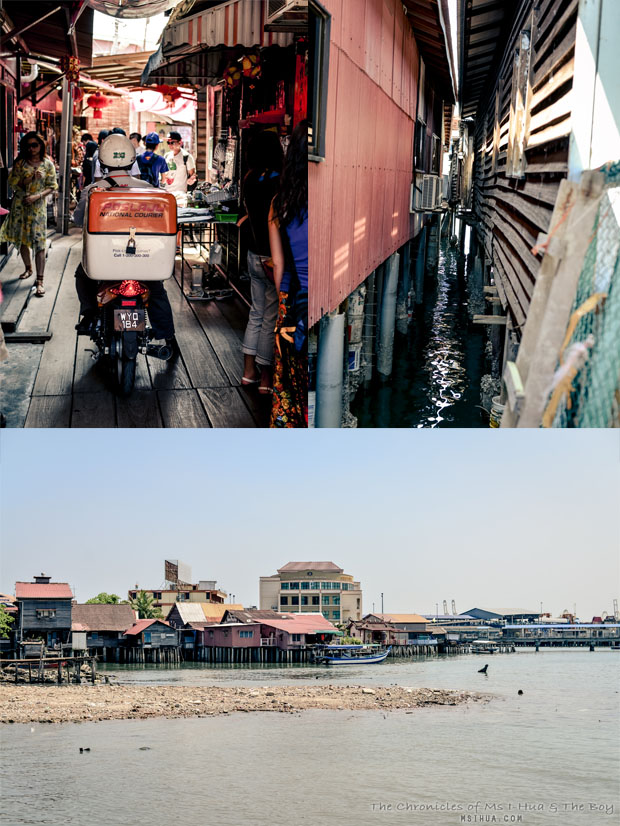 Unbeknownst to us, we didn't realise that the first item on the trail, Boat, located at the UNESCO heritage listed site of Chew Jetty (part of the Clan Jetties) was no longer available. Local rumour has it that it was removed as street art punters were falling into the water to try and catch the perfect shots.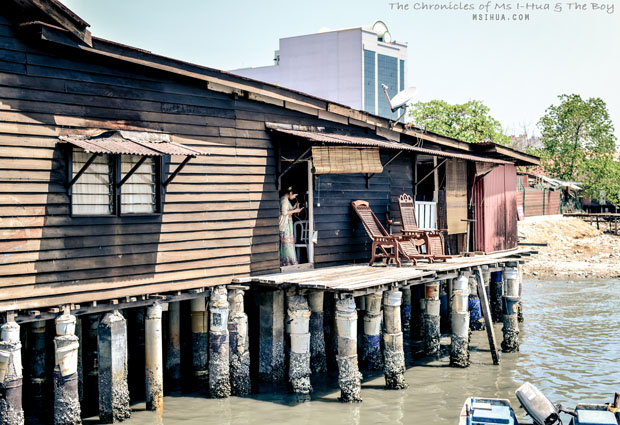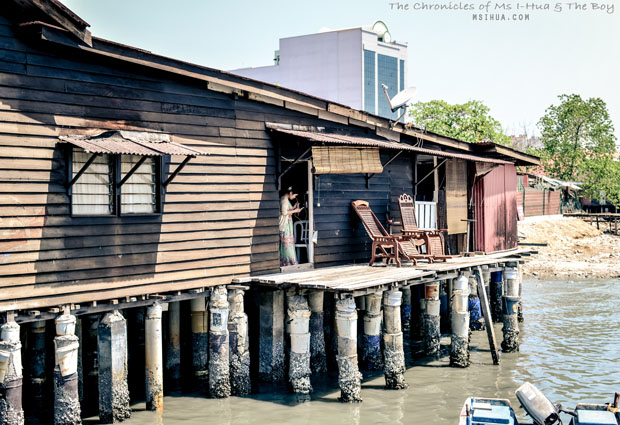 We were thankful that we did walk down to the Chew Jetty (Seh Chew Keo) as I was not aware of the historical significance of the site, nor aware that it was still a living 'village'. Sadly though, commercialism and capitalism has slowly sunk its roots into these century old buildings with nearly every front door of the jetty selling touristy souvenirs. That being said though, I did get two good things from these 'shops'. One creative home owner was selling super delicious Durian Puffs in his converted home/shop. The second item I got was a hat to save me from burning in the hot sun!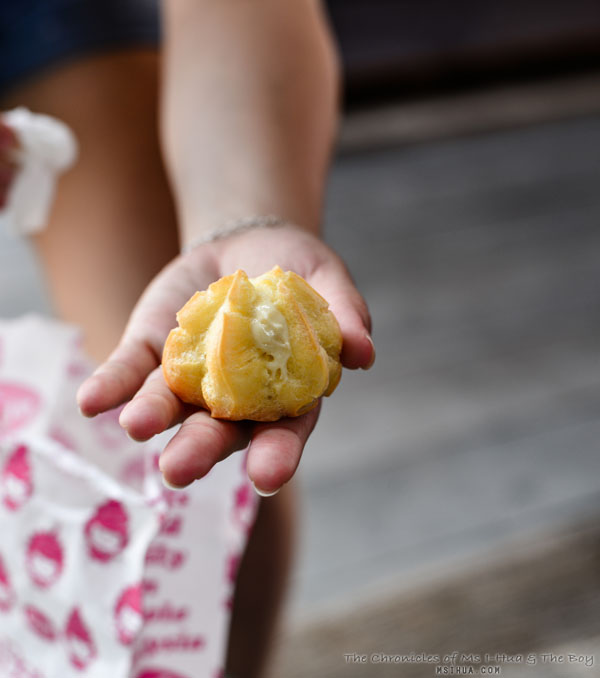 The commercialism creeping in is both good and bad. Good as it's helping these families earn some living from the tourists stampeding across their front door every day. Bad as it's losing the old world charm which made it a UNESCO heritage site in the first place.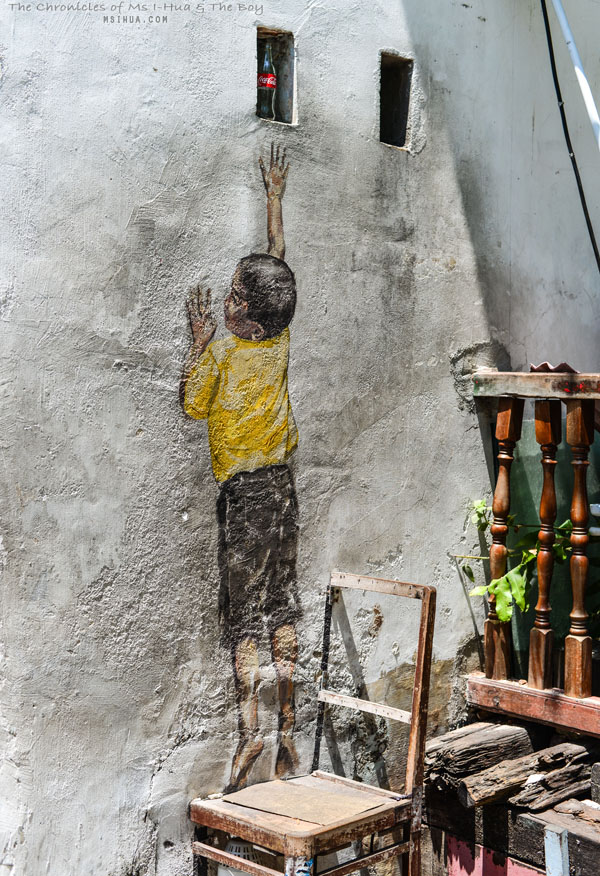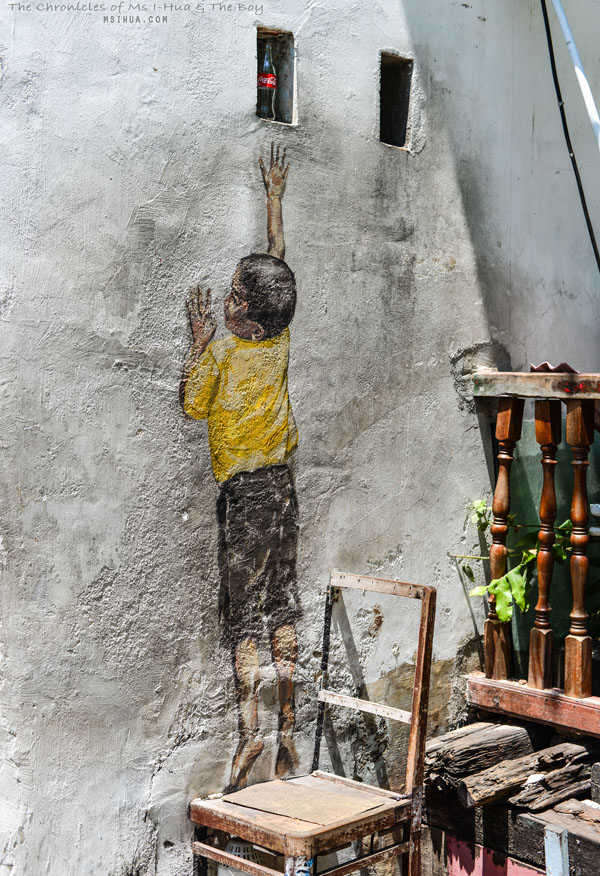 To finish off our Zacharevic street art trail, here is Boy on Chair.
For other street art that didn't make it into this post, check out my instagram feed 🙂
_____________________________________________________________________________________________________________
Previous Penang Layover Post:
The Layover: Penang (Part 1)