Winter is here, so it's a good time to reflect on the Autumn that went by in a blink of an eye. Where has the time gone? Also, is it really winter? It feels a lot warmer than most years gone by. However, since the powers that be are convinced that global warming is merely a myth, the warmer winter weather must surely just be in my head 😛
Let us not get too morose, but celebrate the beautiful season that Autumn was and the produce that were brought forth unto our table.
At the start of May, we were brought into No.8 by John Lawson in Crown Casino to sample their new Taste of Autumn menu.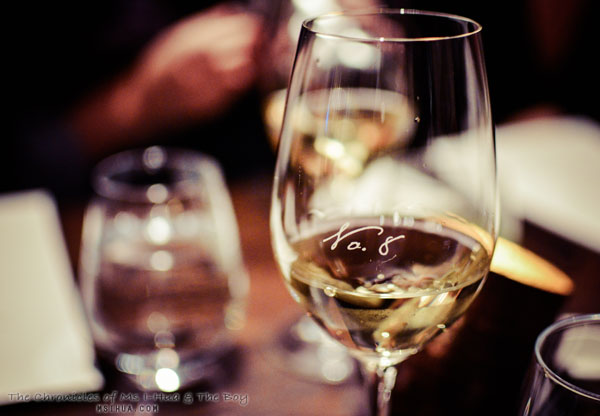 If you remember, we previously attended the relaunch 6 months before and were hoping to taste more delicious dishes as well as sample any new creations from Lawson's kitchen.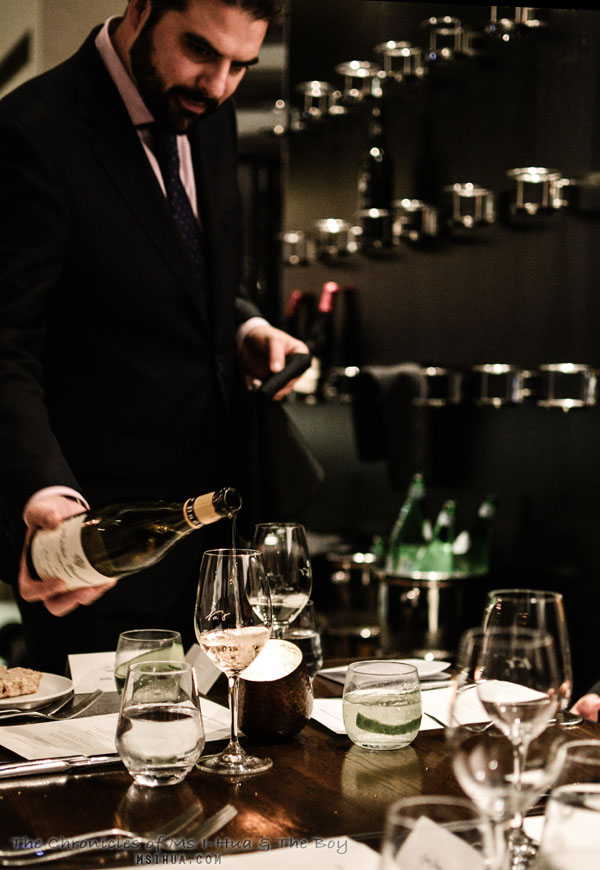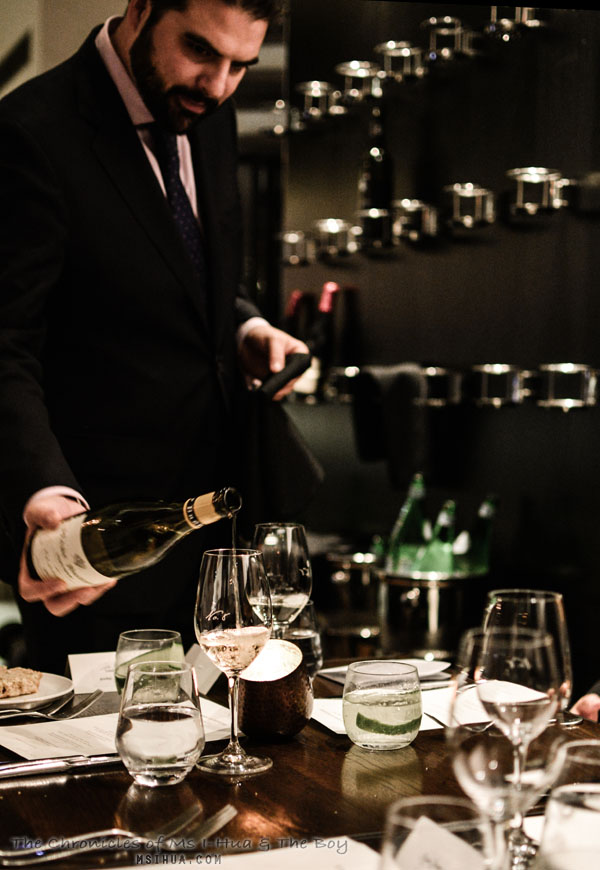 We began our introduction with some very welcomed Gin & Tonic. I may or may not have had two or three glasses. It was a very long day at work 😛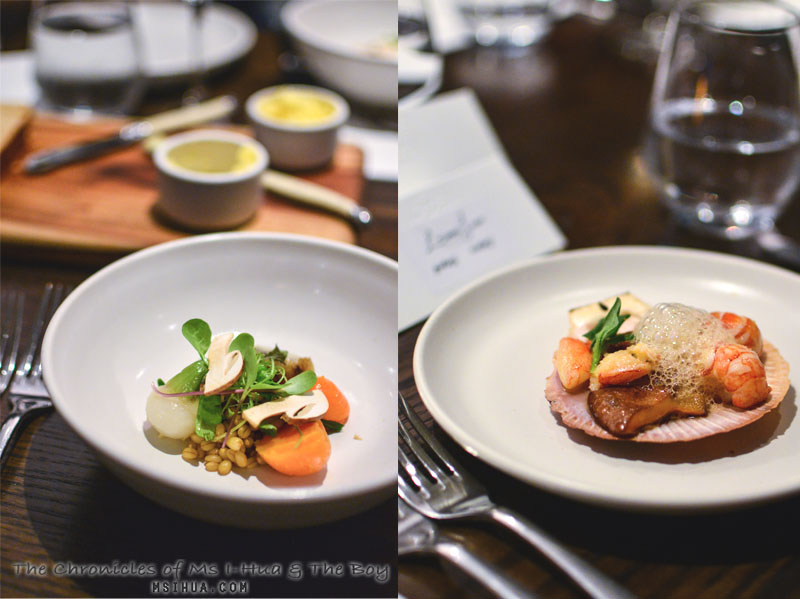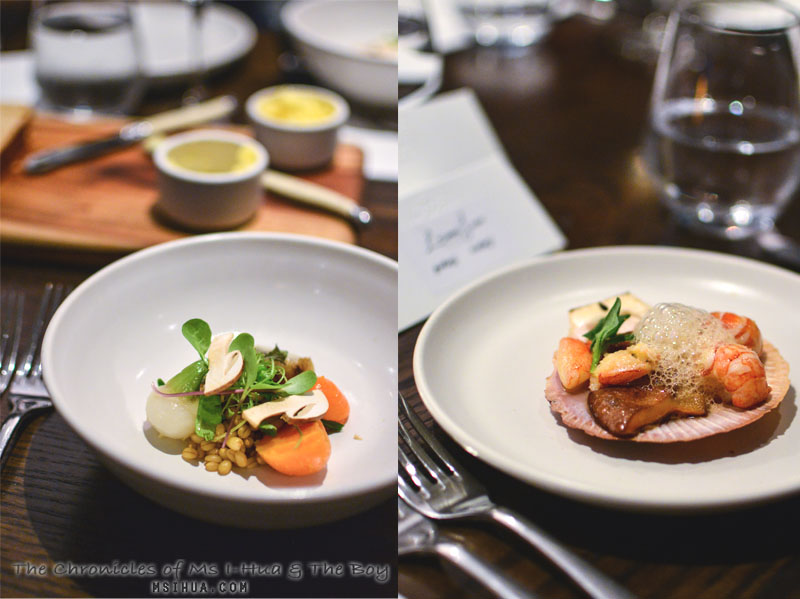 Starters

Wheat Berry and Baby Carrot Salad, Jerusalem Artichoke, Turnips & Sunflower. Paired with Gin & Tonic.
Mildura Yabbies, Hervey Bay Scallops & Pine Mushrooms. Paired with Marc Bredif Vouvray 2012, Loire Valley, France.
The grain salad was much the same as the first time we tried it, though I welcomed the delicious almond mushrooms (which I waxed lyrical about the last time), we were hoping for something new.
Luckily for us, there were the buttery seafood entree to save the day! The pine mushrooms went well with the seafood.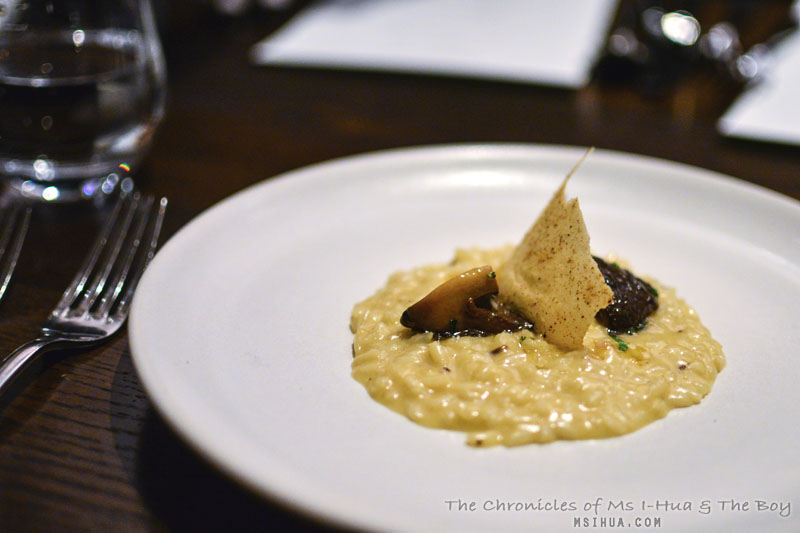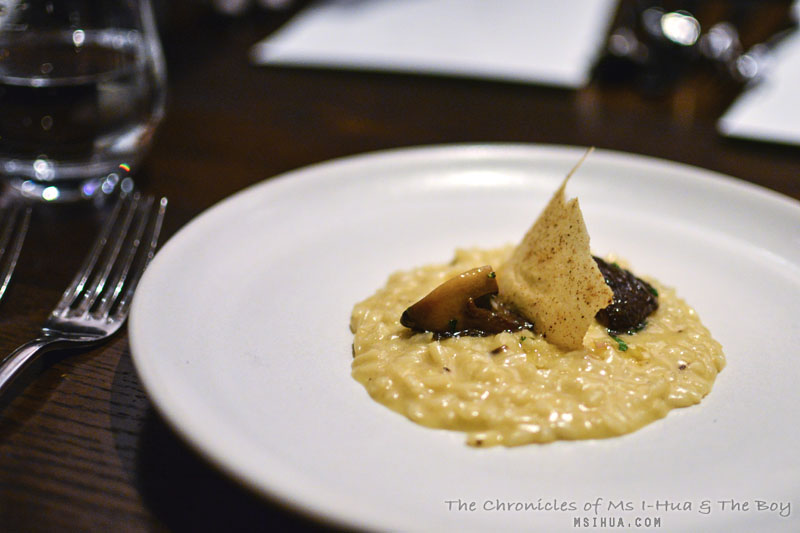 Main Course
Slippery Jack Mushroom Risotto. Paired with Bannockburn Chardonnay 2011, Geelong.
This was The Boy's favourite of the night. The risotto was delicious and I couldn't help but want a lot more mushrooms in my dish. Love a good fungi dish and it makes for such a great autumn/winter dish.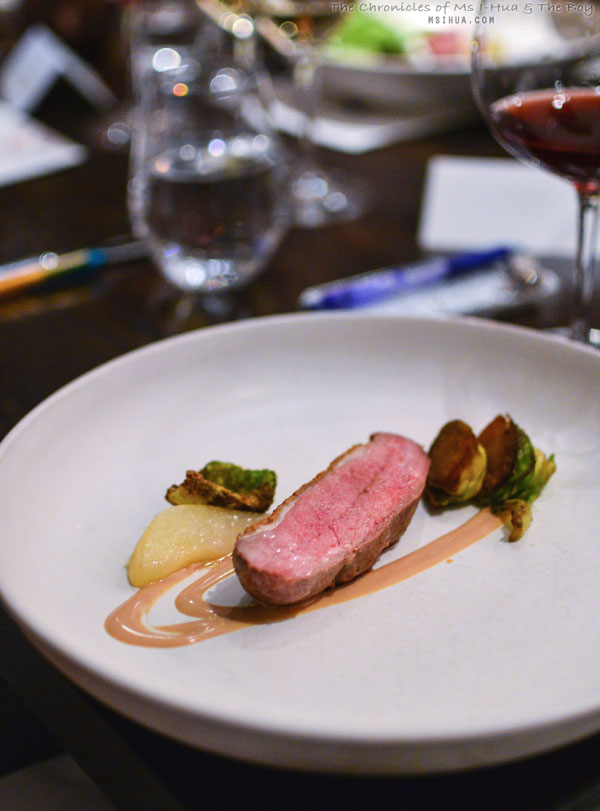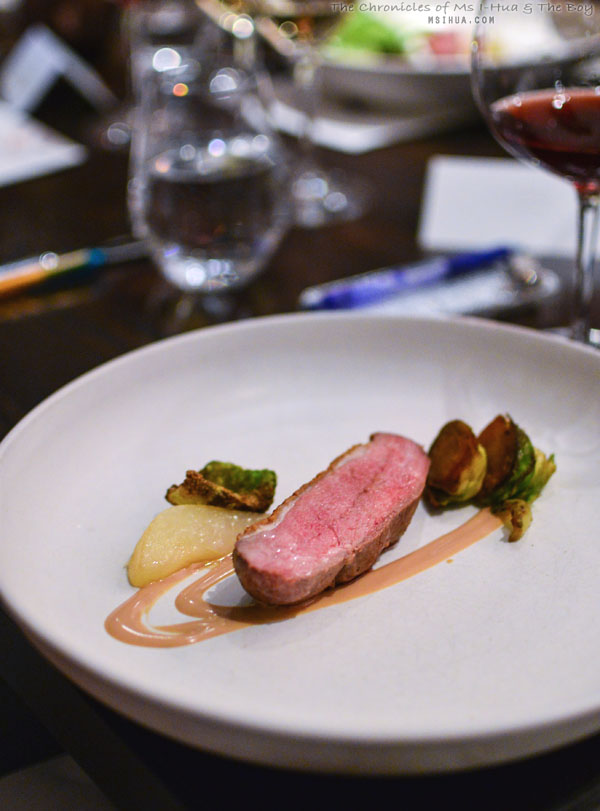 Milawa Duck Breast, Williams's Pear, Brussels Sprouts & Foie Gras Sauce. Paired with Bass Phillip Pinot Noir 2011, Gippsland.
Again, having previously tried the duck breast though with different condiments, we weren't too blown away. We did enjoy the foie gras sauce though. Delectable. The crispy sprout leaves were also to die for.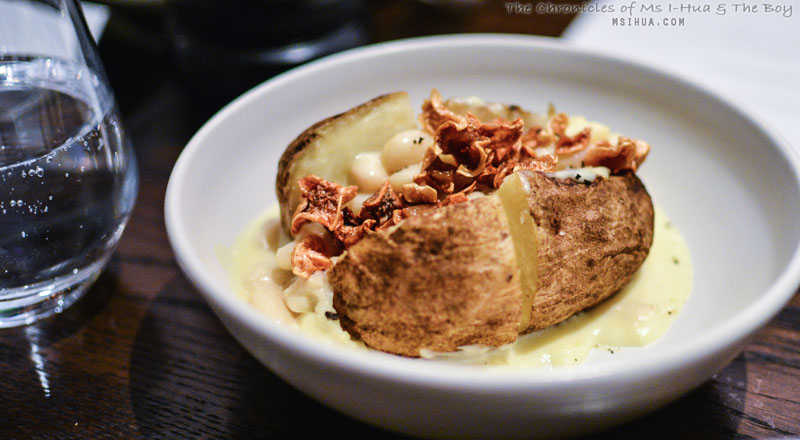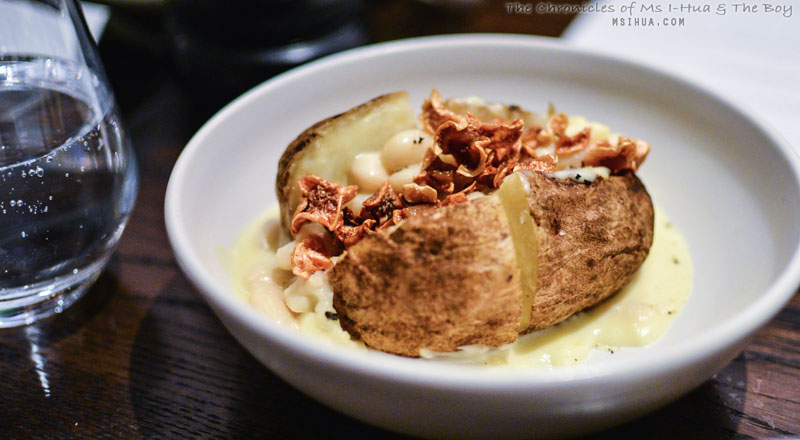 The mains were served with a side of Baked Potato Cheddar and Crispy Pig. Now this is what we need to see more of in Melbourne. Dishes utilising all parts of the animal.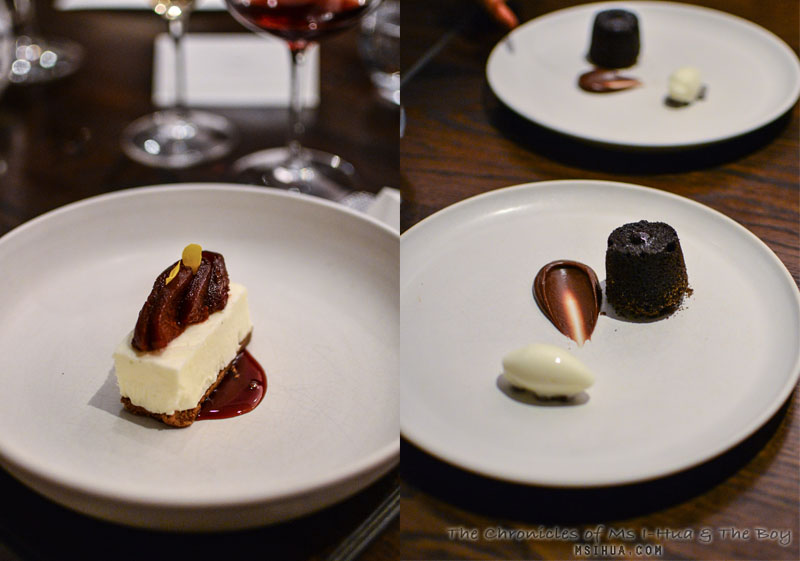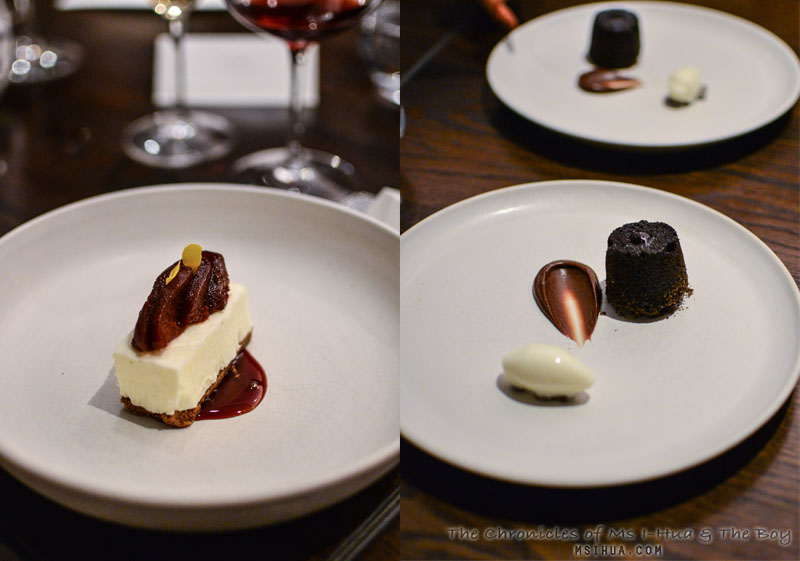 Desserts
Slow Poached Quince, Spiced Crumb and Yoghurt. Paired with Domaine Chandon Cuvee Riche NV, Yarra Valley.
72% Cocoa and Coffee Fondant. Paired with Seppelt 'Original' Sparkling Shiraz 2011, Great Western.
Desserts on the other hand was completely new. Loved the cocoa and coffee fondant. Rich, dark and velvety.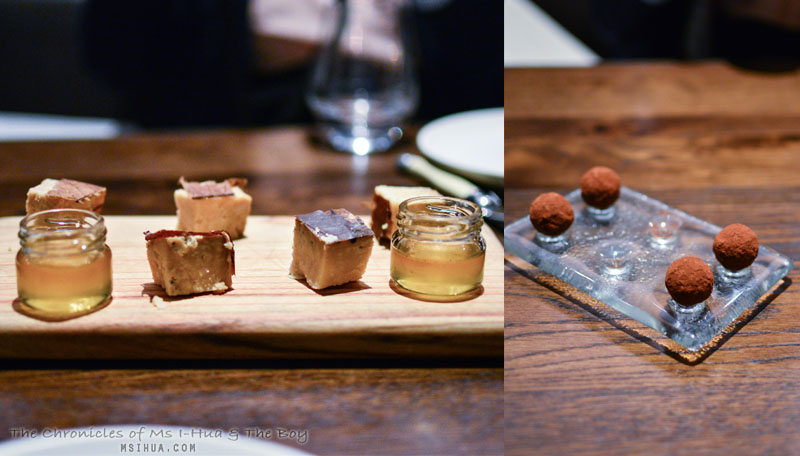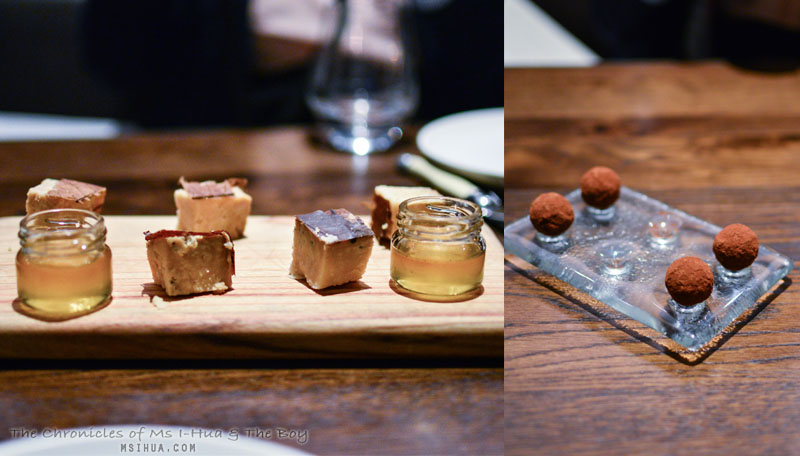 Cheese & Petit Fours
Occelli Testun in Foglie di Castagno. Paired with Maidenii Vermouth Sweet.
Chocolate and Passionfruit Truffle.
It was a lovely finish with the strong goats and cow milk cheese paired with honey from Castlemaine (Grey Box). The cheese as we were informed was wrapped in fresh chestnut leaves to mature for 18 months before being devoured by humans.
We enjoyed the food that night and are fans of Lawson's style of food, but we were also looking forward to some new and exciting dishes and just felt the creations served were a tad safe. Perhaps we were anticipating too much after the hit the first time round. Don't get me wrong, as the food was still delicious and outstanding in terms of quality and presentation. But definitely come for a visit and order the mushroom risotto if it's still on the menu 🙂
[Ms I-Hua & The Boy attended as guests of Hatch Communications and No.8 by John Lawson]
*Disclaimer: All food ratings & review are purely based on my own experiences and how I feel about the service, food and quality at the time of visit
Food/ Cuisine: Modern Australian
Dining Style: Restaurant

Opening Hours: 
Lunch: Monday to Sunday, 12:00pm to 3:00pm
Dinner: Sunday to Thursday, 6:00pm to 10:00pm
Dinner: Friday & Saturday, 5:30pm to 10:30pm
Address:
Riverside at Crown
Crown Casino
8 Whiteman Street
Southbank VIC 3006
Tel:(03) 9292 5777
Website: http://www.crownmelbourne.com.au/no-8

Twitter: @No8byJL
How to get there: