"It certainly does seem that way", was what I said to a friend recently.
Every weekend, a new one opens, an old one rebrands, a popular one merges, and another one closes its doors.
What am I going on about? Why, new cafes opening up in the leafy suburbs of Melbourne of course.
We recently visited two hot new cafes that have been making waves in their local community, so much so that for the one of them, we couldn't even get in the first time we tried to visit! We had to make a return visit the next day. It's the same foodie FOMO story everywhere, which is also why we decided to make a visit! Hahaha!
Fingers crossed these two continue to strive and climb in the popularity contest, as we do like them very much! If you happen to see any similarities between the two, know that they both come from very similar previous cafe ownerships (Barry and Pillar of Salt)
Mammoth Cafe, Armadale
First things first. The tagline of Mammoth cafe is sooooooo undoubtedly cute, it has me singing it over and over in a happy sing-songy way. What is the tagline? Bigger than T-Rex!
The first cafe, Mammoth is wonderfully located within walking distance to the Armadale train station. It's convenient location also means that it is quite easy to find a park (provided you don't mind walking a little bit).
As mentioned at the start, when we tried to visit one Saturday morning, the crowd at the door hoping to get a table was bordering on ludicrous, and we decided to skip the visit and return earlier the next morning.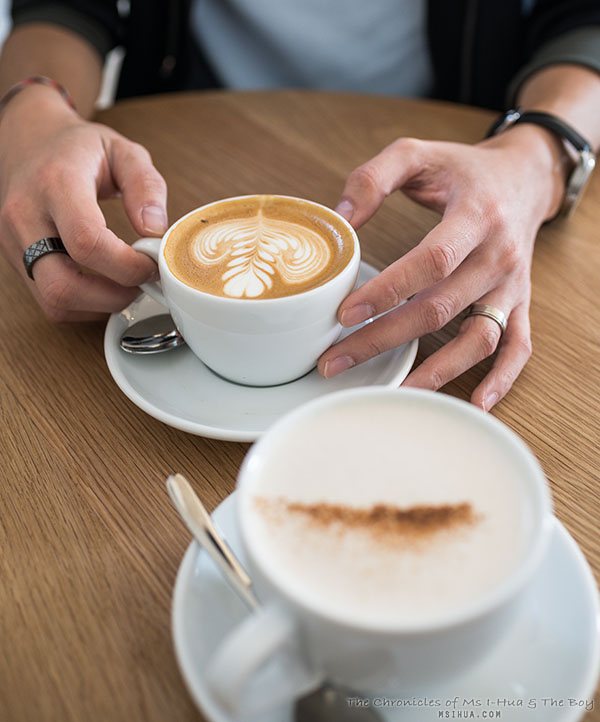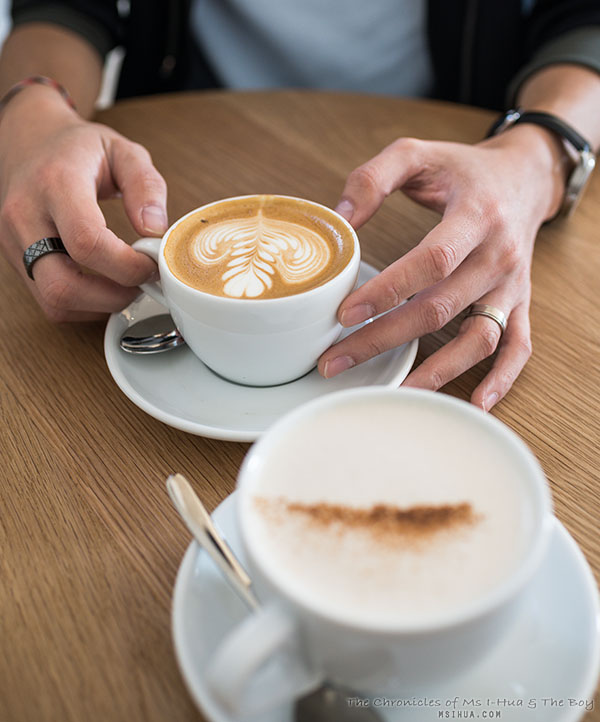 So whilst everyone decided to sleep in on Sunday morning, The Boy and I rocked up and was pleasantly surprised that we got a table quite easily (it was around 9am). Still, we weren't the only ones that had decided on an early Sunday breakfast.
As we scrolled through the popular Instagram feed on what previous punters had ordered (yes, that's how it works these days), our waiter patiently took our order for a 5 Senses Latte and a Chai Latte.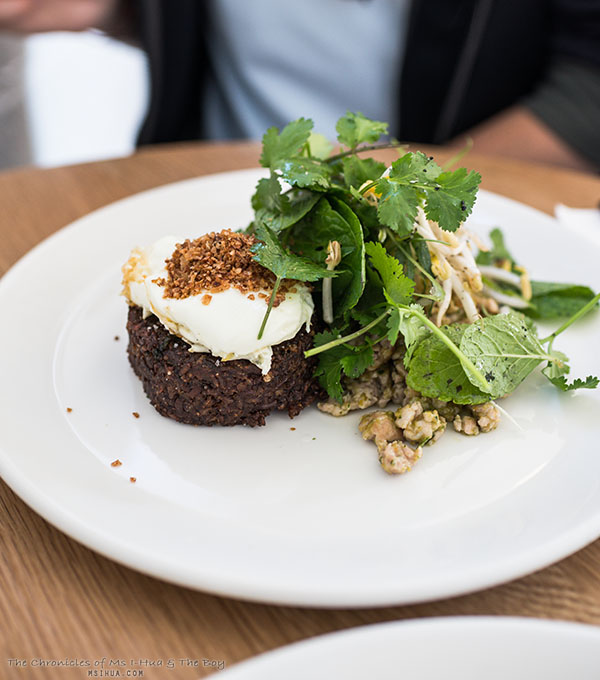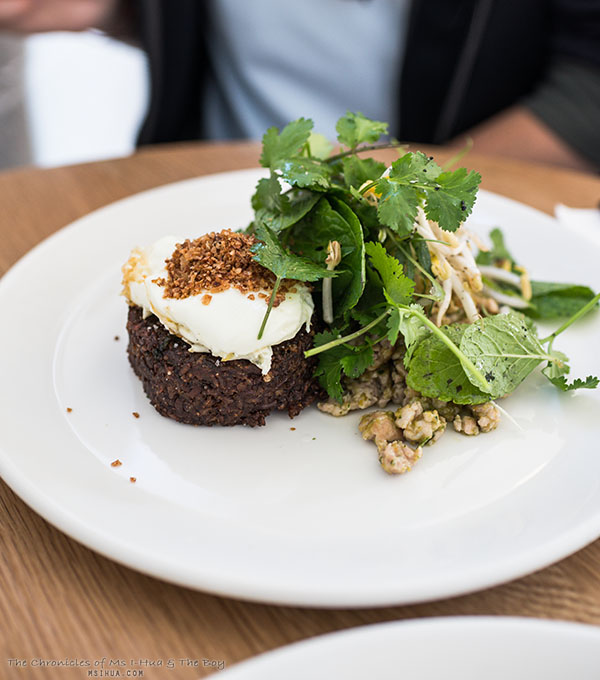 Having chosen Mammoth to visit, The Boy easily placed his order as he had already done his research. He ordered the Green Chilli Chicken, Crispy Red Rice,Cake, Chicken Fat Fried Egg, and Herb Salad $19.
I pooh-poohed his selection until it arrived and I tasted it. Immediate food envy and regrets. It was so tasty! I really love the zingy and zestyness of the Asian herb salad. To be honest, I don't think using chicken fat made a fat lot of difference to the eggs. Sounded good though on paper 🙂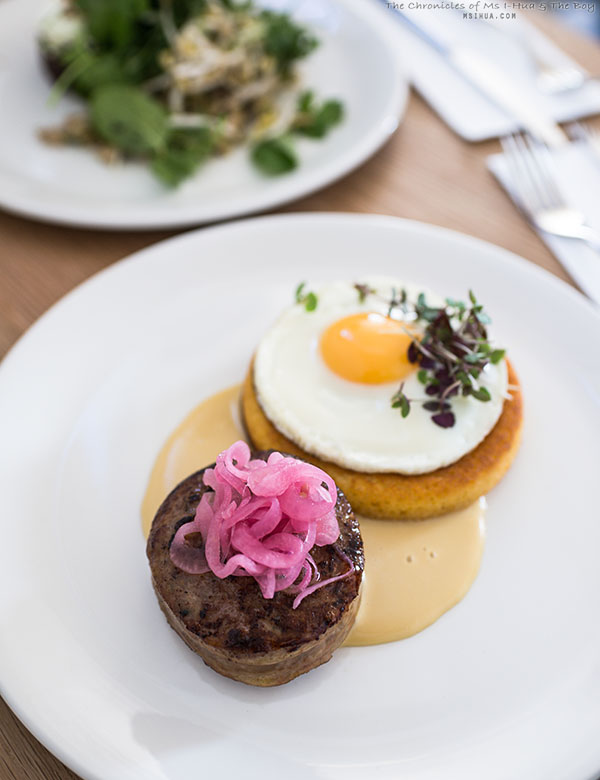 After a really long deliberation and finally giving in to what I thought sounded good, I placed an order for The Benedict. Duck Sausage, Orange and Corn Blini, Pickled Onion, Fried Eggs and Smoked Maple Hollandaise $21.50. I can't say that I really loved my dish. All the flavours worked well together and I loved the blini, but I felt that at the end of the day, it was much too heavy a start for an early breakfast. The hollandaise really put in a punch.
Which is why I can't wait to return just so that I could put in the original order I wanted, before I was swayed by the photos on instagram (damn you tricky photos!), which was the North Shore – smokey ham hock hash, flame grilled pineapple, tabasco, jalapeño and poached egg. That's what I really wanted, and I should have gone with what my heart felt like, not my stupid greedy feasty eyes!
If by now, you are thinking that the menu sounds very adventurous for a cafe, then think no more. Ex-Hammer and Tong chef, Emma Jeffrey is the reason behind it!
So, return we shall!
Address
736 Malvern Road
Armadale VIC 3143
Phone: 03 9824 5239
Email: [email protected]
Website: http://eatmammoth.com
Instagram: @eatmammoth
Opening Hours:
Monday – Friday: 7:30AM – 4:00PM
Saturday – Sunday: 8:00AM – 4:30PM
_____________________________________________________________________________________________________________
BAWA Cafe, Hawthorn
I really loved the design and layout at Bawa Cafe, Hawthorn's newest baby. With established cafes Hawthorn Common and Axil Coffee Roasters a stone's throw away, Bawa Cafe is fast drawing crowds in with their delicious sounding menu.
Guilty as charged.
The weekend we visited, was their first weekend of operation. And you wouldn't even have noticed. Service was flawless, kitchen was pumping out food, and the staff genuinely seemed happy to be there! I can't wait to see what they are like in another few months time 🙂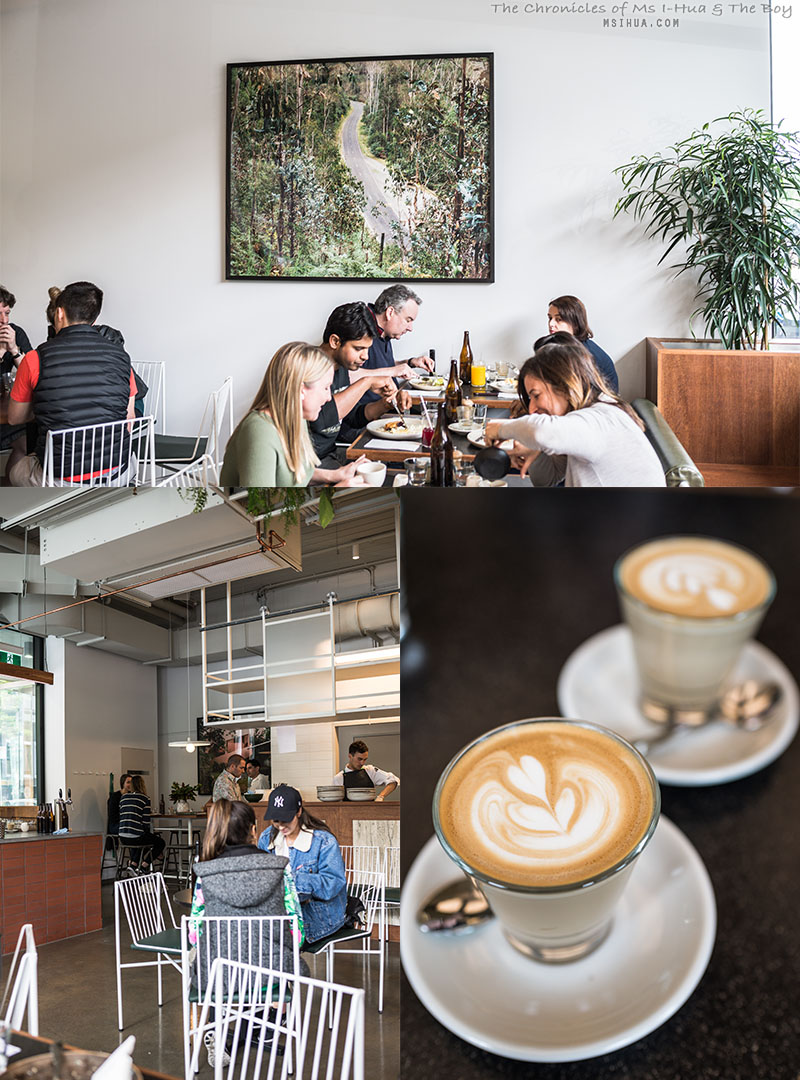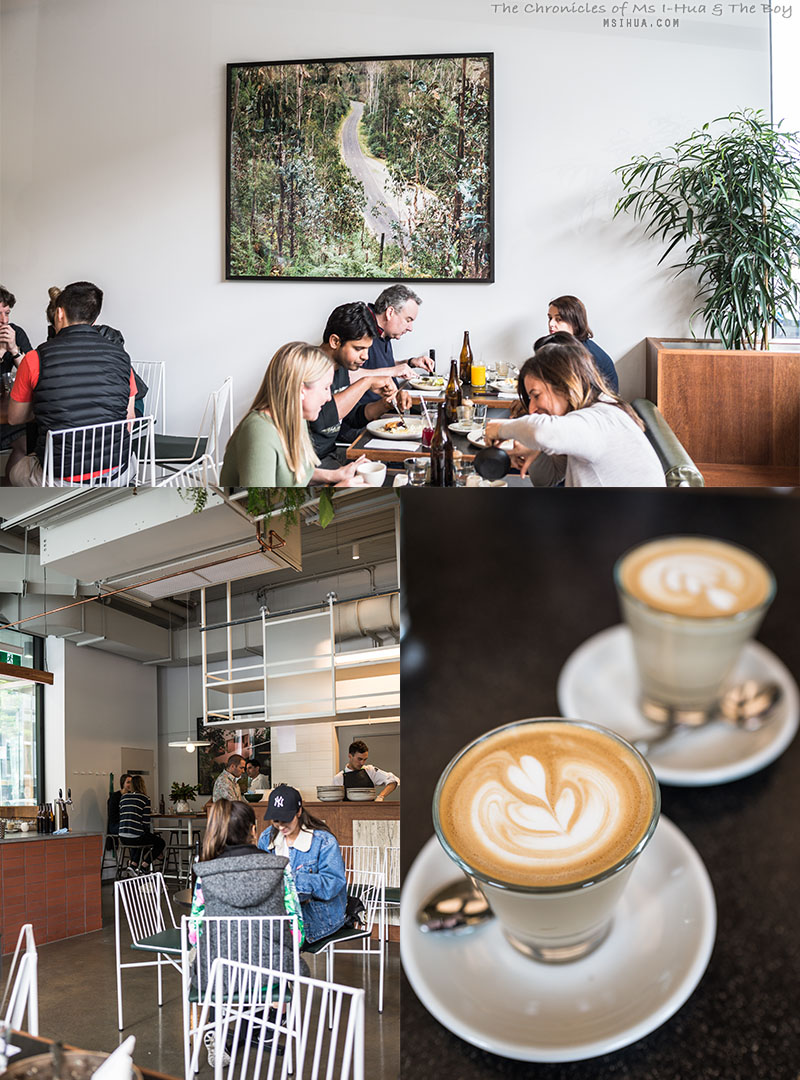 With a strong cafe backing experience (think Three Bags Full, Pillar of Salt, and Dukes just to name a few), it's easy to see why they were smooth operators. Also, the coffee comes from Dukes (duh!) and is as smooth and creamy as it usually is.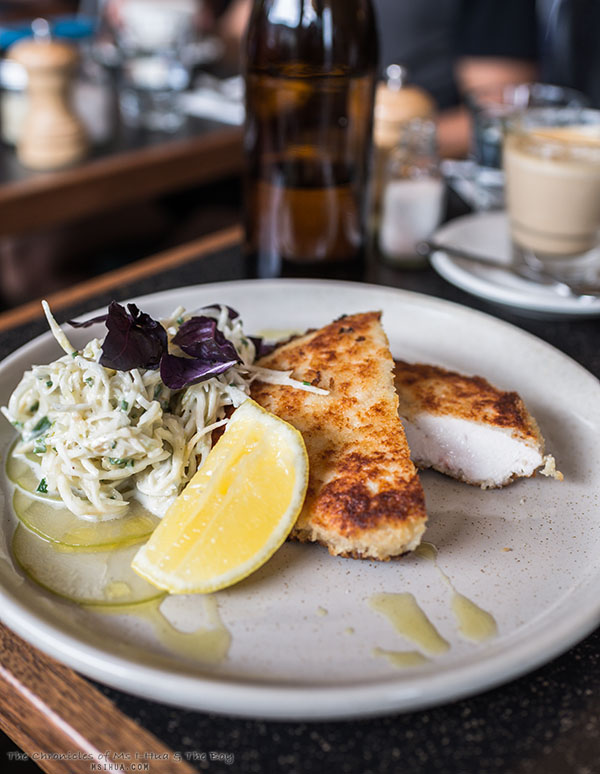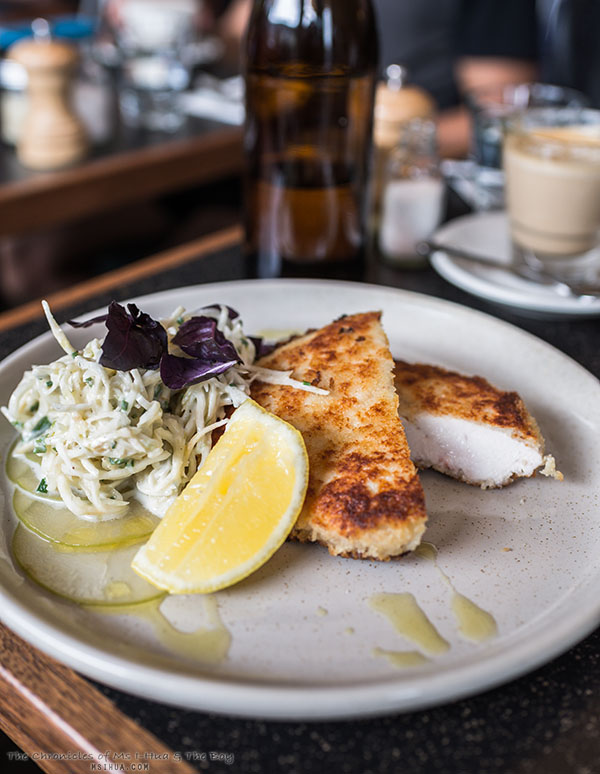 This time round, I won the Breakfast Ordering championship with my selection of the very delicious Free range Panko Chicken Schnitzel, Celeriac Slaw, and Pickled Apples $18. It was perfectly cooked (look at that sexy white flesh!) and the crust was wonderfully crispy.
SO MUCH YUM!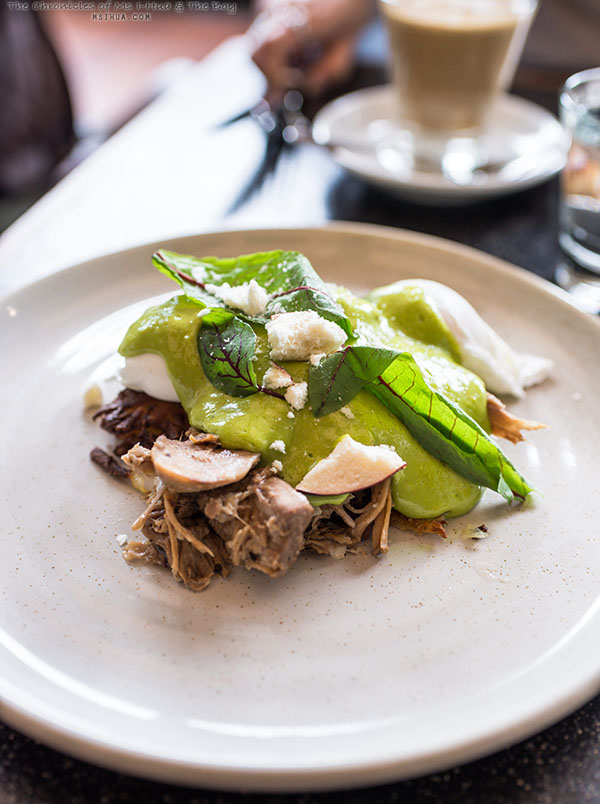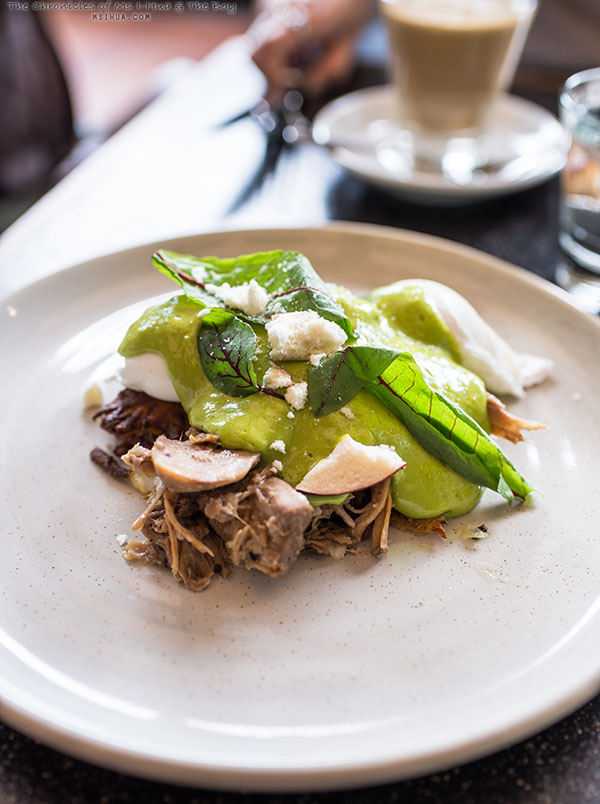 The Boy didn't lose the competition (but when there are only two players, I WON), and had a tasty Potato Rosti, Slow Braised Pork, Poached Eggs and Herb Hollandaise $18.
I really want to come back and try everything else on the menu. It needs to be eaten. All the things. All of it!
Address:
248 Burwood Road
Hawthorn VIC 3122
Phone: 03 9819 6701
Email: [email protected]
Website: http://bawacafe.com
Instagram: @bawa_cafe
Opening Hours:
Monday – Saturday: 7.00 AM – 4.00 PM
Sundays: 8.00 AM – 4:00 PM