If I were a chef, where would I be dining on my night off?
If I were a famous Japanese chef, say Tetsuya Wakuda, where would I go to chill out and have other people cook for me?
Apparently, the answer is, "Across the road, at Azuma Kushiyaki."
When we were visiting Sydney during Easter, we asked if Big Sis could make a booking at Azuma Kushiyaki for us. We wanted to dine at this hugely popular restaurant. Just imagine! We could be dining with Tetsuya just a few tables away!!
So off we went through the maze-like building before we reached the front entrance of the restaurant. Greeting us were very polite and helpful wait staff. I also happened to glance up before entering to try and catch a glimpse of the infamous lap pool from the apartment dwellers above us. Alas, no one was swimming at that hour 😀
Although we did not manage to score a booth seat with the wonderful paper screens, we did however managed to get seats in a corner booth which enabled us to take in the entire dining area and spy on what everyone else was ordering for their table 🙂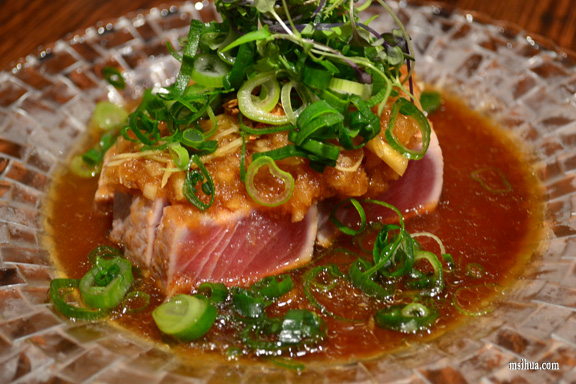 Upon looking at the menu, Big Sis and I just knew we had to order the Seared Tuna Salad served with Azuma's Soy Vinaigrette (as featured in SBS Food Safari) ($16.00). I absolutely loved the subtlety of this dish. It was a wonderful start and I couldn't help but feel excited about the rest of our dishes.
Azuma Kushiyaki is pretty much an upmarket version of a traditional Japanese yakitori-ya. The food served is simple and quick and absolutely delicious.
We decided to have a few Kushiyaki (Kushi = Skewers; Yaki = Grilled) and Otsumami (small dishes) dishes to share, as there were four of us and it would be more lively that way. Thus began our fun Japanese tapas-like dinner.
Sugaki – seasonal fresh Oysters with Ponzu dressing ($3.50 each) and Nasu Dengaku – grilled Eggplant with minced chicken miso ($8.00)
Tori Kawa – deep fried crispy Chicken Skin seasoned with salt ($5.00) and Edamame – warm green Soy Beans ($7.00)
I have to say, Big Sis and I had heart palpitations when we saw that there was deep fried chicken skin on the menu. Big Bro and the Boy could only look on at us with amusement in their eyes. They know absolutely nothing about haute cuisine 😛
The Boy had the Grain fed Ox Tongue with Azuma's curry salt ($4.00) and Wagyu Beef tenderloin with Yuzu citrus pepper ($4.50), whilst we non-beef eaters shared the Duck Breast with Japanese Sansho pepper salt ($4.50) and Paradise Prawn with salt ($3.00 each).
We found the Chicken Breast with pickled plum mayo ($3.00) had an interesting flavour. It is not something that I'm quite keen on ordering again. I'm not sure why, but in theory and in writing, the pickled plum mayo worked a lot better.
We also had the Shiitake Mushroom stuffed with minced prawns ($3.00) and Chicken Thigh fillets with Kushiyaki sauce ($3.00 each).
Wild Scallop with soy and homemade garlic oil ($3.00 each) and Sea Perch marinated in soy, sake and mirin ($3.00).
Kakuni – braised Pork Belly in soy broth ($8.80) and Lamb Chop with Japanese Sansho pepper salt ($6.00 each). Looking back, I'm not sure why I ordered the lamb chops. It wasn't even really a traditional Japanese dish, but yet, at the time, it felt like the right thing to do. It helped that it was delicious too 🙂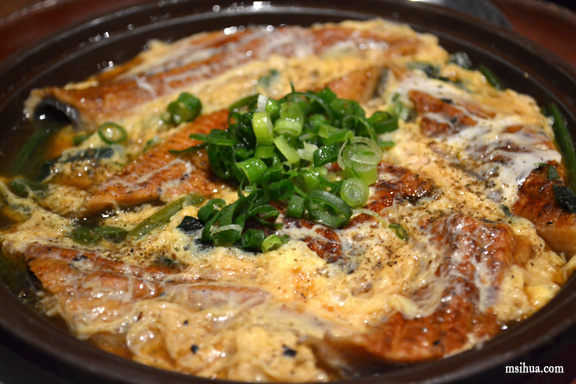 We finished up with the Unagi Yanagawa – grilled Eel, spinach topped with soft cooked egg in a shallow pot ($16.80), which was pretty much a Una (eel) Tama (egg) Don without the Donburi (rice bowl), nothing too wacky or weird.
What did I think of it all? To be honest, I can see why Tetsuya would dine here pretty often. The fare is simple and it speaks strongly of Japan. If you are looking for a simple Japanese meal which serves good quality food that tastes good, this is the place to be.
Would we come back? I really wouldn't mind. Writing this blog post has me hungering for that seared tuna and crispy deep fried chicken skin!!
*Disclaimer: All food ratings are purely based on my own experiences and how I feel about the service, food and quality at the time of visit
Food/ Cuisine: Japanese (Kushiyaki)
Dining Style: Restaurant
Overall Food Rating (Based on the Dining style): 8/10
Restaurant ambiance: 8/10
Service/ Attitude: 7/10 (Service was a bit slow, but the staff were really helpful and friendly, though not the most attentive at times)
Value for money: 7.75/10 (For all that we had, it was less than $150, which is pretty reasonable, considering that's between the four of us.)
Address:
Ground Floor, Regent Place Shopping
501 George Street
Sydney NSW 2000
Tel: (02) 9267 7775
Website: http://www.azuma.com.au/kushiyaki/home.php
Azuma Kushiyaki is open
LUNCH: Monday to Friday, from 12pm
DINNER: Monday to Sunday, from 6pm
How to get there: