Nestled in a building laneway where places such as MoPho Noodle Bar, Story In A Cup and Veloce Restaurant Bar lies a new, young and vibrant restaurant.
It's not quite what it seems to be on the outset. I have had friends asking me about this new cocktail/fruit juice bar and each time, I've had to correct them that yes, although Claremont Tonic serves cocktails and juices (no coffees allowed) they are pretty much an Asian inspired restaurant.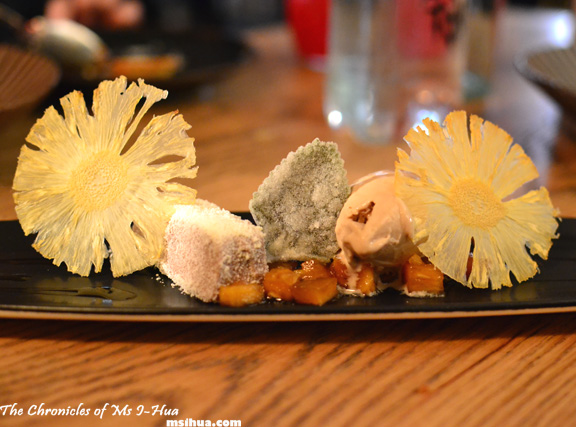 Not too long ago, I was invited with a few bloggers for a night out with Davis Yu. Hip and young (very young) he may be, Davis is by no means new in the hospitality scene, having the successful Millswyn and ever popular Touché Hombre under his belt.
As he got underway and carried away with the menu ordering for us that night, Davis told us the story about how Claremont Tonic came about.
Intending to open way before Touché Hombre, he and his team worked hands-on in decorating this place. A bit of rock n' roll and a bit of his Asian heritage, the final effect was pretty much wok n' roll *blush*.
Davis's usual glee and enthusiastic high-speed chatter was still in evident that night though a little subdued as he wasn't feeling all the best *awww*.
When the question was put to him about the no-coffees policy, he answered that he wanted to do something different and offer an alternative fresh and invigorating means of 'caffeine-hit' to the masses. Hence only fresh juices (blended upon placing orders) and soothing teas are available on the menu.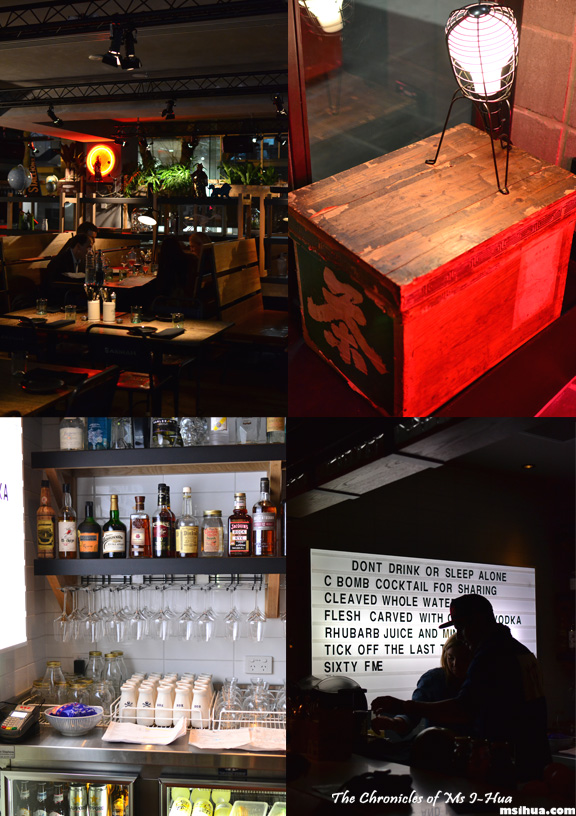 Nevertheless, the party had to go on and after placing the orders for us 5 girls and staying to chat for a little bit, he bid us adieu and told us to "Rock On!".
Undeterred and a little scared of the continuous flow of food out of the kitchen, we soldiered on to taste each and every morsel Head Chef, Dylan Roberts (ex-Ezard) placed on our table.
Davis and Dylan travelled through Asia together and came back with this great idea to open Claremont Tonic. Menu items though tongue-in-cheek are nothing but bold and impressive flavour wise.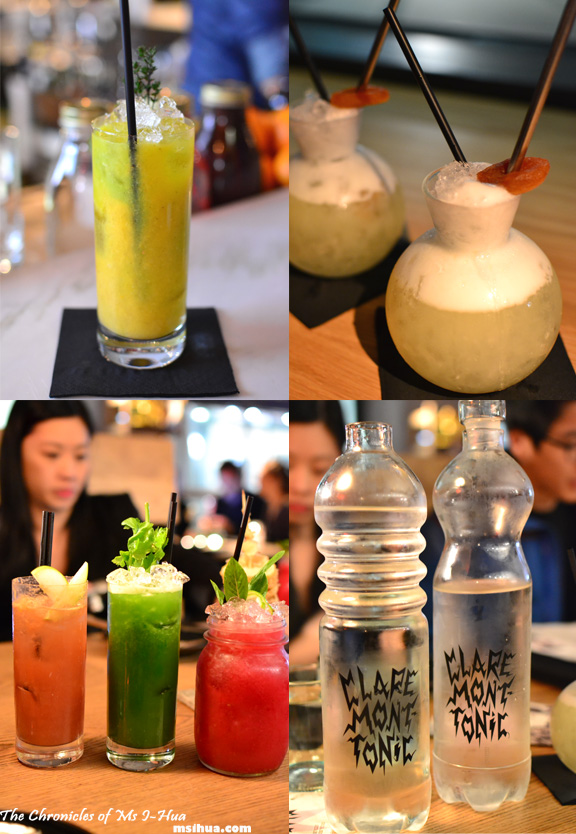 Because this post started with the aforementioned cocktails and juices, here are some pictures and descriptions of them!
On juices. the table tasted 4 out of the 5 offerings on the menu which were Flower, Bird, Wind Moon (Orange Passionfruit Kiwi Thyme), Burmese Days (Pineapple Mint Ginger), Apple of Tripitaka (Cranberry Red Apple Watermelon) and Wake from Dead & Return from Life (Celery Honeydew Cucumber Green Apple). All of the juices were extremely tasty but my favourite was my very own green green glass of life-giving power. I loved the combination of vegetables and fruits in mine and I felt quite refreshed and hydrated finishing off with it after two strong cocktails.
For the un-initiated, the cocktails menu comes prepared with a taste chart and depending if you are the type who likes sweet, sour, bitter or salty the cocktails on offer are presented on the chart.
Smack bang in the middle of the bulls-eye-like chart is a drink for the brave. Fuck you Eddie! includes five types of rum, raspberry ice cubes, Thai lime sour and ginger beer.
Rather than choosing such an *erm* exciting sounding drink, I went with Davis's recommendation of a sweet cocktail, Nakatomi Towers which had Kigo Shochu, house lemonade, Japanese apricots and yuzu juice foam. Lip smackingly delicious 🙂
Not pictured as well, I had the trial version of the Lost In Translation (Japanese whisky with a hint of smoky caramel, butterscotch, egg-white, vanilla centred cream with a sa-spar-ell-a fizz finish) which was so like an alcoholic cream soda float, I wanted more!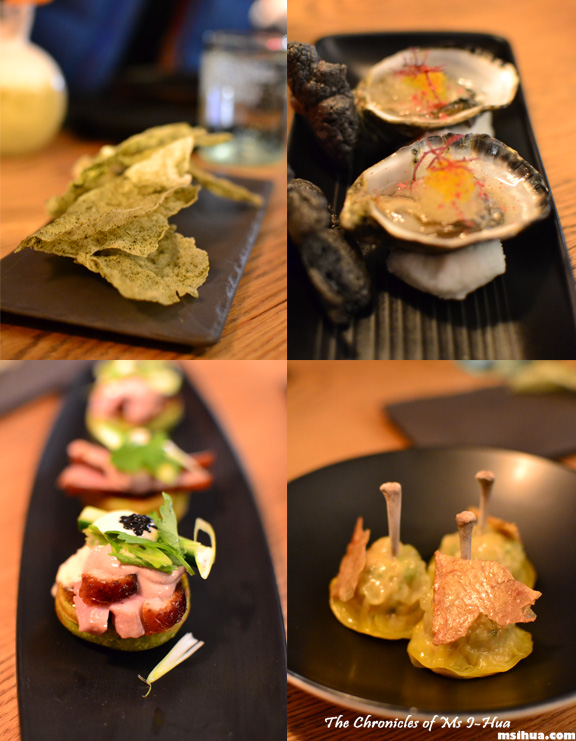 But enough about the drinks (there's too much going on there that I want to cover) and onwards to the food!
For entrees we had some crispy and light nori chips to start (reminded me of the ones served at Momofuku Seiobo), followed by Jedd's Jewels which is as you guessed. Two oysters with rice nectar (sake) jelly, tobiko, wakame, lime and an oyster cracker coloured with squid ink.
Following that we had the Double Duck Blinis (peking duck, hoisin sauce, pate cucumber and caviar aioli) and Chicken Wing Dumplings (served with spiced vinegar, egg yolk and crispy chicken skin). Loved the cute duck blinis as they were so tasty! The chicken skin dumpling I felt could be better as it looked (and tasted) like a normal dumpling with a chicken wing drumstick sticking out of it. I kind of am biased towards the chicken wing gyoza from Akachochin though.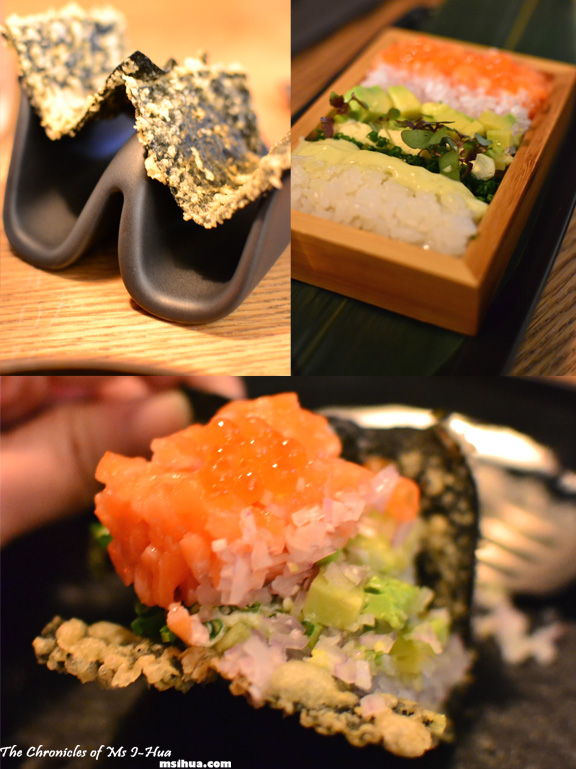 Next up was my favourite thing of the night due to its genius and execution.
Under the Land & Sea option of the menu, lies the King of the Chimichangas. As you know a chimichanga is a deep-fried Tex-Mex styled burrito.
What Claremont Tonic has done here is beyond imagination. Using deep-fried nori (seaweed) shells which is served with a box (hand polished by Davis & team) filled with raw king salmon, tobiko, avocado, onions, sushi rice and kewpie mayo.
It's a do-it-yourself-full-of-mess-but-extremely-fun sushi roll chimichanga style! So so fun and good to eat!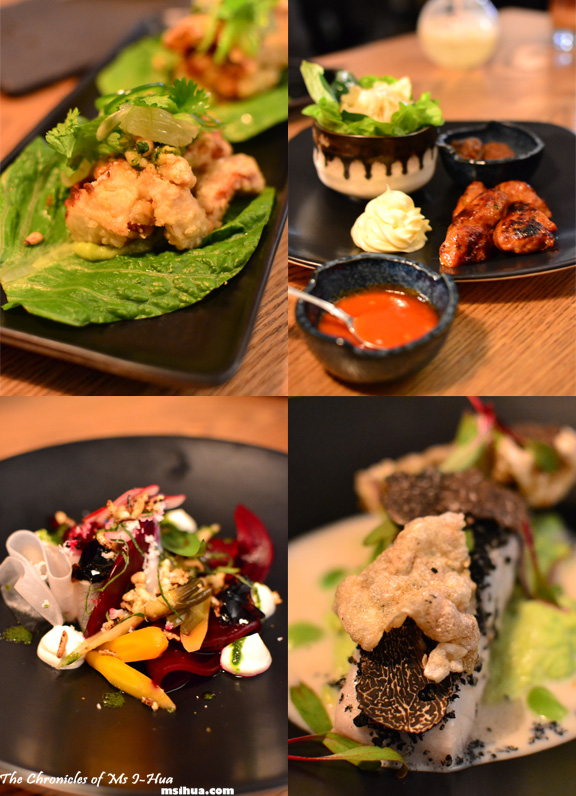 The soft shell crab cups (lettuce, jalapeno, pomelo, avocado, fiery mint and pine nuts) was another good entrée we had.
We also had CT's Pork Chipolatas (soused cabbage, XO sauce, roasted onions, kewpie mayo and wraps) and a serve of Samurai Vegetables (beetroot, radish, smoked yoghurt, puffed grains and Thai basil) as Davis remembered that we should have at least one healthy item on our table.
Then the mains arrived! Uhuh! I told you Davis got carried away with the ordering.
The first to arrive was the rather beautiful but rather lacklustre Cone Bay Barramundi with coconut dashi, squid ink and truffled edamame mash. To be honest, I didn't feel all that enthused with the lovely lashings of truffles on this dish and felt that it was rather lost at sea (HAHA!!).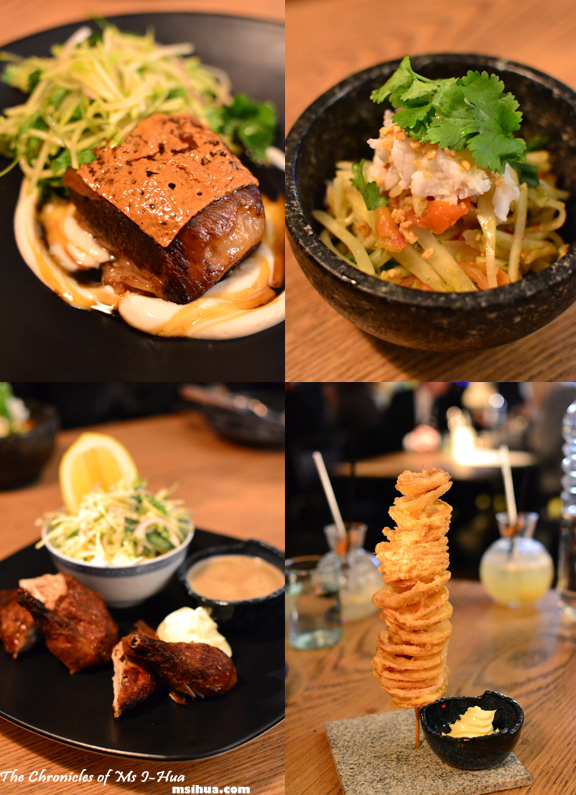 The other mains that arrived we did enjoy. I particularly loved the Slow Cooked Pork Jowl (of course) which had been marinated and braised in pear, maltose, almond and coriander and was just so rich and fatty! My kind of dish!
We also sampled the Red Rooster (red roasted 1/2 Milawa chicken, slaw, lemon and chicken gravy). It was rather unanimous I must say, as the table as a whole agreed that the chicken gravy was better off the plate than on it, as the chicken was great by itself (a bit like crispy chicken served in Chinese restaurants).
With the mains, we also had another serve of veggies, this time a spicy Crab Meat Som Tum with the crab meat being completely lost in the fiery salad.
Finally, we had a serve of a Korean fun-fair snack of Infinite Spiral Fries served with curry salted kewpie and sticky soy.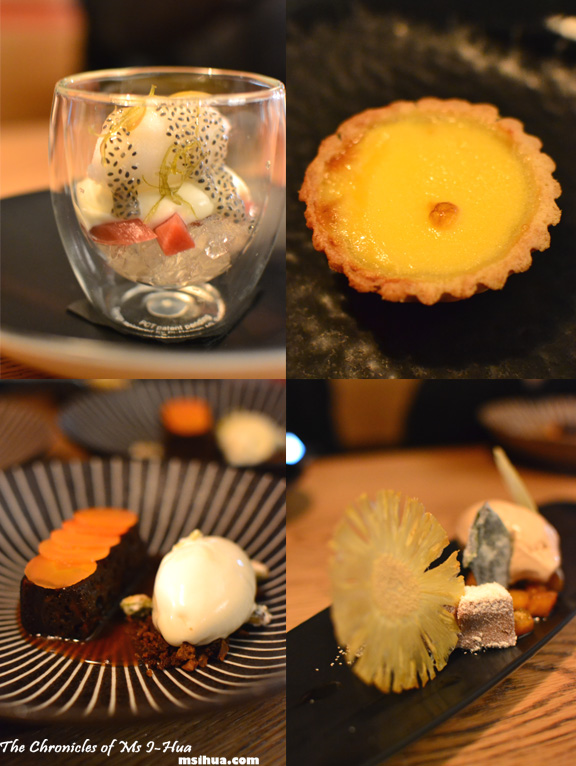 We weren't done yet as the kitchen brought out desserts!
My favourite was the Plum Wine Sorbet with CT Jelly, Tonka bean custard, rhubarb and candied lime as it was a well balanced dessert.
We also had a Custard Tart each, Gingerbreads (warm spiced carrot cake, salted caramel, sesame ice-cream and pistachio), and Elianza Truffle (milk chocolate, pineapple, perilla and malt ice-cream).
Possibly due to the inclusion of alcohol-like flavours in the Plum Wine Sorbet and Elianza Truffle, I liked those two the most 😛
All in all, I found the ambiance pretty cool and funky. The music (mostly AC/DC) was all rock n' roll, the food mostly delicious and the service mostly attentive. Though a bit on the pricier end (it is South Yarra after all), it certainly would be somewhere I would go to, to celebrate a night out with my girls.
[Ms I-Hua dined courtesy of Claremont Tonic and AMPR Group]
Other recaps of the night:
Gastronomical Ramblings
Off The Spork
*Disclaimer: All food ratings & review are purely based on my own experiences and how I feel about the service, food and quality at the time of visit
Food/ Cuisine: Modern Asian
Dining Style: Casual Dining
Opening Hours:
Tuesday to Saturday, 6:00pm – late
Address:
15A Cnr Claremont Street And Yarra Lane
South Yarra VIC 3141
Tel: (03) 9827 0399
Twitter: @claremont_tonic
Website: http://www.claremont-tonic.com.au/
How to get there: