Not-for-profit (NFP) organization Meld Magazine has launched the Little Orange Book of Big Discounts, a new discount booklet especially targeted towards students, tourists, backpackers and canny city dwellers looking to experience all that Melbourne has to offer, on a budget.
If you reckon a fun night out includes spending BIG, the Little Orange Book is here to save the day!
For just $25, the new discount booklet contains some 100 vouchers representing $1000 worth of offers. None of the businesses featured in this book have paid to be included.
Established since 2008, Meld Magazine is a Melbourne-based NFP media outlet serving international students in Australia. Run entirely by volunteers, the organisation also provides mentoring and work experience opportunities for both local and international students across various disciplines.
While The Little Orange Book is not targeted exclusively at students, a small number of vouchers are valid only for those with a Student ID and is explained clearly in the voucher's terms and conditions. So if you have a Student ID, all the more reason to get your nifty hands on this book ASAP!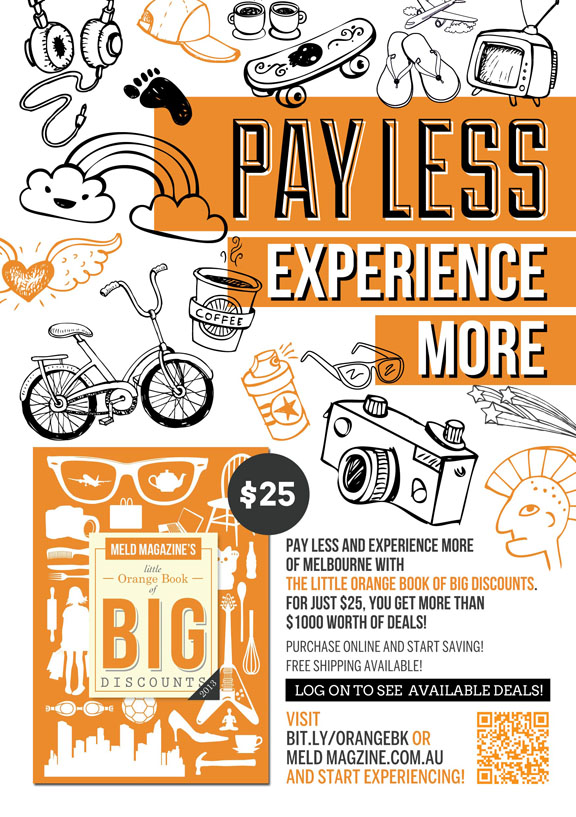 Some of the great discounts on offer covers:
• Food and drink • Lifestyle and entertainment •
• Tours • Groceries • Printing services •
• Optics, health products and more •
If that still doesn't get you all excited, here are some of the BIG names with cool deals featured in the book.
• Ajisen Ramen • Chatime • Pepper Lunch • Central Grocery • Mad Mex •
• Nando's • Krispy Kreme • Dangerfield • KBox • IKEA •
• Bao Now • Coconut House • Izakaya Chuji • Momo Sushi • Mercadante •
• Hometown Asian Supermarket • Plantation Specialty Coffee • Snag Stand •
• porgie + Mr Jones • Cacao Green • Ganache Chocolate •
• Extragreen Holidays • Picket •
The Little Orange Book is not all about savings. As a not-for-profit organisation, proceeds from every purchase will help support Meld Magazine and other similar not-for-profit organisations and student groups in Melbourne.
Meld Magazine founder Karen Poh believes the book is a valuable resource for those looking to make the most of their time here in Melbourne.
"It's a great starting point for those who want to explore more of Melbourne but are wary of blowing their budget," she says.
"It's also something nifty you can pull out of your bag when you're out of ideas as to where to go for lunch, dinner or just a coffee."
With so much jam-packed in one small booklet, now everyone can explore and discover Melbourne on a budget. The Little Orange Book can be purchased online at http://bit.ly/orangebk for $25 with free shipping!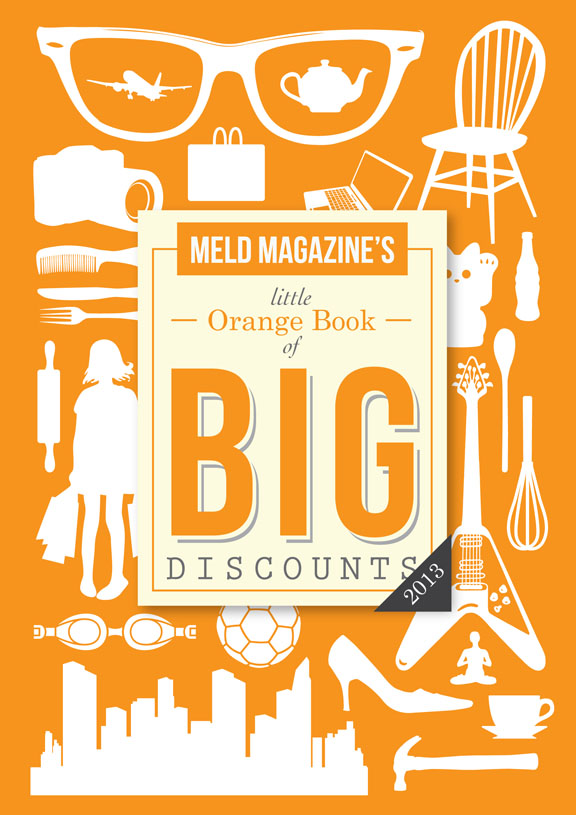 For more information about the organisation, please visit Meld Magazine.
However, for those of you who think you may have a little luck on your side and want to play a game of chance, then read on below 🙂
_______________________________________________________________________
COMPETITION TIME!
Alright! So you have read the post, read about the discounts, researched on Meld Magazine and wondered to yourself, "How do I qualify for a free copy of this Little Orange Book of BIG Discounts?"
The fabulous people at Meld Magazine are giving away a copy of this book to a lucky reader!
All you have to do is answer the question:
'How would you spend a fun day around Melbourne on a budget?'
I will be choosing the most creative answer to win! If you are a student, it probably doubles your chances as well!
Competition for the giveaway will run from Friday 28th June 2013 to 8:00pm Thursday 4th July 2013 (winner to be announced on this post, my Facebook page and Twitter on Friday 5th July 2013).
Note: Please leave a valid email address in the email box (emails won't be published) as a contact point. The giveaway is open to readers in Australia only.
_______________________________________________________________________
[04/07/2013] Announcement: Winner of Meld Magazine's Little Orange Book of BIG Discounts 2013

Thank you to everyone who left a creative comment here.
The Winner is Yun!
… Congratulations, the winner will be contacted via email.
Competition Now Closed.