As you are well aware off, the Taste of Melbourne event has come and gone over the weekend.
I've been live instagramming, facebooking and tweeting the event, much to the aghast of my followers (because they've been drooling all over their keyboards and phones :P)
As I did get a sneak peek of what the event was going to be during the launch of Taste (or #ToM2012) I knew what I had to focus on (in terms of food) and what I could skip (as I do have another wedding to attend as the bride in December :P).
Luckily for me, I was part of an entourage of food enthusiasts a.k.a. food bloggers who was invited to attend the Gala Night (Opening Night) and the #ToM2012 this year.
This first part (of THREE *we took too many pictures* :P) will focus on the Gala Night event as well as the many cooking demonstrations, talks and even cocktail making sessions!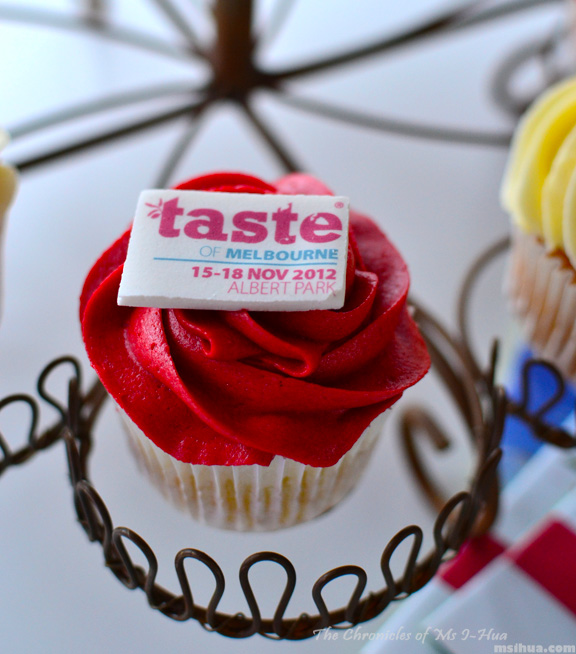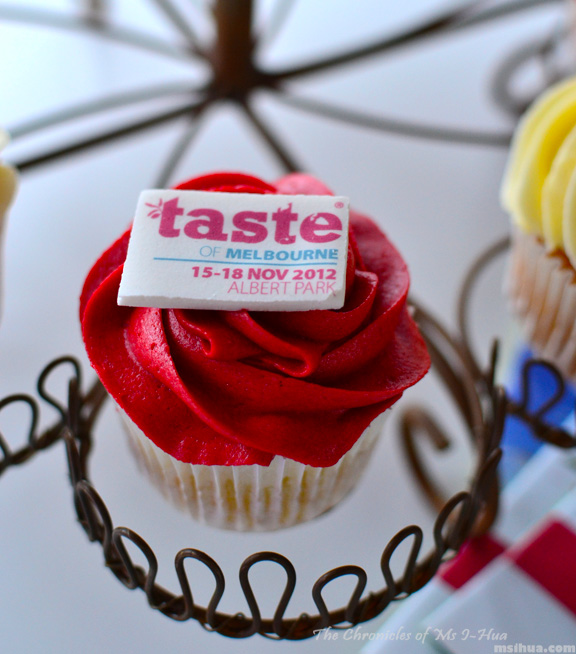 This year, by having it at Albert Park has been awesome.
The Boy and I attended three out of the four days and the weather was amazing. Apart from slight showers on Thursday night, the sun was out blazing on Friday and Saturday, and we even got a little burnt from it 🙂
One of my biggest bug bears when ToM used to be held at the Royal Exhibition Building was that it was too cramped with no airflow and the lines at restaurant stalls that got in the way due to the limited space in the building was annoying.
Now with big wide open spaces (apart from the Mamasita stand area) of the park and the open air venue, it was great!
In terms of getting there, it was probably not as convenient to get to via public transport as the nearest tram stop was the Mart 130 stop about 10 minutes away (not too far). However, it was much easier for those coming in by their own vehicles as parking is available on Aughtie Drive (if you're early) or along Canterbury Road.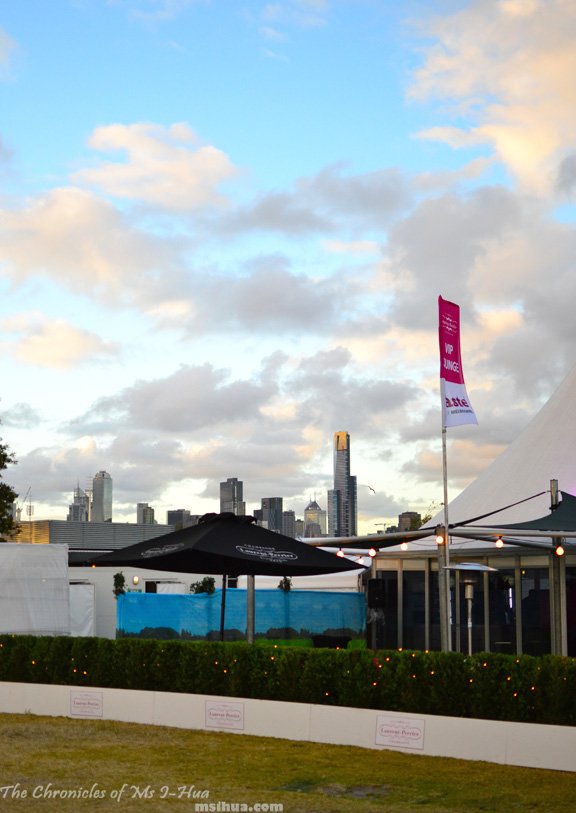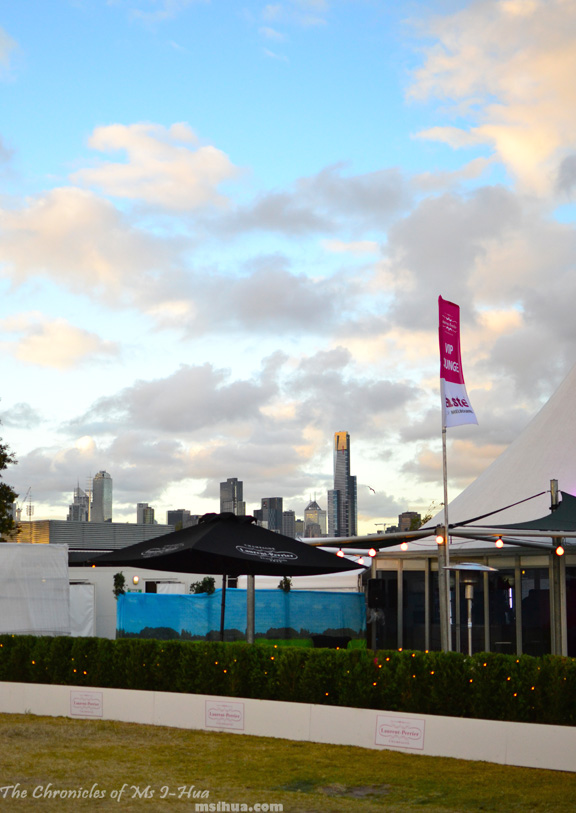 _______________________________________________________________________
VIP Gala Night in the Laurent-Perrier VIP Lounge
So on Thursday night, we managed to catch a glimpse of the VIP lifestyle as we sipped our Laurent-Perrier bubbles and picked on the nibbles that came past us.
Why were we there? Why, to put our hands together for the Best in Taste awards ceremony.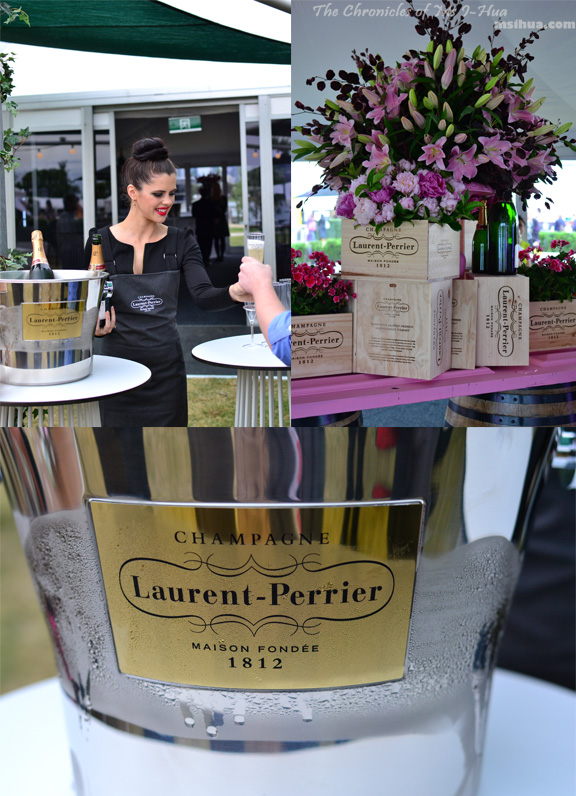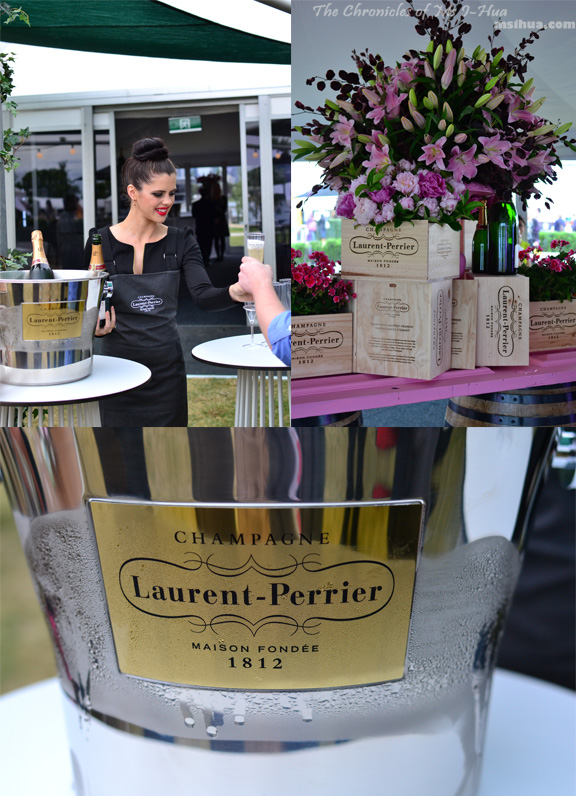 Out of the 19 restaurants partaking in the event this year, it was definitely a tough job for the judges to pick a winner.
The judges for this year's awards were:
Nuno Mendes, International Chef of Viajante Restaurant (UK)
Joe Warwick, London based restaurant writer, co-founder of The World's 50 Best Restaurants and originator of The Best in Taste Awards
Michael Harden, Food Writer: Australian Gourmet Traveller, Fairfax
Christopher Hayes, Food Critic: Eat Drink
Alan Nelson, Australian Importer of Laurent-Perrier
All very official and prolific sounding 🙂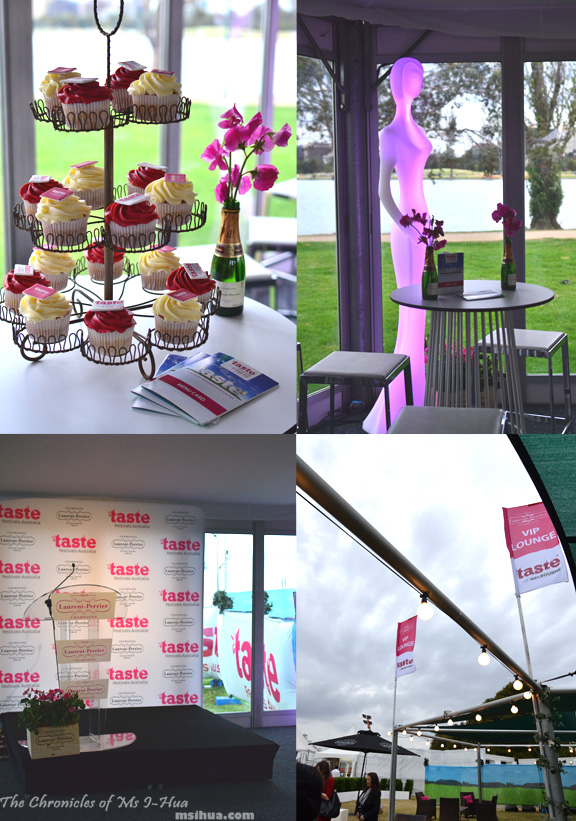 Best in Taste Awards are to honour the top signature dishes of the festival. We managed to try two out of the 4 mentioned dishes (foodies fail) as we ran around eating non-stop in the three days that we were there 🙂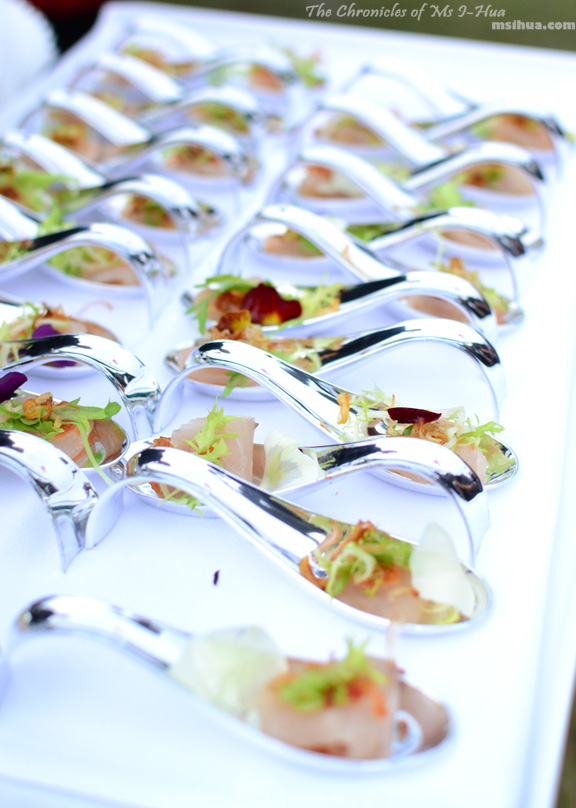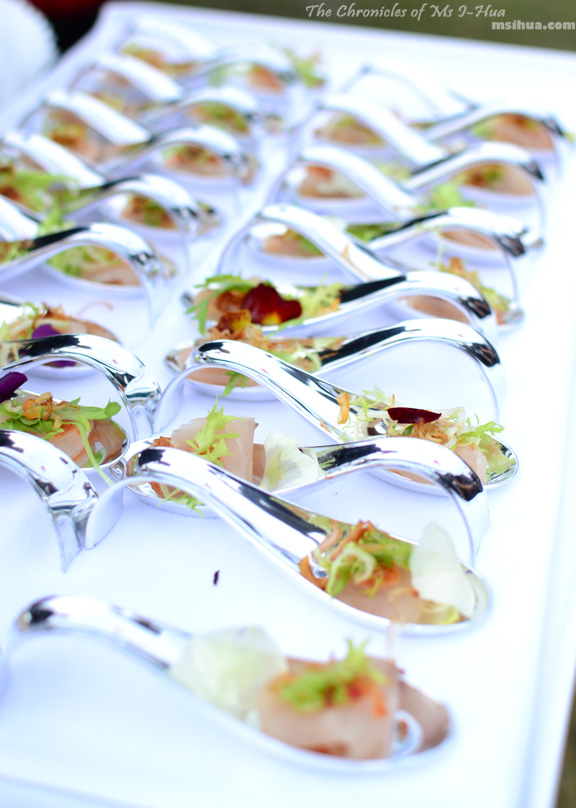 Winners for #ToM2012 were:
Winner: Albert St Food & Wine – Philippa Sibley – "Minted Mermaid" (pea & mint soup, smoked salmon and apple)
1st Runner Up: Mamasita – Scott Eddington – "Cerdo en nogad" (Mulato rubbed pork fillet, walnut sauce, pomegranate & tequila soused raisin)
2nd Runner Up: The Botanical – Luke Brabin – Yuzu cloud, coconut pearl, guava sorbet
Honourable mention: Josie Bones – Black Pudding
Best Front of House: The Aylesbury Restaurant & Rooftop
Best in Taste of Wine Awards:
Best Red: Seville Estate
Best White: Seville Estate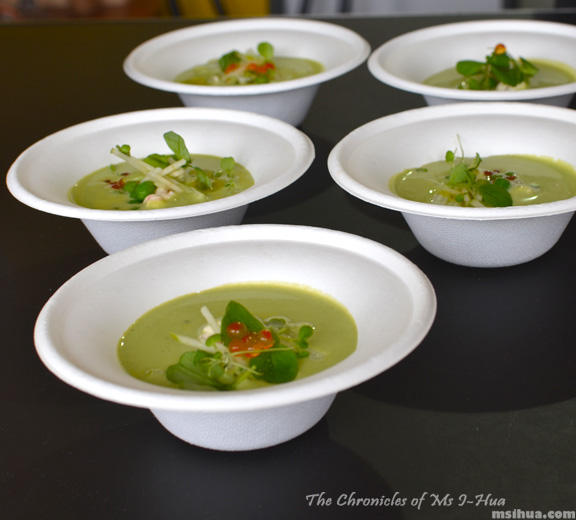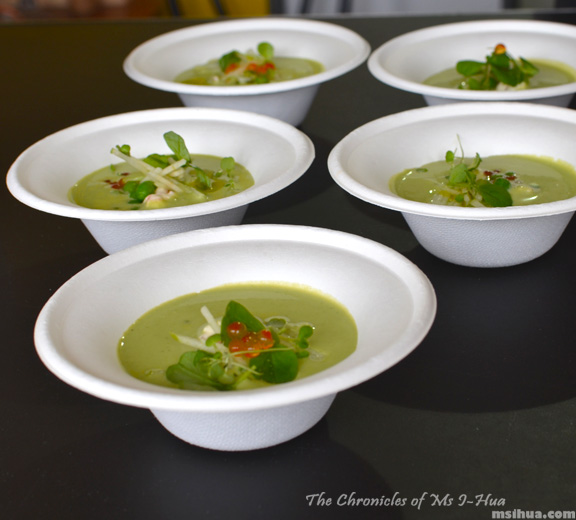 We managed to sneak a few spoonfuls from Adrian as he bought the "Minted Mermaid" (pea & mint soup, smoked salmon and apple (10 crowns)) to try.
All I can say is, no matter how much you disguise peas, I can still taste it. It was alright, but I most certainly wouldn't have given it the winning title. I'm anti peas and I'm pro pork 😛
The Yuzu cloud dish from The Botanical was certainly worth its mention as I did remember loving it very much when I had a taste of it 🙂
_______________________________________________________________________
Dilmah Chef's Skillery
One of the free sessions available at #ToM2012 that the Boy and I attended was the Dilmah Chef's Skillery. This used to be the Chef's Table from 2011's Taste of Melbourne event.
The Dilmah Chef's Skillery featured a cool line-up of chefs who each brought a unique skill to the table to demonstrate for guests from filleting a fish to deboning a whole chicken.  It definitely provided an intimate setting between the guests and the chefs for asking questions where one normally would not have the chance to do so.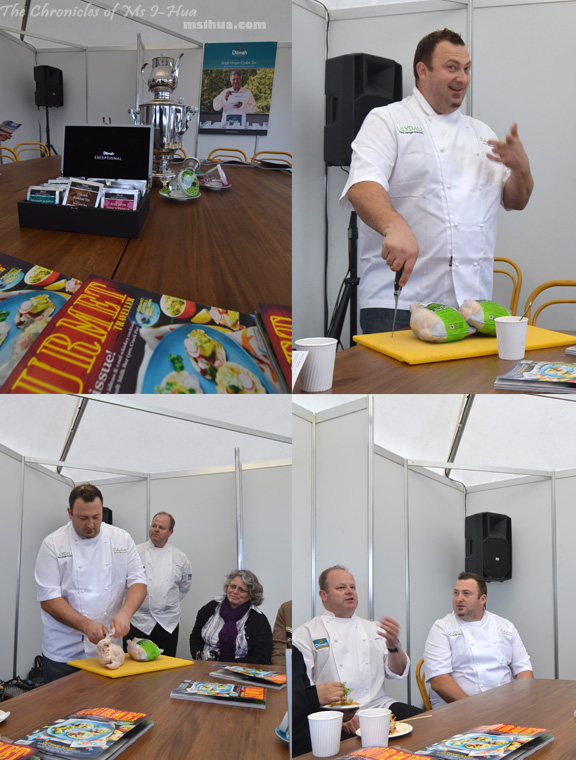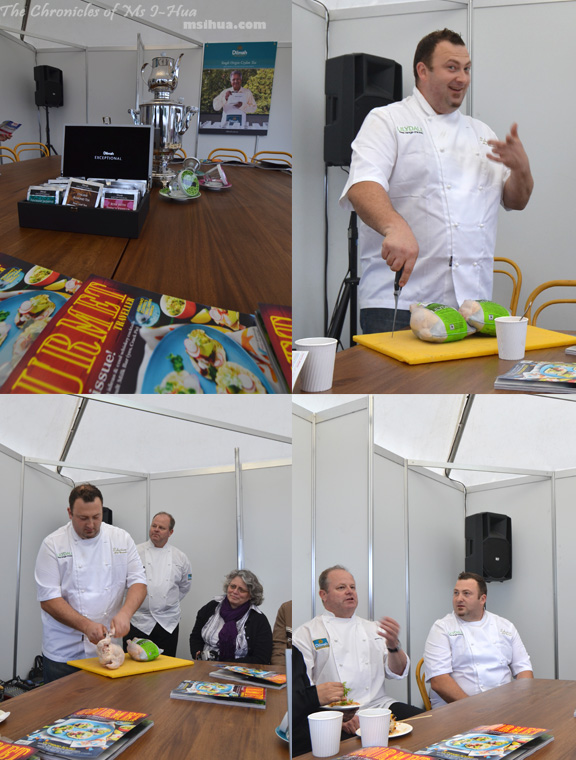 We attended the session where Nick Creswick of Libertine showed us how to cut a chicken before deboning it. He made it seem so easy!
He attributed all this to knowing how the chicken (or any animal) is set up and thereby using the knowledge to carve it up easily.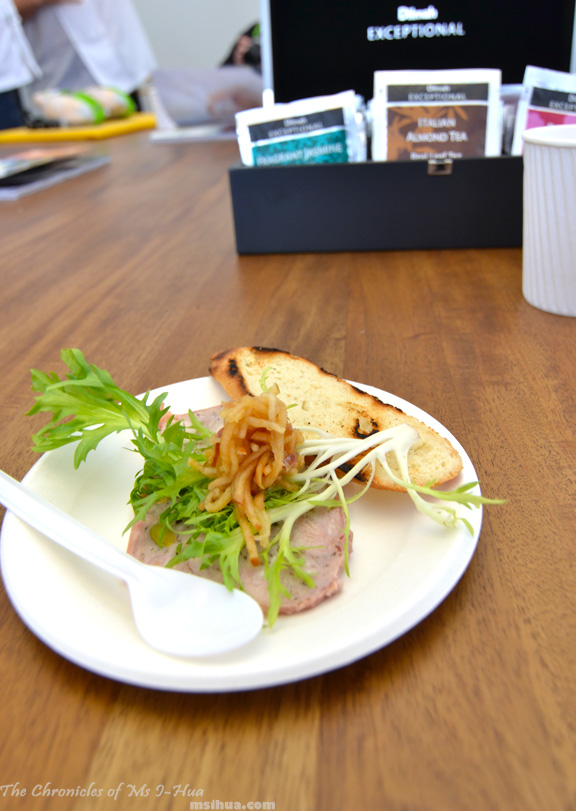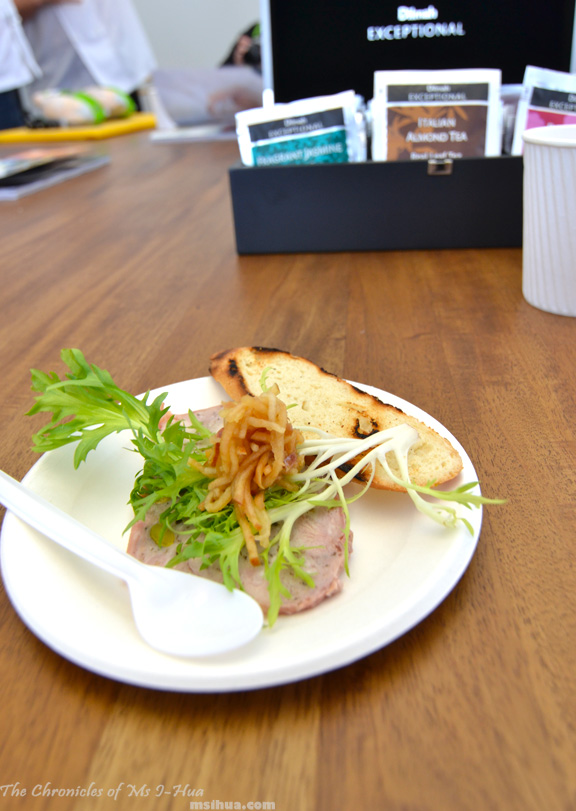 While watching the master at hand, we sampled Libertine's dish of Lilydale Free-Range Chicken Terrine – pressed terrine of chicken, pistachio & orange, grilled baguette and pickled apple salad.
We also managed to sample cups of hot teas (Jasmine and Italian Almond Tea) warming up from the chilly night air as the weather slightly turned on us on Thursday evening.
_______________________________________________________________________
Sensology Presents 'The Art of Cocktail Making'
Something I've always wanted to do was to learn how to make cocktails. The most I've ever done is an Espresso Martini, which wasn't too hard at all. You just need to know when to shake your booty off as you're mixing it all up!
But I did want to learn more. So I was pretty stoked when I got to attend not one but two cocktail making sessions with the expert mixologists at the Sensology stand.
The description for the Cocktail classes was 'Expert mixologists will take you through a simple, step by step guide to making and serving some of the world's most iconic cocktails, demystifying the art of cocktail making and turning you into the ultimate cocktail party host.'
I thought that for 10 crowns which includes the class and your cocktail in a 15 minute session was pretty worth it! I've had others say they wouldn't pay to get in, but I reckon that's the same price as the alcohol anyway that everyone else was charging, so why not have some fun whilst you're at it?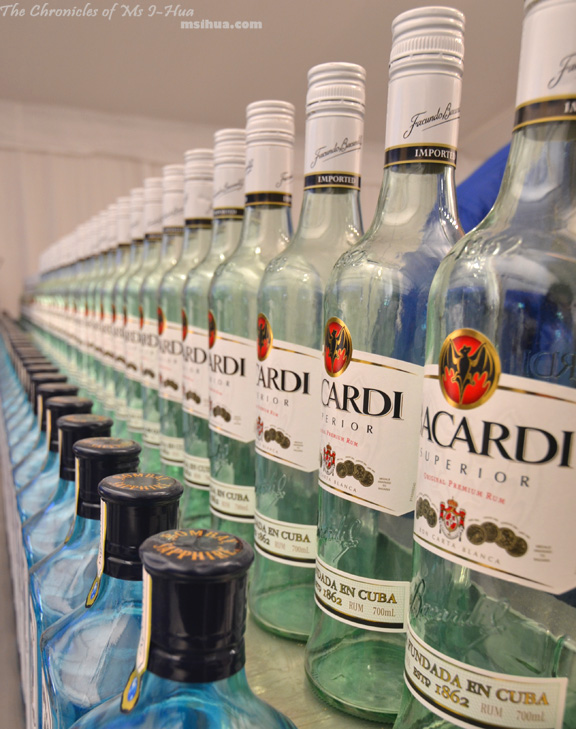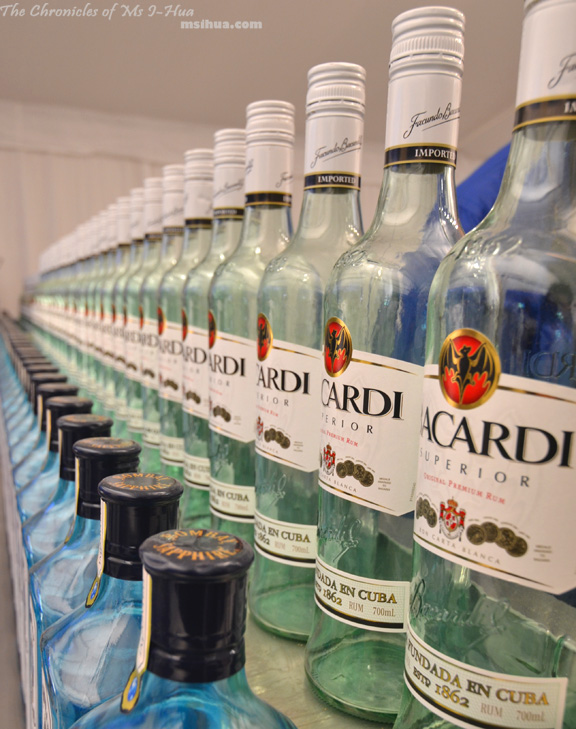 I attended both the Madmen Classics: Whisky Sour and the Viva la Cuba: Mojito classes.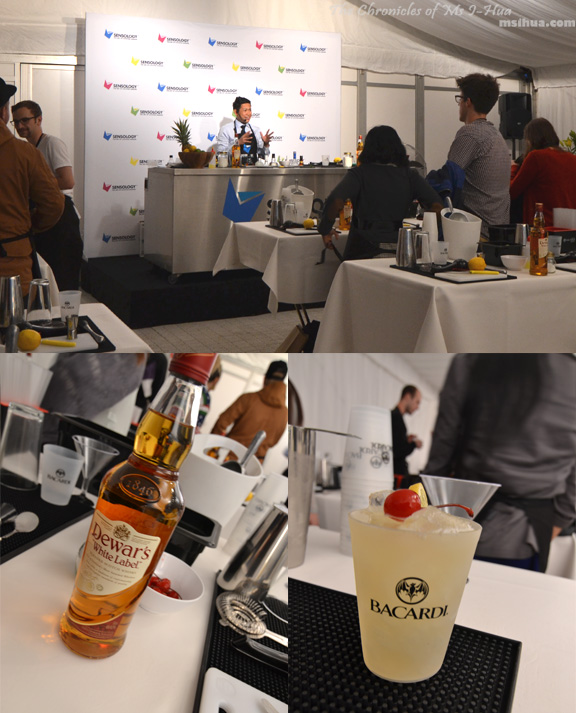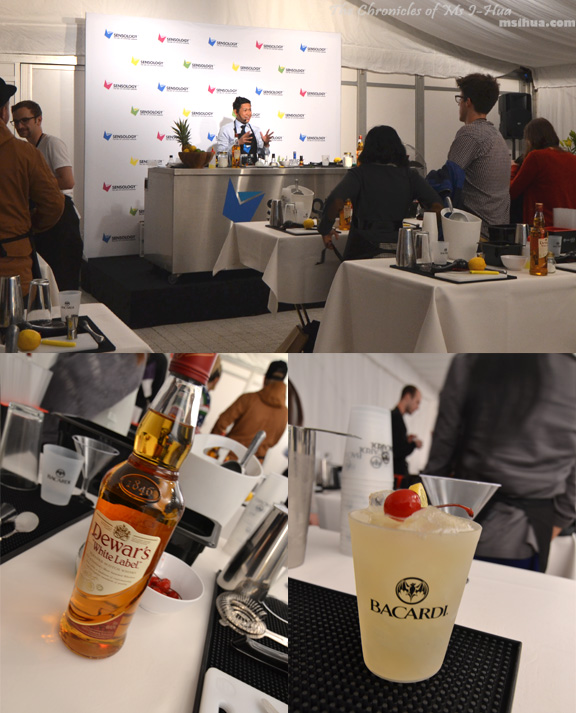 I definitely learnt that cocktail making is not that hard and I shouldn't be afraid of mixing up my spirits and having fun with it.
It was also my first muddling opportunity and I think I did a fairly good job as I loved my mojito at the end of it! I certainly have a new found taste for Whisky Sours as well and I am now able to dig out all my bottles of spirits of whisky, rum and bourbon (I just collect them, I promise!) before my next cocktail party 🙂
_______________________________________________________________________
Malaysia Kitchen Cooking Demonstration & Cultural Stage
Being Malaysian, I was truly looking forward to the Malaysian Kitchen area as Poh (of MC fame) was going to be on stage!
The stand and the area was pretty cool as we found little snacks from home as well as curry pastes and drinks (or FOB drinks as Wonderbao calls it) which we grew up with! Pretty nostalgic if I must say.
On Saturday, the Boy and I were so caught up with hitting the Mamasita and Movida stands before the masses arrived that we missed the start of Poh making Nyonya Chicken Curry 🙁 By the time we got there, there was a huge turn-out to her demonstration and there was only standing room available.
Nevertheless, Poh still shone and sounded exactly as she does on her TV program.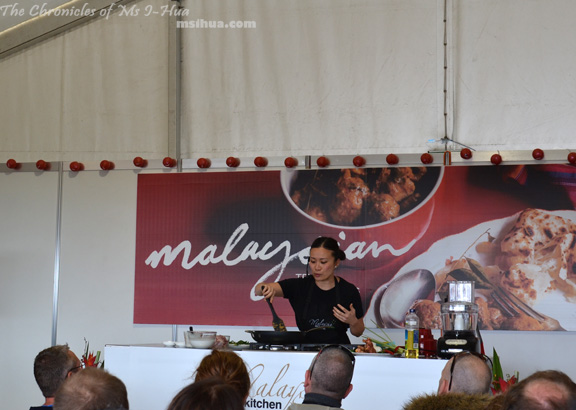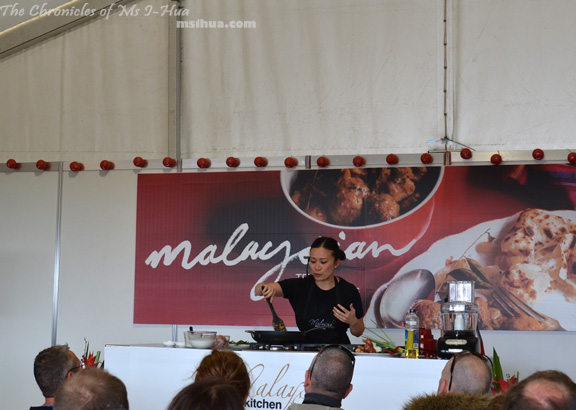 The crowd seemed to enjoy it and was lapping up whatever she said 🙂
_______________________________________________________________________
Sustainable Living Stage
Whilst Poh was cooking up at the MK stage, another good demonstration was underway at the Sustainable Living Stage. New to the ToM event and hosted by Dirty Girl Kitchens, the stage aims to shed light on sustainable practices with guests listening to chefs taking things back to basics (growing your own veggies, making your own jam, churning your own butter, etc)
I knew I had to run out of Poh's demo when the next line-up for the Sustainable Living Stage was no other than Douglas McMaster (of Silo by Joost) whom you may remember I first met during the Green Cacao Pod dinner at the start of the year.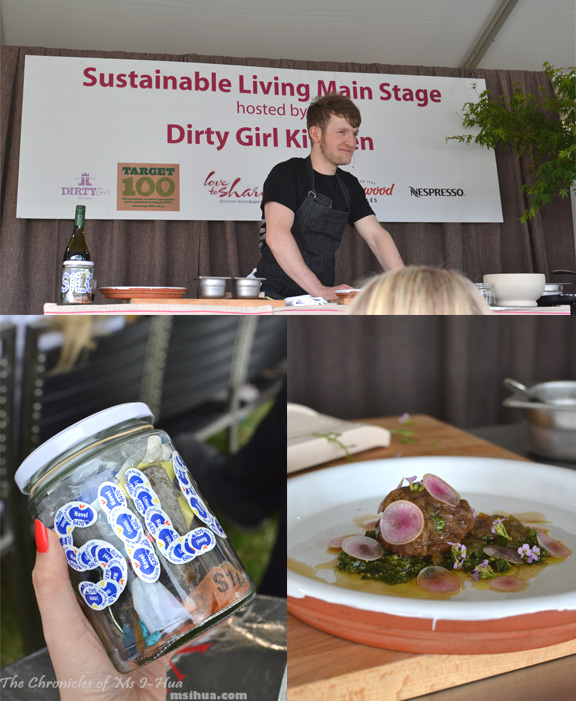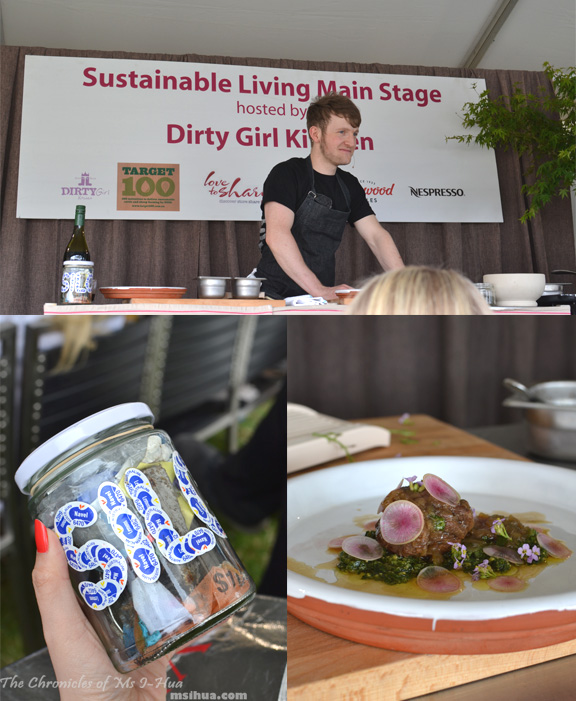 It was great to see Douglas still as passionate about sustainable cooking as when we first met. I was also really impressed with how he has translated that over to running a commercial kitchen at the cafe he works at.
If you see that little jam jar I'm holding out in the bottom picture, that is all the waste that Silo has generated in the first 4 months of operation. THAT IS INSANE!
Douglas mentioned that they recycle most things and what they can't recycle or reuse they dehydrate down into compost, which in turn is used to fertilise their farms which in turns generate the fresh produce they use at the cafe! WICKED!
_______________________________________________________________________
So what do you think of this year's #ToM2012 event?
Did you attend any of the sessions and did you sit in on any of the free demonstrations and Q&A's going on?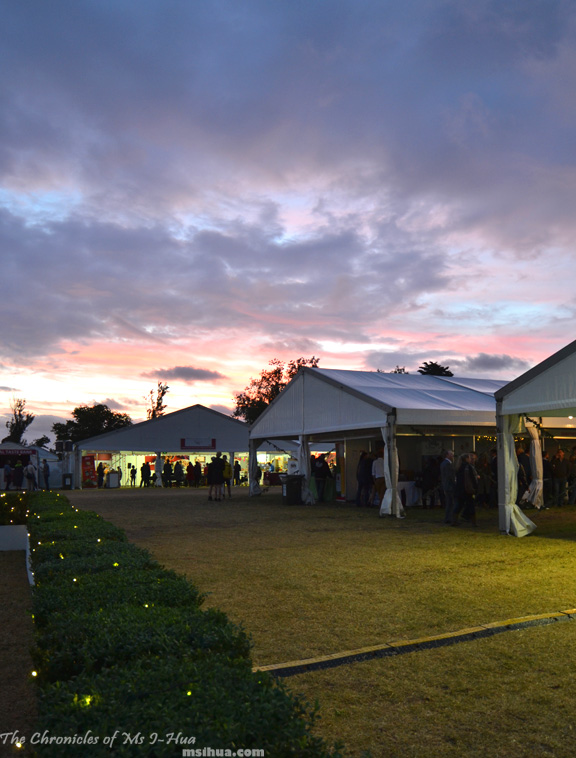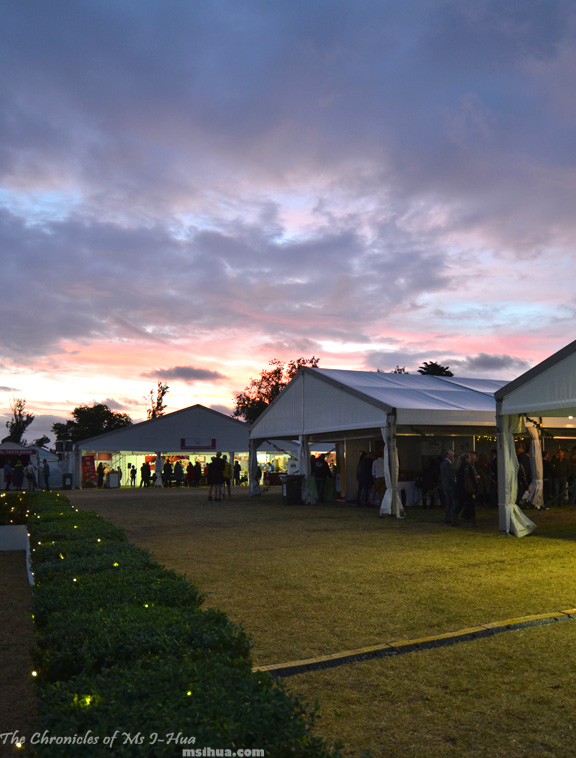 My biggest regret was missing out on Matt Preston cooking as Marco Pierre White magically appeared on stage with him! *WAAAAAAAAA*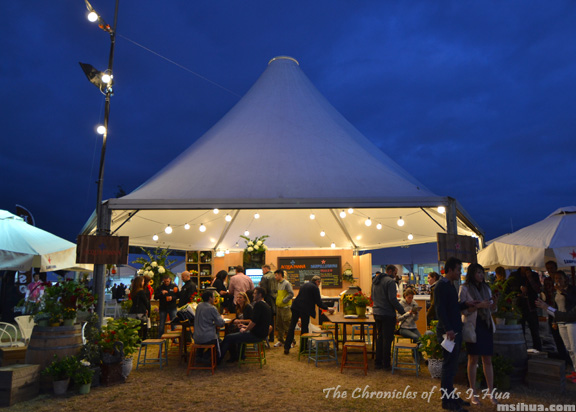 We definitely found the new venue of Taste of Melbourne to be wonderful.
However knowing what Melbourne's weather can be like, it was a major risk the organisers were taking. Particularly as there weren't any covers or shades you could hide under apart from the stands or the restaurant's dining areas.
What I didn't like was that the toilets were located right by the lakeside, which sort of disappointed the views quite a bit. The toilets were also right next to the VIP Gala stand which didn't make much sense at all, other than providing VIPs with easy access to the toilets.
What I did like (which is something really minor) was that there were many disposable bins located around the area (something which I have had issues with over the past ToM events).
Would I come back next year? Sure, I've been to the last four ToM events and would happily keep attending the others, especially since the venue has changed.
I liked that there were new restaurant line-ups this year which included the ever popular Mamasita as well as smaller restaurants located out of the inner CBD area such as Livingroom (which is in Malvern).
Watch out for Part II (the good bits) where we show you just how much we ate and Part III where we show you what we saw 🙂 (A reverse take on the I came, I saw and I conquered scene).
For other recaps on the Gala Night and #ToM2012 event:
Amy's Town
I Eat Therefore I Am
MEL: Hot or Not
Off The Spork