As you all know, I profess to not have a sweet tooth. I really don't.
But for some reason or another, I seem to be surrounded by sweets quite a lot. Heck, I've even started baking *shock and horror*. I do give it all away though (my baked goods bring all the boys to the yard 😛 That was for you Michele!)
It's not that I don't like sugar, I do. I just don't crave it as much as I do meats and savouries. However, if it is there, I'll eat it.
So here's a compilation post of sugary treats that we have eaten lately. The Boy loves sugar. He literally likes to eat them as is.
Luxbite should be included in this list as we visit them the most often, but we blogged about them recently, so they have been excluded from this round up 😛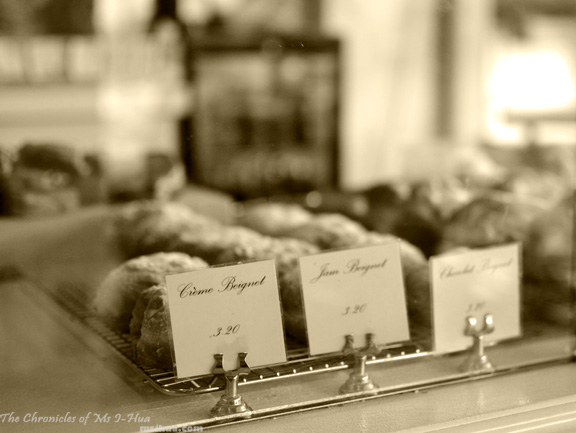 _______________________________________________________________________
Parisian Patisserie Boulangerie – Essendon, Vic
Despite not being a major sweet tooth, I will kill for sweet pastries. Go figure. My favourite item on the pastry hit list are croissants followed almost breathlessly by torsades.
So when the sugar craving hit me, I made the Boy go on a journey to the far west to get me some of Melbourne's most famous Almond Croissant.
To be perfectly honest, we were on the way to Gisborne to visit a friend and decided to drop in on our mini-impromptu road trip!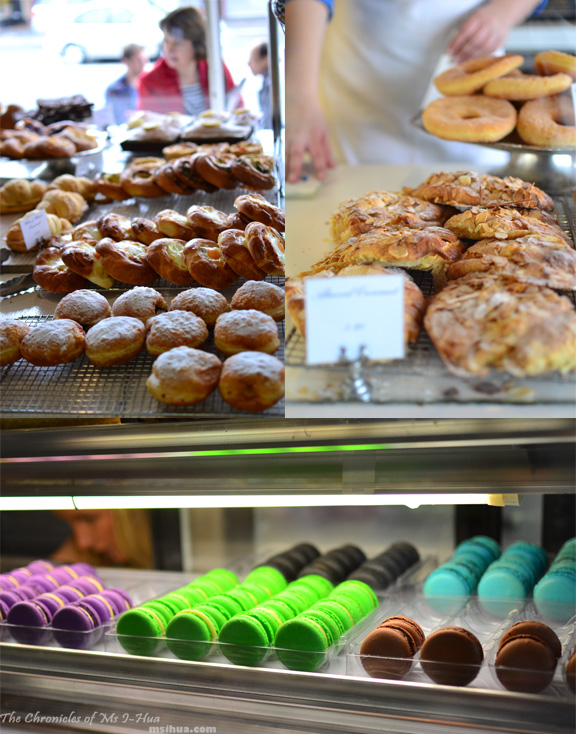 As we arrived to Parisian Patisserie I couldn't help but notice how quaint and French the place looked. It was so lovely.
We did stand for a little while before being told that we could sit anywhere. Service was a tad confusing, as we weren't quite sure how the place operated (i.e. self service or table service).
However, the spread at the front counter sufficiently distracted me enough that I wasn't too bothered.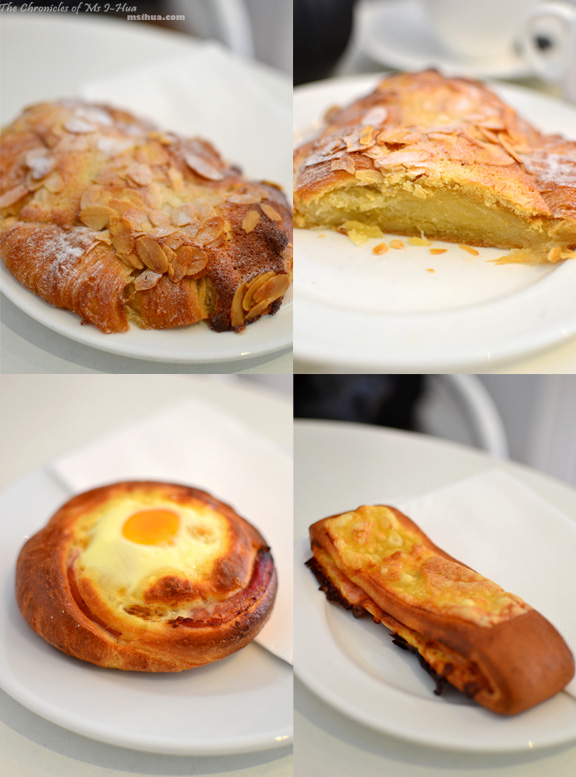 Of course we had to order the famed Almond Croissant. I couldn't help but make certain that we would also include at least one savoury pastry to our list and had the Egg and Prosciutto Brioche. We also ordered another savoury which doesn't seem to be on the menu, so I'm assuming that it was a special for the day. It had cheese and bacon 🙂
I desperately wanted to try the Pane Au Chocolat but couldn't fit anything else in as the Boy is not a big eater in the morning and I didn't fancy finishing up all the pastries on my own.
We may be accused of sacrilege but the Boy and I didn't rate the almond croissant here. It wasn't that it wasn't good. It was that it was too rich and we are more used to the fluffier croissants without the heavy almond meal that is used here.
Maybe I need to revisit and have the croissant again to affirm that sacrilegious claim! I did like the pastry and I can see why they remain so super popular.
*Disclaimer: All food ratings are purely based on my own experiences and how I feel about the service, food and quality at the time of visit

Address:
19 Keilor Road
Essendon VIC 3040
Opening Hours:
Monday to Friday, 7:00am – 5:00pm
Saturday, 7:00am – 4:00pm
Tel: (03) 9379 3815
Website: http://www.parisianpatisserie.com.au/
How to get there: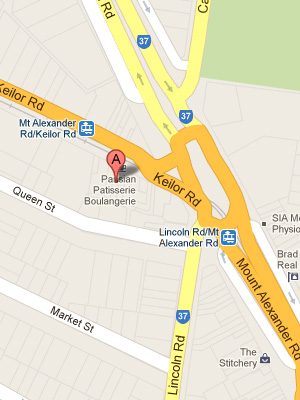 _______________________________________________________________________
Cupcake Central Workshop – Melbourne Central, Vic
My favourite go-to spot when a cupcake craving hits (and to recommend people to visit) is Cupcake Central.
Some Sundays, if the mood suits the Boy and I, we like to saunter up to Melbourne Central after church and sit at the food court where Cupcake Central & Plantation is located.
We will have our morning 'date' before deciding what the agenda for the day would be and where our lunch would take us.
We would sit quietly in our corner with our Plantation coffee and cupcakes and watch the world go by.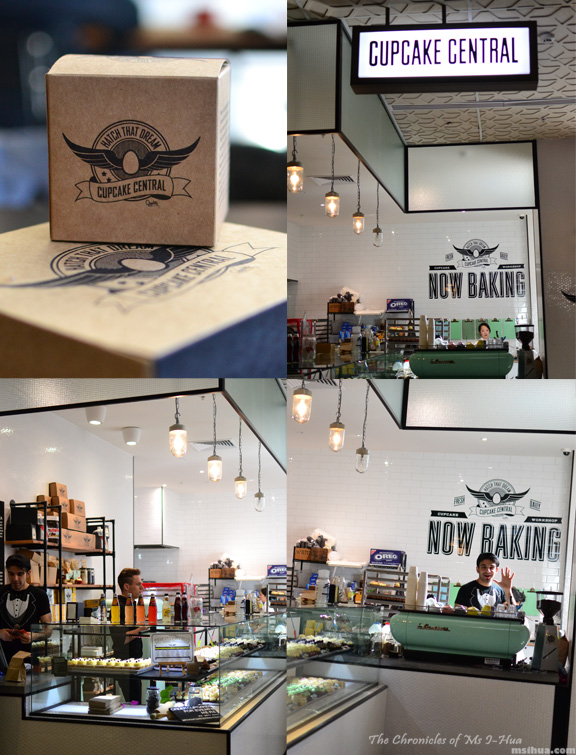 On one such occasion, the sugar fairy struck and I ordered a few cupcakes to take away as we were going to visit my cousin for lunch.
Cupcake Central caters to the gluten intolerant crowd so that was certainly a winning point for me as my cousin-in-law is coeliac.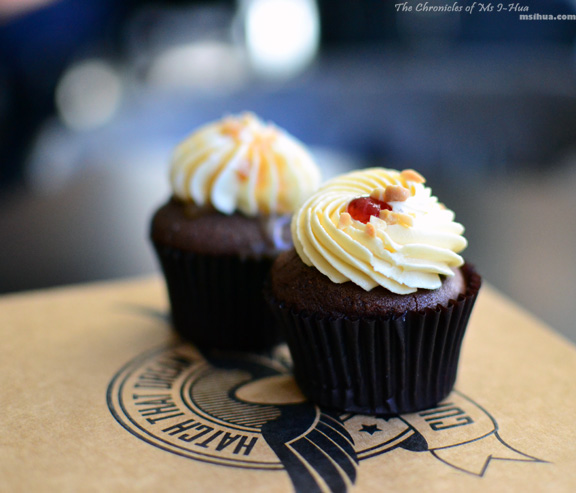 Note that this post is definitely delayed (so the options below are from their 2012 Winter Collection :P):
Carrot (Gluten Free)

Peanut Butter and Jelly
Salted Caramel
Blueberry & Maple (Gluten-Free + Vegan)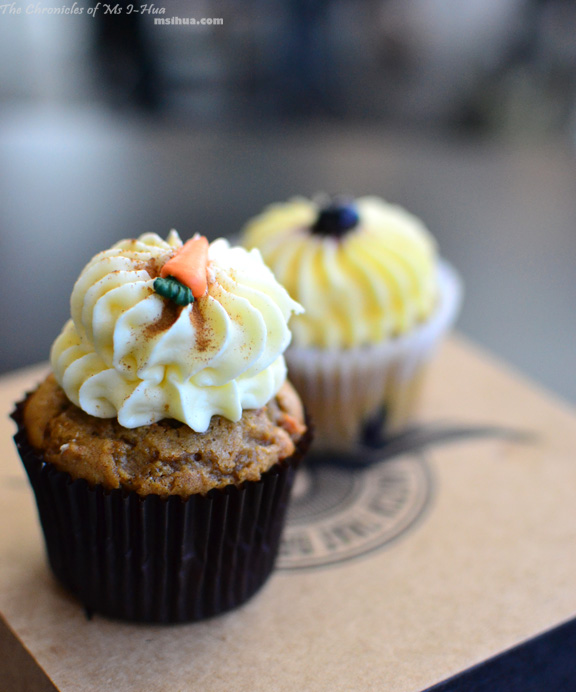 Cupcakes here are generally good and fresh. My favourite is still the chocolate mint and red velvet (on their everyday menu).
<3!
*Disclaimer: All food ratings are purely based on my own experiences and how I feel about the service, food and quality at the time of visit
Address:
Melbourne Central Workshop Store
Level 2, Dining Hall
Melbourne Central
Melbourne VIC 3000
Opening Hours:
Monday to Thursday, 10:00am – 7:00pm
Friday, 10:00am – 9:00pm
Saturday & Sunday, 10:00am – 6:00pm
Tel: (03) 9077 4542
Website: http://www.cupcakecentral.com.au
Twitter: @cupcake_central
How to get there: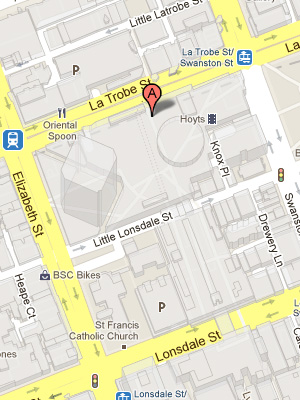 _______________________________________________________________________
Burch & Purchese Sweet Studio – South Yarra, Vic
Well, we all know I love B&P's Ingredient Wall! Admittedly we don't visit them as often as we would like to as I never seem to make their opening hours!
I do love their seasonal treats and the various types of sweets, candies, ice-creams on display (and for sale!).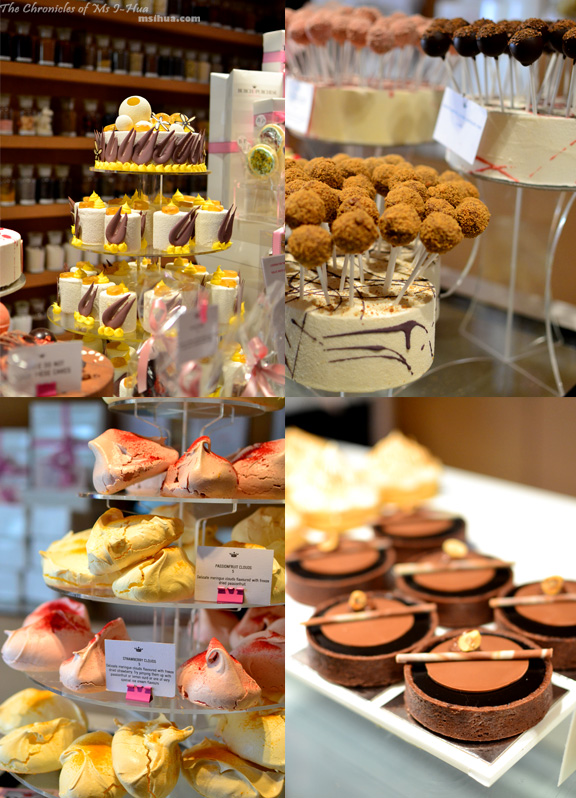 The last time we were there, we were greeted with inviting meringue clouds.
But we were on a mission and ignored these heavenly treats in lieu of something more substantial.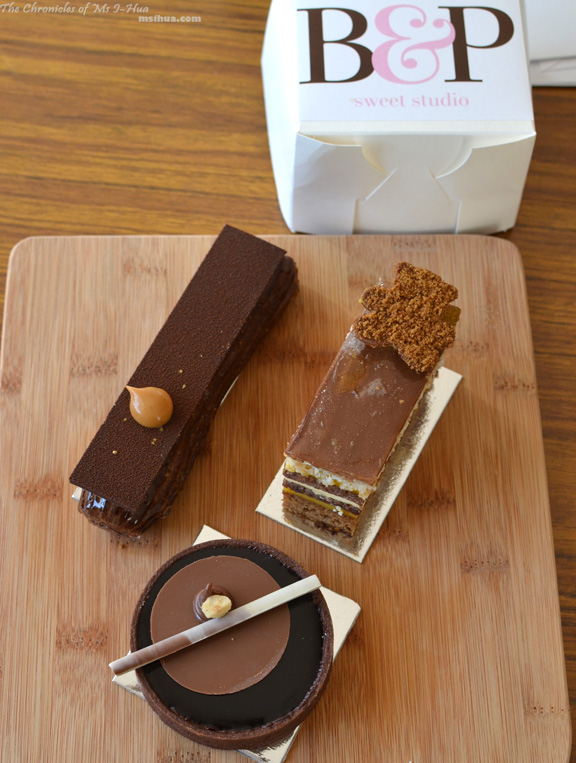 We had the Salted Caramel Eclair which was delicious. I love the fact that it was paired with dark chocolate rather than milk, which drew out the salted caramel flavours more without the added sweetness factor.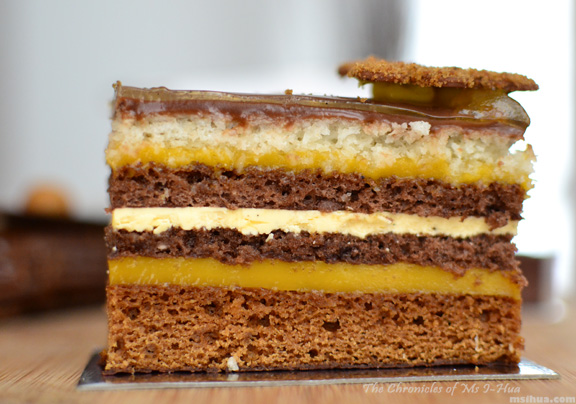 The next one is the one I would like to dub as the one with the Teddy Bear 🙂 It was an interesting cake of Mango, Milk Chocolate and Ginger. Can't really say yeay or nay to this invention.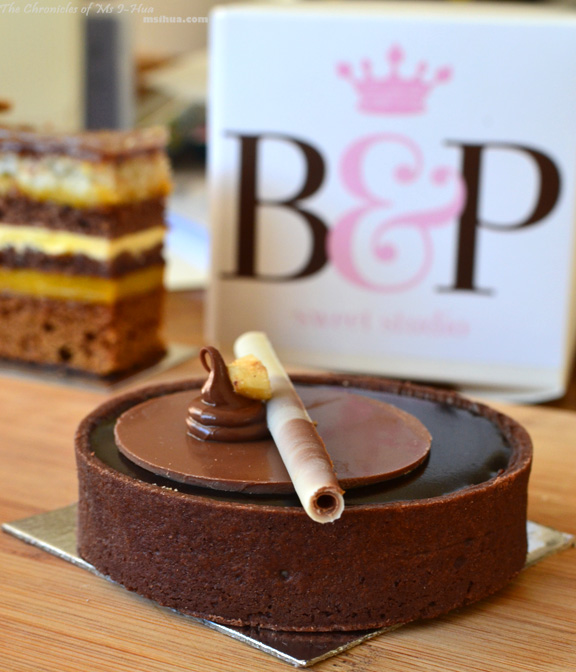 My favourite from the three that we bought was definitely the Chocolate & Hazelnut Tart. Chocolate brushed tart shell, chocolate & hazelnut spread, hazelnut crumble, dark chocolate 65% cream, dark chocolate glaze, milk choc decor and toasted hazelnut (*phew*).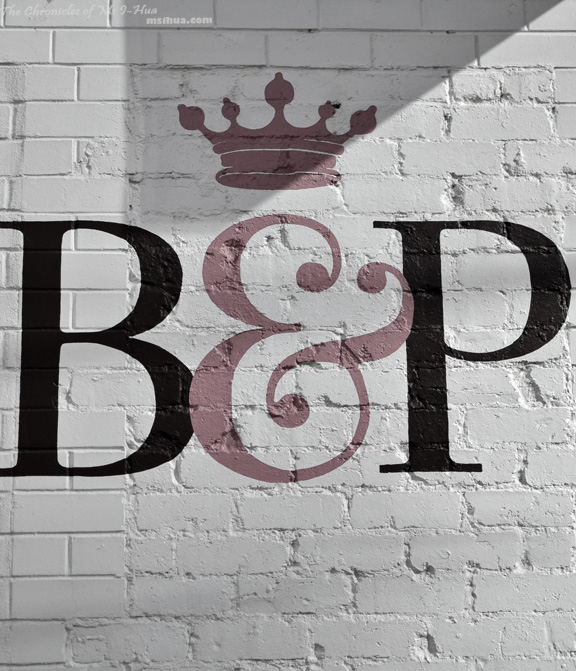 I need to head back to B&P soon. I'm only scared to go because I know I'll lose all self control and want to buy everything in sight. Odd since I don't eat cakes 😛
But they don't just do cakes, I want to get all their different types of nuggets, soils, spreads and so forth. Eep! Give me strength 🙂
*Disclaimer: All food ratings & review are purely based on my own experiences and how I feel about the service, food and quality at the time of visit
Food/ Cuisine: Desserts, Cakes & Sweets
Dining Style: Take Away
Opening Hours:
Monday to Sunday, 10:00am – 6:30pm
Address:
647 Chapel Street
South Yarra VIC 3141
Tel: (03) 9827 7060
Website: http://www.burchandpurchese.com/

Twitter: @burchpurchese
How to get there: