One weekend during the 2013 Melbourne Food & Wine Festival, the Boy and I were invited to be part of a Bloggers Lunch event at Virginia Plain.
As we arrived at the doorstep of the restaurant, we opened the door with caution as it clearly stated that the restaurant was closed for business. However, taking a deep breath, I pushed the door open and the group (of chickens) behind me, let out a huge sigh of relief (we didn't come on the wrong day). Hooray!
Located at what is fast becoming Melbourne's new food mecca block (Flinders Lane – Exhibition & Spring Street end), VP is situated amongst a tough crowd (Chin Chin, Cumulus Inc, The Meatball & Wine Bar and Mamasita).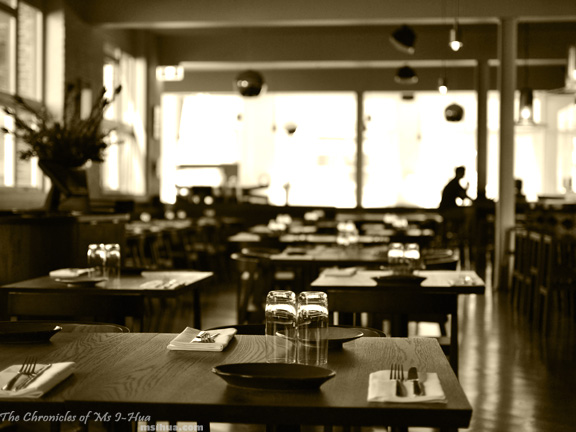 As we were seated in the sparse dining area (indeed the restaurant was shut as per the norm, but opened just for us for this lunch!). Dining like a VIP y'all 😛
Also, Mat Beyer was our butler (:P) for the duration of the lunch (soz Mat) and topped our wine glasses up with a Tarrawarra Pinot Noir (Virginia Plain blend 🙂 ).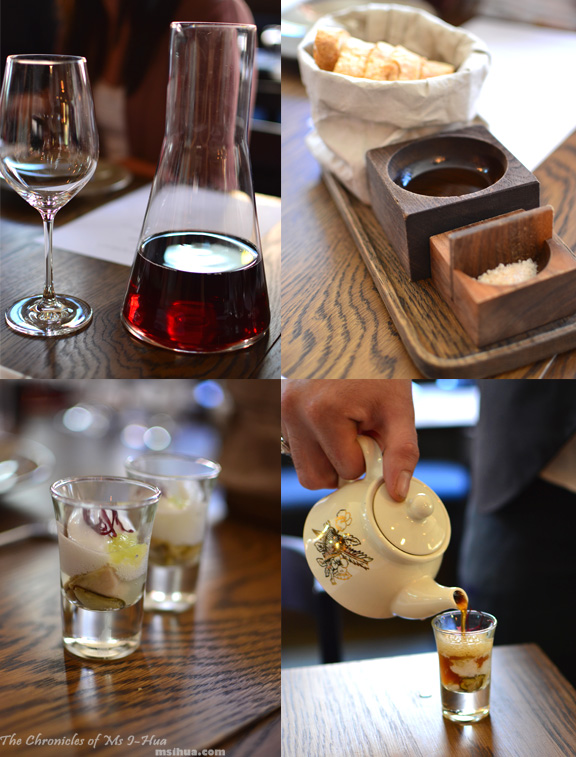 Virginia Plain (which shares the same name as the song and cigarette brand) plays funky music from the same music genre. The fit-out is very much like the music as well. Funky, glam, rock, casual kind of groovy cool vibe (I'm in the midst of a retro party planning as you can tell with my language).
On to the food!
For starters, we had oyster shooters. Filled with sake foam and topped with dashi stock, this was a definite win in my books. Loved the umami flavours that landed on my palate. It was sweet and refreshing as well.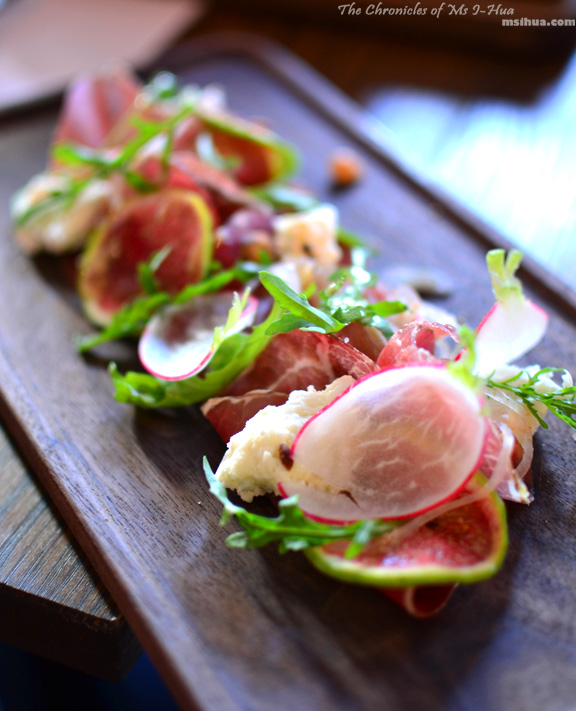 For the rest of our lunch, we were invited to choose an option (out of three) for each course.
Entree (Option 1): Victorian Figs, Buffalo Ricotta, Wagyu Bresaola with Hazelnut Dressing.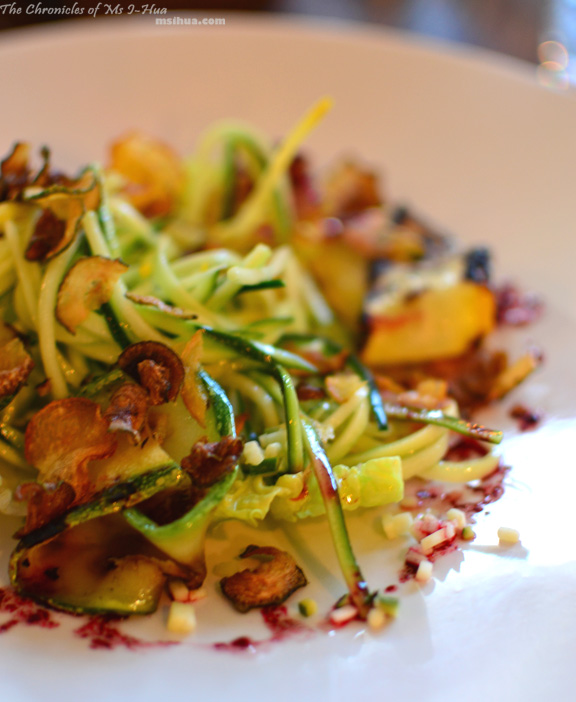 There was the vegetarian Entree (Option 2): Char-grilled Heirloom Zucchini Salad which I happily skipped, but looked on enviously as the Boy enjoyed this.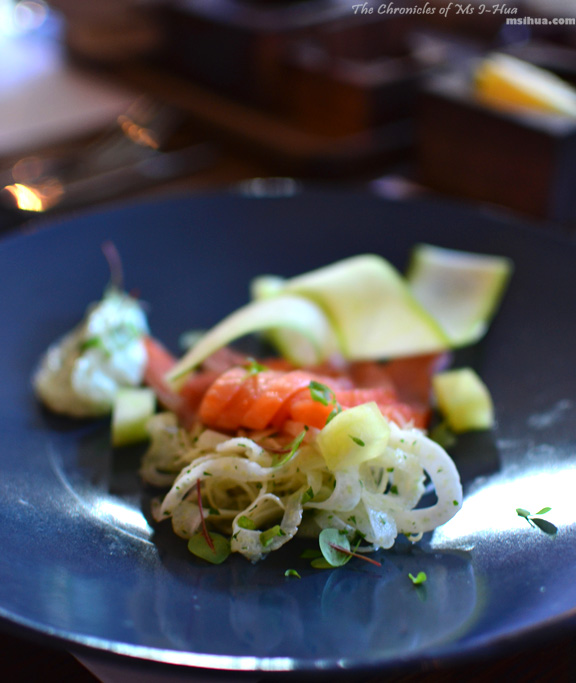 Instead I went with the third Entree (Option 3): House-made Salmon Gravlax & Fresh Apple. I found that this dish had an excellent textural component of crunchy and soft ingredients (as did all the other entree options).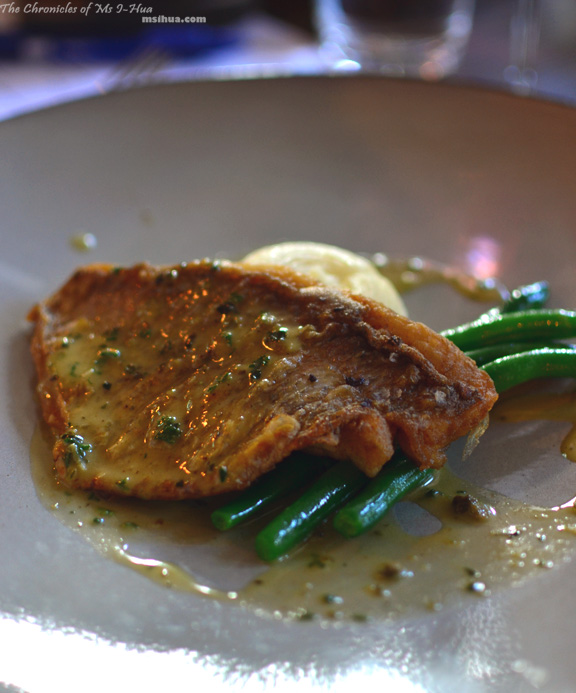 As I wasn't feeling too hungry, I ordered for my Main (Option 1): Fish of the day (Snapper) with Summer Greens. I loved the snapper and the summer greens were lovely and tender.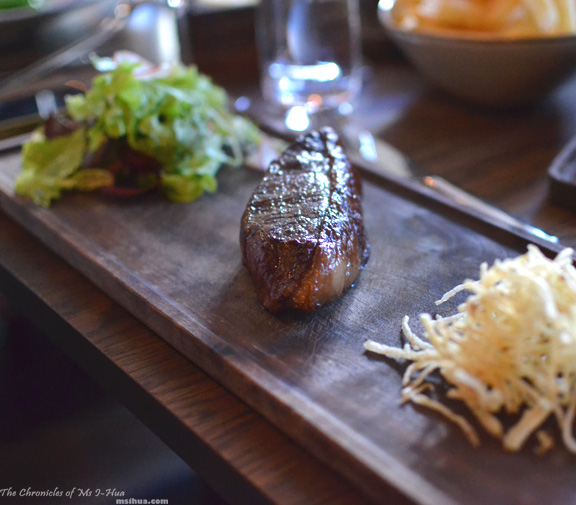 A few others including the Boy went with the Main (Option 2): Grain Fed Wagyu Steak with Radish Salad & Pompeii Potatoes. When it arrived, we gasp in shock as it was a huge chunk of meat. I wasn't sure that the Boy would be able to finish it, but he did (and ate half of Thanh's as well 0_0, I married a monster!).
The third option for main was a vegetarian Fresh Pea & Herb Risotto (need I say more?).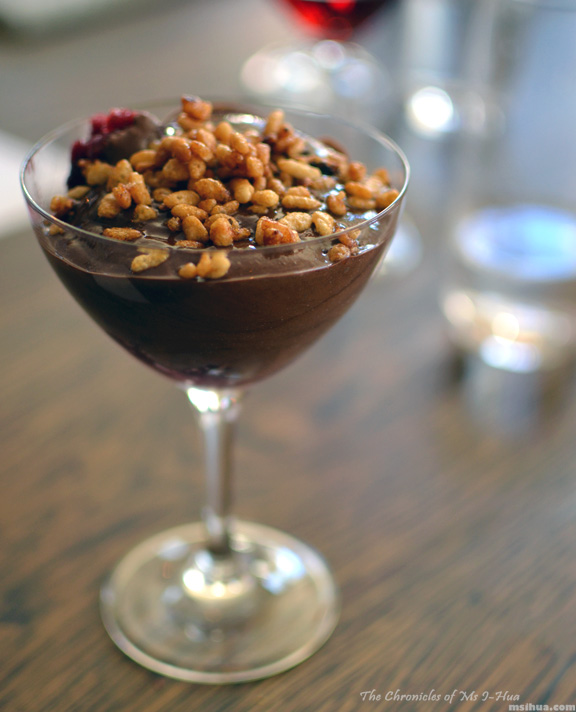 I was most excited to try the Dessert (Option 1): Warm Chocolate Mousse with Cherries.
Again, this dish hit the textural component spot on. I loved the crunchy puffed rice that came topped on this. Outstanding. I wanted more!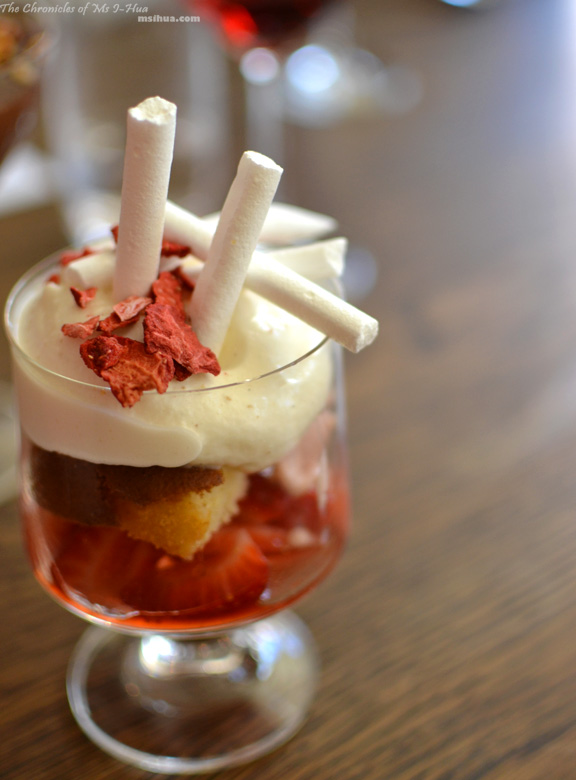 The Boy had the Dessert (Option 2): Strawberries & Cream, which would normally have had me trying it out, but when faced with the decadent goodie I had, I passed on the opportunity (even though I promised him we'd go halves :P).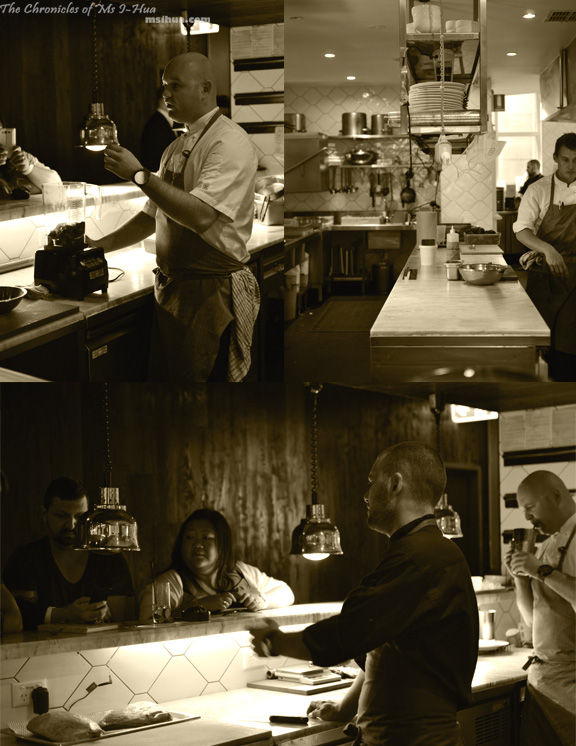 After such a fabulous meal, we were invited to stay on for a Masterclass with Andy Harmer and Flo (both with experiences in Vue de Monde).
I loved Flo's enthusiasm and Andy's passion around the kitchen. It was magnificent to watch. I love watching working kitchens!
Unfortunately we had to leave early, and missed out on the magical souffle which had the whole group in 7th Heaven 🙂
Thanks VP for a wonderful afternoon. We'll be sure to come back for more and try out the degustation menu (4 courses for $55 or 7 courses for $89)!
For other recaps of the Bloggers lunch:
[Ms I-Hua & The Boy attended as guests of Virginia Plain]
*Disclaimer: All food ratings & review are purely based on my own experiences and how I feel about the service, food and quality at the time of visit
Food/ Cuisine: European
Dining Style: Restaurant
Opening Hours:
Tuesday to Thursday, 12:00pm – late
Friday, 12:00pm – late(r)
Saturday, 5:00pm – late(st)
Closed Sunday & Monday
Address:
31 Flinders Lane
Melbourne VIC 3000
Tel: (03) 9290 0400
Website: http://virginiaplain.com.au

Twitter: @VirginiaPlainAu

How to get there: