It all started out with a recent visit to Sydney in April. The Boy and I were hankering to eat in as many locations as possible during the Easter holidays and formed our plan of attack as such.
We had Zumbo, Bentley, Pier, District Dining, Azuma Kushiyaki, Mamak, Spicy Sichuan, Bourke Street Bakery, Gelato Messina as well as Red Lantern on our must-do-list (and this wasn't even our full list!)
The only touristy activity we had decided to partake was to visit the Sydney Wild Life World.
We had planned for us to arrive the night before so that we would have a relaxing morning before heading off to the miniature zoo and our romantic lunch date.
Quay.
Sounded like a simple plan really. Until you take into account that our flight was cancelled the night before due to a security breach at Sydney airport, and had to frantically re-plan our travel. Luckily for us we managed to get on a 6am flight the next morning.
Determined to go through with our original plan of visiting the Wild Life World, we were cutting it pretty close. Too close in fact, as we had taken a wrong turn whilst walking out of Darling Harbour towards The Rocks.
We ended up taking the longer route, past the Observatory Park, which took around 30 minutes of walking in the hot sun.
Huffing and puffing when we finally arrived at Quay, we must have looked quite the sight.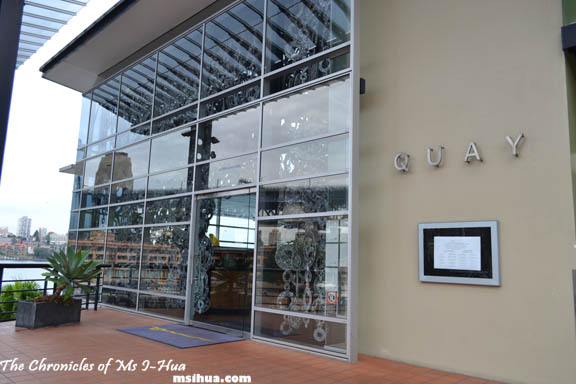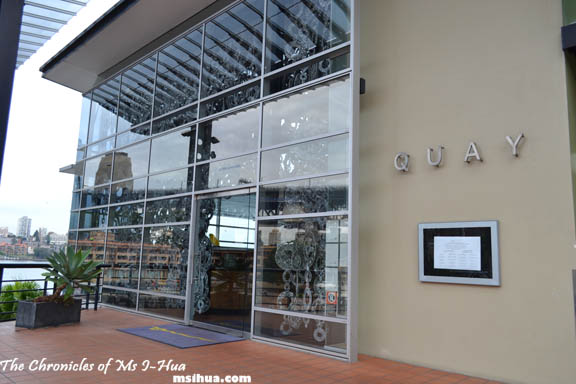 Not quite the fashionable look I was aiming for when I envisioned dining here. I mean, I was hoping to look at my utmost best. We were about to dine at one of Australia's best restaurants.
This is the restaurant which has recently garnered high-profile accolades and awards such as:
No.26 in San Pellegrino World's 50 Best Restaurant Awards 2011 & The Acqua Panna Best Restaurant in Australasia.
The Sydney Morning Herald Good Food Guide Awards 2012:- Citibank Chef of the Year: Peter Gilmore (Quay), and maintaining their "3 Chef Hats".
It was a big deal. A majorly big deal. It has been a decade since Peter Gilmore joined Quay and has brought it to new heights.
However, we were greeted by nonchalant yet pleasant staff who took our jackets and escorted us to our table with little fuss. Maybe we weren't the only customers to ever get lost wandering around looking for the restaurant. Take note that it is located on the upper level of the Overseas Passenger Terminal.
We were lucky and managed to score a seat with an amazing view of Sydney Harbour. Yes, Opera House and the whole shebang. It was fabulous.
It didn't take us long to decide that we would be going with the Four Courses Lunch Menu ($135) option. We had been studying the menu religiously for the last couple of weeks and decided that we would each select a different dish, ultimately trying 8 dishes in total. WIN!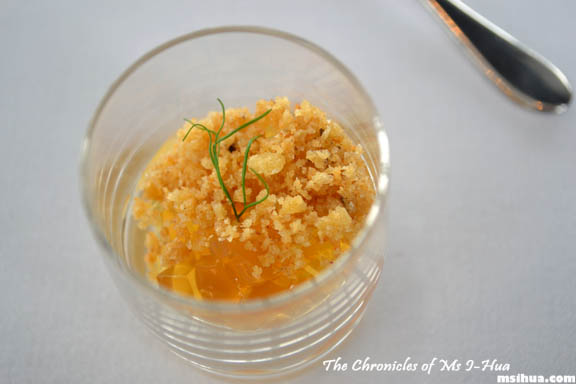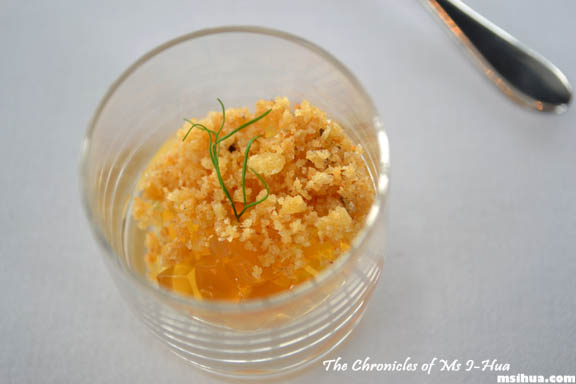 To start us off, we were given an Amuse Bouche of Smoked Eel Jelly, White Carrot Puree, Caraway and Breadcrumbs.  I can still remember the wonderful combination of texture playing in my mouth with each spoonful. The smoked eel jelly was quite light and aromatic.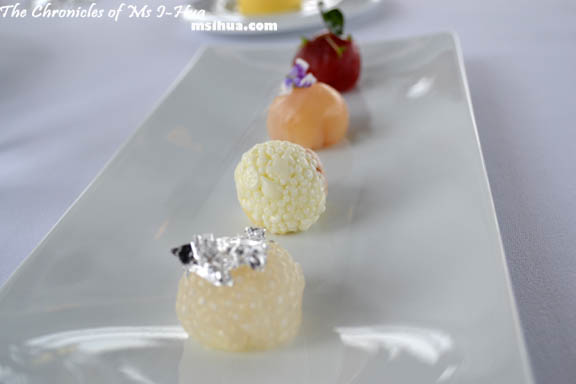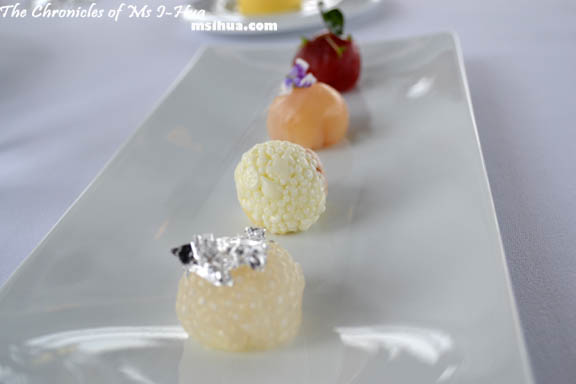 The Boy ordered the Sea Pearls (Sashimi Tuna, Sea Scallop, Crab, Smoked Eel, Octopus). I mean, he had to. This was one of Peter Gilmore's signature dishes and many have come to associate Quay with the various sea pearl combinations.
I was kindly offered to taste a tiny bit of each sea pearl and was just amazed at how delicate each pearl was. Not to mention, visually appetising as well.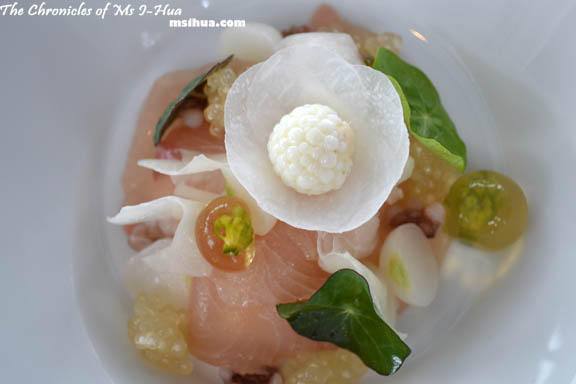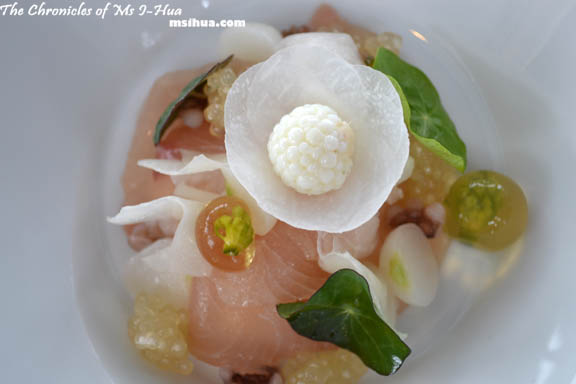 I, on the other hand, ordered the Smoked Eel & Egg White Pearl, Sashimi Hiramasa Kingfish, Pickled Kohlrabi, Octopus, Nasturtiums, White Dashi Jelly as my starter.
I think I had the prettier starter and although not as famous as the Sea Pearls, I thought my dish was a lot better in terms of taste and texture. Plus, I had my own pearl 🙂 It was the standout component in the dish.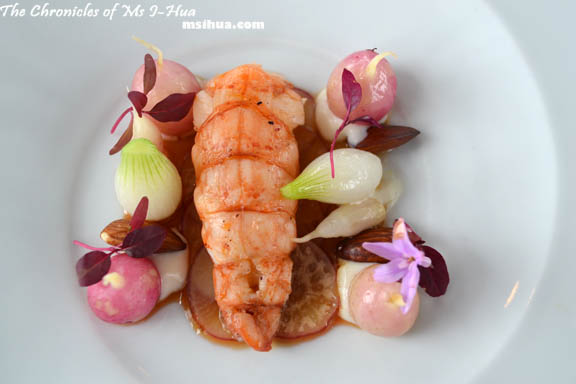 For the next course, The Boy had the Native Freshwater Marron, Rose Salt, Organic Pink Turnips, Jamon De Bellota Cream, Oloroso Caramel, Almonds, Society Garlic Flowers which he absolutely adored. The marron was extremely fresh and had been cooked via sous vide as explained by our waiter. The combination was absolutely heavenly.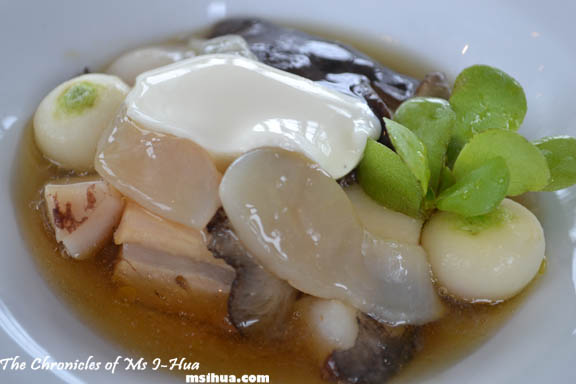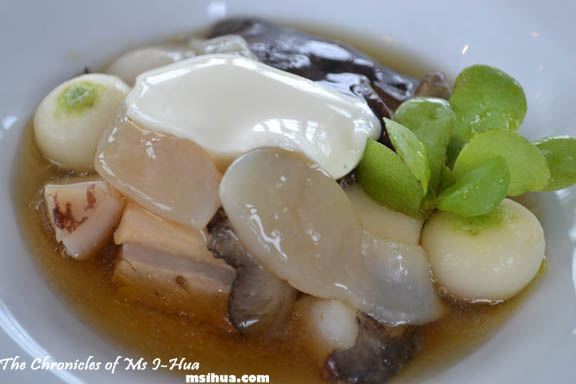 I had the Slow Braised Pig Cheek, Ginger Milk Curd, Fresh Palm Heart, Green Lipped Abalone, Tasmanian Wakame & Chestnut Mushroom Consommé. Oh my. I was utterly lost for words. It was just such a delicate Asian inspired dish. The pig cheek literally melted in my mouth. The ginger milk curd was akin to eating extremely soft silken tofu.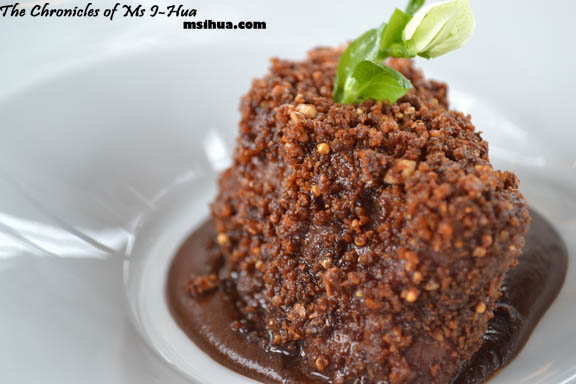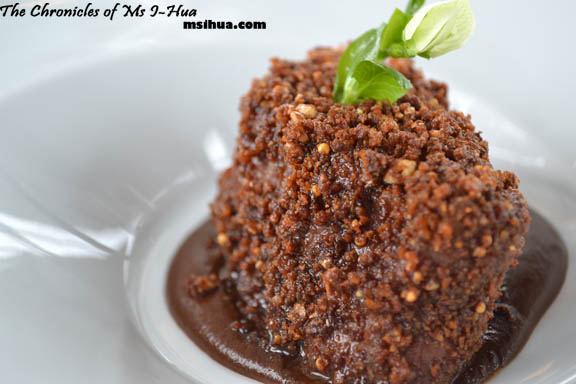 For his main, the Boy selected the Wagyu Beef, Poached in an Oxtail and Morel Reduction, Molé Puree, Farro & Ezekiel Crumbs. It wasn't on the printed menu, as it was a plat du jour. He was swooning as soon as he tasted this and instantly proclaimed it the best wagyu dish of the year!
He said that he was able to pick up some chocolate tones from the molé and that everything just worked really well with the wagyu. He summed it up as eating beef and chocolate. So weird, yet he couldn't stop eating. It was that good!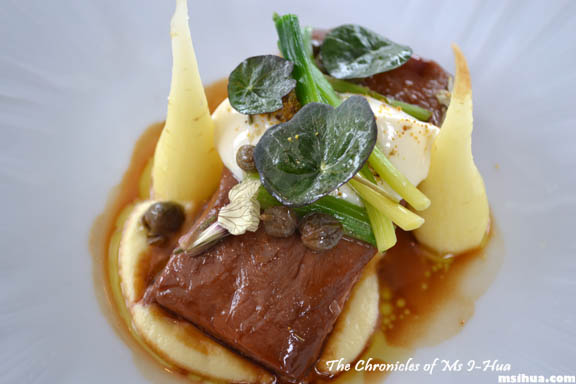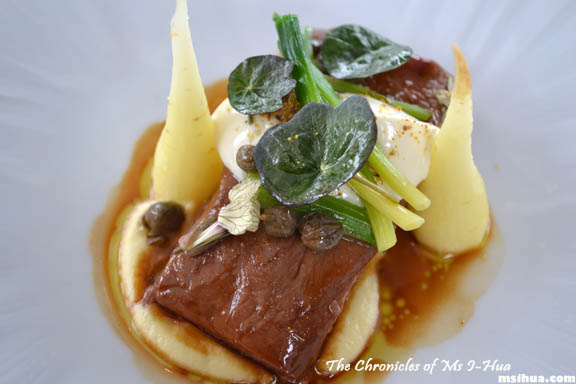 I had the Confit of Suffolk Lamb Loin, Smoked White Carrot Cream, Fennel Infused Milk Curd, Pantelleria Capers, Nasturtiums, Fennel Pollen. It was incredibly tender and smooth. However, compared to the pig cheek dish, it didn't stand out as much, but I was happy all the same 🙂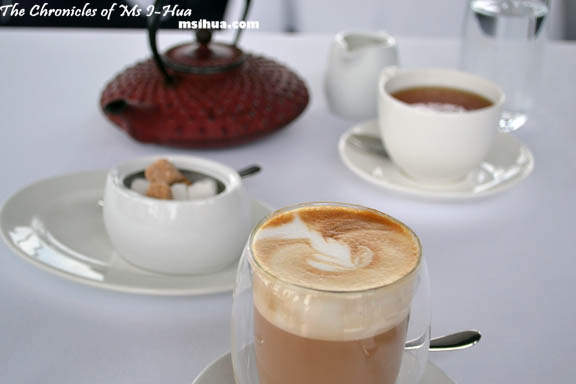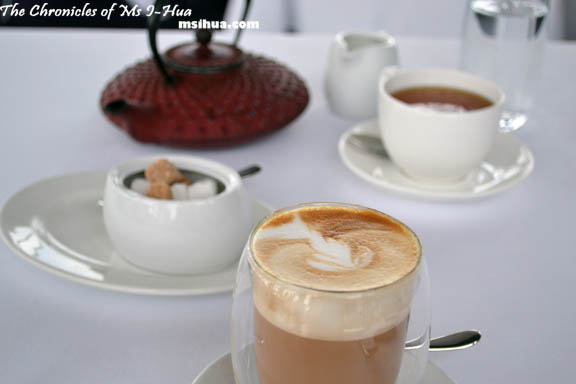 After all that, we were given a choice of having a little coffee break before desserts. We rubbed our bellies and agreed. We needed to have a mini rest before moving on to desserts 🙂
So I had Coffee (Quay Signature Blend by Campos Coffee) and the Boy had Tea (English Breakfast) by World Par Tea.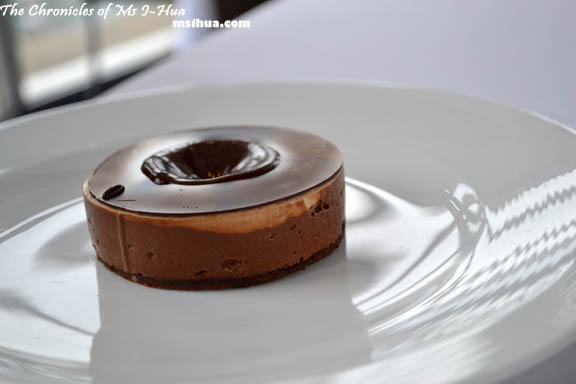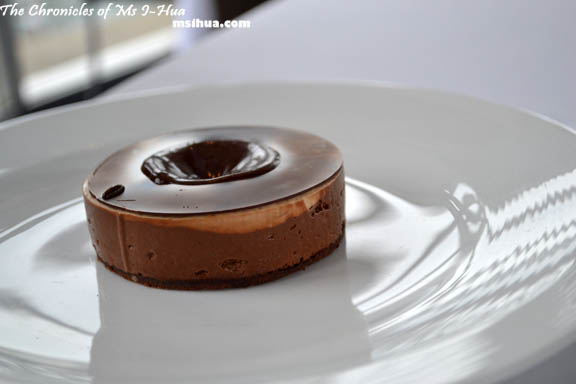 And then. *WHAM!* My amazing dessert arrived. Quay's Eight Texture Chocolate Cake. The presentation itself was enough to make me swoop in delight, and our waiter was kind enough to act slowly so that I could capture his actions on camera.
This "cake" is pretty much the God of all Chocolate desserts. It was just so amazingly constructed. Eight different textures consisting of a chocolate mousse, ganache, dacquoise, cake base, praline discs, chocolate caramel cream, dark chocolate top disc and topped with hot chocolate sauce. I had to really sit back and enjoy, and let the taste and texture take me away to a different planet.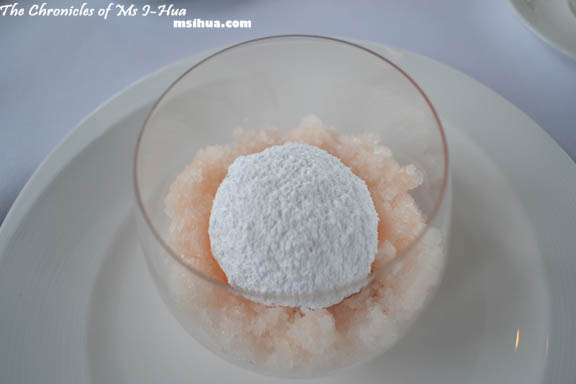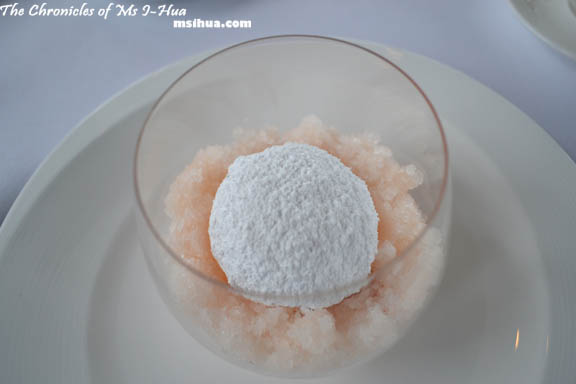 So distracted was I by my dessert that when the very famous Guava and Custard Apple Snow Egg arrived, I couldn't work up any motivation to drag myself away from my dessert. So the Boy dutifully took the pictures of his Snow Egg.
I did sneak a taste of this very famous dessert, but found it a tad too sweet. Note that I had just been in heaven with a very smooth dark velvety chocolate cake. So anything lighter was always going to be too sweet.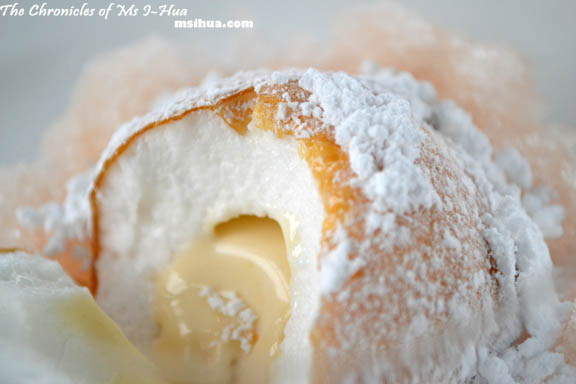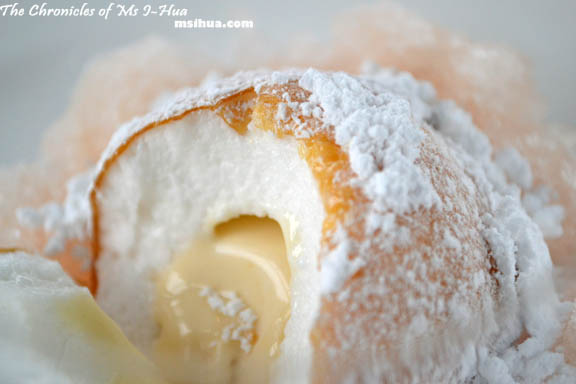 The Boy however, enjoyed the snow egg immensely and didn't find the same joy with the Eight Texture Chocolate as I did.
This worked out perfectly for the both of us as we could enjoy our desserts on our own pace and delight.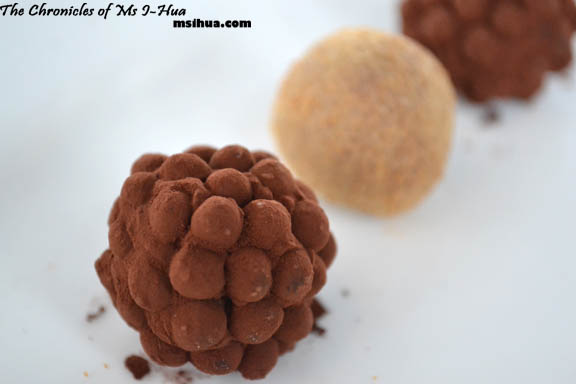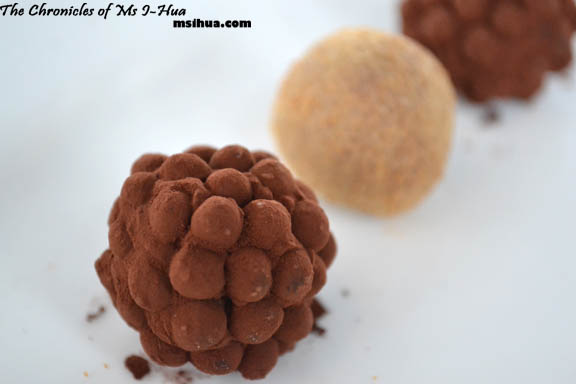 To cap it all off, we were given these two really cute Petits Fours of Dark Chocolate Amaretto and Milk Chocolate & Roasted Hazelnuts.
I found them delicious, but guess which one I preferred? The dark chocolate of course!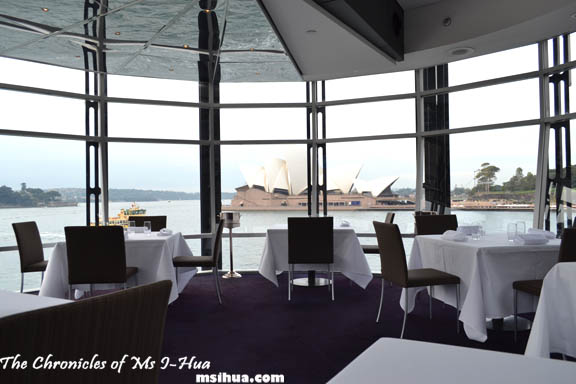 What did we think of the dining experience? Was it overhyped? Did it deserve the accolades and awards?
Brilliant, no and YES!
Overall, for me it was the playful interaction between the texture, presentation and taste of the dishes that won me over. I couldn't help but fall in love with each dish based on just their looks (Yes, I am that shallow).
Not everything was mind-blowing, but the few which I had certainly set new standards in the taste department for me.
Price wise? It was a tad pricey and as such we would have to strongly reconsider before coming back for a second round to try their full 8 course tasting menu.
*Disclaimer: All food ratings are purely based on my own experiences and how I feel about the service, food and quality at the time of visit
Food/ Cuisine: Modern Australian
Dining Style: Fine Dining
Overall Food Rating (Based on the Dining style): 9.5/10
Restaurant ambiance: 9.25/10
Service/ Attitude: 9/10
Value for money: 8.5/10
Address:
Overseas Passenger Terminal
Circular Quay West
The Rocks, Sydney NSW 2000
Tel: (02) 9251 5600
Website: http://www.quay.com.au/
Quay is open
LUNCH: Tuesday to Friday, 12pm to 2:30pm
DINNER: Monday to Sunday, 6pm to 10pm 
How to get there: